It is not an easy accomplishment to design a house that retains a façade of privacy on its public-facing exterior, yet feels bright, inviting and filled with natural light behind its public face. Yet, it is a spatial juxtaposition that appears as a natural solution within the aptly named House with an Atrium by RT+Q Architects, which has designed the residence to make the maximum use of its site and to respond to the owners' programmatic requirements.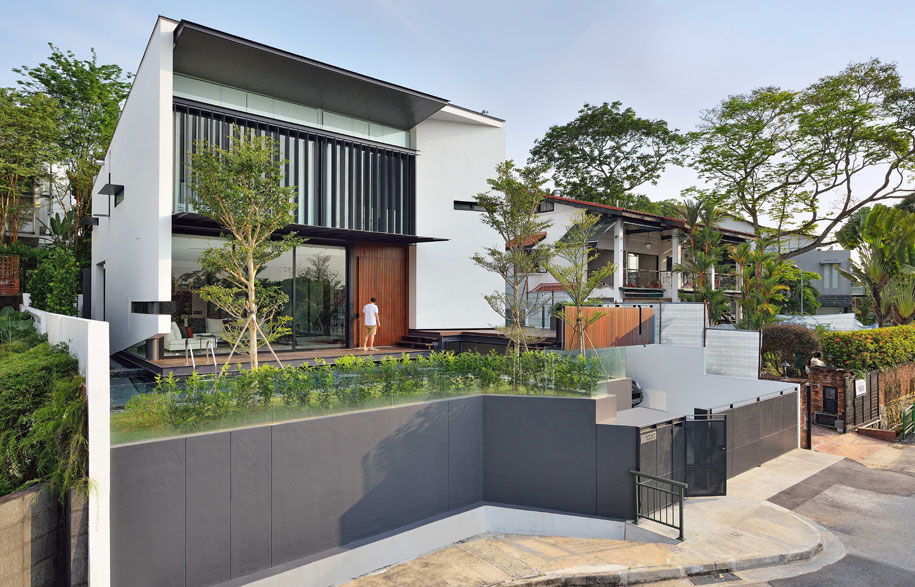 From the very beginning, the clients – a couple with three children – expressed their desire for a design that would allow plenty of daylight into the interiors of their house. A challenging task for a site situated on a North-South facing plot of land and sandwiched between two other residential properties. The configuration of the rectangular plot also hindered the design team at RT+Q from designing big openings at the East- and West-facing façades. As a solution, the team chose to design a house with a large, double-volume atrium that pierced the first and second levels of the residence, bringing in light and air without attracting too much heat from the afternoon sun.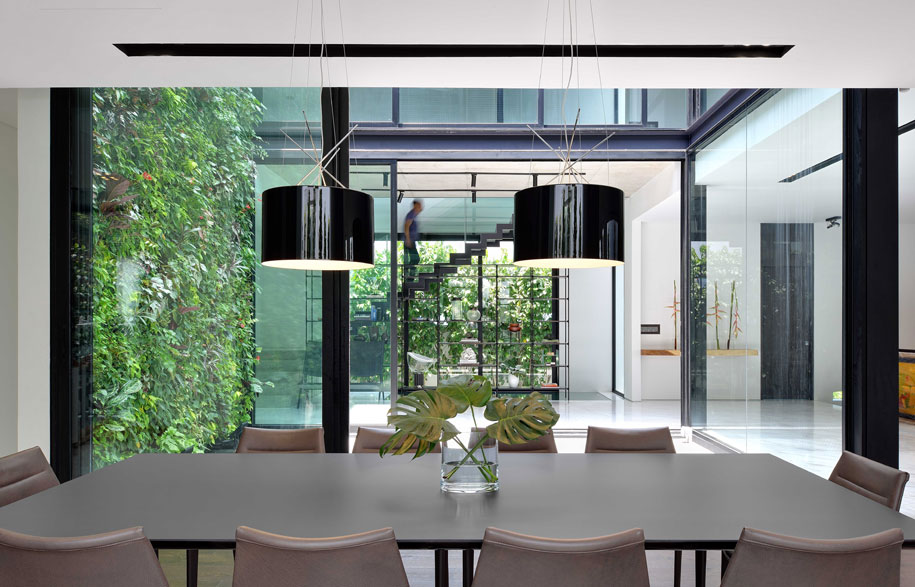 "One feature of a lot of our buildings is that their front façades do not give too much away but, internally, the houses still feel very open," says Rene Tan, Director of RT+Q Architects, highlighting the recurring theme within a lot of firm's projects. Within the House with an Atrium, too, the titular central void is instrumental in creating a sense of openness and space from the inside.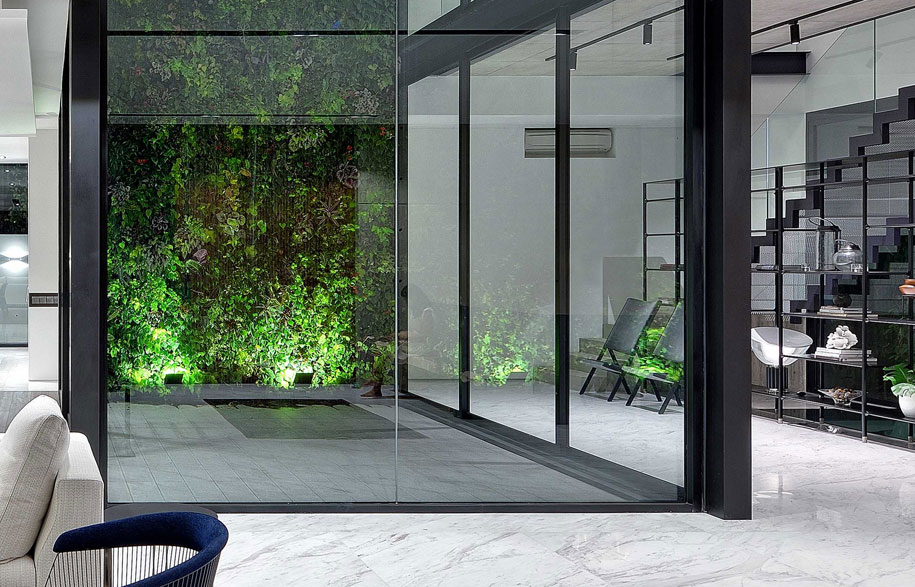 With the courtyard and its two-storey high green wall, the configuration of the communal spaces around the inviting atrium became a logical choice. On the first floor, the design team positioned the gallery and the dining area directly across from each other, providing expansive, unobstructed views of activities taking place at the opposite, East and West ends of the house, while placing a spacious living room at the front of the house facing out to the vibrant green wall. On the second floor, the team designed a master suite overlooking the atrium's courtyard and the spaces below, giving the clients a broad overview of the entire house from the comfort of their room. Other bedrooms were given more privacy by being set back from the atrium via elongated circulation spaces around the internal courtyard.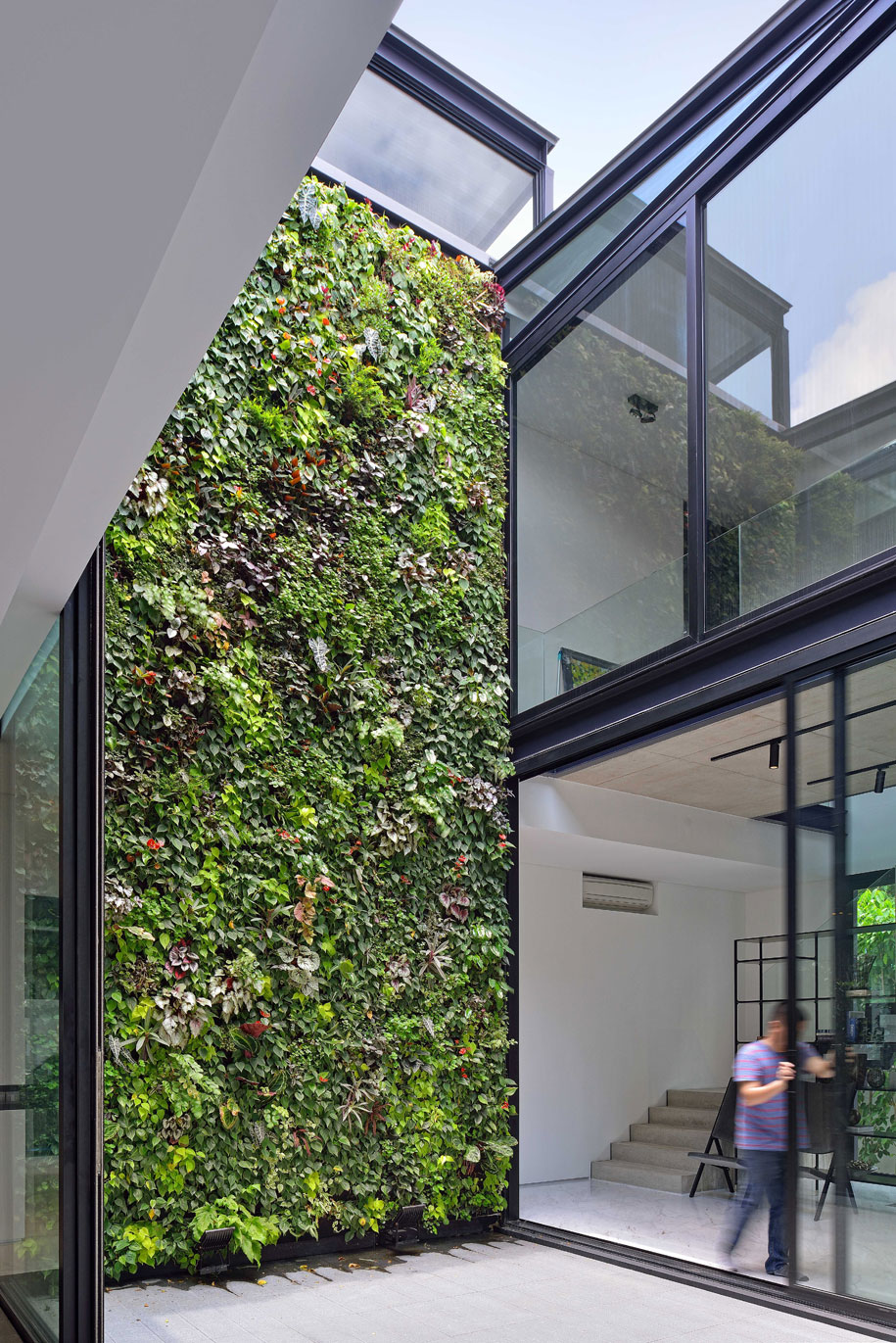 In a similar, strategic move, the RT+Q team incorporated open light courts and glass floors above selected areas of the basement to bring natural light below ground and make the lobby, tuition and entertainment areas, as well as various service spaces, a welcoming, well-lit continuation of the family spaces above. The choice of materials, like light grey concrete and marble throughout the basement and upper floors, further enabled the team to create a sense of space and openness within the 7,700 square foot home.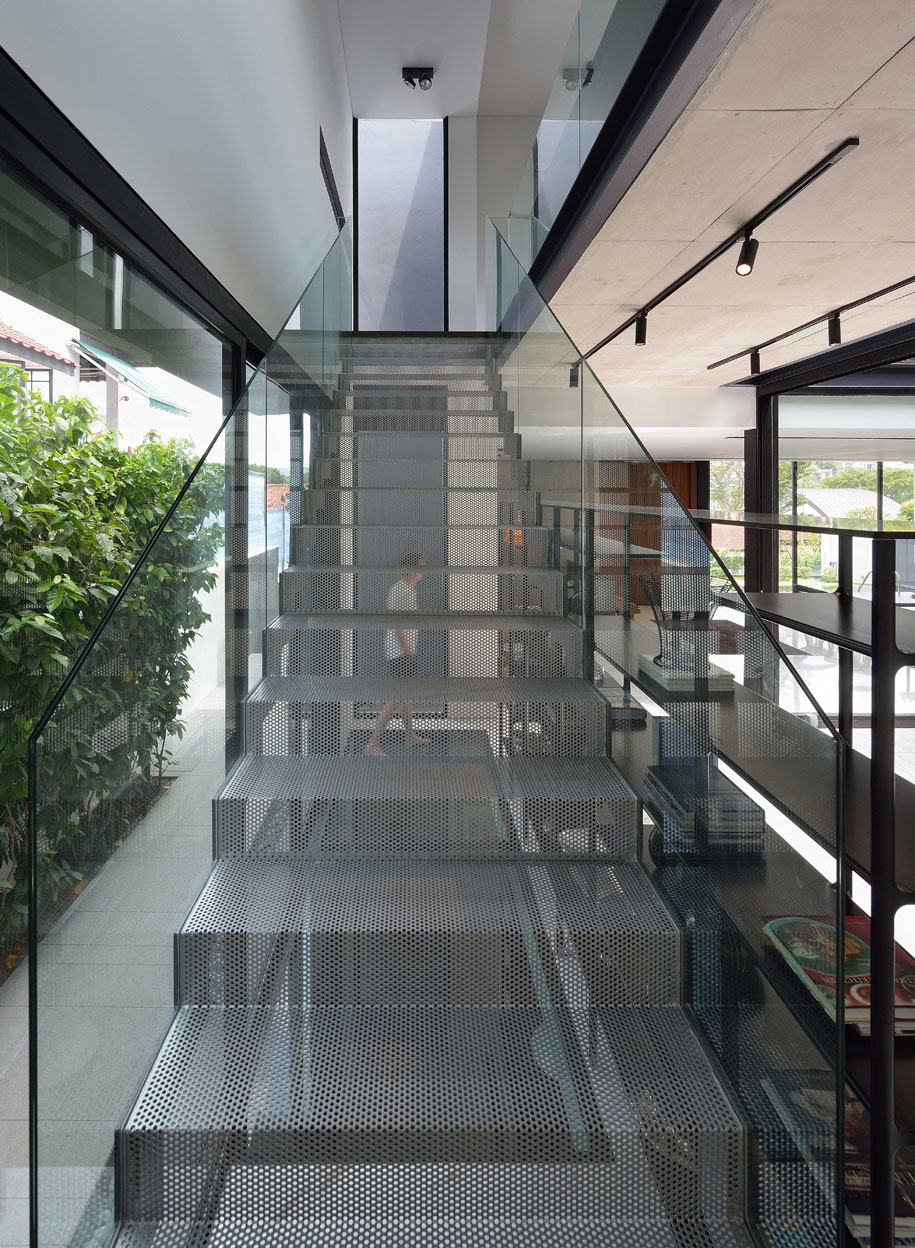 The team took special delight in designing the first-storey staircase, which was crafted in the same spirit of bringing lightness and various transparencies into the dwelling. "The owners were adventurous enough to go with a different kind of staircase," says project lead Allan Tongol. "As a result, we went with perforated steel as a chosen material for the treads and the rises, making the whole structure, just like the house itself, look transparent and light."
RT+Q Architects
rtnq.com
Photography by Chiel de Nooyer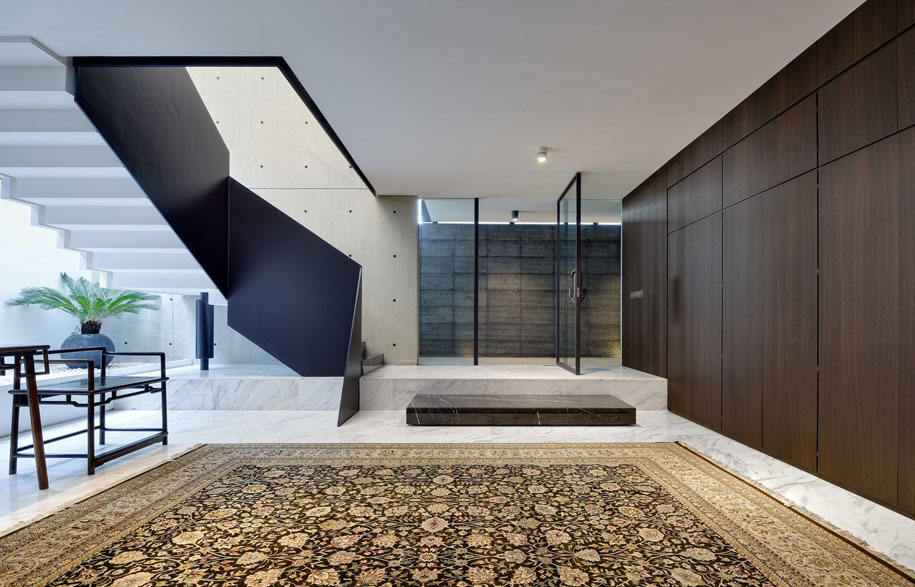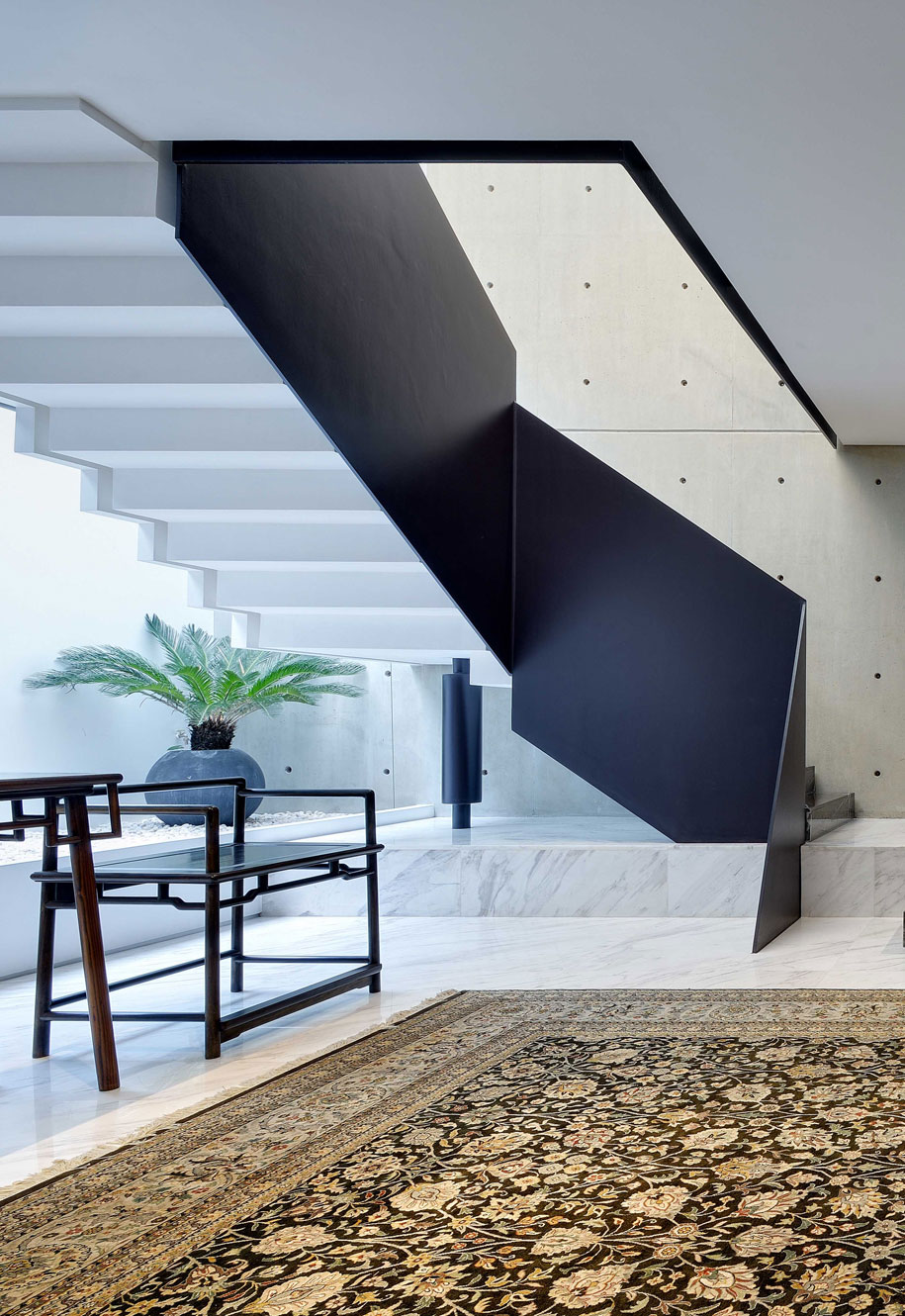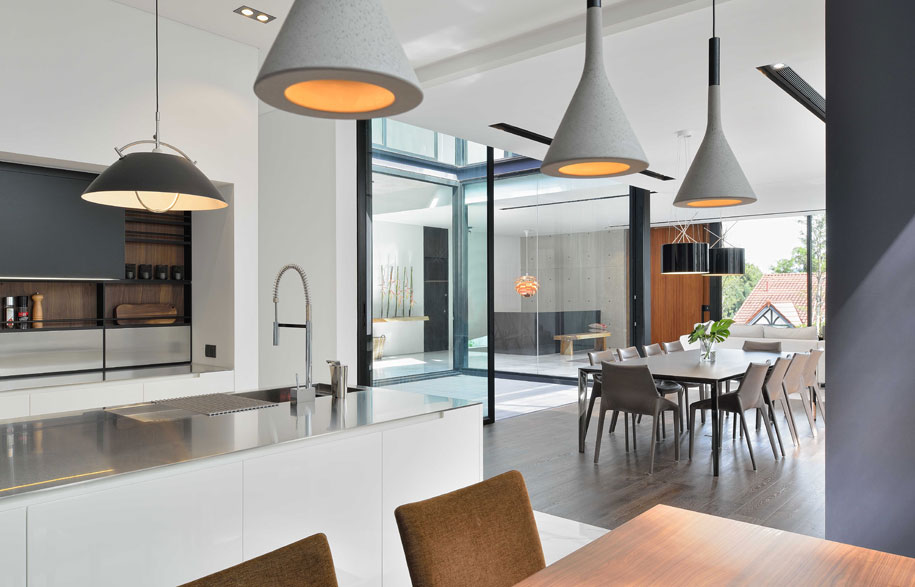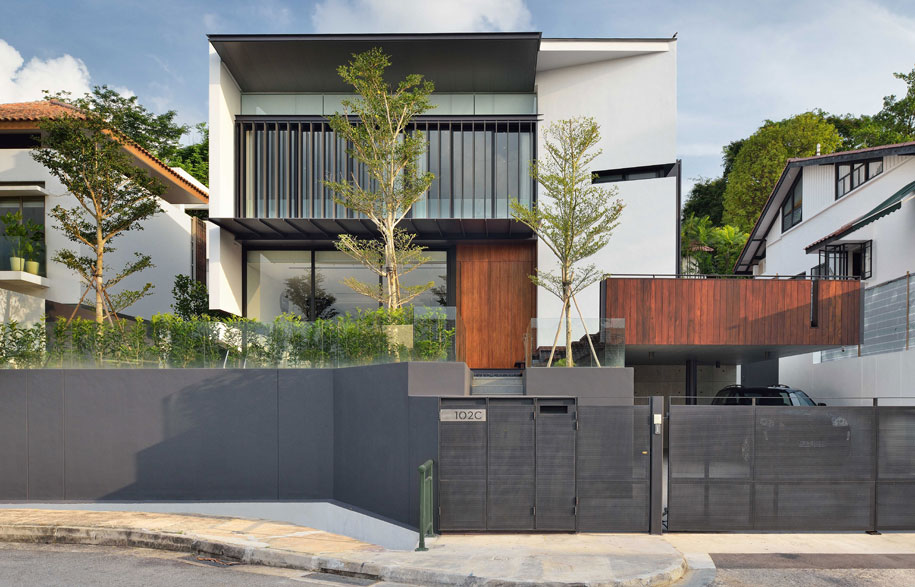 Tags: Home Architecture, House Architecture, Residential Architecture
---