Located on the 4th level of the Le Meridien flagship hotel in Bangkok, the recently redecorated Bamboo Chic Bar (originally by Orbit Design Studios but reorganised by the hotel) is a fun experimentation on the core essence of art deco's formal language of manmade materials, repetitive geometric patterns, and themes borrowed from lost cultures. The absence of the style's common visual vernacular of Aztec and Egyptian themes is evident, and in this case has been supplanted with an interpretation of oriental bamboo groves.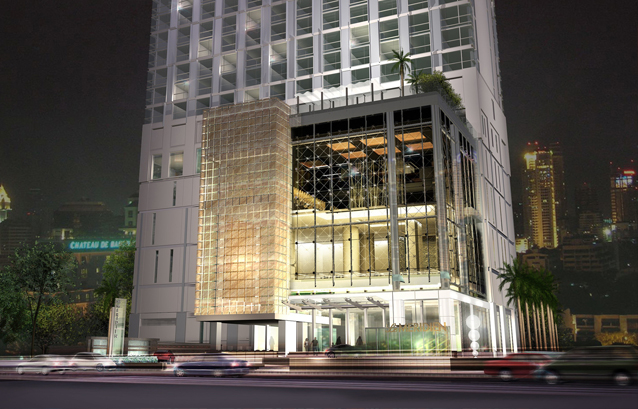 Even before entering the bar via the glass elevators, the spatial tempo of the space has been set by an approach through a corridor of illuminated crushed glass flooring, matt-black metal finished fin-wall with embossed bamboo culms on one side, and a glass wall on the other side which isolates the bamboo groves on the outside. This double-height bamboo grove gimmick can also be seen from the ground level lobby. From the corridor onwards, the bamboo groves are then abstracted and expressed in an art deco application of man-made materials.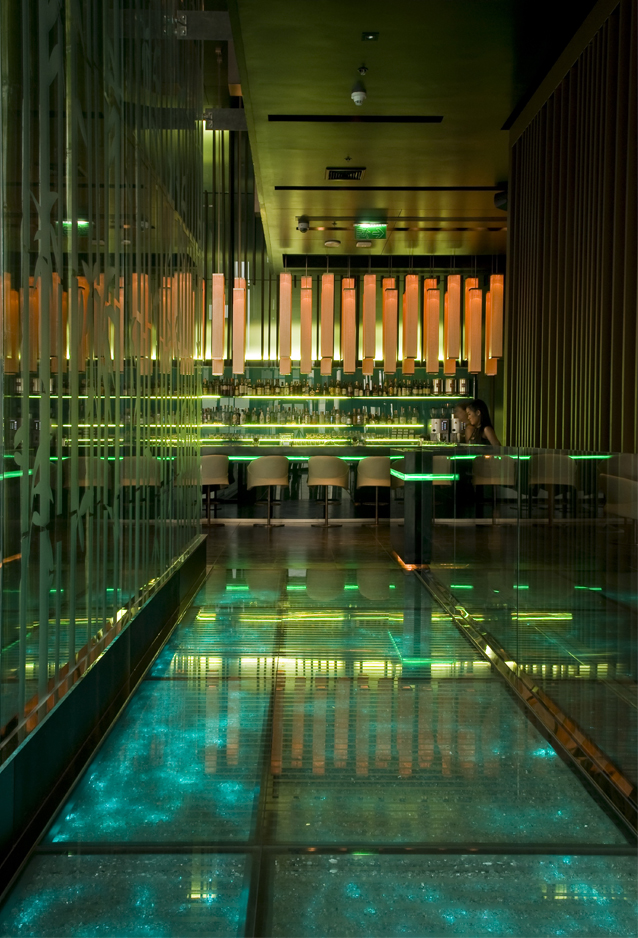 Image: Tanet Chantaket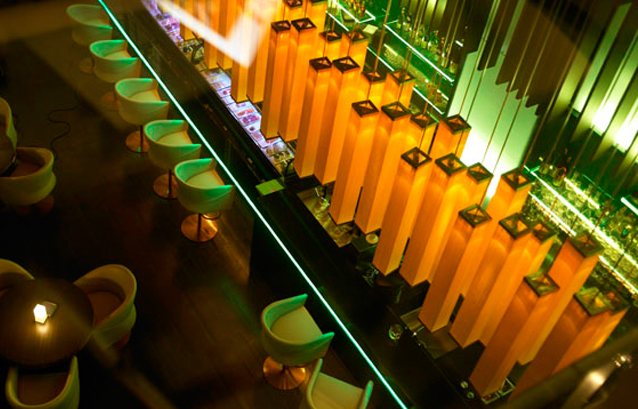 The physical nature of the bamboo is the key interpretation to the finishing materials and colour schemes of the entire space. The abstraction and geometric application are easily seen in the repetitive elongated pendent lamps of dried bamboo culms at the bar counter and the full-height vertical fin-wall finished in dark wood on illuminated sanded-glass behind it. To neutralize the overwhelming repetition of vertical lines, the horizontal-running cool green illumination along the rectangular bar top and semi-round seating that appears as a play on cut bamboo stalks are positioned to counter-balance the verticals. The repetition of the bamboo motif is also surrogated to the framing pattern on the double-height glass, and also on the silver finished curve metal screen imitated with bamboo weave on the other side to the washrooms.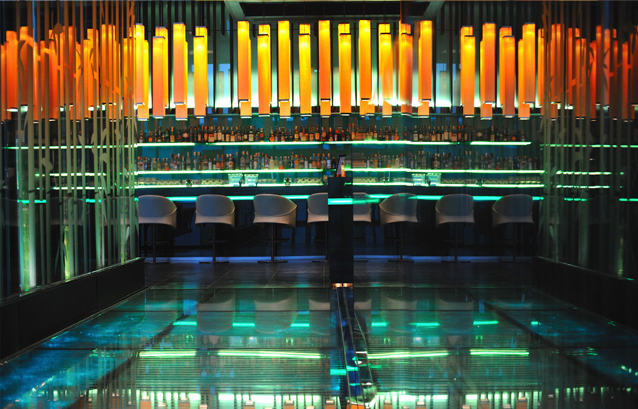 From a design perspective, the tendency to slide repetition when using a very simple theme is almost inevitable. However in this bar, the bamboo aesthetic has instead been abstracted and reincarnated with many manmade materials, lending variety and interest. 
Tags: Bamboo Chic, Interior Architecture, Interior Design
---