Above: The living area leads to a generous terrace.
"Our neighbours still ask us when we will be starting to build," quips Jolson. But they probably have not yet passed through the period steel gates and large pivotal door. Here, concrete floors and white walls are punctuated by a central 'pod', enclosed by 1400mm walls. "I wanted to create a studio environment," says Jolson, "where communication and sight lines are completely open."
His 15 staff may be focused on their computers, but they also engage with an Ingo Maurer light fitting (suspended above a meeting area), an aquarium and the sky, through steel-framed windows. As a child, Jolson had goldfish at home. "I've always had a passion for tropical fish. The aquarium animates the office," says Jolson, who has included 40 different coral and 20 species of fish.
Having an office and home in the one building could well blur the division between the two. But, says Jolson, "The division is both mental and physical. The idea wasn't to work from a front room of my house. There's a distinct physical division," he says. A large pivotal door leads to the office, while another pivotal door accesses the home directly above. "I need to be able to leave work at the end of the day," he says, "and not bring it home with me."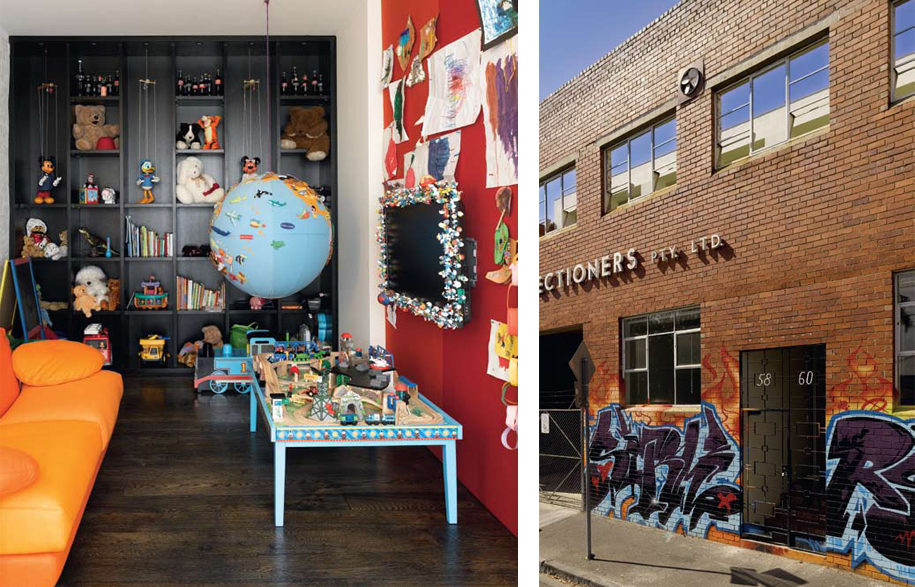 Left: Luca's play area is located to one side of the living area.
Right: The 1950s façade, with original signage.
Jolson lives in the house with his partner Lisa, their four-year-old son Luca and dog Sambo. While there are elements of the original factory – steel beams and concrete floors – the new home wasn't designed as a warehouse-style space. "I wanted open-plan spaces you'd find in a warehouse," says Jolson. "But I also wanted to design a family home, with sufficient privacy for everyone."
He started with a fairly rudimentary structure. The factory/warehouse covered almost the entire 400m2 site. "It hadn't been used for years. It had become a home for pigeons," says Jolson. "I love the brick façade, but I also appreciate the volume and space."
Once past the front door there is a spacious foyer, complete with grand piano. The foyer also doubles as a gallery space, with photos taken by Jolson on his travels through Africa, Egypt and India. While the wall of exotic photos allows for a moment of reflection, it is the ribbon-like steel staircase that demands attention. Separated from the bagged brick walls and illuminated from below, this staircase appears to float. "It's a transitional space. I wanted to create an ethereal space between the raw façade and refined spaces above."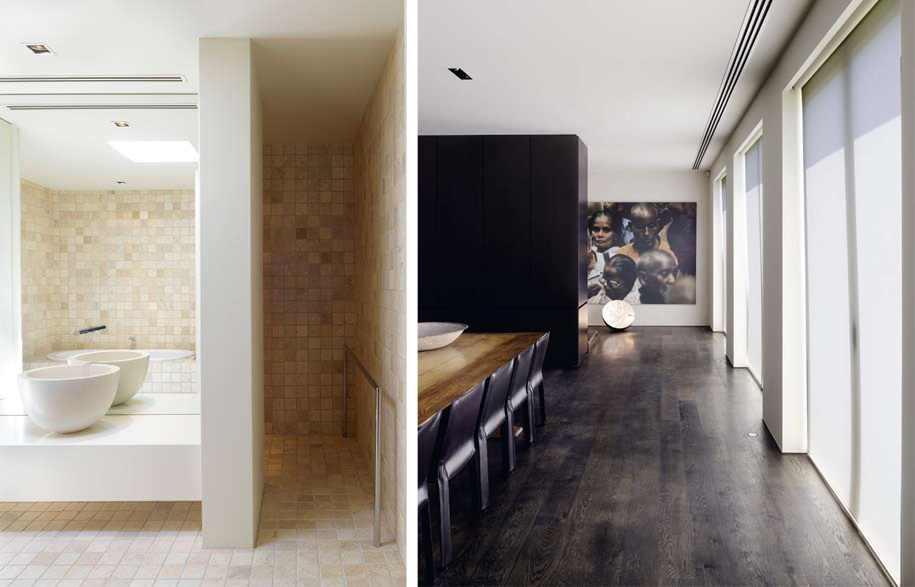 Left: The ensuite to the main bedroom.
Right: In the first-floor dining room, a photograph taken by Jolson during a trip to India covers an entire wall.
While the unfolding staircase heightens the sense of anticipation, it is the terrace-style garden at the top of the stairs that takes people by surprise. Extending across the entire site (22 metres), it enjoys views of Melbourne's skyline and the period homes in the foreground. "We removed opaque glass from the steel frames. Before, this was all hidden," says Jolson, pointing out the spectacular vista.
The two-storey rendered house above the office is set back 10 metres from the original façade. Clearly a new structure, its doors and windows are aligned with the windows in the original façade. "I treated the façade like a mask. You can peer through it, but like a mask, you're not exactly sure who is behind," says Jolson.
Behind the 'mask' is a spacious openplan living area on the first floor. Conceived as three 'blocks' that intersect, views as well as communication lines are open. "I've always liked borrowing space," he says, "and creating a sense of transparency."
One of the 'blocks' is in the kitchen and is made from black-stained american Oak. Containing the fridge, oven, pantry and storage areas, it presents as a feature wall rather than a working kitchen. The other 'block' in the kitchen, concealed by a photographic canvas screen, contains the hotplates and a study nook. In researching the history of the building, Jolson discovered an image in a magazine, taken in the mid-1950s. Standing in front of a huge vat is a man mixing up ingredients for sweets. "I wanted to acknowledge the building's history," he says. "But I also wanted to screen the kitchen when not being used."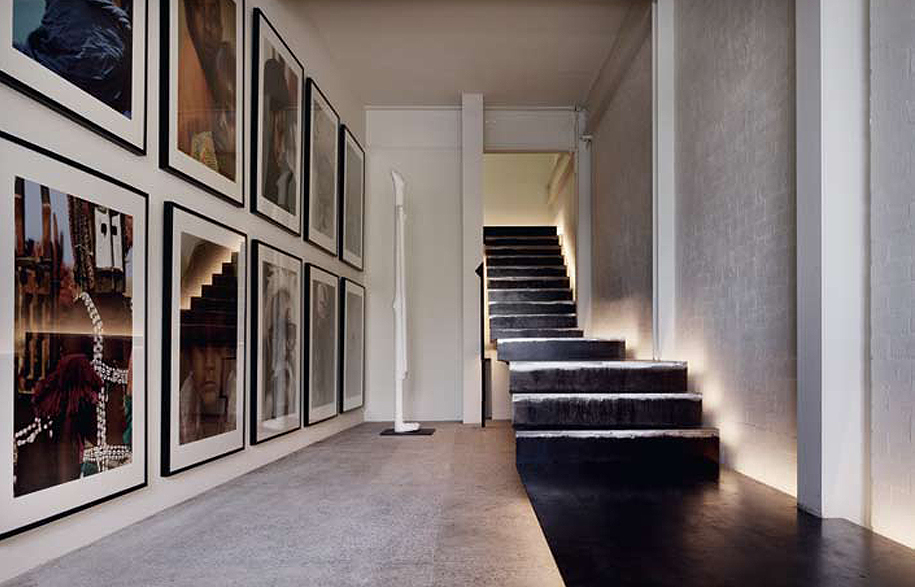 The home's entrance features a dramatic steel staircase and photo gallery.
The central island bench is just as pared back. Made from polished black granite, the six-metre-long bench features an integrated stone sink. Monolithic in appearance, the bench reflects the natural light. "It's one of the few mirrored surfaces used in the house. The other finishes are recessive," says Jolson, pointing out the american Oak flooring.
A third 'block' divides the kitchen, dining and living areas from Luca's play area. Lined with american oak bookshelves and a wall made of felt (for pin ups), this 'block' shields scattered toys from the rest of the space. The other side of this wall contains a fireplace and nook for wood storage. Framed in mild steel, the nook also releases a television screen at the push of a button.
Minimally furnished, with contemporary leather lounge suites, the living areas also include elements from travels abroad. an overscaled photo of a crowd in India appears on one wall, while above the fireplace is a sculpture by local artist, Kate Hendry. In the lounge area are rain drums from Laos, used as coffee tables. "I enjoy layering spaces and adding texture," says Jolson, pointing out a Nepalese hand-woven rug.
Concealed behind the kitchen is a powder room, as a well as a staircase leading to the bedrooms on the third level. Two bedrooms, together with a bathroom, form one part of the bedroom wing, while the other comprises the main bedroom, dressing area and ensuite. Like the living areas, the main bedroom suite is separated by 'blocks', with apertures either end providing light and views beyond. "It was important to engage with the neighbourhood. Lisa and I enjoy seeing people stroll along the pavement. There's constant movement," says Jolson. and although the home and office is near a train line and surrounded by other homes, there's a sense of a being in an oasis. "People aren't aware there's something behind our façade. as far as they're aware, it's still Sunrise Confectioners."
Photography: Scott Newett
scottnewett.com.au
Design Architect:
Stephen Jolson
Project Architect:
Andrew Prodromou
Interior Design:
Stephen Jolson
Construction:
Len Bogatin & Associates
Electrical Consultant:
Urban Intelligence
Structural Consultant:
Burns Hamilton & Partners
Mechanical Consultant:
David Couper & Associates Jolson (61 3) 8656 7100 jolson.com.au
Furniture:
Chaise Le Corbusier, originally belonged to Stephen's grandfather. Chairs Cab by Mario Bellini in black leather. Victoria Ghost by Philippe Starck. Up 2000 by Gaetano Pesce for B&B Italia in red.
Finishes:
Floor engineered European Oak with wax oil finish from Le Parqueteur, leparqueteur. com.au. Carpet Ripzon Kontract from Halcyon Lake, halcyonlake.com. Bathroom floor tumbled marble and waterproof compressed fibre cement sheet. Joinery American oak quarter cut from A&C Handley Custombuilt Furniture, (61 3) 9762 2879, with Black Japan stain from Northern Industrial Coatings, northernindustrialcoatings. com.au. Laminate plastic Laminex, thelaminexgroup. com.au. Kitchen bench honed Black Zimbabwe stone from Signorino Tile Gallery, signorino.com.au. Roof BlueScope Lysaght Klip-Lok Colorbond, bluescopesteel. com.au. External walls HardiTex treated fibre cement sheet from James Hardie, jameshardie.com.au. Cladding system by Insulclad, nuplexconstruction.com.au. Internal walls China White paint from Dulux, dulux.com. au. Ceiling Natural White paint from Dulux, as before.
Lighting:
Uplight Genie waterproof from Inlite, inlite.com.au. Sensor flush-mounted and wall-mounted from Urban Intelligence, urbanintel.com. au. Kitchen joinery recessmounted halogen from Häfele, hafele.com.au. Other lighting majority from LPA, lpaust. com.au.
Fixture S/Equipment:
Kitchen and laundry oven, barbecue, dishwasher, gas and wok burner, washing machine and dryer, all from Miele, miele.com.au. Rangehood Qasair, qasair.com.au. Laundry sink Franke undermount, franke.com.au. Laundry tap Hansgrohe Allegra, hansgrohe.com. Refrigerator Jenn-Air, jennair.com. Ensuite handshower by Soho from Rogerseller, rogerseller.com.au. Other bathroom handshower and wall mixer Zucchetti from Streamline Products, streamlineproducts.com.au. Bathroom taps Supergrif from Architrend, architrend.com. au. Hot water system Infinity from Rinnai, rinnai.com.au. Fireplace Jetmaster, jetmaster. com.au. Kitchenette tap Oxygene, abey.com.au.
Tags: Architecture, Australia, Home Architecture, House Architecture, Interior Architecture, Interior Design, laminex, oak, office, Qasair, renovation, Residential Architecture, victoria
---