Basement restaurants are risky enterprises, at risk of becoming dim, suffocating bunkers. Then again, approached with a deft touch, the enclosed space can be imbued with a mixture of industrial and refined elements that give it a rich and inviting aesthetic.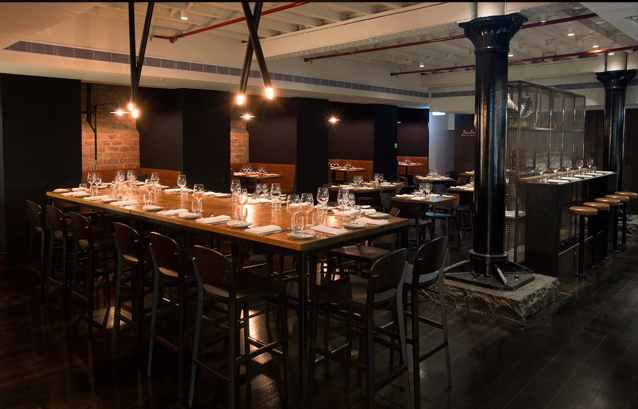 Interior Designers Eades & Bergman's latest graft of Manhattan design is a winning example of the latter, and squirrels visitors away to a carnivore's paradise of dark timbers, exposed brick, polished marble and burnished copper. The entrance through a fire exit stairwell lays the tone for the interiors, which open out into a 330 square metre room arranged into a variety of individual, intimate and communal seating areas.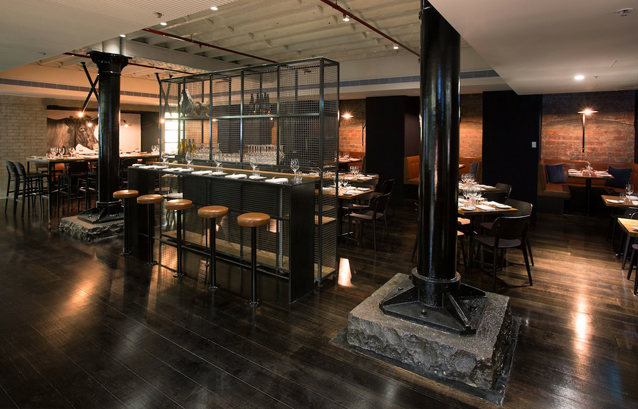 The space is divided by a chicken-coop evoking waiter's station flanked by imposing black steel columns raised on stone pedestals (originals retained from the old Georges Department Store). Recessed booths on one flank are illuminated by custom lights from Eades & Bergman, and a raised table for larger parties lies under the inscrutable bovine gaze of a black bull (a more sensitive diner may ponder at the beast's unspoken enquiry between mouthfuls of rump; 'how delicious am I?').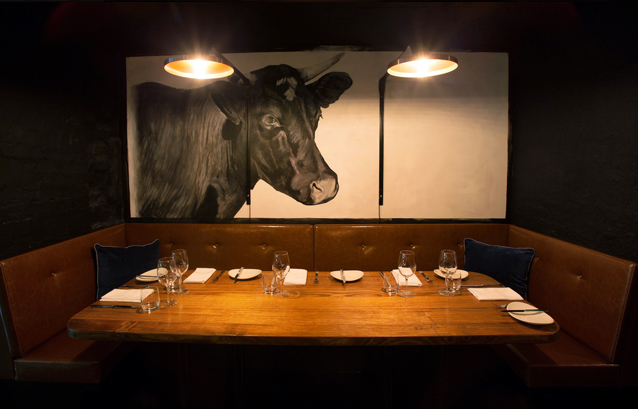 Illumination is balanced and atmospheric, and resonates well with the subterranean context. "The space has no natural light so we were not going to fight that" comment the designers, "We created a dark and moody feel yet lightened the ceiling in order not to make it feel too heavy."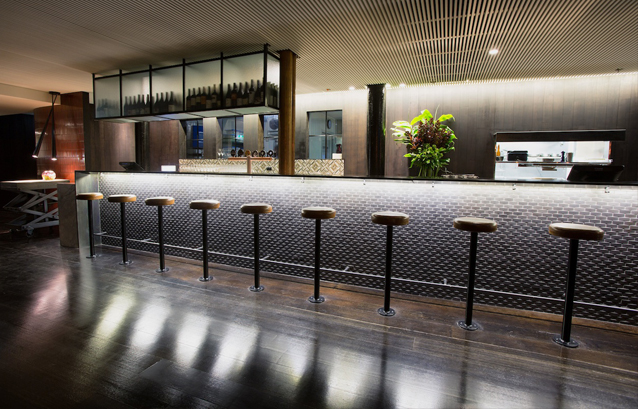 Furnishings and finishes tread a similar balance, pairing crisp, fresh elements (such as tiles by Patricia Urquiola) with second hand ship lights in the entrance and a Maitre D' table from New York. The overall effect is of a space that appeals to the sanguinary without alienating a less blood-thirsty visitor.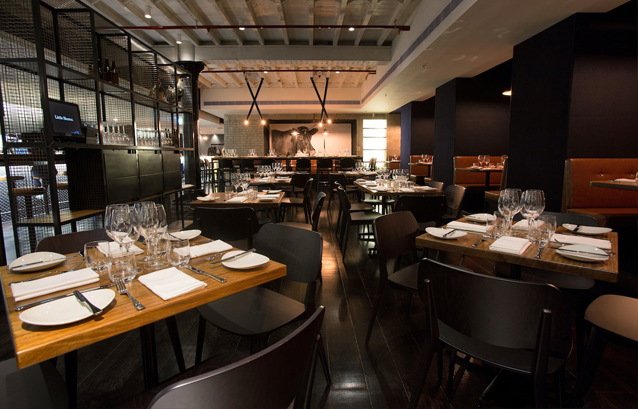 That said, it seems like a great place for a steak.
Little Hunter
littlehunter.com.au
Eades & Bergmann
eadesandbergman.com
Photography:
Tiles on Face of Bars – 'Repeat Wave' from Artedomus
Tiles on walls and splashbacks – 'Azul Prata Nero' by Patricia Urquiola from Urban Edge
Marble Benchtops – 'White Fantasy' from Artedomus
Tags: Artedomus, Eades & Bergman, Interior Architecture, Interior Design, Little Hunter
---