Wander into BMW's state-of-the-art new five-storey car showroom in Sydney's exclusive Rushcutters Bay and you could be in a boutique hotel. Striking contemporary architecture juxtaposes cantilevered white concrete boxes, steel and transparent glass walls, with a stylish first-floor reception, café and lounge. MINI's allied two-level space next door works a bold, black gridded aesthetic. The Sydney team arm at SJB designed BMW Group's 6,930-square-metre combined dealership to celebrate its iconic brands.
"The buildings function as a series of luxurious display cases each with their own character and identity," says SJB's principal director Adam Haddow. "Where the BMW showroom exposes, the MINI box envelops and encloses, a compelling contrast in form as well as materiality."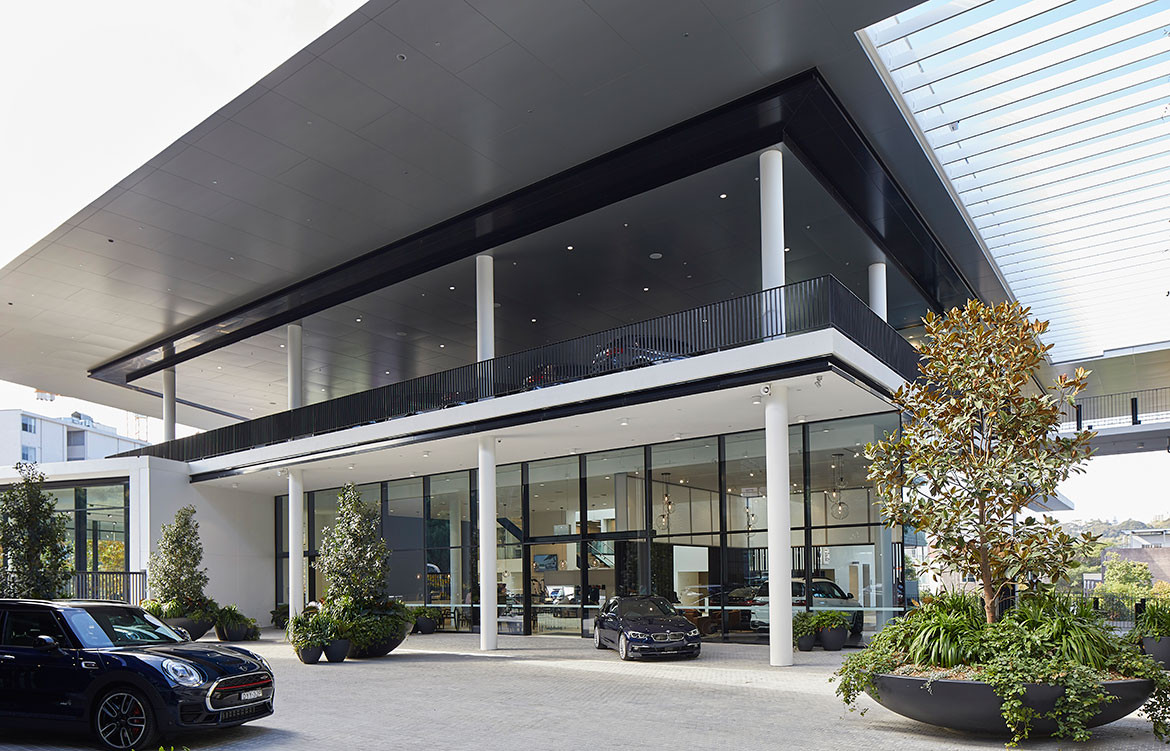 The $65-million renovation of BMW's 30-year-old showroom creates a larger, updated, consolidated space. A former post office transformed into a BMW dealership in the 1990s, the building was completely demolished in the redesign. SJB responded to the challenge by designing two separate showrooms and a service building, united by a soaring silver metal-clad roof. "The three all connect to a cobbled courtyard like an Italian village. The piazza has shaded overhangs but is open to the sky." The brief was "to build the alignment of BMW and MINI while maintaining their distinct personalities," says Adam, "and to raise the level of service in the mechanics space" (an expanded 46-bay workshop offers slick 90-minute vehicle turnarounds).
Innovative design enhances patrons' experience. SJB integrated an engaging large-scale public artwork into the MINI showroom's black metal façade. Featuring perforated, patterned panels, 'Journey to My Country' by Aboriginal sisters Tarisse and Sarrita King shares indigenous stories.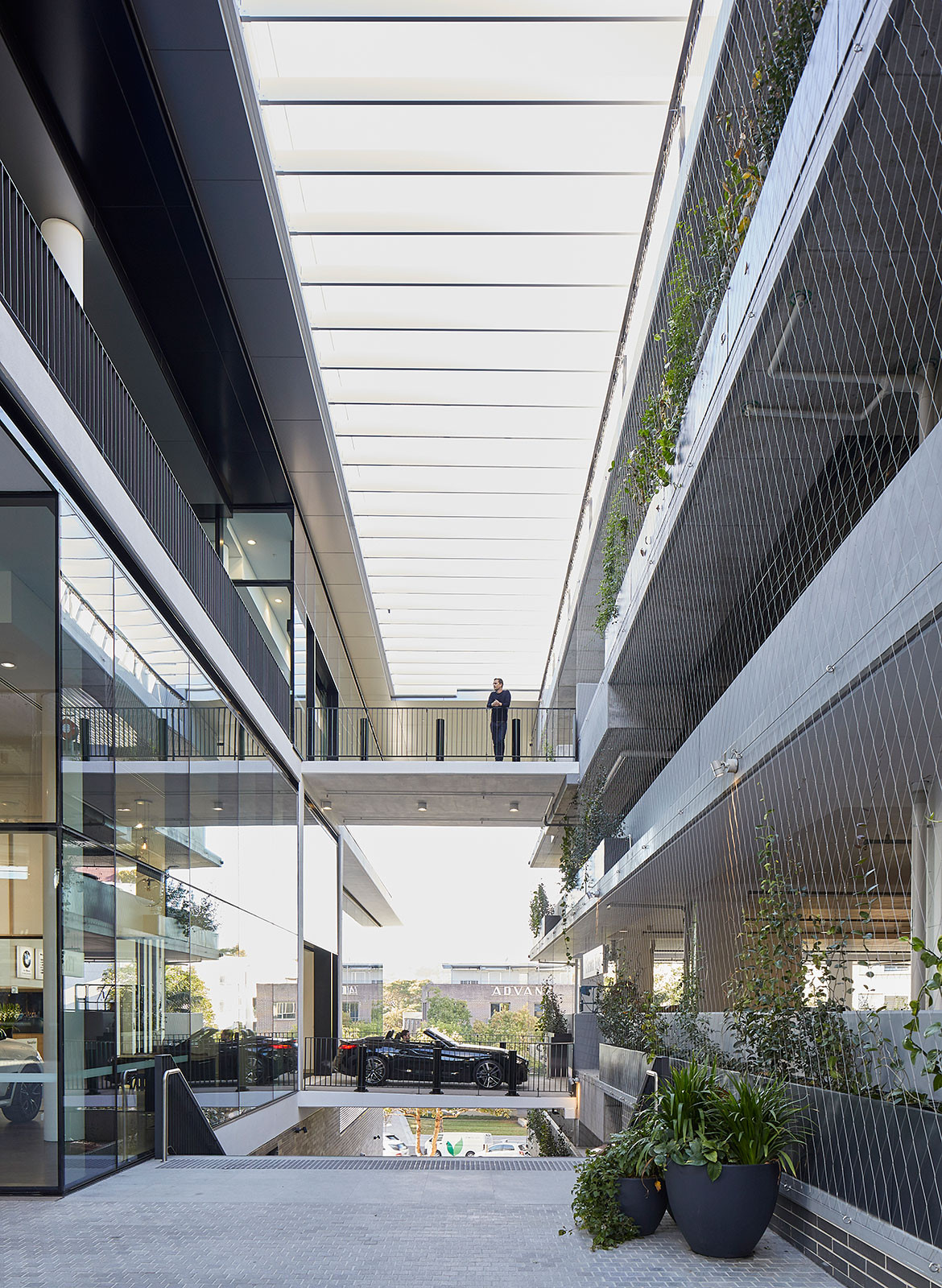 A generous skylight and staircases bring daylight into the BMW space's core. "Car showrooms can be dark or overly lit," says Adam. "The warmth, colour and texture of sunlight is really beautiful." This Australian desire for light is supported by German high-tech. Custom-designed M Series grid light pendants and track lights showcase a dynamic line-up of BMWs, inspired by the roadway.
Cars are displayed inside – including dedicated areas for specialist, high-performance and top-end models – and outdoors, with windows and overhangs framing the intersection. "We don't turn our back to the road but embrace it – it's a part of what it is to drive a car."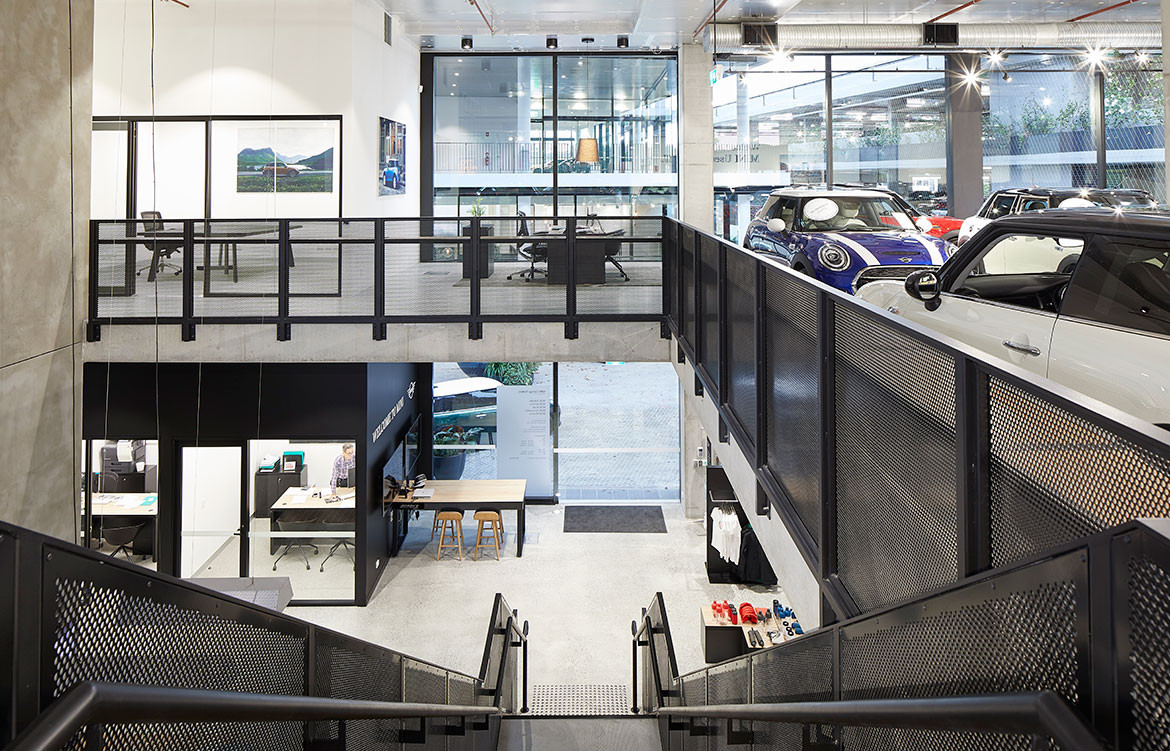 Sustainable architecture reflects BMW Group's championing of electric vehicles. Collaborating with landscape designers Black Beetle, SJB incorporated eco-friendly greenery, turning the central customer hub into a lush retreat. A wire mesh screen around the naturally ventilated car park acts as a trellis for climber plants, extending foliage to the façade. The practice also utilised recycled grey water, solar panels and roof overhangs to provide cooling.
As the cars of the future become cleaner environmentally, car showrooms are changing too, says Adam. 'They're becoming a comfortable lounge room where you can drop off your car for a data update, rather than just a dirty mechanics garage." The result here is an aspirational destination where customers can relax while buying a vehicle or servicing their car, with chic merchandise boutiques and BMW Geniuses on hand for advice. A trendsetting evolution, SJB's luxurious modern design delivers premium motoring retail. "These brands may make cars, but they also offer a lifestyle."
Photography by Martin Mischkulnig
SJB
sjb.com.au
BMW Sydney
bmwsydney.com.au
MINI Garage
minigaragesydney.com.au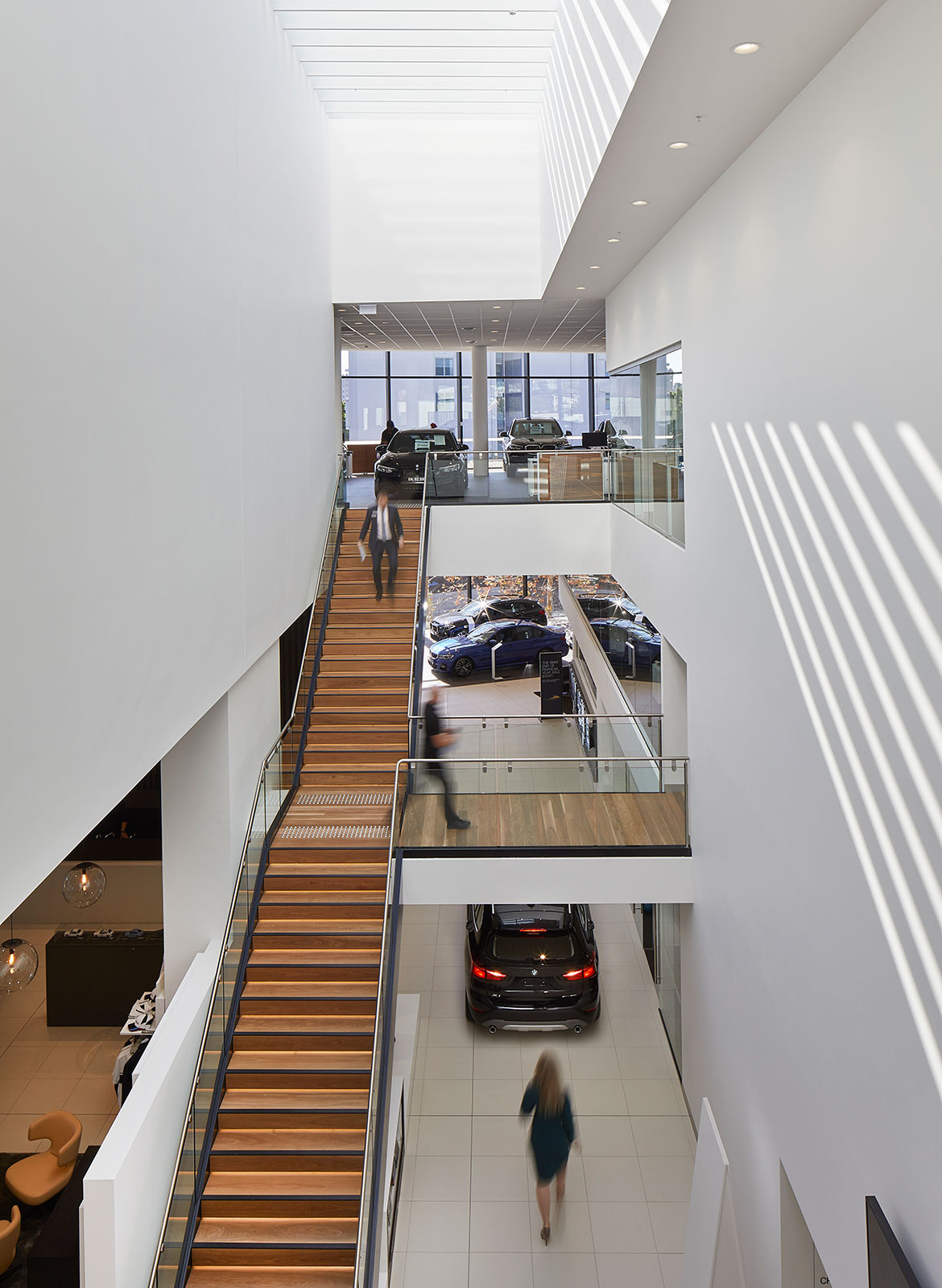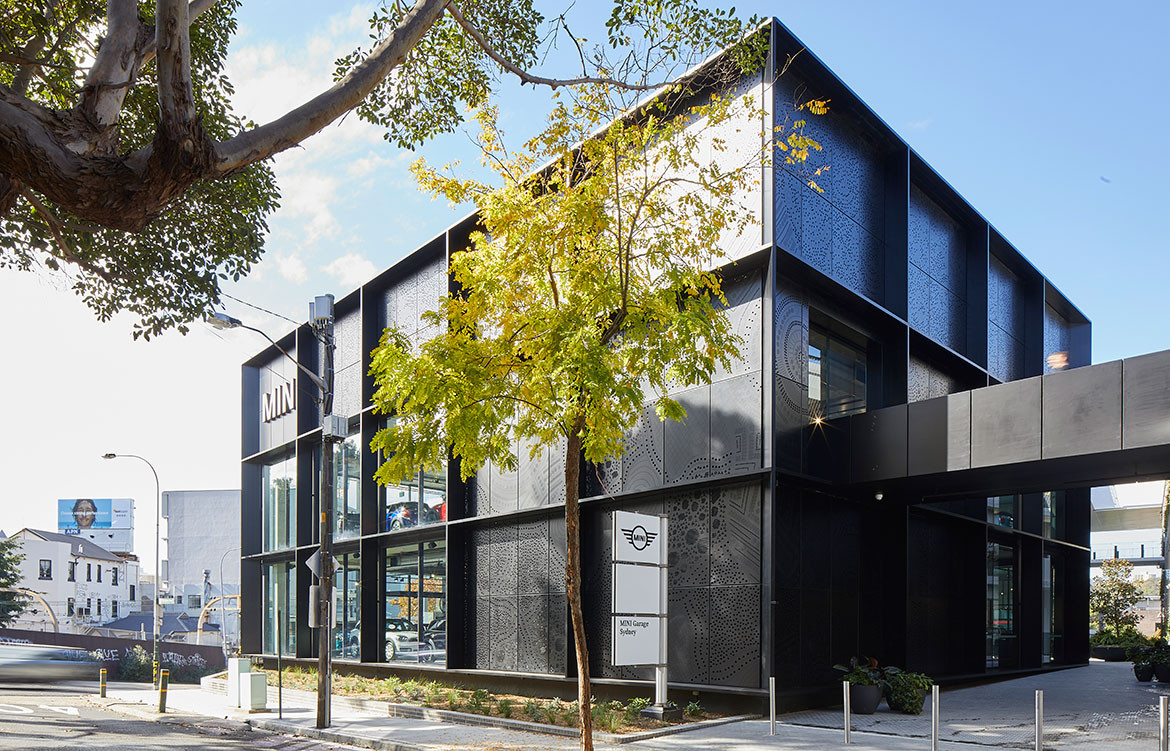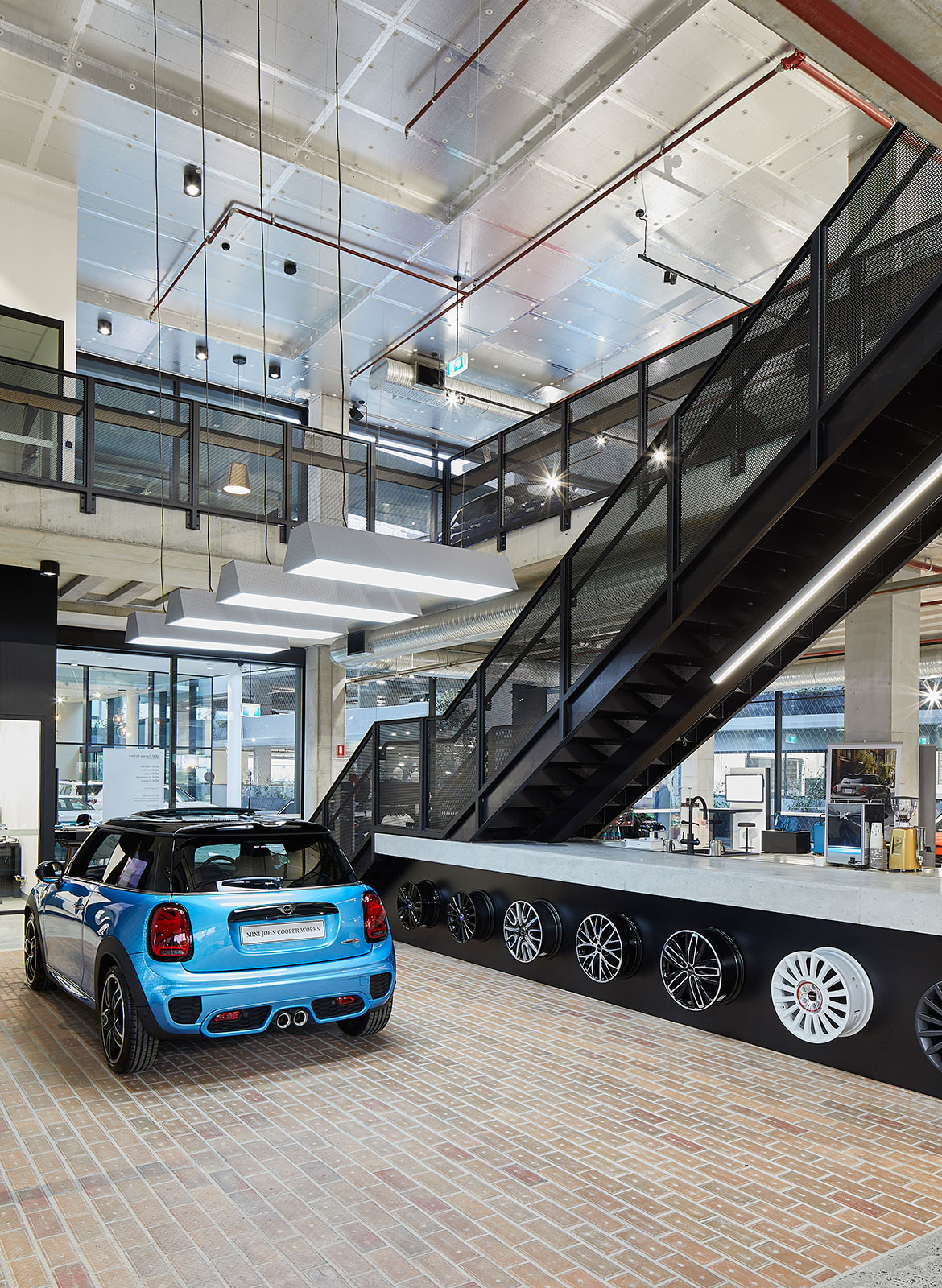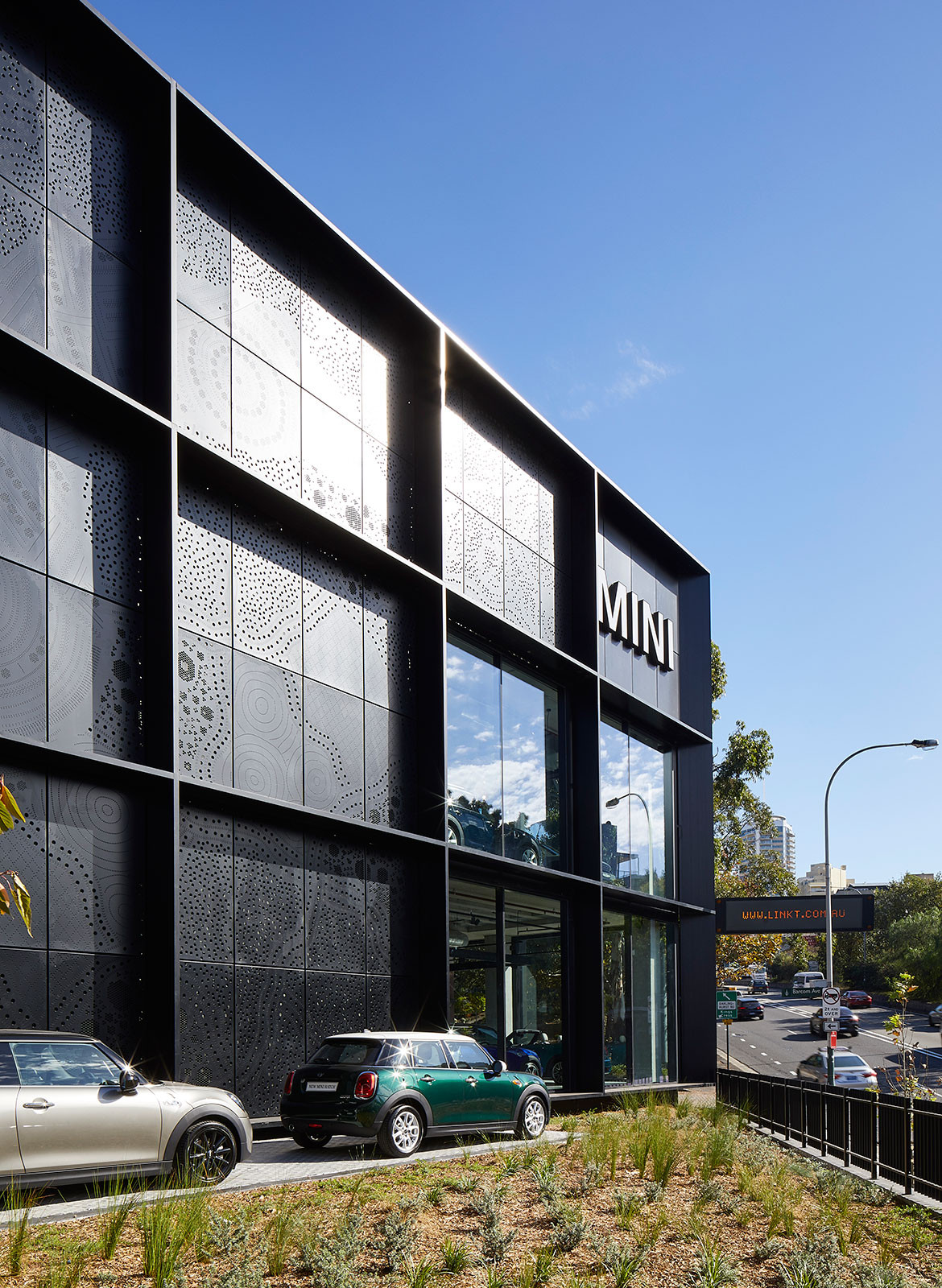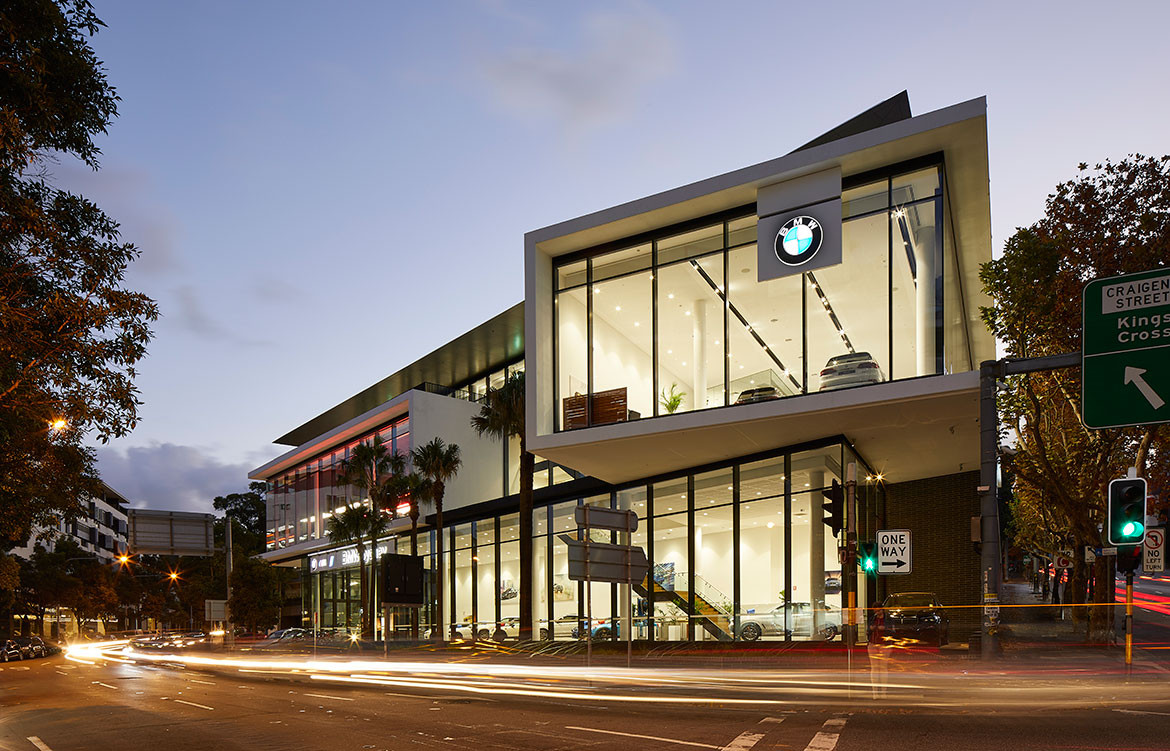 We think you might also like The New Approach To Showroom Design
Tags: Adam Haddow, Architecture, bmw, Car Showroom, commercial, concrete, contemporary architecture, glass, Martin Mischkulnig, mini, retail, Rushcutters Bay, Showroom Design, SJB, Sophie Davies, steel, sustainable design, Sydney
---