Since opening in late 2011, Bondi Hardware has fast become a favourite amongst locals.  Originally a hardware store, the bar's look and feel draws on the history of the site.  The result is a rustic venue that promotes relaxation in everything from the food and wine, to the quirky interiors. Here Amanda Vallis asks owners Ben Carrol and Hamish Watts along with their Design Consultant Virginie Pepin how they managed to create their mood and stay (almost) with in their budget.
What inspired your design concept for the restaurant fit out?
Ben:  When we found the site and it was an old hardware store and it just came together.  As soon as we walked in we knew that's what we were doing.
What kind of 'mood' did you set out to create?
Virginie:  The rusticity of the place came about from the food initially. The concept was good quality, low fuss and that real Jamie Oliver-style where the food is organic and fresh, healthy and honest.  We wanted the environment to reflect that so when we were throwing around pictures of food and different ways to style it was really influential in the overall design.  We use wooden boards, terracotta and lots of raw tones and earthiness.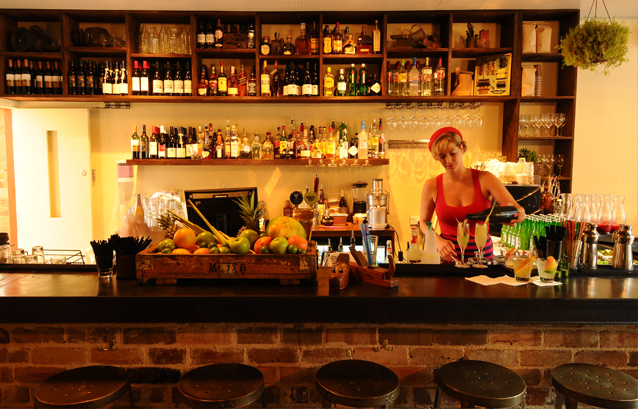 What kind of challenges did you face from initial concept design to opening the doors?     
Ben: Council definitely threw a few curve balls at us and created a few hurdles along the way.  You sort of comply to a few things that you wouldn't really want to.  We had to change our business model around particular conditions that they put on our license.
Which 'experts' did you enlist to get the job done (interior designers, stylists, carpenters etc.)
Ben:  It was basically just Glen Brown, our builder (Blue Sky Construction), the chippys and the three of us.
What kind of upkeep/maintenance is required to maintain the look you have created on a daily basis?
Ben: Aside from the rubbing the bar, which is made from Blue Steel with Penitrol (a type of surface primer) every few weeks to stop it from rusting, not a whole lot, thankfully.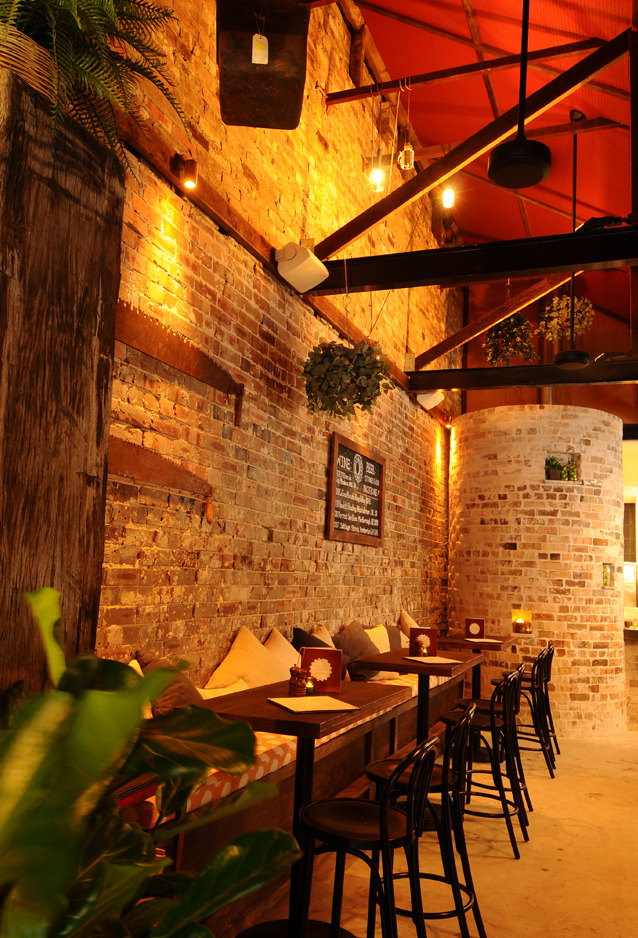 Many restaurants/bars go for a basic design approach and attract customers purely due to their food and wine.  Why did you choose to go the extra mile with the look/feel /theme of the place?
Hamish: We wanted to give the place integrity and authenticity.  We wanted it to feel like the place has been here forever and we've really tried to encompass that both through the design of place but also through our food.
What did your original design and fit out budget look like and what kind of proportion did it bear of your overall setup costs?
Ben: We had a rough idea of how much we could afford to spend but we basically took things as they came.  We really did go out of our way to save money.  We made the tables ourselves and Virginie was spending weekends in auction houses sourcing things we needed.  It ended up being about 10-20 % of our overall budget plus the cost of labour.
Did you exceed your design budget or stay within it?
Hamish:  We exceeded it, definitely.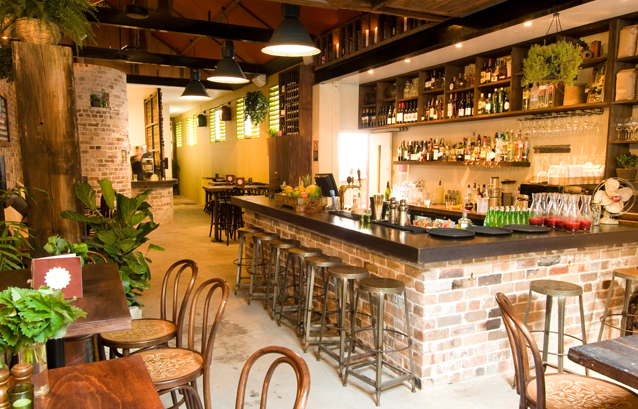 How willing were you to go beyond your budget in order to achieve the result you desired?
Ben: There were certain things that we were really determined to do.  Our skylight, for example, was a big cost, but we knew we wanted to have it.  We were really fortunate though, to have a builder who was great at coming up with ways to do things as cheaply as possible without compromising on quality or design.
What sort of compromises did you make? Or how did you get around certain budget limitations?
Hamish:  We went to this great place down South called Rockdale Heritage Centre and we would find some great pieces.  I found huge iron gates that I really had my heart set on but at the end of the day we just couldn't afford them.  Glen was a big help with the silo.  We originally had a wood-fired pizza oven there and Glen has this thing where he hates the look of wood-fired pizza ovens and we tend to agree so we thought how can we disguise it?  So we decided to make it 10 times bigger.  The bricks we used for that came from a demolition up the road in Bronte.  So we really have used a lot of recycled materials in the fit-out.
How does your space complement the food you serve?
Virginie:  We serve good, honest food and we use organic ingredients where possible.  We put a lot of thought in to the look and styling of the food, how it is set out on the plate and what it's served on.  We use lots of terracotta and wooden boards to reflect that rusticity that we want to achieve.  You can come here after a swim at the beach and have a salad or some sliders and a beer with mates.  We're not pretentious and everything is just really relaxed.
---