Australian designer Emma Maxwell – who is known for her restaurant projects – hopes that when people enter the spaces she has designed, they will feel as if they have stepped into another world, departing temporarily from life's daily grind. She says that she often imagines herself "taking the guest by the hand, leading them through the space and telling them a story."
This modus operandi is evident in the recently opened Café Melba located at Mediapolis@one-north. This is the second outpost of the restaurant that serves Melbourne- and Asia-inspired cuisine. Maxwell, originally from Melbourne, has designed the space as a calm and comfortable escape in the heart of a business park, which is ideal for casual meetings or for unwinding after a long day at work.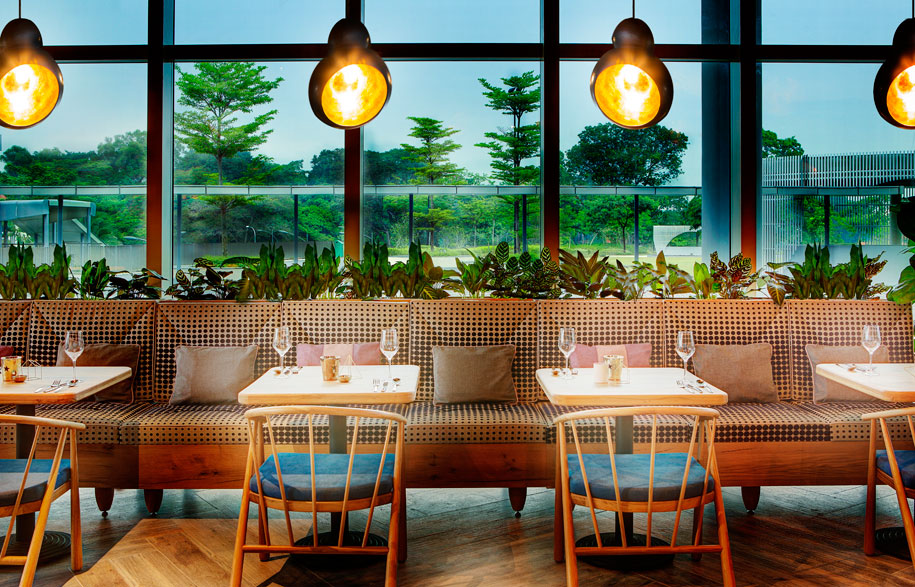 "I love using strong and bold patterns within a material context," Maxwell tells us. At Café Melba, furniture and interior features with soft, feminine curves create an inclusive and welcoming atmosphere, while bold patterns create space accents that are carefully balanced. The site overlooks a verdant green environment, which backdrops a series of booth seating.
"The colour scheme used within the space is very much a painterly and landscape driven response," says Emma who took cues from the Australian landscape to create the interior palette. For instance, the soft moss green on the upholstery was inspired by foliage in the Dandenong Ranges outside of Melbourne, while the grey and pink wall tiles reflect the colour of the rock formations in the ranges.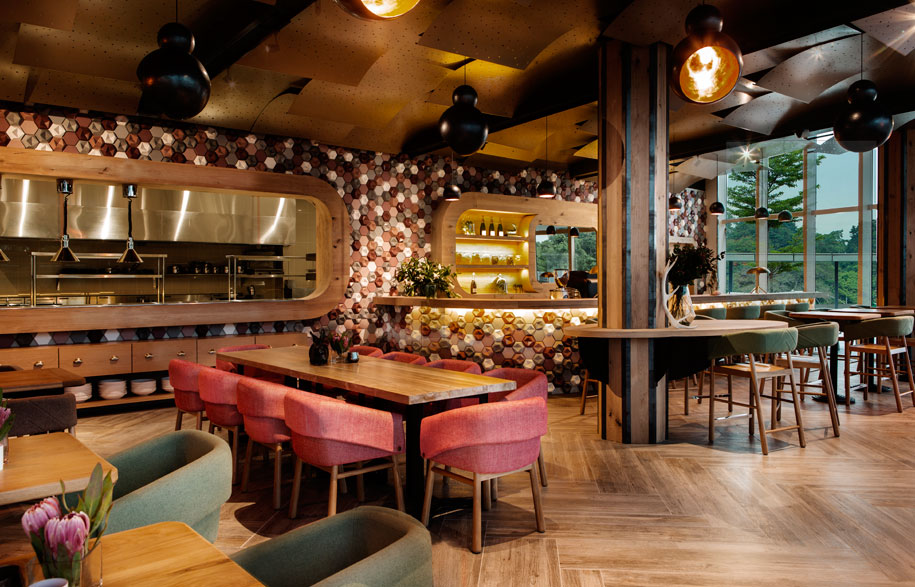 Maxwell also gave attention to enhancing intangible experiences. One of the challenges faced was that the 335 square-metre site had sharp and echoing acoustics. "A key objective is to focus all customer senses [on] their immediate table space and [on] each other to have a conversation and to hear each other," she says. An even sound environment was cleverly created through custom-built ceiling panels made of recycled composite metal. They curve at a specific 30-degree angle to ensure that sound is filtered and refracted accordingly, while reflecting and shifting light throughout the space. This feature was inspired by Louis Poulsen's iconic PH Artichoke lamp.
The space was also designed to be able to assemble or disassemble easily, in light of potential events that require more than 100 people to be comfortable within the space. "The layout had to be clear with a sense of community and dynamism. It still needed to feel light and open with a feeling of casual conviviality," Maxwell explains.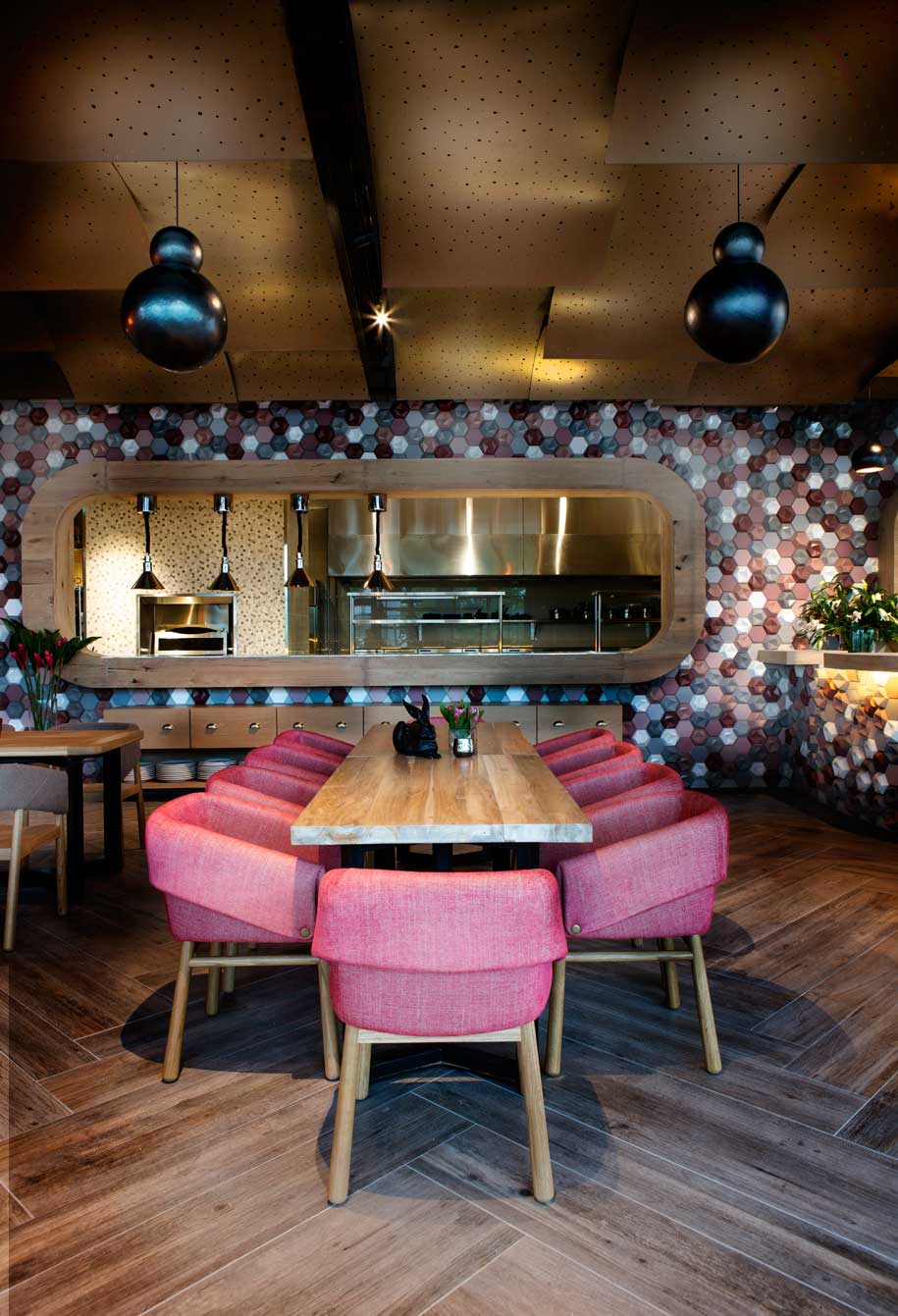 All furniture and lighting pieces were designed specifically for Melba by Maxwell – an approach she undertakes for all her projects. "Any chef worth their weight will not use a pre-mixed sauce from a tin, they will make their own stock and craft that sauce for the dish. While the sauce is unique to the restaurant, so are the interiors," she explains.
Solid old growth oak tables and hand-crafted chairs were upholstered in recycled wool, one of Maxwell's favourite features. The Kirkby Design fabric is made using salvaged yarns from the fashion industry and has limited impact on the environment. Maxwell also collaborated with Melbourne-based artist Geoffrey Nees to create art pieces for the space.
Emma Maxwell
emmamaxwelldesign.com
Photography by Brett Boardman.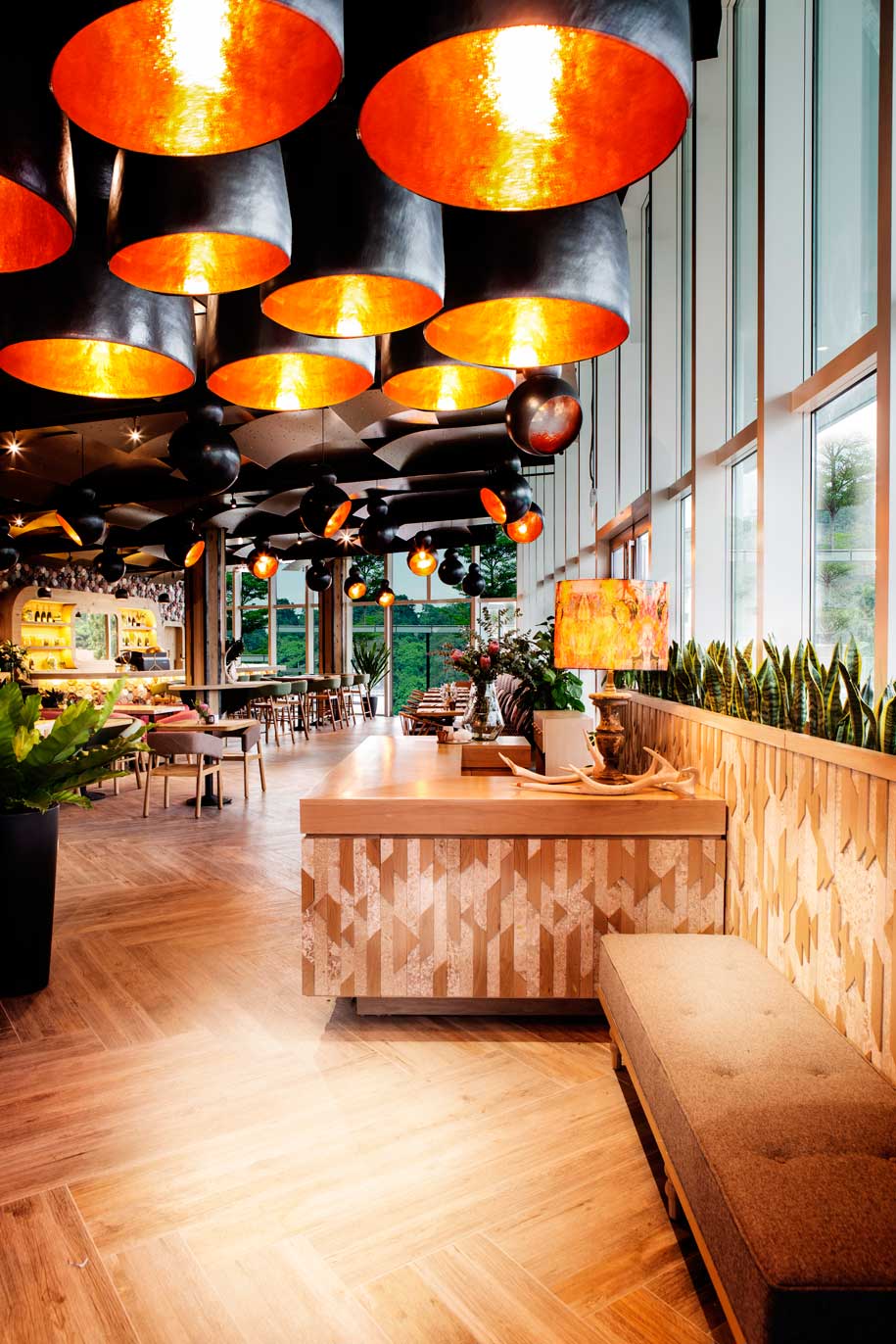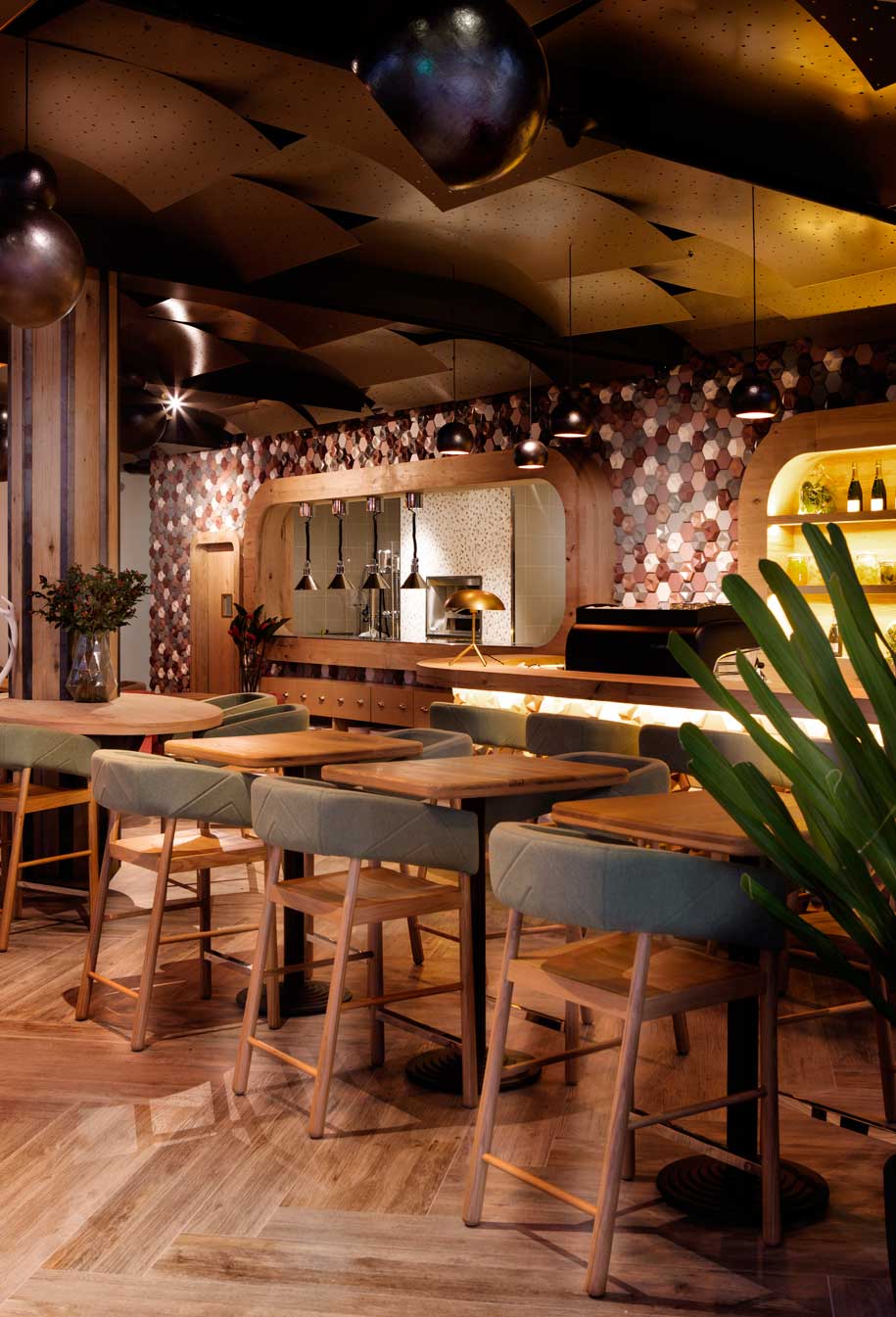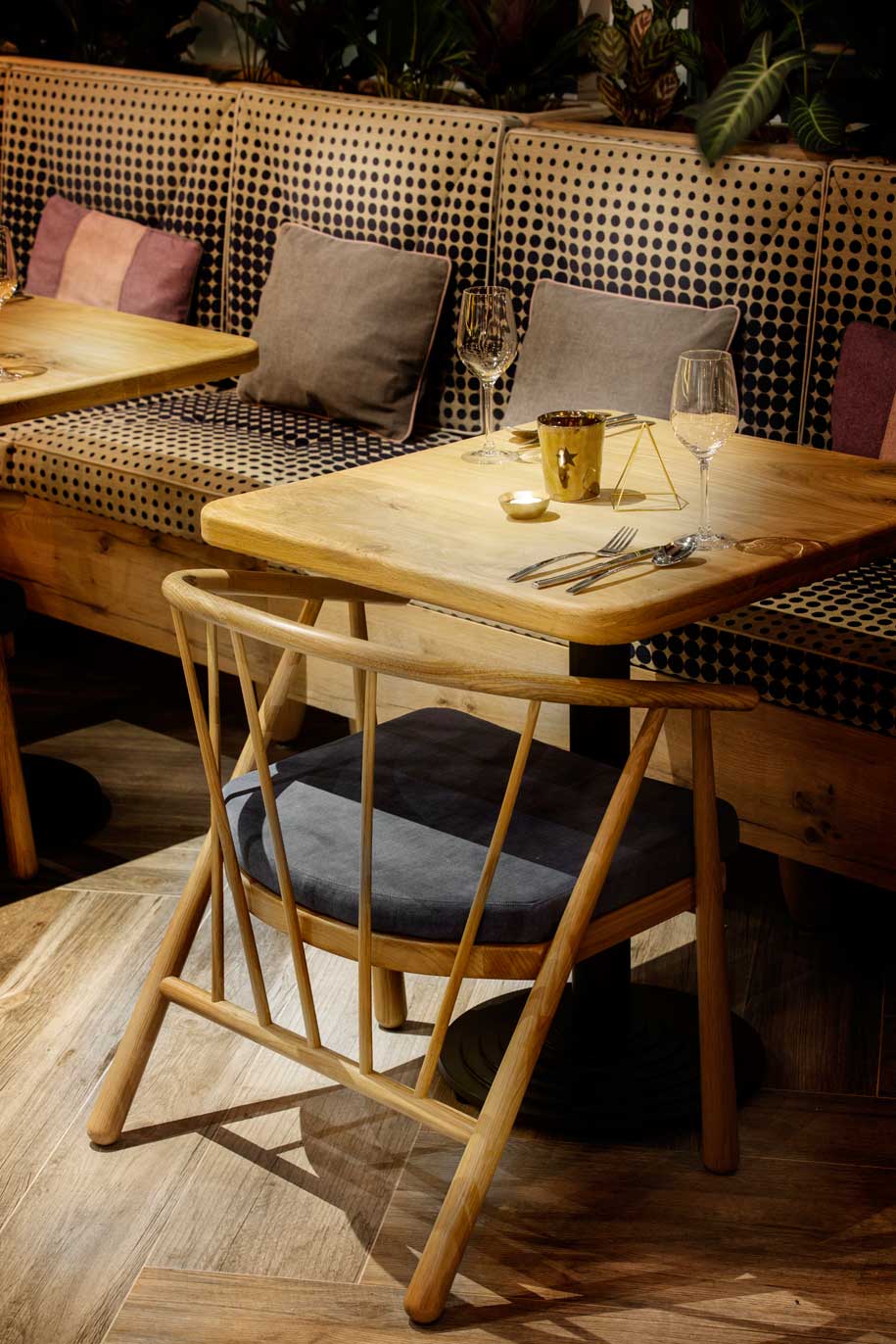 Tags: cafe, hospitality, Interior Architecture, Interior Design, Singapore
---