"Within a boundary of thin apartment buildings, individual and attached houses huddle against the cold. They are scatter-sited creating a residual network of small parks and intimate pedestrian public spaces, giving residents a sense of ownership, pride and identity. Within a wedge-shaped envelope of translucent insulation, masonry boxes house the private functions of living.
Living (socialising, eating, cooking, growing) occurs in the residual spaces. In a cold wet climate, our families can live in bright, spacious, warm houses.
Houses are planned to accommodate changing family types. They are flexible in the internal planning. There are attached studios for elderly parents, teenaged kids, separated parents or for working from home. We plan to keep driving to a minimum.
Mixed use on the Northern boundary gives residents access to childcare, a library, a convenience store within walking distance. Bikes are encouraged. Houses are tightly packed. The design of houses and apartments is based on the principles of the greenhouse. A translucent skin acts as a solar collector, and internal thermal mass stores the heat energy for slow release over the nighttime reducing the need for heating.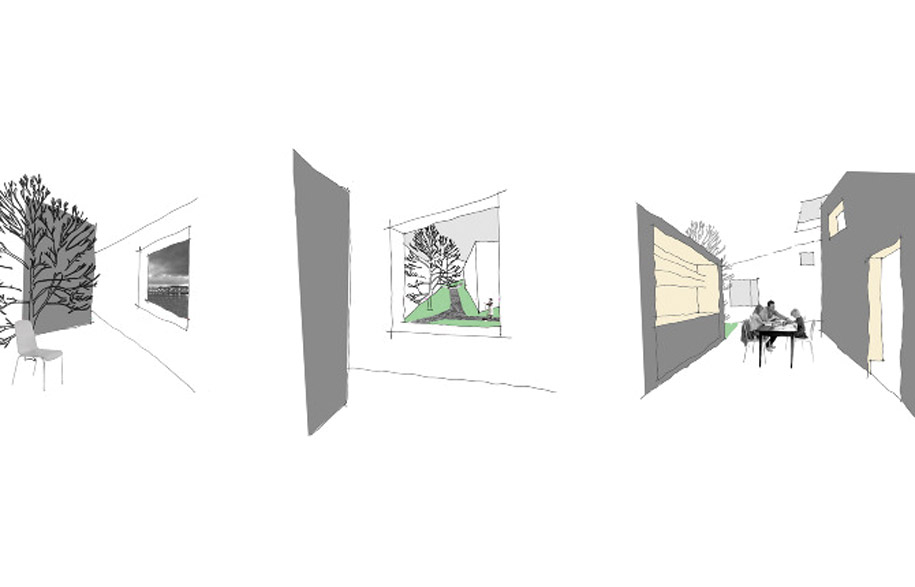 The large roof forms collect rainwater for recycling and to supplement the solar heating in wet-backed fireplaces. In summer, the houses are cooled by thorough cross and stack effect ventilation and shading devices. Large portions of walls and roofs can be opened to create a truly ambiguous sense of indoor and outdoor. Northshore, an in-between place, becomes a series of enriched in-between spaces. Within a ring-wall of apartment buildings, The Northshore proposal creates series of interior and exterior residual spaces, connecting residents with their neighbours and the community at large.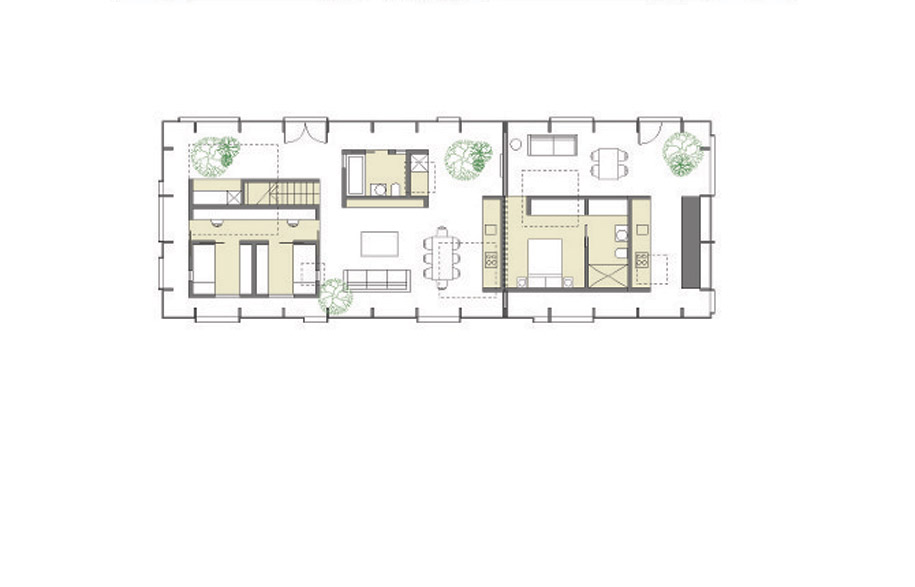 Inside houses and apartments, the spaces of living are the left-overs. They are void spaces made between bits of program. They are flexible in use, and their character is super-spacious, light-filled and quasi-external. In between houses, the residual spaces create lovely pocket parks and intimate pedestrian squares. Living in Northshore is about having intimate relationships. It's about sharing with your neighbours. It's about being a pedestrian. It's about light and trees. It's about the veggie patch, walks along the riverfront, kicking a ball around with dad."

See the full Home of the Future feature in Habitus issue 27, on sale April 23
Tags: efficien, habitus 27, Home Architecture, House Architecture, Residential Architecture, Tribe Studio Architects
---