Above: The house sits on a plateau overlooking the Cumberland Plain.
Something there is that doesn't love a wall,
That sends the frozen-ground-swell under it
And spills the upper boulders in the sun,
And makes gaps even two can pass abreast.
So begins Robert Frost's poem, 'Mending Wall' – a poem not so much about a wall as about people living in harmony with one another.
Talking to Peter Cudlipp about how the poem inspired the house, I get the impression that, for him, it acts as a complex web of metaphors which works best if we don't attempt to untangle it. Sure, it's literally about walls – in particular, traditional dry stone walls – but it is also about how walls don't only separate, but bring people together, embracing them, protecting them and creating a reflective refuge of stillness and silence.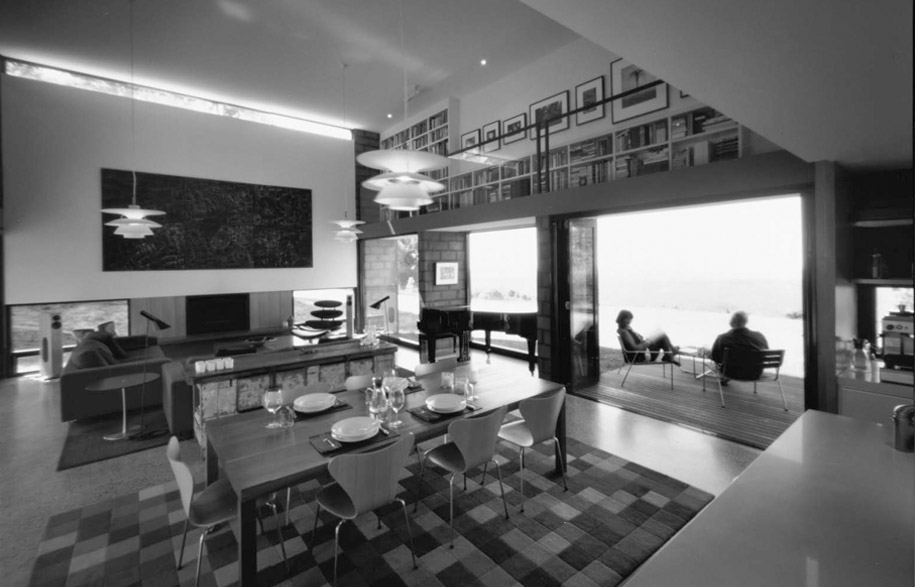 Custom made solid American Black Cherry dining table; custom coffee table; Series 7 Fritz Hansen dining chairs, vintage EJ5 Corona lounge chair and Louis Poulsen PH5 ceiling lights from Corporate Culture; rug from Designer Rugs; Lola lounges by Norman & Quaine from Living Edge; Thomas Jacobsen side table; Indecasa stools from KE-ZU; Yamaha piano; bench is old NSW railroad private antique; ceramic vessels by Robbie Harmsworth, Gallerysmith; painting above fireplace by Minnie Pwerle.
"One of things that drew us both to Mount Wilson," says Peter Cudlipp, "is the dry stone walls. That clicked with me… and the area of Westchester County (in the U.S.) where Barb grew up… where there are still vestiges of dry stone walls… I had adored Robert Frost as a kid at school. I remembered 'Mending Wall' and it seemed a really lovely phrase. And in that area everybody ends up naming their properties."
But when it came to briefing James Grose, the most important thing was to describe what the experience would be for somebody coming to stay. "It was," says Peter, "very much trying to say 'This is how we want to use the place – this is what we want it to feel like for people who are coming to visit'."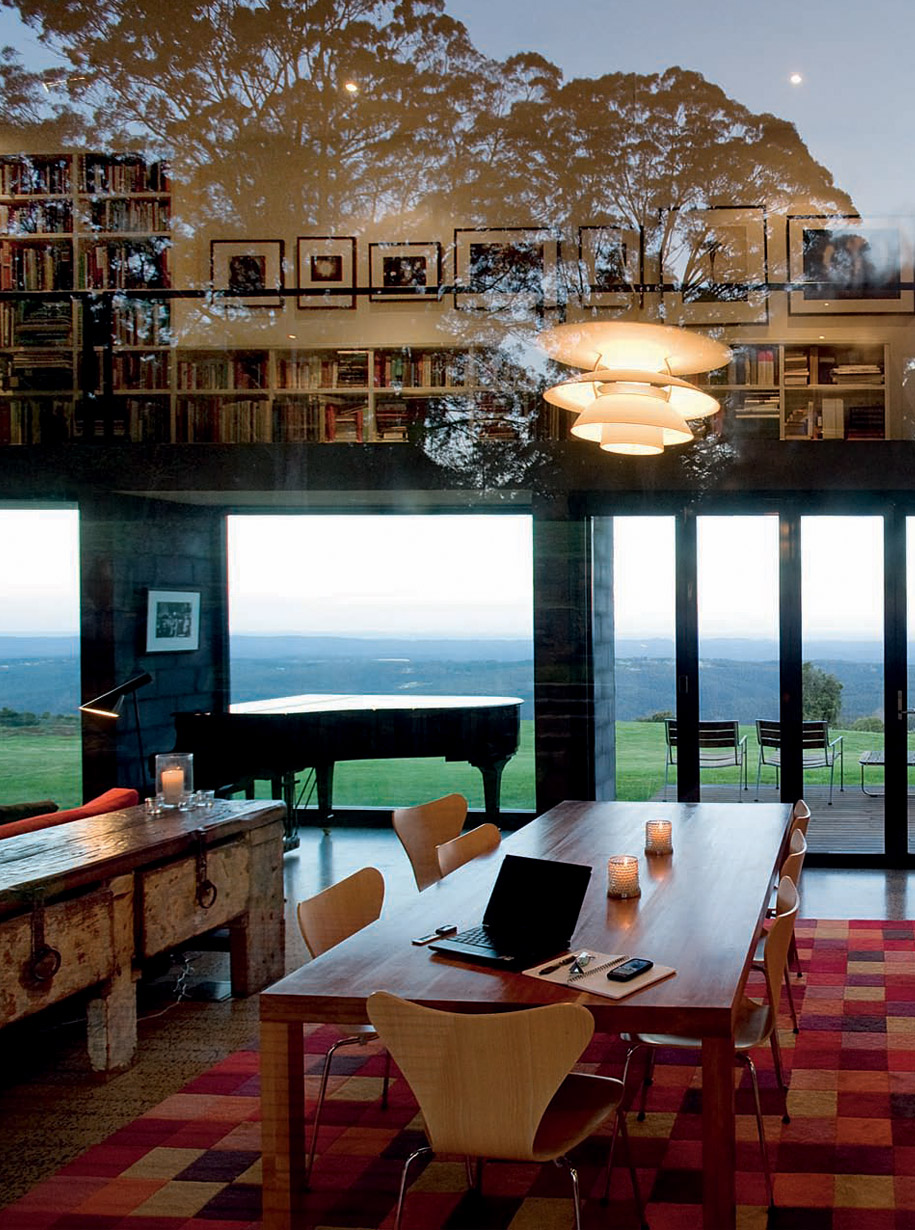 (as above)
For James Grose, imagining how he would want to experience the house, it had to have a "monastic quality" to it. "I would want it," he says, "to be calm, embedded in the ground and I'd want to feel like the ground came up and embraced me."
For James Grose, imagining how he would want to experience the house, it had to have a "monastic quality" to it. "I would want it," he says, "to be calm, embedded in the ground and I'd want to feel like the ground came up and embraced me."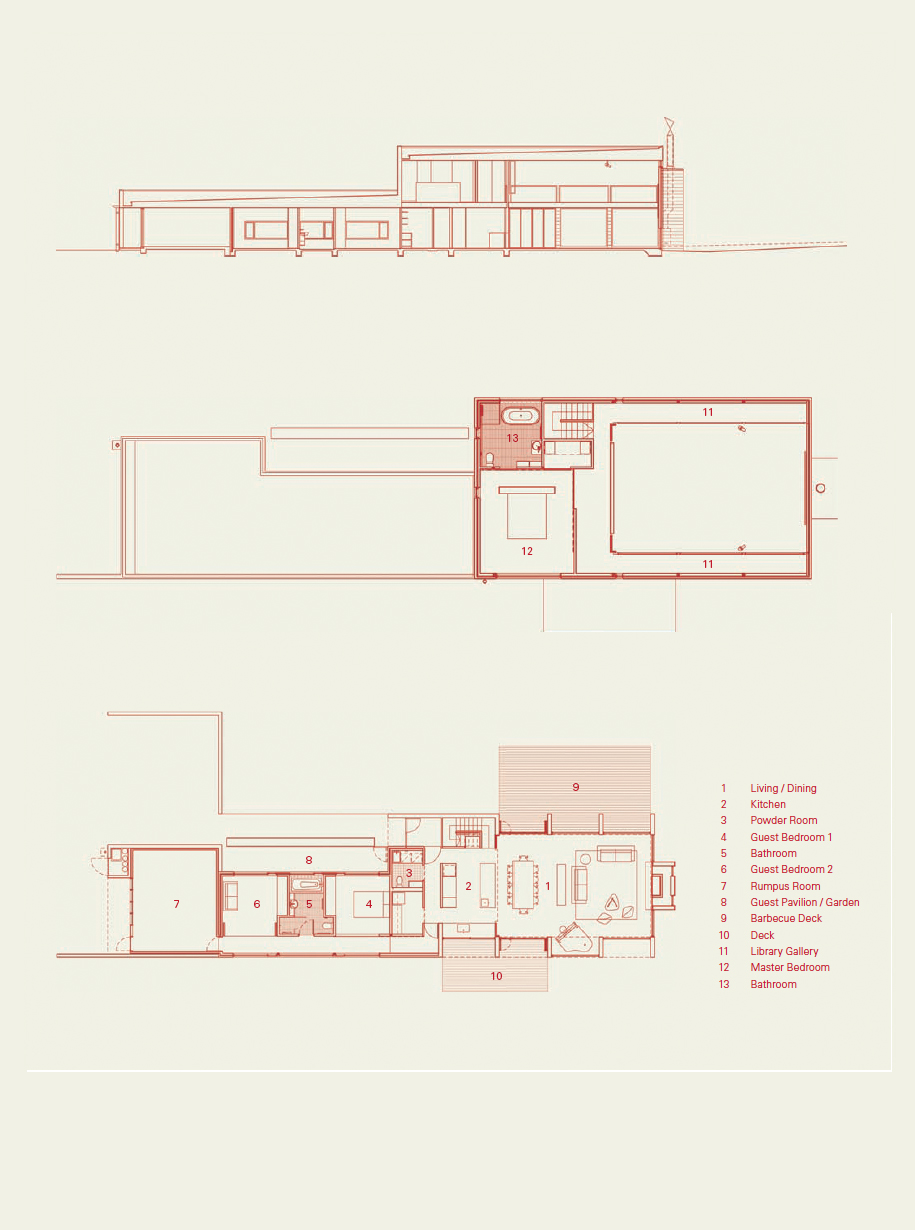 Section (top), and plans for first floor (middle) and ground floor (bottom).
The house sits on a plateau, backed by stands of tall, mature trees and looking eastwards over the sprawling Cumberland Plain. At night, the lights of Sydney can be seen flickering in between two distant hills. But, surrounded by cleared ground (bushfires are a necessary consideration), the house seems almost solitary, reinforcing the impression of a monastery or place of contemplation.
Approaching the house over the crest of the hill, it really does present as a wall in the landscape. Or, more accurately, the illusion of a wall – except that there are really two walls, the main one made from concrete blocks, and one panel made from sandstone to vary the texture and animate the grey of the concrete block wall. The dramatic incisions of the living/ dining space downstairs, the upstairs bathroom window and vertical slot window are abstract elements which further emphasise the apparent two-dimensionality of the 'wall'.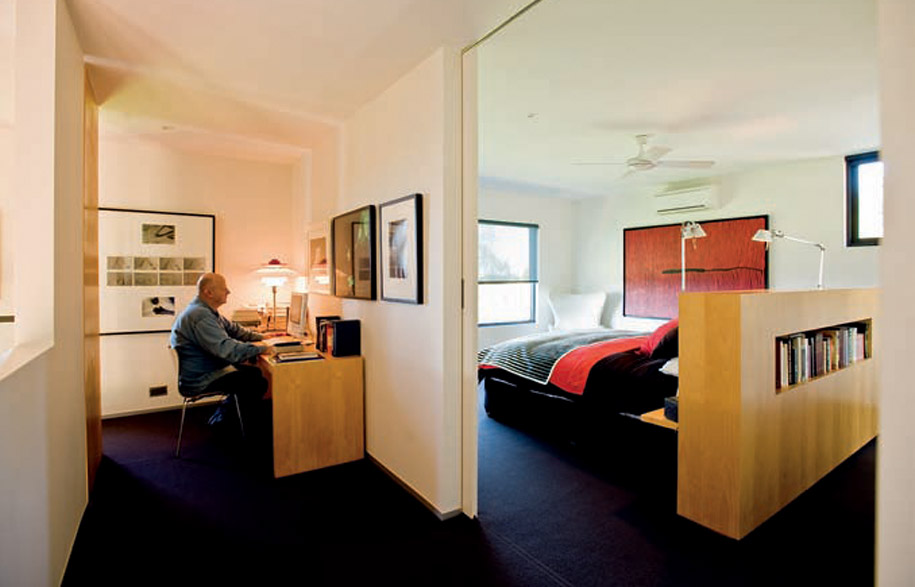 Lamps in bedroom are Tolomeo from Artemide.
The use of concrete blocks was partly a matter of economy because to use the stone used in Mount Wilson's colonial buildings would have been prohibitively expensive. But just as importantly, says Grose, "you don't want to be seduced by the romance of the stone wall". Instead, he made the house "the abstraction of a stone wall" and a subtle reminder of the stone wall heritage of the area. Grose describes the overall effect as one of "modern antiquity" – a contemporary house, but resonating with the past.
"I hope," he says, "that in fifty years when someone comes across Mending Wall, all the walls will be stained and it will be slightly overgrown and it will be like a stone wall."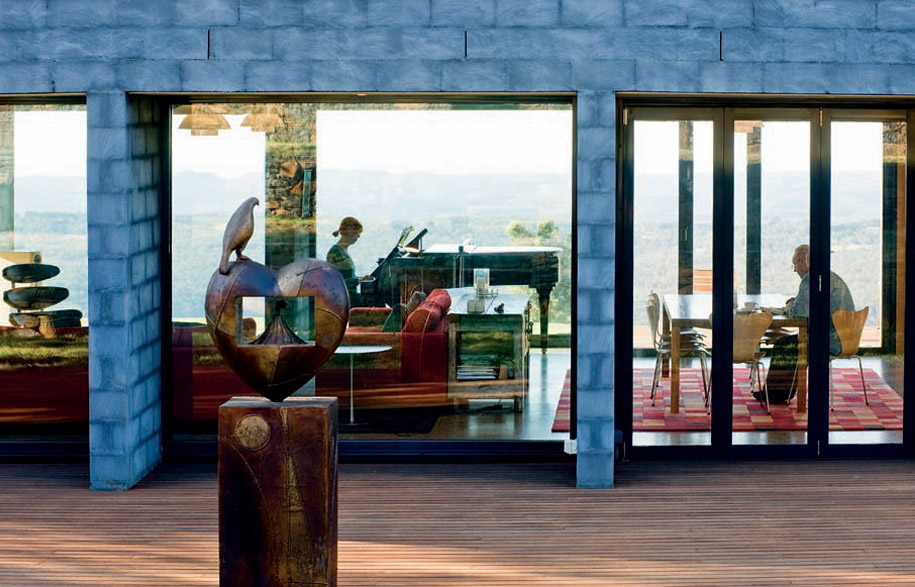 Bronze sculpture on deck by Paul Dibble from Black Barn Gallery.
The house is not so much in the landscape as a part of it – not just because of its materials, but also because of its transparency, especially at ground level.
It effectively consists of two wings – the living/dining/kitchen wing and the bedroom wing with the master bedroom upstairs and a guests' wing underneath which runs behind the kitchen and is essentially self-contained, even including its own 'family' room.
The spacious living area is the 'public' area of the house where Peter and Barbara can relax with friends. It is an extraordinary doubleheight space with gantries running on three sides, two of them devoted to bookshelves. "We hadn't imagined that it would be anything like that," says Peter.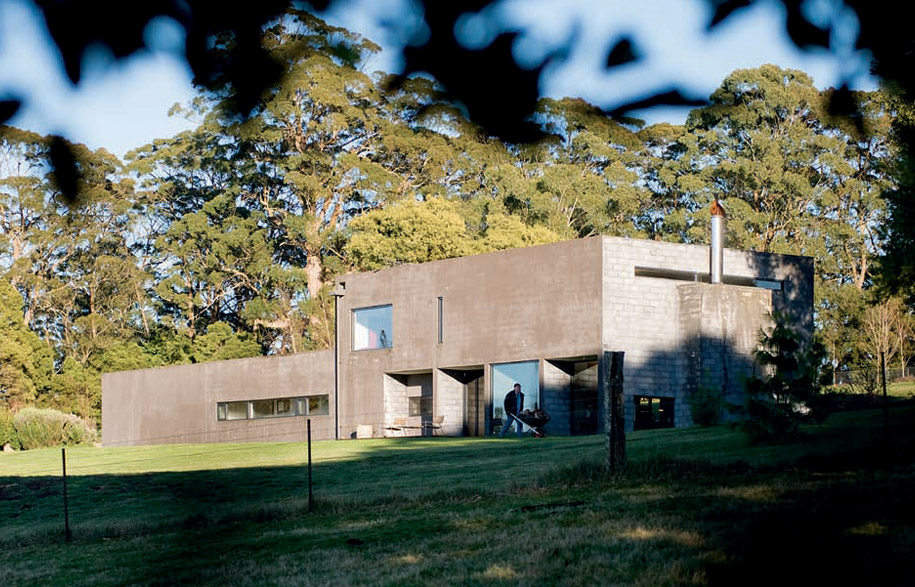 The north-east aspect of the house.
"We'd said I had lots of books, we'd said something biggish. But I don't recall we had said anything about ceiling height. And, apart from adding little walkways along the top – as opposed to the initial humorous scheme of a very tall ladder."
This space combines two experiences. At ground level, it is a large communal space linked to the landscape on two sides by floorto- ceiling glazing (and on the western side to an outdoor timber deck). But upstairs, apart from a single vertical slot window and another narrow horizontal slot along the northern wall, it is closed to the outside – a veritable monastic library and place for contemplative reading.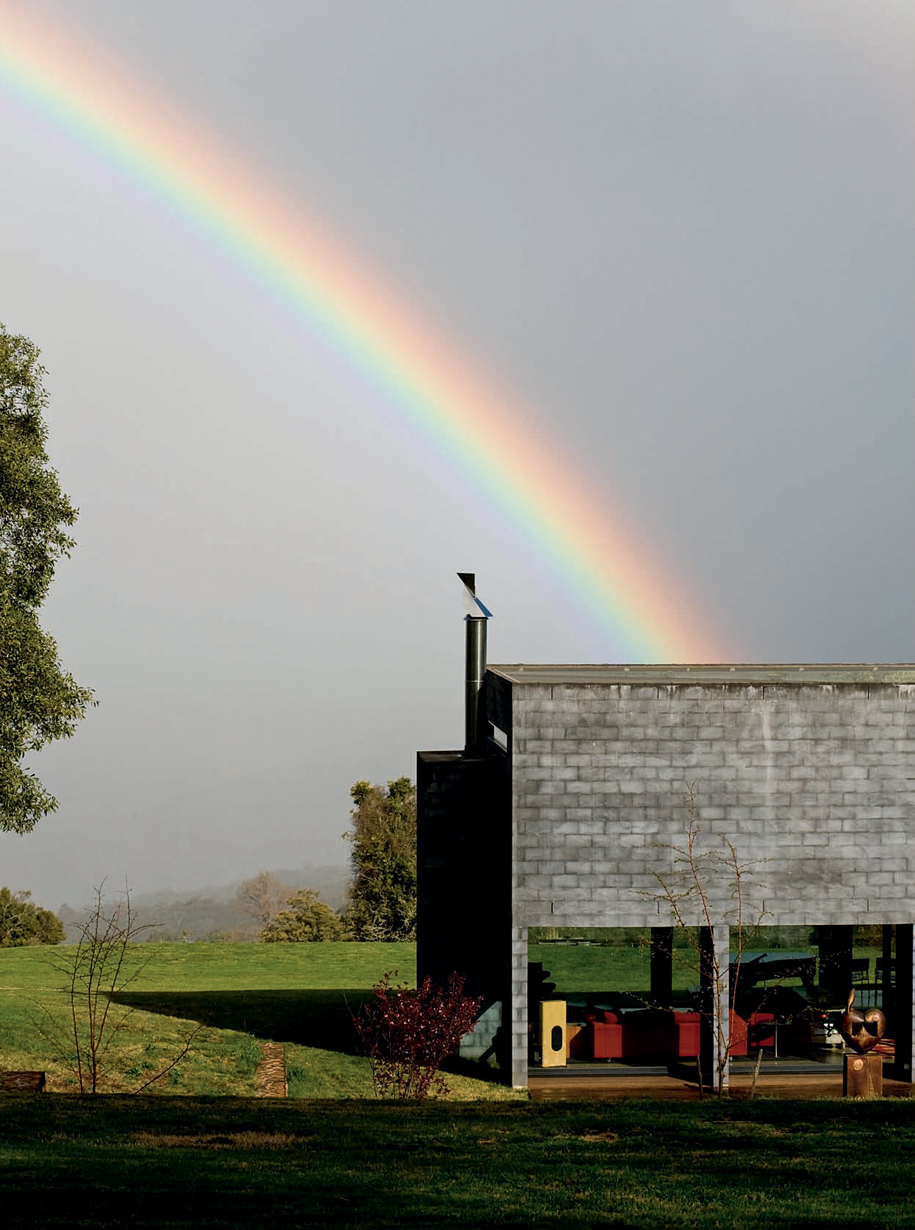 The mists typical of the mountain site create a poetic atmosphere.
In the end, it is the location that gives this house its dual character: on the one hand, a place for friends to gather together, on the other, a retreat offering those most precious of modern commodities, silence and solitude. Transplant this house to an inner suburban location and it would be an affably urban dwelling. But here, especially when the winter mists descend, it is a richly private place where one can truly experience that great unity with nature.
Photography: Anthony Browell
Tags: Home Architecture, House Architecture, Residential Architecture
---