The American ranch house that emerged in Southern California in the post-war era had a low, rambling form; deep overhanging eaves; large picture windows; and sliding glass doors that promoted indoor–outdoor living. Interior spaces were informal, open and airy, and natural materials, such as timber and stone, exposed. This archetypal suburban house provided Dan Gayfer of Dan Gayfer Design with inspiration for Ceres House, sited on rolling hills in Ceres, west of Geelong. Home to a family of six, the "all-inclusive environment" is designed with their activities, day-to-day living and family and friends in mind.
"The brief was largely concerned with facilitating the multifaceted and diverse lifestyle of the 'busy' family, and the constant revolving door of kids and adults," Dan says. "The design therefore needed to accommodate fraternising between all kinds of people, at all different scales and at any time of the day and week."
The single-storey T-shaped house is composed of two perpendicular wings, each one-room deep to allow for views and light. The east-west living wing houses the sitting/dining/kitchen area and a living room separated by a floor-to-ceiling sandstone fireplace; and the north-south wing contains bedrooms and wet areas. A terrace stretches alongside both wings, connecting the interior with the extensive outdoor living space. "It shares the same roof structure as the residence and gives the impression that some of the walls were simply removed to create this exterior living area," Dan explains.
The house, constructed by local builder Built by Wilson, is oriented for 180-degree views and large picture windows and sliding glass doors allow them to become part of the design and aesthetic. "The design unashamedly takes the views on offer and integrates them into the interior design," says Dan. "They are not borrowed but practically stolen from the surrounding landscape to become part of the interior."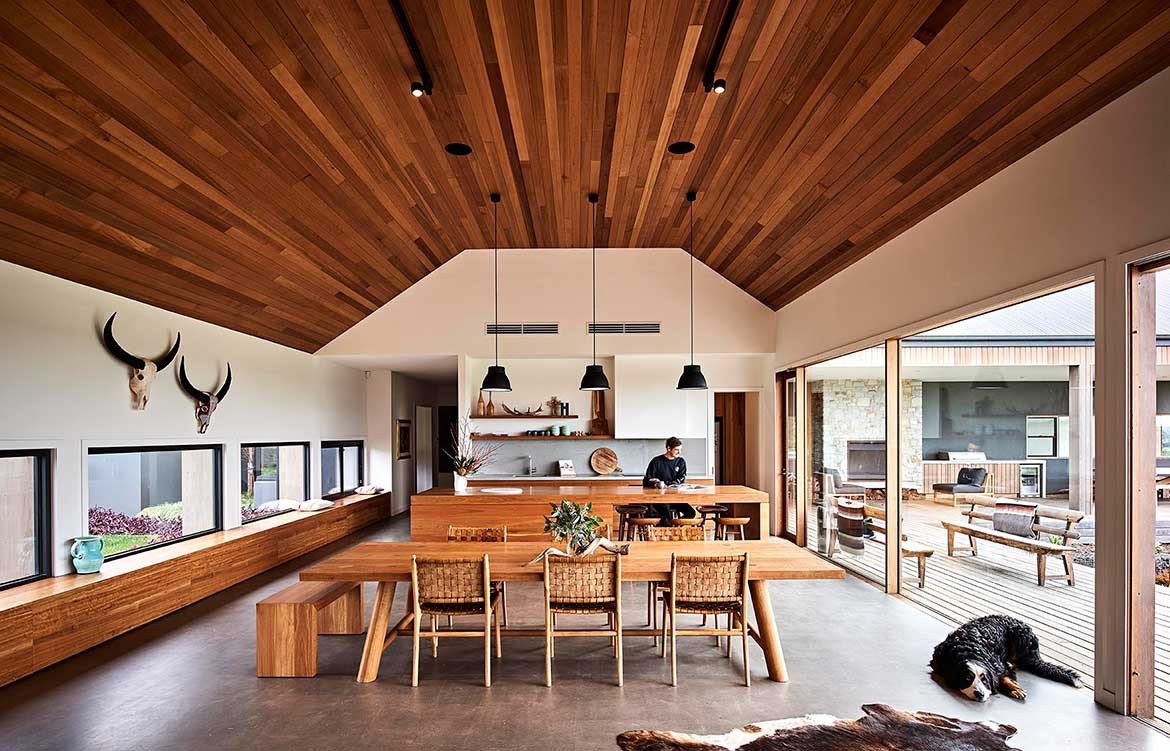 The size and layout of interior and exterior spaces has been carefully considered and designed to facilitate the family profile in regards to size, social groups, lifestyles and interests. "It became more about the structure of spaces and functions as opposed to their physical boundaries," says Dan. "Where and how do people congregate? Do particular spaces have the capacity to facilitate a diverse range of functions, activities and interactions? How do people move from one internal space to another? Where could one escape for some quiet time? How do you comfortably move from inside to out, and at what locations?" This meant the design team could be less restrained in designing spaces larger than accustomed to in order to facilitate interactions at all scales between family members and friends.
As the views draw in the rural surrounds, so too does the aesthetic of the interior and exterior with timber and stone elements. This includes a mixed timber palette of Blackbutt cabinetry, Cedar linings, American oak flooring and Spotted Gum timber decking, as well as burnished-concrete floor. The double-sided fireplace between the living room and sitting/dining/kitchen is crafted with Mt Angus sandstone and timber cavities defined with raw steel sheeting; and the cedar-lined cathedral ceiling "brings a grand, almost imposing, character to the open area," says Dan.
While the post-war American ranch house was a suburban typology, it has certainly found its contemporary interpretation on the rolling hills of Ceres where the family embraces indoor-outdoor living and the rural surrounds.
Dan Gravfer Design
dangayfer.com
Photography by Dean Bradley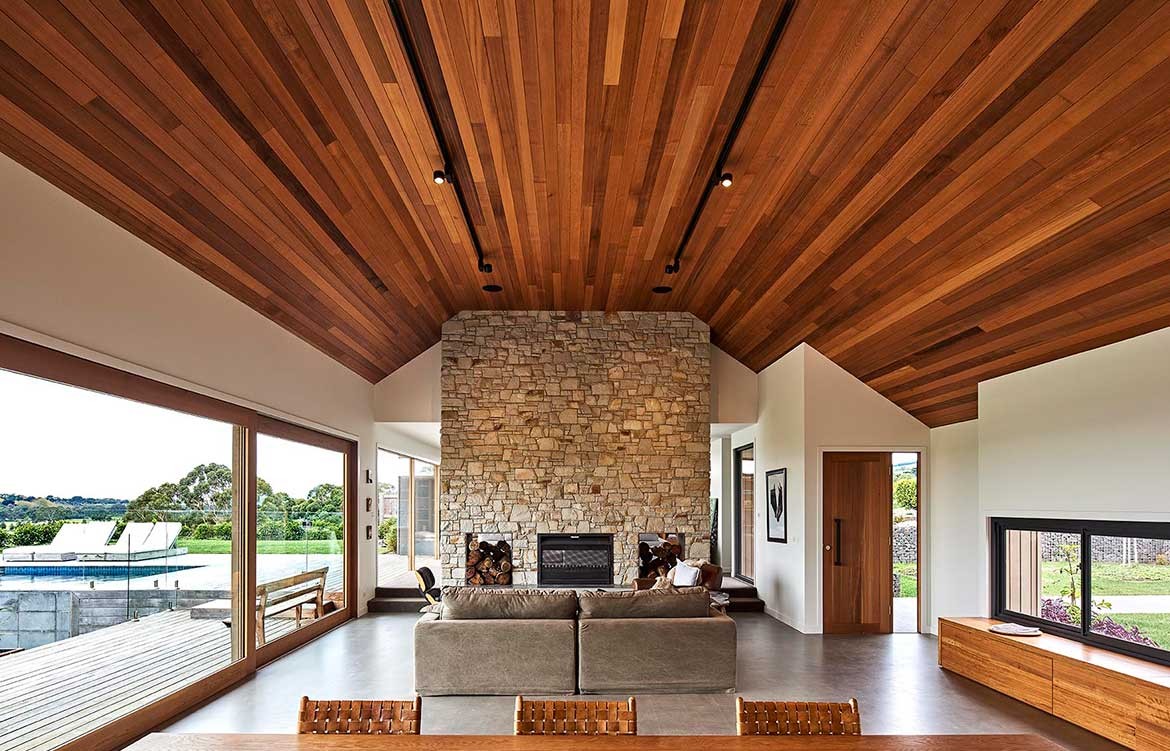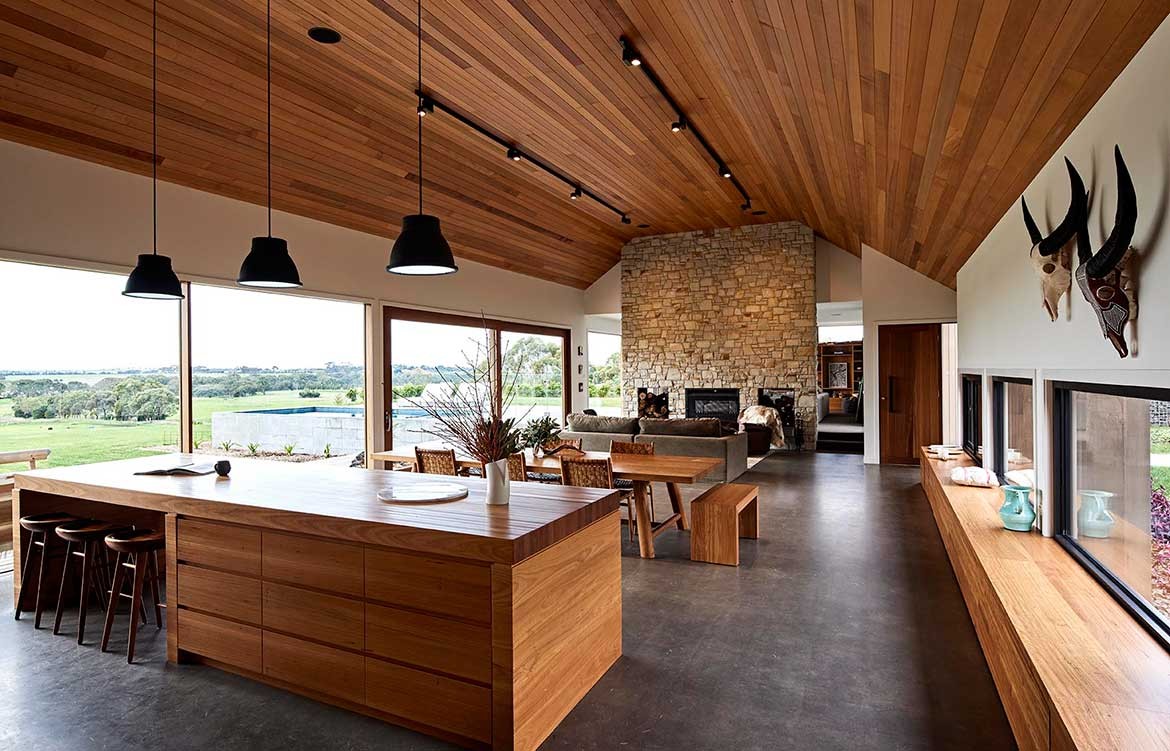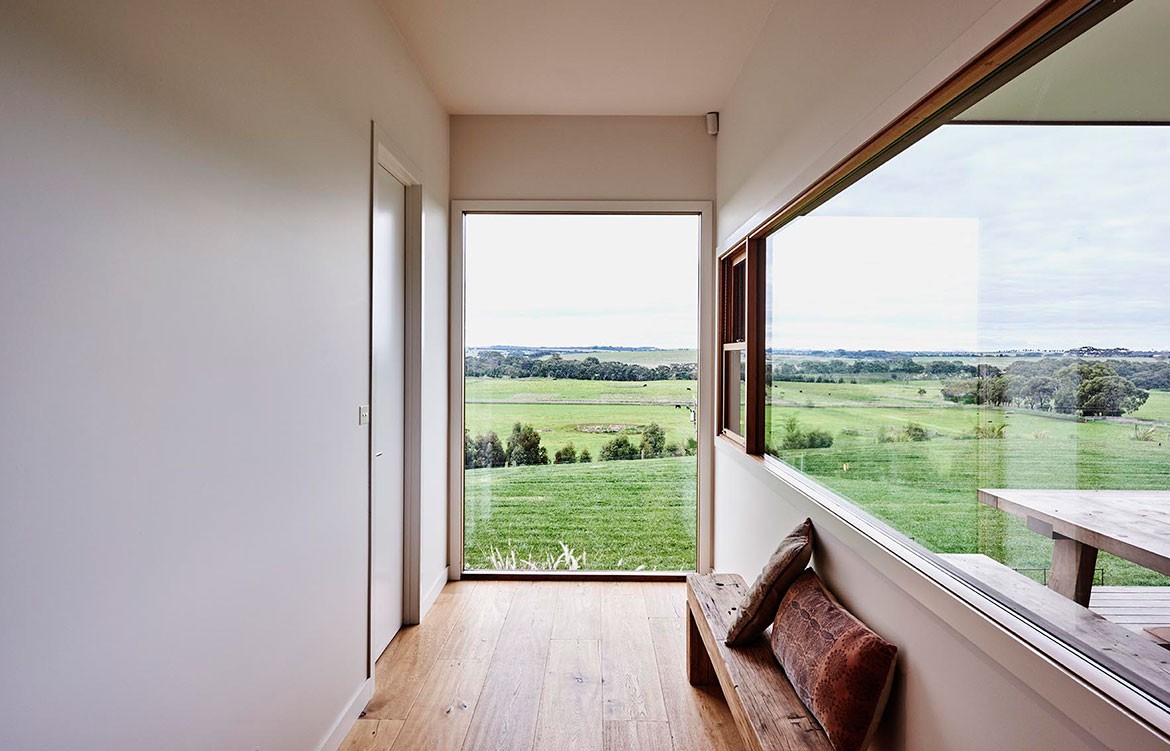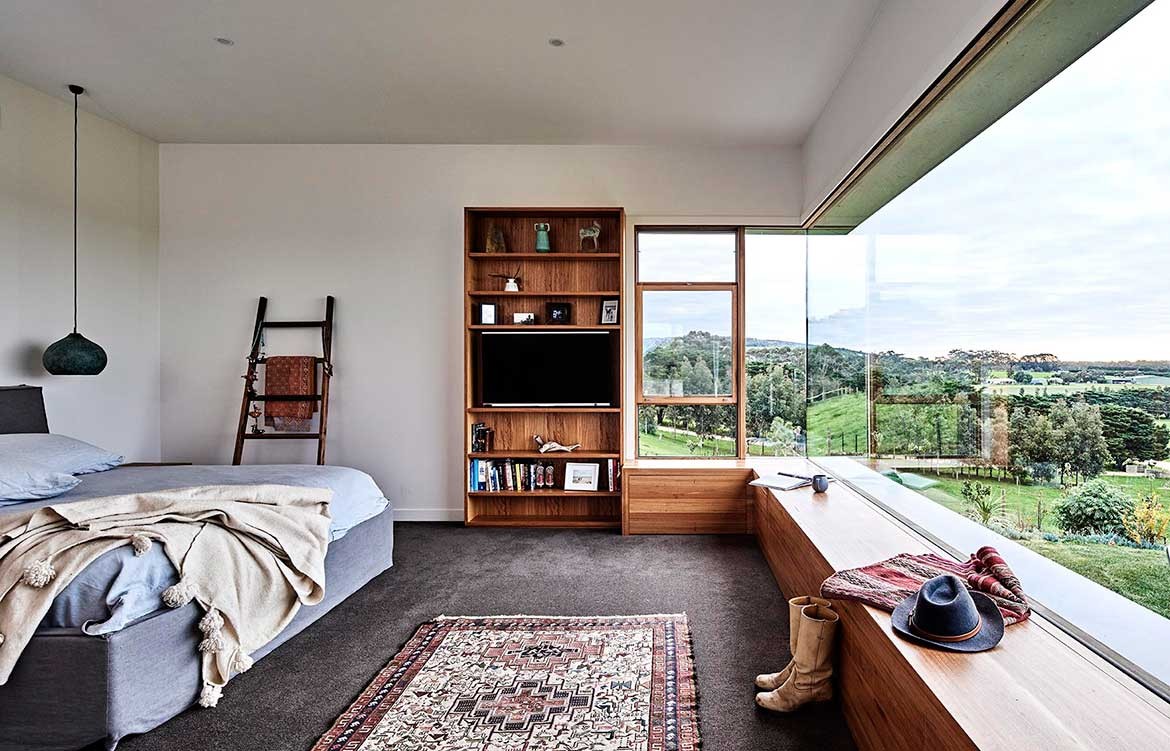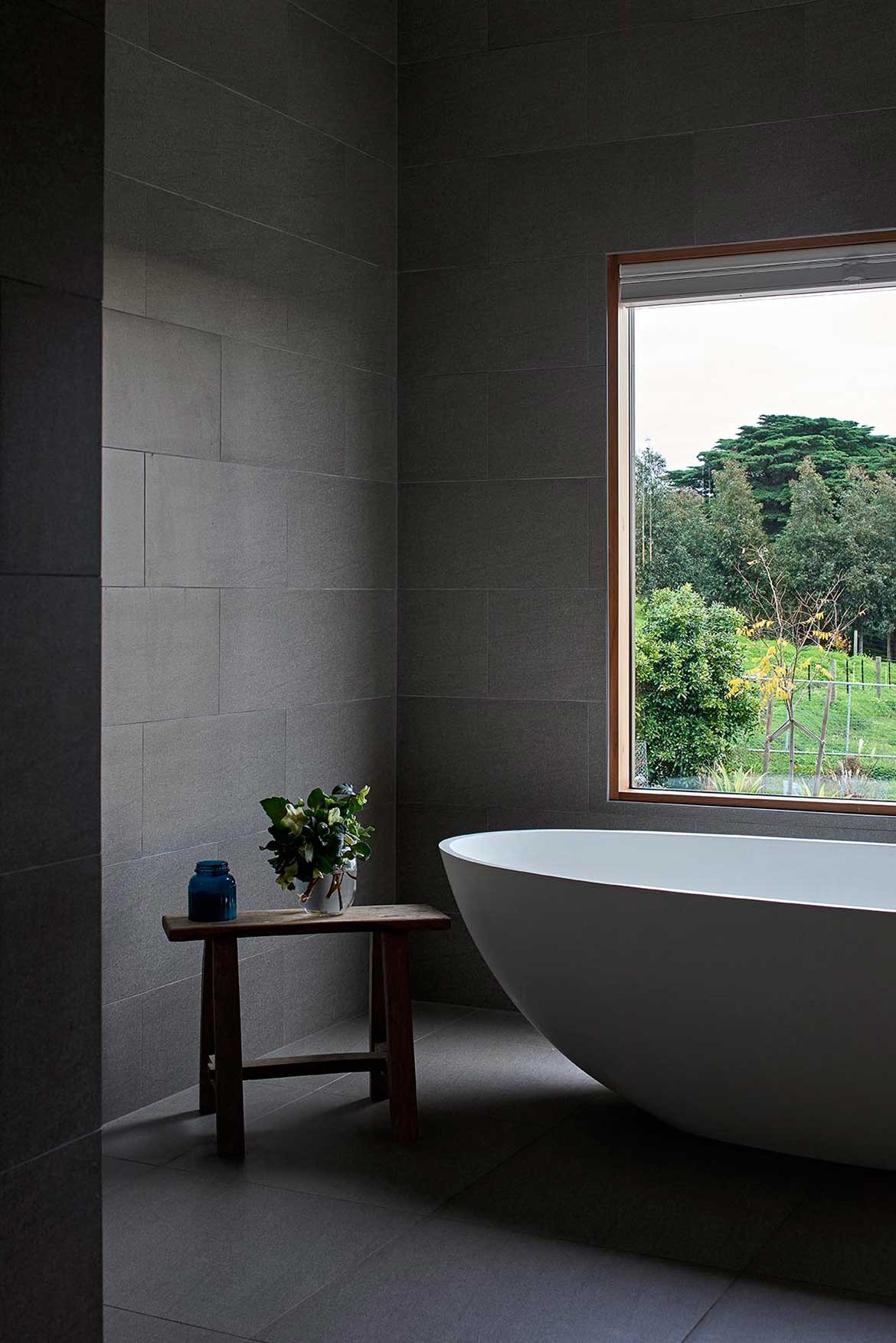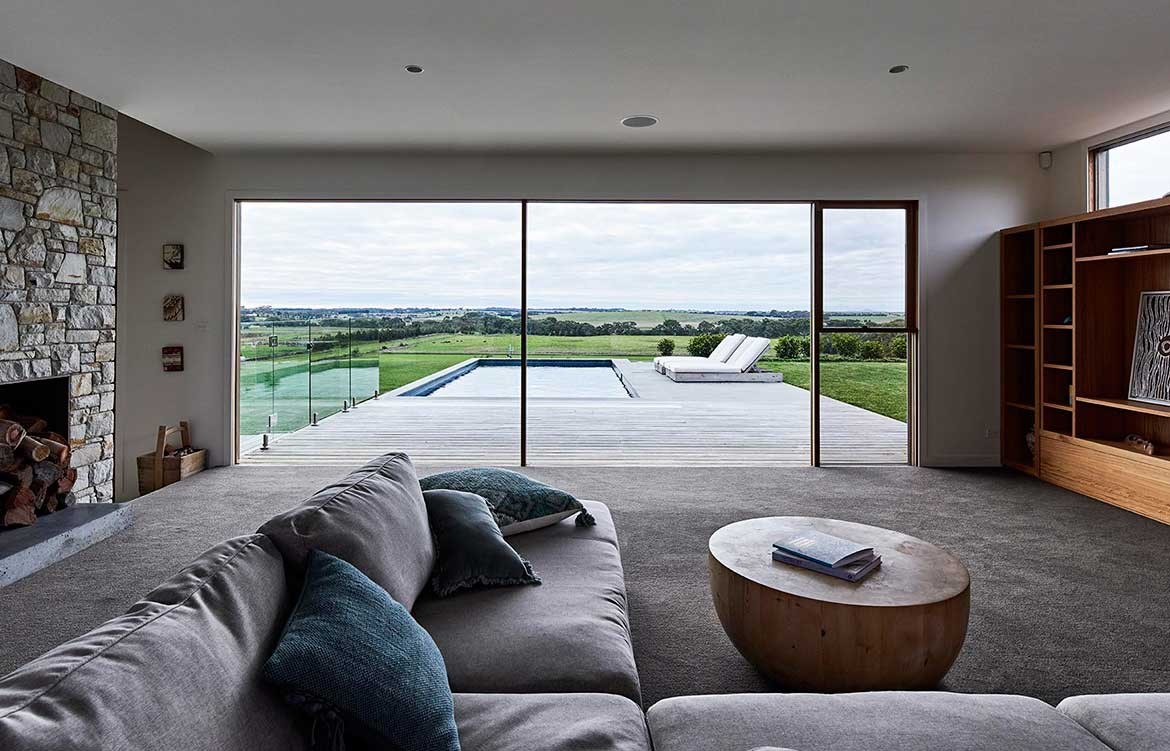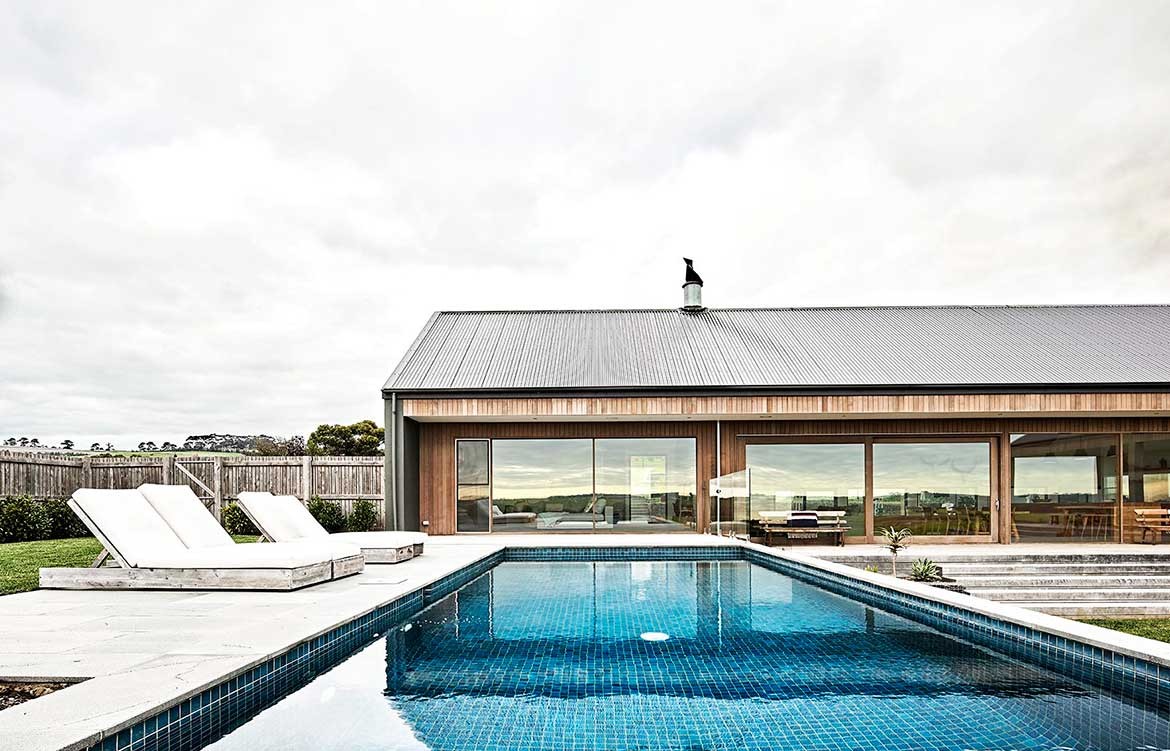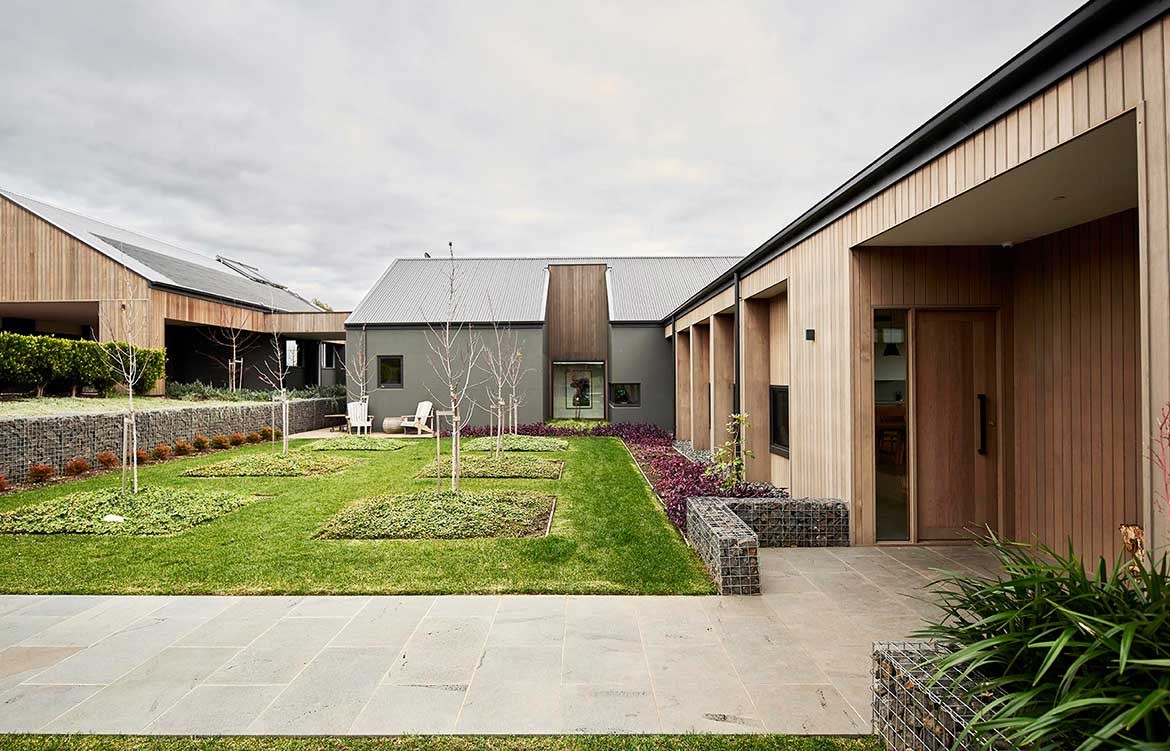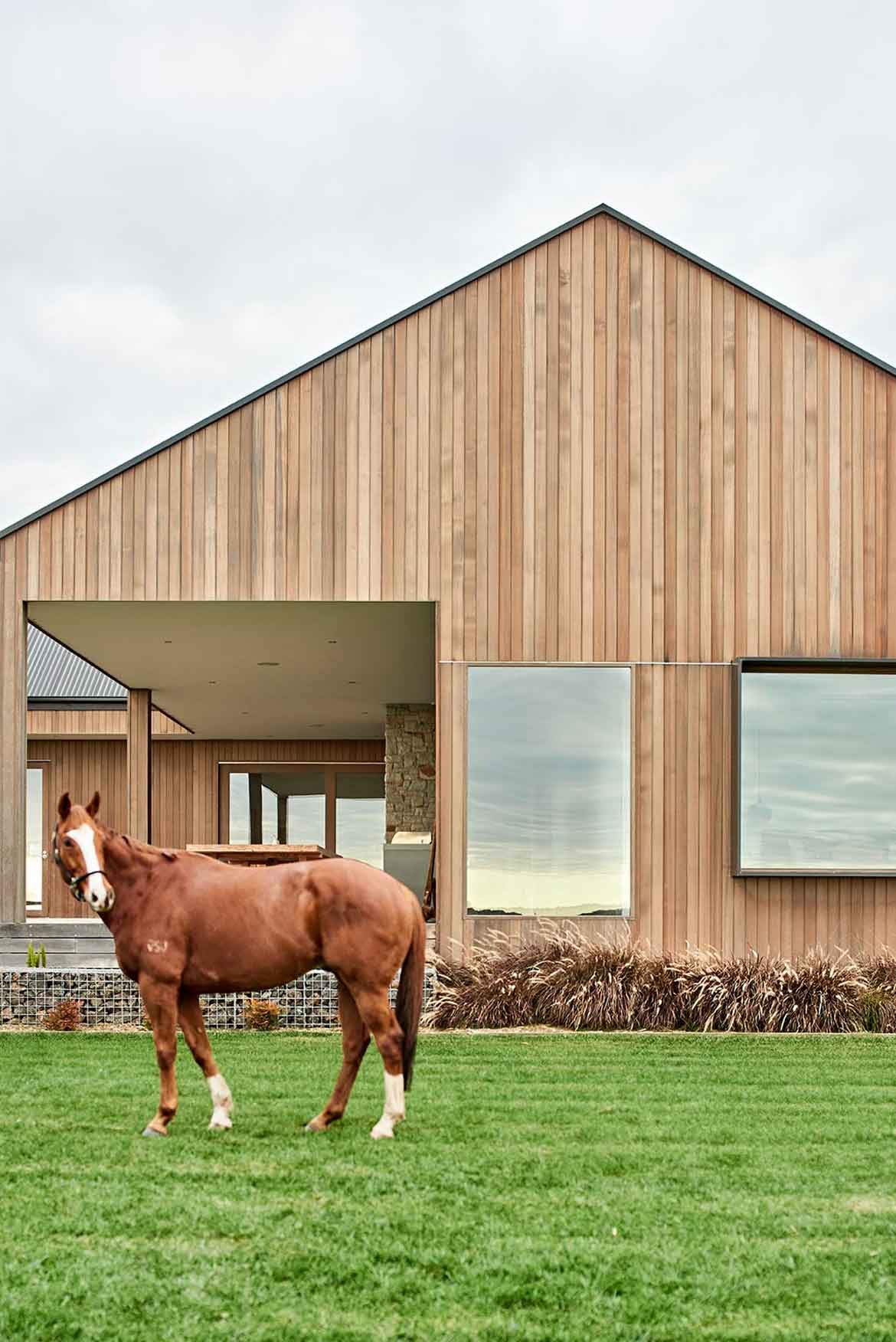 Tags: Architecture, dan gayfer design, design, Home Architecture, House Architecture, ranch house, residential, Residential Architecture, victoria
---