The Schaerfs – siblings and founders of exclusive men's footwear boutique, Double Monk, are champions of quality and longevity. To step into their boutique store is akin to ensconcing oneself in a sensory heaven of deep-seated club chairs and exquisitely fashioned footwear, enriched by the heady scent of leather and whisky.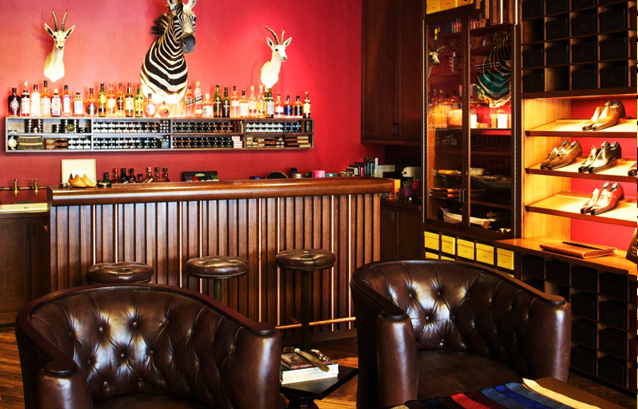 Represented by Double Monk is a select portfolio of exclusive footwear brands including Crockett & Jones, Edward Green, John Lobb and George Cleverley. These brands are not new to their trade and at least one company was founded pre-1900. Crockett & Jones' shoes, for example, are specially crafted on lasts to produce the best possible fitting characteristics. Hundreds of hands are involved in the making of these shoes, not to mention months of work involved. The result: footwear made to fit and to last – in some cases for over 30 years.
The Schaerfs have long admired the traditional tailoring of well-designed footwear. "We respect quality craftsmanship and brands with real heritage," says Christopher Schaerf. "Unfortunately for us and many of our friends, the only option was to buy shoes from [our favourite brands] overseas. And as we like shoes that fit perfectly, buying online was not a preferred option."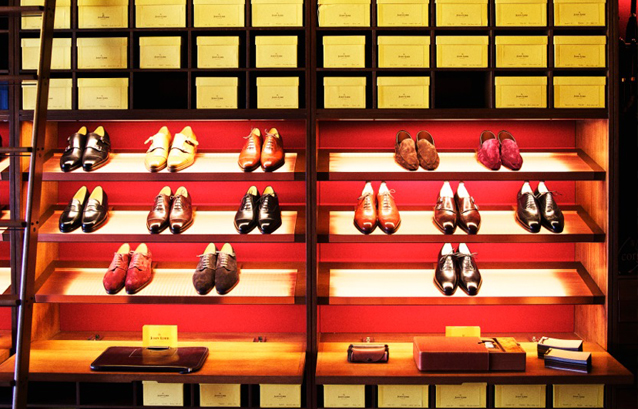 The Schaerfs spent two years planning the fit-out and opening of Double Monk, which is located in Fitzroy, Melbourne. The fit-out of the store, designed and executed by Antony Martin of MRTN Architects, has been a labour of love for the brothers, who were intent on restoring and retaining the space's original 4-metre-high pressed metal ceiling.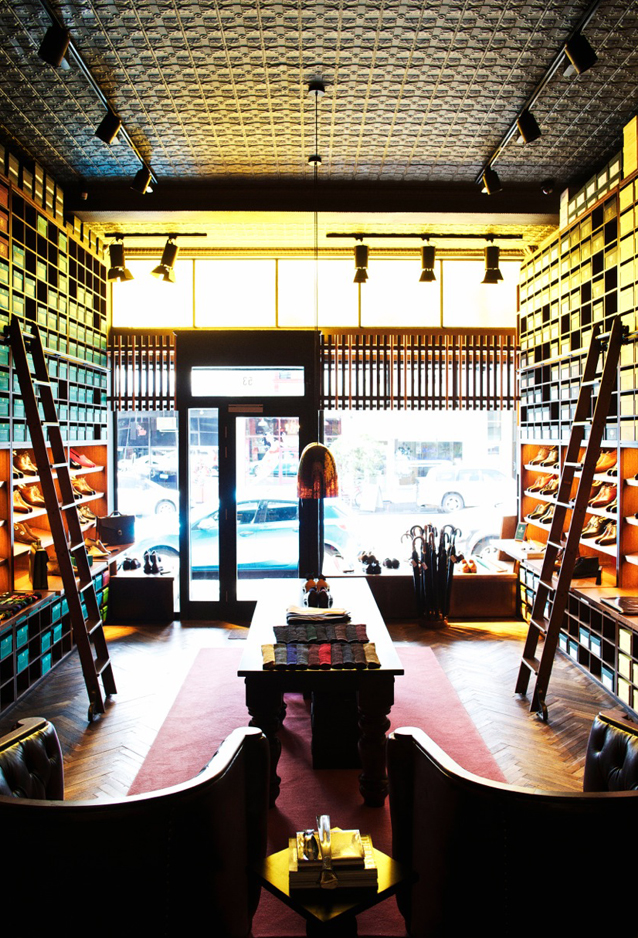 Like a library of shoes, their stock is arranged along the walls in a floor-to-ceiling fashion, accessible via rolling ladders (sourced from an "eccentric" New York company). "From the outset we wanted to use the vertical space," says Christopher. "We came up with the concept for pigeon holes to house the shoe boxes and rolling ladders to access the stock."
From top to toe, even the floor, finished in oak parquet, has been carefully considered. "We were very keen to find something with character; the parquet was salvaged from a villa in Germany and we had it expertly laid in a herringbone pattern."
In fitting out the store the Schaerfs were looking to create a customer experience they felt to be lacking in Australian retail. Here Christopher highlights the service counter-cum-bar where customers can seat themselves on custom-made barstools and enjoy a quiet tipple. "It's a place where friends and customers alike can make themselves at home. It has also enabled us to combine our love for shoes and accessories with another love: whisky.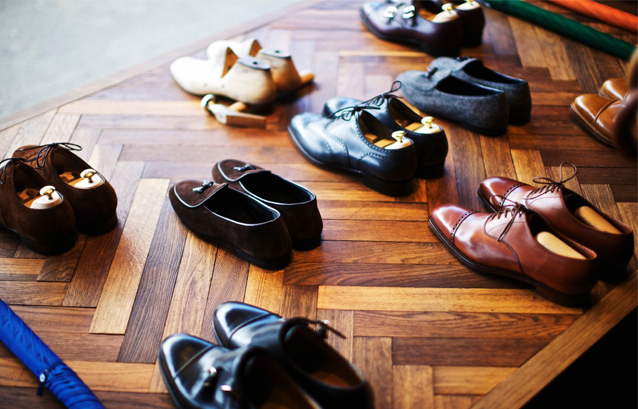 "Generally men in Australia have [not had] access to good quality shoes," Christopher continues. "However, we're noticing a lot of people – and particularly younger guys – are learning about the benefits of investing in quality."
When asked about women with a taste for quality footwear (and whisky), Schaerf assures me that if the shoe fits, ladies can wear them too!
MRTN Architects
MRTN.com.au
Double Monk
53 Smith Street, Fiztroy
doublemonk.com
Tags: Double Monk
---