On an enviable address opposite Brisbane's lush Botanical Gardens stands the impressive Abian by Sunland Group.
Designed in conjunction with Wood Marsh Architects, the distinctive form of the building creates an unconventionally sinuous silhouette in curved glass and steel. Abian's exterior shell appears like a billowing cloak against the city skyline, with every pane of glass individually calculated and painstakingly shaped to articulate its form – a rigorously considered approach which extends to the bespoke design within.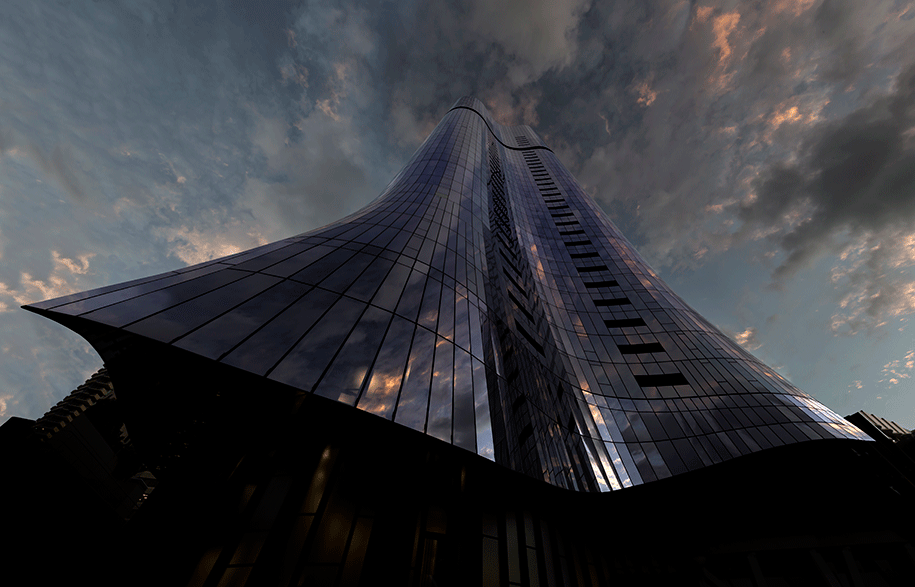 Photo: Ross Honeysett
Containing 150 luxury apartments as well as world-class amenities, Abian makes a grand statement of uncompromised high density living in Brisbane's rapidly evolving metropolis. "It is, I would say, the exemplar of this standard in Australia," says Sahba Abedian, Managing Director of Sunland Group.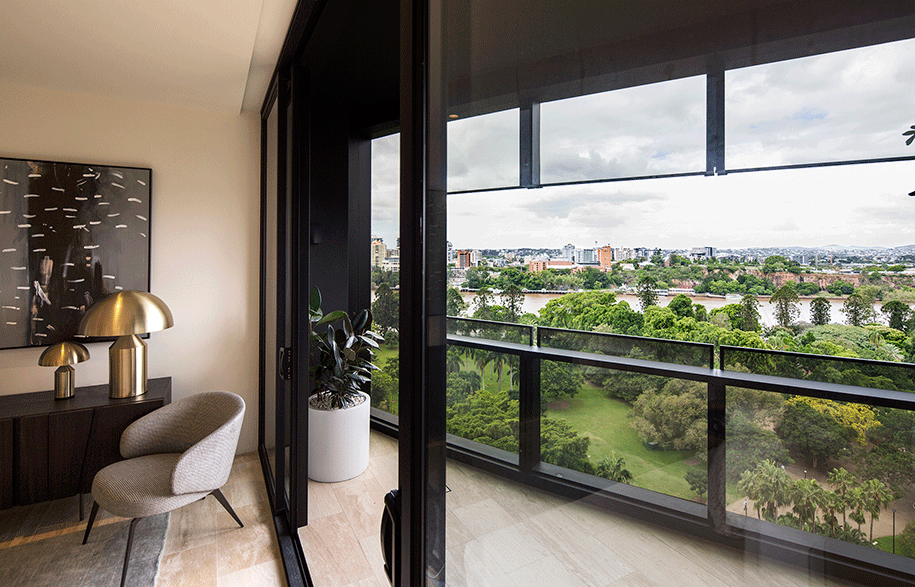 Photo: Peter Sexty
Abian certainly makes an entrance, its striking lobby adorned with a suspended gold leaf ceiling, and grooved walls continuing the external curtain effect. "For us, it was all about creating a sense of movement," Sahba says. "As you progress through the building, there is a delicate interplay between darkness and light, with beautiful undulation and details that give it such a distinct character."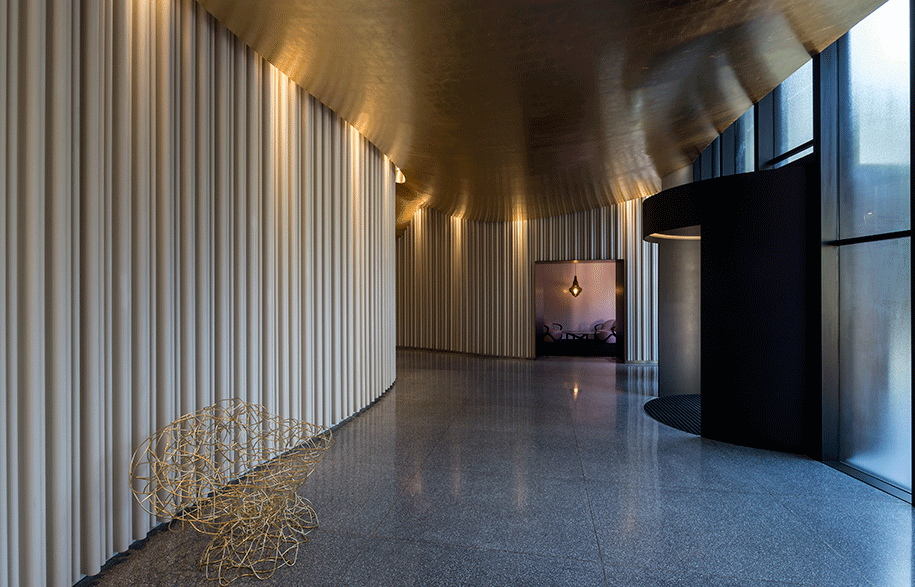 Photo: Ross Honeysett
Beyond its glamorous communal spaces, Abian's design smarts are perhaps most eloquently expressed in the planning and detail of its self-contained sky homes. Far from the compressed living standards typical of many high-rise apartments, these abodes sit at the luxurious end of the residential scale.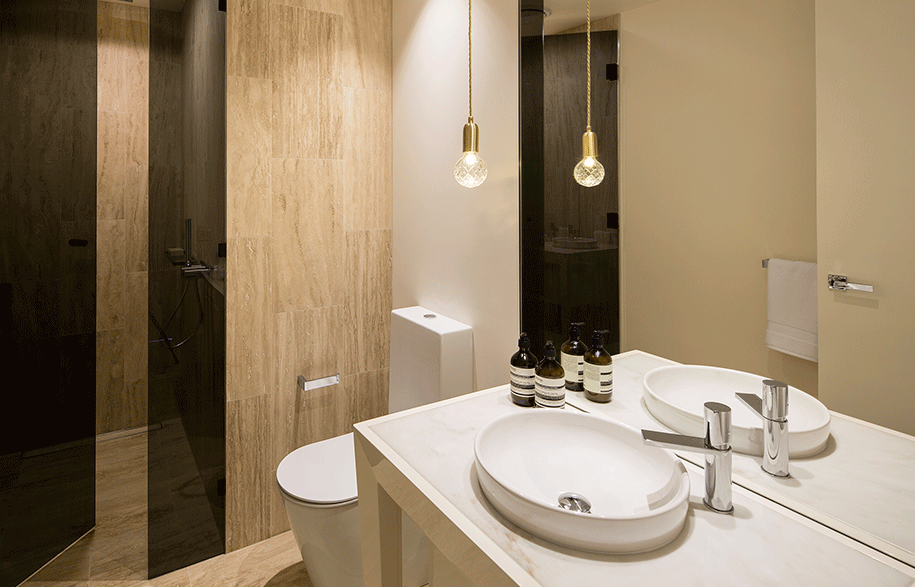 The premium penthouse suites can accommodate five or more bedrooms, for instance, and may even be custom built to suit the needs of its inhabitants.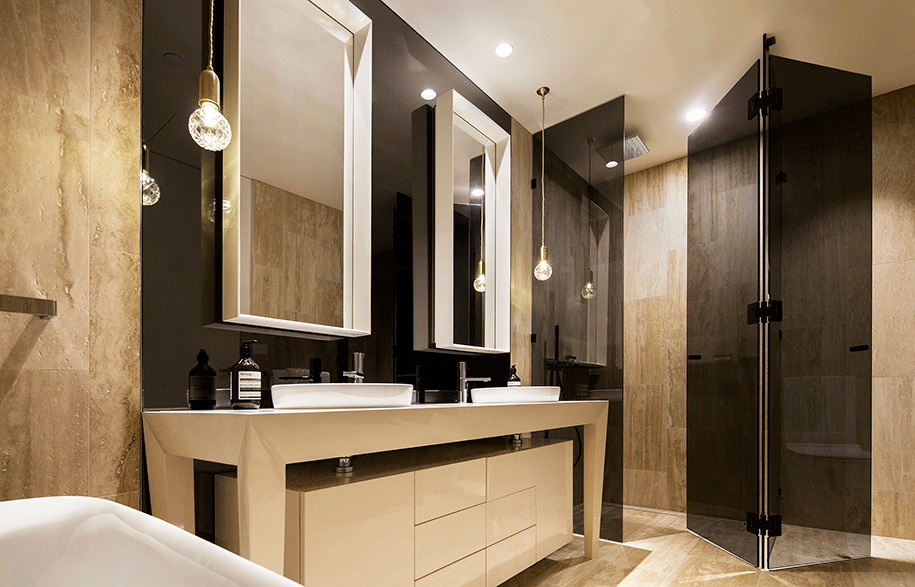 Photo: Peter Sexty
"Every care was taken to create an unquestionable feeling of generosity and grandeur," says Sahba. Interiors are defined by an expertly-curated palette of natural stone, including Italian Crema Delicato marble, rich timber veneer and metallic details in gold and brass.
The aim, as Sahba describes, was that "people would be immersed in the finest finishes, to have a residential experience tailored towards design of the highest quality."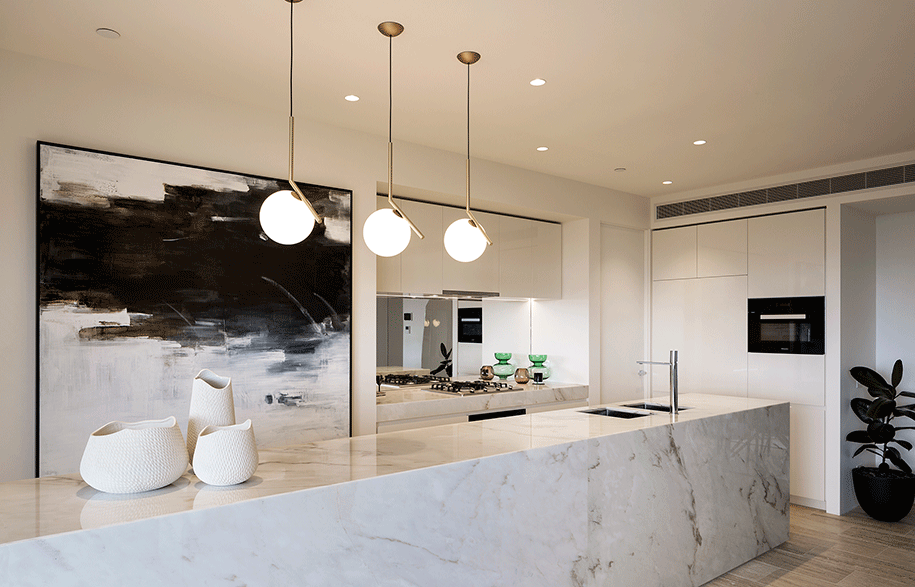 Photo: Peter Sexty
A key component of the spatial success of Abian's sky homes are the stylish fixtures and standalone pieces from Rogerseller. These encompass an array of luxurious bathroom, kitchen ware and furniture from an exclusive stable of leading European design houses, as well as products developed by their own in-house team.
Photography showcasing the lavish style direction for the apartments features characteristically elegant Italian Lema furniture, available at Rogerseller. Bringing functional opulence to Abian's bathrooms is a stellar line up of wares including Vitra Water Jewels basins in a custom pearlized glaze, Catalano Zero Monobloc toilets, ceiling mounted Cloud Cover showers and Amélie by Rogerseller baths featuring a custom Rose Brass PVD finish on the feet, as well as iconic Fantini Milano tapware installed across all bathrooms and kitchens. Additionally, the aptly-named Eccentric by Rogerseller tapware collection introduces a uniquely playful detail to the penthouses – as you turn the handle open along its skewed axis, a matching back plate reveals itself unexpectedly.
The unspoken effect of such pleasurably tactile features contribute to the enhanced experiential quality of the homes at Abian, leaving a lasting impression through intuitive interaction. These are thoughtful spaces that invite a personal connection.
"We have a great relationship with the team at Rogerseller," Sahba says. "So to be able to work with products of such standard, and arrive at a complete solution – it really was a fantastic outcome."
Rogerseller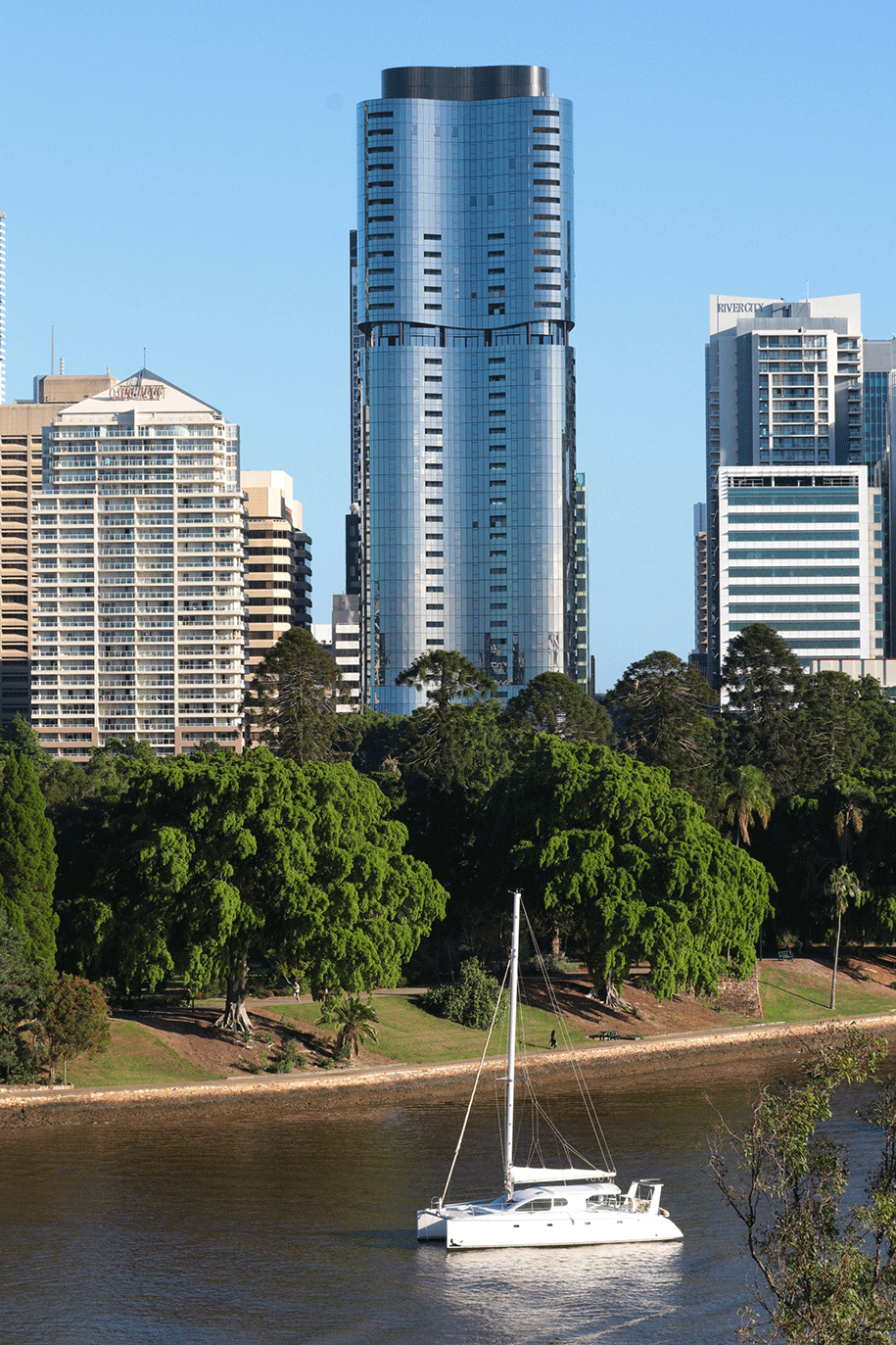 Photography by Ross Honeysett and Peter Sexty. 
Tags: Home Architecture, House Architecture, Residential Architecture, rogerseller
---