With a brief for an accessible, elegant venue, the fit out of One Moncur needed to find the balance between comfort an glamour. Owners Anthony Rosen and Jeremy Browne and interior designer Henrietta Reed have succeeded at this, creating an inviting space worthy of its star-studded drinks list.
Naturally, a fair amount of the aesthetic inspiration is French, however a few of the more attractive elements of The Phoenix pub's décor, such as the phoenix logos, were retained, giving a retro twist to the space and maintaining some continuity with the well-known establishment.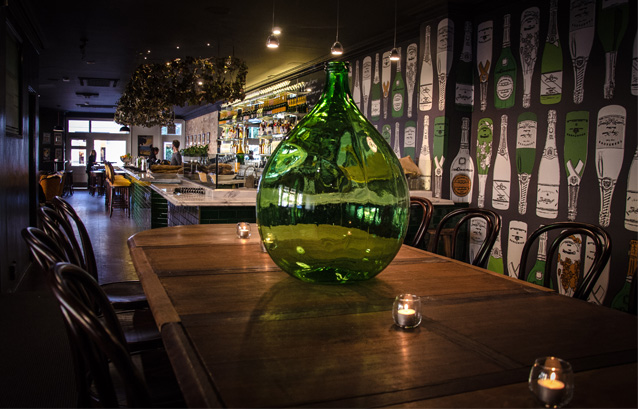 Apart from these and the basic layout of the bar, however, the transformation is formidable, with almost all of the finishes, fixtures, and furnishings being replaced. Immediately noticeable is the re-cladding of the bar in 80-year-old heritage green glazed tiles. Bold, rich and textured, this creates a block of colour that animates the whole room with a striking centrepiece. Coupled with the solid marble bench top and Garland bulkhead made of gold metal pressed foliage, the bar radiates decadent languor – a perfect setting for an afternoon Veuve.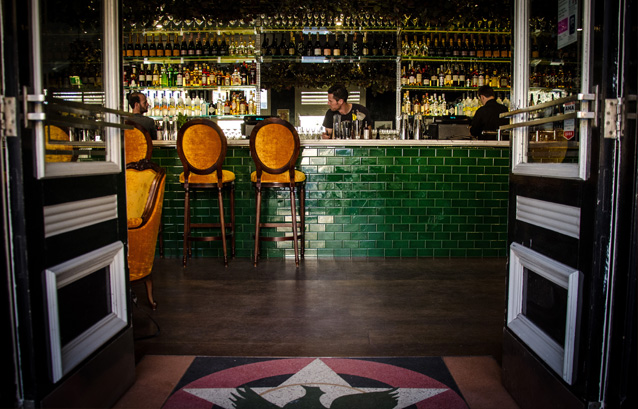 Loose furnishings were sourced partially through auctions, a laborious and time-consuming process but one which yielded some gems, including an 18th Century French table for a song-like $200, and sustain the Francophile, old-world chic with an abundance of stained timber velvet finishes.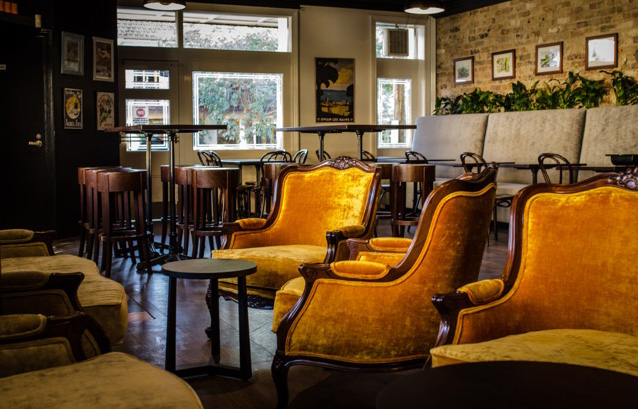 Another particularly successful feature is the champagne bottle motif extending to the right of the bar. Designed by Reed, the pattern of different styles of bottle is not only thematically on point but lends a slightly playful tone to the space and prevents it from taking itself too seriously.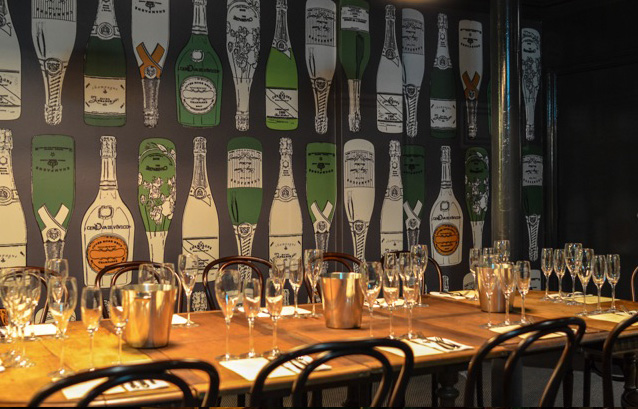 The project demonstrates how effective a close collaboration between clients and design can be; Reed comments that "both [owners] Anthony Rosen and Jeremy Browne were very involved in all decisions which in the end created a space that was exactly what the client wanted".
Tags: Henrietta Reed, Interior Architecture, Interior Design, One Moncur
---