Above: Gesualdi looking over plans in the dining area.
An army drill hall built in the mid-1930s is an unlikely place to create a home. It certainly wasn't Piero Paolo Gesualdi's intention when he bought the building ten years ago. Located in the inner Melbourne suburb of Fitzroy, Gesualdi was renting it while building a house for himself nearby. "I was more or less camping in the place. I used a portable barbeque to cook," says Gesualdi.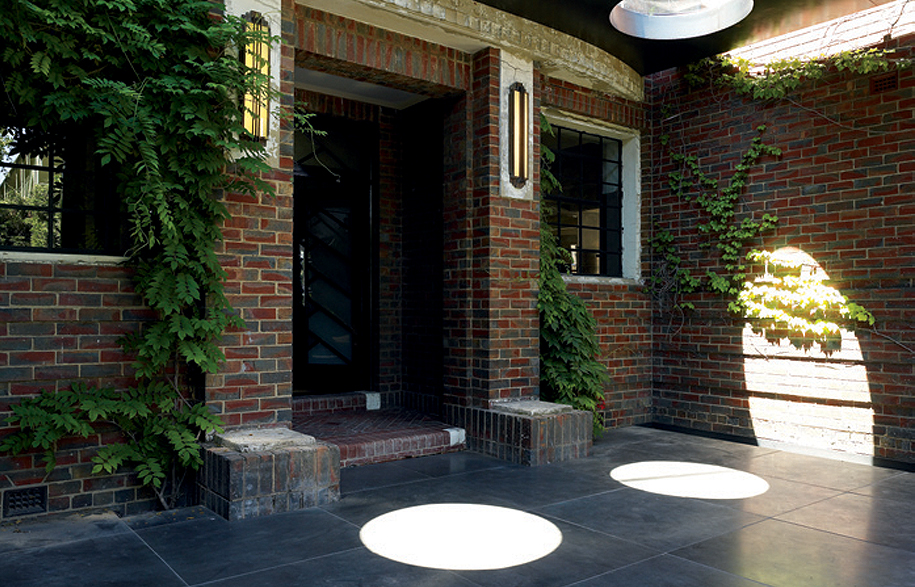 The dramatic entrance is enclosed by a black steel canopy
Austere by anyone's standards, the red brick hall possessed a number of fine art deco features such as architraves, skirting boards and a stone fireplace. But it was the proportions of the rooms and their generous ceiling heights that made Gesualdi re-think his long-term plans. "I probably wouldn't have persisted had I known then it would take six years to get permits through Council. Even when I thought I was nearly there, it took almost a year for the kitchen joinery to arrive from Italy."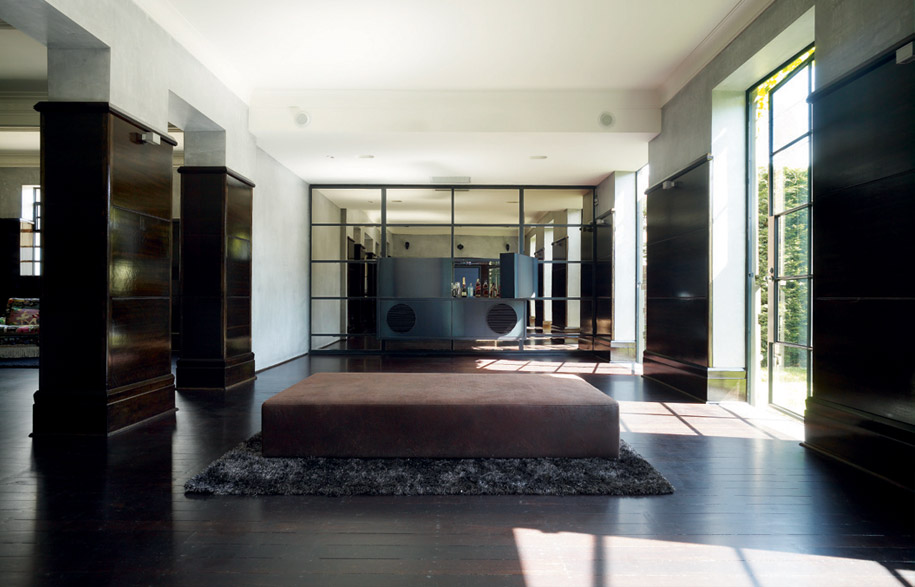 The spacious formal entertaining areas are panelled with original timber walls
Others would never have started such a daunting project, particularly with many neighbours describing it as the 'ugly duckling' of the street. However, Gesualdi is recognised for his highly trained eye and for being just that little bit ahead of the mainstream. In the 1970s, Gesualdi opened the Mason fashion boutiques – two in Melbourne and two in Sydney – which became the word in high fashion in Australia through to the 1980s. Gesualdi was responsible for importing clothes from designers such Jean Paul Gaultier, Romeo Gigli, Claude Montana and Comme des Garçons. And, like his choice of home, these designers were unknown and adventurous. "There were no large advertising campaigns like there are today. It was like diving out of a window and just hoping you'd land on your feet," says Gesualdi.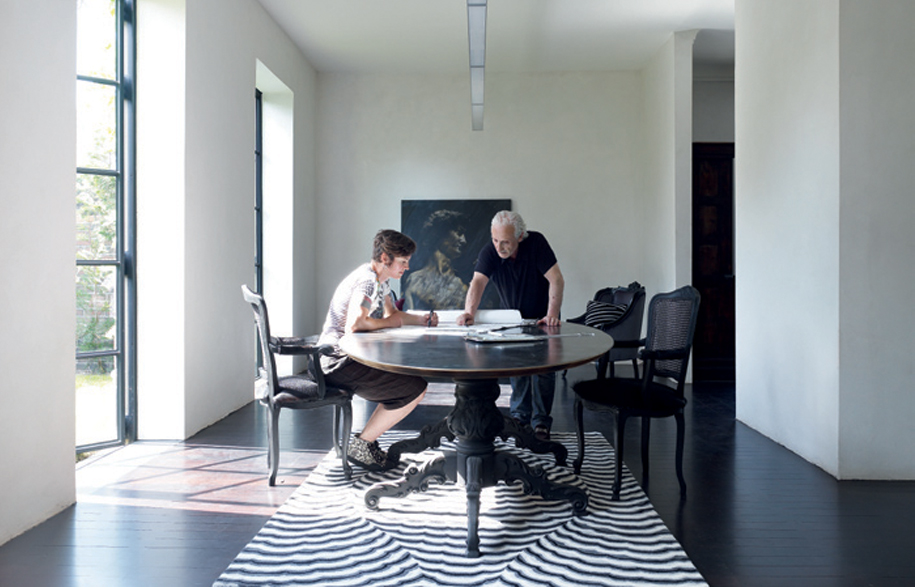 The meeting room adjacent to the offices of WorldWeave on the ground floor.
Gesualdi left Masons to open Rosati's bistro in Flinders Lane (evocative of a café in an Italian railway station) and is now returning to 'fashion for the home' with designer artist, Sara Thorn (well known for her 1980s fashion labels, Abyss Studio and Funkessentials). Gesualdi and Thorn's business, WorldWeave, is based on the ground floor of the re-designed building. One room functions as an office and another as a meeting room. Athird room operates as the showroom, complete with dark-veneered shelves filled with cushions, scarves and throws. "I've known Piero since I was 16. We'd always run into each other at different stages in our careers," says Thorn.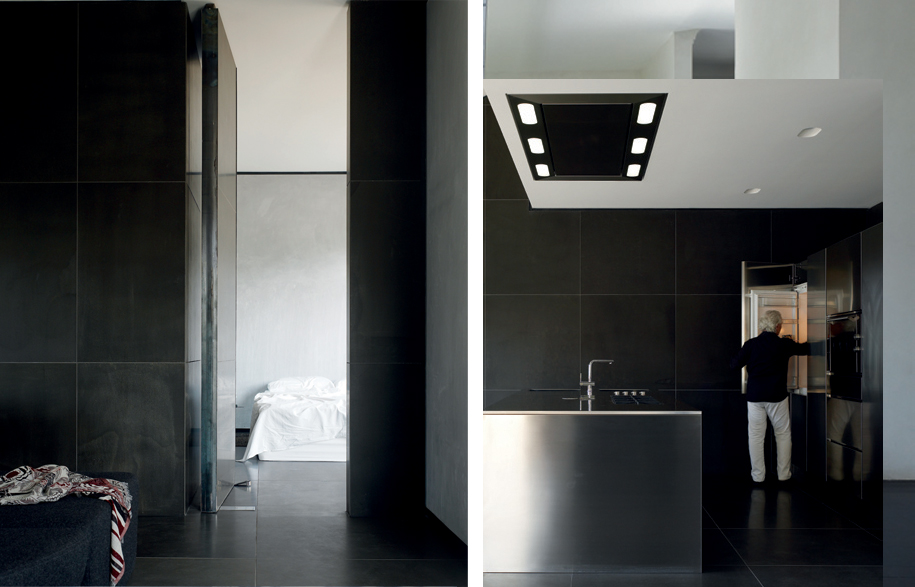 Left: A guest bedroom on the first floor features a door clad in bluestone
Right: The stainless steel kitchen features a retractable rangehood
Separating the offices from the Grand Salon, also on the ground floor, is a moody lobby. Reminiscent of a great film set, the key 'prop' is a dramatic steel staircase. Spanning three levels, the sculptural form stops visitors in their tracks. Designed by Gesualdi and fabricated by Peter Drofenik, the staircase's curvaceous lines are exaggerated by a twelve metre-high photo montage of Michelangelo's 'David'. "I've always had an affinity for Florence. The Masons headquarters was based there," says Gesualdi, who with all of his designs, whether furniture, interiors, homes or accessories, appreciates the juxtaposition of old and new. "There's something quite European in this approach," he says.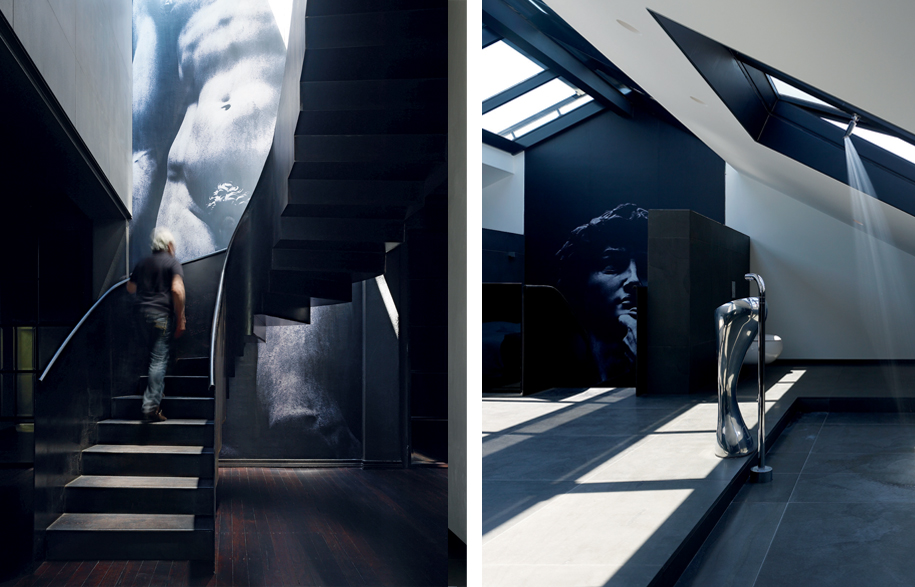 Left: A photomontage of Michelangelo's David sits behind the extraordinary steel staircase designed by Gesualdi
Right: The head of David emerges in the open plan bedroom and bathroom on the third level
The Salon is the epitome of refined Italian style. Gesualdi essentially kept the proportions of two combined rooms (one originally used as a mess hall), as well as the original dark timber veneer joinery, comprising built-in bookshelves and storage units. The timber was accentuated with grey polished plastered walls (stucco lustro). "The fireplace simply needed a good scrub," says Gesuadi. One of the main changes to this space was achieved by extending the size of windows and adding glass and steel doors to the front lawn. "I didn't want to start the renovation until this permission was granted," he says. "I couldn't have lived with the original chicken wired translucent glass windows."
While the ground floor is dedicated to WorldWeave, the upper two levels are Gesualdi's private domain. On the first floor is an open plan kitchen and informal living area, together with a second bedroom. And while previously there was no outlook, new steel and glass windows and doors frame the city skyline. "I wanted to make use of these balconies," says Gesualdi. And rather than fill the space (and there's a considerable amount of it) with knick-knacks, it errs on the spartan side. The polished plastered walls are void of art and there are a select few designer pieces of furniture, including a modular lounge suite designed by Gesualdi himself. "Just sit on it. You won't want to budge," says Gesualdi, who eventually intends to bring such designs to market.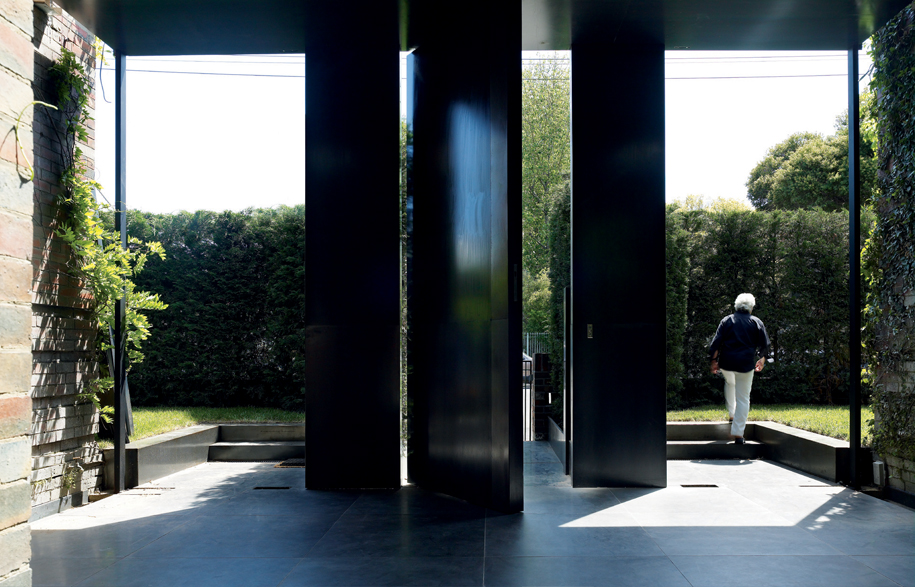 A tall hedge creates privacy for the home and studio
The all-stainless steel kitchen is also pared back. Stainless steel joinery conceals a fridge, a pantry, as well as storage. And the 3.5 metre stainless steel island bench even includes a pop-out power point to ensure the lines remain clean. One of Gesualdi's 'toys' is his rangehood, also made from stainless steel. But rather than being a permanent fixture over the island bench, it retracts in the ceiling when not in use. "It took its time to arrive. But it was worth the wait," says Gesualdi, who just has to touch the switch to demonstrate the rangehood's gymnastic qualities.
Like the living areas, Gesualdi's bedroom is almost monastic in style. Adouble bed, flanked either end by fur-covered ottomans, is the centerpiece. The only other form that competes for attention is a sculptural stainless steel basin, cheekily revealing a voluptuous behind on one side. And instead of a separate shower, there's a slight change in level and the shower head is attached to a beam. "I designed this space for myself. I'd rather notice the way the light falls into the space than a rack of clothes lined up against a wall," he says.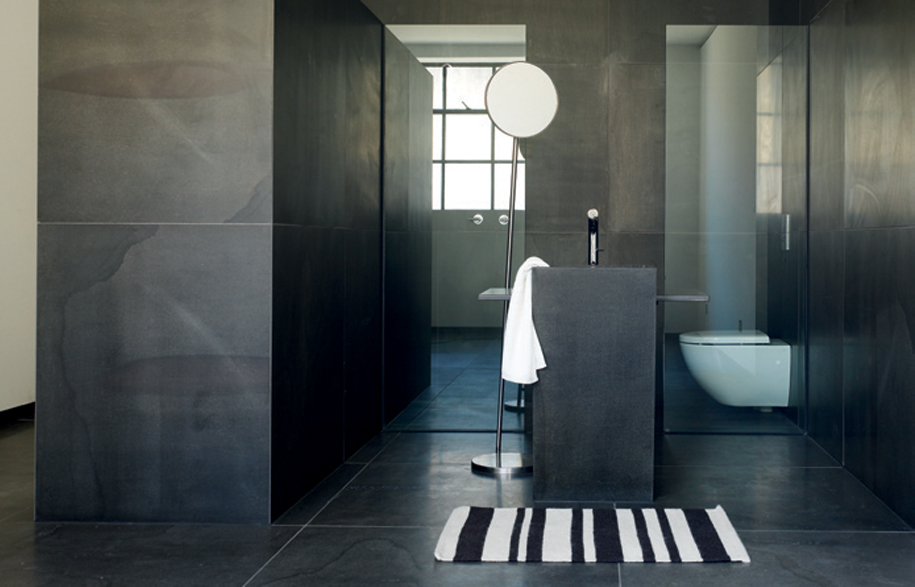 The stone-clad bathroom
Gesualdi, who trained as an architect, has a clear vision of what he wants to achieve in design, and after decades of designing for others, so he should. "My years in fashion have helped me enormously. Whether I'm designing a chair or an interior, it's about understanding the human scale. Understanding the way something is draped on the body requires the same skill as understanding the way someone sits in a chair or enters a room. You just know when something is right."
Photography: Derek Swalwell
derekswalwell.com

Design
Morphogenesis
morphogenesis.org
Structural Consultant
Optimal
Electrical & Plumbing
Spectral
Contractor
Bhayana Builders, Vadehra Builders
Total FloorArea
1,508m2
ARTWORK
Bar by Balasubramaniam, and Nitin Agarwal. Living Room by F.N. Souza, and Chintan Upadhaya. Staircase by V. Ramesh, Sanjeev Sonpimpare, and Amit Ambalal. Foyer by Probir, and Dhawan. Dining Room by Jyoti Bhatt, Manisha Gera, and Probir. Bedroom by Sonali Rastogi, Probir, and Ajay Rajgarhia.
FURNITURE
Bar custom designed by Morphogenesis. Chaise in Living Room from Molteni&C, molteni.it. Sofa in Living Room custom designed by Morphogenesis, made by Proform, upholstered in fabric from Shades of India, shadesofindia.com. Seating tall chairs in Living Room and hardwood seating in Courtyard custom designed by Mike Knowles at India Chic, (91 11) 2630 3968, chairs in Dining from Proform, and Calligaris chairs in TV Area from Stanley Boutique, stanleyboutique.com. Tables inlay table in Courtyard and benches in Dining are custom made by Kaaru, kaaru.com, red table in Dining custom designed by Morphogenesis and Mike Knowles from India Chic, Anchor tables in Dining from India Chic, and Jean Nouvel Less Table in TV Area from Stanley Boutique. Cabinetry in TV Area is custom made by Proform, and from Poggen Pohl, poggenpohl.com. Outdoor rattan furniture purchased in Hong Kong.
FINISHES
Flooring Oak planks and Travertine stone. Timber throughout is Teak ply and veneer and renewable forest timber treated with Linseed oil. Wall panelling handmade fabric and paper sandwiched in glass, and textured Limestone. Paint throughout is non-toxic paint (acrylic emulsion) from Asian Paints, asianpaints.com. Glass in joinery by St Gobain, saint-gobain.co.in.
LIGHTING
Bar lighting by Murano, muranolighting.com. Lamp in Living Room, Louis Poulssen lamp, louispoulssen.com. Rubber lights in Courtyard are handmade with rubber by Quasar, quasarled.com. Chandelier in Dining Room is Phillip Starck from Flos, flos.com. Recessed lighting in TV Room by Antares, antares.com. General lighting throughout by Erco Lighting, erco.com.
FIXTURES/EQUIPMENT
Bathroom fixtures Jacob Delafon, jacobdelafon.com, Kohler, kohler.com, Ceramica Flaminia, ceramicaflaminia.it, and Gessi, gessi.com, all from FCML, fcmlindia.com. Hardware from Hafele, hafeleindia.com, and Hettich, hettich.com. Fans antiques from flea market at Chor Bazaar in Mumbai.
Tags: Australia, Melbourne, renovation, residential, stone
---