For the past 30 years, Doctor Wong Loong Tat has been collecting the ceramic works of pioneer Singaporean ceramicist Iskandar Jalil. Over the past ten years, this has expanded to include Japanese chawans (ceramic bowls used in Japanese tea ceremonies). The collector's artistic preoccupations, particularly for abstract paintings, have also made him a collector of works by celebrated artists such as Wang Huaiqing, Biggs and Collings, Lim Tze Peng and Anthony Chua.
These notable pieces are thoughtfully placed in his new home such that they become part of the everyday, gently woven into the composition of furniture, space, light and structure – treasures to be discovered and admired when traversing the house both inward and upward, but also to be used.
Having lived on this plot in a quiet suburban part of Singapore for the past 28 years, Wong and his family (and art collection) felt they needed more space and called upon Freight Architects to help.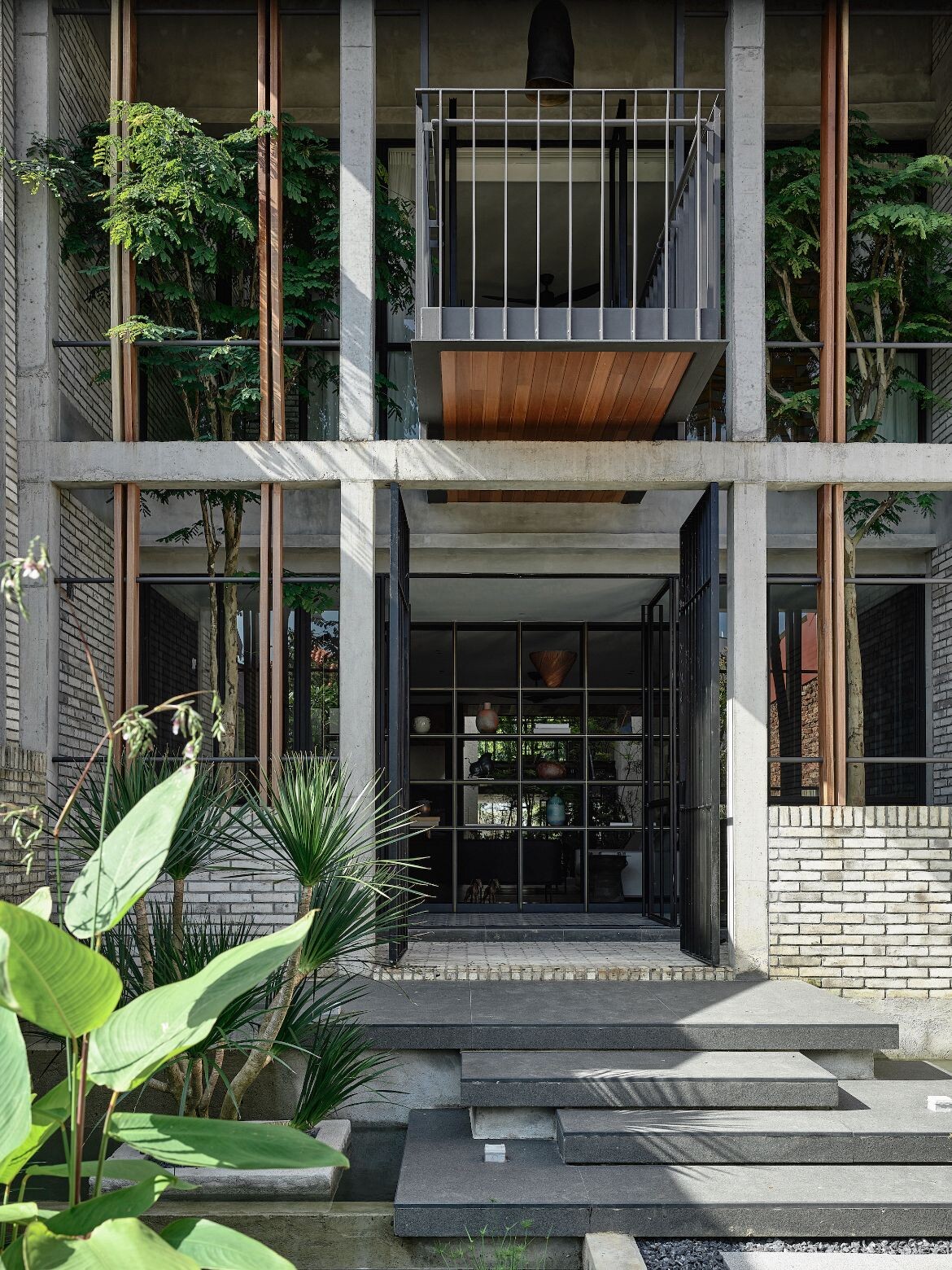 "The single-storey house had small bedrooms but a very long garden at the rear. We wanted to improve the house's light, ventilation and expand the usable living spaces [and greenery]," shares Wong.
The example he gave Freight Architects' co-founder Kee Jing Zhi was that of a shophouse — a vernacular townhouse typology common in Southeast Asian cities. In fact, they had bought the plot as it reminded them of the long shophouses in Penang and Malacca.
"It was silly to replicate a shophouse, so Kee suggested [reimagining] a shophouse," says Wong on how the brief developed.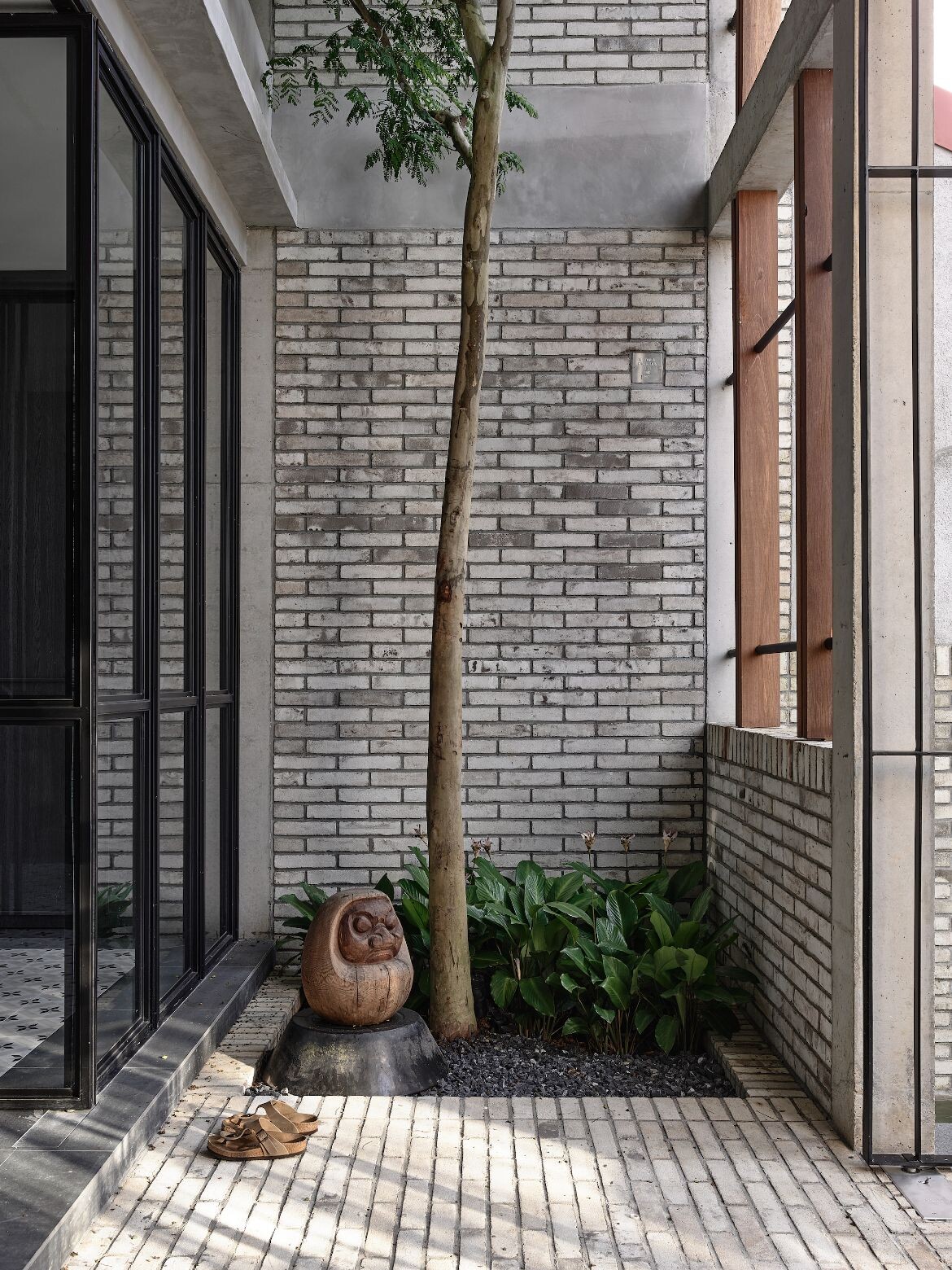 Thus, Kee not only recreated the feel of a shophouse using tactile materials – such as brick and rough-textured white walls made with insouciant brush strokes – but he also drew upon the shophouse's distinctive proportions, planning and climatic features.
From the front, the house embodies a starkly different disposition to its neighbours, with thin columns that frame a naturally ventilated portico instead of conventional fenestrations set into opaque walls.
"Elements of a typical shophouse are abstracted to their most basic form and recomposed into this house. We also adopted the Japanese spatial concept of Oku to create layers of pause and spatial depth," explains Kee of the resultant three-dimensional spaces that reveal themselves only when ambling through.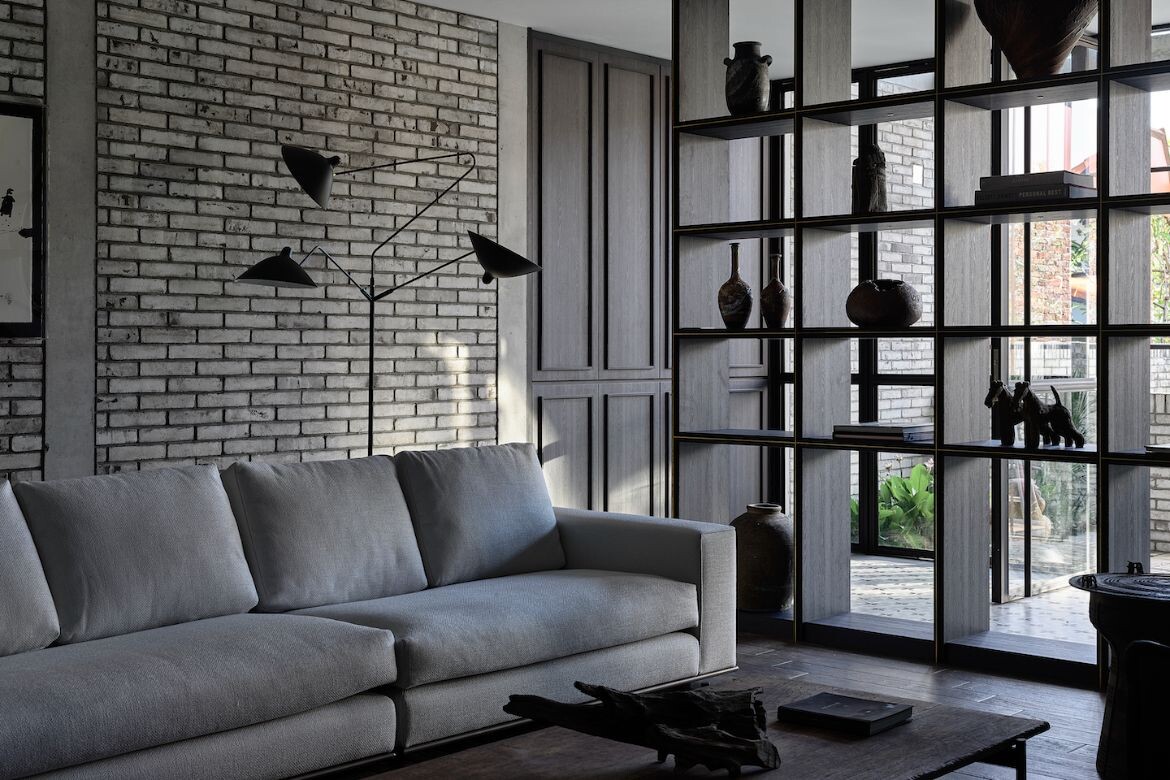 "As one moves through the space, there is always something [compelling] in front. Human curiosity dictates that people keep moving forward and searching deeper. Likewise, we started the project by understanding the occupants' interest, and realised their lifestyles and philosophy [are] greatly rooted in the Japanese culture by way of their descriptions."
A water lily garden preludes a liminal entrance foyer, which is "a threshold between inside and outside".
A custom shelf that displays Wong's collection of ceramics is both a sun-shading and privacy screen between this space and the living room.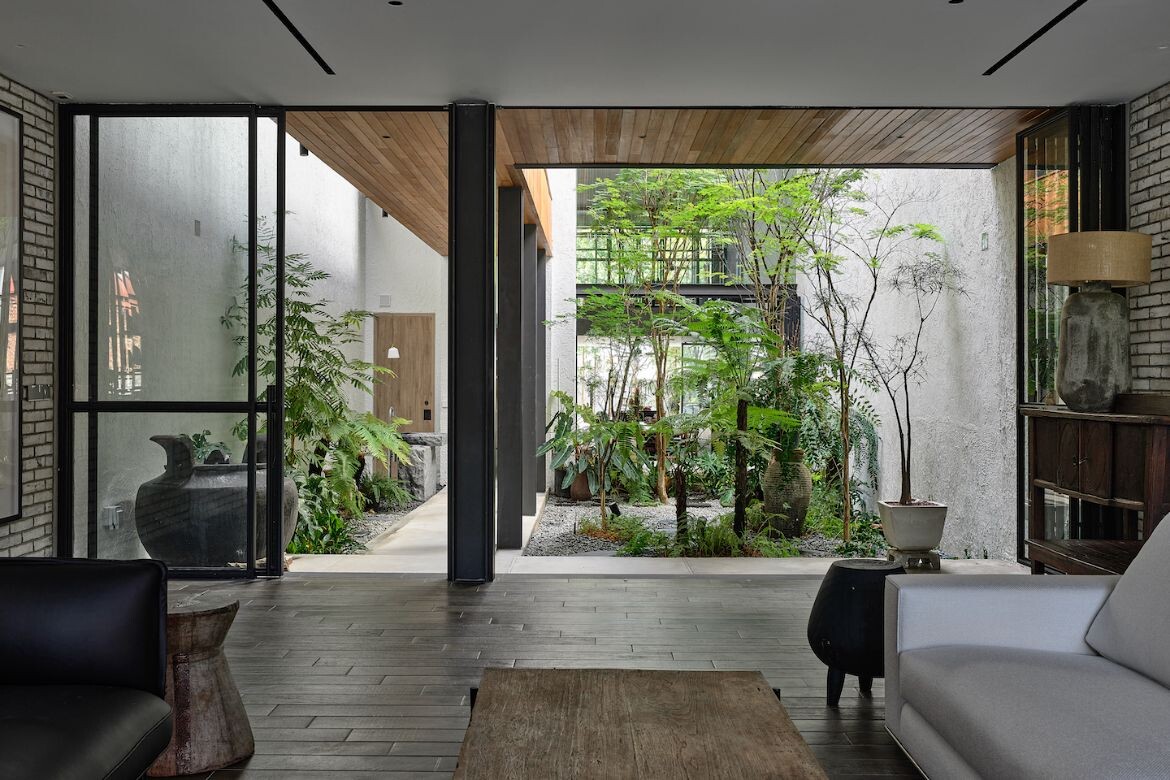 It looks inward to a courtyard that offers glimpses of sky, rain and daylight, or the jet-black canvas of the night sky. Nuanced touches include the artful use of a found timber beam – its weathered and stoic form provides a gentle introduction to the courtyard.
Climate-appropriate timber shutter windows, similar to those found in shophouses, enclose spaces above the courtyard. A bridge traverses the courtyard, setting apart the main bedroom at the front of the house on the second storey from the other rooms. Strategically placed staircases accentuate the journey of unveiling and cross-views. One is a petite spiral staircase swirling down from the attic to a bed of stones at the entrance foyer. From downstairs, it is a picturesque sculpture in steel, inspired by shophouse staircases.
From the dining room, a composition of steps signals the start of the main staircase that leads to the family room, which is open and layered with a beautiful collection of furniture and objects, rich with patina but none too precious, so they are easy to use for everyday living. Instead of a continuous flight, Kee breaks the momentum of ascent to the attic with another spiral staircase.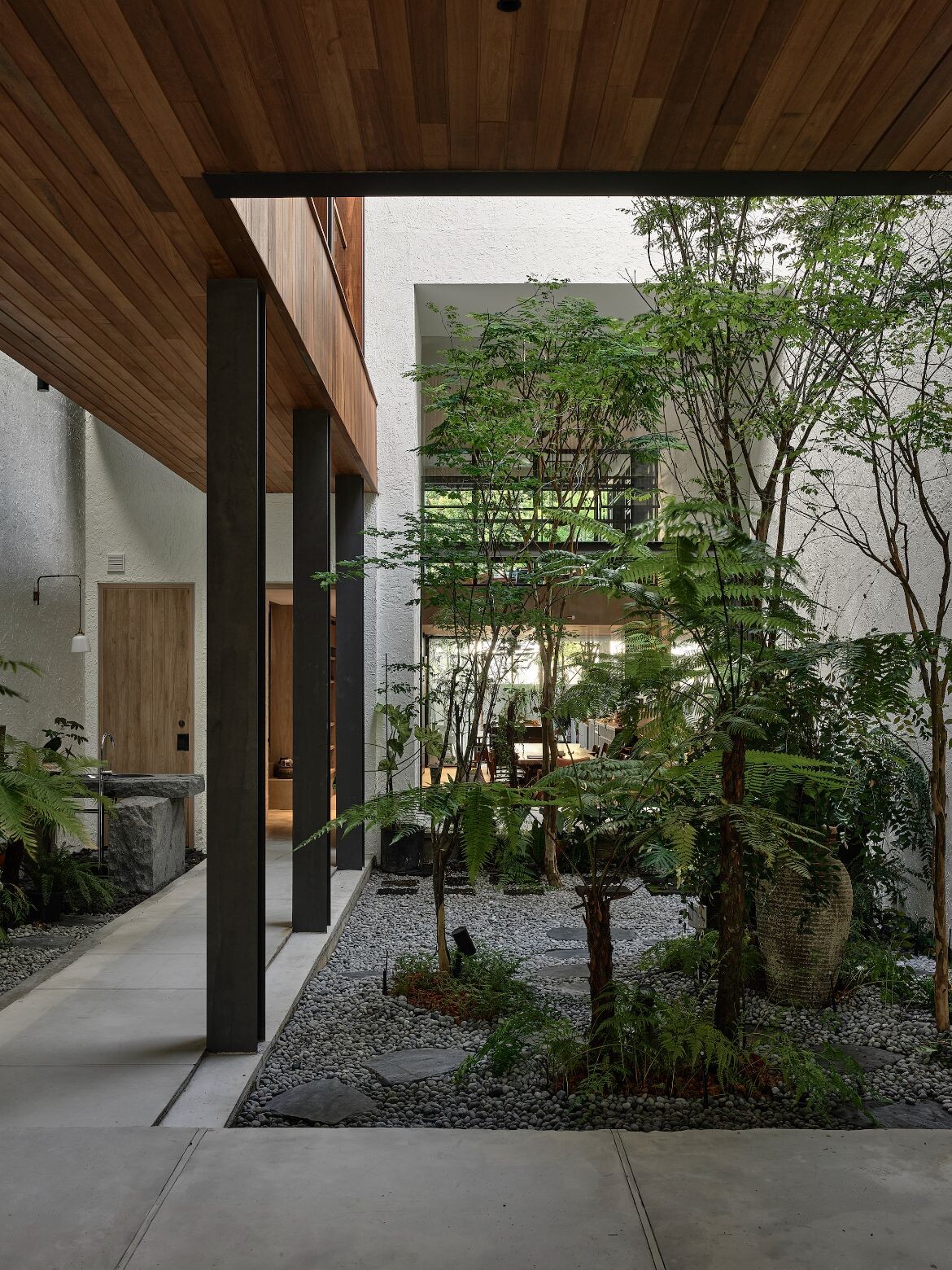 On the materiality, the Japanese concept of wabi-sabi was the guide, echoing the imperfect beauty and tactility of the furniture and ceramics. "The materials are allowed to weather and age," says Kee, who points out the niches at the stairways and corridors, as well as shelves in the dining room for displaying pots.
Abundant planting throughout the spaces softens the atmosphere, dissolving the distinction between indoors and out. The main bathroom is another such space. "The owners have a huge collection of potted plants, so we made this a 'garden bathroom'," explains Kee.
There is so much spatial delight in the home that one is tempted to linger after a quick tour. Wong, a keen plant-lover, shares his happiness at the courtyard's manifold landscaping opportunities, the home's good ventilation and "the atmosphere of calm throughout the house".
In this way, Kee has succeeded in what he set out to do: "Every house we design should have a story and strong design concept to guide the spatial flow and finishes. We are very keen in exploring interesting thresholds and transitional spaces – this project gave us a lot of opportunity to create interstitial spaces."
Project details
Architecture and interiors – Freight Architects
Photography – Derek Swalwell
Project team – Ar Kee Jing Zhi (Project Director), Jessie Tan (Project Architect)
Civil and structural engineer – MSE Consultants Pte Ltd
Builder – Tian Hua Group Pte Ltd
Landscape – Ngee Phoe Flower Garden
FINISHES
Flooring from Hafary. Brick tiles by Rubik Material Laboratory. Tiles from Malford.
FURNITURE
Furniture from Made and Make. Furniture from Minotti. Furniture from Liaigre.
FIXED & FITTED
Stone basin from Earth Stone Pte Ltd. Carpentry by Design Rebirth.