A luxurious take on the surf retreat, Halcyon House is all white walls and striped accents, a curious partnership of quirky decadence. The winning design of the establishment is the result of a collaboration of design talent with the project placed in the capable hands of award-winning Sydney architect Virginia Kerridge, and the trademark interiors of Brisbane's Anna Spiro.
Halcyon House was formally Cabarita's Hideaway motel, purchased by Brisbane sisters Siobhan and Elisha Bickle and their husbands Adam Flaskas and Dave Wadley in 2011. To some the idea of transforming a dated block of coastal accommodation into a unique boutique hotel may seem farfetched, but the Bickles have a proven success rate at property development – the Brisbane couples were those behind the successful launch of 'Bunk' backpackers hostel, as well as the Victoria Park function centre.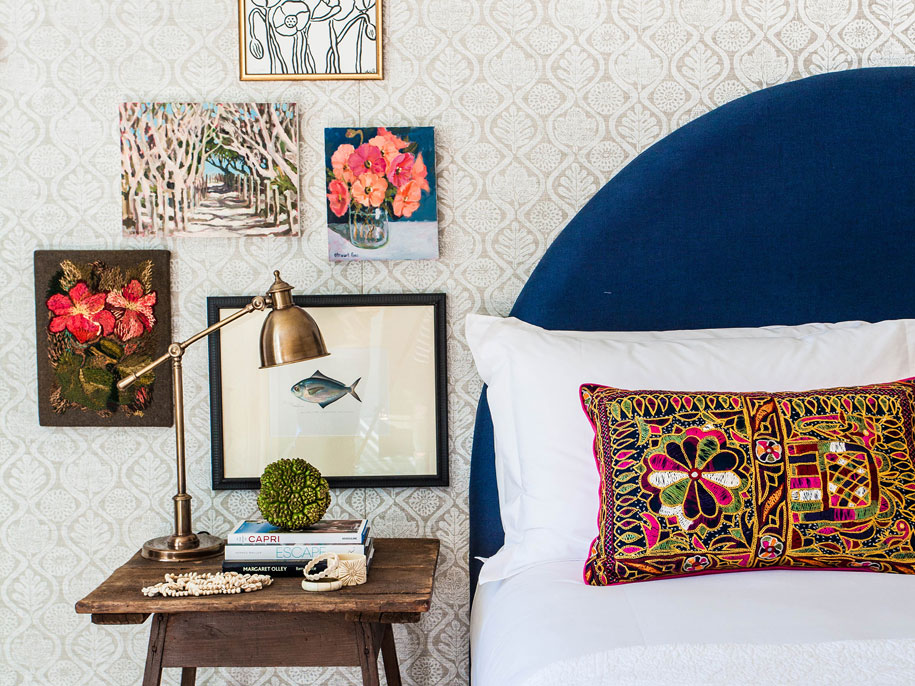 While secluded and sleepy are rarely a partnership that entice developers, this proved exactly the selling point to the owners. Elisha Bickle explains: "We believe Halcyon House will hit the right note – luxurious with a low key Australian feel, whimsical rather than formal and a relaxing retreat in a location, otherwise known to those in the know, as a 'little pocket of paradise'.''
In its redesign, the owners were eager to respect not only the relaxed nature of the surf town surrounding, as well as utilise certain elements of the original motel's bare bones. Kerridge incorporated both aspects of old and new in her vision. Stating she wished guests to be "invigorated by the building", she preserved the pool and retained the original Spanish arches of the motel.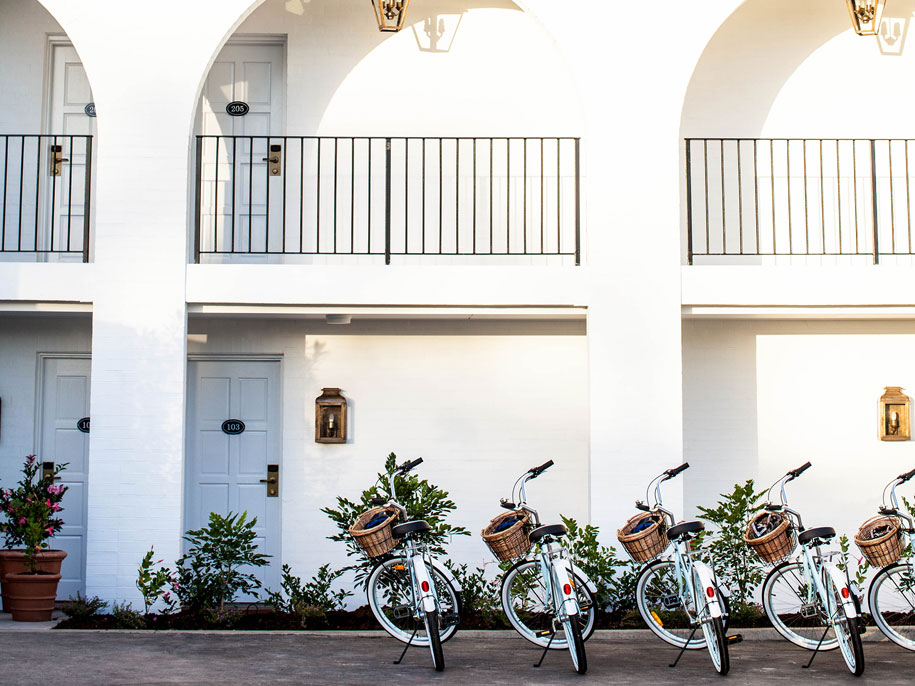 Drawing on the past is also a trait embraced by Spiro in her work for Halcyon House. The renowned interiors magician has purposefully transformed the hotel into somewhat of a very chic, very liveable gallery. Clashing prints, rich fabrics, unique artwork and antique treasures mingle throughout, with Spiro and the owners both collecting dozens of pieces of antiques, furniture and art from around the world. Madeline Weinrib rugs, Wayne Pate sketches and John Derian sofas were sourced from around the US, with bespoke craftsmen closer to home lending a hand to make sure the antiques were in pristine condition, as well as helping to adorn the walls with statement fabrics collected in the UK.
As is characteristic of Spiro's work, each of the hotel's 21 rooms, as well as its award-winning restaurant Paper Daisy, has a distinct personality. She explains of her design ethos for the project: "I love to stay in a place that wraps me up and is beautifully decorated. You want to go home and dream about visiting that wonderful place again," Anna said. "I wanted each room to be different so that guests can find their favourite room and then keep coming back and choosing to stay in that room each time they come."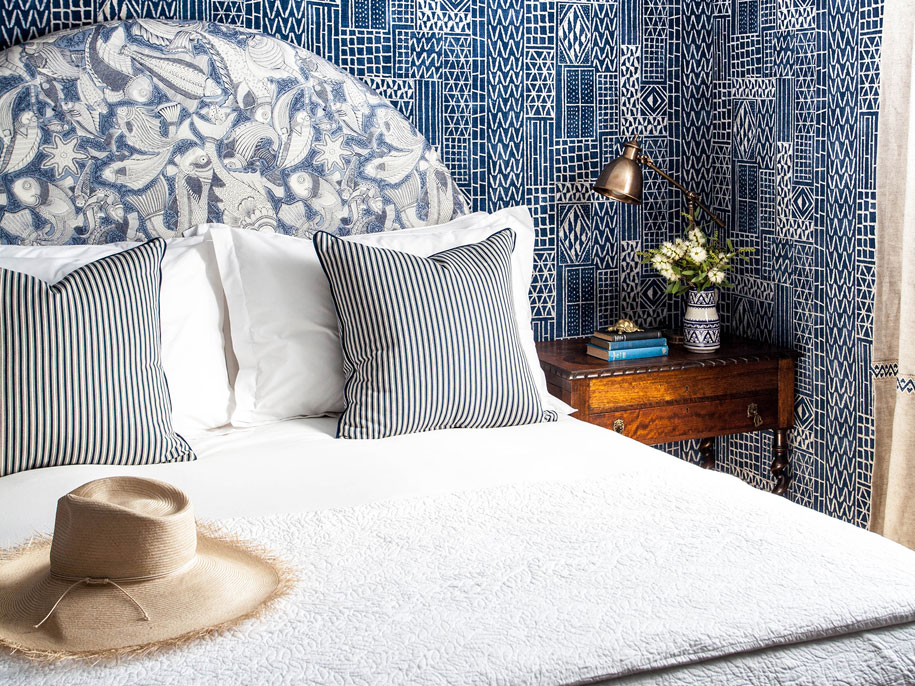 Halcyon House emerges as a quirky interpretation of a coastal haven – one that seamlessly blends the best of its 60s origins with modern design expectations for both luxury and individuality. It's a well-executed coupling that has helped the boutique dwelling be nominated for both Best Design and Best Newcomer for the annual Mr & Mrs Smith Hotel Awards 2015. There's no doubt that this will be the first of a long line of design nominations to come for the hotel, with the venue both halcyon by name and halcyon by nature.
Halcyon House
halcyonhouse.com.au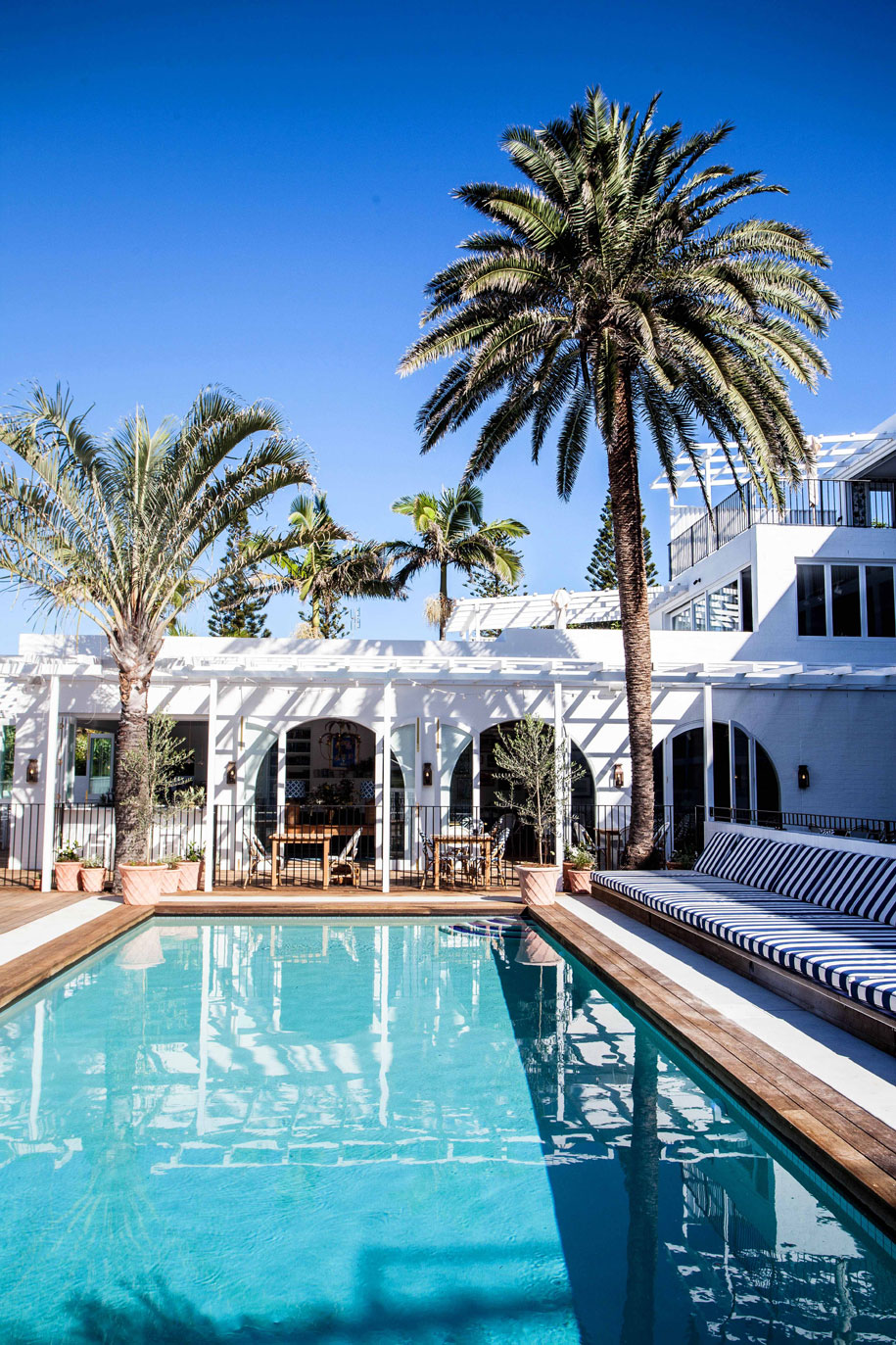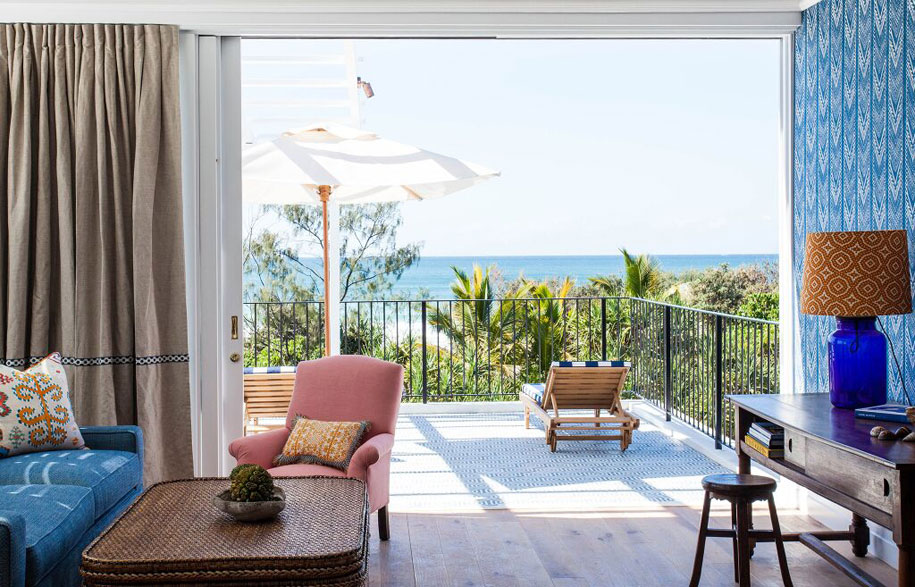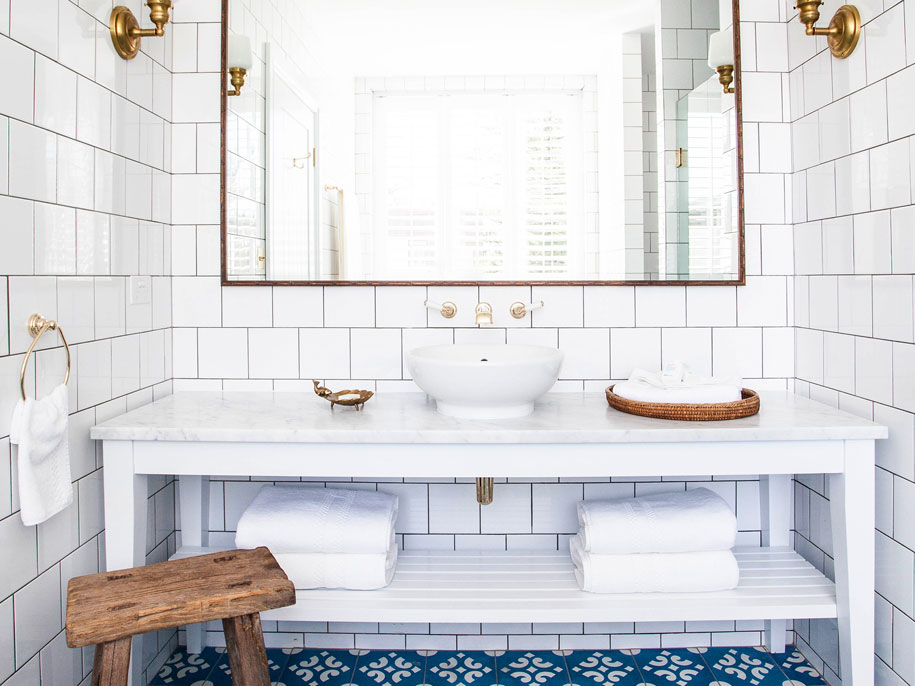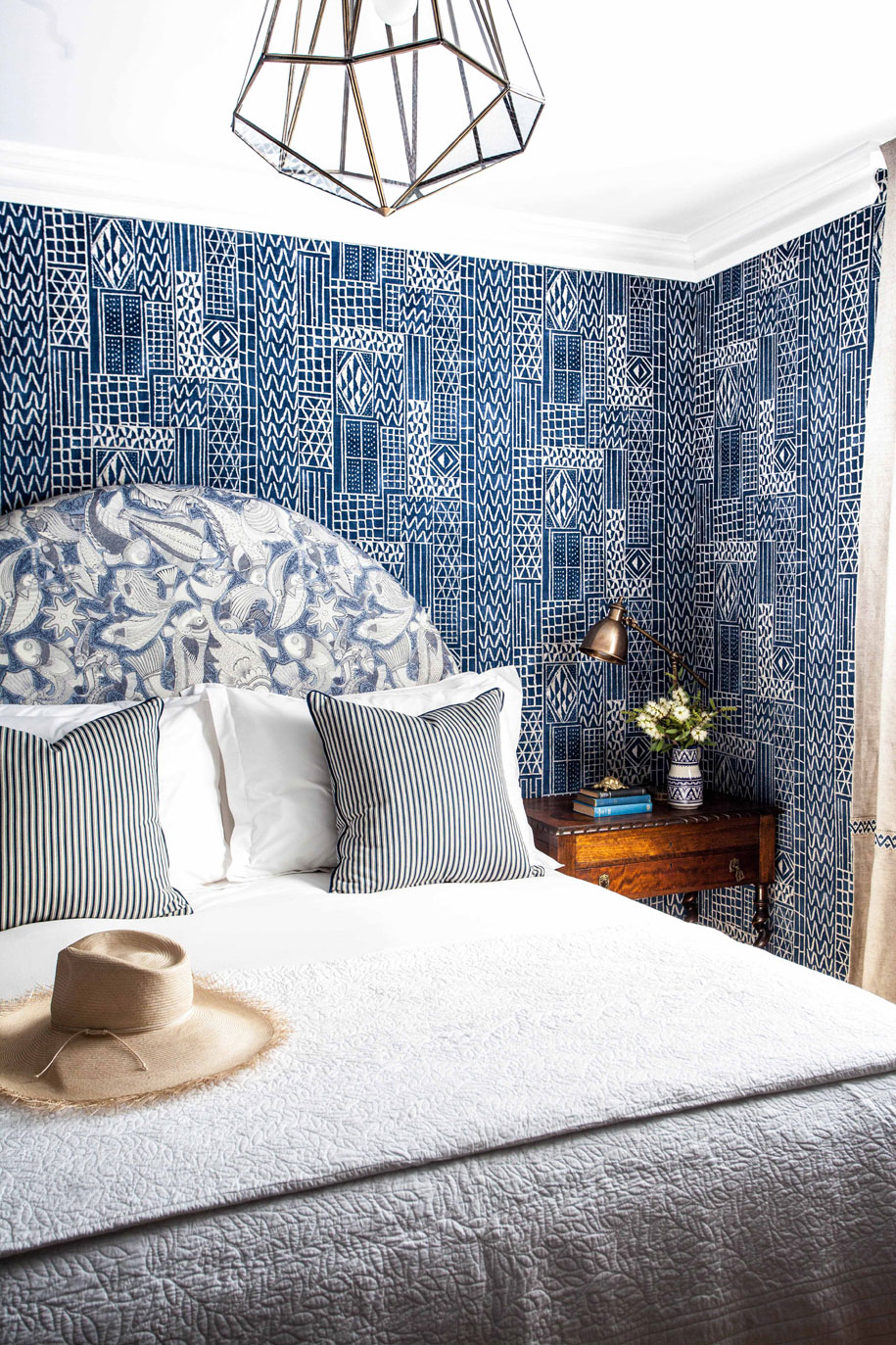 ---