Above: The original façade by Wilkinson is visible from the street. 
"What I really like about Wilkinson's work," says Luigi Rosselli, "is the fact that there was an approach looking to simplify architecture, to look for a very pure form. He was looking for a more organic type of architecture."
He points out that the plan and section of this house (built in 1936 for a doctor) is quite complex and conveys the sense of a house which has grown quite naturally over a period of time. "It is," he says, "quite similar to what time does to a building – complexity gets layered with time."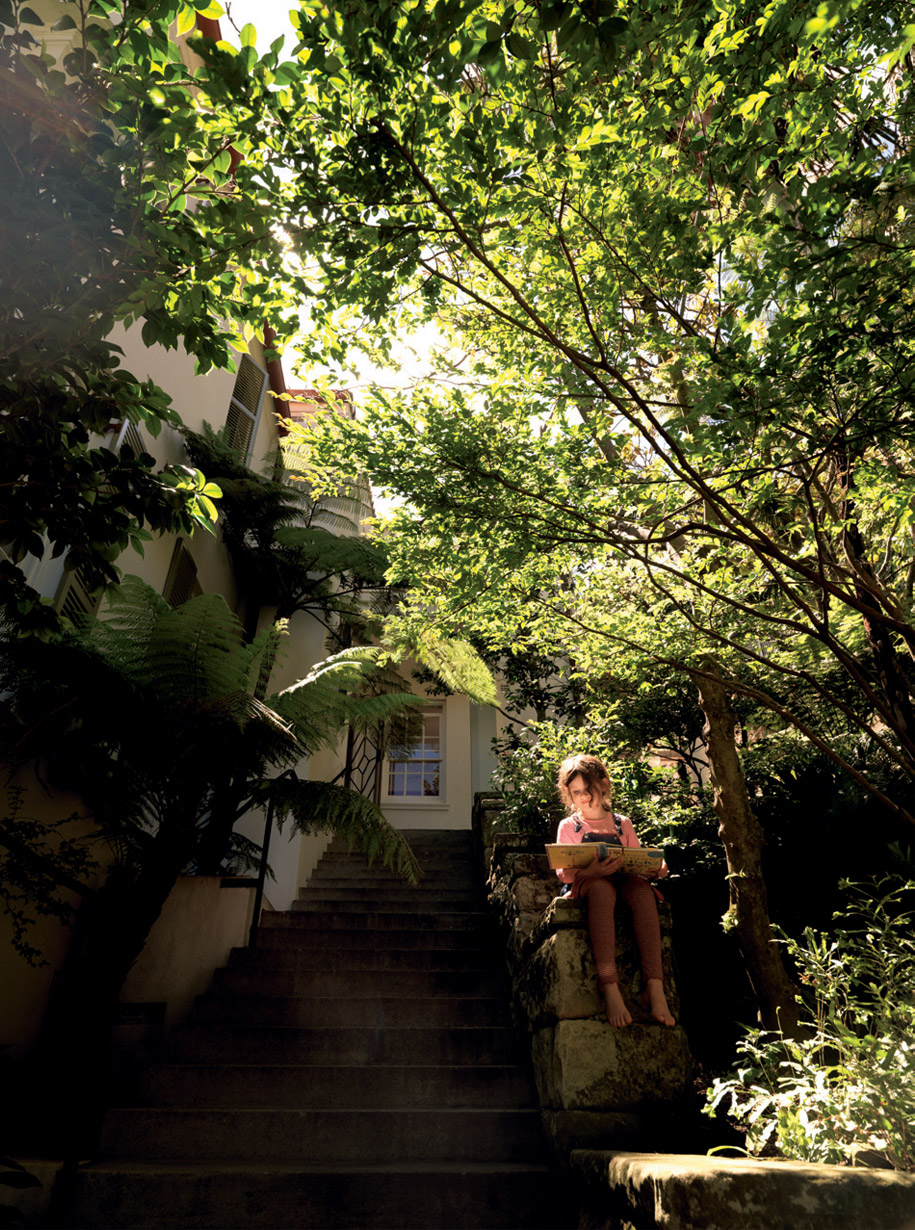 Steps leading from the street to the entry. 
Wilkinson became foundation professor of architecture at the University of Sydney in 1918 and was soon after appointed university architect. Right up to the time of his death in 1973, Wilkinson was hugely influential and undertook many private commissions – domestic and multi-residential, ecclesiastical and commercial – in addition to his outstanding work at the University of Sydney.
He was attracted to the vernacular architecture of the Mediterranean and colonial Australia. This interest manifested itself in various ways, including finishes, decorative elements and an easy connection between inside and outside. But it is also apparent in this house with its complex section and plan. This makes the house seem like a 'family of rooms'. With his additions, Rosselli has responded to this sense of 'family' and highlighted the organic, or additive, character of the house to create a cluster of buildings linking together to form a little village.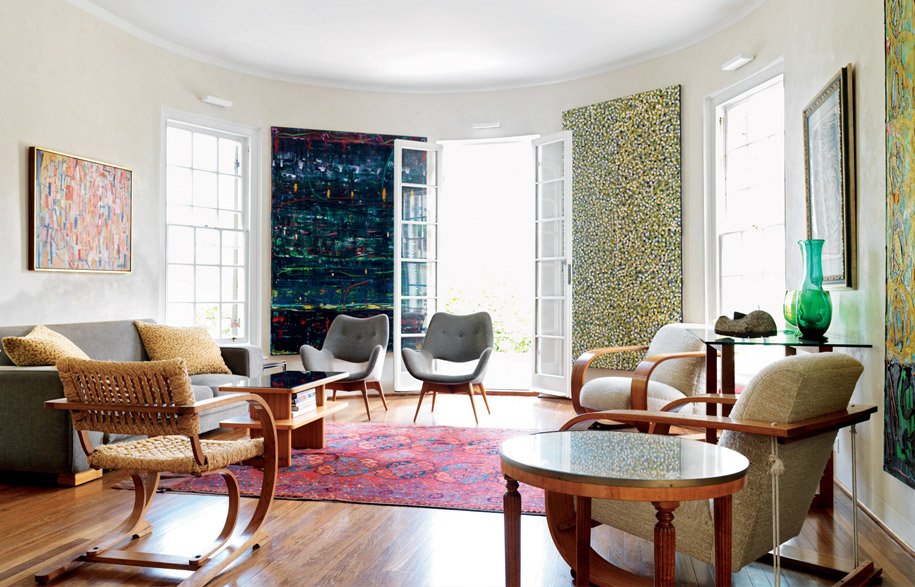 Classic furniture and contemporary art in the main living room.
"He always managed to keep the envelope quite compact," says Rosselli, "by interlocking the different sizes of the rooms, the different heights of the rooms and the different levels. So, he would have a high ceiling height in the living space and a low ceiling in the bedrooms or utility rooms. This creates something akin to Adolph Loos, a Rubik's cube type of structure with lots of steps. You go up to mezzanines and then go down with lots of different levels and split levels."
This house, he says, is a classic split level with the front part of the house at the lower end of the site and the back section half a flight higher. This reflects the steep site. The house steps up the site to a sandstone rock-face with a shelf on top. This is almost the height of the two-storey house and so was difficult to access.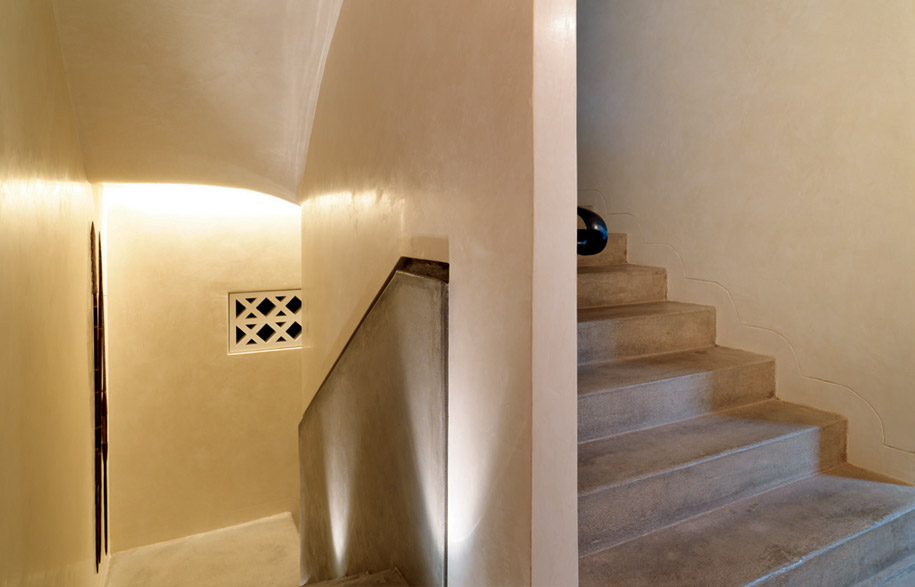 The staircase was restored to its original polished concrete finish.
The client is a collector – of paintings, books, rugs and, quips Rosselli, children. He has six. Accordingly, he had outgrown the house. So, the brief was to provide more accommodation to fit the growing family. But new possibilities kept presenting themselves until there were three DAs current for the house. This could have resulted in something of a mish-mash, but Rosselli was able to unify old and new elements through materials and a consistency of form.
There is also a sequence of arrival and progress, both internally and externally – ultimately leading all the way up to the pool and pool house on top of the sandstone rockface – which links this cluster of semi-autonomous elements together into a miniature version of a Mediterranean hill town.
Children in the breakfast room, which showcases pieces from the residents' art collection. 
The restoration work left the lay-out of most of the rooms intact – only the kitchen and laundry areas were re-worked, along with renovated bathrooms, under-floor heating and new lighting. Otherwise, shutters have been repaired and Wilkinson's beautifully sinuous internal stairway stripped back to its original polished concrete finish.
The new works began with the pool house, followed by a new family room (off the new kitchen and cut out of the sandstone rockface) and then the basements. "It was basically adding where you could add," says Rosselli, "without impacting on the original Wilkinson footprint and original building forms."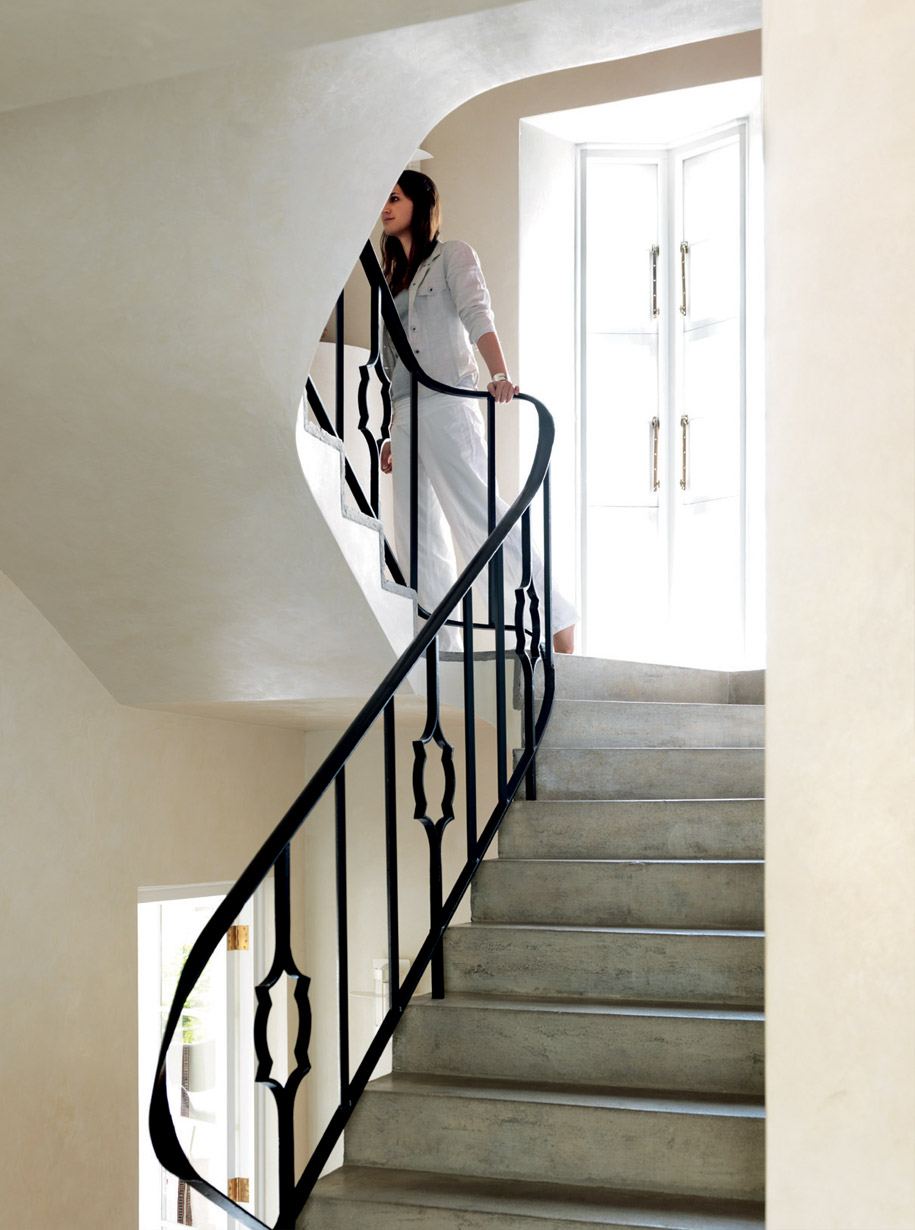 The staircase connects the interlocking levels of the house.
The pool is now accessed by a stairway which makes its way up past a rain and stormwater retention pond (which filters the water for garden reticulation and for the toilets). The infinity-edged pool has sensational views out over Sydney Harbour, while the elegant pool house with its rendered brick pillars is more like a garden pavilion with more than a hint of Mediterranean classicism to link it to the house below.
Steps and retaining walls throughout are all sandstone to sustain the sense of a Mediterranean hilltop town – reinforced by the way the library is cut into the sandstone rock-face, almost like a cave.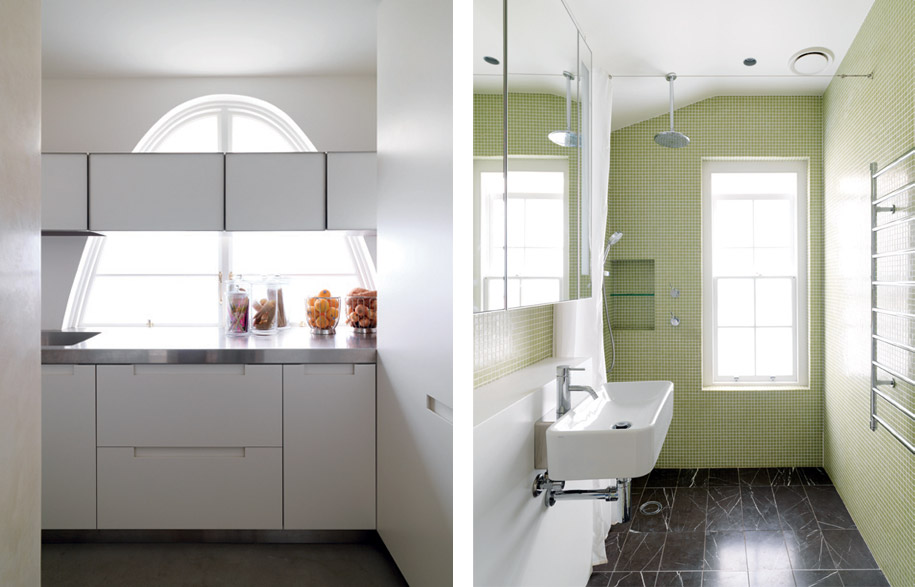 Left: The pantry and laundry makes use of clean lines and minimal finishes.
Right: A renovated bathroom.
The original garage at the bottom of the site was disconnected from the house and could house only one car. So, Rosselli has converted it into a children's playroom, connected to the house by extending the internal stairway. The garage has been re-located to the garden, its roof forming a raised terrace and extension to the garden.
The other addition takes restoration even further. It is the new entry gate – designed by Wilkinson, but never built for cost reasons. Rosselli has built the gate to Wilkinson's design using authentic detailing salvaged from other Wilkinson sites.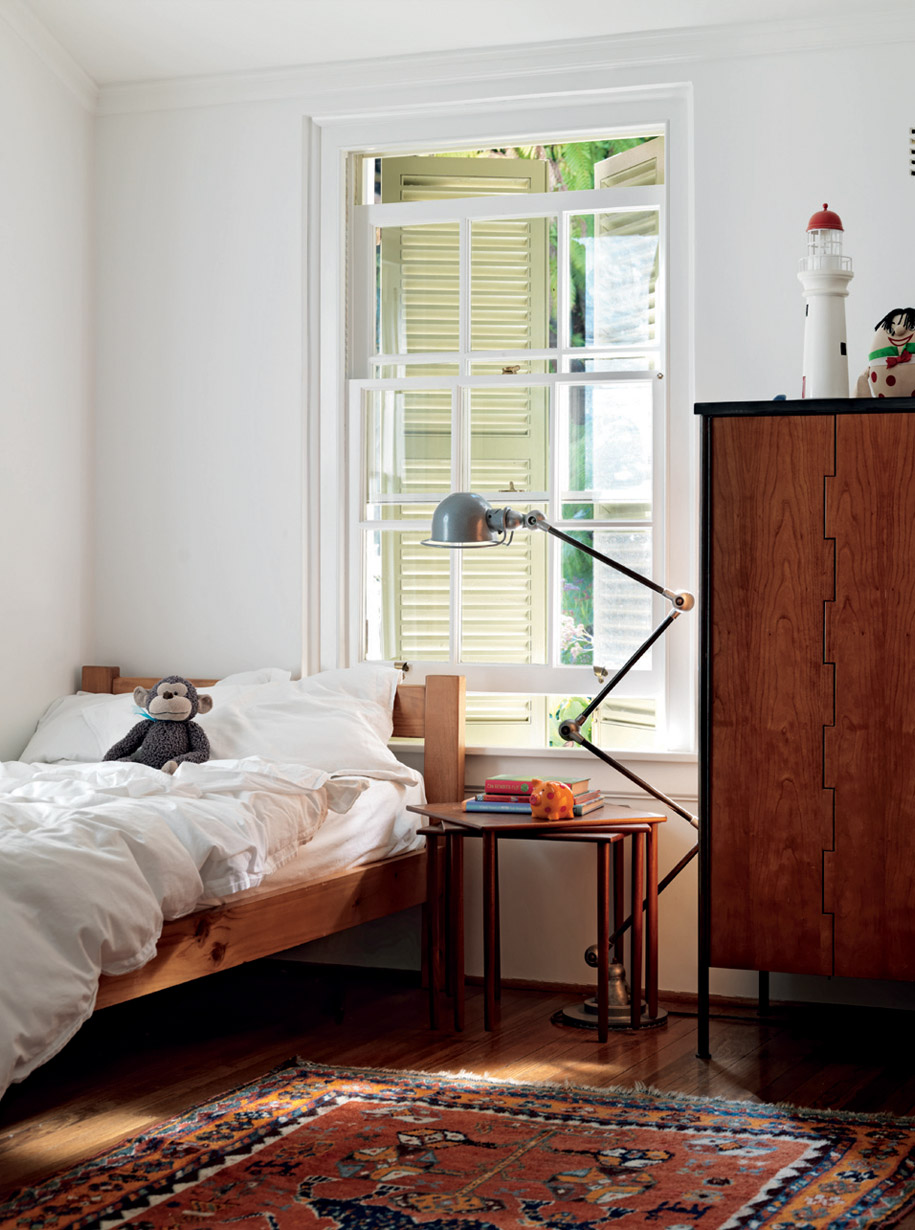 One of the children's bedrooms.
Like a hilltop town, this house follows the contour of its steep site – so much so that it looks as though its has been cut out of the rockface, and its walls made from the excavated stone. And like a hilltop town it consists of a progressive series of landscaped terraces, connected courtyards and viewing platforms. This informal progress is reflected in the interior lay-out with its somewhat meandering plan linked by small transitional spaces which appear unexpectedly as the house sashays from one room to another or from one level to another as the staircase curves its way up.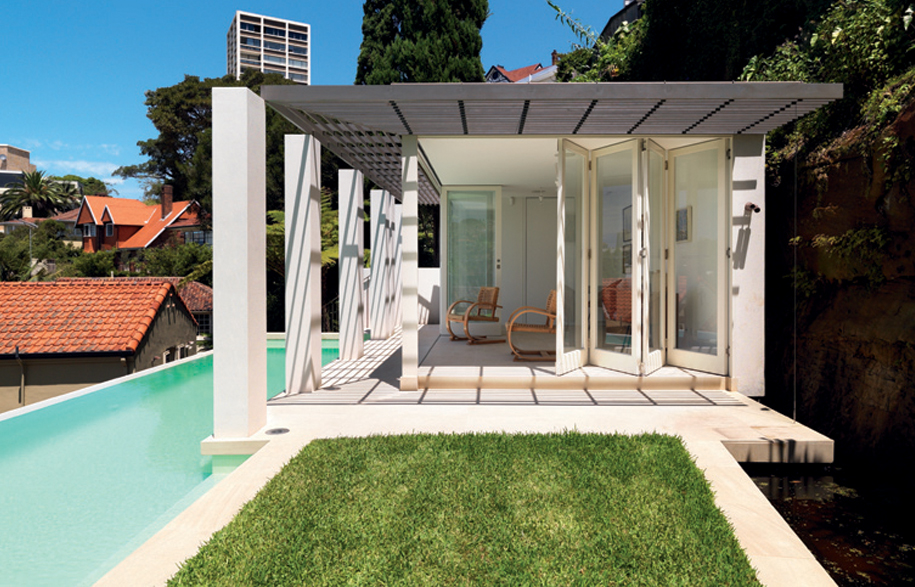 The pool house references Mediterranean classicism, linking it to the house below.
Not only has Luigi Rosselli been able to extend the house without compromising its original character, he has actually been able to further reveal that character by using sympathetic materials, respecting the existing geometry and by engaging with the dynamics which drive that character.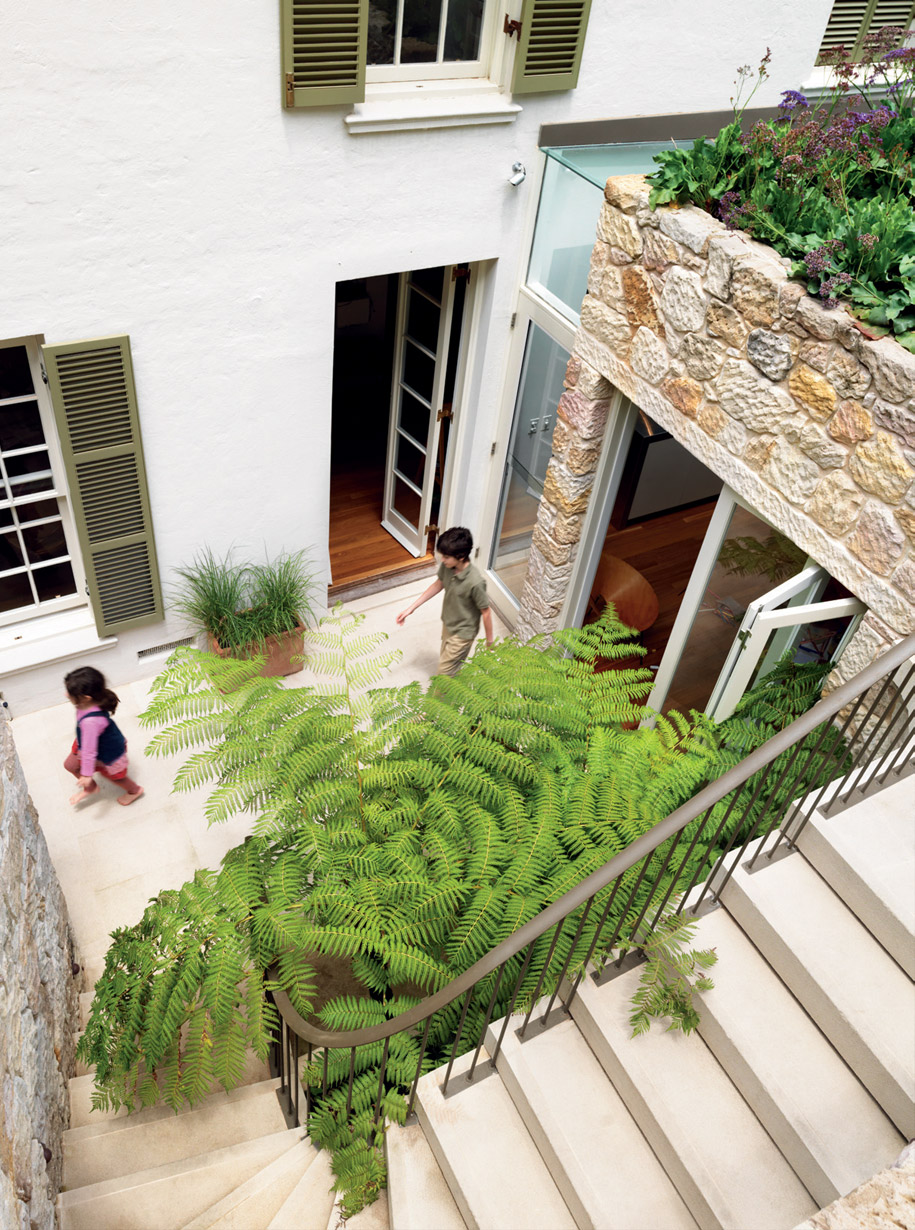 Looking down to the courtyard from the pool. 
Wiston Gardens won the Woollahra Conservation Award, 2008
Photography: Justin Alexander
justinalexander.com.au
Luigi Rosselli Architects
luigirosselli.com 
ProjectTeam
Luigi Rosselli, Candace Christensen
InteriorDesign
Interni
InteriorDesignTeam
Louise Bell, Shane Gogan
HeritageConsultants
Tanner Architects, John Oultram Heritage & Design
Builder
Sydcon Building Services
Structural& hydraulics
O'Hearn Consulting
Archeology Asset
Geotechnical Engineering
GeotechnicalAsset
Geotechnical Engineering
Landscape design
Andrew Pfeiffer & Associates, Circle Square Landscape Design
Landscaping
Bates Landscape
ARTWORK
Living paintings by Ralph Balson and Michael Johnson.
FURNITURE
Chairs in Breakfast Room, Warren McArthur chair from Spence & Lyda, spenceandlyda.com.au, and No 17 chairs by Thonet, thonet.com.au. In main living room, TV Chair by Grant Featherstone and in family room, Kone chair by Roger McLay, both from Ken Neale Twentieth Century Modern.
FINISHES
Windows and shutters by Artarmon Joinery, artarmonjoinery.com.au. Metalwork by La Maison de L'Art, lamaison_delart@optus.net.au. Joinery by Silkworth, silkworth@bigpond.com. Interior walls finished in interior stucco Marmorino from ID Colourfield, idcolourfield.com. Stone throughout is Mt White sandstone from Gosford Quarry, gosfordquarries.com.au, and Pellegrino from Homestone, antropez@gmail.com. Flooring interior timber floor is Tallowwood finished with Synteko Pro low sheen, synteko.com.au, and specialty concrete work to front entry floor by MJW Applications, mjwa.com.
LIGHTING
Lamp in children's bedroom by Jieldé from Spence & Lyda. Other lighting throughout by Tangent, (61 2) 9698 5088.
FIXTURES/EQUIPMENT
Heating by Sun Heating, sunheat@optusnet.com.au. Hardware from Style Finish, stylefinish.com.au.com

Tags: Architecture, Australia, renovation, residential, Sydney
---