In Habitus #44 we took the time to explore the ways in which architects and designers nourish themselves and their clients through the work they do and the places and spaces they create. As it turns out, there are a plethora of ways in which architects design for nourishment, but when it comes to creating a space of tranquility within a house, there are few more important rooms than the bathroom. If you're hungry for bathroom design inspiration, then look no further – here are four bathrooms that you'll want to unwind in.
Three Piece House by TRIAS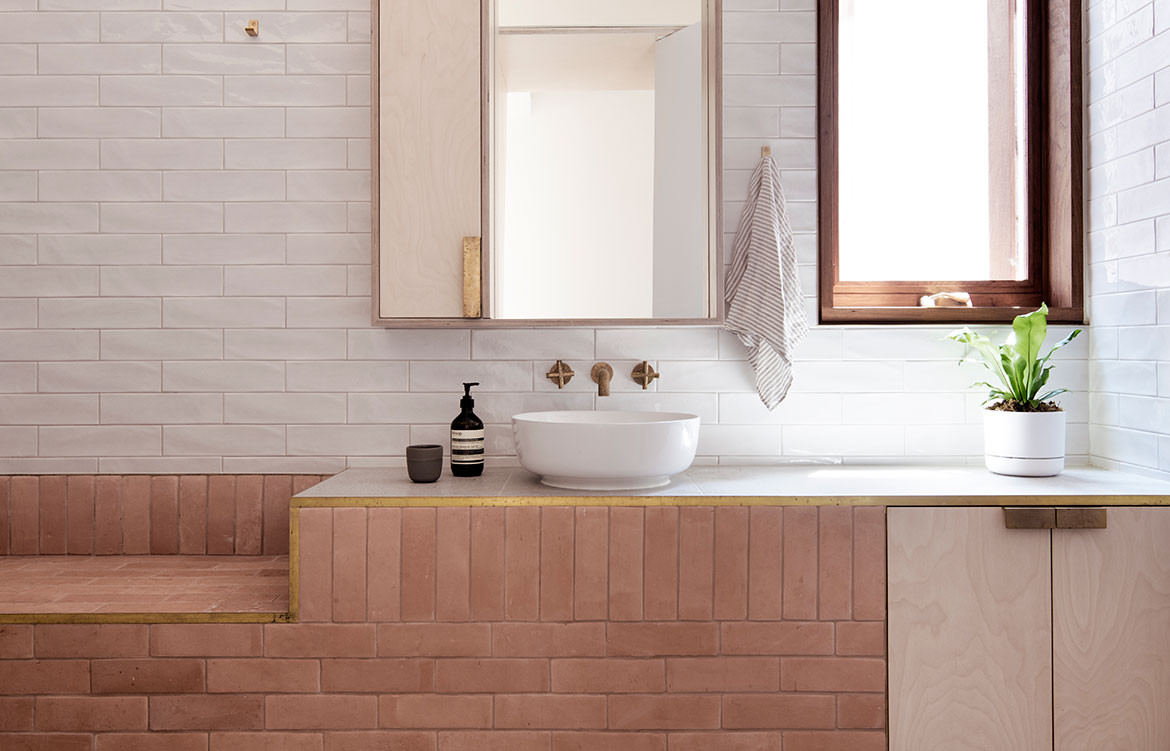 Three Piece House is a new build designed by architecture studio TRIAS situated upon a raised, reclaimed brick platform. Located in Newcastle and enjoying coastal views, the clients were looking to downsize and live simply yet meaningfully. "They wanted their bathroom to be small and simple, with lots of natural light and low-maintenance finishes," says Jennifer McMaster, a director at TRIAS. And it was equally important that the bathroom connect visually and theoretically with the ensuing residence.
There are moments throughout the house when the pre-existing brick platform rises up to make itself known, such as within the bathroom. "One long wall becomes a terracotta plinth, stepping up to host a basin and then folding down to create a shower seat," says Jennifer. "In this way, it feels like another gesture within the overall design concept."
Designed as more of a wet room than conventional bathroom for a recently retired couple, TRIAS also sought inspiration in traditional Japanese bathrooms. This is clearly evident in the final design, where the shower seat is a place to perch, pause and enjoy a truly relaxing shower. While this may seem luxurious now, it shows TRIAS' forethought and consideration of their clients' future needs.
The terracotta is a visual nod to the residence's brick base (which emerges again in the kitchen and fireplace). It is durable in nature, conveying an earthy, weighty sense to the space. "Terracotta also has a lovely natural softness, with a beautiful colour change between when it's wet and dry," notes Jennifer. To balance such a strong marker of the space, TRIAS utilised tonally light materials like mottled white tiles and brass fittings that patina with age.
TRIAS
trias.com.au
Words by Holly Cunneen | Photography by Benjamin Hosking
Jac House by panovscott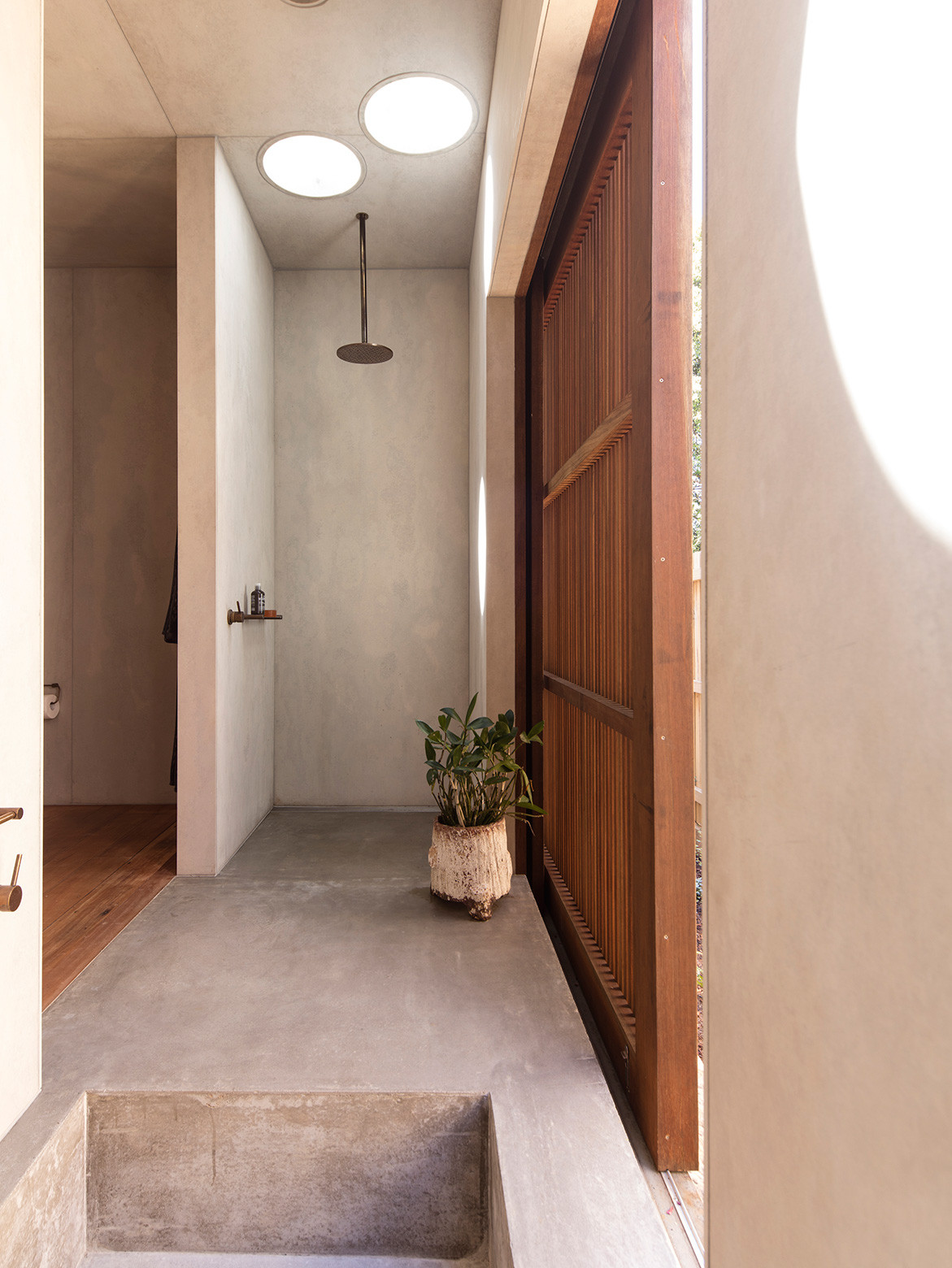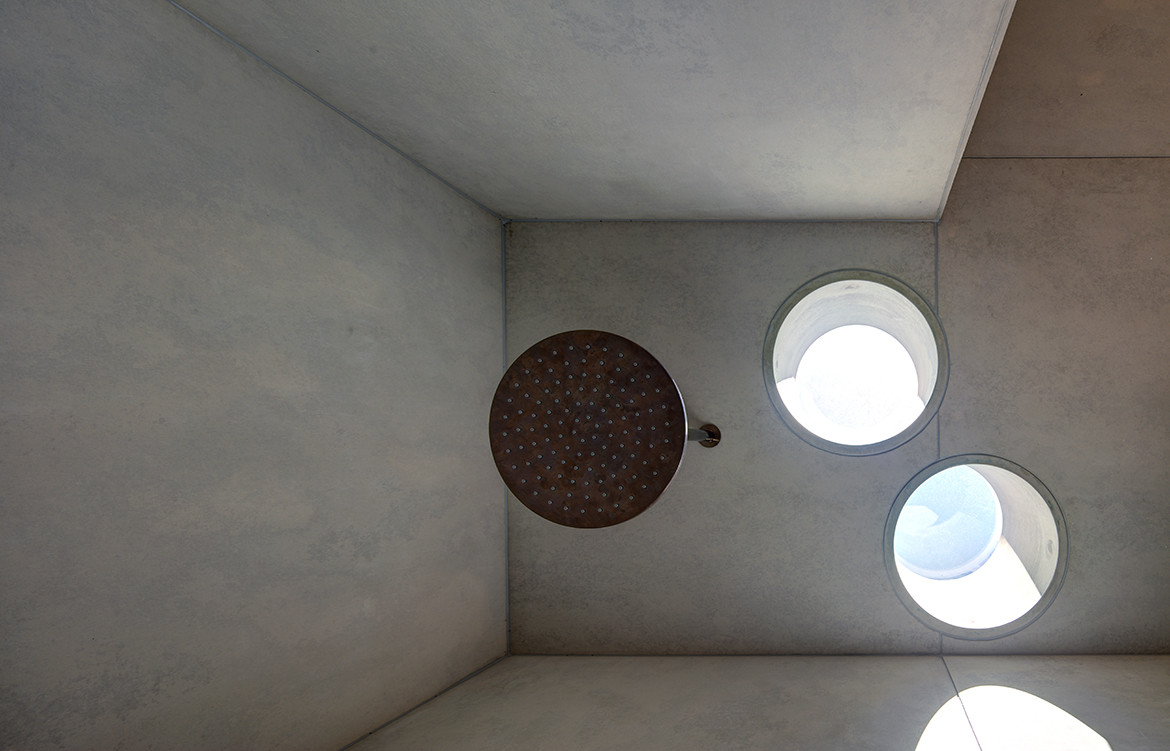 The impact that time has on buildings has been an ongoing interest of architects Anita Panov and Andrew Scott, founders of panovscott Architects. Although this particular house was lacking natural light and a layout to fit the clients' lifestyles, the original four-room cottage was still intact. Wanting to evolve rather than transform the existing architecture, panovscott Architects focused their attention on inserting a new build with precision – one that respects the existing cottage and celebrates a mature Jacaranda tree planted in 1901.
By placing a new addition between the existing edifices, Anita and Andrew enrich the heritage essence of the site, and encourage the owners to interpret the space as they see fit. One bathroom, shared between the owners and their guests, is tucked behind a wall and awash with natural light. The space evokes a kind of sensory dignity often found in Japanese bathhouses. Inside, the concrete bathtub was cast and scoops down with minimal tones and clean lines.
There is a strong association to the outside landscape with a floor-to-ceiling window and skylights that soften the palette, allowing users to admire the vistas, giving the bathroom the quality of a subterranean space. The wall also pulls back with timber sliding screens to reveal a lush garden. "We like to think that this has enabled a richness in the experience of a dwelling," Anita explains.
panovscott
panovscott.com.au
Words by Thida Sachathep | Photography by Brett Boardman
Casa Atrio by Biasol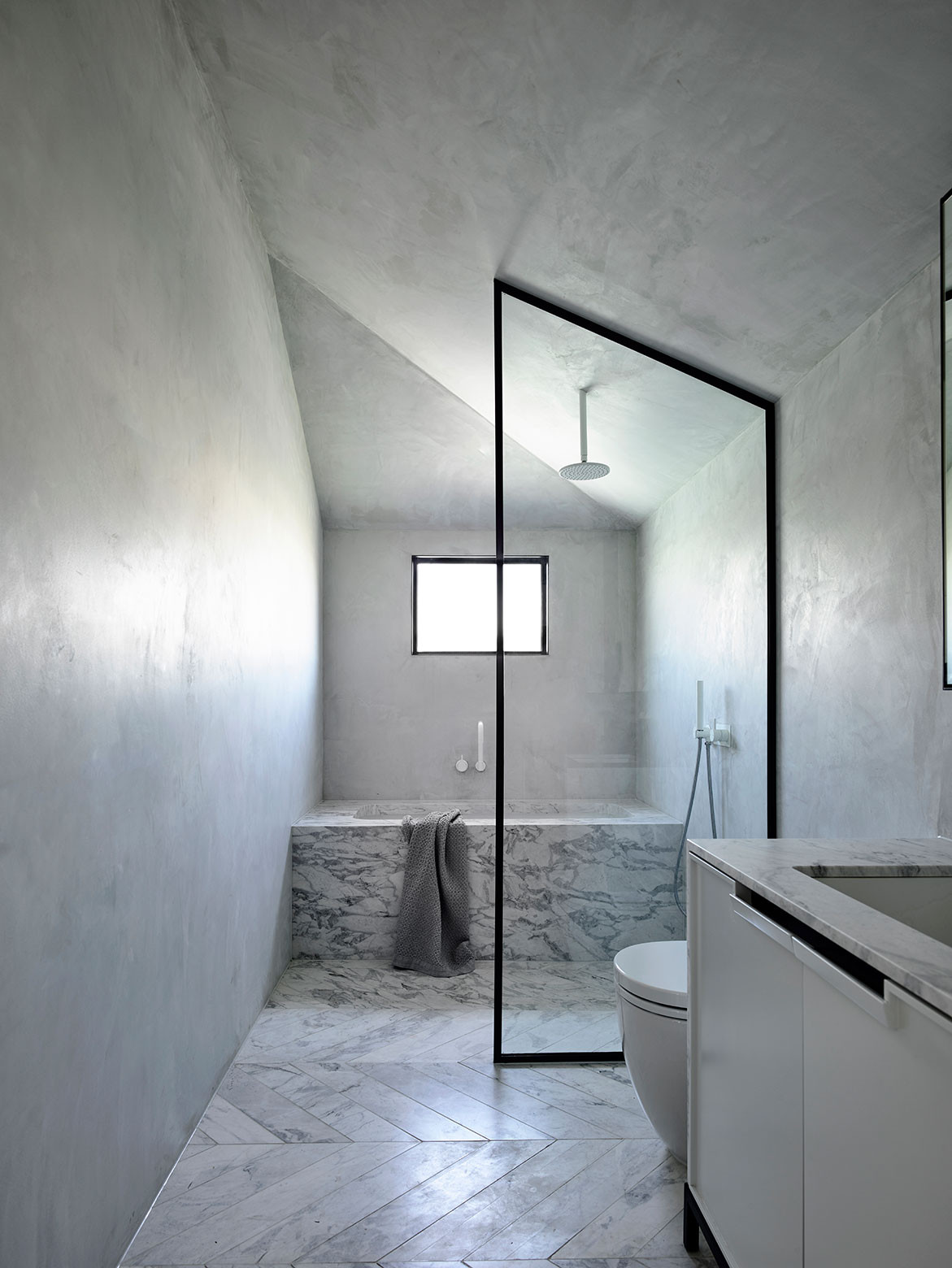 The Melbourne suburb of Carlton is synonymous with historic charm and European flair. In among the narrow rows of Victorian-era workers cottages is a recently renovated family home that, when stepping over the threshold, embraces a distinctly French flavour. Bringing this design vision to life is Melbourne-based studio Biasol, headed up by Jean-Pierre Biasol.
Using the narrow constraints of the site as a positive, Jean-Pierre says that Casa Atrio is "conceived in three sections to provide light and life throughout the day".
French luxe is expressed in the project through thoughtful detailing: elegant wall panelling, dark chevron timber parquetry and a sophisticated mix of marbles. Some of these elements also work their way into the bathroom. "Green and blue accent colours in furniture, joinery and marble carry the notion of luxe throughout the home, including the bathroom," says Jean-Pierre.
Taking luxury to the next level, the upstairs bathroom integrates a deep, built-in marble bathtub, which "maximises the cathedral ceilings". The floor detailing in this bathroom references the same chevron pattern used throughout the house, this time unfolding with rich white and grey swirls of marble. It's a home where Australian soul meets the French je ne sais quoi.
Biasol
baisol.com.au
Words by Aleesha Callahan | Photography by Derek Swalwell
House with Terrazzo by Ospace Architects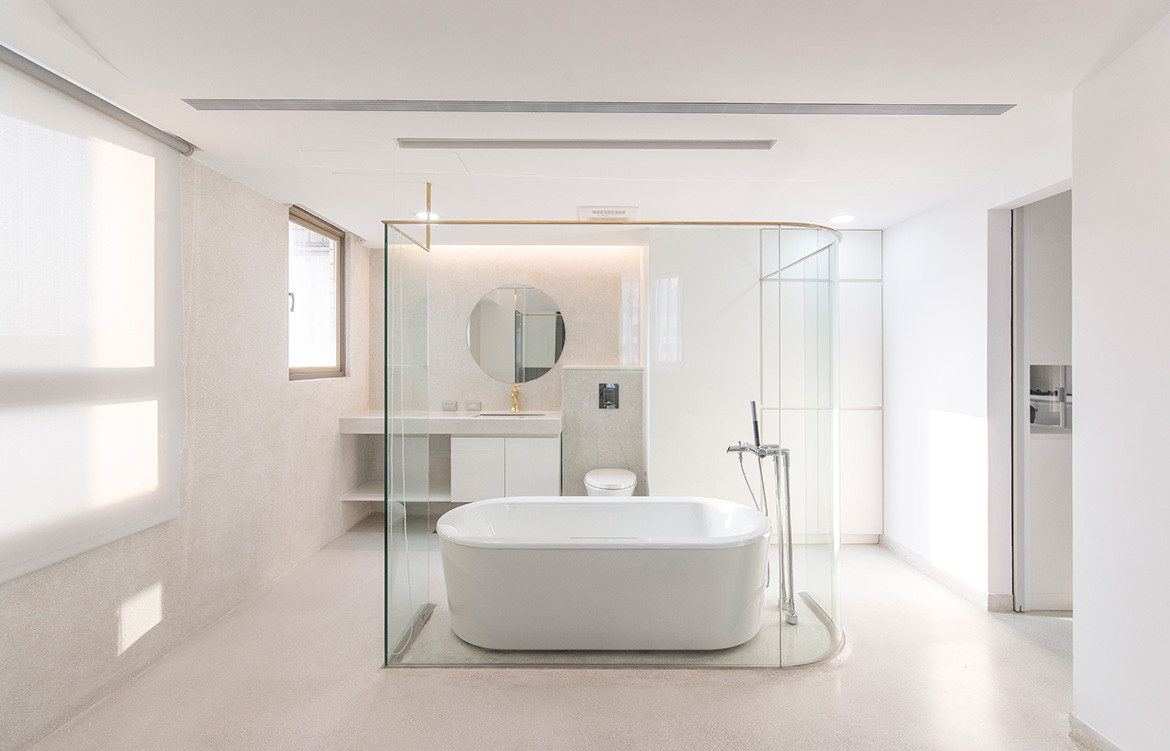 A beautiful consistency flows through this home of a human resources consultant. It has to do with an open approach to space, an embrace of soft filtered daylight through sheer curtains and blinds, and most of all, a dedicated use of one particular material.
"We introduced an old material, terrazzo, as the main surface in the home," explains Hung-Hsuan Shen, a director at the Taiwanese firm Ospace Architects. The intention was to create the sense of a 'Taiwanese' home for the owner of the apartment, who had been working overseas for 20 years.
"Terrazzo was commonly used in the 1980s in Taiwan," says Shen, "as the major finishing material on floors." But here, Ospace Architects has introduced it to wall surfaces as well – including in the bright, open bathroom where it creates an intimate blush tone.
"We worked with our terrazzo specialist to improve the technique so it could be applied on the walls as well. The bathroom is almost entirely finished in one material to give the sense of a cave-like space with the feel of intimacy. We applied transparent waterproofing to protect the surface," he continues.
The bathroom flows openly from the bedroom, with just a curving transparent glass enclosure containing the combined shower and bath. A number of partitions were removed from the apartment to enhance the flow of natural light and create a sense of openness. The result is a private relaxation zone that's separate from, yet feels wholly related to, the living, dining and working area thanks to the consistency of material and spatial character.
Ospace Architects
ospace.com.tw
Words by Narelle Yabuka | Photography by Tzechun Wei
We think you might also like Planchonella House by Jesse Bennett Studio
---