Located on the west coast 90kms north of Cape Town, sites like this don't come much more spectacular. Taking full advantage of the ocean views was one thing, but more subtle is the way the architect has responded to the coastal dune context.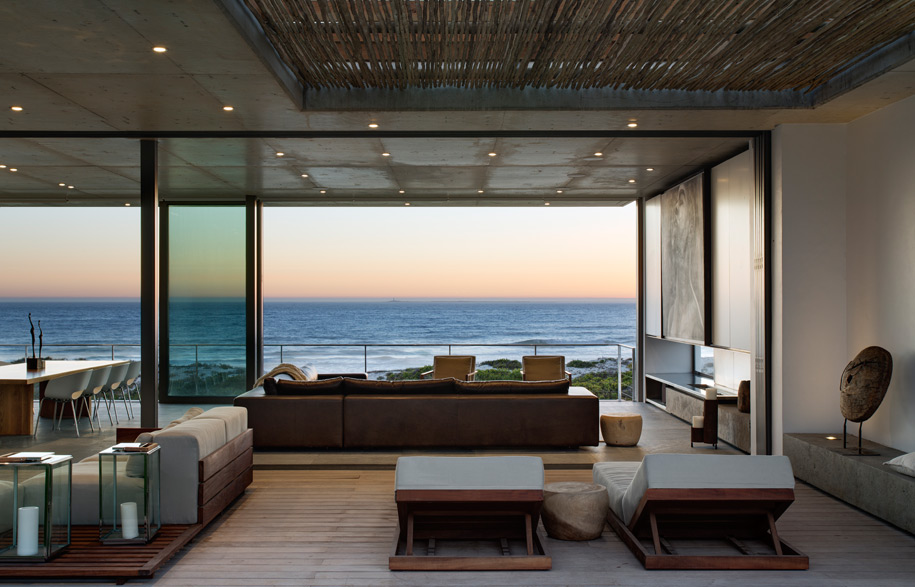 With the front dune sitting up a little higher than the rest of the site, the challenge was how to reconcile house, dune and view. "The result," says the architect, "is an amazing connection with the dune when in the living area. It feels as if one can reach out and touch it."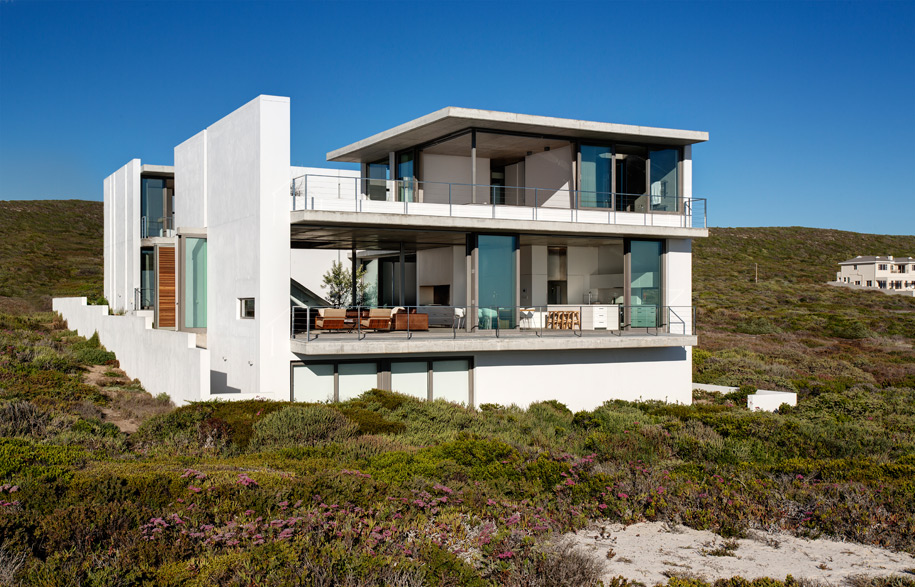 The client wanted a holiday house she would eventually retire to. The brief called for a 'modern' house with ocean views from every room and a strict observance of a limited budget.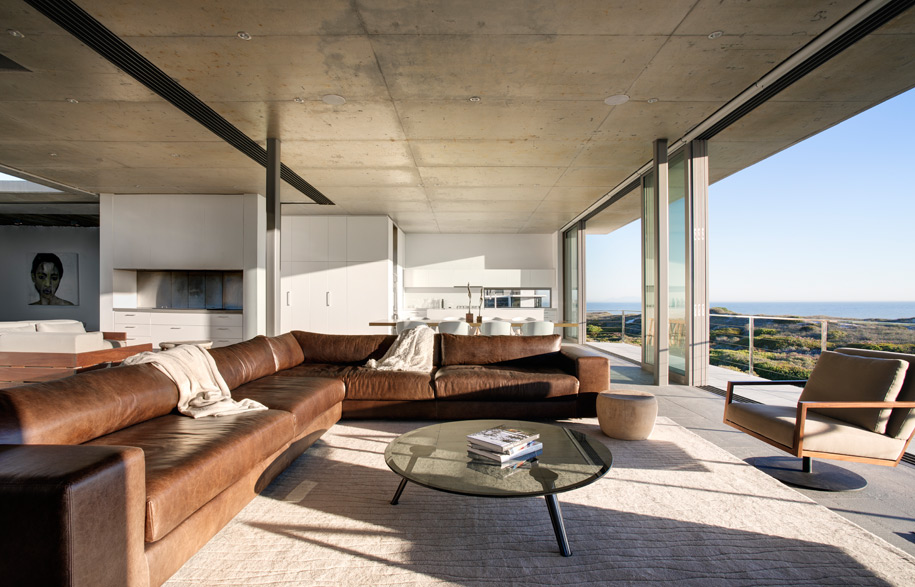 The design strategy was for a minimalist house which was still comfortable and welcoming. Structure has been minimised. In the living areas the house seems to almost dematerialise.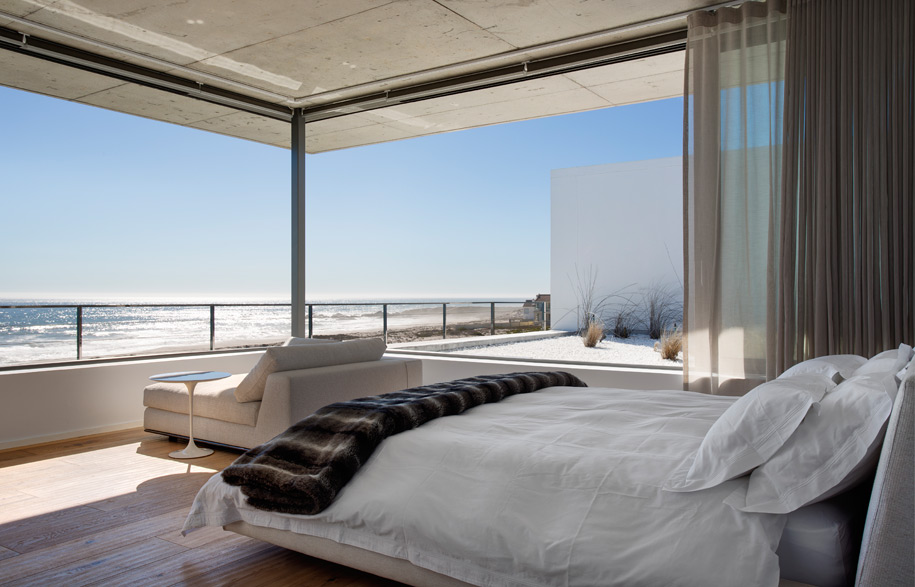 There is a seamless flow between these spaces and a sense of uninterrupted connection between inside and outside.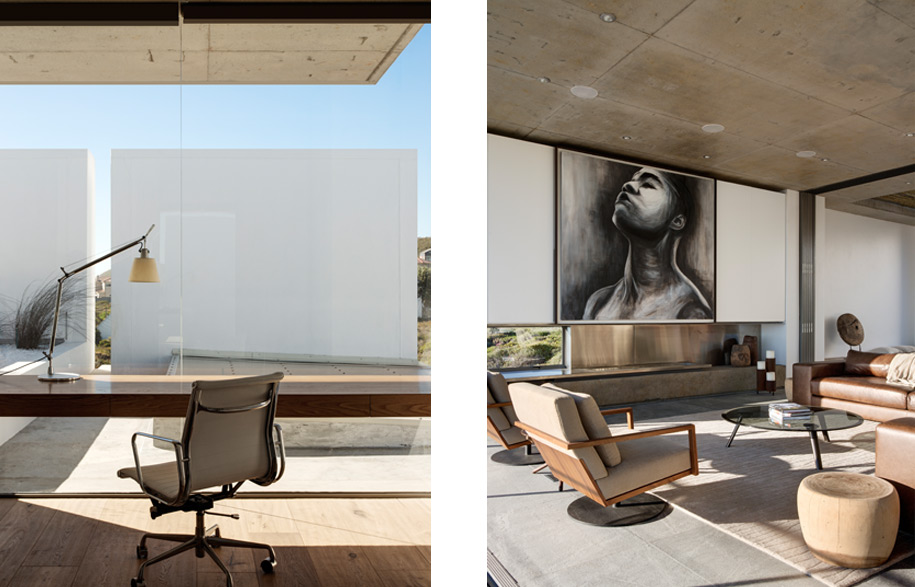 "I wanted the outside deck to be an internal space when required," says the architect, "and the living/dining space needed to be feel like a covered terrace for flexibility." Hence, full-height sliding doors disappear into the walls to create an 'outdoor room'.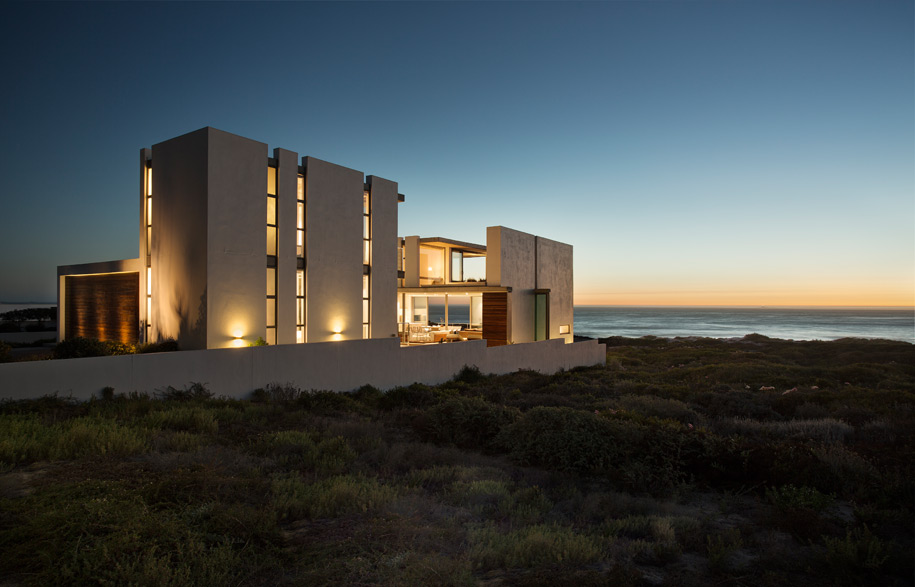 Colour, texture and scale were important in creating a sense of comfort. The sofa and the dining table, for example, were custom designed to complement the space as well as accommodate the family.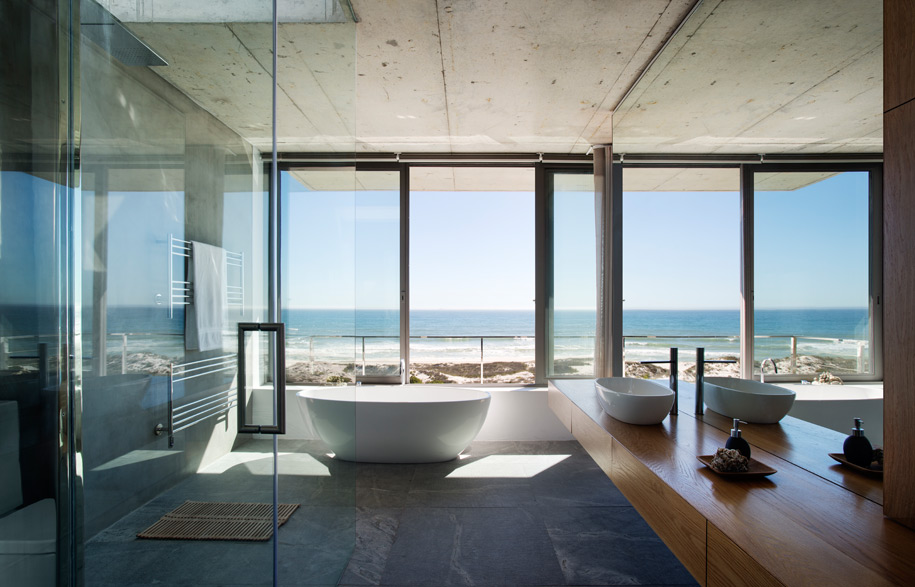 The same principle was applied to the outdoor furnishings. "Every item has a function," says the architect, "not specifically a physical one. If it does not add value to the space or a feeling of calm or harmony in the space, it does not belong."
Gavin Maddock Design Studio
gavinmaddock.com
Images: Adam Letch Photography
Structural Engineer: Hulme & Associates
Geotechnical Engineer:  Kantey & Templer
Land Surveyor: Neil Spencer & Associates
Contractor: McNeil Construction
Plumbing & Tiling: Rens Meyer
Electrician: Pienaar Elektries
Cabinetmaker & Doors: Prestige Cabinets
Windows: Aluplan & First Fit
Custom Shower:  Advanced Glass
Steel work & Screens: M-Rail
Timber floors: Overlay Flooring
Stonemason:  WOMAG
Painter:  Qualicote
Wall Features:  Paul Basson
Roofing:  Pro Truss
Landscaper:  Basic Landscaping
Balustrades:  Steel Studio
Security:  CN Installations
Water Feature:  Pleasure Pools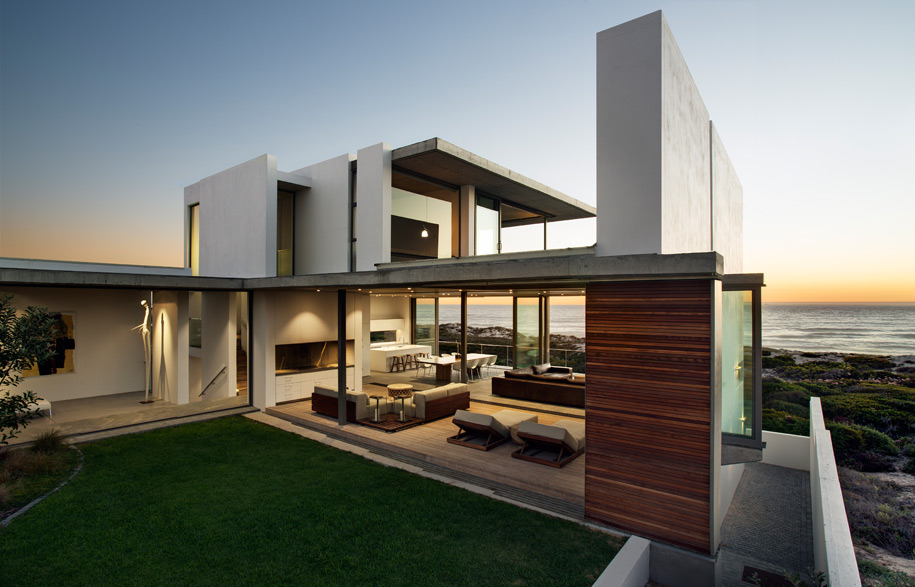 Art: Jana Maddock (in the Livingroom), Andre van Vuuren (Carmel Art in the Gallery), Nel Luyendyk (Ghuba Gallery in the Gallery), Lulli de Villiers-Hamman (Sembach Art in the Bedroom)
Furniture:  GMDS designed pieces by Moorgas & Son, Limeline (Minotti & Knoll, Artemide, Martinelli Luce), Weylandts, Okha
Tiles & Stone:  WOMAG
Timber flooring:  Oggie Flooring
Bathware:  Bella Bathrooms, On Tap, WOMAG, Chilli B, Bathroom and Plumbing Supplies
Blinds & Curtains:  Up The Track (Silent Gliss)
Fabrics:  Mavromac
Appliances:  Smeg (Smeg SA)
Audio & Visual:  Smart Spaces
Bath Accessories:  Handles Inc.
Heating:  Speedheat, Progress Group
Lighting:  Lumen8, DM Agencies (Spazio), Eagle
Vacuum system:  Centravac
Tags: Architecture, Cape Town, coastal, glass, Home Architecture, House Architecture, new build, residential, Residential Architecture, South Africa
---