The family of five who live in Iron Maiden House in Longueville, Sydney, ticked the boxes on all of the above.
"Accustomed to the climate and compact living arrangements typical of Hong Kong, the clients wanted a home that used passive design principles to heat and cool the building and a generous connection to the outdoors to enjoy and entertain family and friends," says Clinton Cole of CplusC Architectural Workshop, the architect and builder of the project. They also wanted outdoor spaces intertwined in and around the home, and for their three young children to have their own space, allowing them to gain greater independence as they grow up.
Iron Maiden House is designed and oriented for sunlight and outdoor connections. The house comprises two elongated forms (one longer than the other), with a pond stretching down the central axis, and upper and lower walkways to connect the two volumes. "Conceptually, the privacy and beauty of a natural gorge, in which water cuts through rock to form secluded spaces, was replicated with overscale walls to generate the final form," says Clinton. The pitched roof profile at the front of the house is a modern reinterpretation of the nearby gable houses, and the galvanised metal cladding is a nod to the iconic Australian vernacular.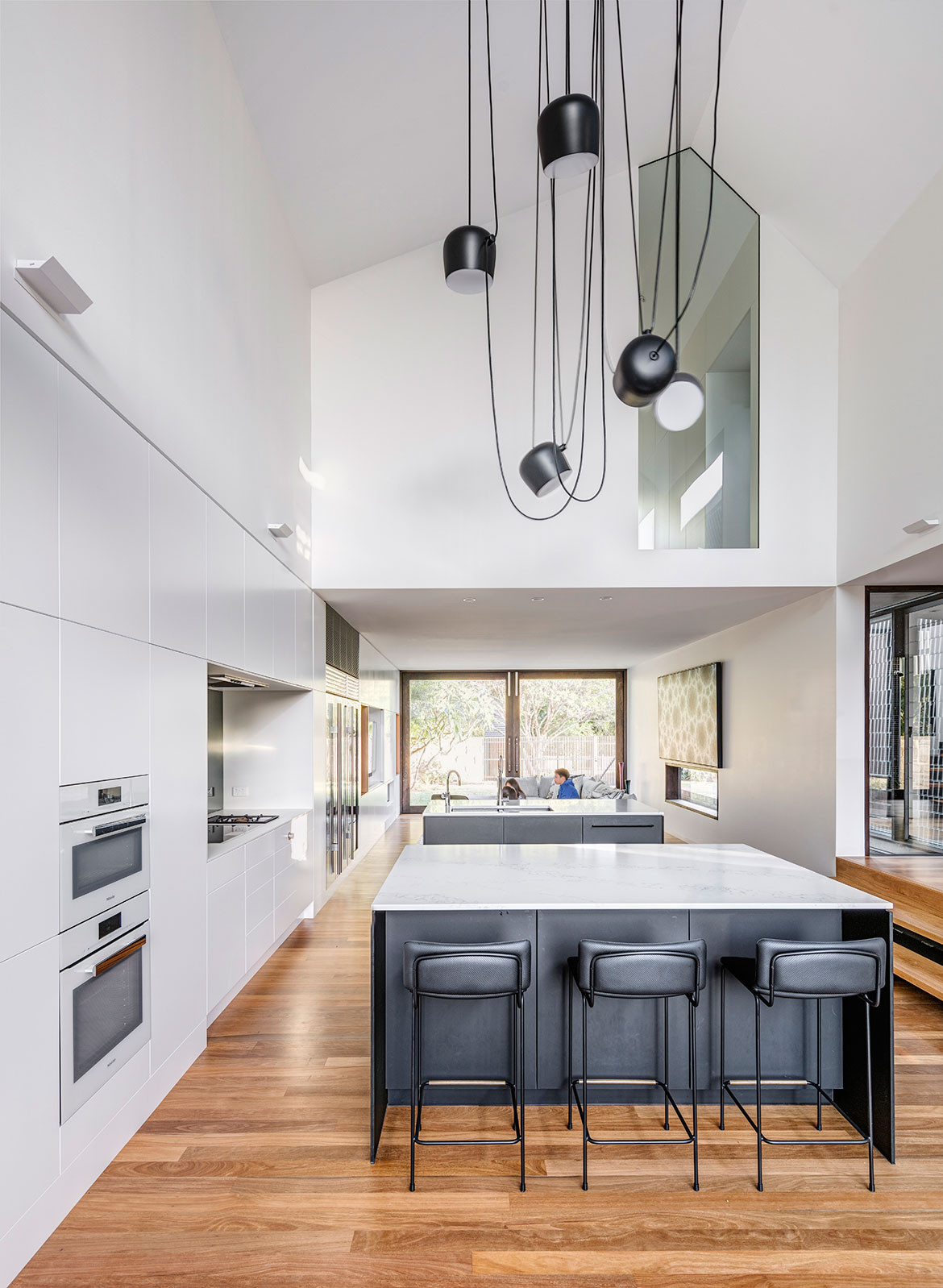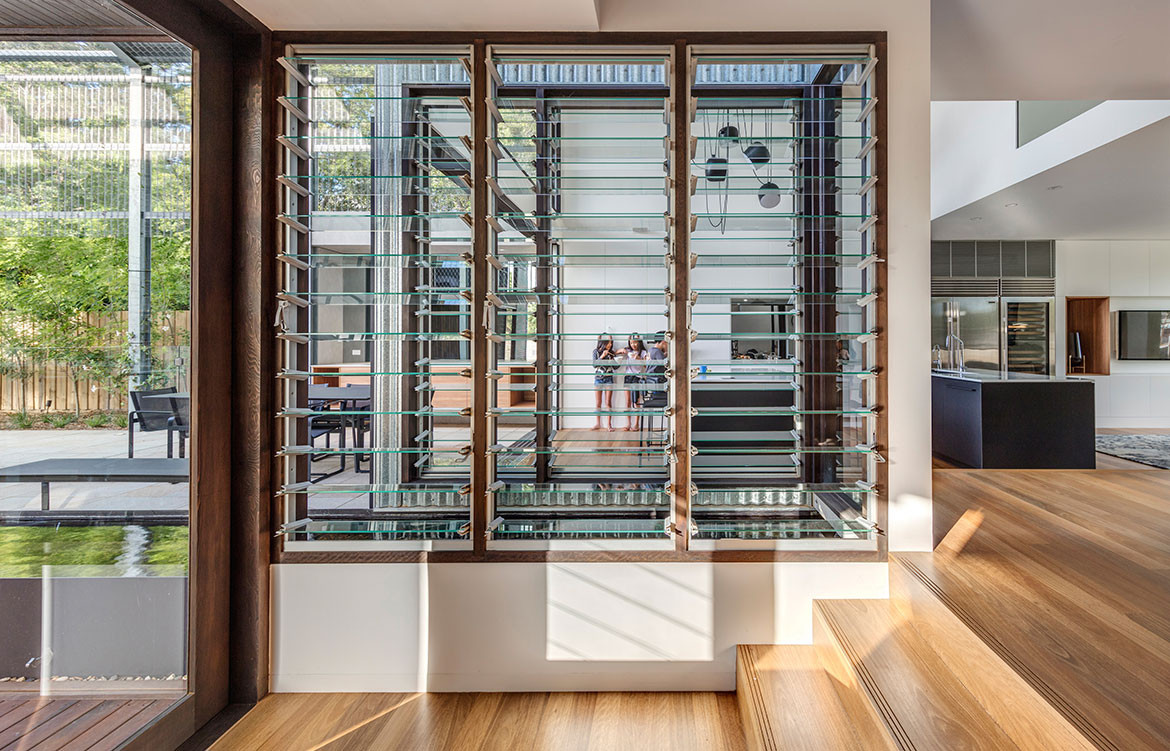 The main living spaces are located downstairs and connect to a variety of outdoor areas. Occupying a central position, the kitchen has two island benches, facing toward the living area and front garden in one direction, and the outdoor dining, barbeque area and swimming pool in the other. The pitched ceiling and large windows create a lofty light-filled space. The dining room is located across the walkway from the kitchen, and on one side it has an intimate outdoor space with a fire pit, separating the guest area and garage. On the other side, a spiral staircase winds upstairs, with generous stair treads offering a place to sit and enjoy the view through the large window.
Upstairs, the master bedroom sits above the lounge, while the children's bedrooms are stacked side-by-side along an external corridor. Promoting independence, each bedroom is large enough for the children to entertain small groups of friends, and large sliding bedroom doors allow them to spill out onto the walkway like an outdoor deck. Metal mesh encloses the corridor and is covered seasonally with flowering, creeping plants. The permeability of the screening provides the children with a view of the pond and living spaces and allows the adults to have passive supervision from downstairs.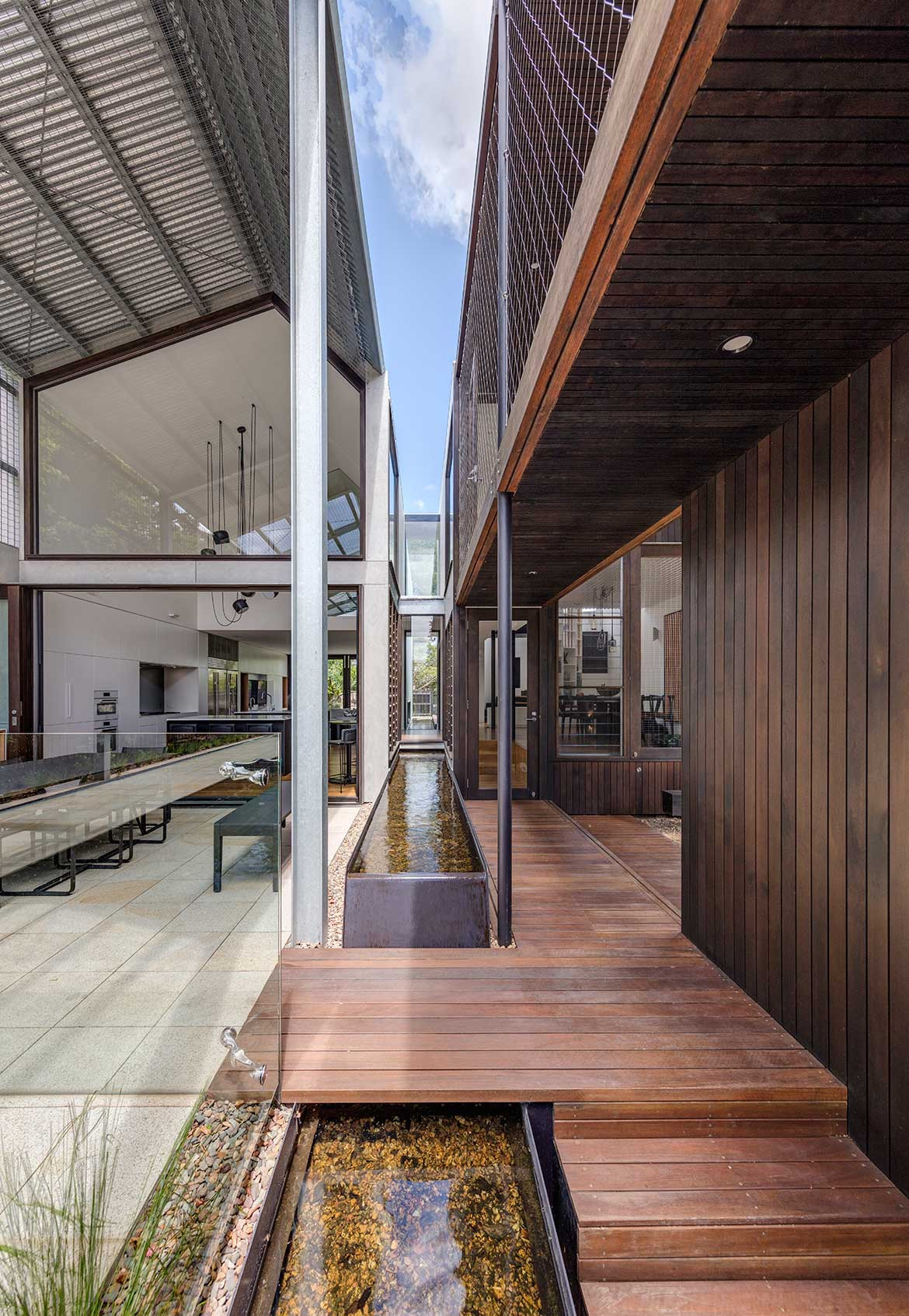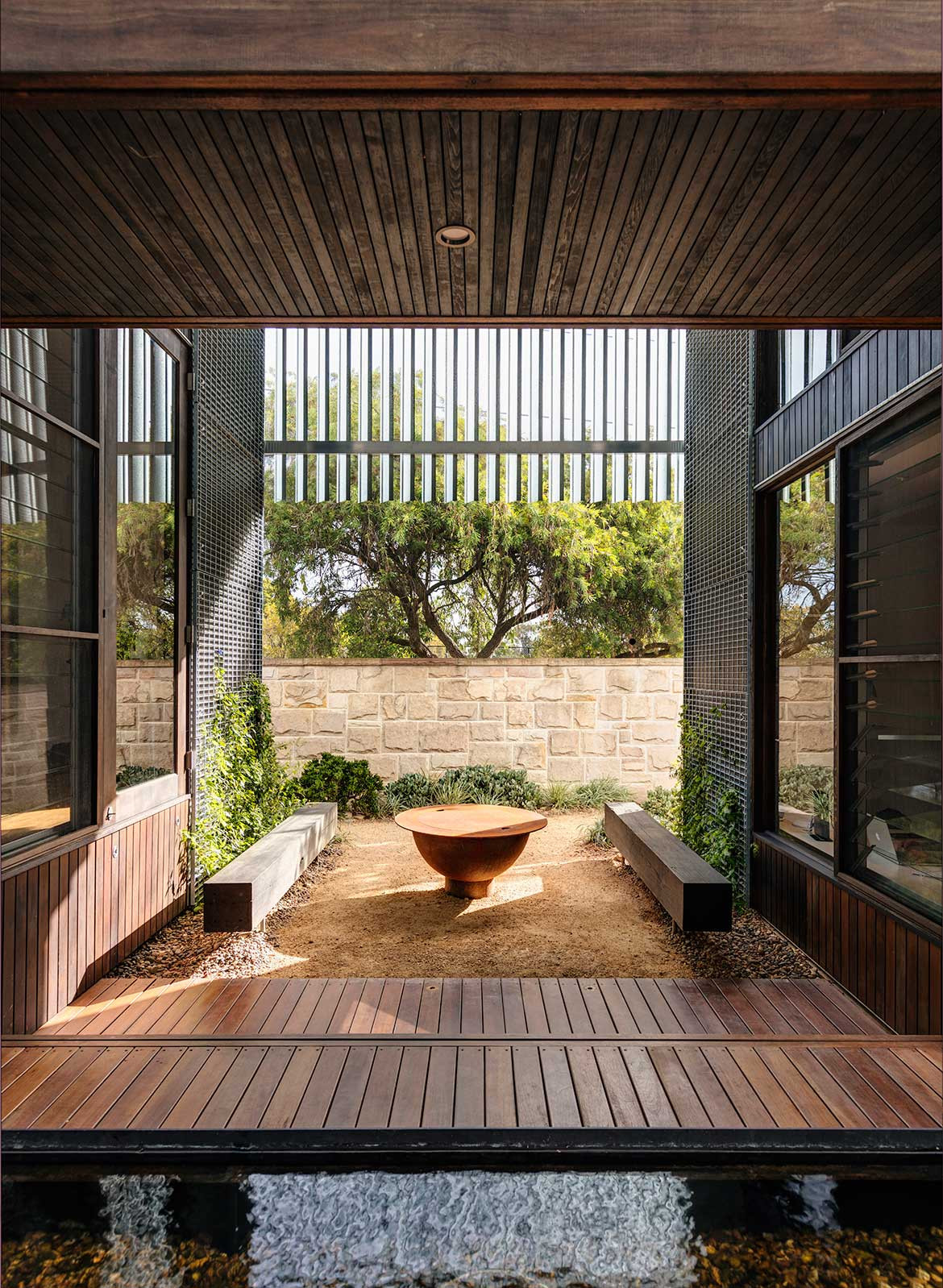 "Since moving into the house, the family have enjoyed entertaining visitors throughout the seasons. The outdoors is used extensively, and the children have developed independence through the design of the bedrooms," says Clinton.
CplusC Architectural Workshop
cplusc.com.au
Photography by Michael Lassman & Murray Fredericks
Dissection Information:
Corian kitchen benchtop in Cameo White
Quantum Quartz island benchtop in Statuario
Nero Laminate island cupboards in Feniz
Two Pac Polyurethane kitchen and living cupboards in Satin White
Tallowwood floorboards in Bona Traffic
Painted steel spiral stair with Tallowwood stair treads
Doors and window frames made of Western red cedar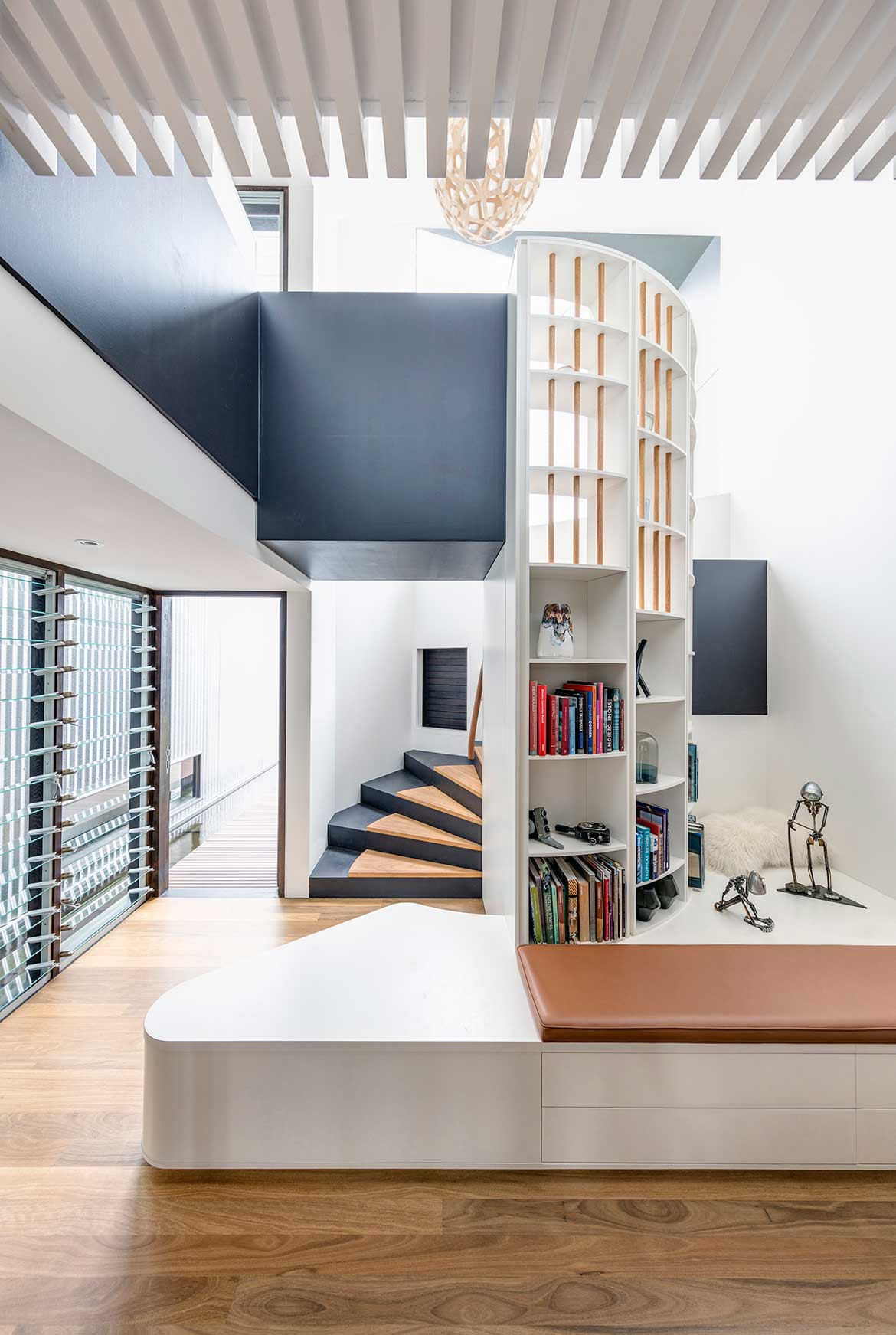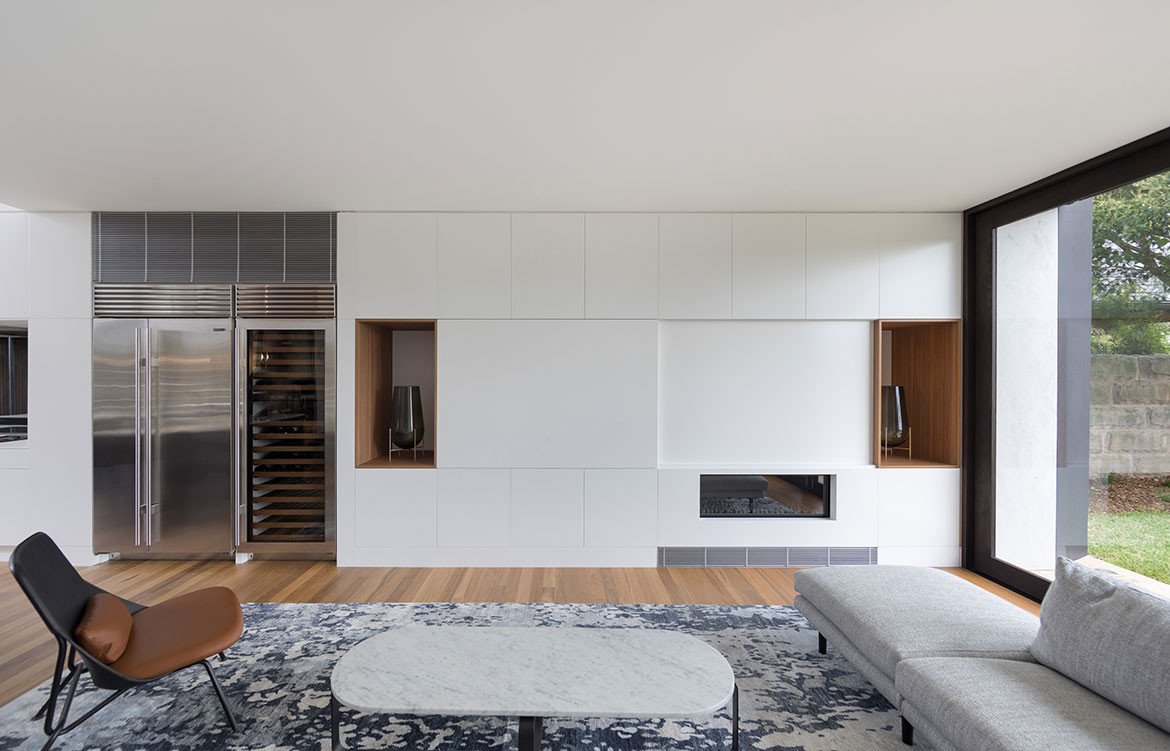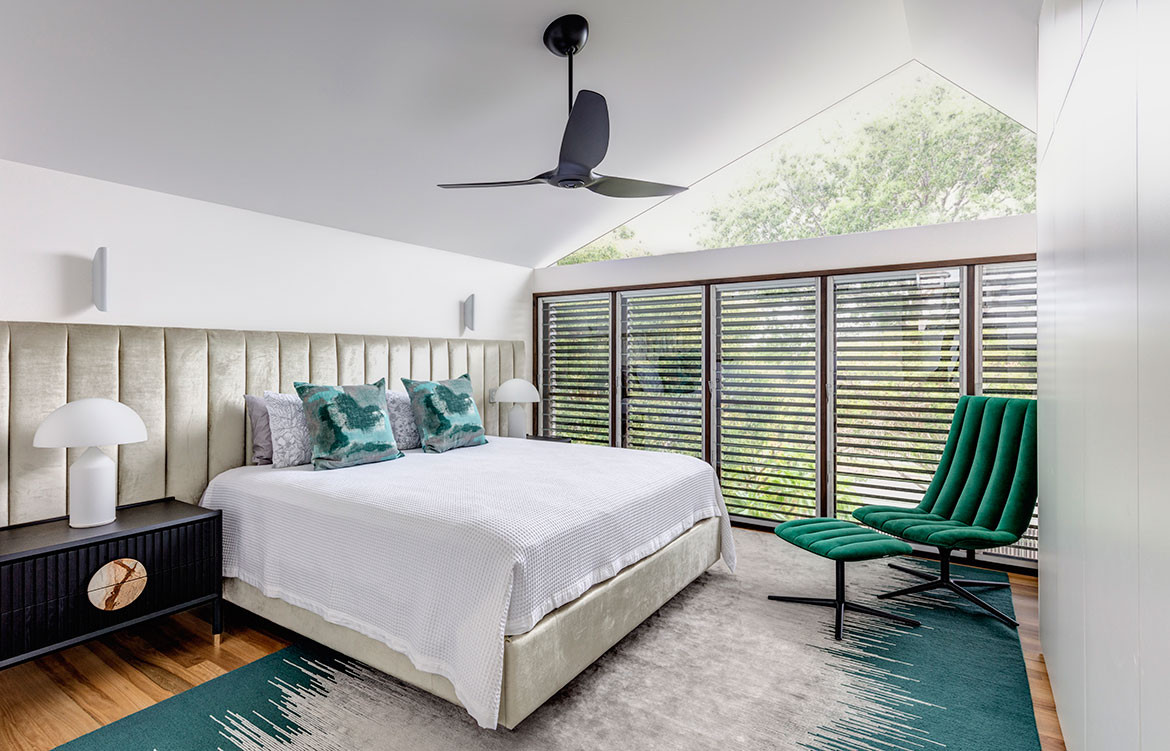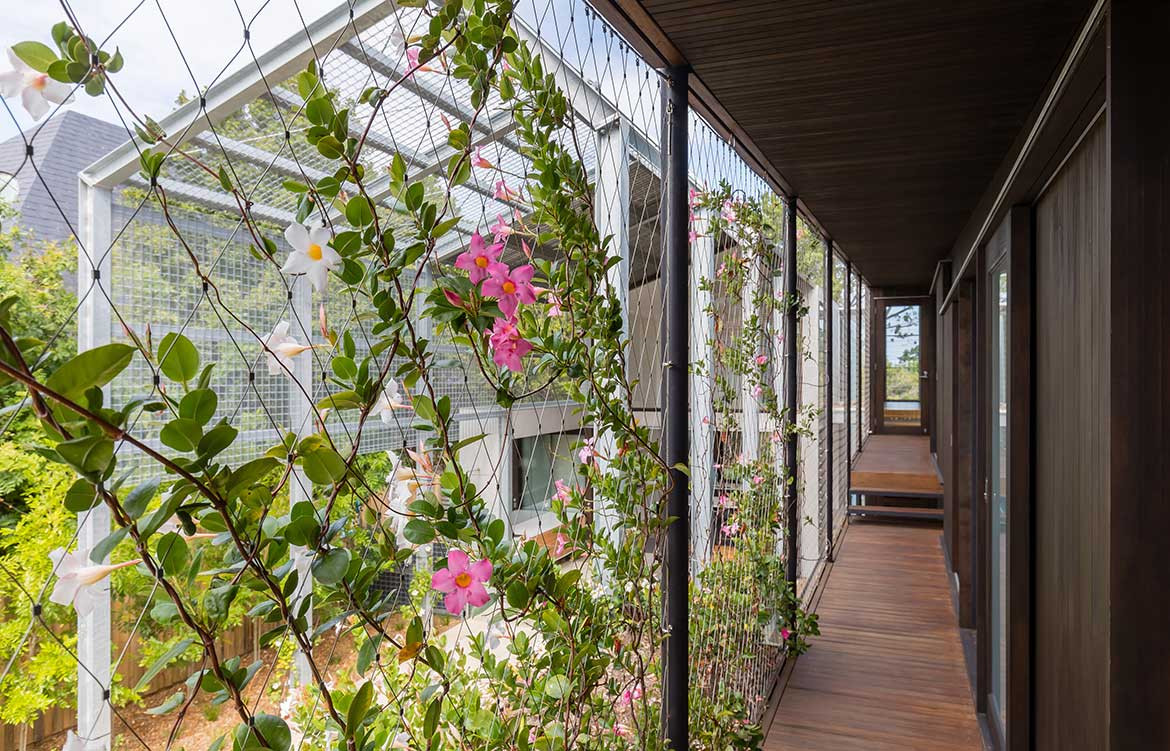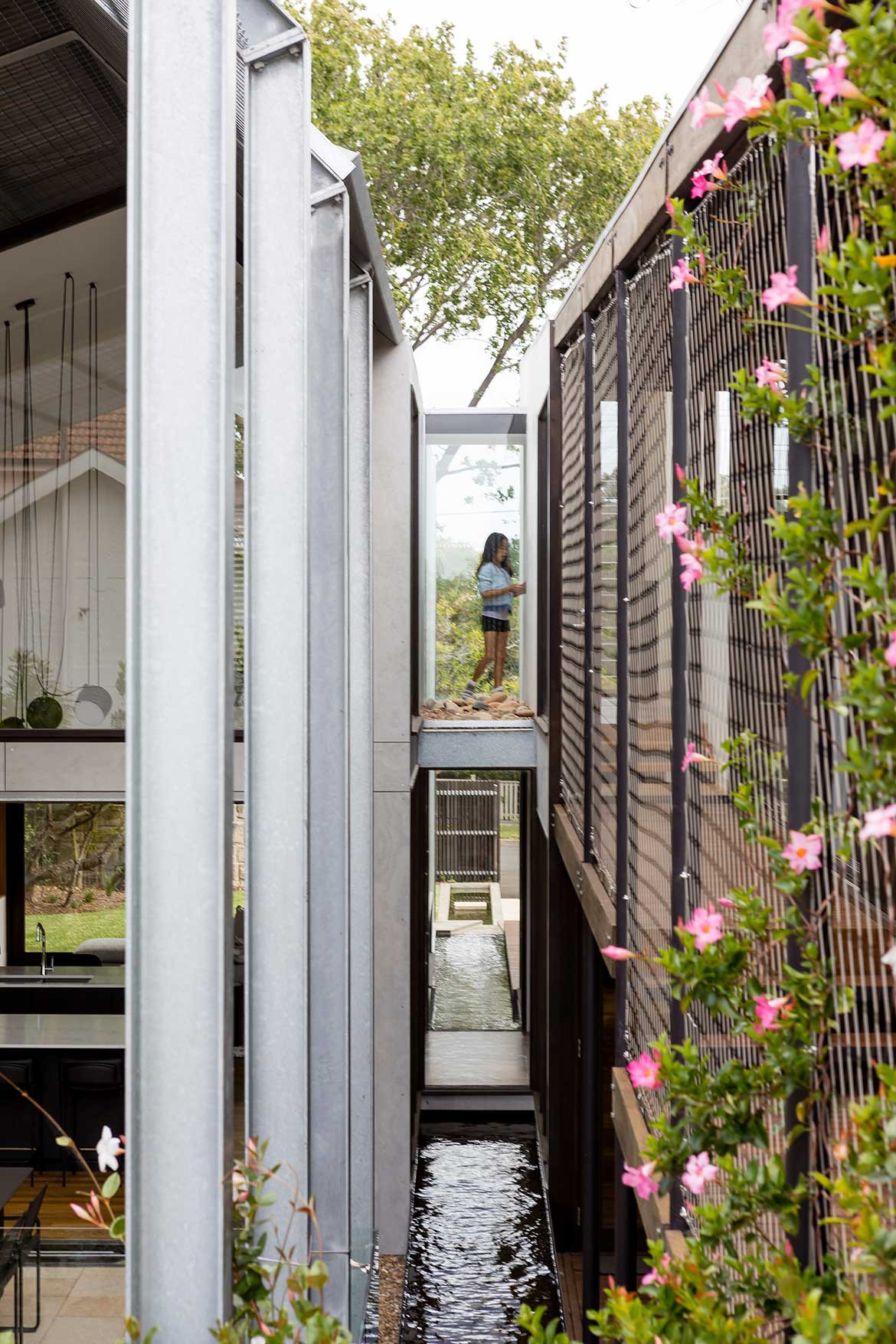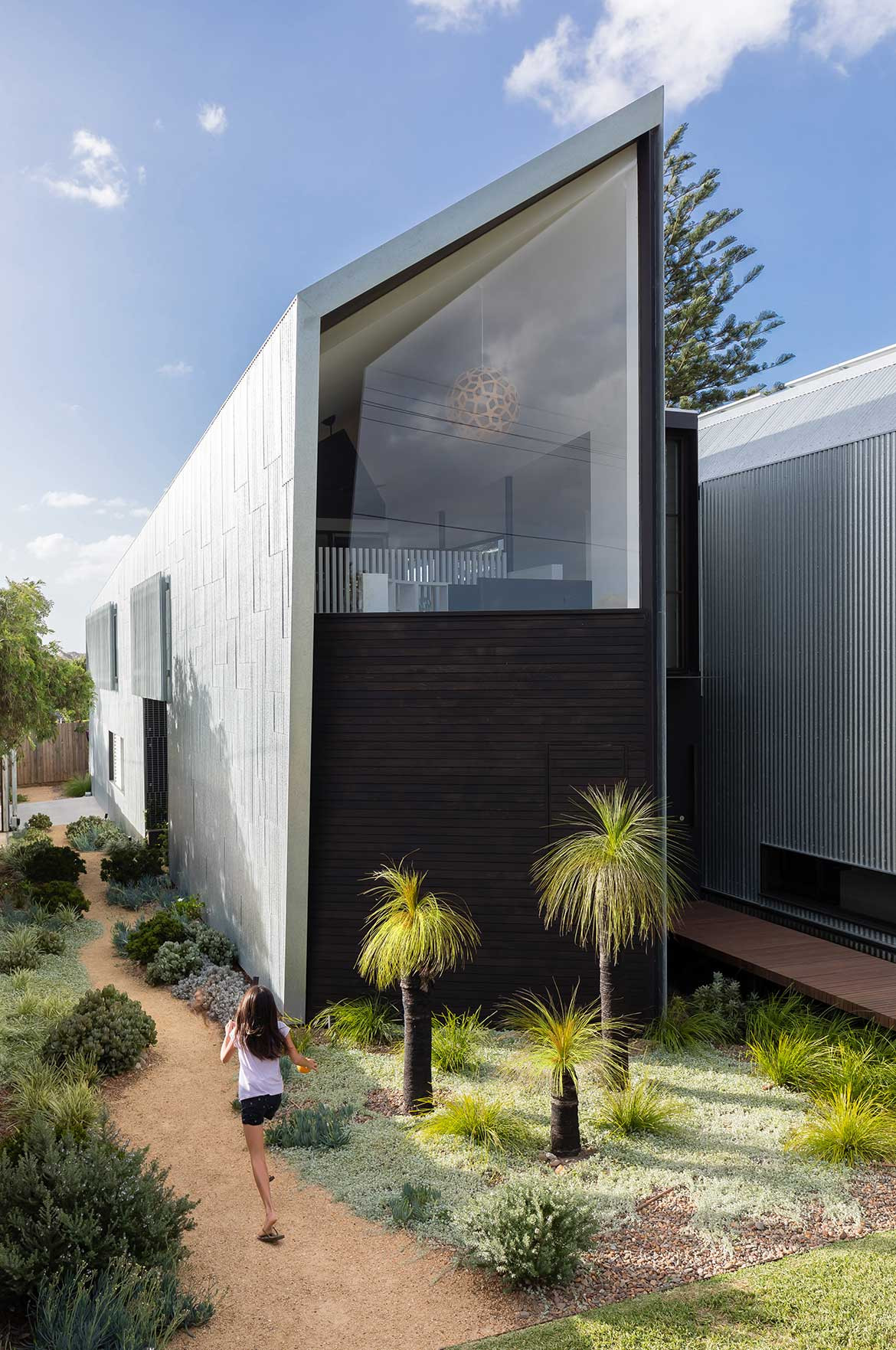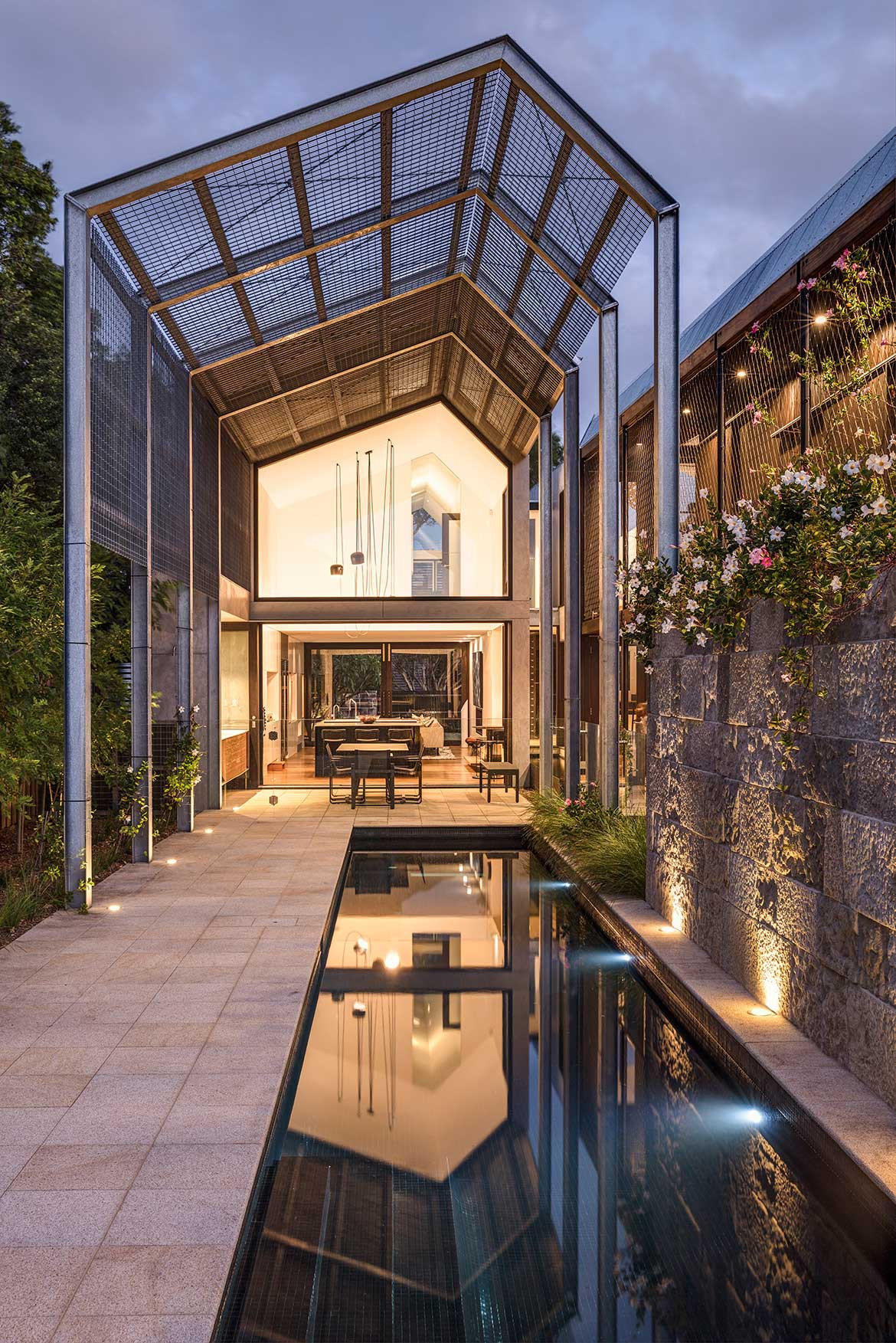 We think you might also like House A by Walter & Walter
Tags: Architecture, corian, CplusC, design, Laminate, Michael Lassman, Murray Fredericks, Quantum Quartz, rebecca gross, residential, Statuario, Sydney, Tallowwood, Two Pac Polyurethane, Western red cedar
---