Irek passes me a cocktail and speaks with a quiet anticipation, "welcome to your Greek adventure." I casually ask him where his accent is from; he pauses and replies, "Poland".
Dressed head to toe in black, Irek – easily the world's suavest bar manager – warmly welcomes me to the establishment, "this way, Sir". We turn left at the restaurant's main desk and slide up a hidden staircase.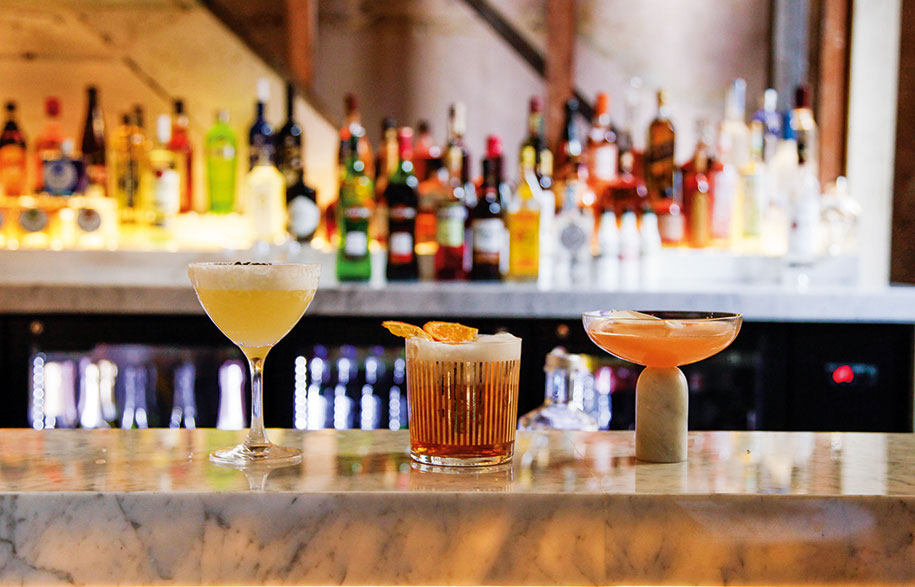 The first thing I notice is the high ceiling, with exposed brick and concrete aligning the walls. While climbing the stairs, natural light begins to flood the space and I'm not quite sure where this warm radiance is coming from until I reach the top. That's when I clock the beautiful, tall and original window frames. It's an aesthetic statement that forces you to change conversation, tact and mood. In short, it's an architect's way of saying, "now you're somewhere different."
Situated above the celebrated restaurant, Alpha, Beta Bar is a stunning new cocktail lounge and gallery space at 238 Castlereagh Street in Sydney's CBD.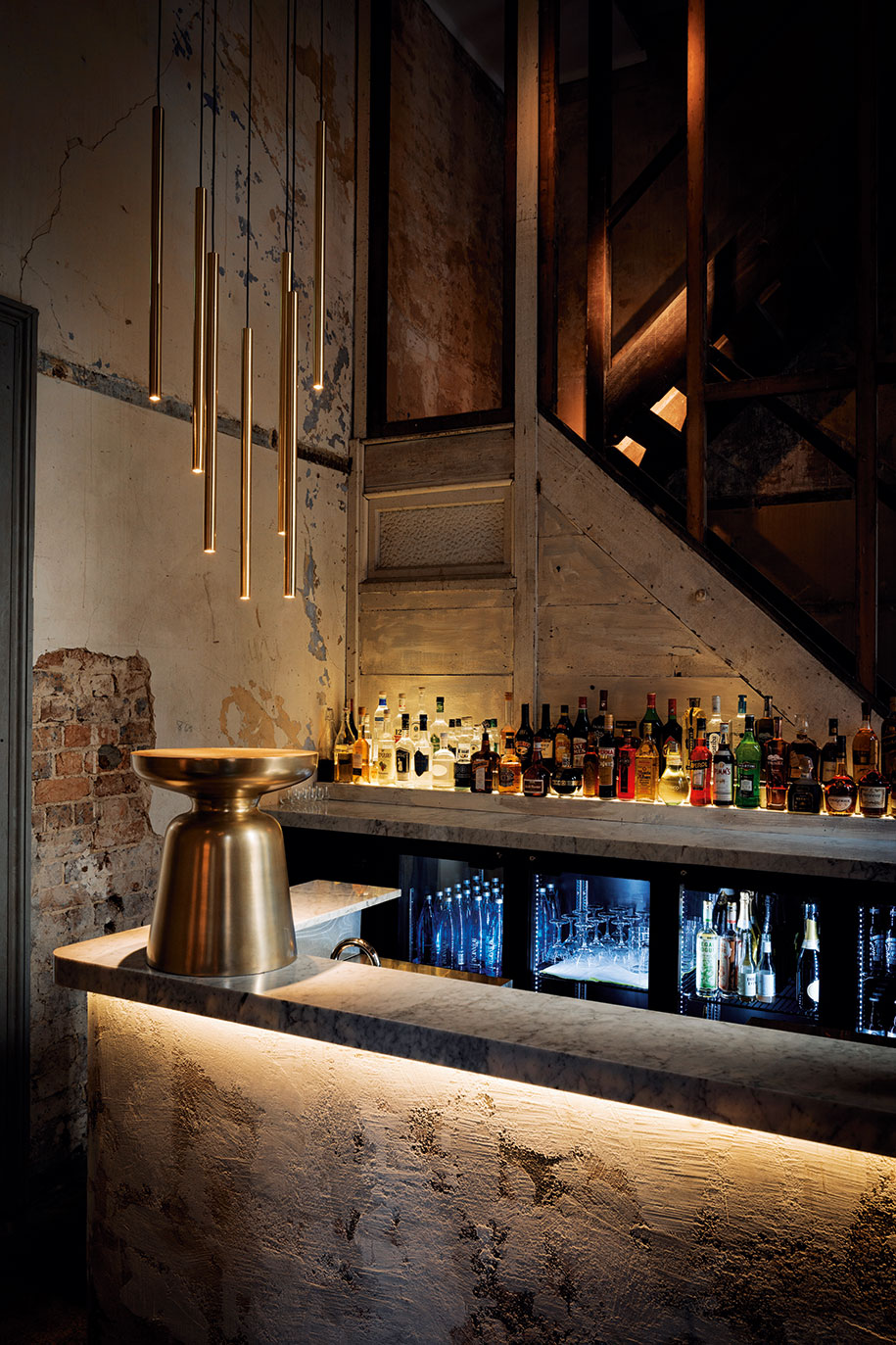 Designed by DS17's Paul Papadopoulos, the bar achieves a delicate balance between the original classic heritage building and contemporary design.
"We've done a lot to keep the history while giving it a modern touch," Irek tells me.
And, of course, this is a history you wouldn't want to throw away. The sheer natural beauty of raw brickwork coupled with elegant arches forging vestibules (accented with soft metallic touches) is well worth the visit alone.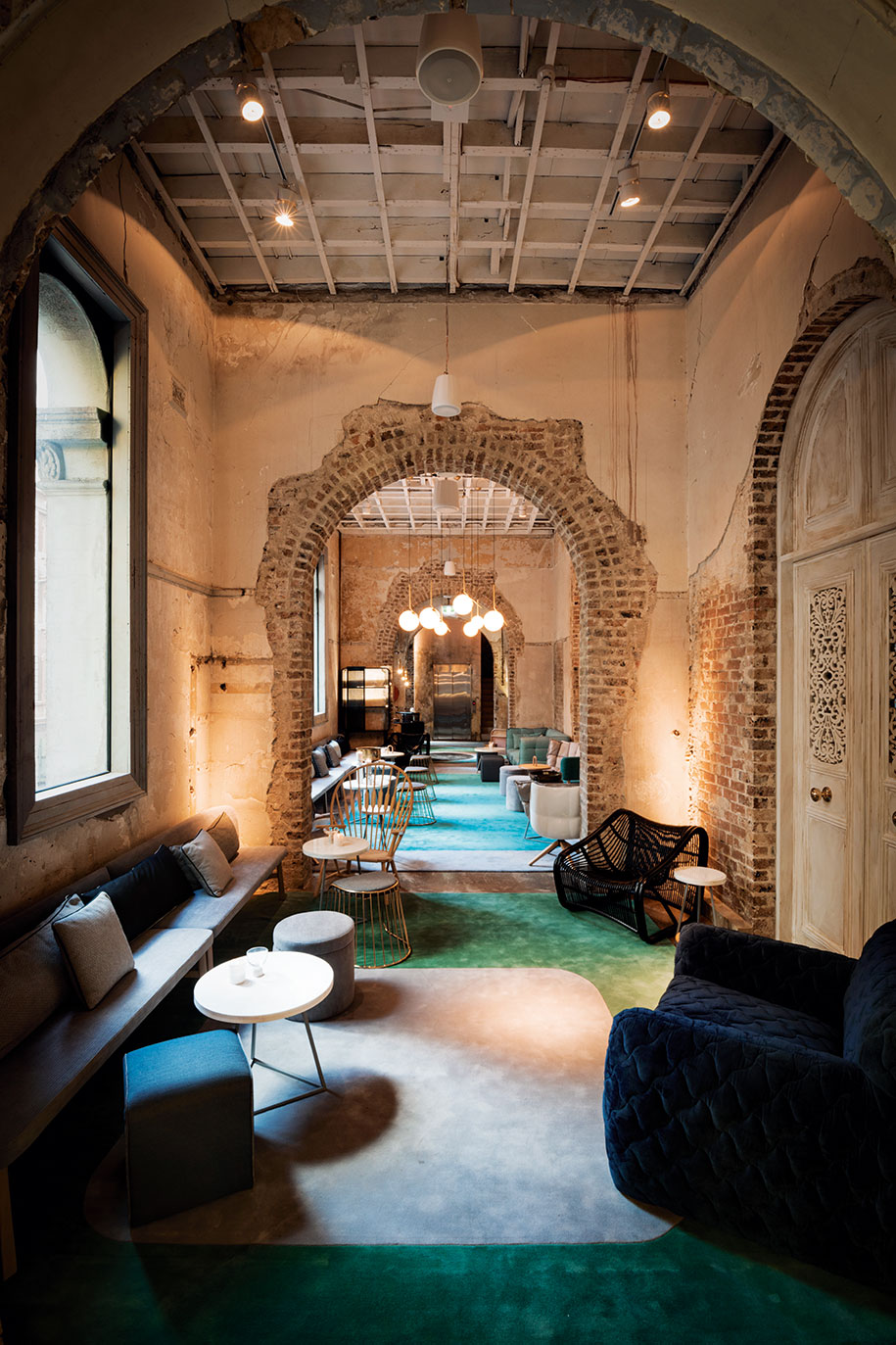 Irek informs me that the building previously housed the Hellenic Club, and prior to that stood as the headquarters for the Workers Union. But it's hard to imagine it now with the transformation.
We find a seat in the middle of the room. Furnished by Italian-Danish design brand GamFratesi. The light grey and teal couches add a touch of colour to the otherwise muted surroundings.
Above me, are brass pendant light fittings from Greek designer Michael Anastassiades. Sporadically dispersed, they acquit themselves with the cavalier smoothness one requires to 'change the mood' once the sun goes down.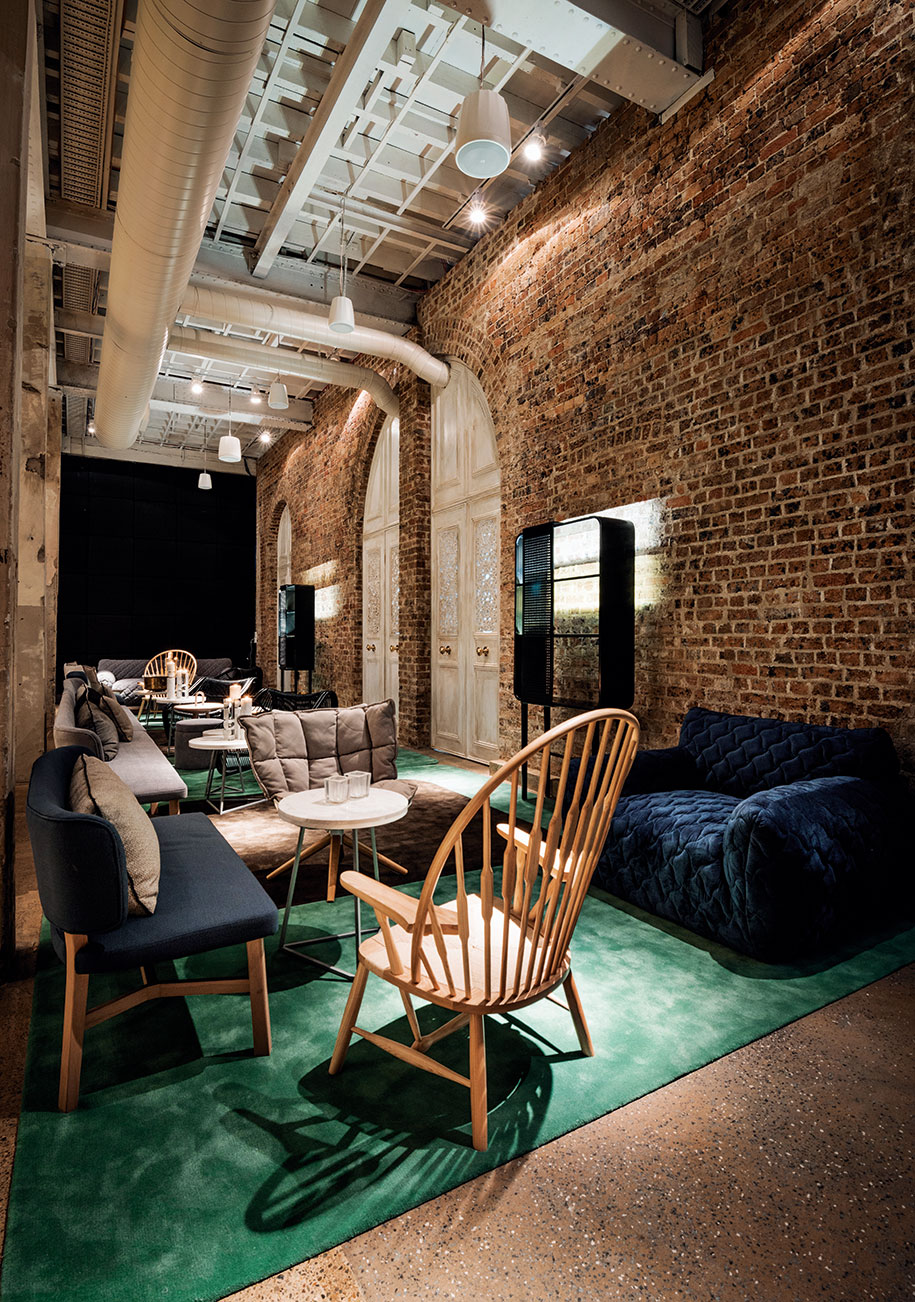 An attractive young regular sits next to me; she looks right at home as the bar staff greet her by name – Lara. She tells me, "I'm here all the time, I love the European flavour. Plus, I'm half Greek".
"It's somewhere different, in the middle of the city," she said.
I glance at Lara's drink and begin to gather a thirst; so I ask Irek to order for me, and he doesn't hesitate.
When my first cocktail arrives – the everywhere-emphasis on Greece starts to make sense, right down to the tiniest detail. With a wry, good-humoured smirk I'm presented with a Martini glass … but this one stands on a marble column (almost Doric in shape).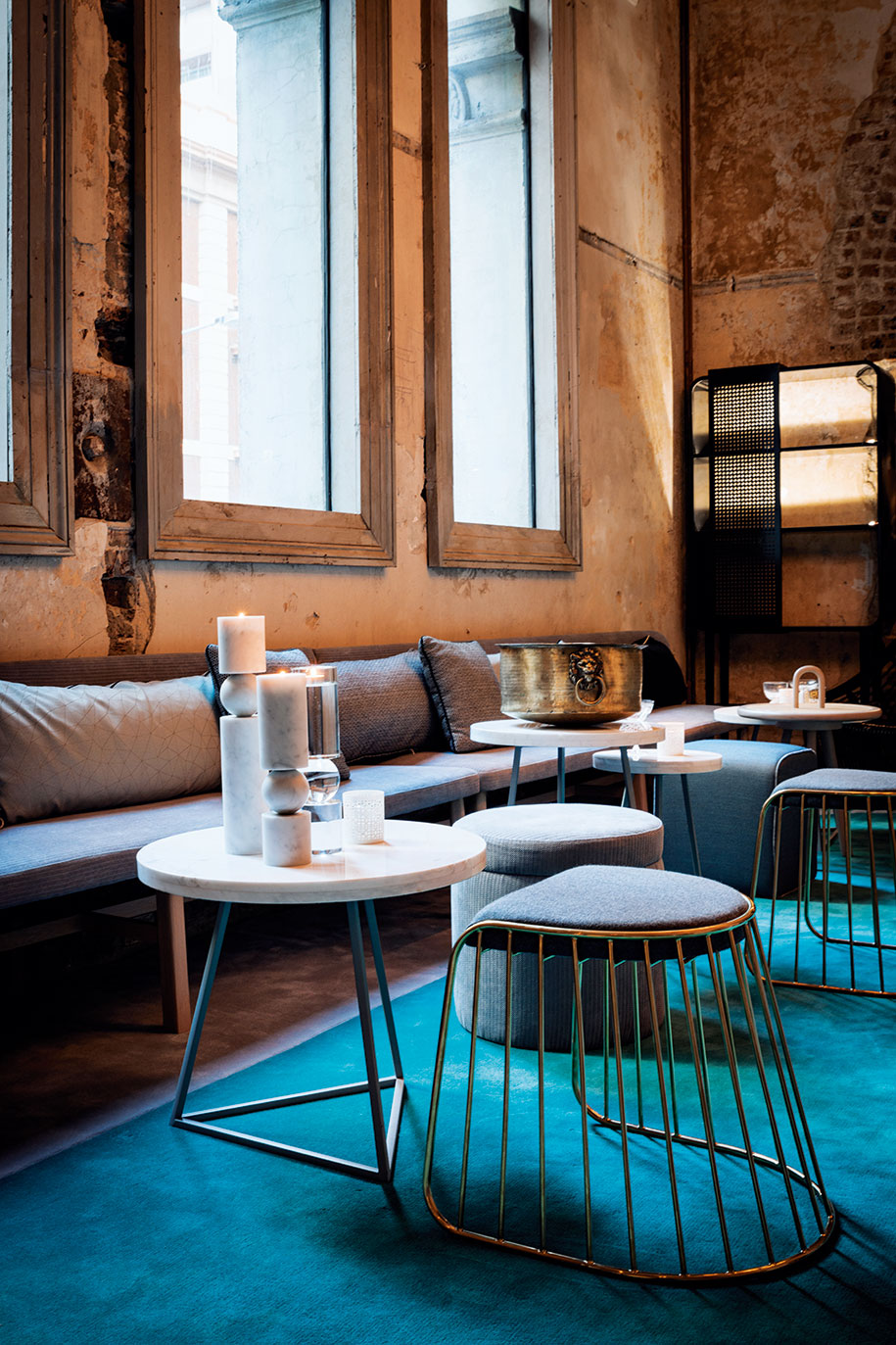 Glancing up, I note the same cut of marble as the tables in front of me, and the candleholders behind me. I suppose that a Greek bar without marble is like the beach without any sand, or Nana Mouskouri.
My cocktail is named the Spartan Rose, and for a good reason; Vodka, Apricot liqueur, Rose Water finished with a speared Rose flower garnish. An indelicate flavour that doesn't hold any punches – much like its infamous namesake.
Next is my favourite, the Aviation. Also served in a Martini glass with a Carrara marble base. Gin based with Rhubarb and hints of Vanilla. But finally, I end on the perfect digestif, Mastika. A liqueur that's produced on the Greek island of Chios, seasoned with Mastic, a resin gathered from the Mastic tree. Served on chipped ice with a Lemon twist.
Beta is a consummate execution of historical and modern coming together – a hidden away pocket of Ancient Greece right in the heart of a bustling metropolis. It may not be as loud as a Dionysian romp, but rather Apollonian, softly spoken whispers – always with an unmistakable a Greek inflection.
Words by Camden Chan
Photography courtesy of Beta Bar
This article was originally published in McGrath Magazine 25.2.17
Tags: Beta Bar, ds17, Home Architecture, hospitality, House Architecture, Residential Architecture, Sydney
---