The playing field has been set, and with the latest ConceptSpace, Eye In The Sky by Killing Matt Woods, HouseLab and the Sydney-based designer, Matt Woods have strengthened their stance as game-changers in the industry. ConceptSpaces is a HouseLab initiative to explore the potential of residential design in collaboration with some of Australia's best contemporary design-thinkers. Hot off the heels of some serious recognition for his warehouse conversion, Perfect Storm, Matt Woods has teamed up with HouseLab to reimagine apartment living – with design-thinking, sustainability, and end-user needs front-of-mind.
The collaboration zeros in on contemporary residential design challenges, such as balancing privacy and connectedness in high-density living environments, and the increasing need for home to function also as an office. The resulting concept, aptly titled Eye In The Sky after the haloing domed skylight at the centre of its ceiling, is a malleable, multi-use, and light-filled kitchen and living space.
Citing Yoshiharu Tsukamoto, co-founder of Tokyo-based practice, Atelier Bow-Wow, Matt says, "Privacy doesn't have to mean enclosed or introvert. A house can have different faces in one." And so it does. Obscured boundaries, framed views and borrowed light are key, Japanese-inspired design elements, enabling the ConceptSpace to adapt as needed, according to changing resident needs – every day, and over time.
Eye In The Sky's fluidity is facilitated by modular joinery components. A multi-purpose table positioned beneath a generous window acts as a casual sideboard, a bar-top, or when fully deployed it transforms into a work or study desk. A bi-folding timber-slate ceiling screen can fold down in various configurations to provide privacy, conceal the Cantilever Tableau kitchen, dissect the space, or diffuse light as desired. A modular dining table sits atop a pedestal in the centre of the kitchen area – at its smallest, it can be reduced to an occasional table, while at its most grandiose, it can be extended into a dining table fit for hosting a dinner party. The foldable dining chairs can be stored in the discreet wall cupboard whenever not needed.
In fitting with the HouseLab's ConceptSpaces initiative, Eye In The Sky has been designed by Killing Matt Woods to inspire industry professionals and homeowners to the possibilities of residential design in the face of the complex design and construction challenges posed by Australia's growing and ageing populations varying needs. The space might be purely a figment of Matt Wood's imagination, brought to life with CGIs by Bloom & Glare at present, but it is simple enough, plausible enough and responsive enough, that there is no reason it could not become a reality.
HouseLab
houselab.com.au
Killing Matt Woods
killingmattwoods.com
CGIs by M Parsons
mparsons.co

Dissection Information
Tableau kitchen from Cantilever
Twoinone induction cooktop from Miele
ZIP Water HydropTap Elite
Nebulae Light by Ross Gardam
Hang It All wall hanger by Charles and Ray Eames
Cosm Chair by Herman Miller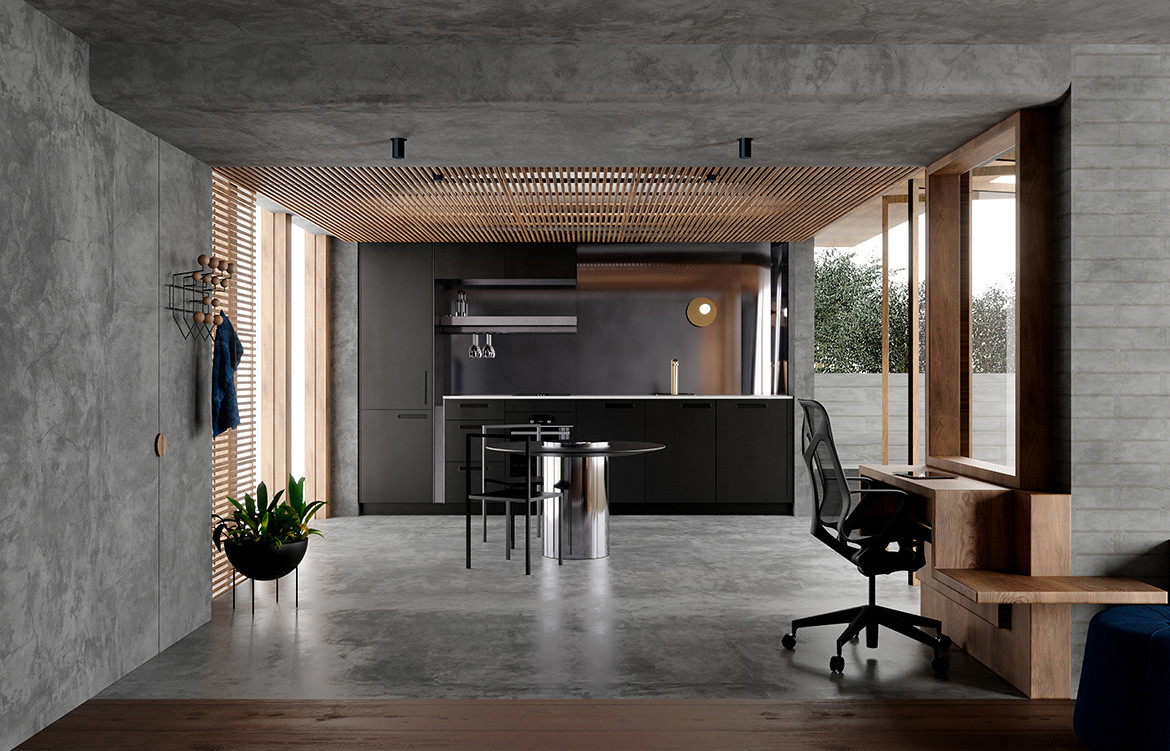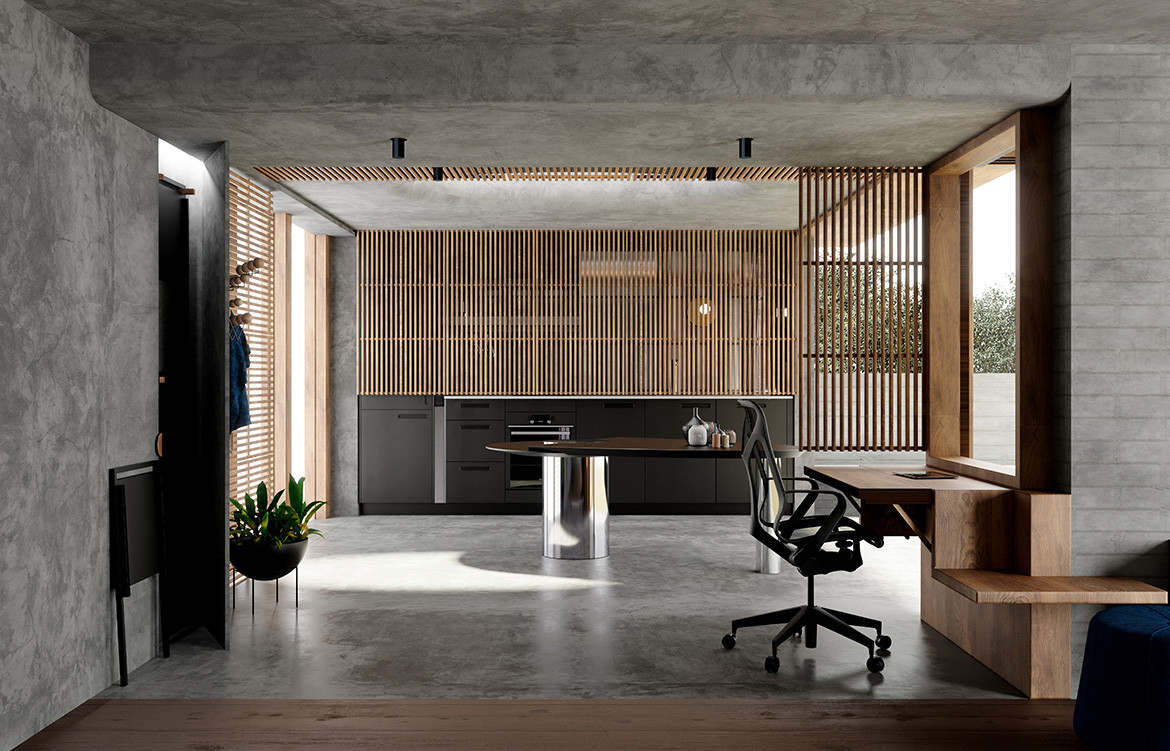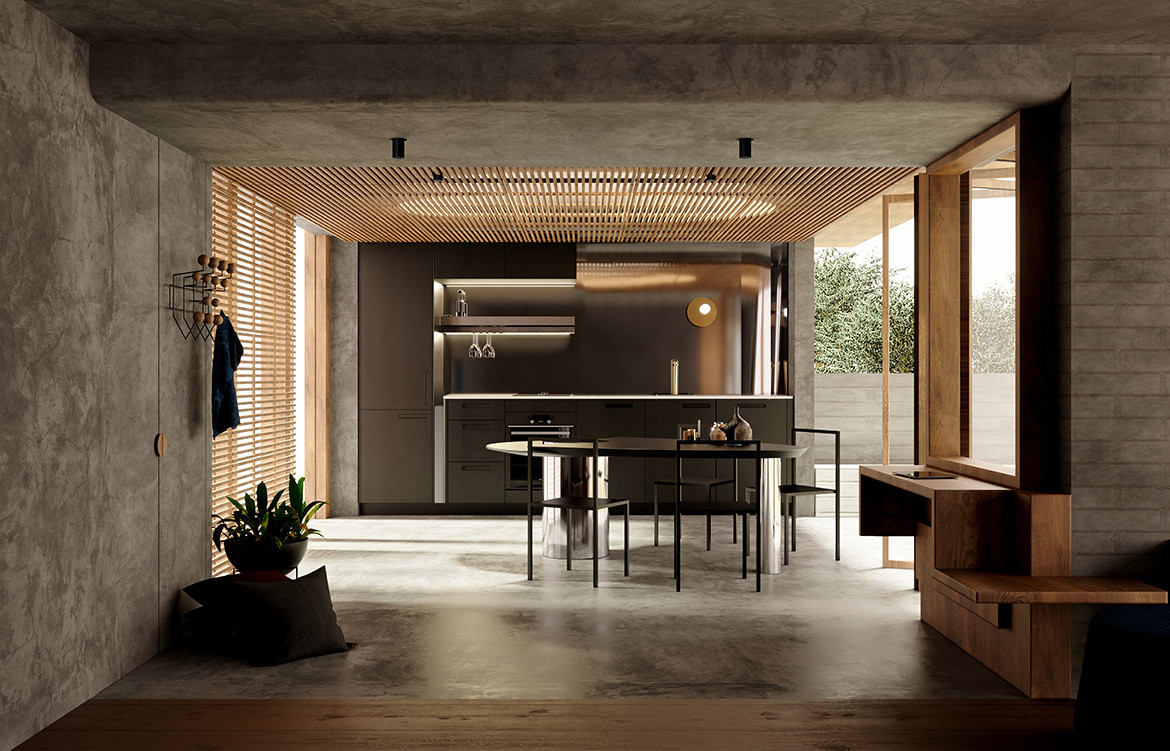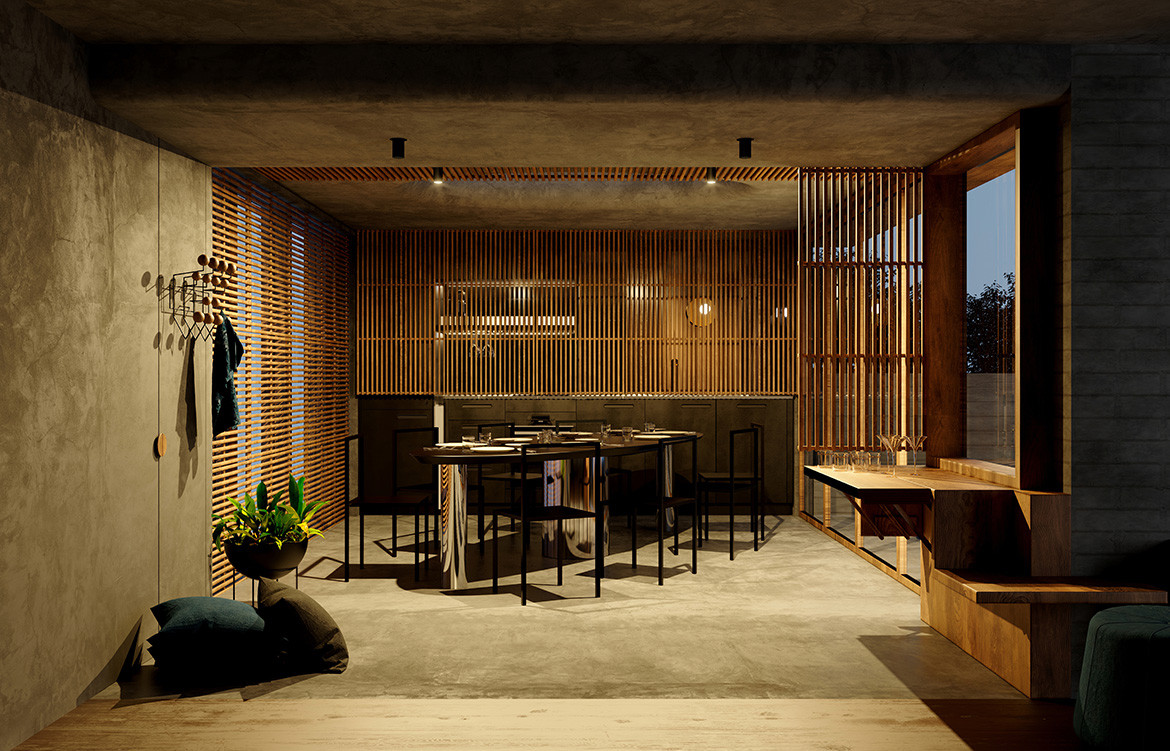 We think you might also like Phillip Stejskal's solution for the Missing Middle
Tags: cantilever, Charles and Ray Eames, City Living, ConceptSpaces, Design Thinking, Herman Miller, HouseLab, Interior Design, Japanese Architecture, Killing Matt Woods, Miele, multi residential design, multi-use space, Nebulae Light, Ross Gardam, Tableau, Zip Water
---