Architects designing their own homes can frequently tumble down the rabbit-hole of obsessively redrafting their plans to the point where the initial concept is diluted and garbled. Luckily, this was not the case for Taras Wolf.
Wolf's recently completed Melbourne home is a testament to his architectural experience, built to satisfy his own extensive and demanding brief of a family home, design studio, and memory box that is simultaneously playful for children, flexible in use, car-friendly and sustainable.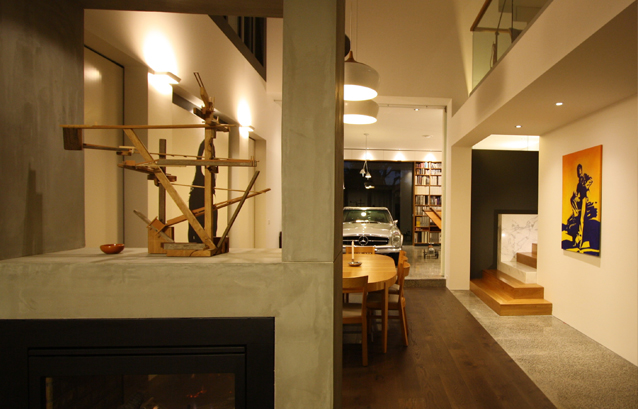 As if the project wasn't challenging enough, Wolf also decided to incorporate elements of the pre-existing brick house – "for sentimental reasons" – as the Wolf family had lived there for seven years.
Layered over this is a complex, articulated structure using surprisingly common elements in imaginative and successful applications. "The house is one big prototype," explains Wolf, "A laboratory for me to try and explore ideas I have wanted to try but had not the opportunity till now."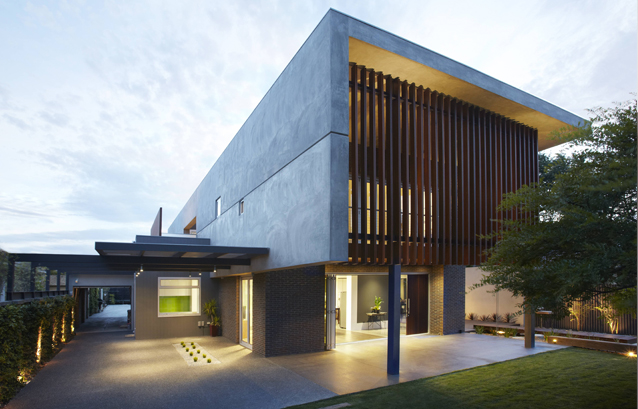 The material palette of brick, timber, concrete, render, cement sheet, and plaster is nothing unique, however 'timber' encompasses 14 varieties in the class, and 'brick', five. Similarly the colour scheme throughout the main spaces is just natural white and woodland grey, punctuated by vibrant greens, blues and reds in private or functional spaces. "While this house was an opportunity to experiment, I did not do that in the sense that I was exploring new technologies or rare and exotic materials" comments Wolf, "I've always preferred to take normal tried and approved things and use them in new ways."
The resulting home contains no fewer than 28 spaces, with every one of them accessing natural lighting and prospect. Voids connect and expand internal volumes, material continuity leads the eyes (and feet) from one room to the next, and an eclectic collection of art and furnishings animate the home.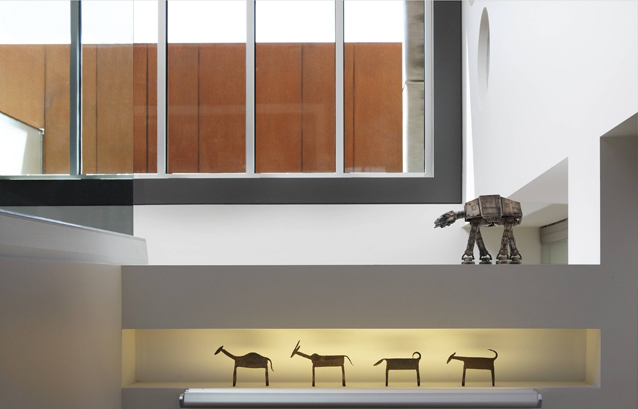 Throughout the project modern Asian and Western aesthetics are blended, reflecting Wolf's half Chinese heritage and his childhood spent in Thailand. The fine attention to effective use of space, emphasis on being able to open the house for light and ventilation, and use of slender bricks and dark hardwoods all sustain this East-meets-West theme. The Chinese garden crystallizes this concept with an Asian-style bridge over a very Australian dry riverbed.
The build also demonstrates Wolf Architects' commitment to and experience with sustainable practices; correct orientation, hydronic heating, 98% LED lighting and highly effective insulation all combine to achieve an 8-star energy rating.
Ultimately, the home is the embodiment of Wolf's passion for his craft, and best described in his own words as "a collection of carefully researched ideas formulated in a deeply disciplined laboratory of thought…. the house works like a well honed and crafted instrument."
Photography: Dave Kulesza
---