Cafés are part of Melbourne's DNA, each with a neighbourhood vibe, the ability to bring people together in a communal space and serving some of the best coffee, of course. This eco-friendly house in Coburg, Melbourne, designed by Zen Architects, is inspired by Melbourne's world-renowned café culture and takes a communal, colourful and sustainable approach to its functional and aesthetic design.
Laneway House has been designed as the long-term home of a couple and their beloved dog. While they loved their existing weatherboard cottage, they recognised its shortcomings – lack of functional space, sunlight and indoor–outdoor connection. They wanted their new house to be "smarter, not bigger," says architect Luke Rhodes. "One that would allow them to live with a better connection to the environment while reducing energy and water use, and one that would support their love of entertaining. In this household, relationships are fostered through the shared enjoyment of food and drink – and especially coffee – with relatives and friends." Zen Architects reconfigured and modernised the front rooms of the existing house and added a rear extension to take advantage of the northern orientation and laneway access.
Drawing on the couple's appreciation for eating and drinking with others, Zen Architects looked to Melbourne's café culture for inspiration and incorporated distinct functional and aesthetic elements. The kitchen, living and indoor and outdoor dining areas flow into each other for communal enjoyment; the kitchen has a bar area and servery to the outside; a pergola, with the beginnings of a grape vine, defines the outdoor dining space; and the carport offers an additional gathering area and laneway access.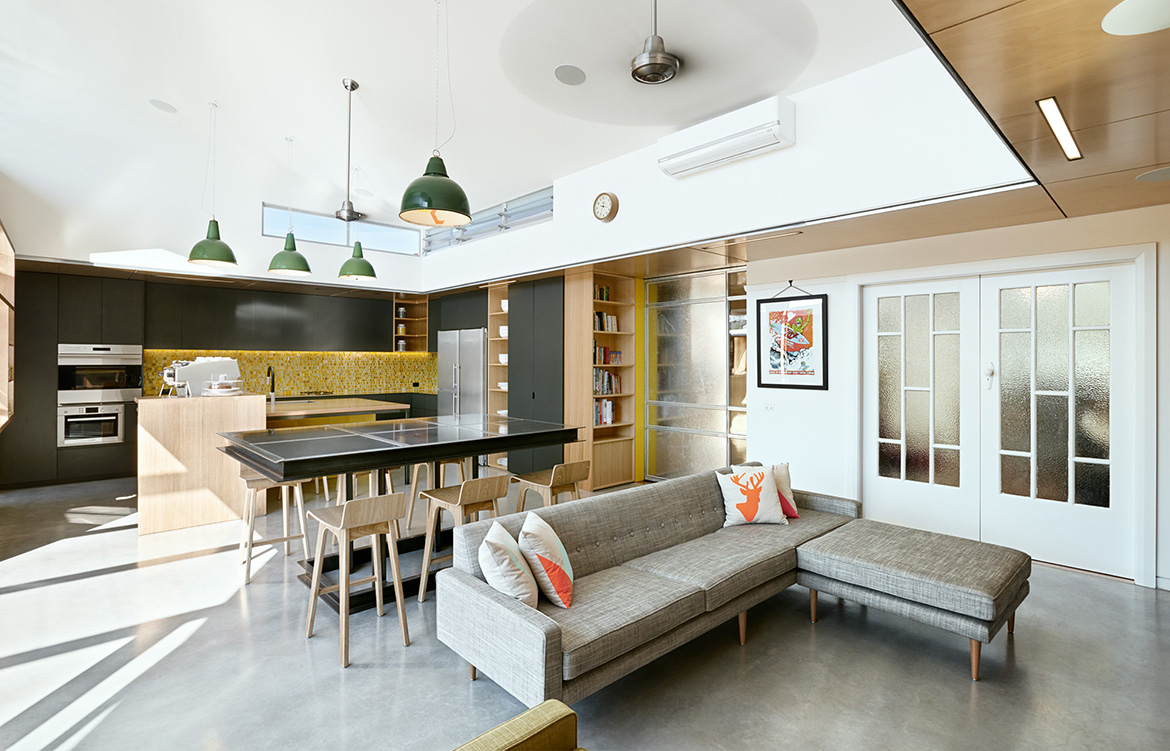 The mix of old and new materials similarly reflects those used in Melbourne's neighbourhood cafes and includes an exposed recycled brick wall and recycled light fittings; bi-fold steel-framed glass doors; steel-framed windows and art deco doors. "The materials we use often have stories of their own that imbue another layer of meaning and beauty in our architecture," Luke explains. Yellow joinery, tiled splashback and exterior trim are joyful and welcoming, and the FSC certified plywood is warm and tactile with the lowered ceiling above the daybed creating an intimate area inside. Furniture and fabrics have a mid-century vibe and the New York subway sign in the living room complements the black subway tiles in the bathroom.
Ecologically sustainable design principles played an important role in Zen Architects' approach to the house, including orienting the living areas to the north and minimising glazing to the south, east and west. High-level louvres provide for cross ventilation; the exposed concrete slab offers thermal mass; angled eaves block summer sun and allow winter sun; and the pergola will shade the lower windows once the grape vine matures.
Like Melbourne's much-loved cafés, Laneway House has a bright and friendly neighbourhood vibe where friends and family are welcomed with open arms to enjoy some of the best company and coffee in town.
Zen Architects
zenarchitects.com
Photography by Emma Cross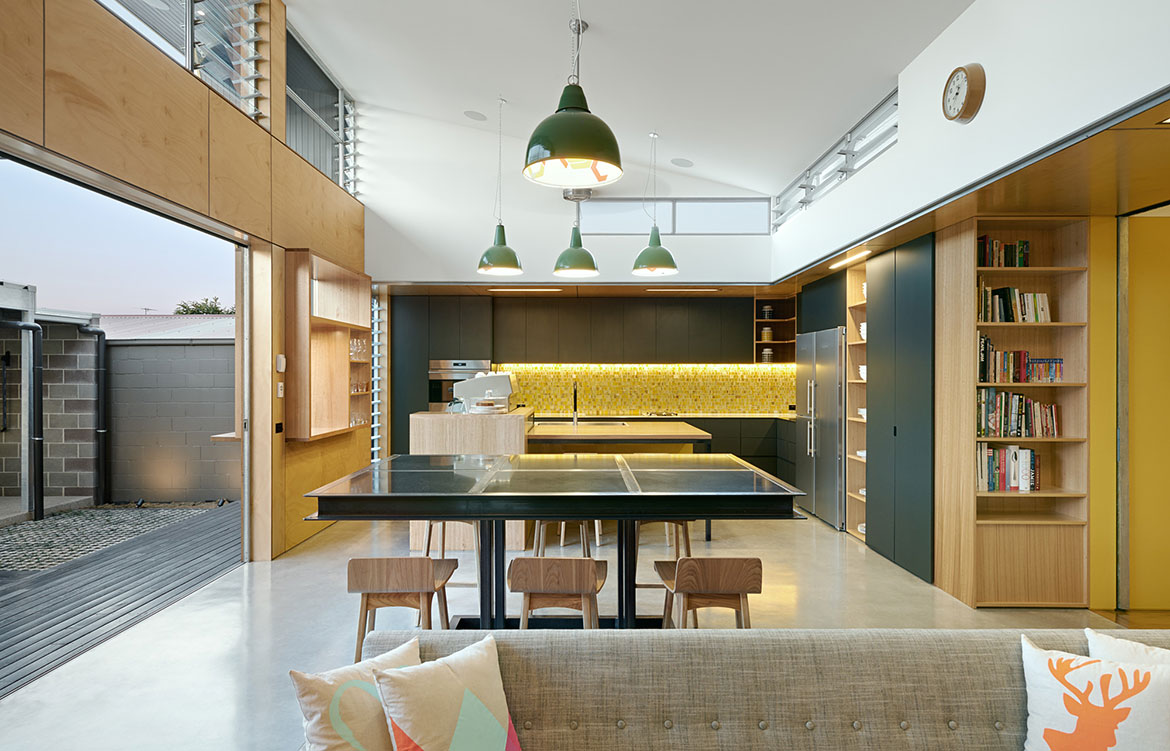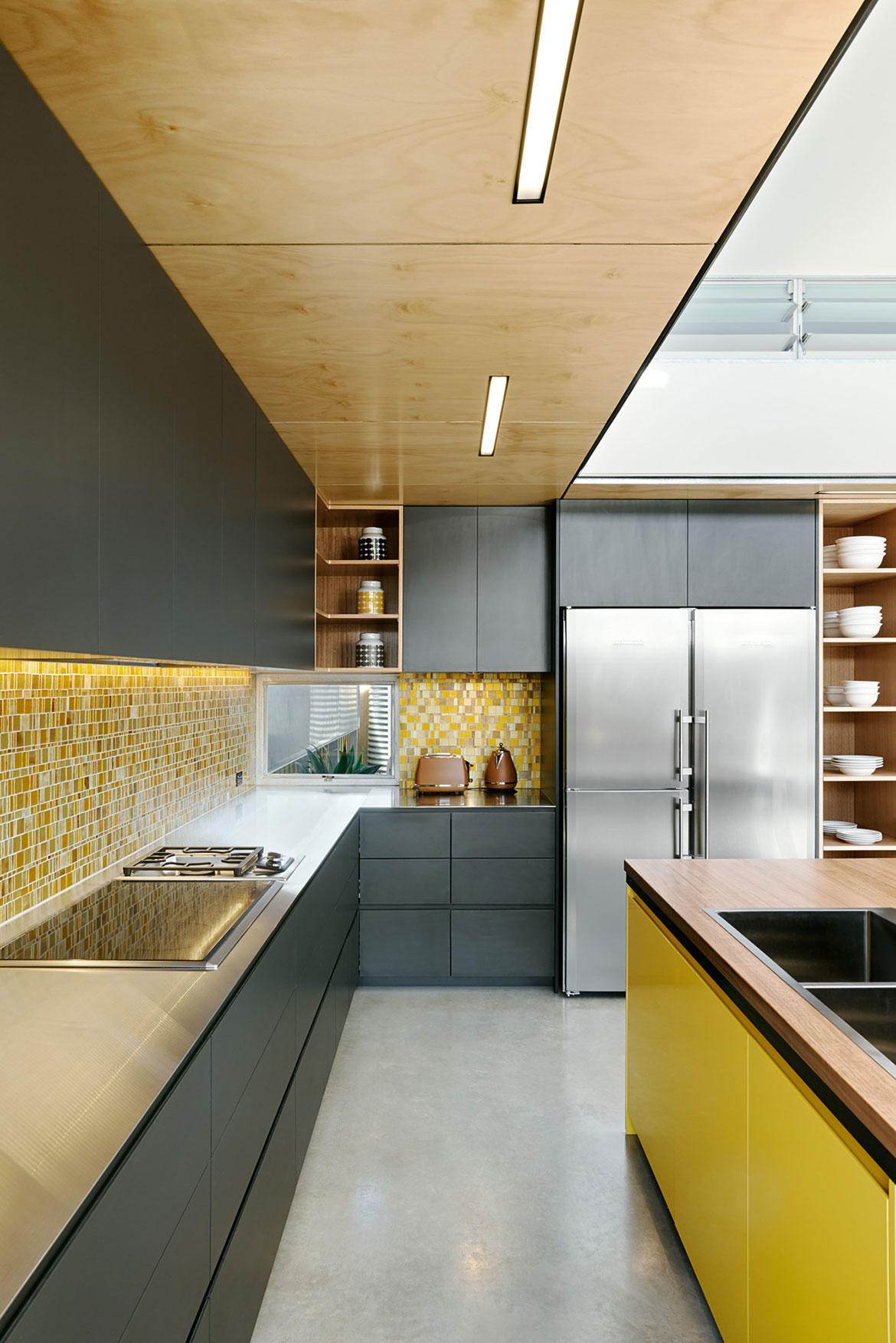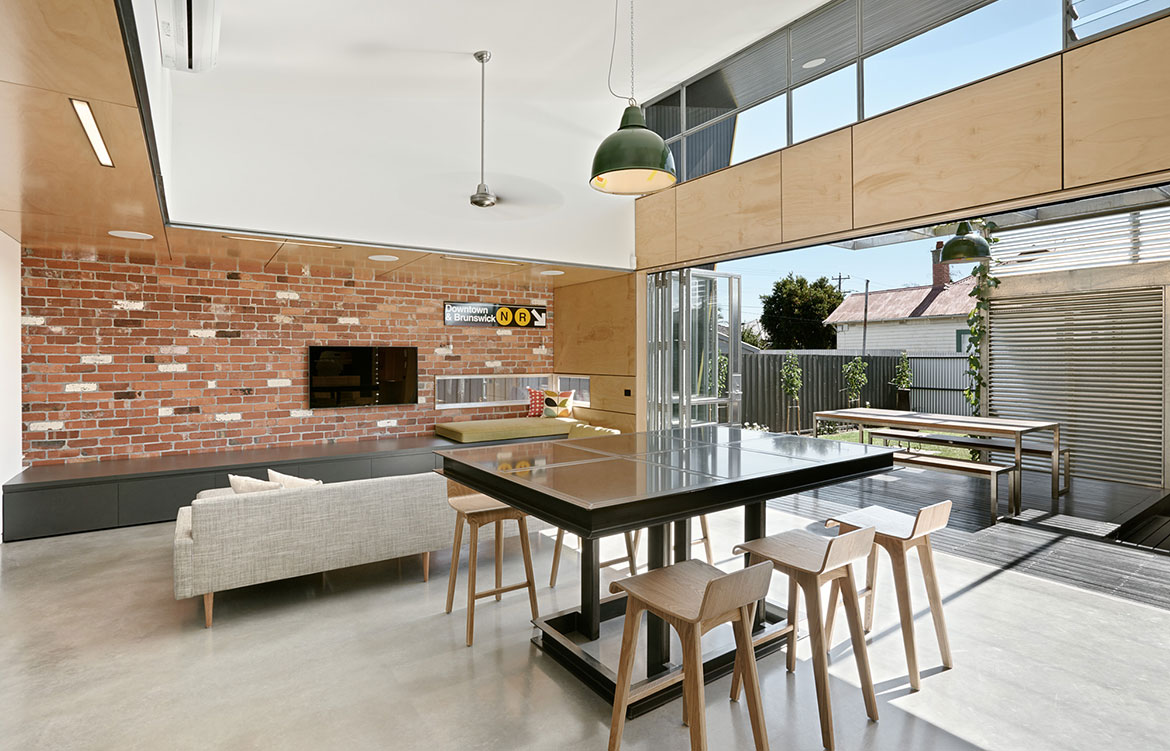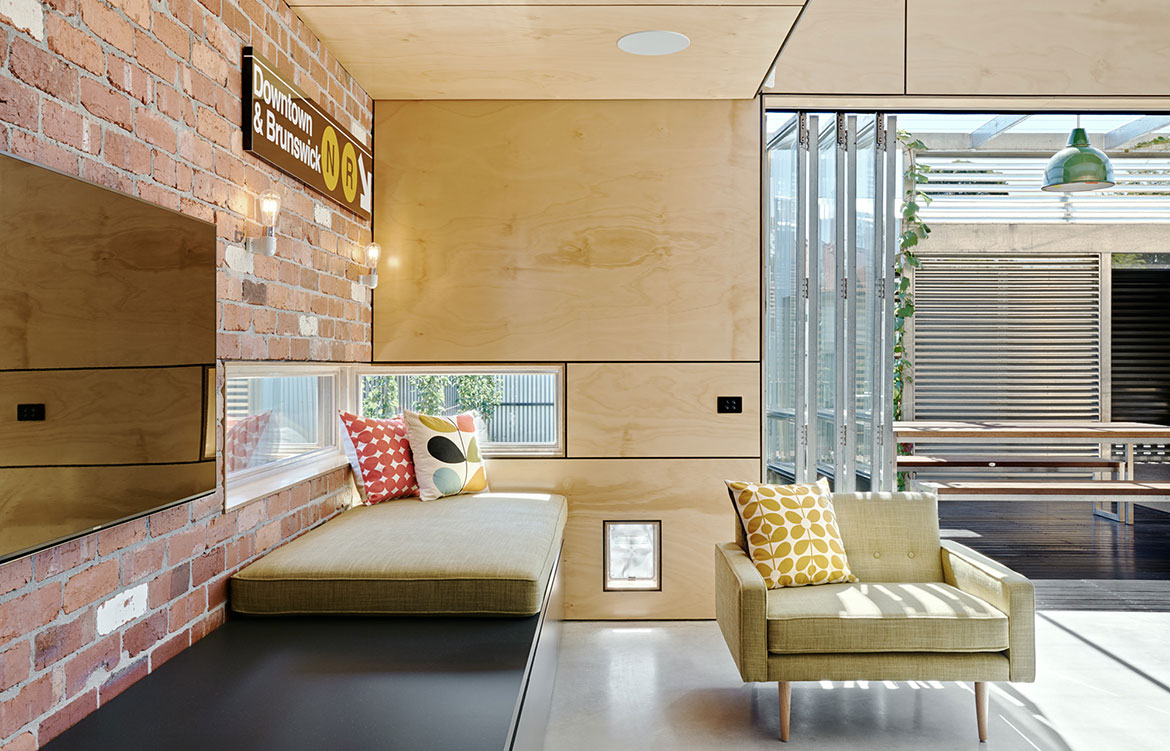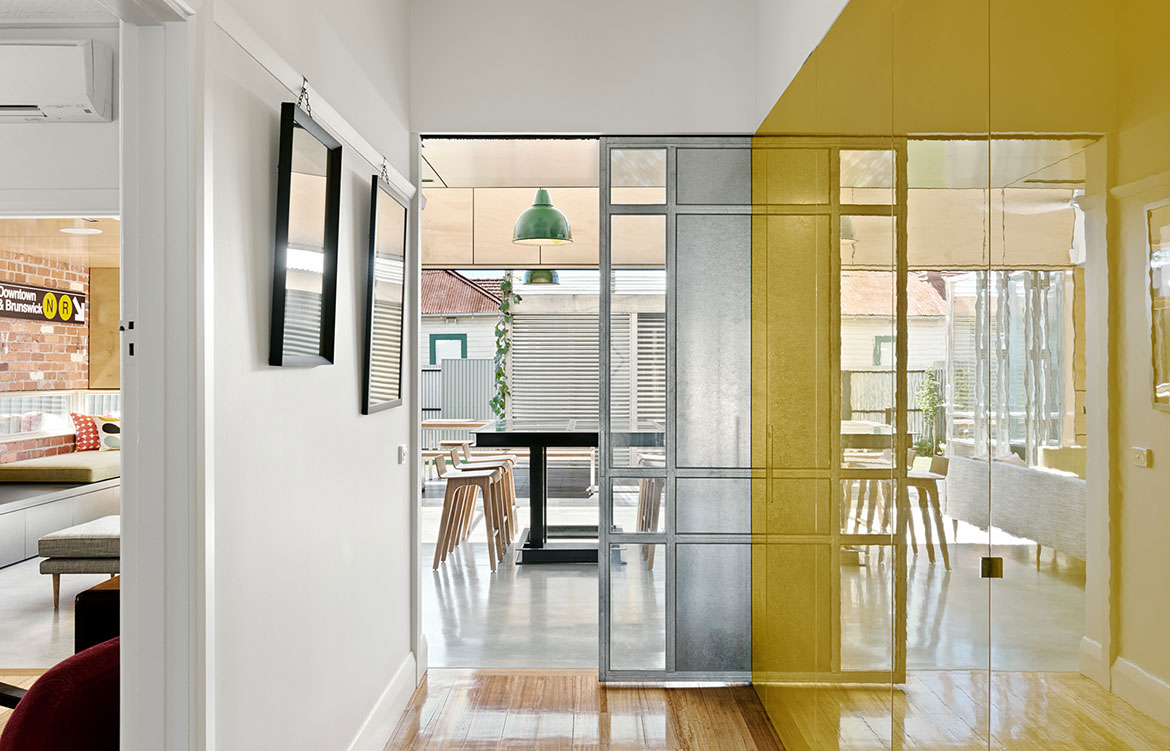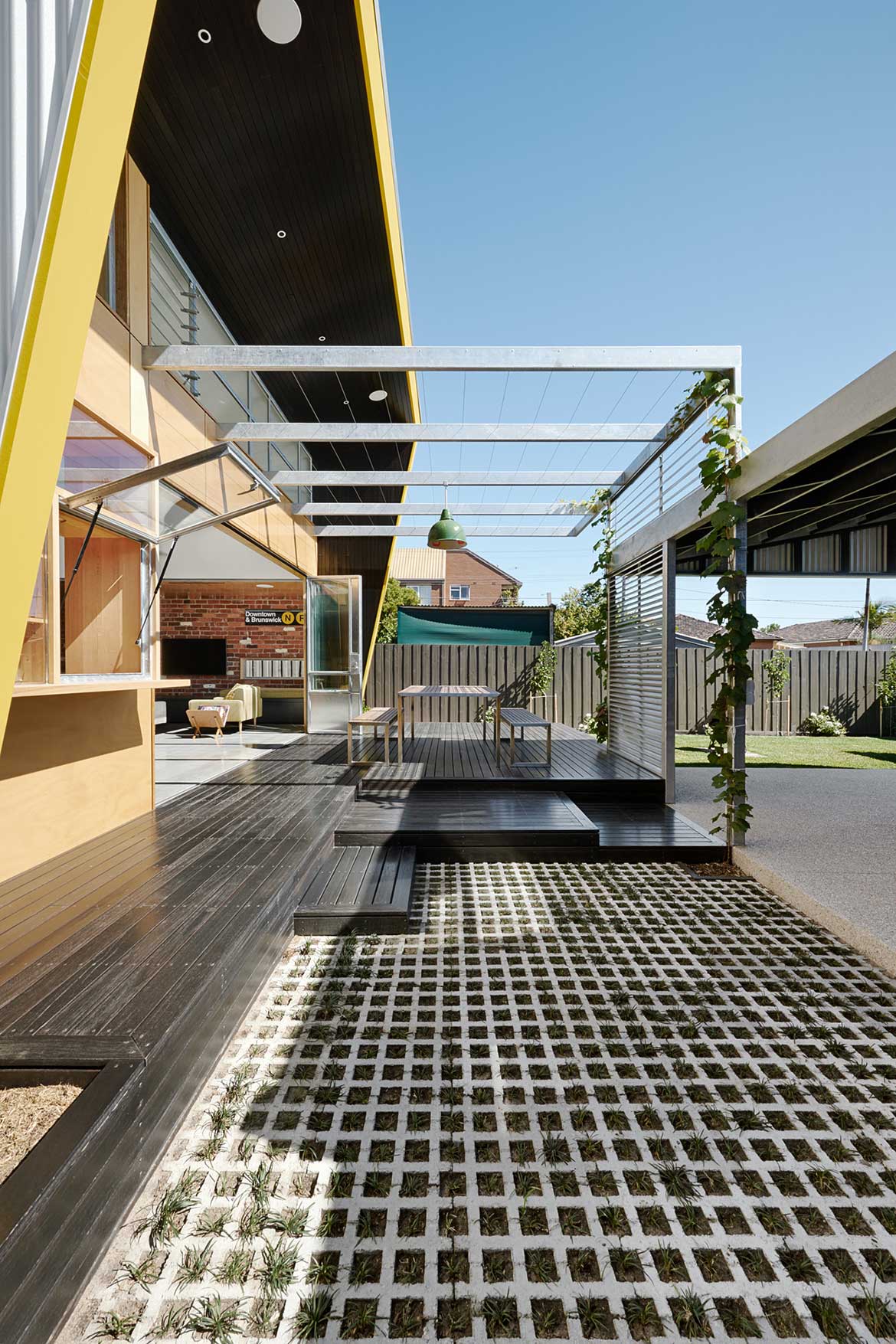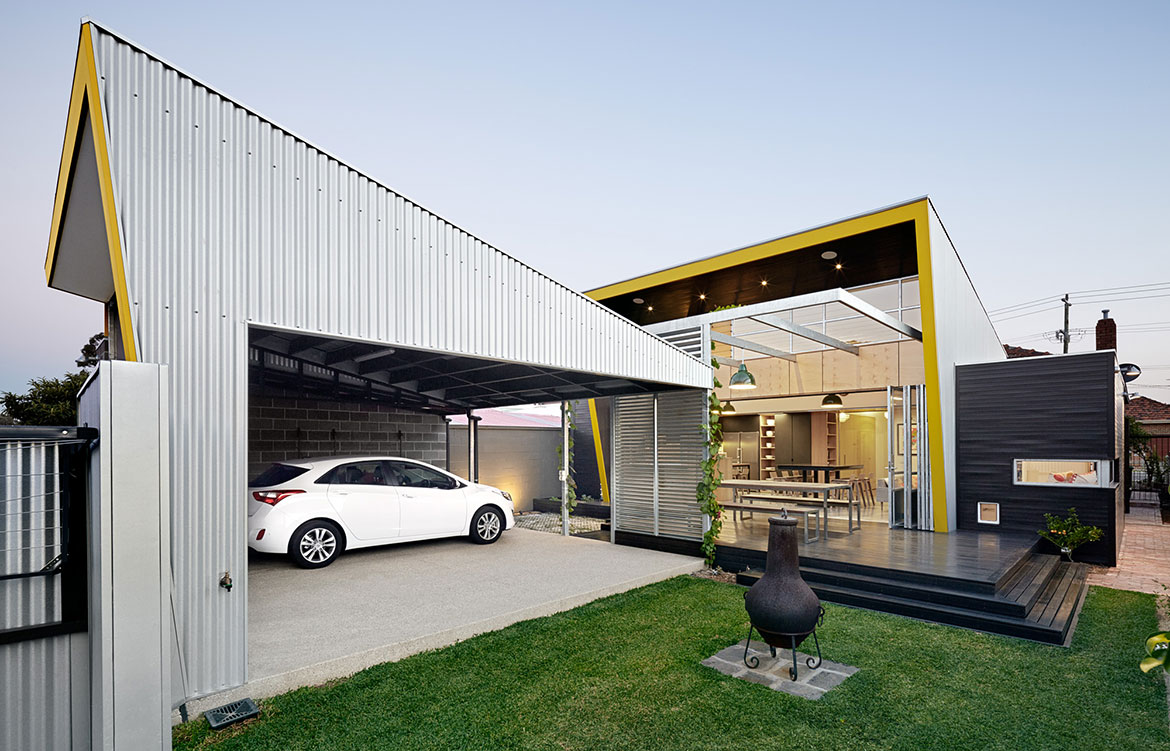 Tags: Architecture, cafe, design, Emma Cross, Home Architecture, House Architecture, Melbourne, rebecca gross, residential, Residential Architecture, Zen Architects
---