If there is one way to make a memorable entrance, it would be through the front door of Alex and Georgie Cleary's Melbourne residence, a beautifully renovated home of warehouse proportions, shrouded within the guise of its former life as the Westgarth town hall in the inner-city suburb of Northcote.
Anyone can be forgiven for approaching the building with a touch of hesitation, but timidly tapping on its heavy, towering door is no way to seek admission in to this unlikely home. After a soft rap of knuckles received no response on this particular morning, a firm push gained me entrance, and I slipped inside to find myself suddenly dwarfed by a long, sweeping hallway.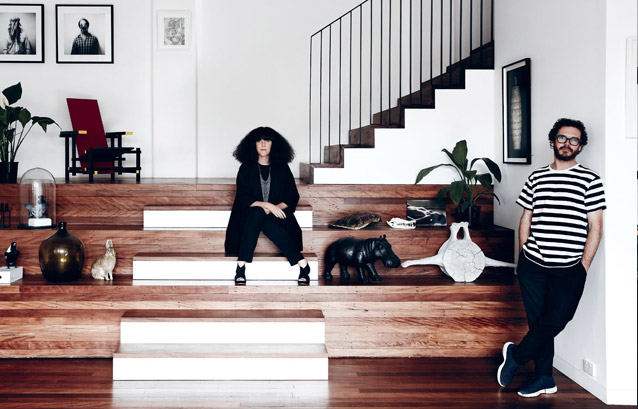 In the echo of a "hello?" comes Alex Cleary – fashion designer, engineer, renovator, project coordinator – briskly walking down that long open stretch. Alex and sister Georgie are the heads and hands behind the ultra-fashionable Melbourne brand, Alpha60, and they both admit to a small obsession for big projects. "We feel lost when we don't have a thousand things on," Georgie says.
As if Alpha60 isn't big enough, with two season releases per year and six fashion stores across Melbourne and Sydney, the brothersister team have extended their creative forces beyond the realm of the wearable and into that of the inhabitable.
The renovation of Westgarth Hall proved no small undertaking, and it has seen the siblings take on everything, from shifting a staircase and dismantling a performance stage, to re-stumping the floor and hanging a baby grand piano.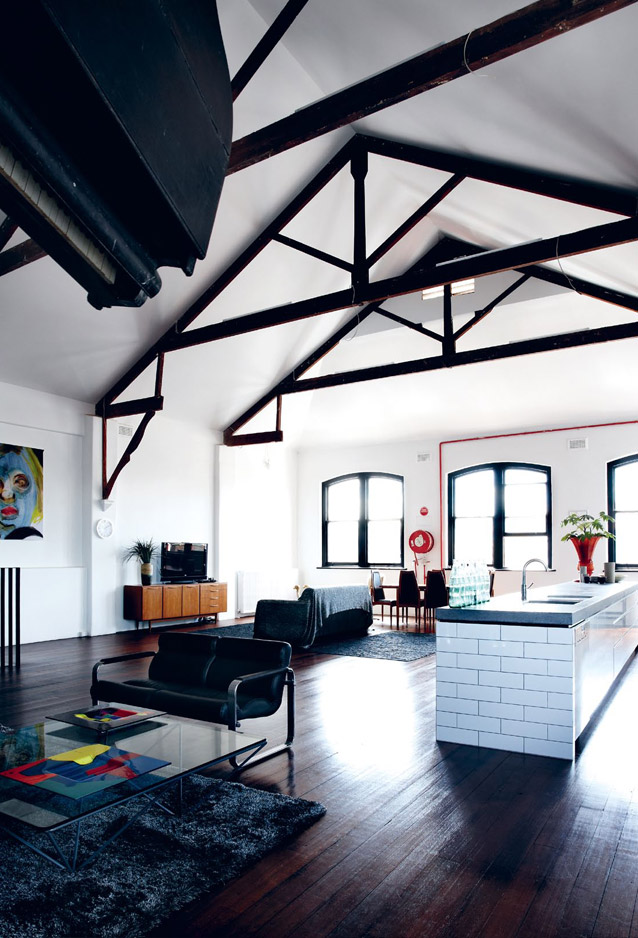 Natural evolution is key to the siblings' largest projects – particularly in the case of Alpha60 and their designs.
Alex says, "I was an engineer and Georgie a graphic designer, and we started Alpha60 as a hobby, making a shirt for me to wear. A couple of friends wanted it, and so we made five; five grew into 10, and 10 into 50."
In a similar way, this house – which came to them almost by fate (an auction passed through; the uncertainty of the global financial crisis; a decisive 'yes' moment) – has grown with them. "I'm not sure if it's everyone's dream, to have so much space," says Alex, but, "this was kind of it."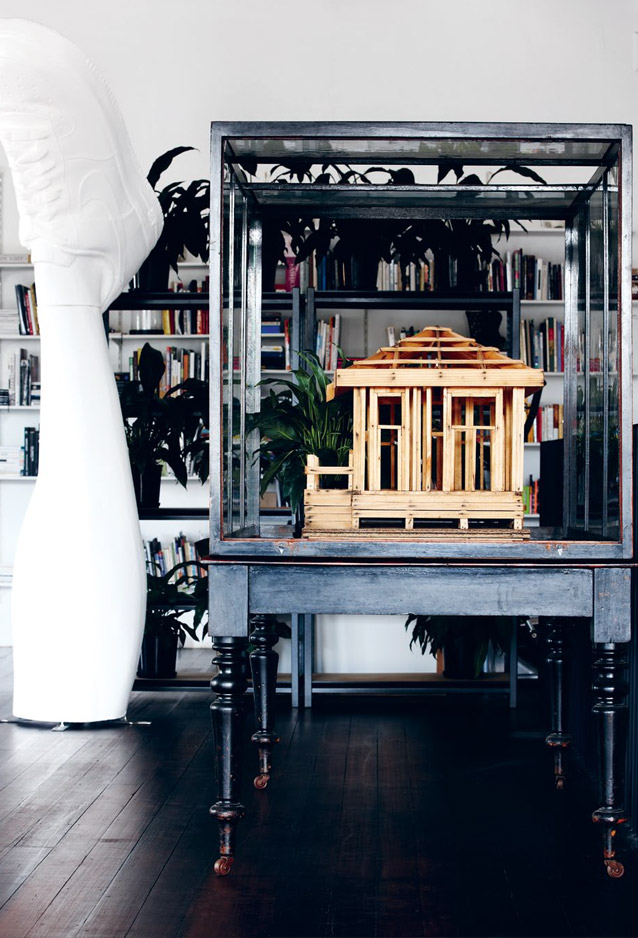 In bringing together their concepts for such a large double-storey building, the duo collaborated with their close friends, architects, Jen Berean and Joachim Holland, and with builder, David Murray. "It wasn't a plan with documentation down to the last 'corner'," Alex elaborates. "As the spaces changed, we changed our ideas.
"The stairwell [shifted] three or four times before the end of the project. And, whilst it's maybe not the most efficient way to renovate a house, it allowed us to feel the different spaces as they [developed]."
Stairs from ground to first level were relocated from the front of the house to the back, allowing for three bedrooms to fill the forequarters of the ground floor.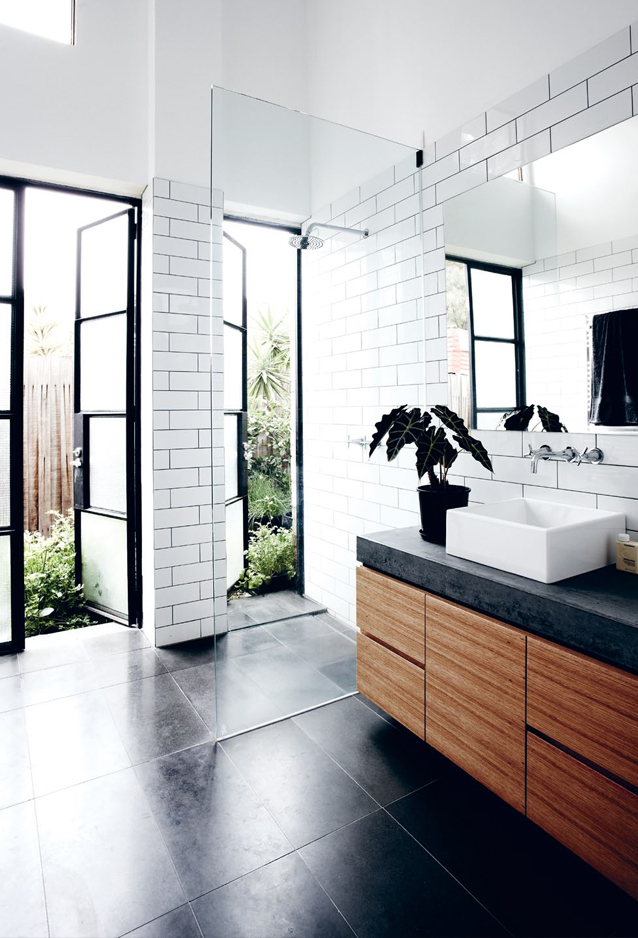 The expansive hallway, hung with work by local artists, opens into a ground-level sitting area. The space is like a sunroom, with its floorto- ceiling bi-fold doors opening into a cosy, high-walled courtyard, a secret garden of stag horns, climbing vines, herbs and vegetables.
Steps, staggered like a stage, double as a display area for plants, collected artefacts and specimens of natural history – here, a whalebone; there, a stuffed rabbit – each with its own story of origin.
This area also works to break up the staircase, a long climb of graphic stripes leading to open plan living.
The interiors across both levels can only be described as expansive – which was not lost on Alex and Georgie.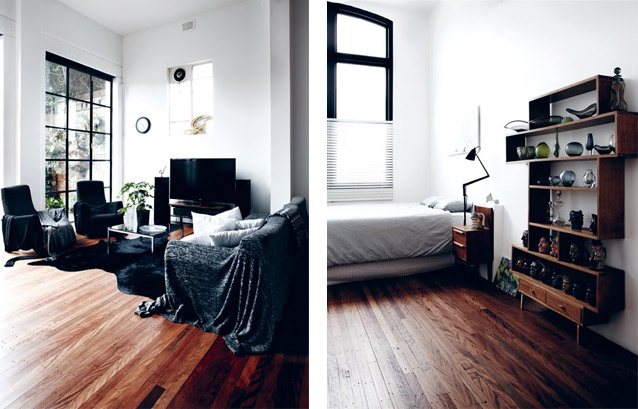 "The main thing we wanted to [remember] was we didn't have to over-design the interior. The features are in the grandeur of it – the beams, the ceilings."
Here, the raw bones of these structures peek through crisp coats of white paint. "A big decision was keeping big, open spaces," Georgie remembers. "It's a nice aesthetic, but is it liveable?"
Alex expands, "Little things look kind of ridiculous. They look out of proportion – like a kid wearing his dad's suit."
Upstairs, a football field of space is broken into living zones by monolithic pieces: a piano dangles from the end of an invisible wire; two giant legs clad in Nike shoes sprout from the floor; a large museum display case holds an apprentice builder's scale model.
The piano, which hangs precariously above a small sitting area ("It's polystyrene with wood veneer – so it's quite light," Alex says), draws the middle ground into focus.
Similarly, the kitchen with its slab-like bench top – a sculptural feat of poured concrete running lengthways through the space – gives clear definition to the kitchen area.
The benchtop is one of Alex's favourite features: "We brought the concrete up in buckets [1,600 kilograms worth], poured and set it up here."
This open-air space is dense with history, having housed a stage, wedding receptions, tai chi classes and other community gatherings.
"There's a feeling of presence. Exciting and joyous things have happened here," Georgie says. For herself and Alex, the complete transformation of the space has been a huge undertaking, but one which they took on with enthusiasm.
"To work with people who 'get' you [and] to do it for your home is unique," she says.
"Everyone has nightmare renovation stories, and you have your ups and downs, but Alpha 60 | alpha60.com.au for us it wasn't a bad experience." Fitting out Alpha60's retail spaces (many of which began just as raw as Westgarth Hall), has equipped them well for tackling a residential project.
Moving beyond the fundamentals of retail design has been a revealing lesson; the duo has also come to appreciate the gift of patience and "taking things slow".
That hard-won patience is already being put to the test, their focus now on the potential of new projects in the future. But in a moment of reflection: "A nice thing ending this project is that we wouldn't have done anything differently," Georgie says. "We really wouldn't change anything."
Photography: James Geer
jamesgeer.com
Alpha60
alpha60.com.au
---