The process of transforming what was a worn deceased estate into a vibrant living space was a true meeting of minds, with contributions from three creative people each armed with a different skill. Their canvas was a two-storey semi-detached house, built in 1921 in a bayside Melbourne suburb.
When the current owners, interior designer Leigh Ellwood and her husband Stephen Carpenter, bought the house four years ago, a hastily executed patch-up job by the previous owners did little to hide the house's neglected state.
"I've always referred to it as a bit of a 'fugly' house," says Leigh, "but even then, it had something nice going on, it still had its charm."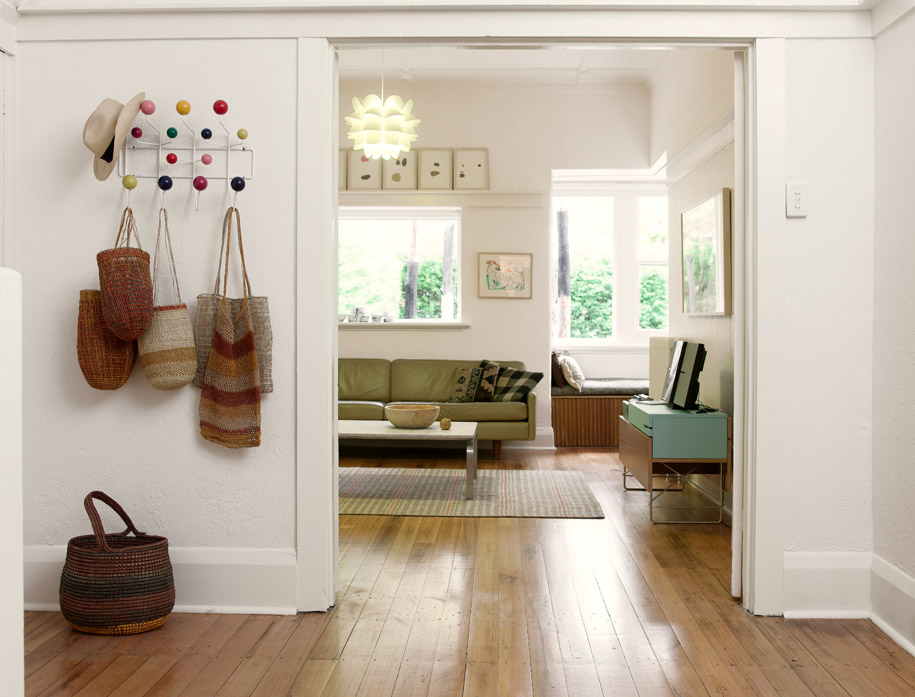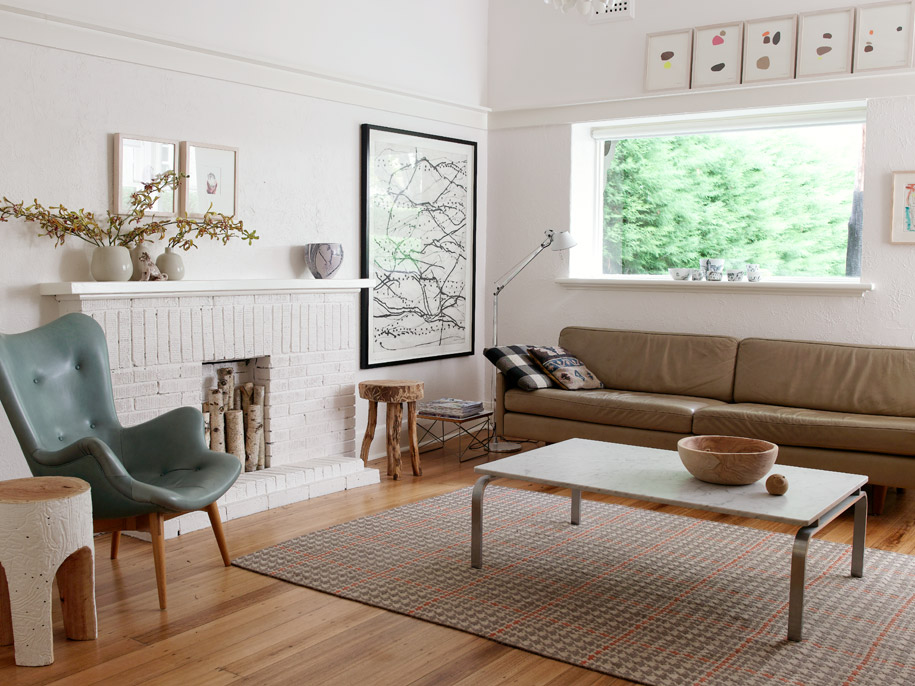 Apart from the generous room sizes and decorative plaster ceilings, the pair of panelled front doors, each with a quarter-circle of frosted glass, which could have been designed by Charles Rennie Macintosh, was a major drawcard.
After removing the nylon cream carpet, re-stumping and then polishing the hardwood floorboards, little else needed to be done to the main downstairs living rooms than to fill them with Leigh and Stephen's classic mid-century furniture and hang their extensive collection of modern Australian art on the walls. "It was a house that hadn't been loved," says Leigh. "But when we put furniture in it that had something going for it, and some nice, contemporary light fittings it started to shine again."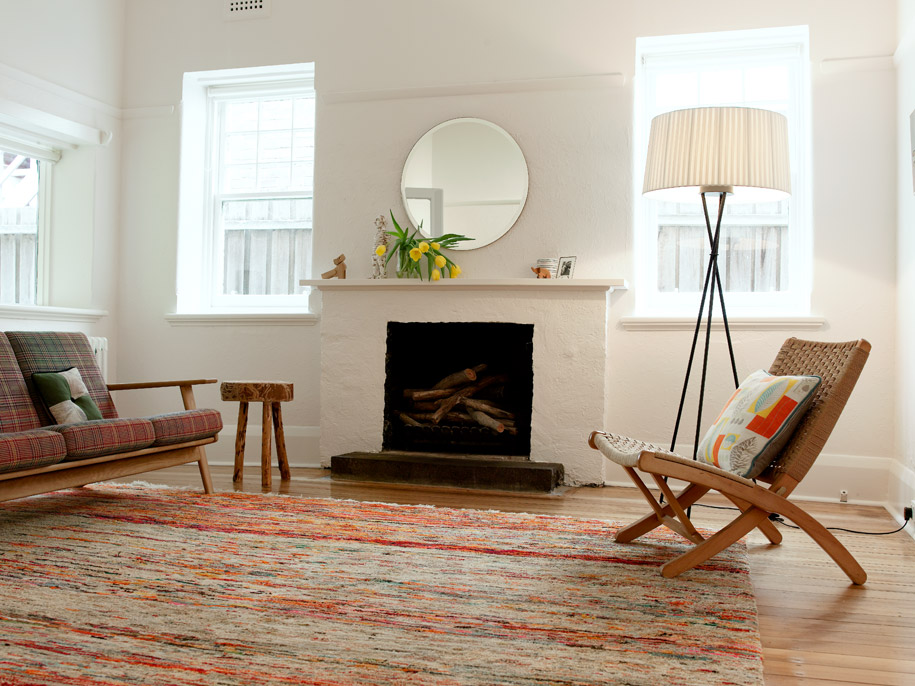 The service rooms, however, required a bit more work and Leigh called in a friend and sometime collaborator, fellow interior designer Donald Holt.
"I admire Donald's work so much I wanted to let him loose on the planning of the next stage of the house – essentially a re-fit of the upstairs bathroom and a new kitchen area downstairs," Leigh explains. "I had very fixed ideas about what I wanted and Donald's role was to step in from a removed perspective to add aspects and a way of planning that we hadn't considered. Together we worked to form a master plan."
Because the plans for the back of the house involved extending slightly beyond the existing footprint, council approval had to be sought. In the meantime, work started on the bathroom, which was completely stripped out and re-fitted. What was a poky and dated room is now a refined contemporary space. Clever tricks such wall-mounted basins, built-in storage, concealed lighting and a sliding entry door that's hung outside in the hallway, extend the room's compact dimensions.
Bespoke stainless-steel fittings, a recycled Oak floor flush with the hallway boards and a sculptural chrome-plated radiator suspended over one end of the bath all lend a luxurious, tactile quality. "I just adore the bathroom," says Leigh. "All those things that designers get cranky about have been thought through, which makes it so well resolved and such a happy place to be. It's a very beautiful, considered space."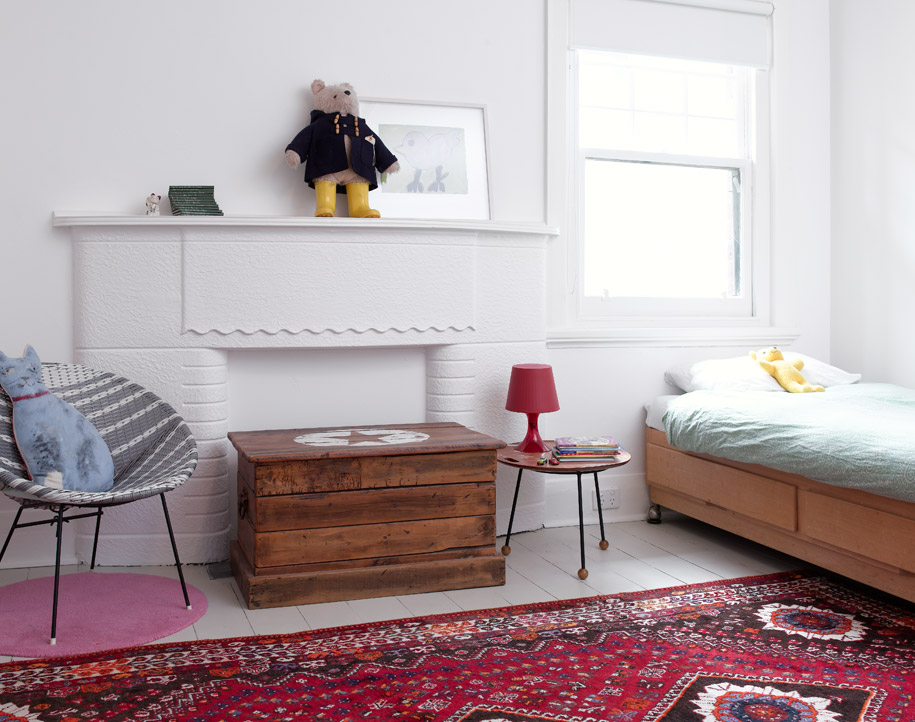 Holt also designed the five-metre long wall of storage that lines one side of the hallway leading to the new bathroom and third bedroom. The necessary space for the cabinetry – featuring chestnut doors and vertical handles of recycled Ebony – was cribbed from the adjacent, already generous second bedroom.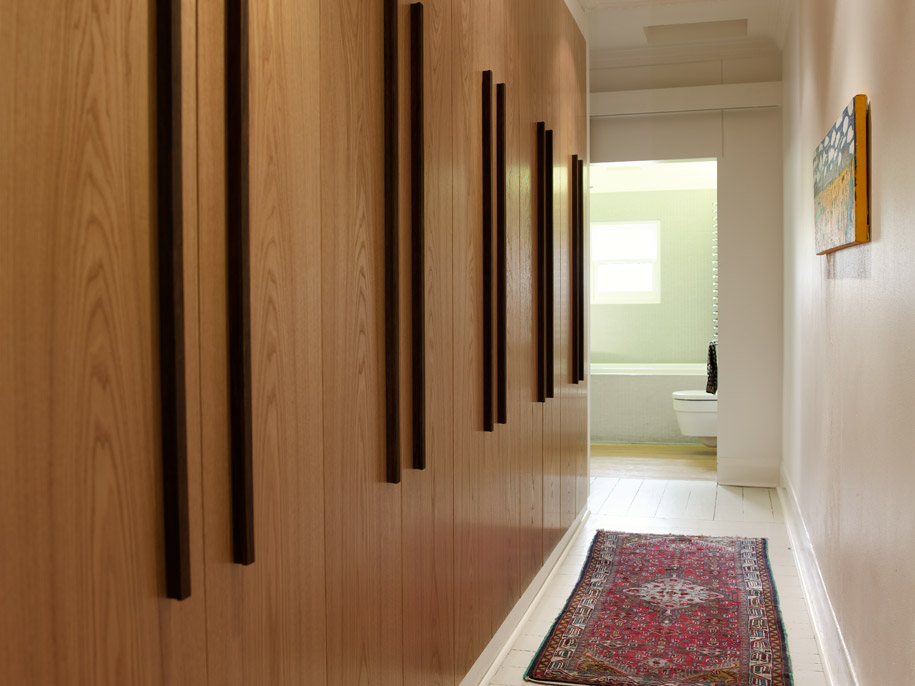 On the far side of the back garden, beside a double-car garage that leads off a cobblestone lane, Holt designed a new laundry. Taking his cue from old concrete laundry tubs, the room's walls and ceiling were lined with untreated cement board. Custom-designed stainless steel rails were added for airing clothes and a painting was hung on the opposite wall. "There's always room for another painting," says Leigh with a laugh.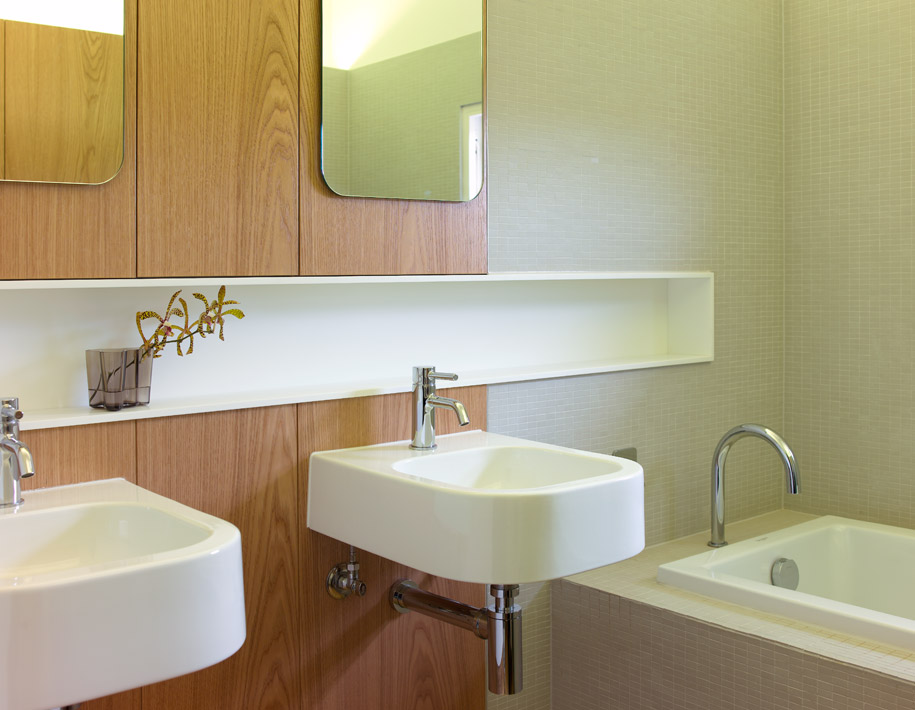 While the interior was being planned work was already underway on the front garden, which is where landscaper and furniture maker Greg Hatton was called in. "I had an idea of how I wanted to travel through the garden but Greg came up with how to achieve it," says Leigh.
A new path of slate crazy paving was laid in a sweeping curve from the front gate to the entry porch. Privacy was already afforded by clipped Cypress hedges to the south and west, and tall plane trees planted in the street sheltered the garden from the hot summer sun. "I decided something vertical was needed to draw your eye up, but if we did it with plantings it would close the garden off and there would be no sense of depth," Greg explains.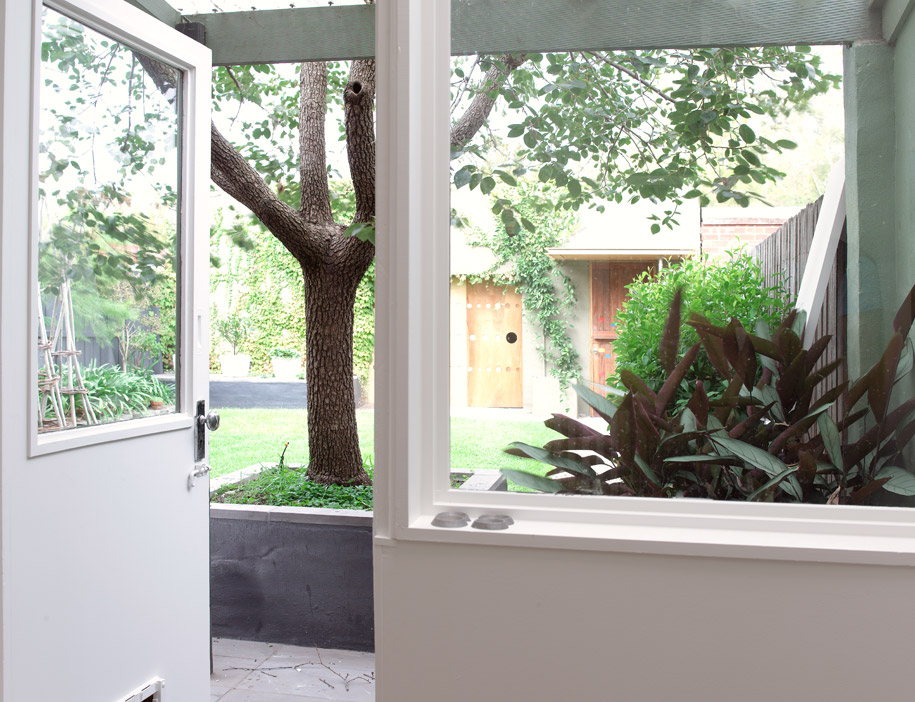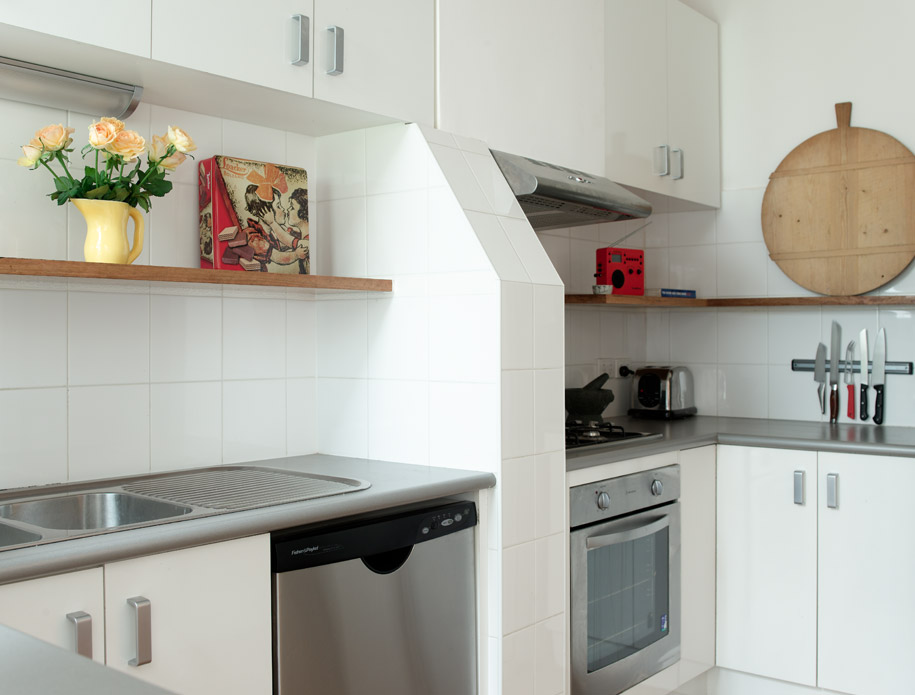 After talking it over with Leigh he decided on an installation, and a Christmas gift of old-fashioned pick-up sticks provided the inspiration. Some tall Eucalypt poles left over from another job were positioned in place after burning selective areas to produce blackened bands. The effect of the totem-like poles surrounded by native groundcovers, grasses and succulents is dramatic, imbuing the front garden with a mystical quality.
When approval for the downstairs extension was finally granted it was too late. By then Leigh and Stephen had found another project to move on to. And it looks like the same creative team will again be employed to effect another transformation.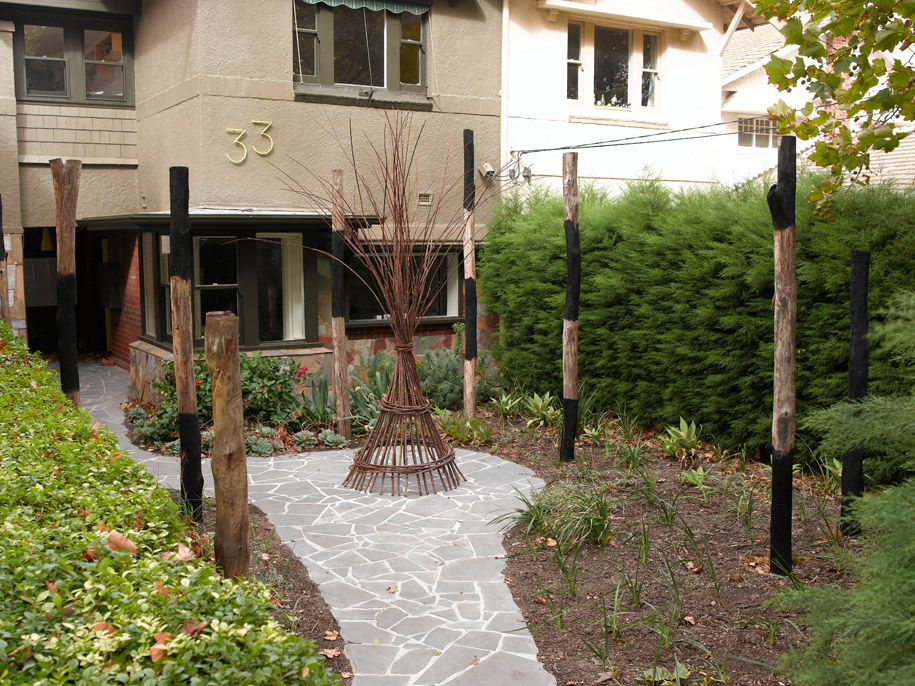 ---
Photography by Lizette Bell
DROPBOX
HOLT.CLIFFORD/DESIGNERS
holtclifforddesigners.com
Greg Hatton
greghatton.com
Builder: Robert Leddingham
Carpentry: Edward Hyde
Bathroom/Hall Joinery: Fineform Joinery
HVAC: Hub-Air
Tags: Architecture, Australia, design, home, Home Architecture, House Architecture, Interior Design, Melbourne, residential, Residential Architecture
---