How can a space be optimised when little restructuring is allowed? This resale flat in Yishun is a prefabricated HDB (Housing and Development Board) unit that would not allow any hacking except for the storeroom wall. "Another challenge is that the ceiling height of the unit is only 2.5 metres," says Mabel Chua, the designer from Prozfile.
The couple's brief included a gym room and bigger common rooms. They also preferred a layout that would break away from the norm. A huge wardrobe was on the wish list too. All of these might sound daunting, but the design team successfully worked around these limitations and crafted a personalised home for the family with a budget of $98,000 (without furnishings).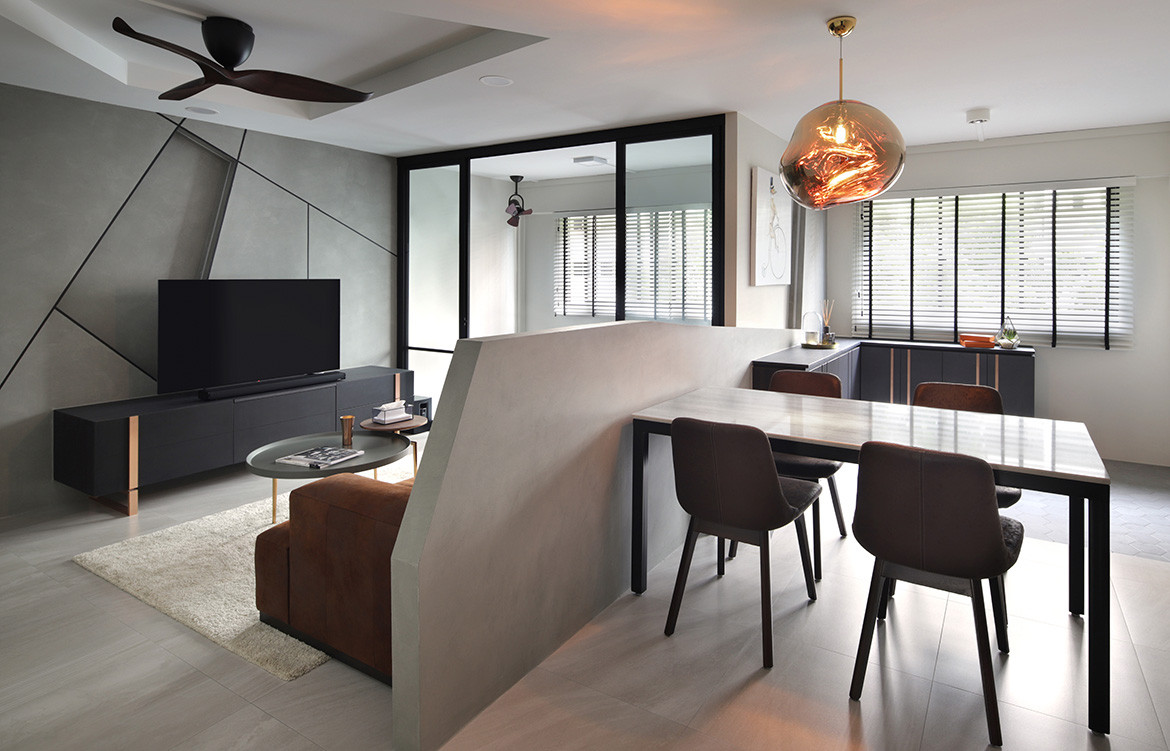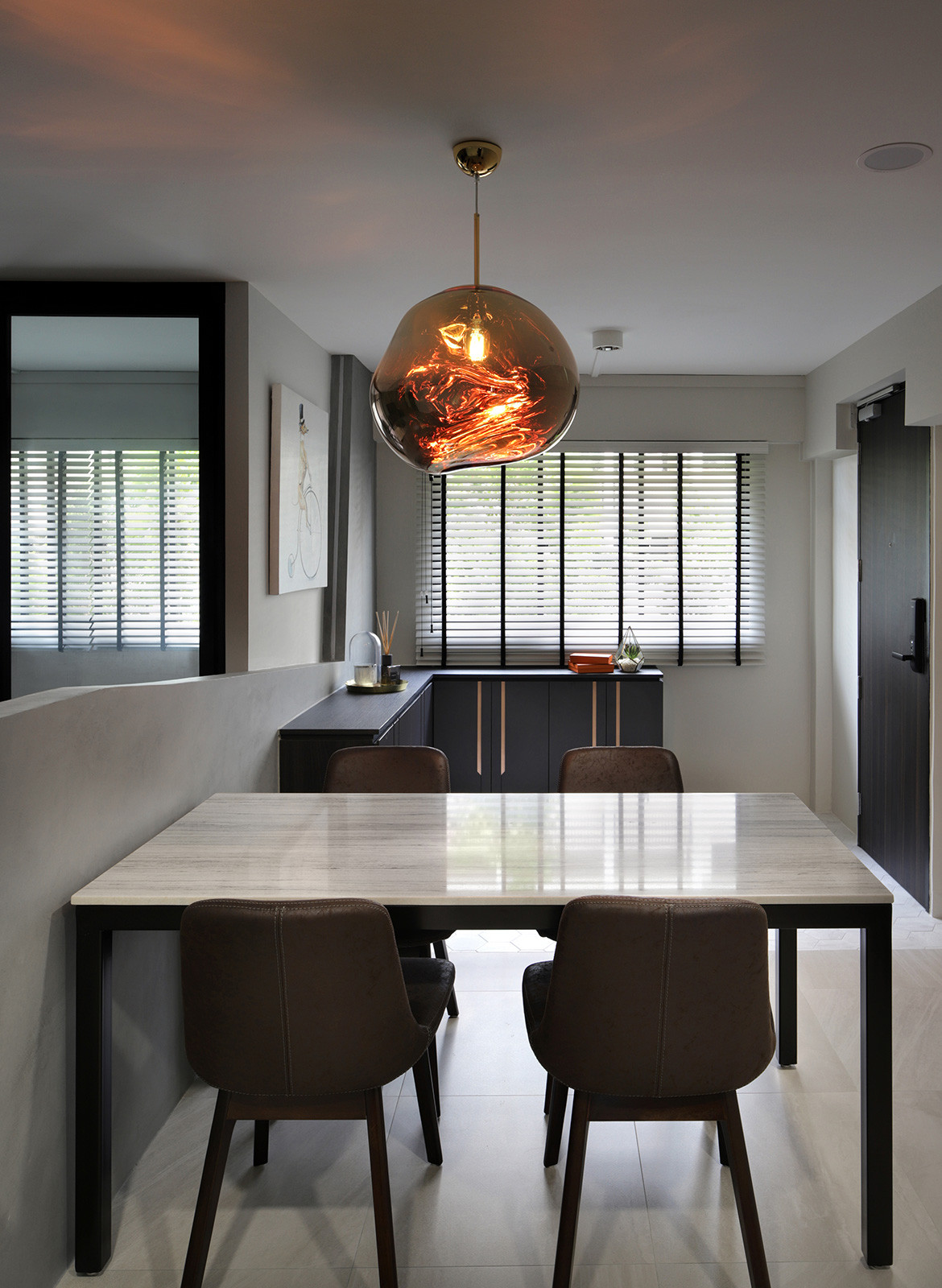 First, the designers converted part of the living area into a gym room. The balcony-like gym, enclosed with black-framed sliding doors, injects an airy feel into the home. The living area sports a feature wall with odd-shaped panels that bring dynamism to the space. A partition that separates the living area from the dining space also alludes to the theme of angular lines. These support the design intent, which is to keep the Tom Dixon pendant light and marble dining table the highlight of the space. Sharing this area is the foyer, where similar panels in grey laminates frame a quirky artwork. Like the TV console, the cabinet here comes with rose gold trimmings.
The design team then worked out an enclosed storeroom and laundry area in the kitchen so that everything has its place. The kitchen is separated from the living and dining area by a glass door. Here, the palette is darker, with wood-look floor tiles, upper cabinets in woodgrain and lower ones in matte black laminates.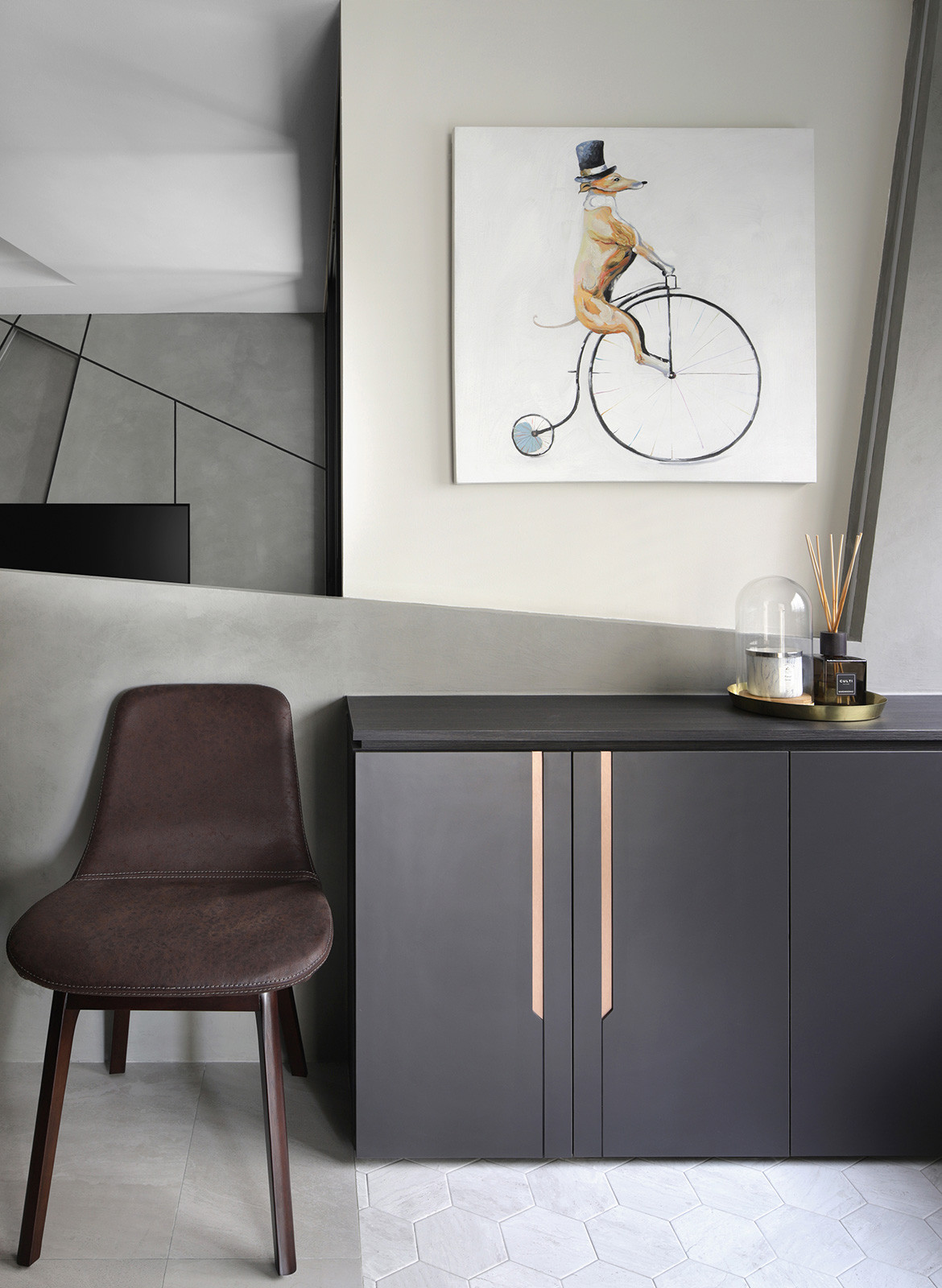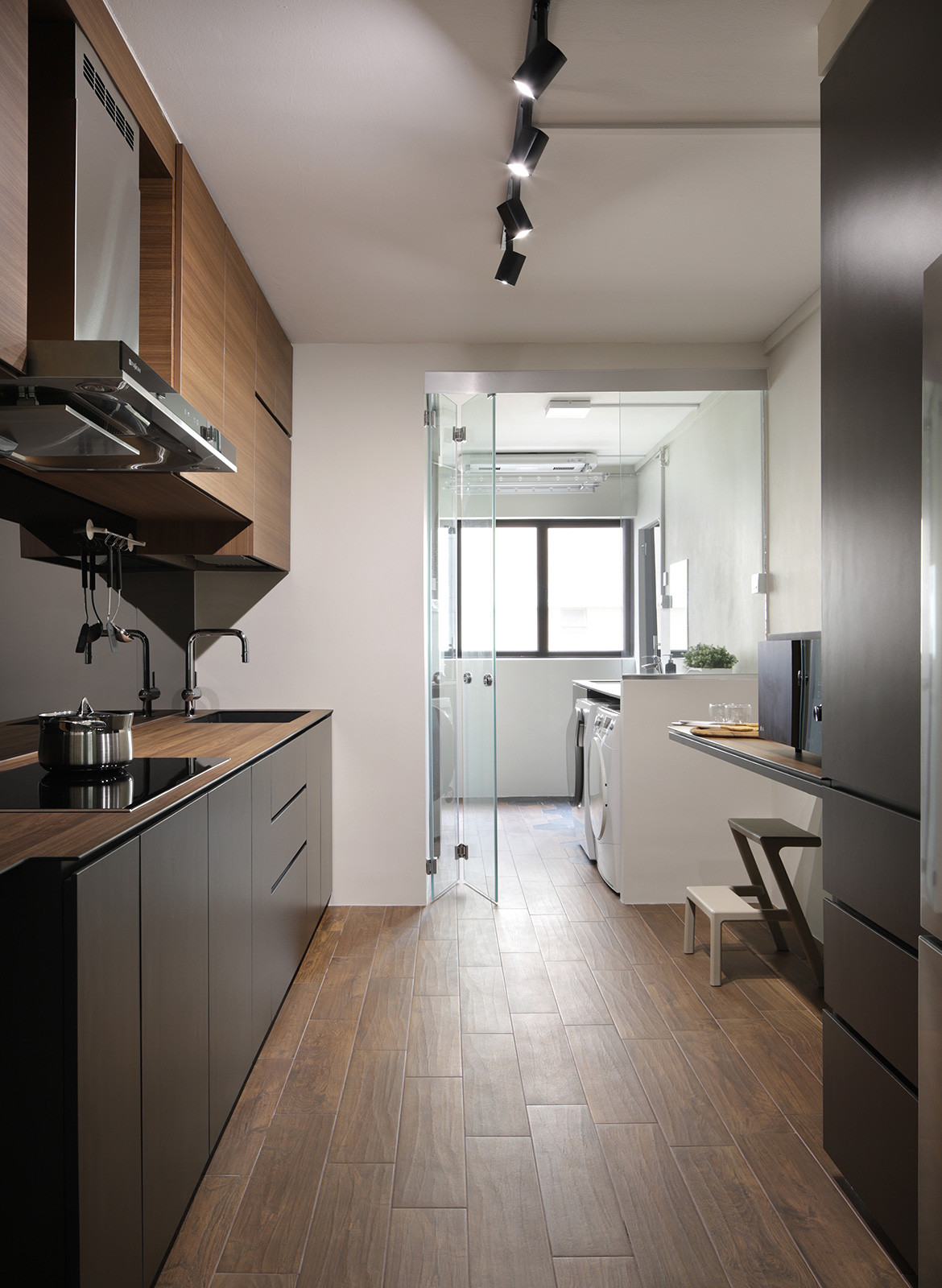 As this is a family of three, the three bedrooms were sufficient for the family's needs. One bedroom belongs to a parent who lives with the couple, and another has been converted into a spacious wardrobe space. This leaves room for a master bedroom dedicated entirely to rest. Grey laminates with metallic inlays evoke the feel of a luxurious hotel room, while hanging bedside lamps with matching metallic features flank the bed. The designers also incorporated a slim table beside the bed – perfect for holding daily-used items, or for the couple to work on their laptops or share breakfast. Shelves built into a niche leaves room for mementoes and photographs.
In all, the metallic accents, matte finishes and angular lines come together to give this home a sophisticated appeal.
Prozfile
prozfile.com.sg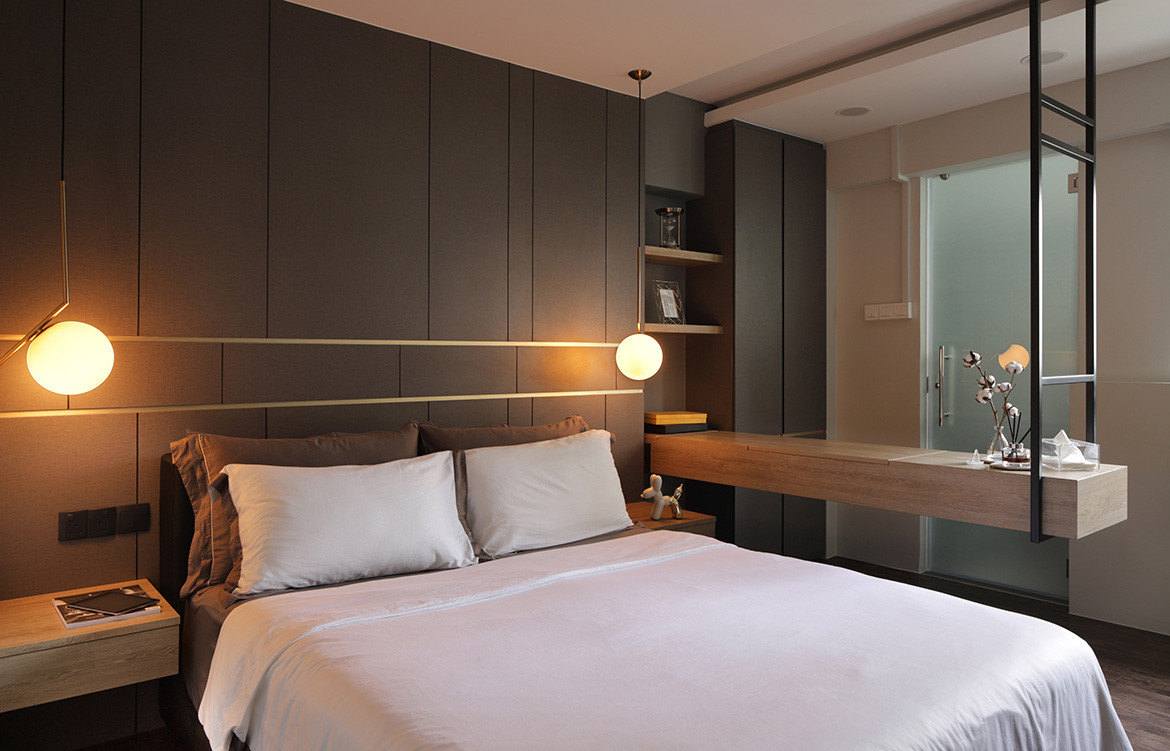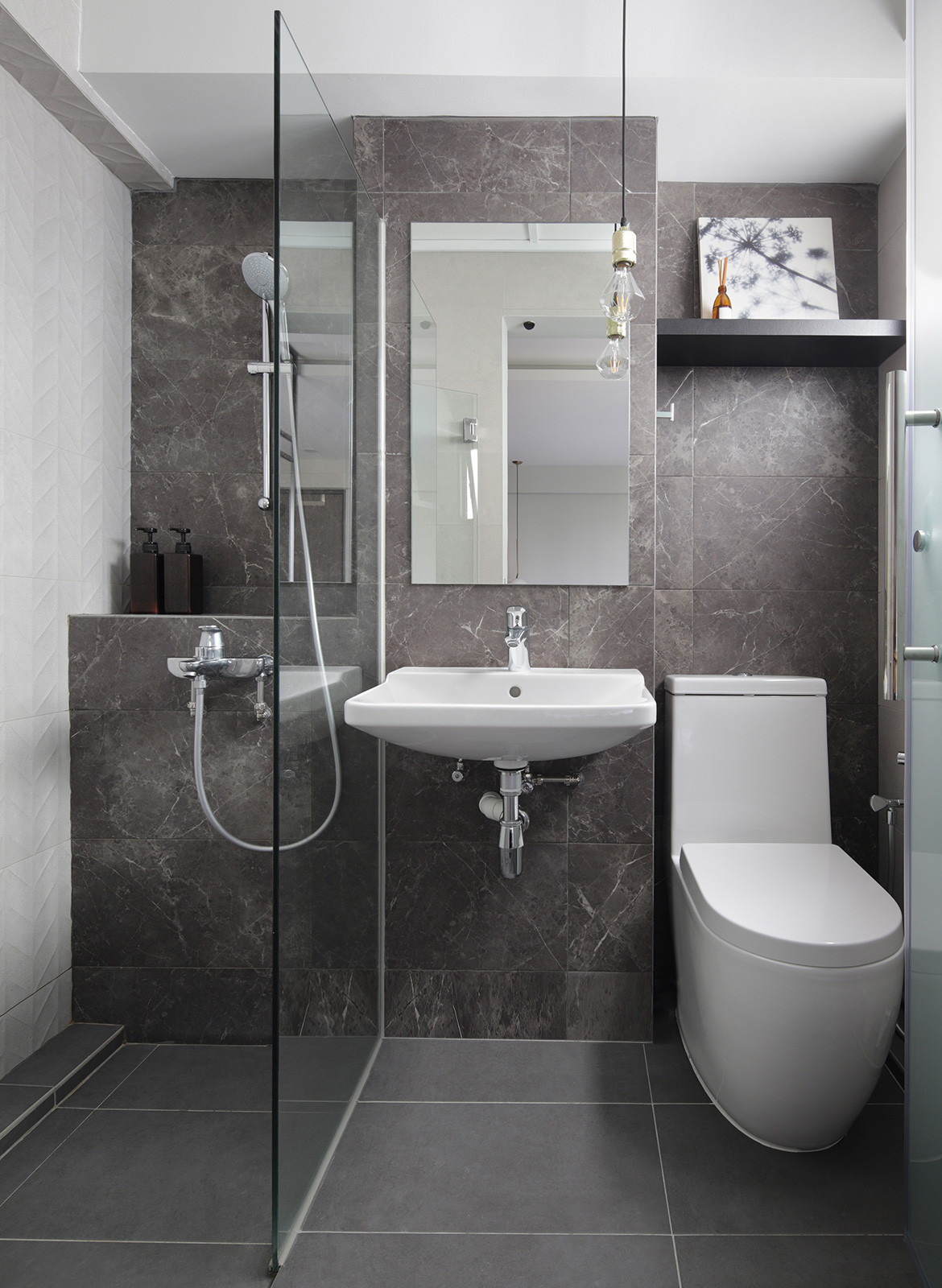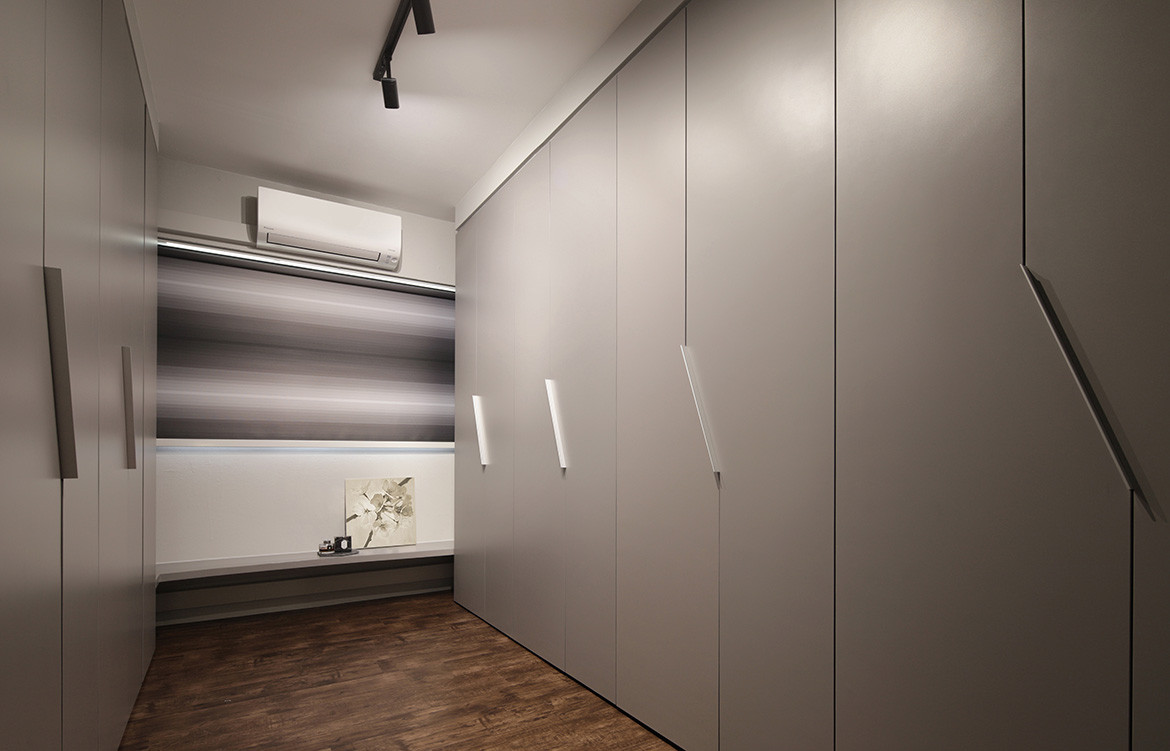 We also think you might like Allan Street House by Gardiner Architects
---