Above: exterior view showing a playful assembly of expressed volumes.
For Filipino architect and art collector, Ed Calma, designing his own home was an opportunity to test discarded ideas from previous projects. It allowed him the luxury to tailor-make spaces for his family and create a haven for his prized art collection.
Ed Calma grew up in the Philippines under the strong influence of his father, Lor Calma, a prominent modernist architect and steel sculptor. He moved to New York to study architecture at Pratt Institute and continued his graduate studies at Columbia University. Having worked in New York for many years, he decided to move back to the Philippines for a more relaxed lifestyle. Bringing his new architectural style to a conservative culture met much resistance at first. Seeing this as a challenge, he created and immersed himself in a world that would manifest his own imaginative spirit. Today, as managing partner of Lor Calma Design, Inc., he has successfully defined himself by cornering the market for the modern approach to architecture in the Philippines. His patrons are young, successful professionals versed in modern design, and older clients who collect art.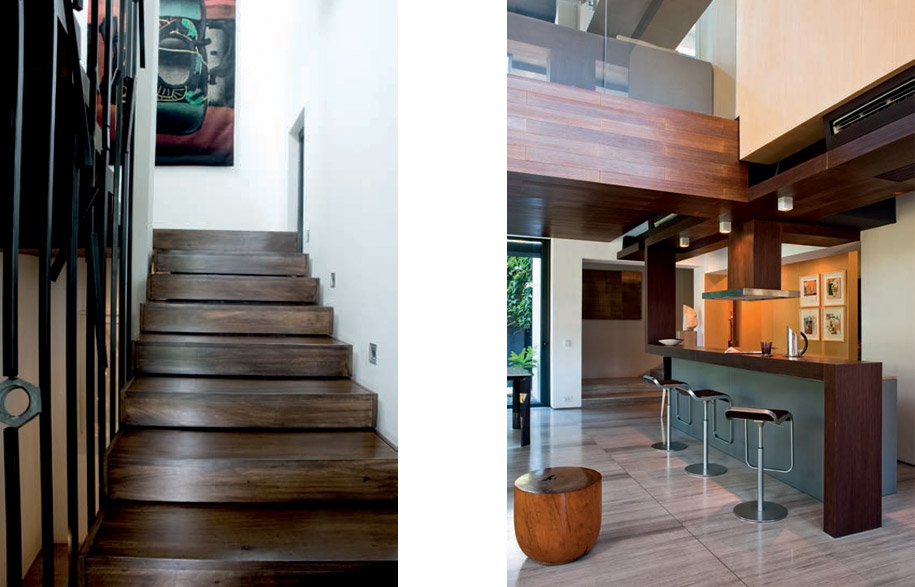 Left: stairs leading to the study on the top level, which overlooks the double-height living room below. 
Right: the services pelmet folds down to become a kitchen counter.
Calma's own house is an assembly of ideas previously pitched to clients, but never implemented. The 'Slice House' as he calls it, started from a basic box that he slowly de-constructed. He moved volumes around and lifted floors so that living spaces overlap to let light enter every space. The result is an asymmetrical composition of inter-penetrating volumes that stand bold in a small corner lot of San Lorenzo Village in Makati City. Although it has elements of brutality with its juxtaposition of blocks and expression of structure and materials, finely detailed timber elements give the form warmth and depth.
The entry to the home is emphasised by an orchestrated assembly of black steel frames and a cantilevered steel canopy dressed in timber battens. Calma trained in steel welding and also worked as a model maker using steel as a medium. His father's influence and familiarity with the material led to an inclination to play around and decorate with steel forms.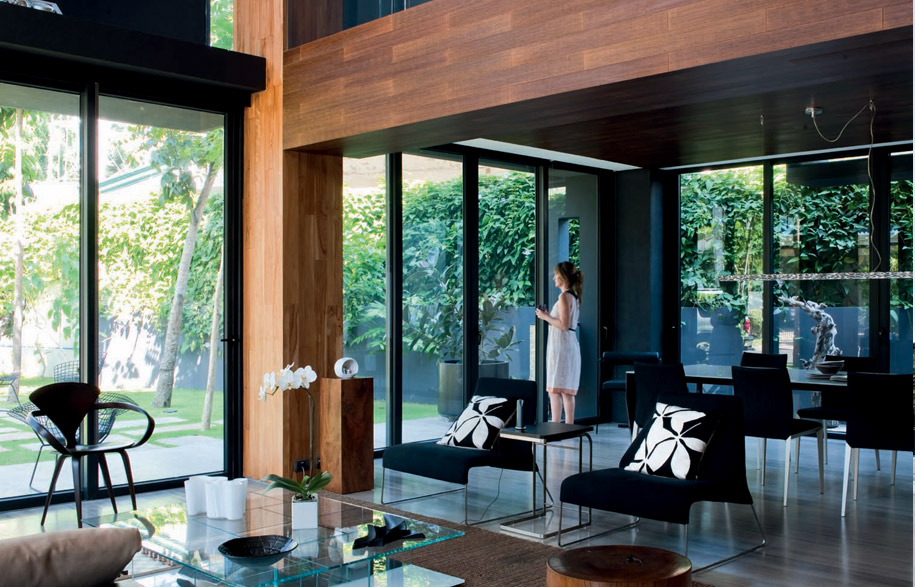 The open plan design opens to the garden and street beyond.
Entering the house, a sense of visual overload can be felt. The extent of Calma's art and furniture collection is revealed and the expressed structure from the outside continues its journey inside. All columns and beams are clad in timber to visually separate from the non-load bearing walls. As Calma's tendency is to over-articulate utilitarian elements of the home, the timber-clad beams continue as a pelmet concealing air conditioning ducts and vents. The kitchen becomes a feature as this pelmet unfolds to become a countertop. Every space and function is expressed as a volume through materials or finish.
Traditional strategies for security and privacy are re-defined as the main living area, dining and kitchen located on the ground floor are visible from outside. This is more evident at night when these spaces are lit. Having a small lot and living in a residential community where neighbours know each other gave Calma the assurance to explore this approach.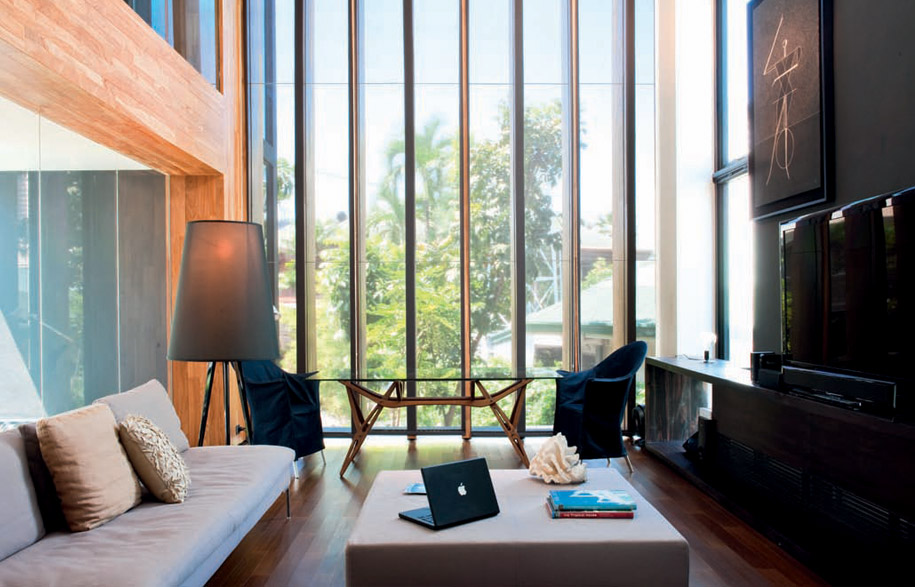 The children's double-height living room also overlooks the main living room on the ground level.
The ground floor has an open plan arrangement. The double-height living room, dining room and kitchen open to the garden and the street beyond. The spaces flow freely, both horizontally and vertically. At less than 400m2 in area, Calma did not want to compartmentalise the spaces of his house with walls. There is a living area on each floor. The more private double-height children's living room on the second level is poised over the dining room, allowing visual connection between all living areas. A volume on the east side defines the bedroom zone. A generous master bedroom is on the top level off the study room via a specially designed reading and prayer nook for Calma's wife. The master ensuite's shower is partially open to the sky, admitting light and rain into the space. Two children's bedrooms are located on the second floor and one has a clever partition door that splits the room in half to make space for the occasional guest. Staff quarters, a staff courtyard, and a wet kitchen are tucked behind the main kitchen.
An avid art and furniture collector, Calma has strategically designed pockets, niches and podiums in the house for major works. A tread is extended and turned up to allow a marble sculpture to sit on it. The balustrade from the second to third fl oor is a steel art installation by local artist, Reg Yuson, which he purposely designed for the Calma home.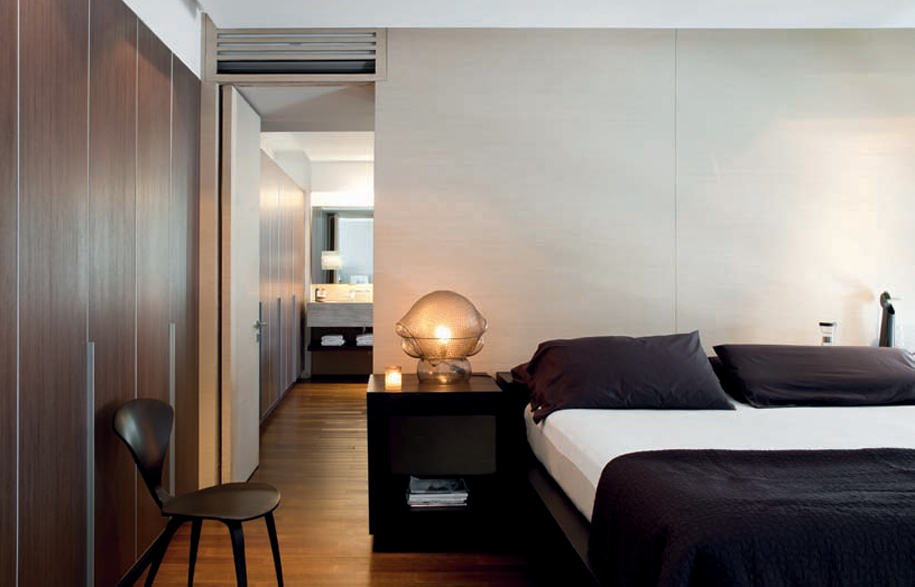 The master bedroom on the top level.
The interiors are simply detailed to serve as a backdrop to Calma's collection of designer furniture. A stylised interpretation of the Filipino tendency of visual clutter, he has fi lled his rooms with layers of art, books, accessories and furniture from Moroso, Flexform, Eileen Gray, Le Corbusier, Norman Cherner, Charles and Ray Eames, Eero Saarinen, Antonio Citterio, Richard Schultz and local designer, Kenneth Cobonpue, among many other pieces.
Sustainable solutions are optimised in this home. The green roof doubles as insulation, rainwater is collected and grey water recycled. Although there is cross-fl ow ventilation, air conditioning is needed in this climate so an energy-effi cient inverter system is used and the living rooms partitioned by glass to contain the zones. The use of external timber louvres and internal shades is dominant on the western façade, while a dense group of trees in front of the windows fi lters the harsh afternoon sun and adds privacy to the second fl oor living room.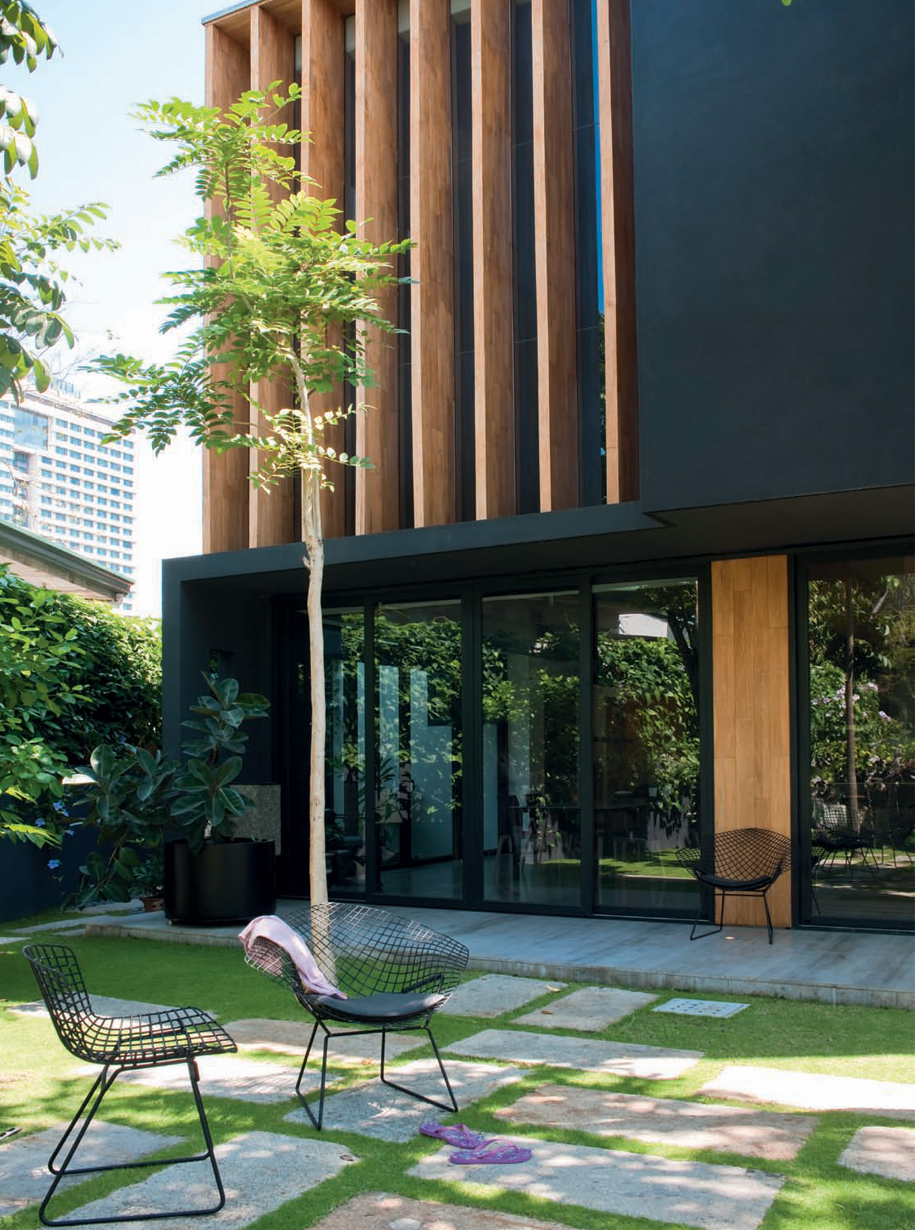 The double-height living room on the second level is articulated by vertical timber battens from outside.
The Calma house may overwhelm at fi rst, but its warmth, intimate scale and proportions make it very inviting. With its transparent lower level, the family share their art and space with curious people wanting to have a peek.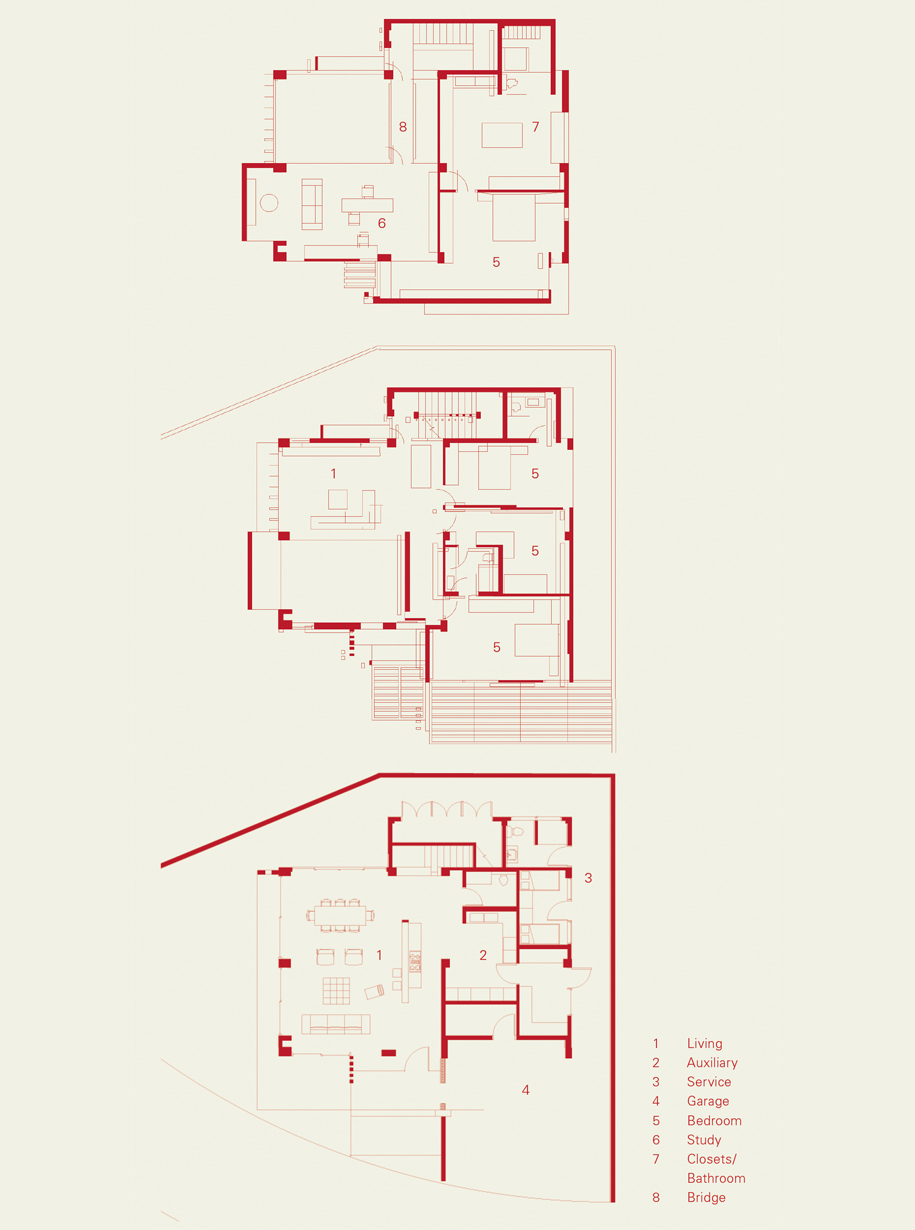 Ed Calma Architect
edcalma.com
Photography: Jordi Canosa/Photo for Press
jordicanosa.com
Tags: Ed Calma, Home Architecture, House Architecture, Residential Architecture
---