Designed by JAM Architects in the spirit of East Brunswick Village's "My beating heart" theme, 3 Bluestone Ways is bound to make any heart flutter. Expanding on EBV's inner north urban redevelopment project, the new address embraces a sustainable, community-driven city living thoughtfully devised to make people feel good.
"The entire project is based on a traditional village's model of social, environmental and cultural sustainability," explains Chris Manton, Director at JAM Architects. The mindfully planned out development features an incredibly high standard of services and amenities – including the rooftop and podium gardens – with a strong undercurrent of community spirit manifesting through recreational spaces, playgrounds and communal vegetable plots underpinning its progressive premise.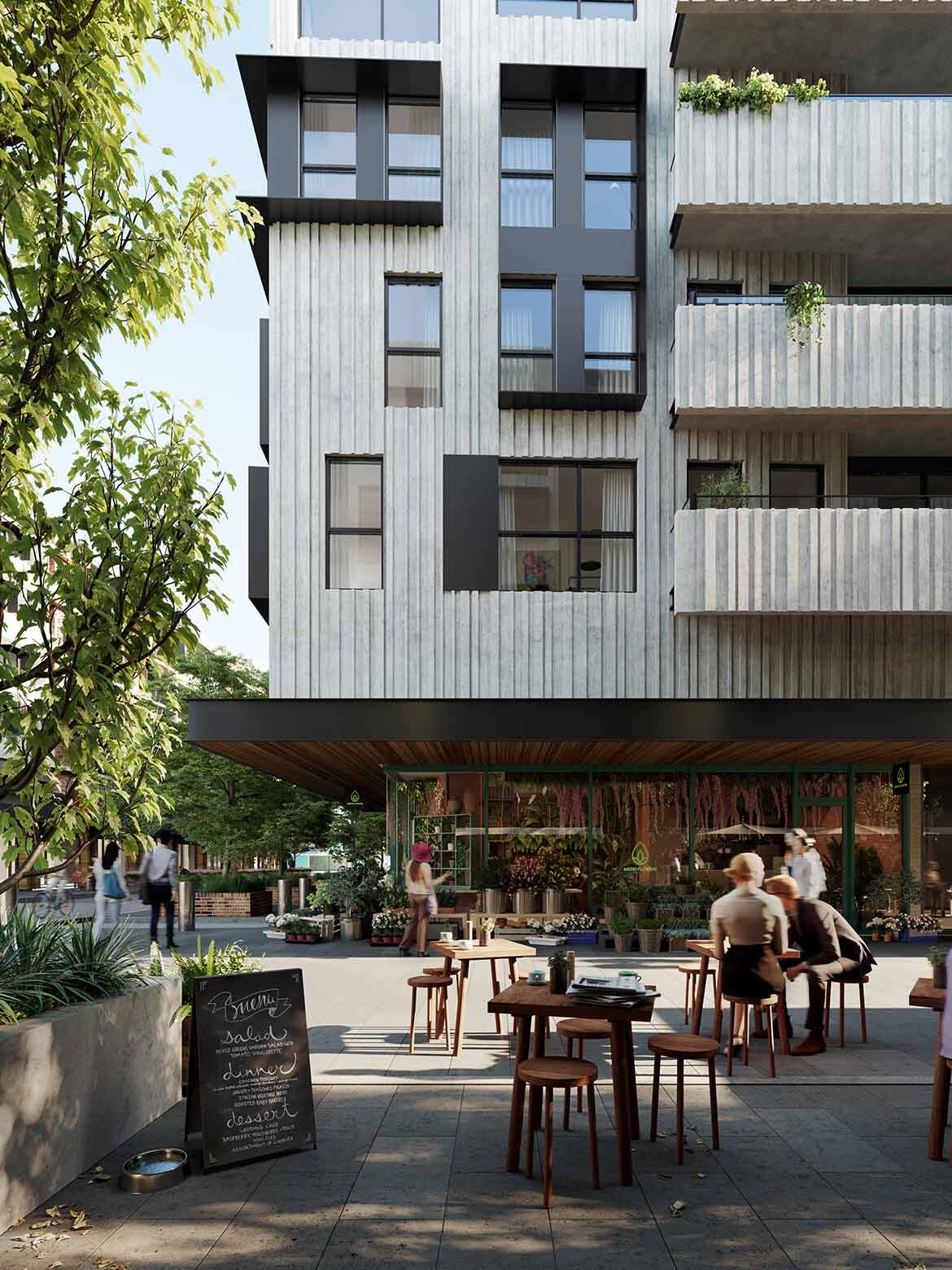 In establishing a clear visual connection with East Brunswick Village, this community-driven complex is set to become its captivating core. "This new address is one of EBV's largest, and it's going to be one of its most vibrant and social," the Director of JAM Architects says. Alongside private entertainment spaces, the new complex has been designed to foster connection. "The rooftop is designed for socialising, there's a boutique cinema on the ground floor, while EBV's restaurant alley travels the length of a pedestrian laneway and connects this address to its neighbour, the wellbeing-themed 8 Bluestone Way."
In keeping with the wellness focus of the neighbouring address, the concept of wellbeing sits at the very heart of the new development, informing the mood-enhancing architecture of the complex and the attentively curated palette. "There's plenty of research showing the emotional significance and potential impact of various colours on our feelings and energy levels, and we wanted to make this particular address as vibrant and engaging as possible," Chris clarifies.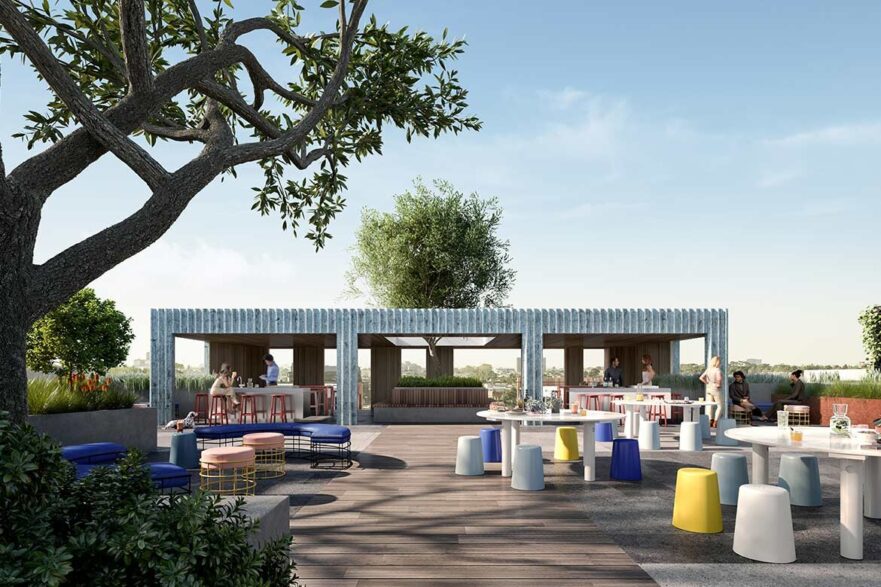 This design intent sees the exterior facade maintain a clear visual dialogue with the site's industrial past. The raw concrete corners enhance the refined, and somewhat heavy-duty character of the exterior, while the maroon-hued vertical panelling across the frontage generates a sense of inviting earthiness and depth. Enhancing connection to its geographical context, this urban village features recycled timber and quarried bluestone from the site which has been integrated throughout the laneways, architecture and also landscaping, masterfully brought to life by Very Edible Gardens. "Tactile brickwork and expressed steel are reinterpreted in a contemporary way," Chris adds.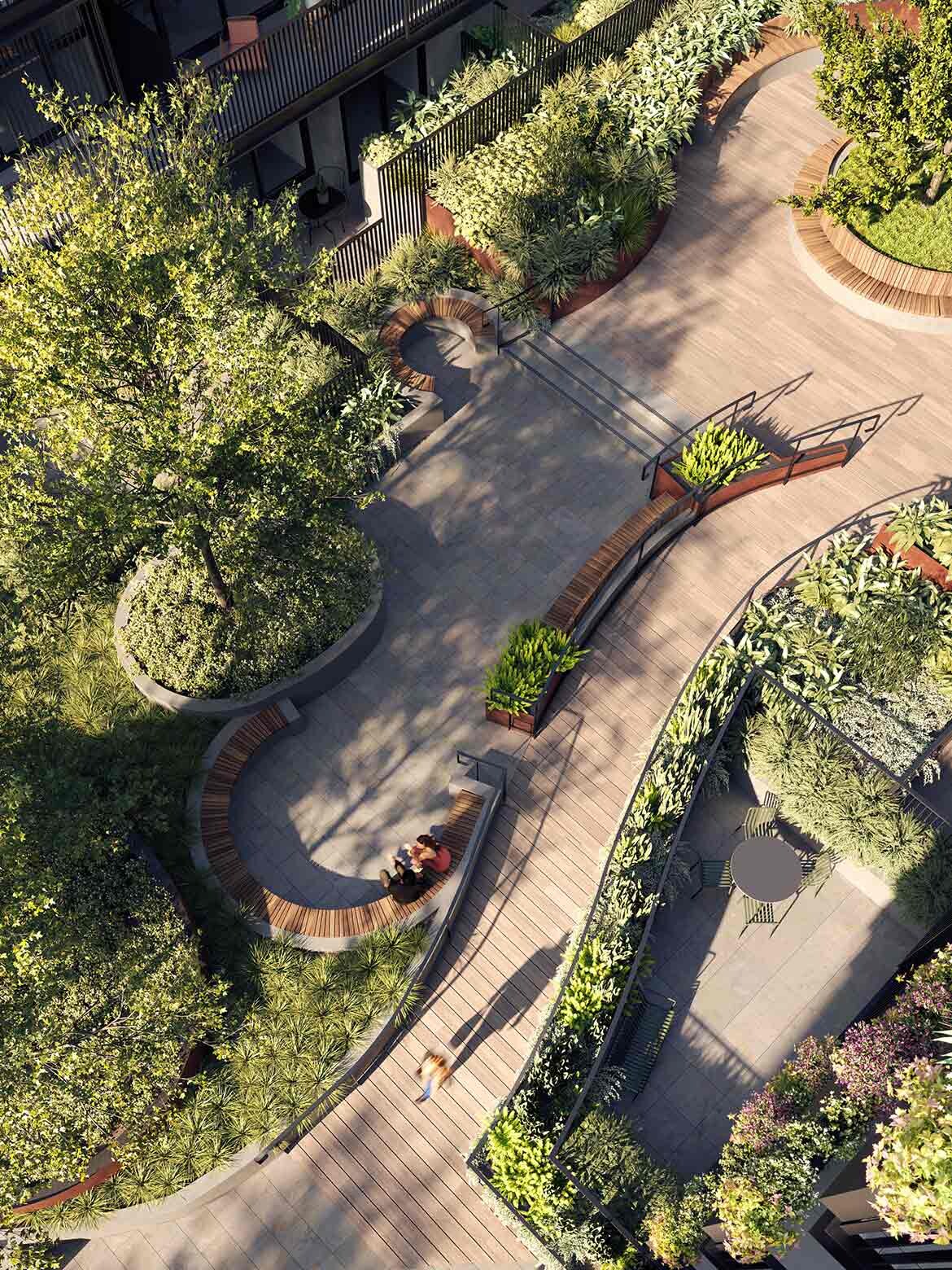 The interiors are anchored in the calming blend of gentle blue and green hues, giving the residents ample space to generously integrate their own colour preferences, with the display suite aptly illustrating just how a splash of colour can magnify the beauty of these mindfully appointed spaces. Designed by Melbourne-based interior designer and stylist Bree Leech, the enchanting interior showcases the practical aspect of incorporating colour in the apartment's spatial configuration and highlights its mood-boosting properties. "Colour is an excellent tool for creating a mood or developing the character of the interior without taking up physical space and indeed can even create the illusion of space, delineate areas in a room and create a focal point," Bree explains, adding that colour can be useful in separating work from leisure for those working from home.
"Imagine your favourite colour greeting you every morning – on a feature wall, in artwork you love or decor and accessories in the home – all creating an immediate uplifting mood and an interior that makes you feel happy and motivated or calm and restful. Your choice of colour and how you choose to use it within your home has the ability to do this," the interior designer sums up aptly.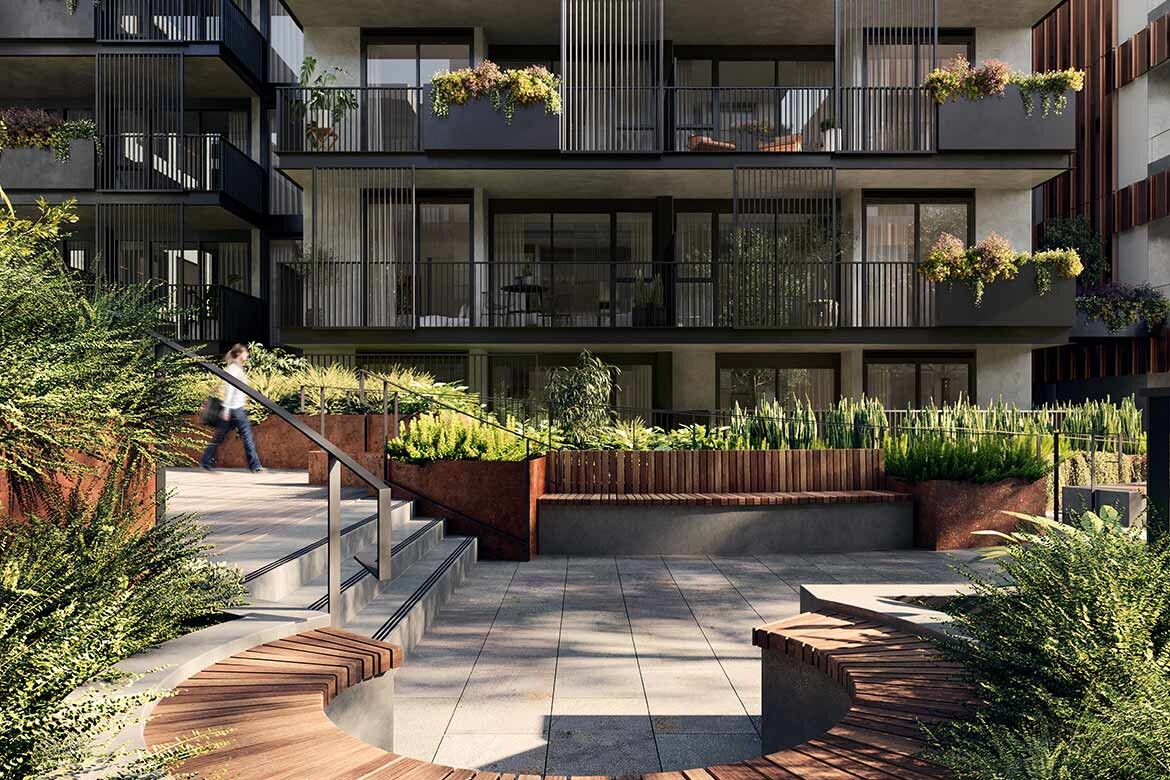 Just as much as the interiors act as an opportunity for self-expression, the communal areas of the building have been designed to encourage inspiration and foster creativity. ADA Public Art has been engaged to carry the vibrant theme of the development throughout the interiors through a selection of art curated for the new address. "We're engaging local artists to create great public art that will stand the test of time. There will be public art throughout EBV, in a range of mediums – sculpture, photography, and murals," Andy Dinant, Cultural Consultant and Director of ADA Public Art explains
The collection will include LED lighting displays on the rooftop and a fusion of colourful, contemporary artworks and environmentally responsible pieces that will be peppered throughout the development. "We're especially interested in pieces that will drive conversation, connection and community," adds Andy.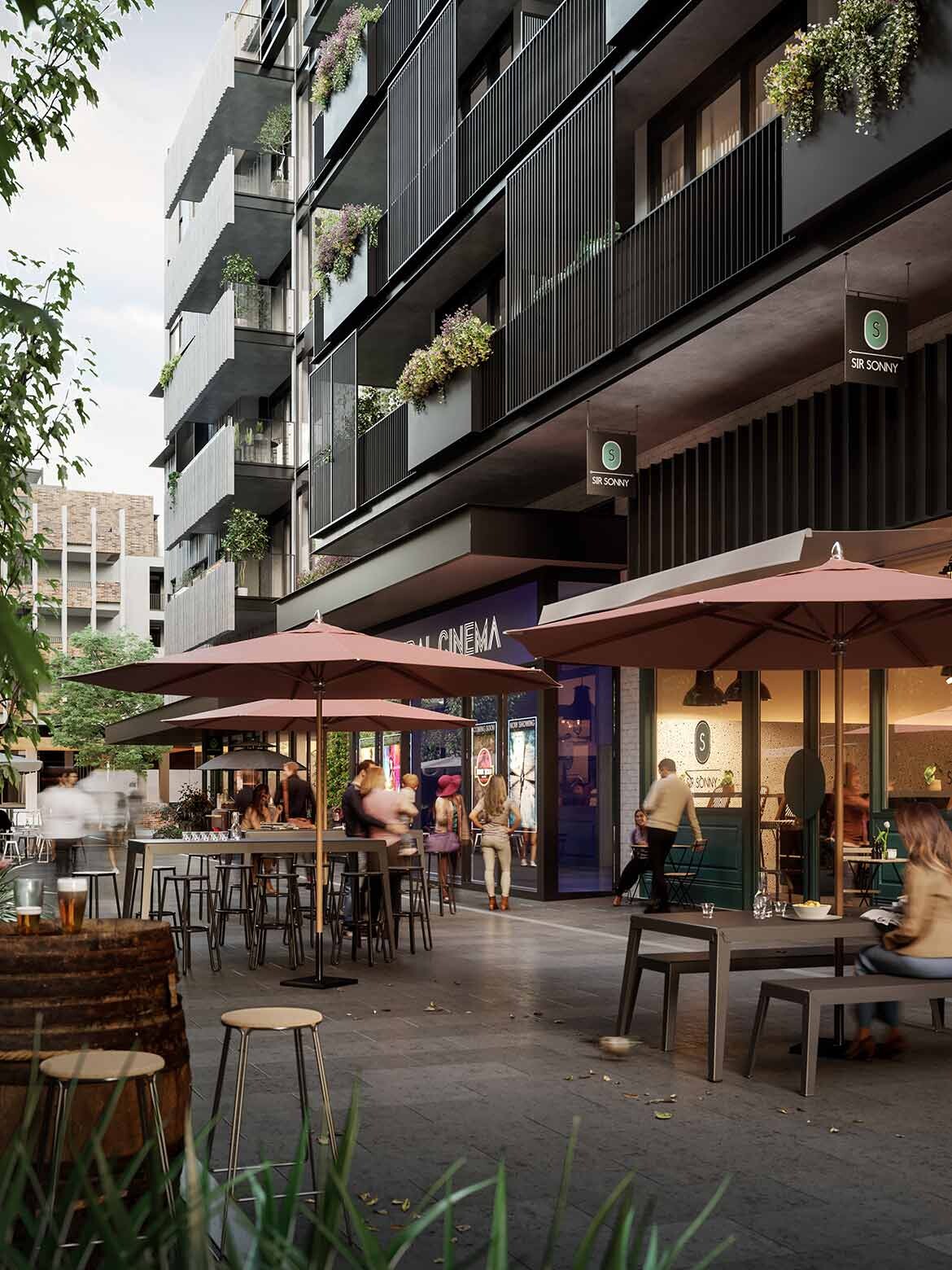 With the generous brushstrokes of mood-enhancing architecture, colour-driven interiors, pronounced focus on public art, and up and downbeat entertainment options, the new address paints outside the lines of traditional apartment living. Designed to enhance the lives of those residing within and embrace the notion of social, environmental and cultural sustainability, 3 Bluestone Way sets an invigorating precedent for the concept of an urban village, undoubtedly becoming East Brunswick Village's beating heart.
East Brunswick Village – 3 Bluestone Way
---