When the outside world is already so glorious it seems almost rude to cut through it with harsh, unnatural form. Mrs Sippy Bali, a new Balinese restaurant and bar, by contrast frames the exterior world, brings it into focus, and transforms it into stand-alone artefacts of beauty.
A favourite night spot in Sydney's Double Bay, co-owners Andrew Stanway and Ben May have expanded the name to Seminyak, a beach at the southern end of Bali, in what is due to be the next luxury venue for Bali's celebrated frivolity.
Reaching out to Akin Creative for the design, both Andrew and Ben sought to emulate and build on the existing colour, energy and ebullience of the location. "It's not about us, it's about Bali, said Andrew. "It's about what is here already, and what has made Bali such an amazing place. We are not trying to reinvent the wheel, we just want the wheel to keep on turning."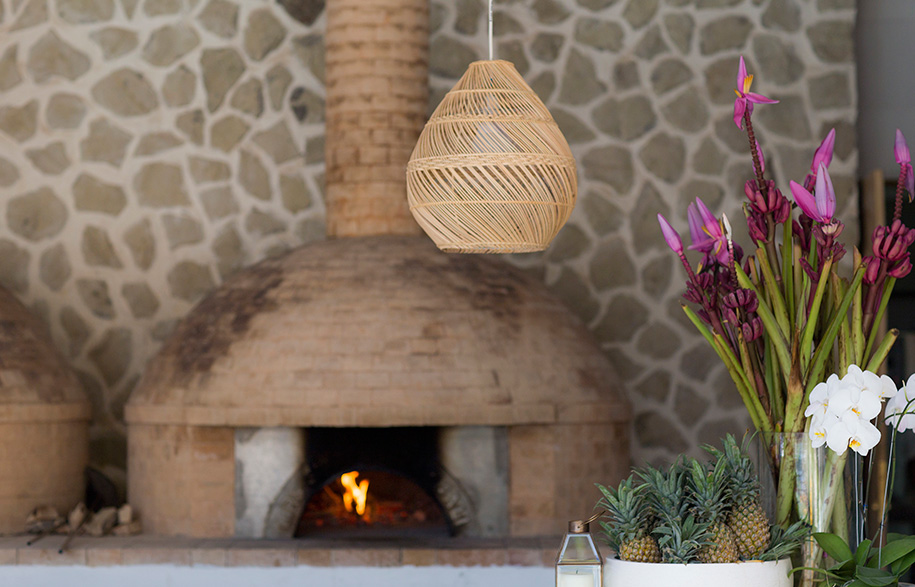 The wobbled bone-like curvature on the main saltwater pool and attached diving pool create a salient centrepiece. The cemented separation of each gradients to rise and fall as though sand in a shallow ocean pull, crafted by currents. Daybeds cradle the soft contours of the pool, abandoning the strict side-by-side formation to suggest the seeping movement of a natural lagoon. Mediterranean-style architecture seemingly protrudes from the calm of the water with curving whitewashed stairs cutting out geometric silhouettes in the natural landscape.
Following a minimal colour palette that borrows from local stone, timber and brick creates a soft and clean canvas. The pool is transformed into a bed of pure white sand while the surrounding low sitting stools proudly site their veining timber, exuding a naturalness that melds the space into its surrounding locale. This focus on tonal, calming materials delineates the greenery beyond and, no doubt, attempts to soften the space when adorning a mass of patterned bikini-clad bodies.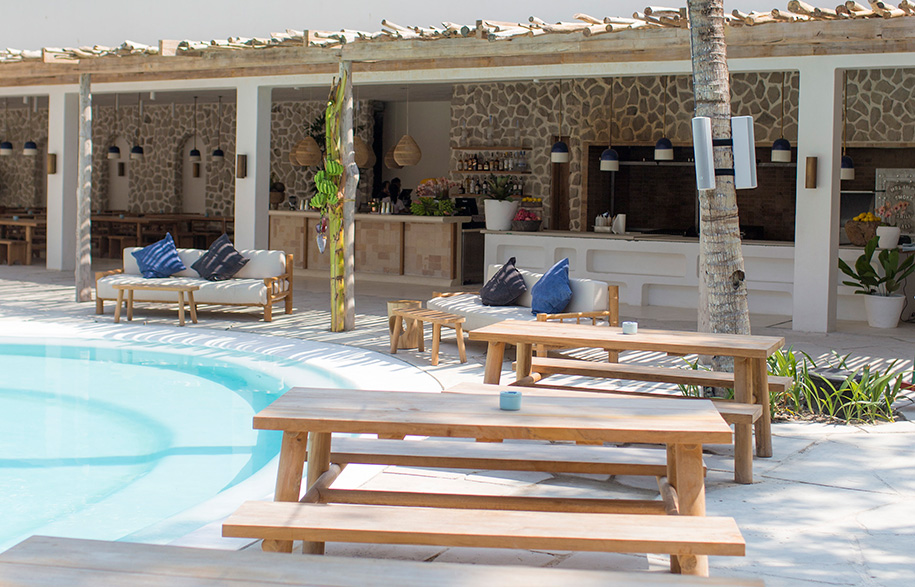 The pearlescent whites are offset from the strong inclusion of timber in the furniture, heavy exposed beams and stick roof shading enclosing the pool-side bar. Reminiscent to the three little pigs, this overhead feature of rough-cut local timber branches emits an excess of light and air without visually disturbing the raw edges followed throughout the space. Accents of vibrant foliage and exotic fruits decorate the space, where the rough texture and angular shape is reconsidered as a piece of art that needs no further embellishment.
The underpinning ethos for Mrs Sippy Bali is keeping things simple and paired-back, as though it not a man-made structure at all. And this is because, as Andrew described, "it's just about fun, that's our core value. It's about everyone having a great time with music, food, drinks and one of the best pools in Bali." The space is a backdrop that aims to enhance and guide the experience, not overwhelm.
Mrs Sippy Bali
mrssippybali.com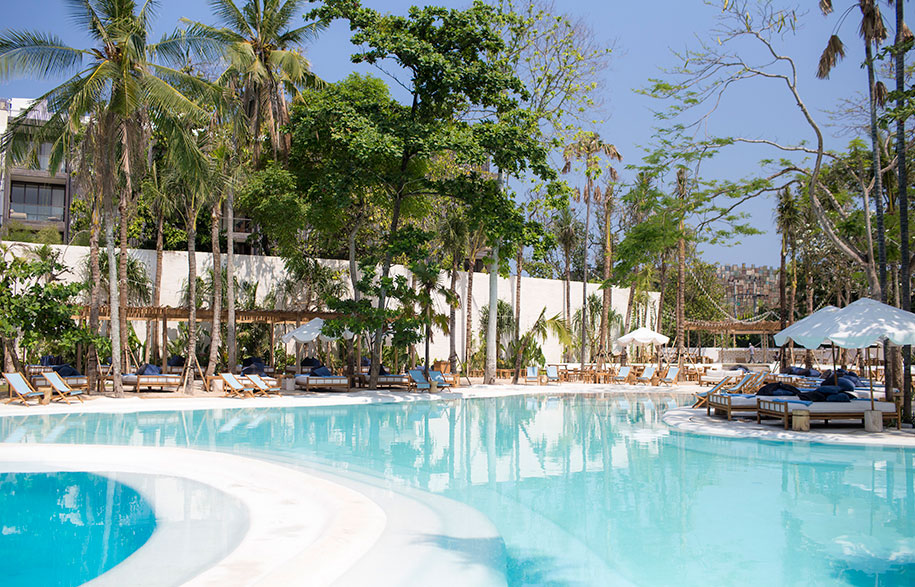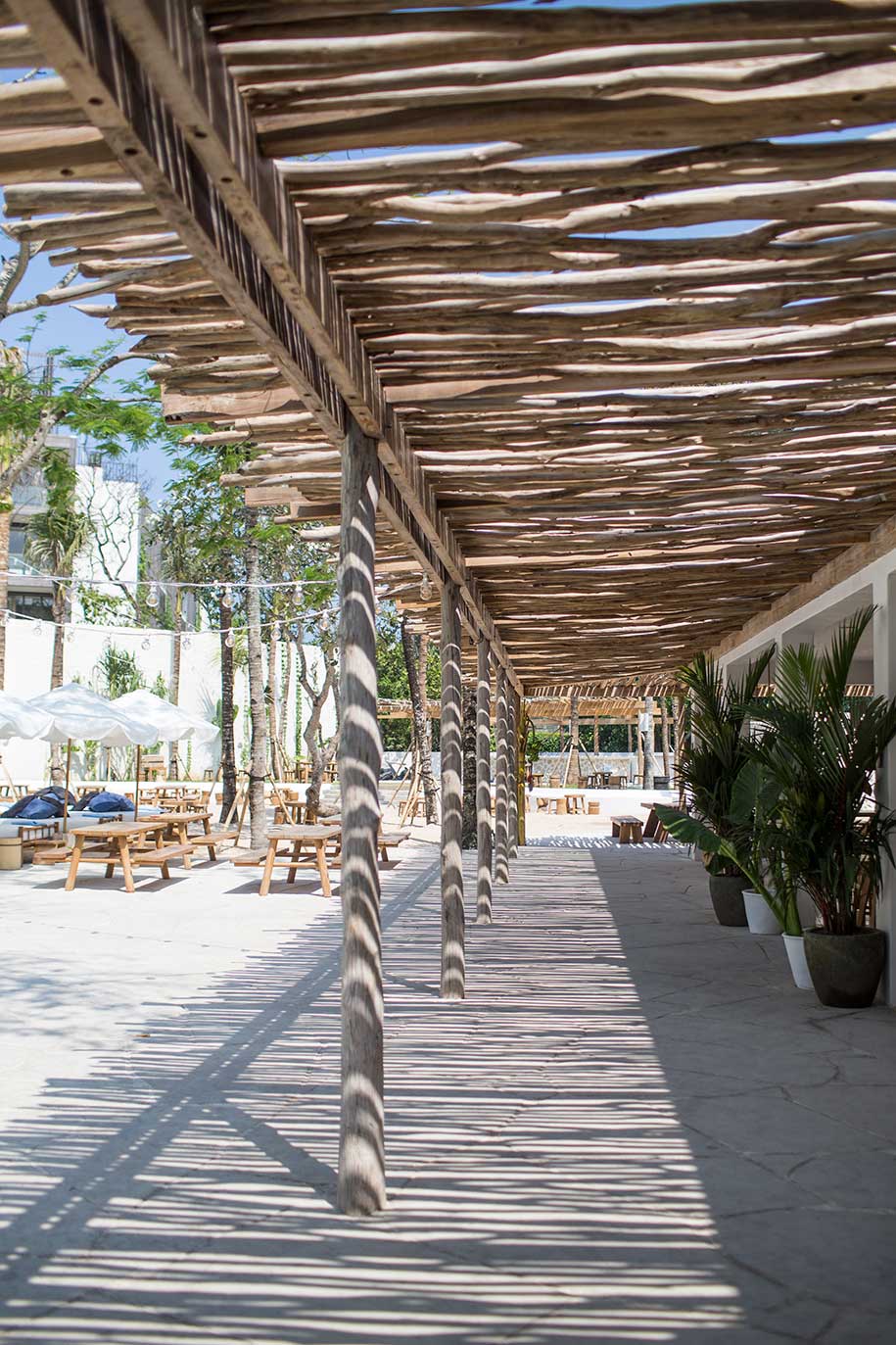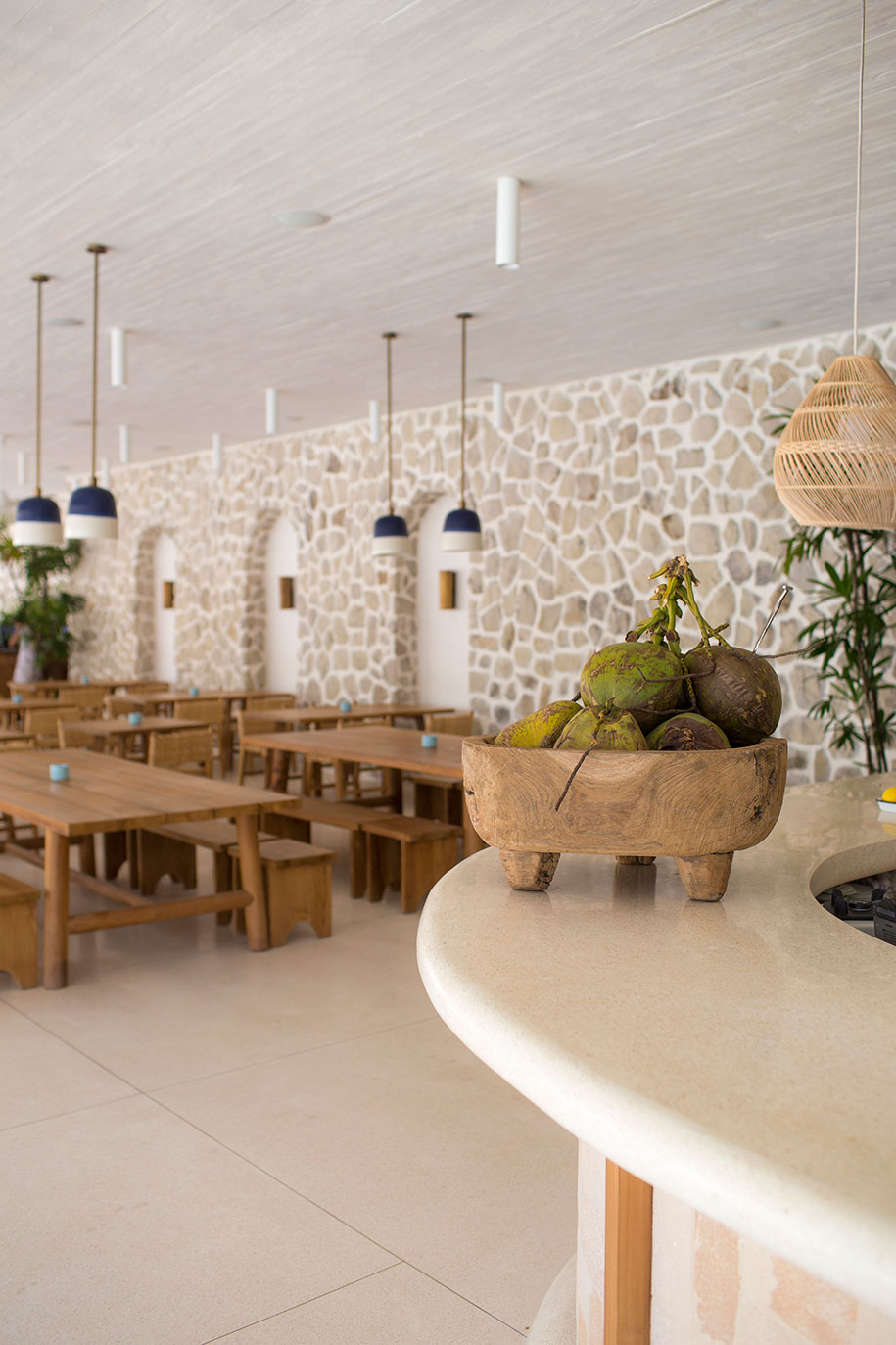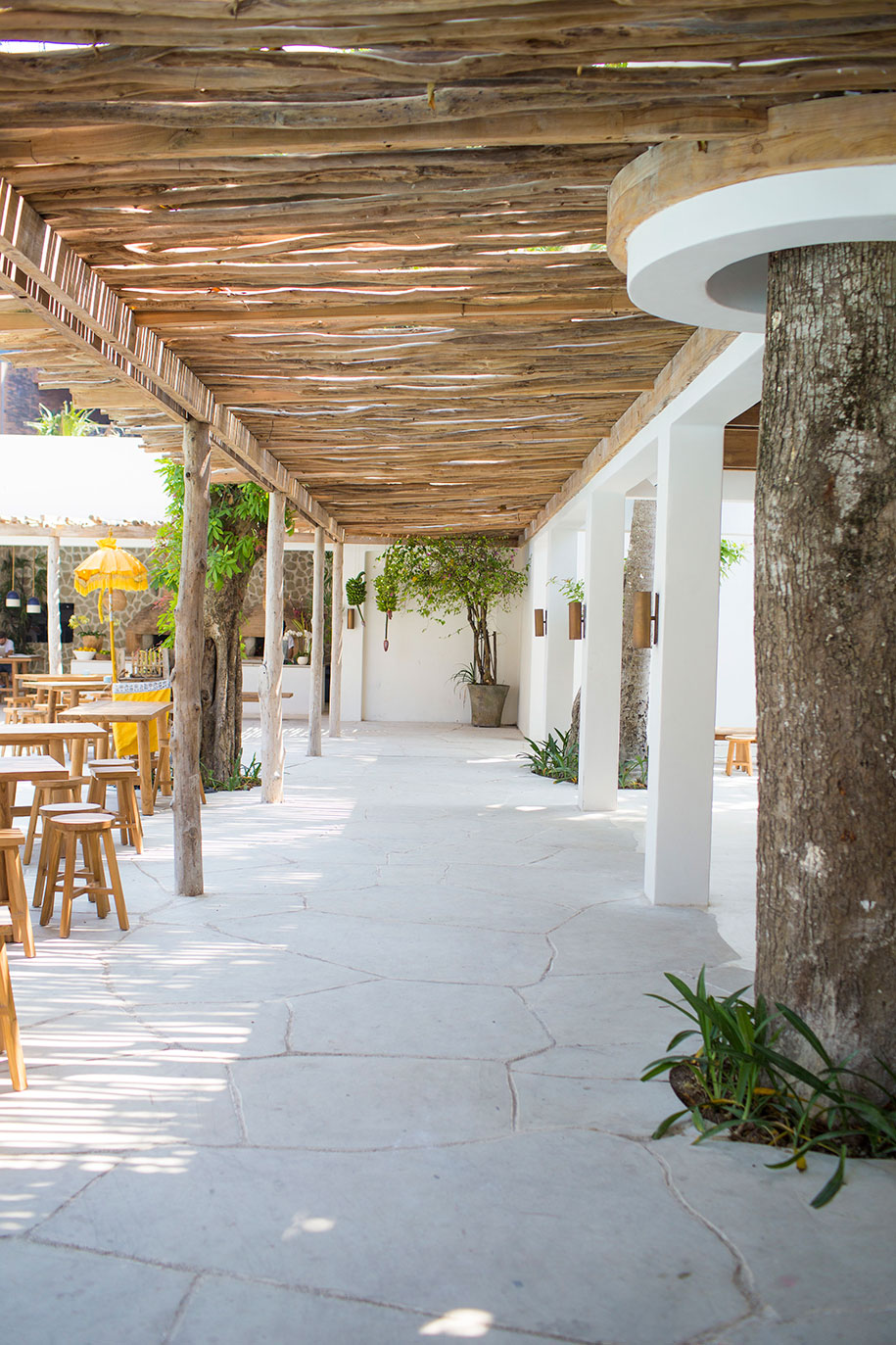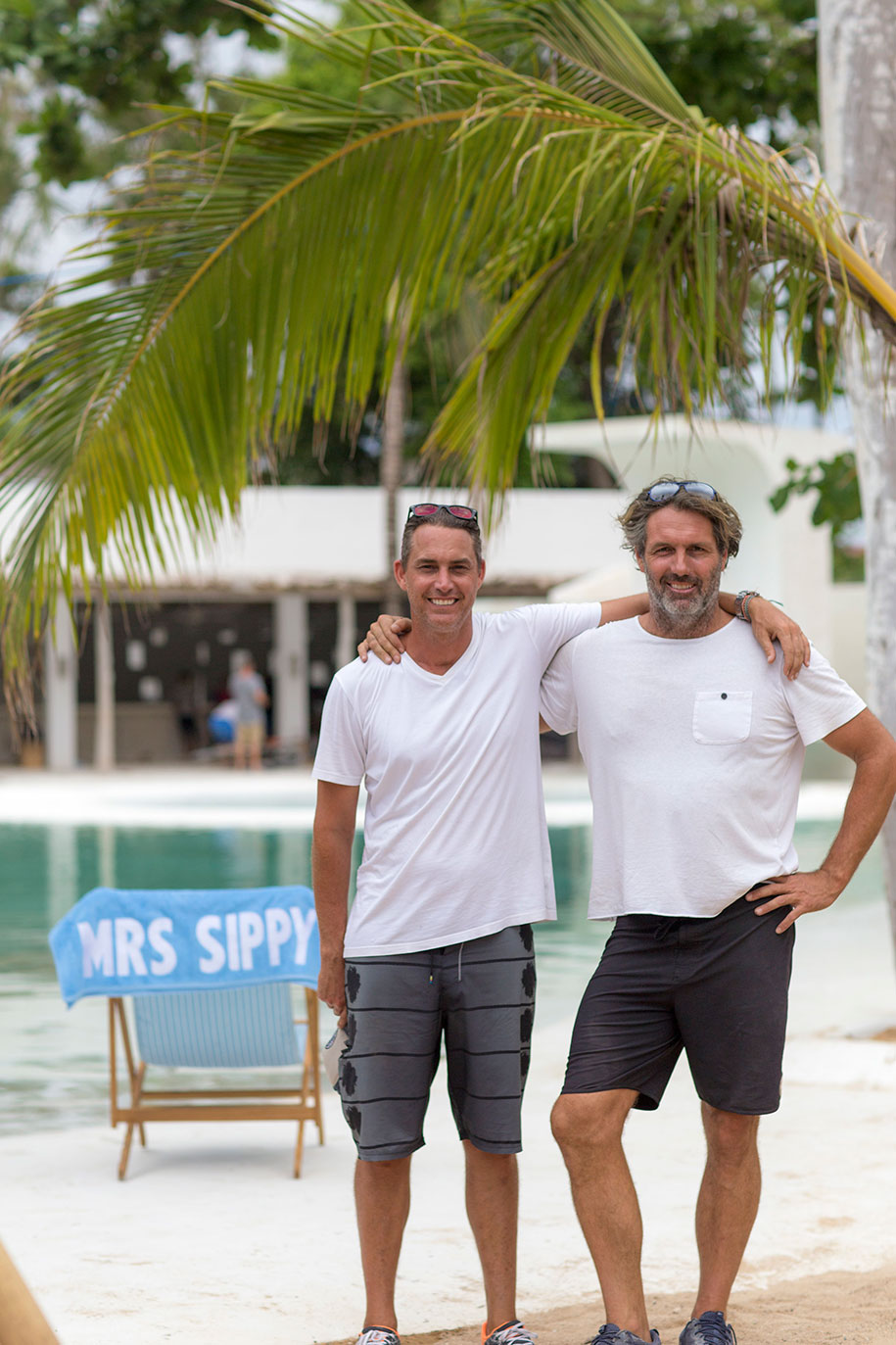 ---