Originally built in the 1880s, this school in Brunswick West, Melbourne was left empty for a number of years. Mike Hill and his partner, Lorna Pitt bought it in the early 1990s and put into practice their sustainable approach to development. "The black water, grey water and roof water are all recycled and the sewerage is treated on site," says Hill, co-director of Westwyck, an environmental development company. "We've recycled materials wherever possible and we've used native, droughtresistant plants," says Pitt, who worked closely with landscape designers Mel Ogden and Leanne O'Shey.
Hill and Pitt even selected their builders and tradespeople from the local area, minimising their carbon footprint due to travel. Other sustainable hallmarks of the development, which includes Hill and Pitt's own home/office and six other apartments, are the vegetable gardens and the area set aside as bicycle storage for residents. "We kept a gas oven in storage for seven years, knowing it would be integrated into our kitchen," adds Pitt.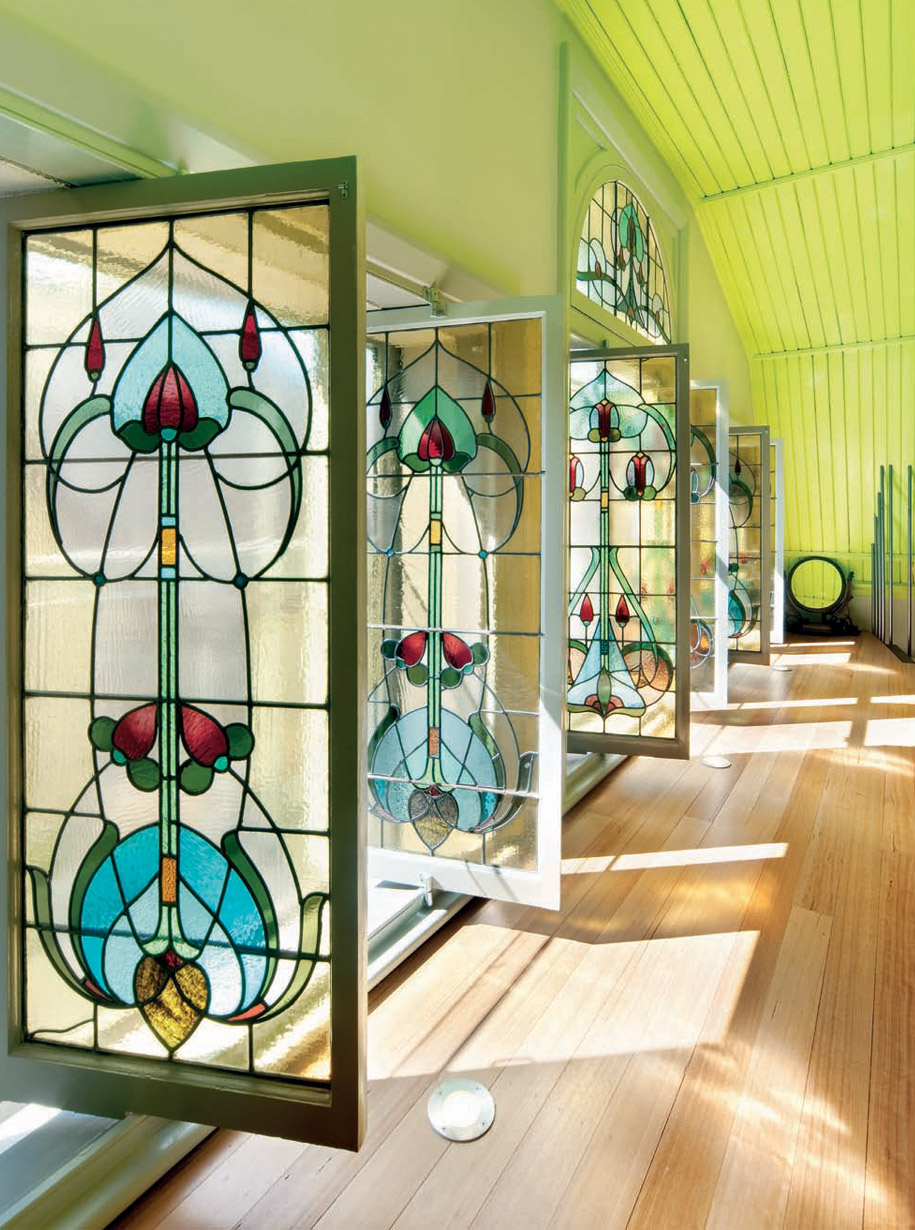 The drill hall at Westwyck, built slightly later than the school in 1912, was always earmarked for the couple's new home. With soaring seven metre-high ceilings and original leadlight windows, it would not only provide a comfortable abode, but could demonstrate a strong commitment to sustainable principles. "We'd seen a church that Multiplicity had converted into a home in central Victoria. You could see their restraint, as much as their artistic minds," says Pitt.
While the bluestone church (which received an architectural award in 2004) is different to this inner-city drill hall, the volumes and spatial qualities are not dissimilar. "In both cases, we wanted to express the structure of the buildings, while maintaining their integrity," says architect, Tim O'Sullivan, who works closely with his wife, business partner and interior designer Sioux Clark. "Both buildings lacked natural light. They were both quite oppressive as homes to live in," adds Clark.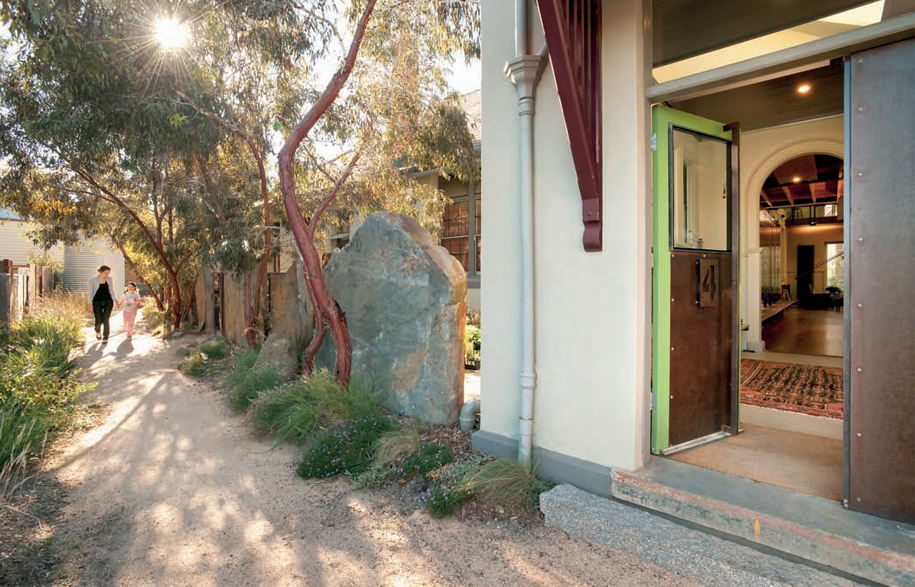 Multiplicity retained the drill hall's volume, as well as original features, including timber floors, hydronic heating panels and exquisite decorative Art Nouveau-style tie rods. Even a large timber table, once used by students, has been re-fashioned into the kitchen island bench. Some of the less-than-perfect features in the building have also been retained. Original wall tiles in the entrance show their age, with a few blemishes and cracks. "How would you replace these?" asks Clark rhetorically, pointing out the rich earthy colour of the border tiles.
Although the slatted timber bench at the entrance to the home is clearly new, its dimensions, as well as its position, suggests school children coming in from the cold and dropping down their bags. Immediately inside the entrance, once a school room is now Westwyck's home office, delineated by an acrylic and steel sliding door. "We designed the spaces to be as flexible as possible. This room could also be used for guest accommodation or simply a second living area," says O'Sullivan.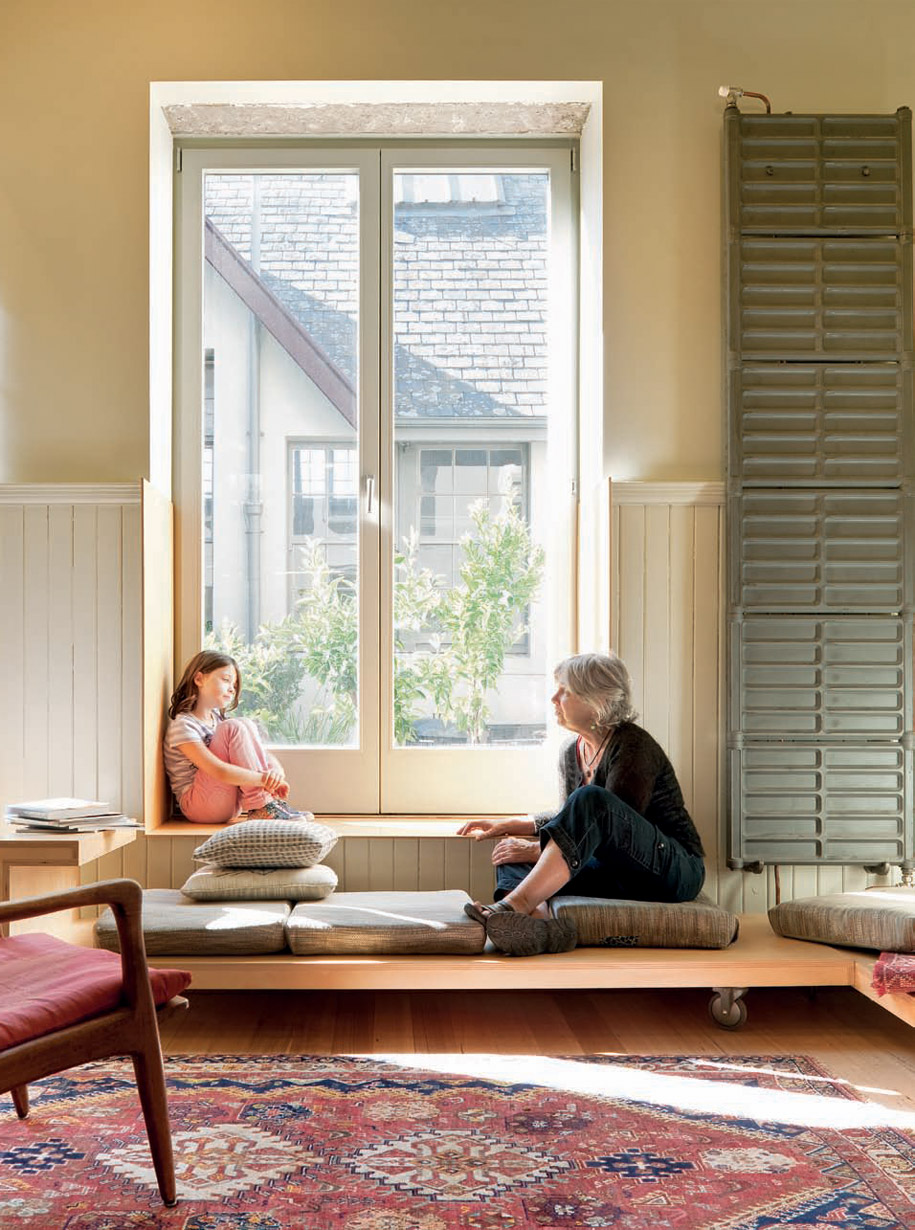 Multiplicity has a reputation for creating beautifully layered interiors, and this house delivers on all fronts. While the past has been fully respected, a contemporary overlay has been finely detailed. To complement the original ornate tie rods in the ceiling, Multiplicity designed custom ornate steel screens, evocative of the 1950s. "You can see the similarity between both periods. It wasn't intentional. But you see a lot of this type of ironwork in this area," says Clark, referring to the new balustrades. While some new fabrications were required, other features, such as the steel cupboards adjacent to the kitchen, were found in a local dumper bin. "I was fortunate to have found ten of them," says O'Sullivan, who used the insulated doors to conceal racks of wine.
To celebrate the building's volume, Multiplicity created two mezzanine levels. One is used as the main bedroom with a pod-like ensuite. The other is used as Pitt's study. To ensure privacy on each mezzanine, customised shelving frames each space, while in the study, plywood shelving encloses the space. In the main bedroom, Multiplicity designed a unique system of storage. Made from plywood and acrylic, the form resembles the old-fashioned lift-up desks students would once have used.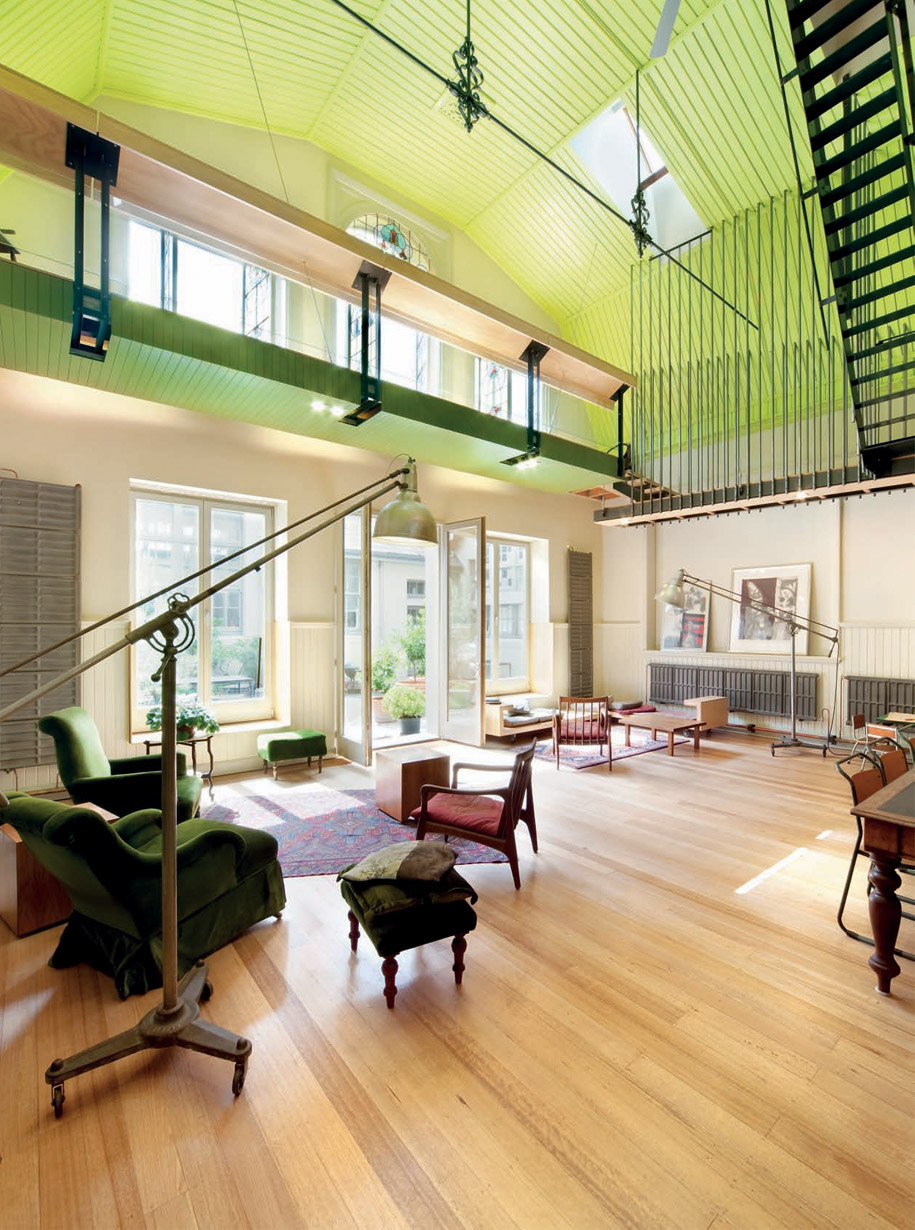 A plywood and acrylic pod encloses the ensuite to the main bedroom. A manipulated acrylic sheet allows a glimpse into the ensuite while maintaining privacy. "It's relatively private, but sufficiently so for a couple," says O'Sullivan. And on the other side of the building, via a 'catwalk', is a verandah-like space which enjoys northern light and views to an internal courtyard. "It's one of my favourite places to read the newspaper," says Pitt. To make this area even more pleasurable, Multiplicity designed an angled shelf for resting books and magazines, as well as newspapers.
"One of the main issues we faced was bringing natural light into the building," says O'Sullivan, who transformed the leadlight windows into pivoting leadlight doors. Framed by toughened glass Shugg-style exterior windows, these leadlight panels improve both the light and ventilation.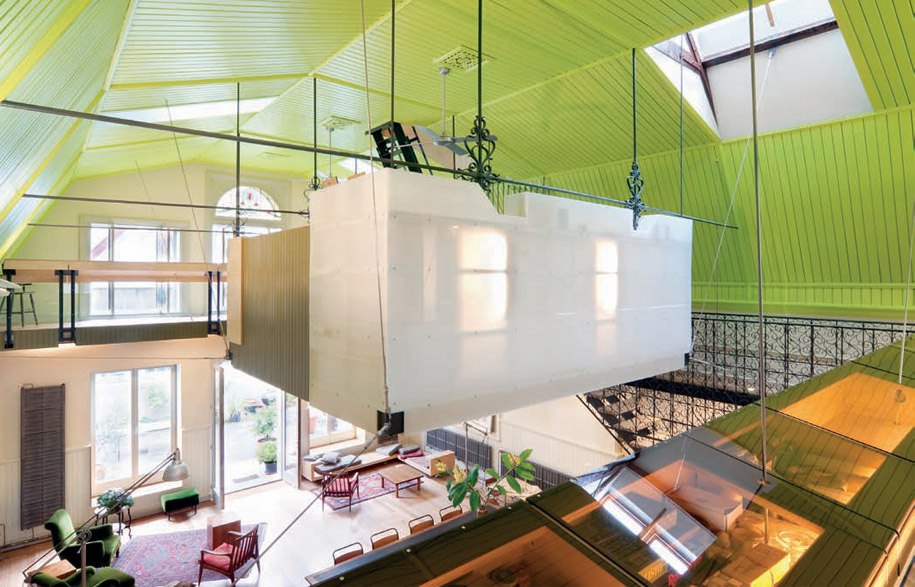 While the open plan spaces provide sight lines into most areas within the home, there is a third level, accessed by a set of steel stairs. The climb requires a little effort but the rewards are worth it. The attic features the original roof trusses, spaced well enough apart for the area to be used as a studio.
This latest renovation by Multiplicity shows just how far this practice will go to not only fulfil a client's brief, but to create memorable and poetic architecture. From the carefully selected bronze acrylic used for the kitchen joinery to the exquisitely designed powder room, this 'school' project demonstrates an extraordinary level of craftsmanship at every turn.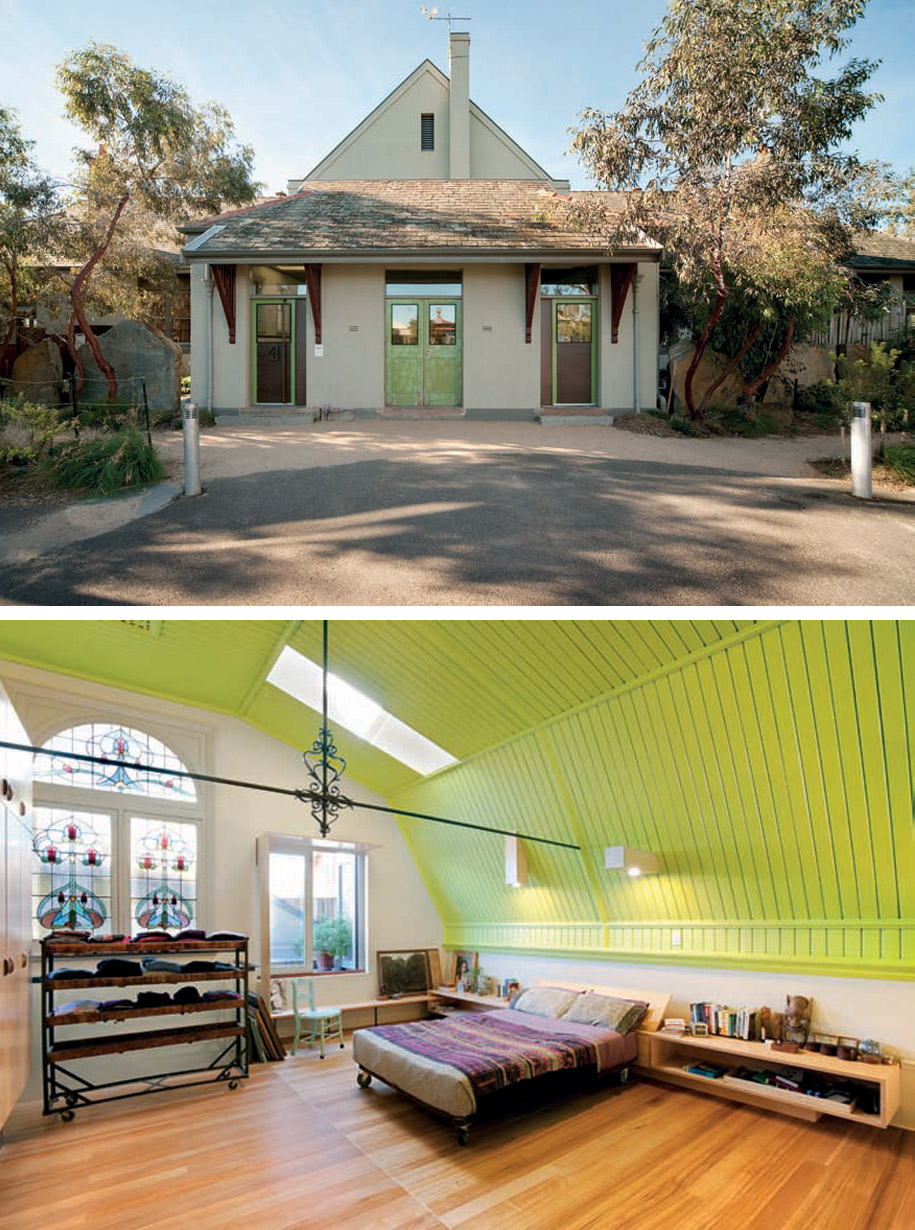 Multiplicity was recognised with an Interior Architecture Award 2010 by the Australian Institute of Architects for their work on this house.
Multiplicity Architects
multiplicity.com.au
Photography: Emma Cross
emmacross.com.au
---