The quiet magnificence of MGA.I's New Town House in Hobart is as heartbreaking as it is tenderly beautiful. When asked about challenges faced during the execution of projects, most designers and architects will refer to problems of materials, legislative restrictions, heritage structures and budgetary limitations as the norm. In most responses, that is, the warmth of the human story that is part (and in many ways, the totality) of design is lost. New Town House was designed by MGA.I in very close conjunction with the resident clients. Sadly, the partner of the client passed before the project could be completed in full – and this emotional attachment to the intellectual property of the design proved to be both the greatest challenge and touchingly enduring impression New Town House leaves.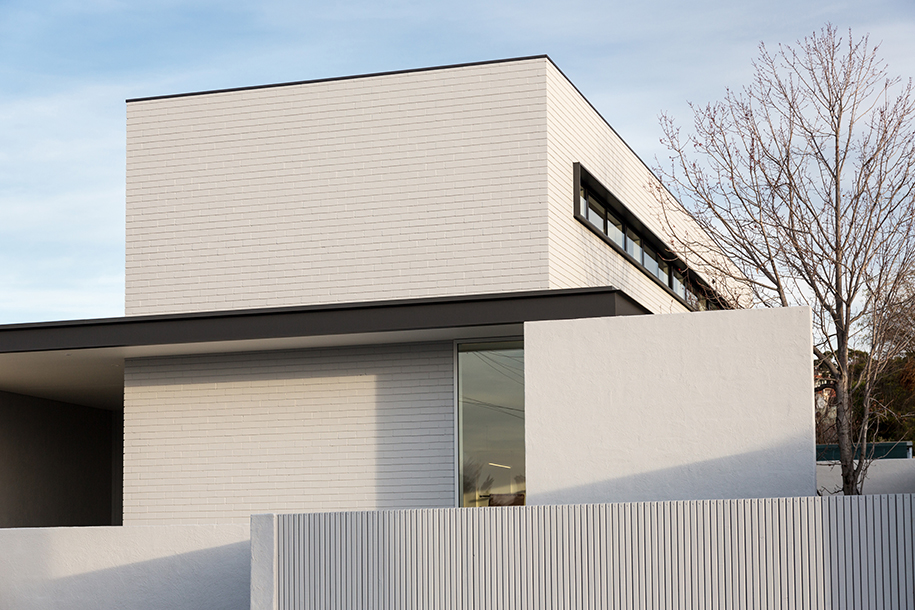 The overall effect of New Town House is one of assured, hushed serenity that speaks so much to its muted, grey, white and bleached timber tonality. The simplicity in form is the result of highly sophisticated detailing and vigilance for recognising the inherent dramatic beauty of pre-existing elements. The established brickwork was preserved as the champion feature. Smooth painted brick expanses of this two-storey home provide strong geometric forms when framed by coursing and jointing. This pared down and simple visual interaction assumes the charge of 'artwork' in this home that otherwise shirks the necessity for adornment.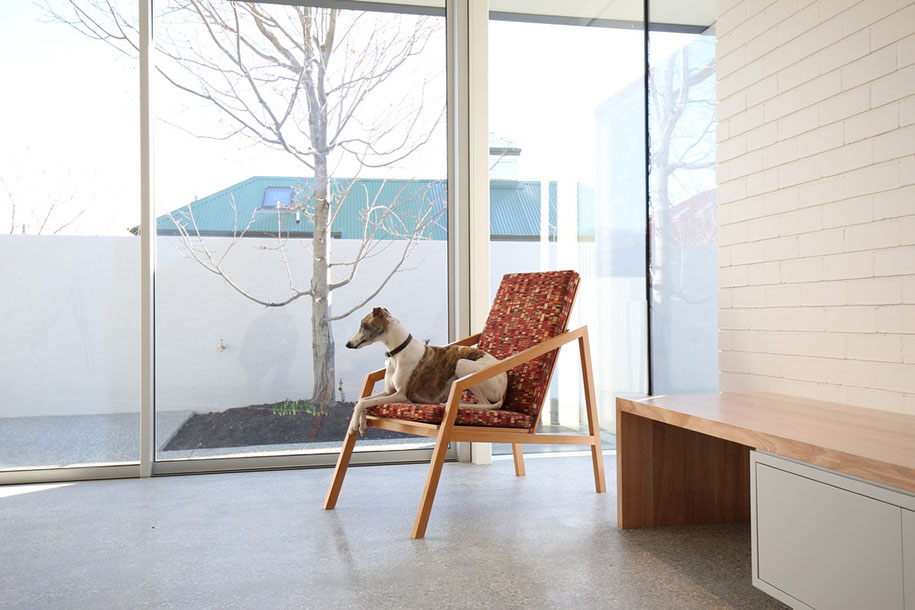 An aesthetic narrative of continuity is maintained throughout inside and out with alternating flush and deep tooled jointing creating the lasting effect of banding to soften strong geometric forms. It also bears the doubled benefit of continuing a historical narrative that references the adjacent turn-of-the-century painted brick workers' cottages.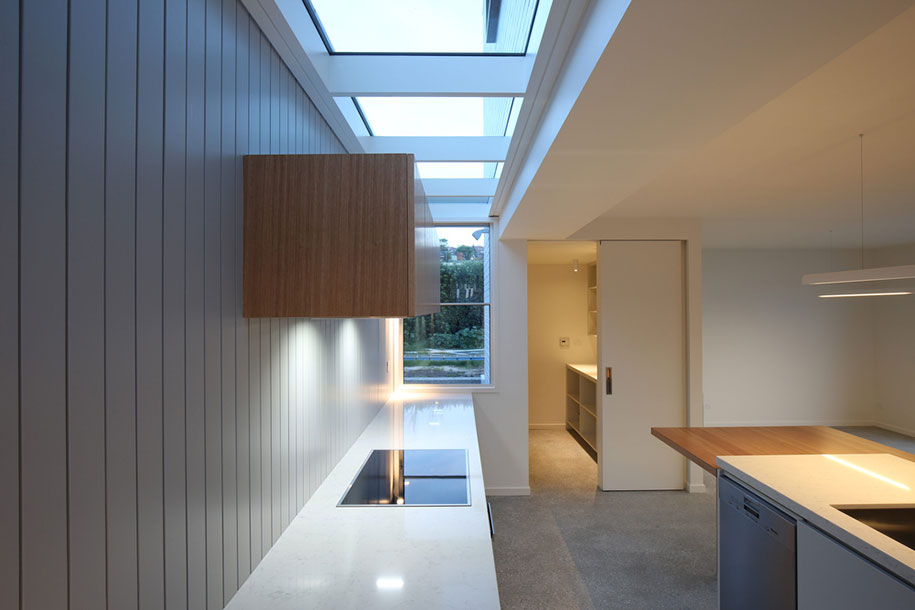 Brief, compact and efficient, the structure utilises natural light and opens itself up to breathtaking vistas of nearby Mount Wellington. The most minute and sympathetic attention to details are seen everywhere throughout – down to dramatic shadows created by brick detailing that dance and morph gently throughout the day.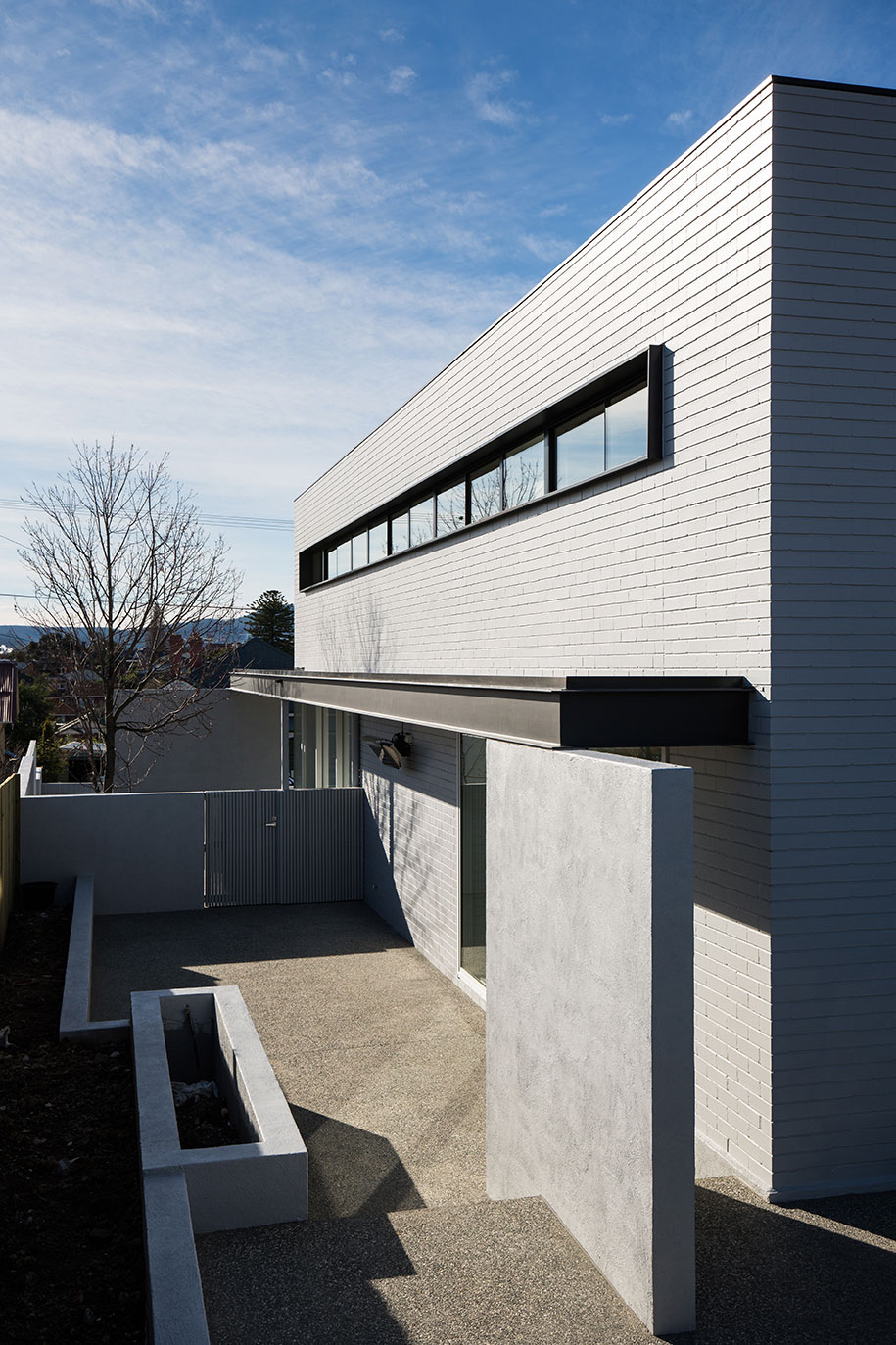 Sustainable practice, high-energy efficiency and low maintenance construction was key. The design team's inspired use of reverse brick veneering and thermal massing inside successfully allowed the project to sit well within ecologically conscious design practice. The client's desire for a contemporary house that was responsive to the urban context was realised in alignment with the area's traditional building stock.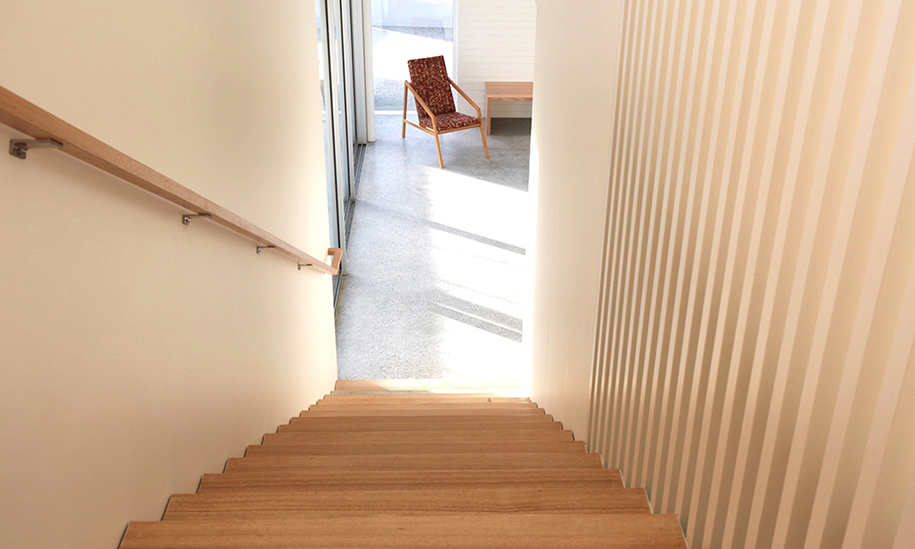 New Town House is an elegy of stark, sincere beauty. Its quiet message is one we should not forget: some things are so perfect, just so.
MGArchitecture.Interiors
mgai.com.au
Builder: Marlin Constructions
Photography: Peter Mathew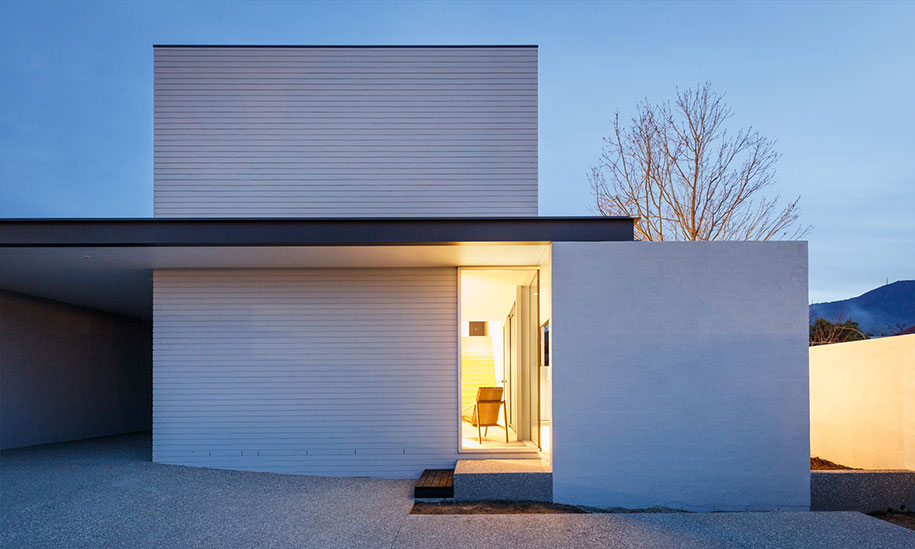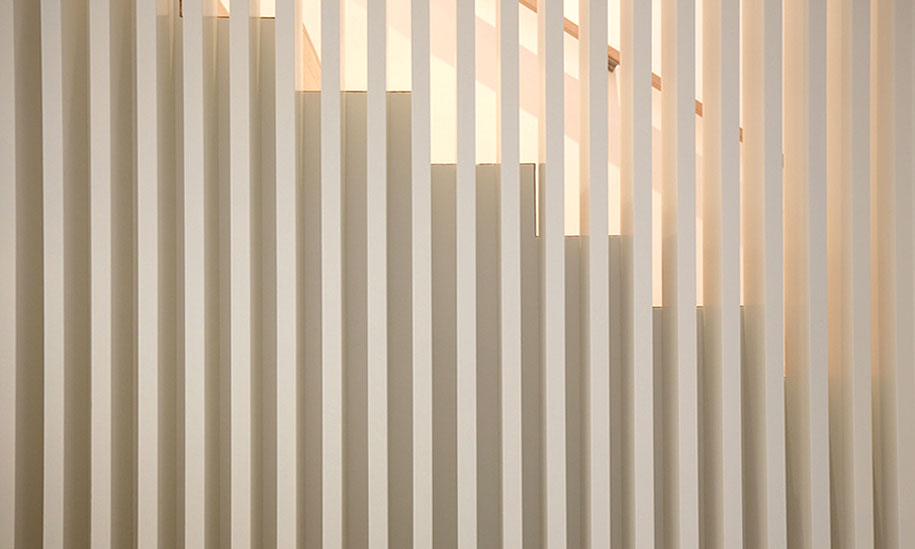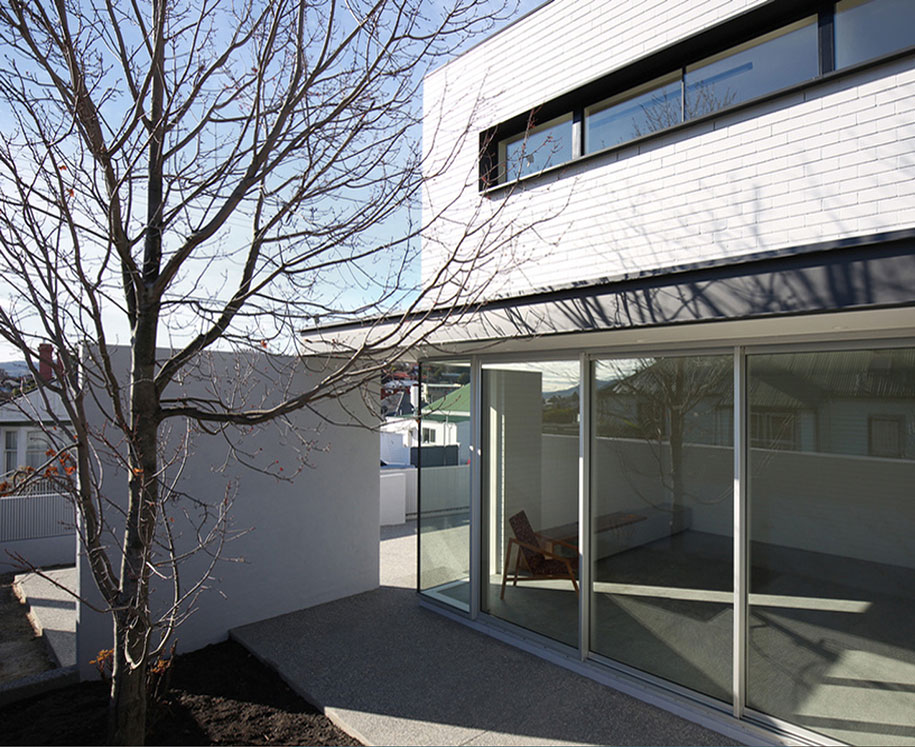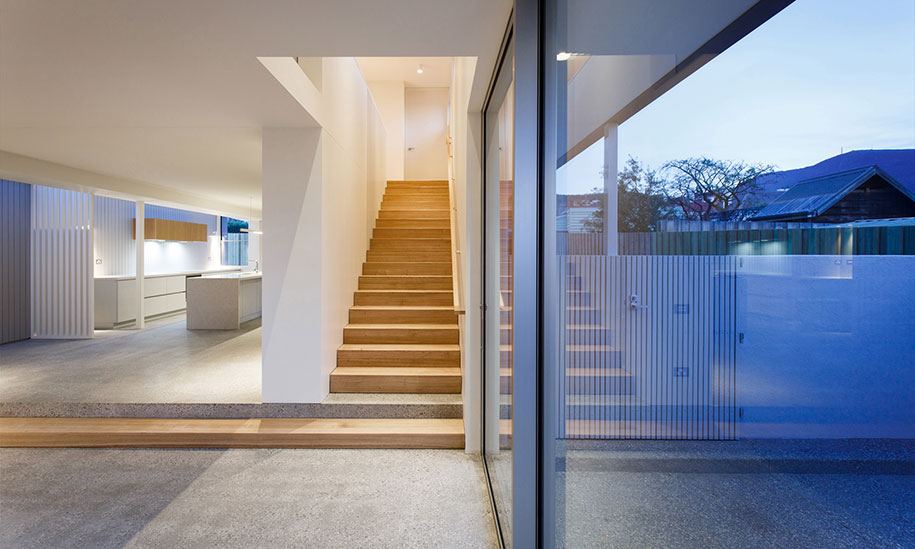 Tags: hobart, Home Architecture, House Architecture, MGA.I, MGArchitecture.Interiors, New Town House, Residential Architecture, tasmania
---