It took two years for Interior Architect Rebecca Littlemore and her partner Al Yazbek to find a venue that fit their brief.
The final choice is a site that occupies the ground floor of an early 20th Century building that had hosted throughout its life a gaming hall for Navy ex-servicemen, a Chinese brothel, an office furniture showroom and finally Spence and Lyda's design showroom. Given its age, the biggest challenge, as Littlemore states, was "to get a restaurant into the ground floor of a building built in 1927".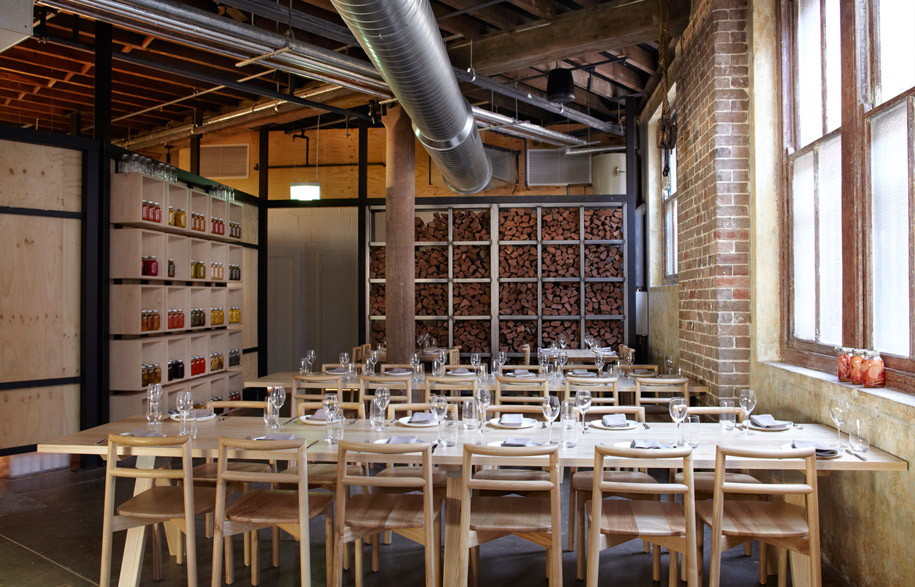 Its varied use in the past had left the windows along the main dining area covered with white plasterboard, and stripping this back and exposing the original windows and walls was the starting point for the positioning of the dining room.
"I always wanted a central kitchen that was really open", comments Littlemore, "so the windows dictated the orientation of the whole space."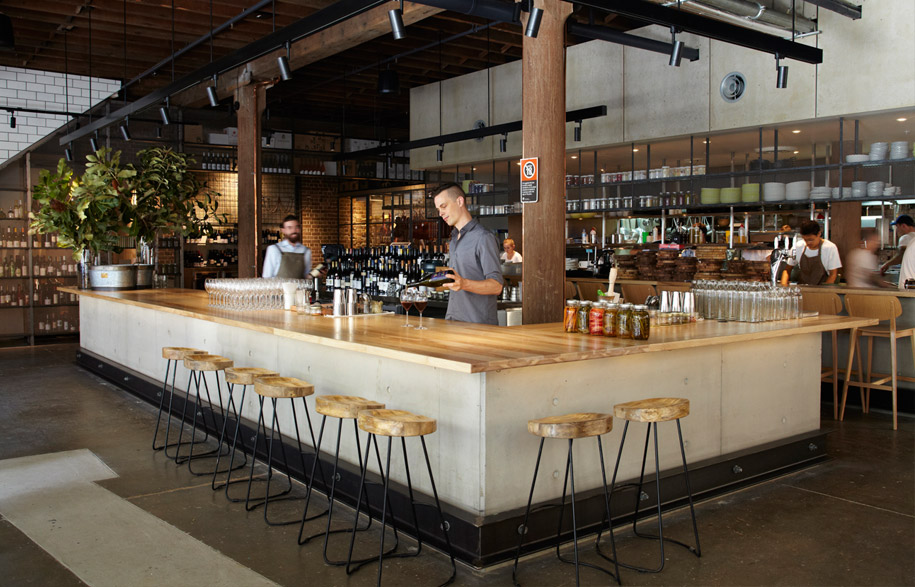 The columns, a deciding factor in the partners' attraction to the space, are solid hardwood, and Littlemore was adamant that they "sit proud of their surroundings".  Again, their positioning affected the layout of kitchen and seating, adding a jigsaw-esque dimension to spatial configuration.
However the greatest hurdle was yet to come: 530sqm. of asbestos above the ceiling. Whilst its removal was grueling, there was a silver lining: "what it exposed was amazing, we went to great lengths to leave the ceiling structure exposed," says Littlemore.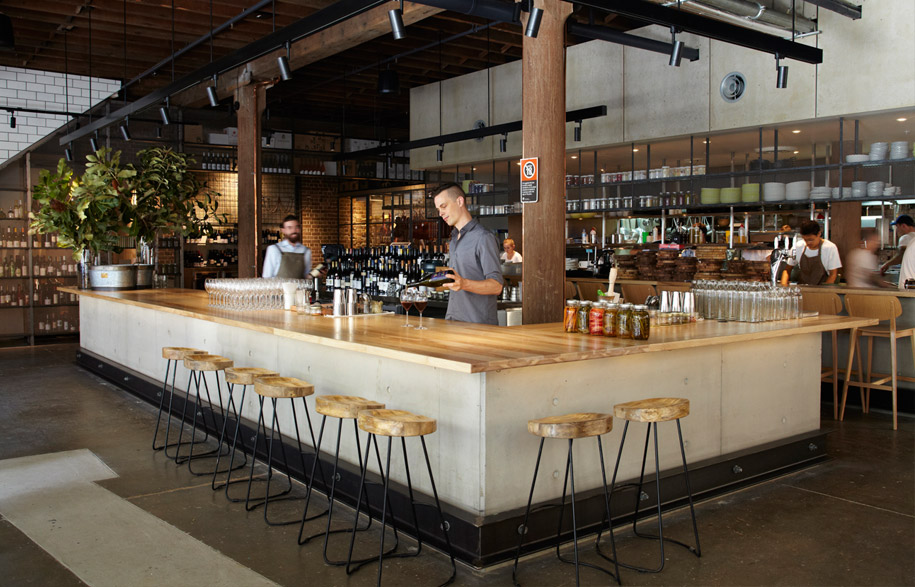 The material palette stems from the natural environment, whilst surfaces and lighting play with opacity. Utilitarian fine metal mesh features strongly, and whilst humble, with correct lighting and bottles stored within the shelving it attains a textured aesthetic, filtering light and vision.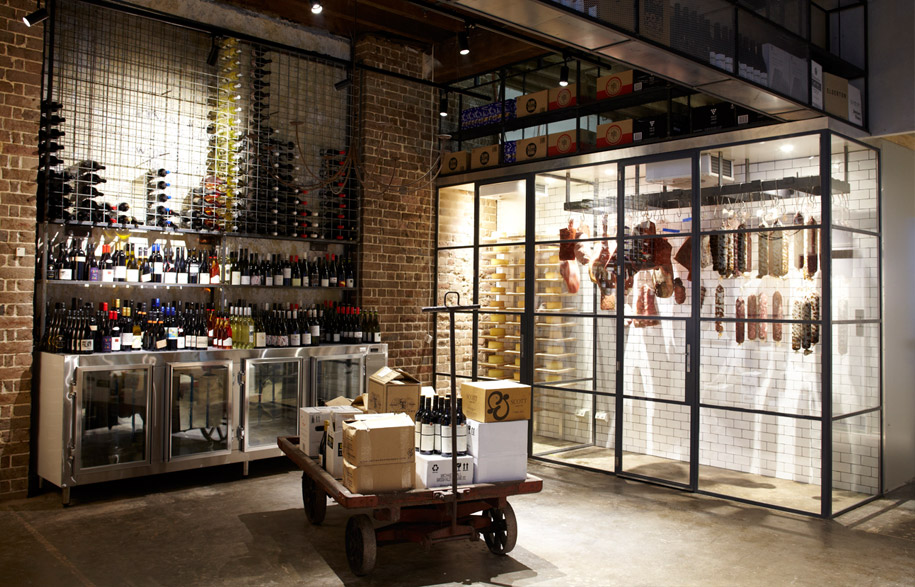 The space is at once spread out and richly animated, with distinct personalities inhabiting the various areas. Details such as the foot rail around the open kitchen and bar (a large I-beam that anchors the freestanding structures) and a striking artwork of a pig's skull give the space just enough tension to make it interesting, whilst the generous spaces make it comfortable and allow individual groups to feel intimidate in their settings.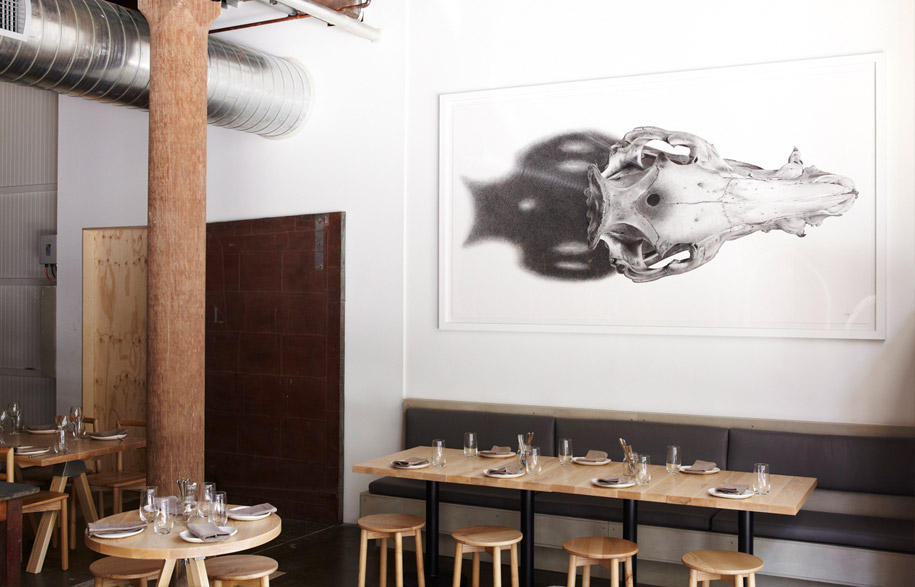 Furnishings, like the wine list, follow a local theme, including Henry Wilson A-Joints for the tables, Beclau joinery, Ross Didier chairs and custom-made stools from Melbourn.
Nomad
restaurantnomad.com.au
Photography: Nicky Ryan
nickyryan.com
Tags: Interior Architecture, Interior Design, Nomad
---