In the beach suburb of Manly, on Sydney's northern coast, is a rather un-beachy bar. Instead, there is a New York loft style space with an Asian feel (and taste), quite unlike its neighbours. This is Donny's & Co Manly, a renovation by Luchetti Krelle. "With most hospitality fit-outs there is theatre and theming," says Stuart Krelle, "and this was right on brief for a NY style of small bar."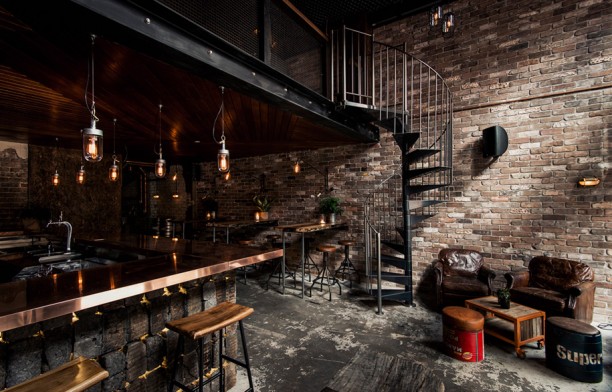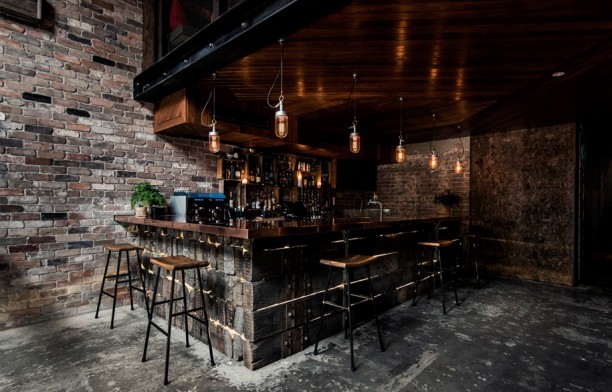 While the design might not directly reflect the local landscape, it comes as a refreshing change and certainly "suits a hole in the market in the small bar scene of Manly," says Stuart. The design comes as a response to the client's brief to "transform the space into a NY loft style space, reminiscent of something he had seen in his travels" – and on a tight budget. While a definite NY/China Town feel, the design is not a jarring addition to the community. Rather, the new drinking and eating spot, serving Asian style tapas, balances the urban and the rural, nodding to the Australian flavour, and finds itself quite comfortably on Market Lane opening onto the pedestrianised street.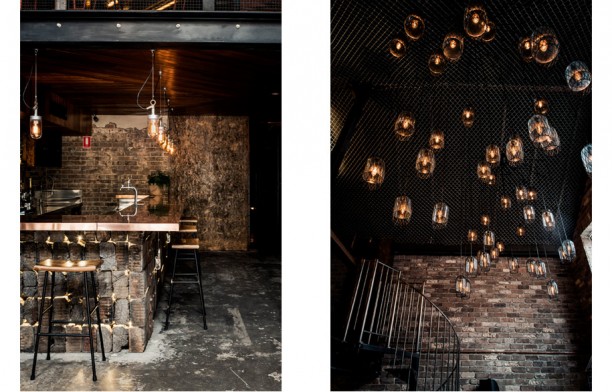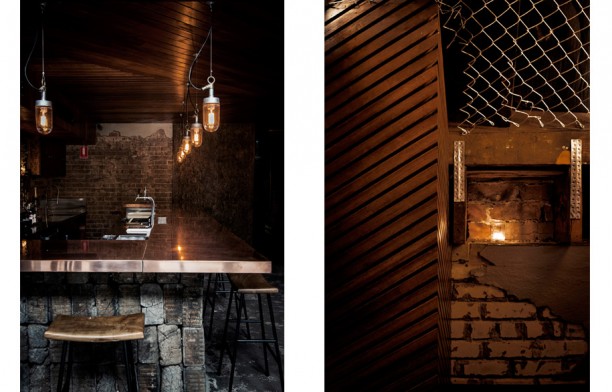 Starting with a 160m2 stark white plasterboard box – a "very cold and hard" former spa treatment space – Luchetti Krelle had the pleasure of creating something entirely new. Not wanting to fall into an overly Asian themed aesthetic, or otherwise, they've taken a "pared-back approach to the design," while incorporating a rural tone. Playing on the roots of the client from rural NSW, the proportions and scale of the space are barn-like, with a mezzanine set back in the room that allows "the volume of the space to be fully appreciated upon entry." A number of recycled materials such as re-used railway sleepers, canvas lorry tarps and brickwork, "painstakingly clad to the walls," – are central to the design. "Recycled materials play a big role in the palette," says Stuart, and perhaps especially for the rustic tone they provide that balances out the slicker aspects, like the shiny copper and "perfectly mitred timber lining boards weaving diagonally across the lower ceiling and walls."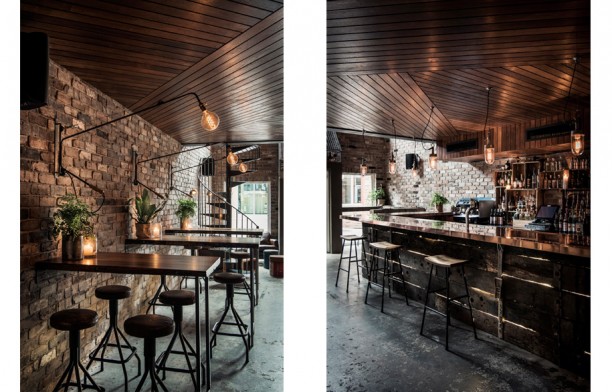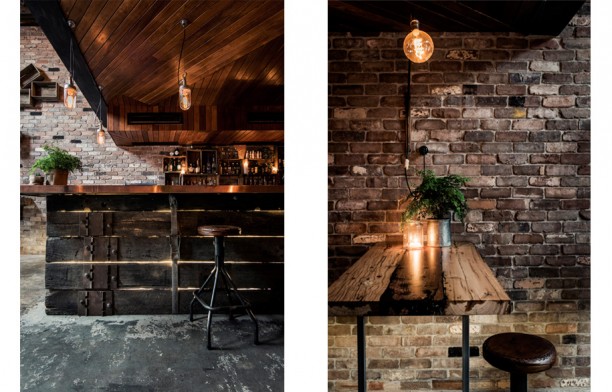 The balance between urban and rural is perhaps why this design works so well, in part the result of a tight budget. As well as the rural tone being a consequence of the client, there's a sense of ingenuity that comes from a more practical sense. "When budgets are tight we need to work harder to innovate within our means," says Stuart. "We worked hard to nut out this concept and edit it back to its bare bones." All brief, budget and designers, then, clearly make Donny's what it is, as Stuart sums up perfectly. What was particularly special about this project, he says, was that "the space has a strong and clear identity that is reflective not just of the client's brief and taste but our work and design methods of working to a brief and any budget."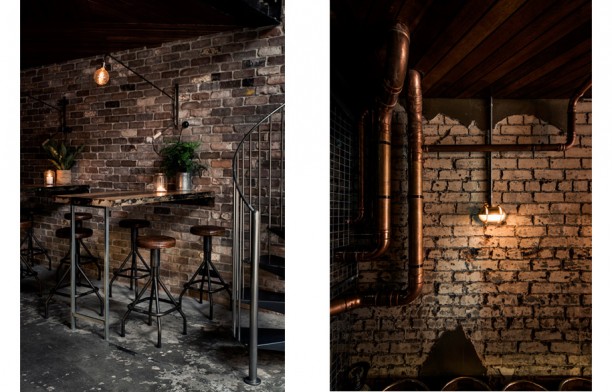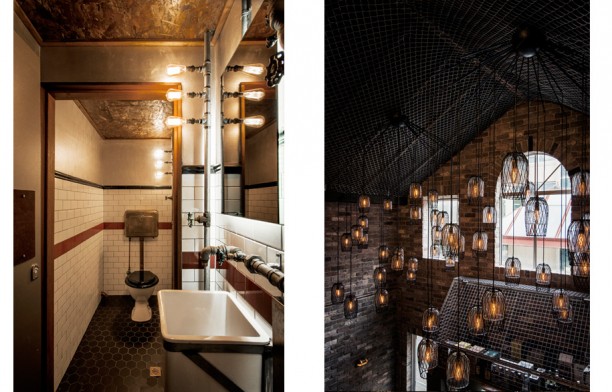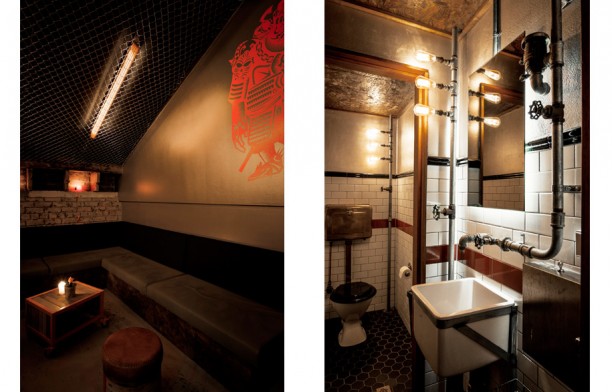 Looks like Luchetti Krelle have succeeded in making a "warm and friendly New York style loft bar," as per the client's vision. The copper bar and spiral stair are the client's favourite parts (the two parameters he set in place), says Stuart, but "to be honest, the client is rapt with the result as it is all that he hoped for."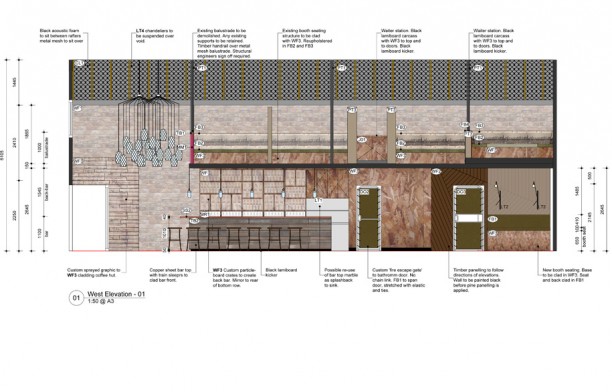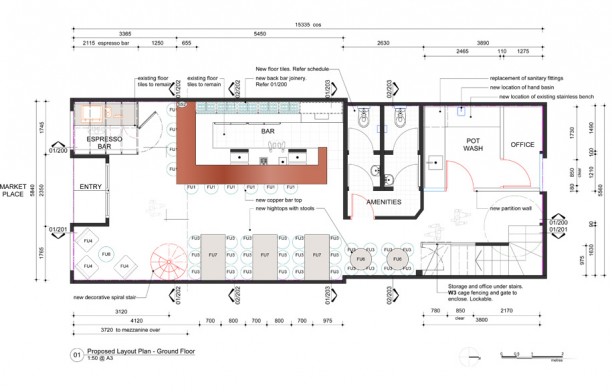 Architects: Luchetti Krelle
Client: Matt Clifton (client and owner/operator)
Project completed: November 2013
Cost of the project: $320,000
Duration of project: 6 months from conception to completion
Materials:
Recycled brick
Copper bar tops
Recycled train sleeper timber
Particle Strand Board
Chain-link (Hurricane) fencing
Truck Lorry Tarps
Steel
Address: 7 Market Lane, Manly NSW

Photography by Michael Wee Photography.

Tags: Australia, bar, industrial, Interior Architecture, Interior Design, renovation, Sydney
---