Every now and then a house succeeds spectacularly. It sets out with a brief – specific or vague, modest or ambitious – and surpasses it. The home Architect Dr Tan Loke Mun designed for his own family is one such rare specimen, surprising and delighting as it is progressively discovered.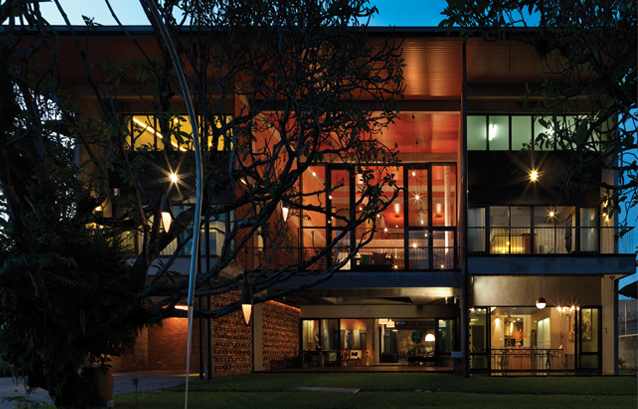 The dwelling exists inside an unassuming, oversized bungalow structure rising three storeys and extending over 1100 square metres. Internally, the numerous functional spaces required for an extended and itinerant family are arranged around a central hall that soars up to its eight-metre ceiling.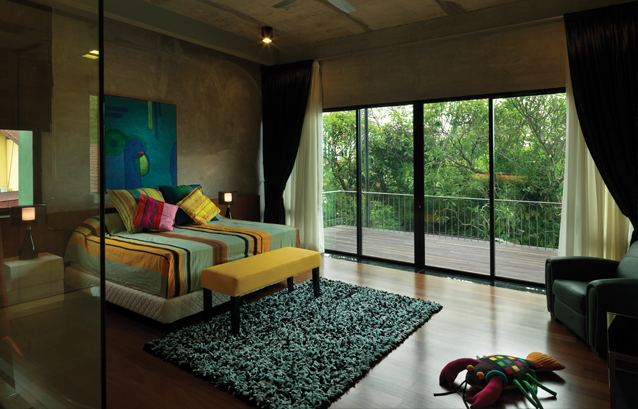 The aesthetic tone of the interiors is set by a rich and coherent material palette sourced with care to reduce environmental impact. Bricks, stonework, concrete, timber, steel and tiles have been recycled or reused from demolished houses, and even the glamorous Black Maquina marble on the ground floor was bought for a song from hotels that had rejected it due to imperfections.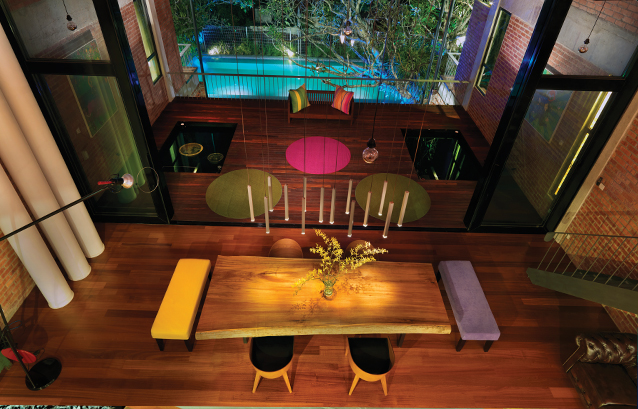 With the exception of the marble, these are presented raw, creating a gritty, unornamented canvas for the furnishings. In contrast these are meticulously curated, and range from European design classics (read Phillippe Starck, Eero Saarinen an Mies van der Rohe) to regional art pieces. Neither cluttered nor ascetic, the furniture and art in the home brighten and animate the space, ensuring its warmth and liveability.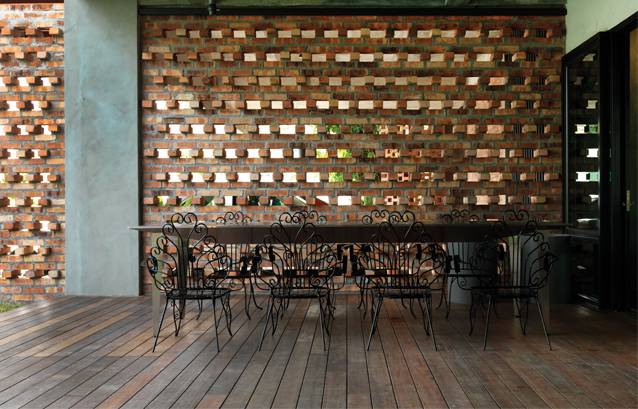 Three half-century od twisting frangipanis, a star-fruit tree and a coconut palm were defining features of the site which Mun was determined to retain. Arching around the front of the home, these connect the built space to the frenzied living environment of the tropical context. "The trees are incredibly structural and they are a rare find these days" says Mun, "I have kept the greenery as much as possible as it helps to keep the environment cooler".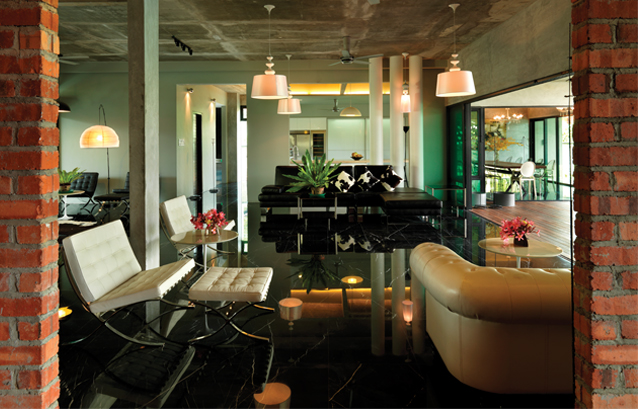 Beyond its architectural accomplishments, Mun's project is a superb example of passive heating and energy self-sufficiency. Total cross-ventilation, assisted by 14 turbines, cycles cool air from the surface of the many water features through the house to ensure temperatures never rise above 30 degrees, and a bank of solar panels provide a surplus of electricity. Whilst the size of the structure itself inevitably increases its environmental footprint, its fusion of intelligent eco-friendly features with powerful aesthetics makes it an important point of reference for sustainable architecture.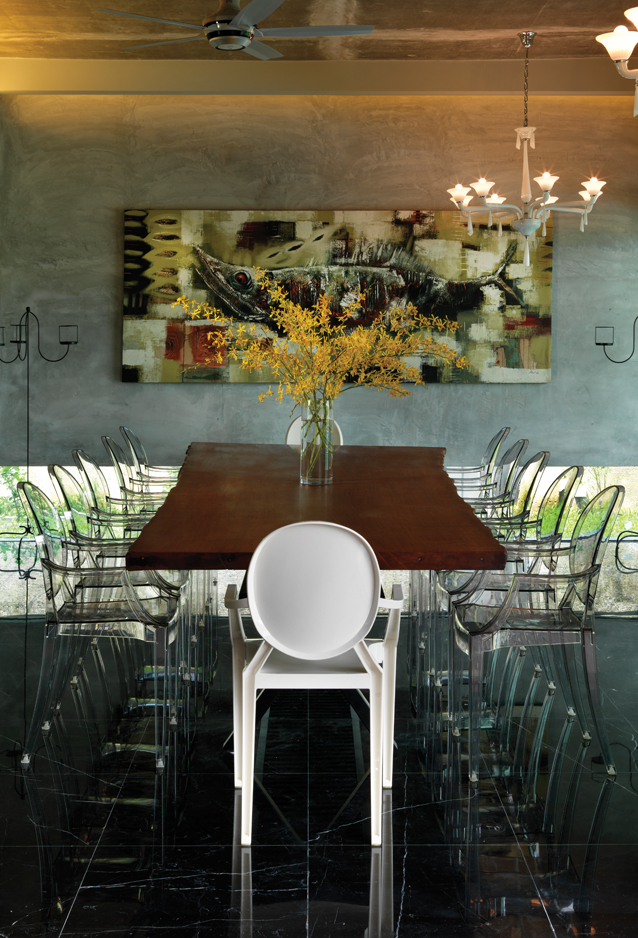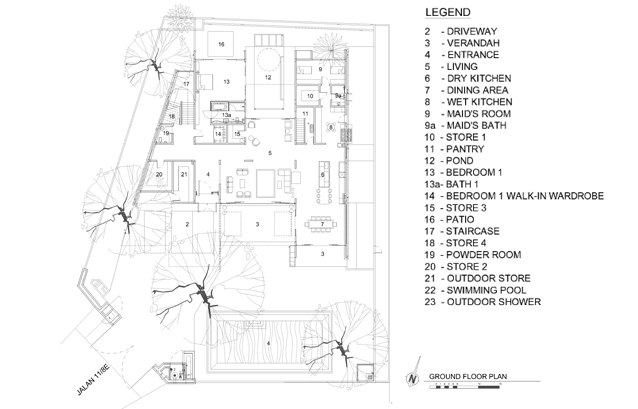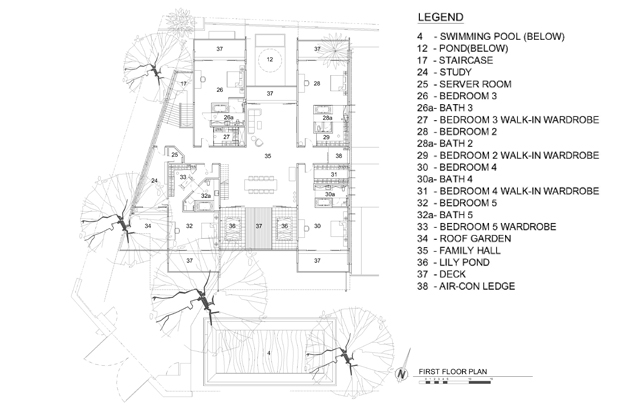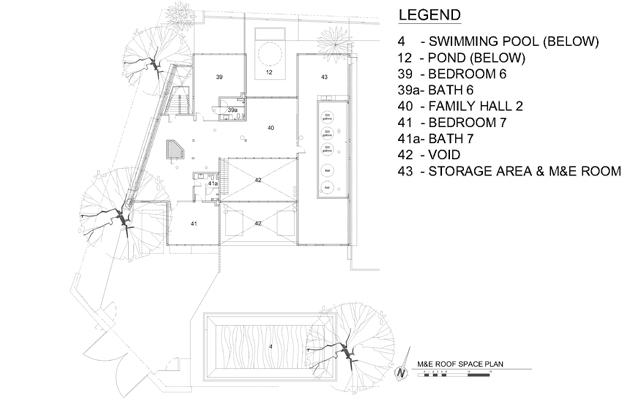 Photography: Lin Ho 
Tags: Dr Tan Loke Mun, Home Architecture, House Architecture, Residential Architecture
---