The driving ideology of this minimal yet inviting family home is one of interaction between the residence and nature. From the sweeping horizontal views of the peninsula to the intimate connection between landscape and decking, the project has brought the client closer to nature than they thought possible.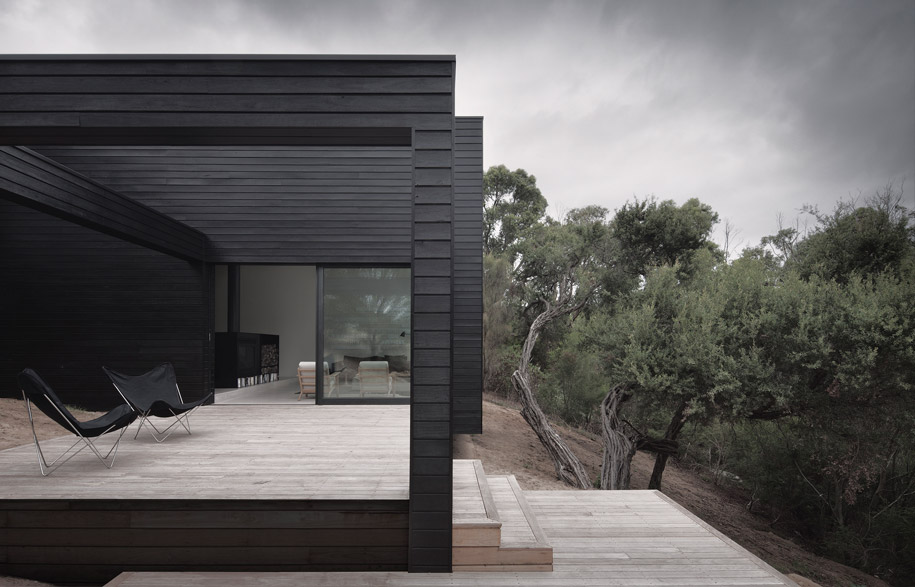 "The design for this house stems from an exploration into the absence of what is not necessary, in both building form and detail, which is at the core of sustainable design," explain directors Annabelle Berryman and Sarah Henry, "A great trust was built between studiofour and the clients, which enabled us to take them along the design journey, exceeding their expectations of what was achievable with the site, their brief and their budget."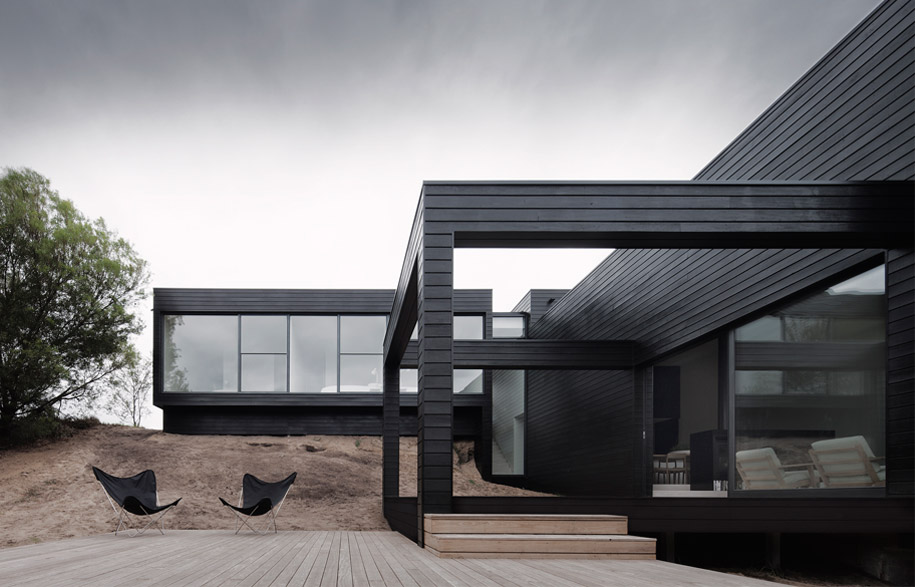 This three bedroom home has been encased by dark timber and reflective glass, allowing it to sink back into its surrounds and permit the context's serenity to be the focus of the site. Indeed, the best vantage from which to appreciate the structure is from the adjacent nature reserve that separates it from the nearby golf course.In turn, the form of the house was defined by the need to satisfy the separation of the public and private space.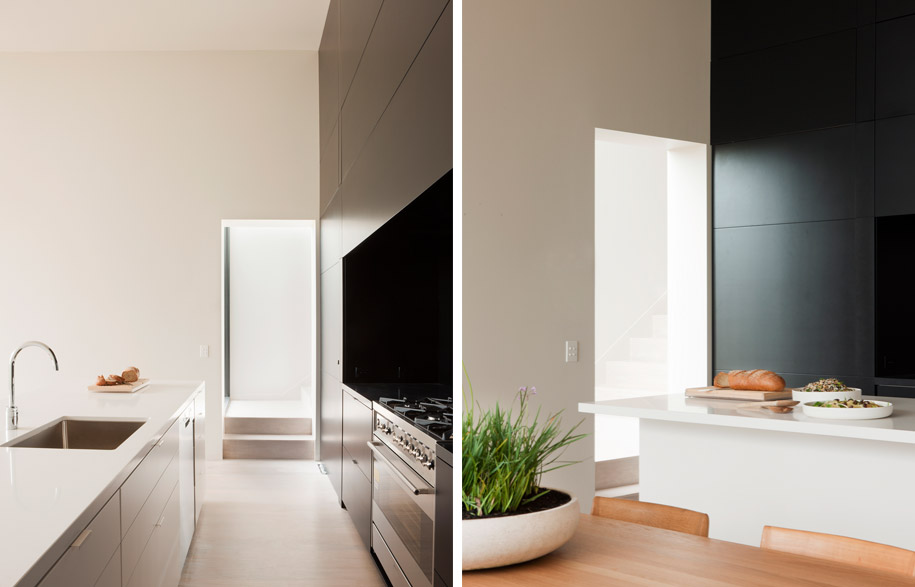 The site's constraints and proximity to the road were determining factors in orientating the home towards its coastal surrounds, the ground floor opens up to the surrounds through the decks, with the private space and street entrance located on the first floor. The ground floor open plan is comprised of the kitchen, dining and living spaces, with several elements, such as the fireplace, being isolated to provide a level of intimacy on the natural ground level.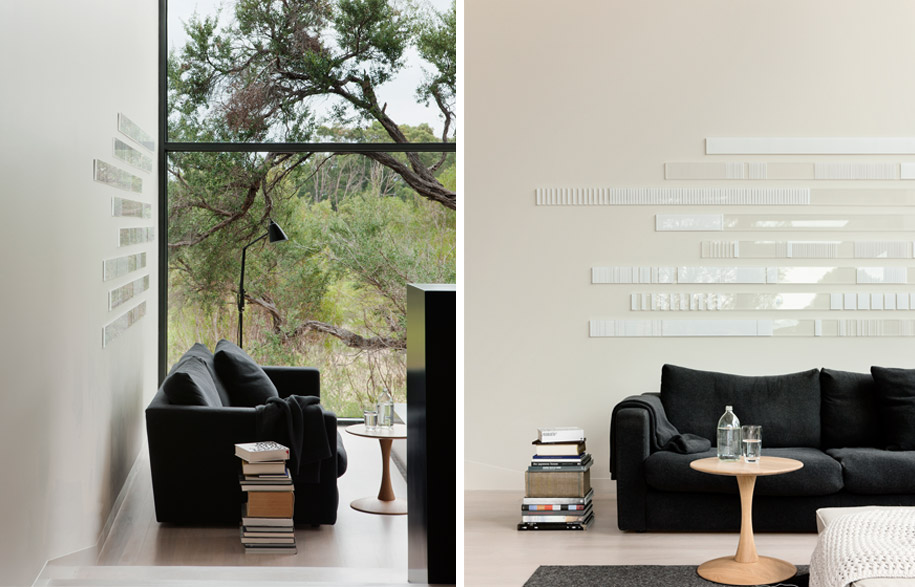 Elegant gestures, such as framing the beautiful existing tea tree with an unadorned double-height living space and picture window, and channelling the view from the front entrance, have been achieved through an intense interrogation and interaction of the context to maximise the budget whilst honouring the clients' need for a calming ambiance that welcomes the coastal mood into the home.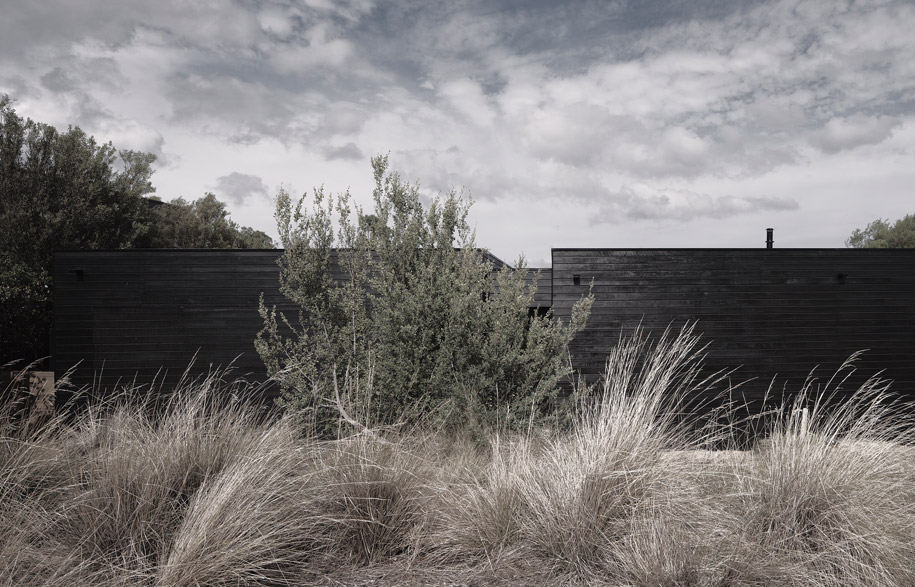 The interiors were composed to reflect native flora and fauna, with limed timber floors accented by light oak furniture to contrast the dark external walls. Full height double glazed windows not only maximise sunlight and provide natural ventilation but shield the house from the turbulent coastal weather, creating that inimitable sense of sanctuary at being warm and dry as a storm looms over the oceanic horizon.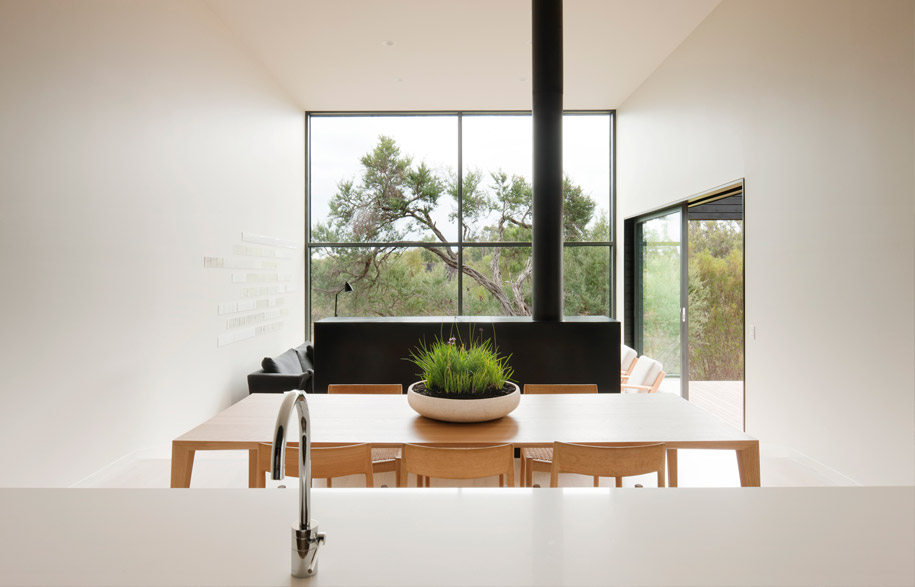 The foundation of trust was integral in allowing the clients to be involved in studiofour's holistic design approach, which involved "a collective of designers with experience in architecture, interiors, landscape, art and fashion" that provided an unparalleled level of resolution. Studiofour went to the lengths of honouring this deep relationship with the clients by presenting them with tailored artwork as a house warming gift.
External decks:
Butterfly chairs, from Angelucci 20th Century
Living:
Bosko Sofa, from Jardan
Nanna Ditzel Side Table in Oak, from Great Dane Furniture
Planet floor lamp
Custom coffee table + cushions, designed by studiofour
Bemboka throw rug, from Hub Furniture
Vincent Van Duysen Primitives Wooden Bowl, from Hub Furniture
Cow hide rug, from Great Dane Furniture
Tretford goats hair floor rug
Hans Wegner plank chairs, from Great Dane Furniture
Artwork piece is perspex 01, designed by studiofour
Kitchen:
Caesar stone benchtop to island bench, colour Snow
Caesar stone benchtop to rear bench, colour Jet Black
Smeg freestanding cooker
Dining:
Johansen Dining Table in Oak, from Great Dane Furniture
Moller Dining Chair #77 in Oak, from Great Dane Furniture Master
Bed:
Lean floor lamp, from Great Dane Furniture
Bemboka throw rug, from Hub Furniture
Artwork piece is canvas series 01, designed by studiofour
Secondary bedrooms:
Eames wire base low table, from Living Edge
Anglepoise Type 75 lamp, from Corporate Culture
studiofour
studiofournews.com
Photography: Shannon McGrath
shannonmcgrath.com
Tags: Home Architecture, House Architecture, Residential Architecture
---