Hero: Indoor and outdoor living spaces flow together.
As if it wasn't blissful enough to be standing above a broad white beach, a cooling breeze rustling the banksias in the dunes, an endless view of sparkling blue cresting waves stretched before me, and a picturesque headland crouching to the north. But the masterstroke to this canvas of paradise was yet to be added. Within minutes of contemplating the scene, a giant spume of water rose before me and several humpbacks started cavorting in the ocean – tails lifting and thwacking with a divine audibility. Welcome to another day at Sunshine Beach, just south of Noosa on Queensland's Sunshine Coast.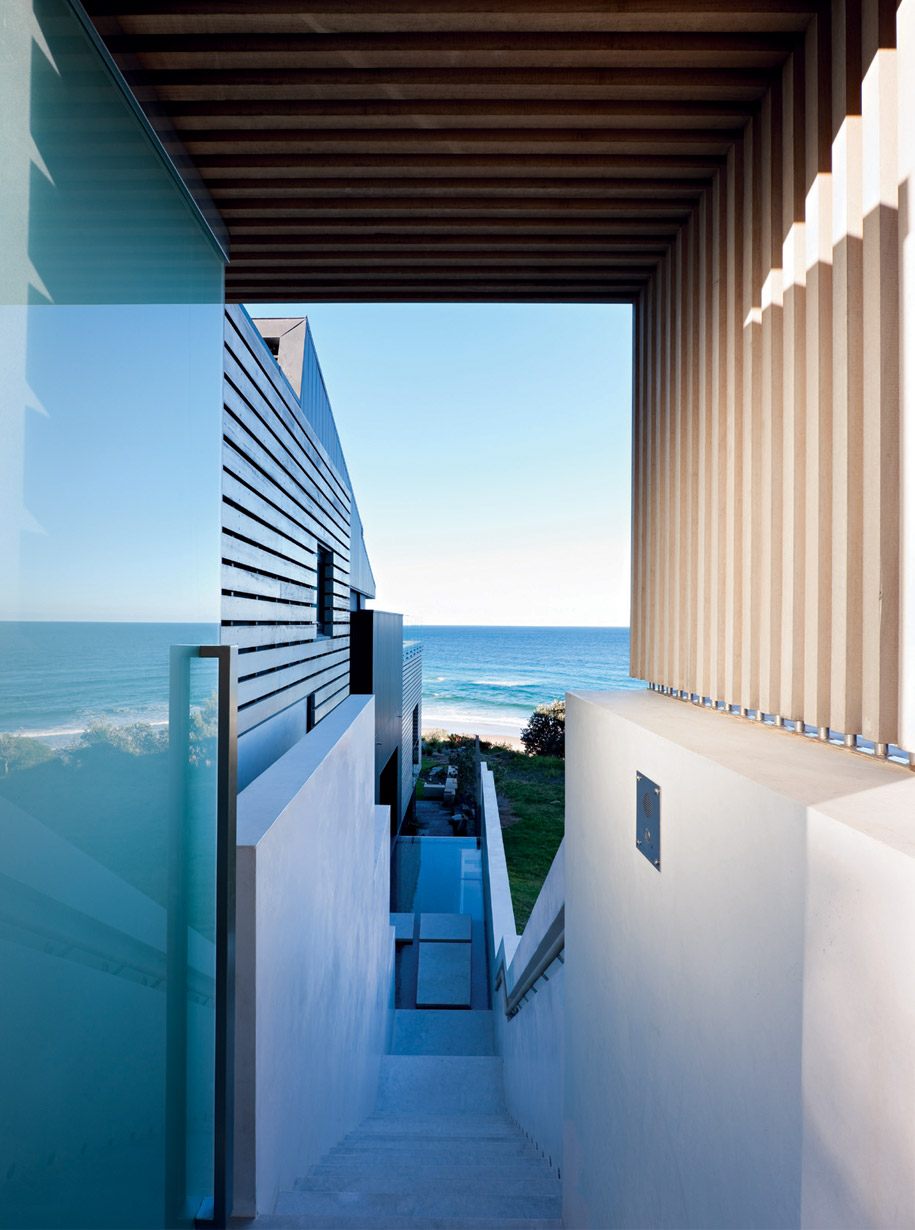 The entry gate looks south over Sunshine Beach.
Given the propitious natural setting, it seemed likely that anything man-made could disappoint. But that wasn't to be, and more surprises were in store. Local architect, Dan Sparks, in association with Gabriel Poole, was briefed to design a holiday house that would eventually segue into a retirement home for its empty nester owners. In the meantime, it was also to serve as an entertainment haven for the couple and their friends and family.
"It was really something of an ideal project from our perspective," says Sparks. "An incredibly beautiful site coupled with a design-savvy client who was committed to realising it's potential. To our delight he was also very open to having some fun with the design."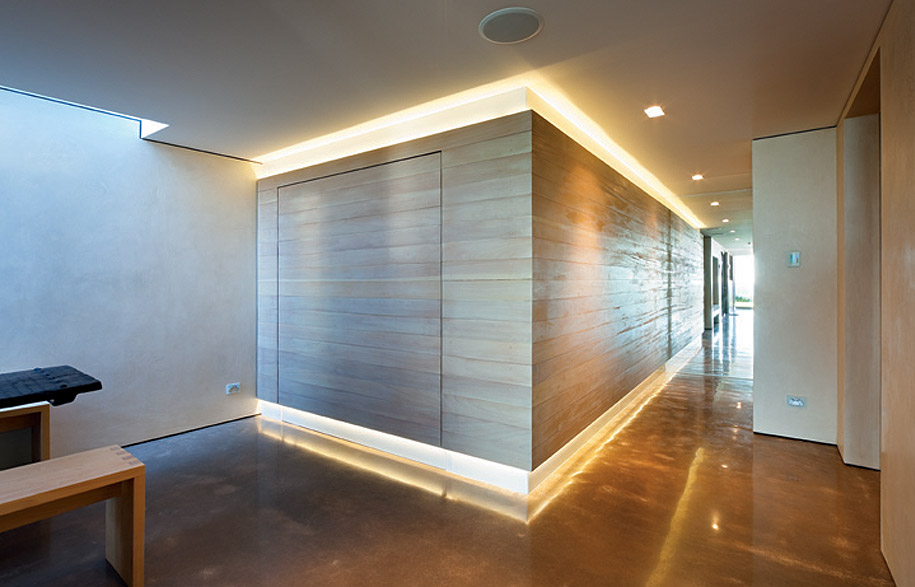 The custom 'crate-like' wine cellar and tasting room on the ground floor. 
The site is splendid beachfront land, taking up half of a larger block once straddled by an old Queenslander. It is elevated just enough above the wide stretch of public beach to make the descent quick and easy, but at the same time retain privacy and a sense of exclusion. Looking east, there's a sublime  panorama of the Pacific on offer. The site slopes steeply from street to beach, and the house is tucked neatly into the slope, defying its generous 700m2 proportions.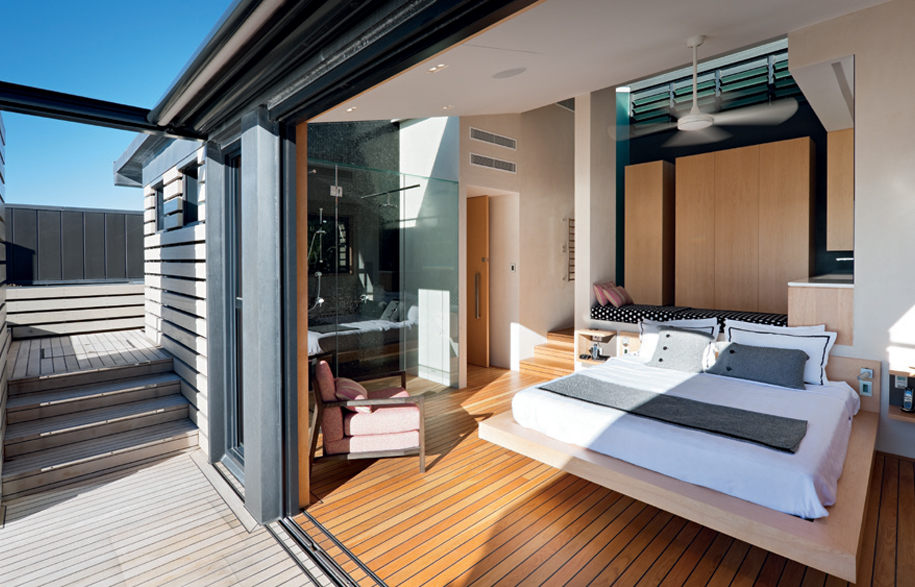 The master bedroom opens onto a timber deck. 
In deference to the setting, the owner wanted a nautical look, using "materials that could stand up to the weather," he says. "It's very exposed to the elements here. We looked at a few yachts for inspiration as they use the sorts of materials that can endure in this environment. We want the house to eventually blend into the site rather than stand out from it."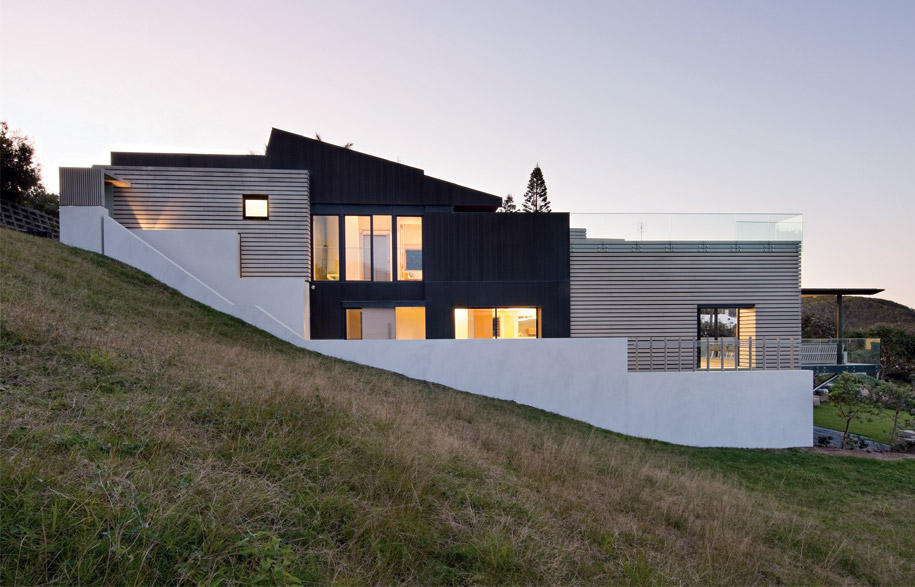 Southern elevation with Noosa National Parks' 'Lion's Head' beyond. 
Another reason to shun the "big white Grecian mansions" (which are not unknown to the enclave) derives from the owner's passion for Japanese minimalism. "Ilived in Japan for fifteen years," he says, "and love that spare, simple aesthetic." The palette, then, was always to be natural, and the style simple. At one year-old, the timber is already greying as planned to match the nearby She-oaks, while luxurious touches such as titanium zinc ceilings and timber and cork decking for floors nicely channel the comforts of the yachting brigade.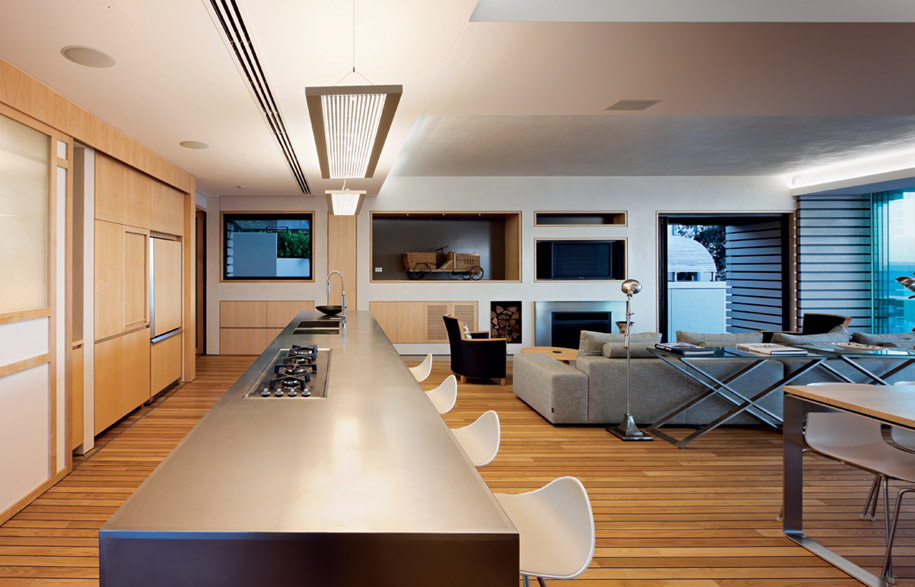 The kitchen with sliding timber door to the study.
The house is set out on three levels, with the top eyrie consisting of a master bedroom, pool deck and carport. Placing the pool on the top deck flips expectations, while catering for a mandatory 15 metre erosion control setback from the fragile dune. It also means that the ground level can enjoy a bit of garden and lawn. And the climb to the top level pool is more than worth it – gazing through the glass balustrade to the ocean a decadent take on a poop deck.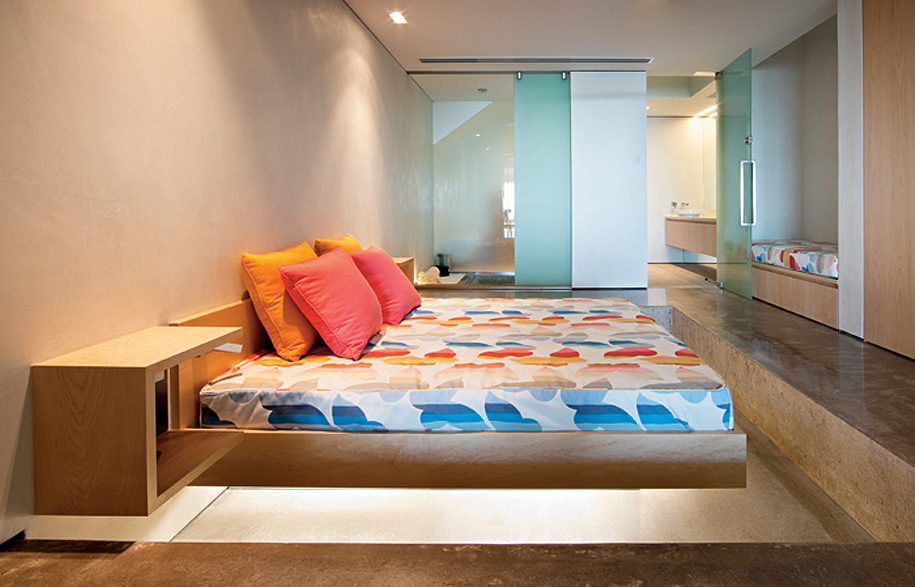 A floating bed and lounge on the ground floor.
The middle level, and point of entry, accommodates the main living space, a second bedroom and a television nook. A series of substantial portal frames render the gallery-like space post free. The above ground tray of space extends out to a wide deck which cantilevers over the lawn below.
The ground level is party zone, replete with a wine cellar, billiard table, bar and spare bedroom. Underground water tanks can be peered at through portholes set into the floor in the pattern of the Southern Cross. The holes provide service access points to the underground water and also act as art installations: a special effects "shimmer pump" makes the water ripple and glow underfoot.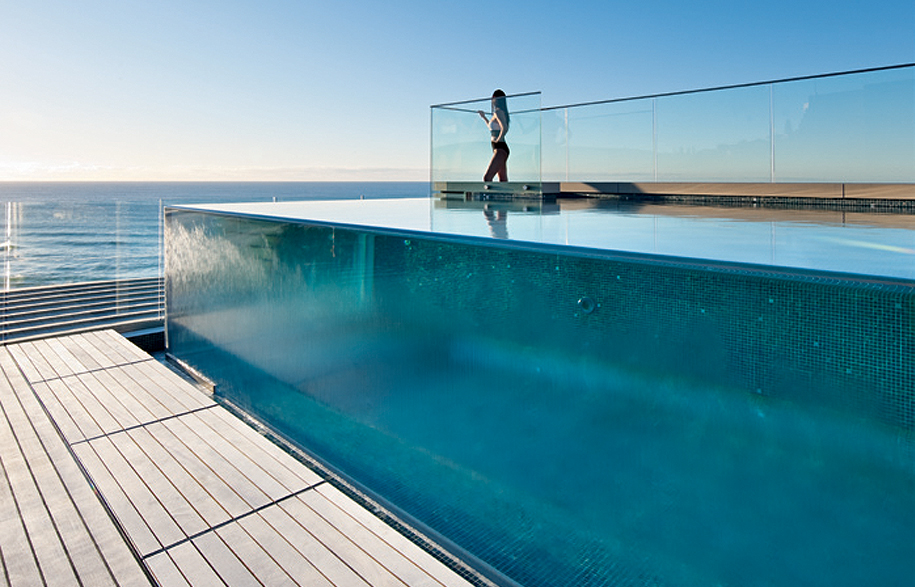 The acrylic wet-edge pool and lookout. 
Sparks has designed a suite of furniture for the house, including the beds, a long dining table and a blonde timber billiard table that, unlike its more pompous forebears with their turned Mahogany legs, works with the minimalist aesthetic and beach regalia. The finishes and details expose a careful craftsmanship and a finely honed sense of warmth. American Rock Maple timber is used throughout, and walls are rendered in American clay (an ingenious mix of marble dust, crushed glass and natural clay which emits negative ions). A mirror covers the front of the long kitchen bench, reflecting the ocean view, and, as Sparks notes, it "helps to de-materialise the solidity of the bench as an object". No two doors are the same size or proportion. Doors and windows are carved into thick walls with deep timber reveals to offset their aluminium hardware. Natural light is directed through a generous stairwell, and glazing punctuates tall walls to capture framed moments of gardens, ponds and ocean. The operatic moment, though, is unarguably stepping through the fully open-able wall of glass from the living zone to the deck… perhaps accompanied by a shout of 'Thar she blows!'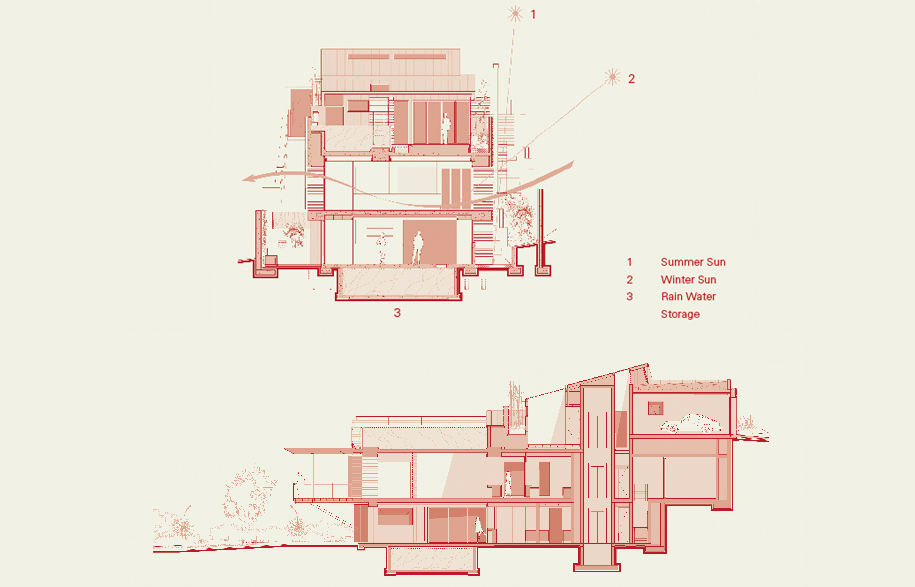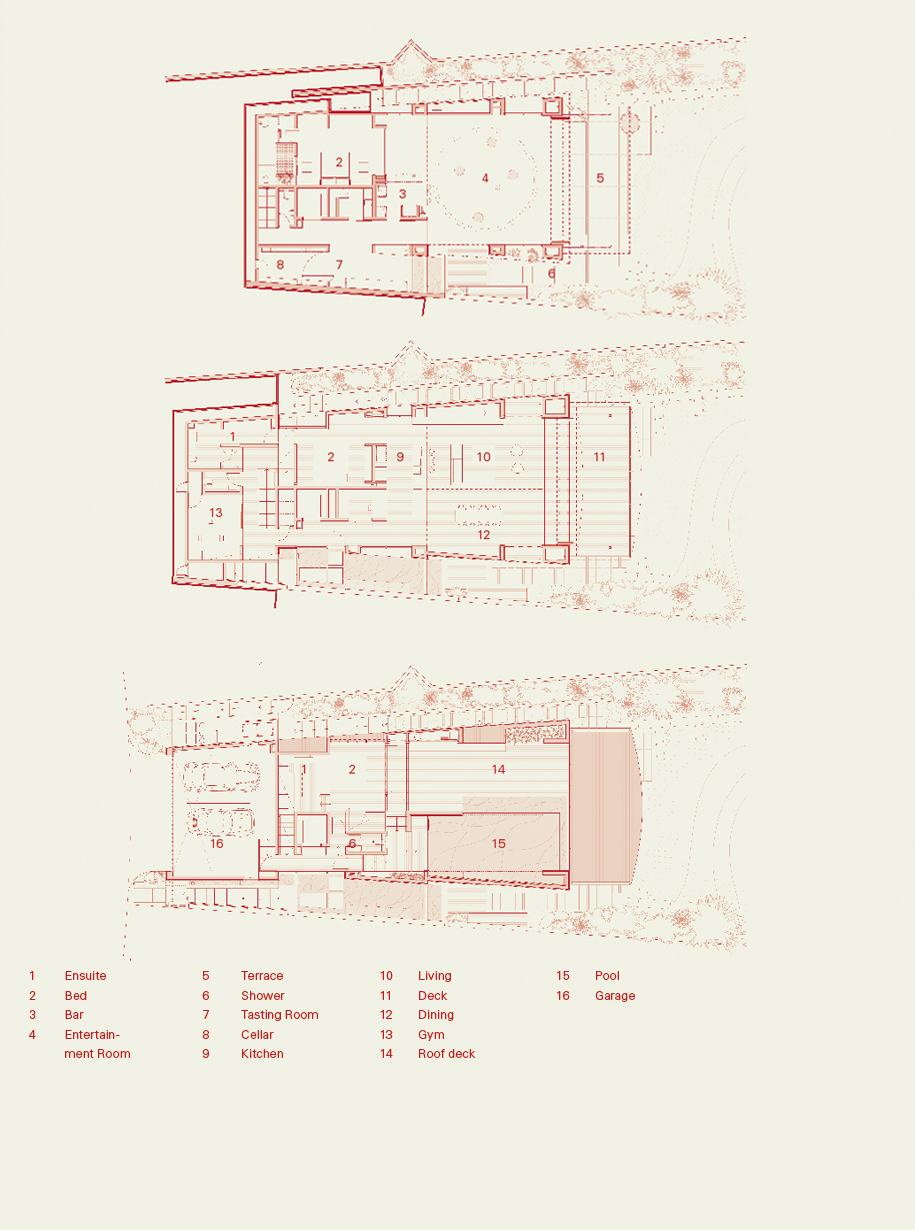 Photography: Christopher Frederick Jones
cfjphoto.com.au
Architect
Sparks Architects (in association initially with Gabriel Poole Design Company)
sparksarchitects.com 
Builder
JW Constructions (Jason Warren)
Interior Furnishings
Dawn Schaffer
Engineer
Bligh Tanner (Rod Bligh)
Builder
JW Constructions QLD
Artwork
Paintings by Emma Sheldrake from Redsea Gallery, redseagallery.com. au. Antique French children's car from The Country Trader, thecountrytrader.com.au
Furniture
Outdoor furniture manufactured by Coast New Zealand, coastnewzealand. com. Tables indoor and outdoor dining tables designed by Dan Sparks, manufactured by Metaltrendz, Eames coffee tables in Living from Herman Miller, hermanmiller.com, available from Living Edge, livingedge. com.au, and antique Chinese table top on Ground Level from Orient House, orienthouse. com.au. Chairs Lapala outdoor dining chairs, Catifa indoor dining chairs, Onda bar stools in Kitchen and Bar, and 'True' armchair in Master Bedroom, all from Stylecraft, stylecraft. com.au, and tub chairs in Living from The Country Trader. Lounge suite in Living from Arte Sofas, artesofas.com. Soft furnishings throughout by Dawn Schaffer, fabrics from Missoni, missoni.com.
Lighting
Skylight from Architectural Glass Solutions, solutionsinglass.com.au.
Finishes
Flooring caulked American White Oak from Queensland Timber Flooring, queenslandtimberflooring. com and concrete from Honed and Polished Concrete, honedandpolishedconcrete. com.au. Decks Queensland White Beech from Queensland Timber Flooring. Walls American clay from Earth Design, earthdesign.net. nz. Roof and soffit titanium zinc from ZC Technical, zctechnical.com.au. Joinery American Rock Maple, 2-pac polyurethane, painted back glass bench tops and white Corian, installed by Bain Kitchens, (61 7) 5449 7479. Island bench and back bar stainless steel from Metaltrendz, (61 7) 5456 2211. Bar Corian in Ice, casf. com.au. Stone steps grey limestone from Ace Stone + Tiles, acestone.com.au. Glass for skylight, shower screen, frameless glass gate, balustrades and portholes and shoji doors from Architectural Glass Solutions. Pool acrylic walls from Aquatonic, aquatonic.com.au
Fixed & Fitted
Wine cellar custom by builder, jwconstructionsqld.com.au. Audiovisual from Fl Audio, (61 7) 5455 6300.
Tags: Architecture, Australia, coastal, Home Architecture, House Architecture, new build, residential, Residential Architecture, Sunshine Coast, wood
---