Brisbane-based artist Marian Drew has a special connection to her bush dwelling. It was created especially for her by architect and builder Simon Laws, of Anthill Constructions.
Laws, who is a long-time friend of Drew's, delved into memories of her childhood to inspire his design. Key design elements were introduced to reflect a simpler time when Drew and her brother roamed through bush, splashed in the river and camped out on Fairymead Sugar Mill outside Bundaberg.
From the locally sourced wood fashioned to form 'pods', to the over-sized circular window reminiscent of a propeller, elements of the home draw together precious memories taken from the narrative of Drew's life.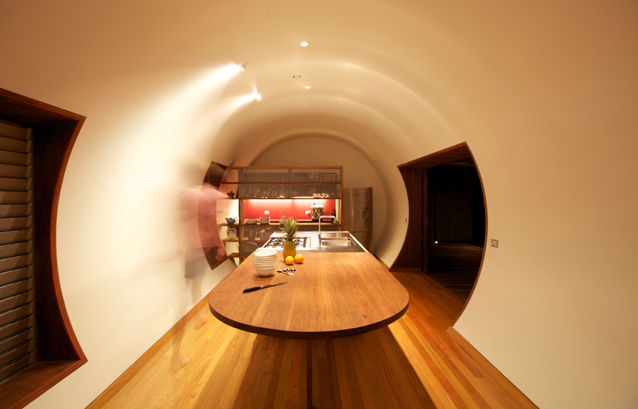 According to the artist, days at Pod House revolve around the main pod – a communal lounge room, kitchen and dining space. Curved walls funnel your attention to the round, almost sculptural, window that bounces slices of morning sunlight around the room.
"It almost feels like the building is taking flight and transporting you to another place," says Drew.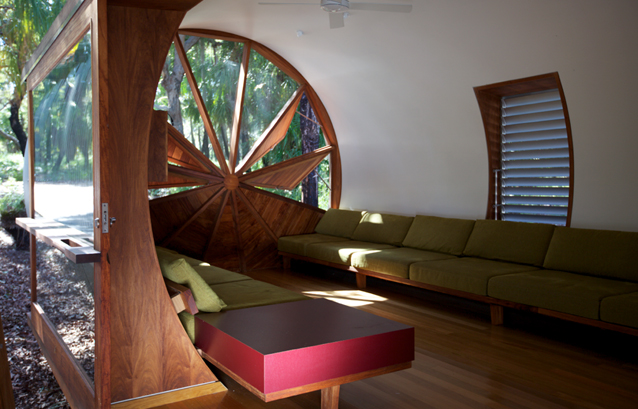 "When I bought the land in 2009 Simon and I drove to see where I'd grown up," said Drew.
"Simon loved the look of the old mill – the corrugated iron buildings, the turbines. He took an aesthetic for Pod House from that trip."
Wooden walkways through sub-tropical gardens connect two sleeping pods, and a bathhouse with windows that peel back, creating an outdoor bathing experience akin to camping.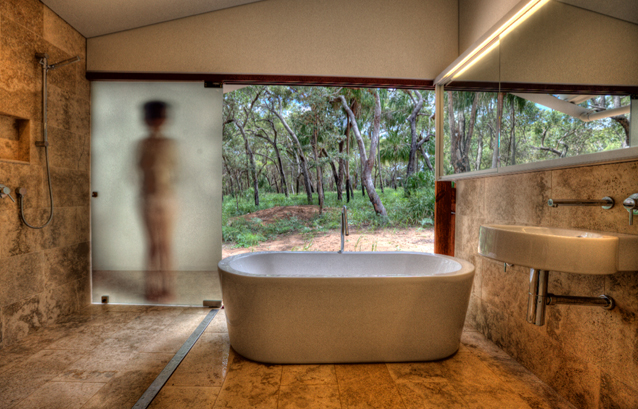 The parameters of the design were dictated by Laws' desire to build the home in Brisbane and transport is 500km to site by truck. This meant he could use his desired craftspeople and complete the job more quickly.
The prefabricated parabolic roofed structure and decks were erected onsite and connect the buildings through a large outdoor eating area. Aramax roof sheeting spans the two identical, but reversed, hardwood self-braced trusses.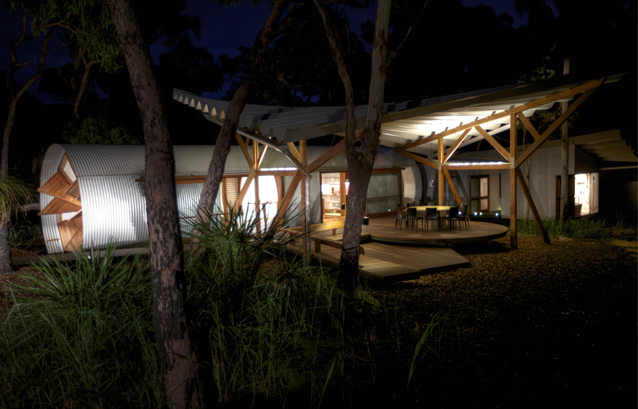 It was a nerve-wracking six-week journey for Drew that 'went off without a hitch' and was ultimately worth the wait. The project was completed late last year, in time for Drew's daughter to celebrate her 21st birthday there.
"This house is such a joy and has so many sunny pockets. Simon captured my desire for a place of escape and also captured my family history."
Marian Drew
---