The world's top naval architect has joined a creative architectural studio with a reputation for challenging the norm, along with the builder of highly regarded ocean-going sailing yachts.
Polytropon II, the Nautor's Swan 82 Custom was brought to fruition by naval architect, German Frers of Frers Naval Architecture & Engineering, design firm Lazzarini & Pickering Architetti, and shipyard Nautor's Swan. They have brought their own skills, reputations and traditions, and each accommodated the influences of the others, but without compromising their own developed ideals.
The yacht features high impact looks contrasted with a minimalist deck and interior layout. The exterior of the yacht contains a raised saloon deckhouse that blends effortlessly into the cockpit coaming as it stretches aft from the mast, and comfortable protected horseshoe seating areas are encompassed on either side of the yacht.
The deckhouse is made of glass and features screen-printed laminate in the interior to give an opaque white finish that allows the occupants to look out. It privileges natural illumination and offers an uninterrupted view of the landscape from inside the boat, while blocking the view from the outside in. The glass opens with pistons allowing welcome ventilation from the deckhouse aft to the guest heads and cabins.
The main deck is clad in teak, and this finish is weaved into  Nautor's trademark interior. Hand-selected teak veneer finished in a custom stain and wax coating is used throughout, including the ceiling. In contrast to the teak, the finish to all bulkheads between the various cabins is high-gloss white, and mirrors on the sides of these panels provide a larger sense of space.
There is no crew accommodation, a deliberate choice to allow maximum space for the owner and guest to liveaboard. Rather than place the crew into small quarters up in the bow, the owner has opted to accommodate them on a separate 47' 30 Knot tender "Polytrofon II" that sleeps the 4 to 8 crew. The main cooking, laundry, wine and food storage facilities are also on the tender, referred to as "The Kitchen Boat", reducing the space requirements for the galley and food storage. The accompanying boat offers all the pleasures of a large professional kitchen without sacrificing inhabitable space aboard the yacht.
Polytropon II, the Nautor's Swan 82 Custom is a yacht for sailing. It has clear concept design features that have not been allowed to compromise the seaworthiness or sea-kindliness of the design. The sailboat shows that the forces of nature can be sustained and optimised with the cooperation of artificial elements.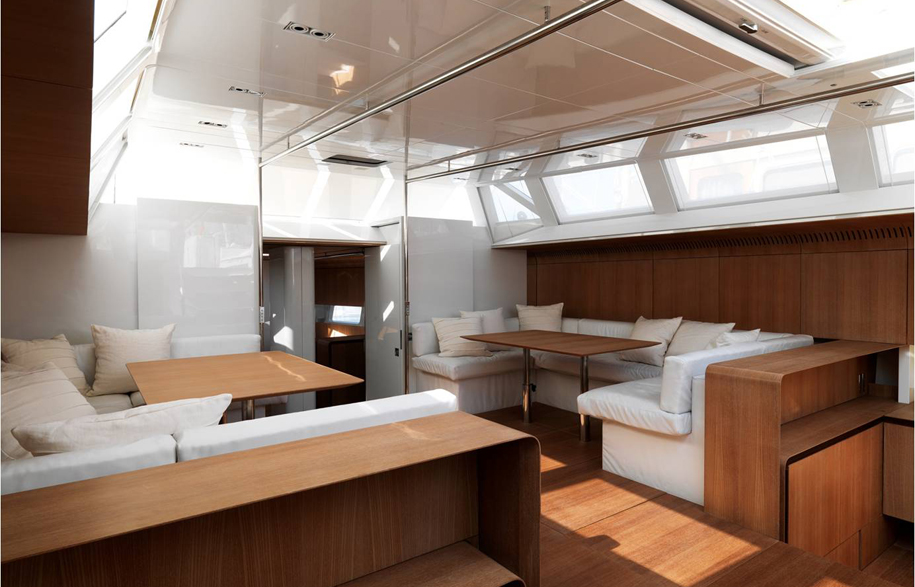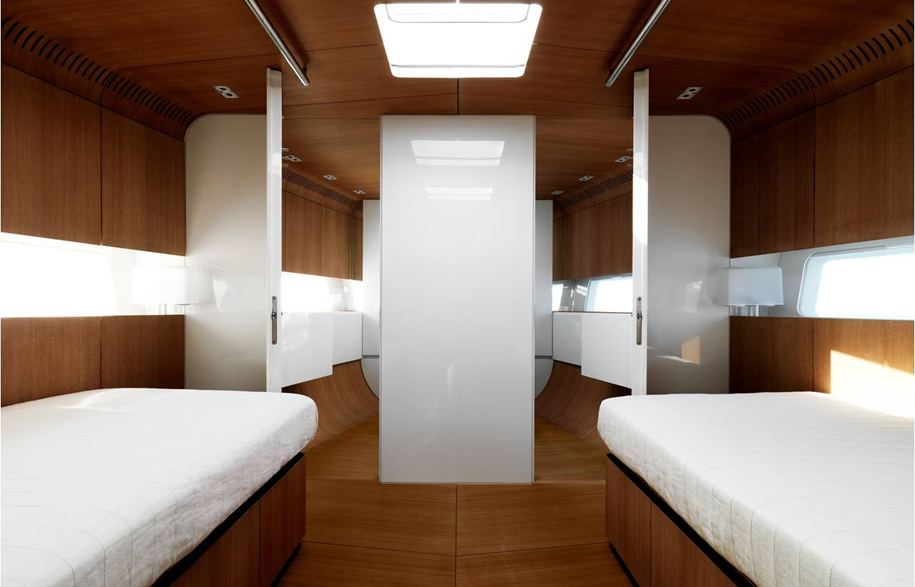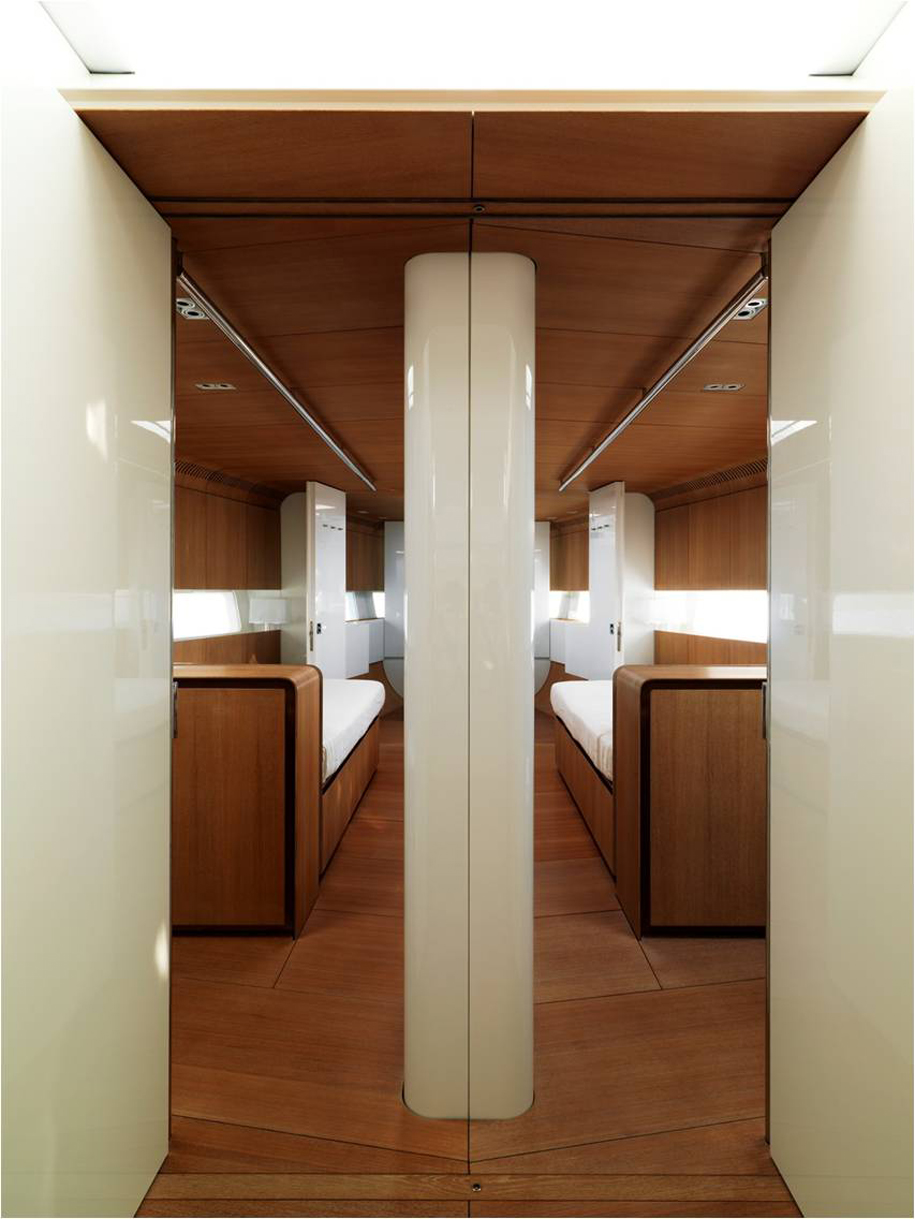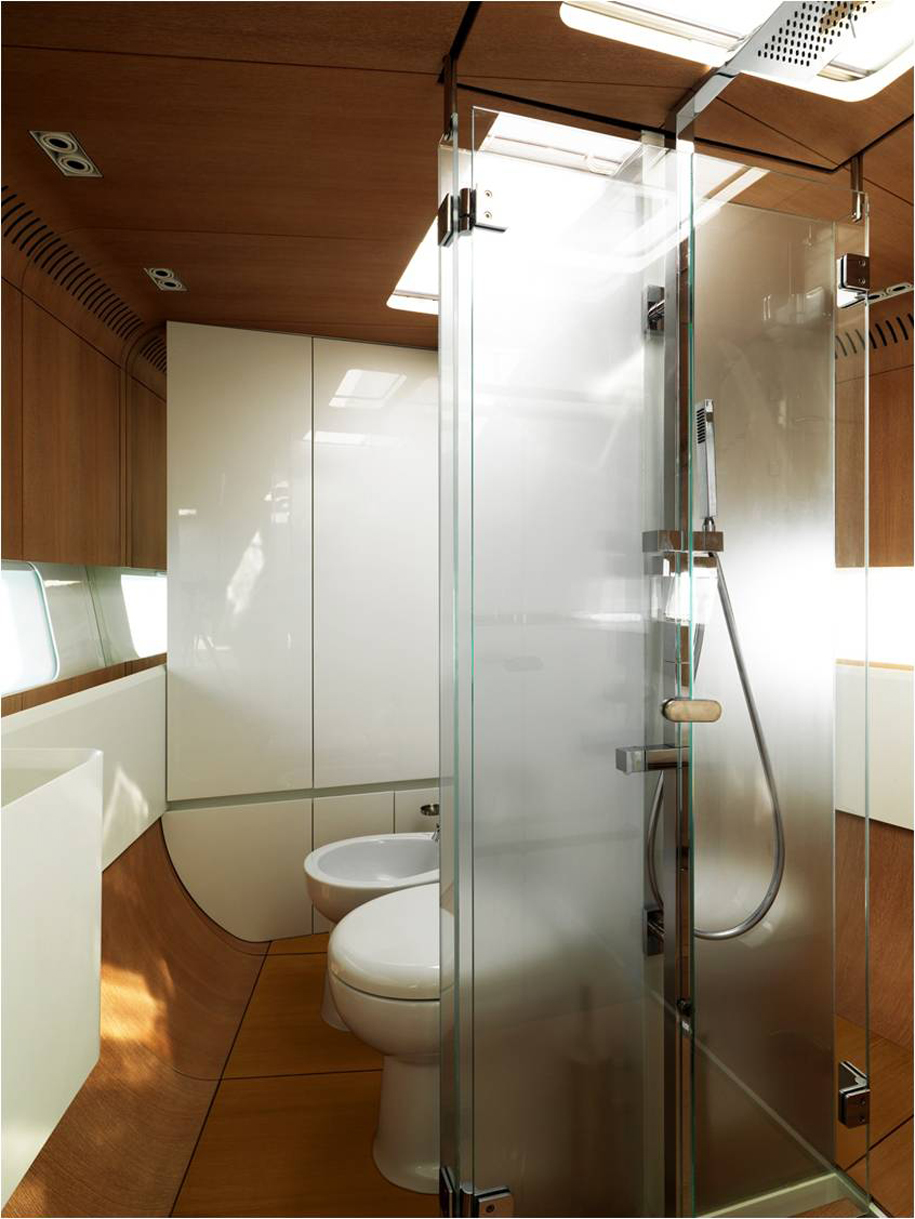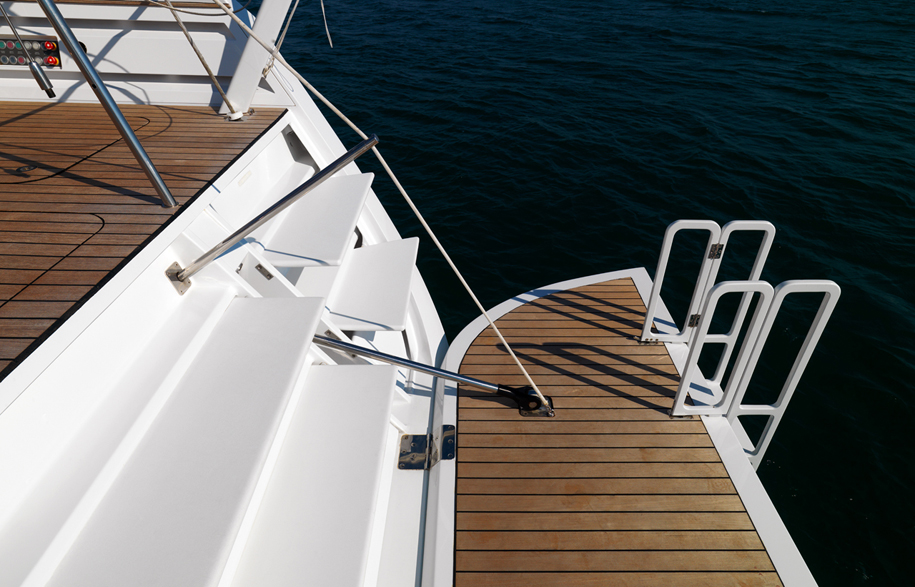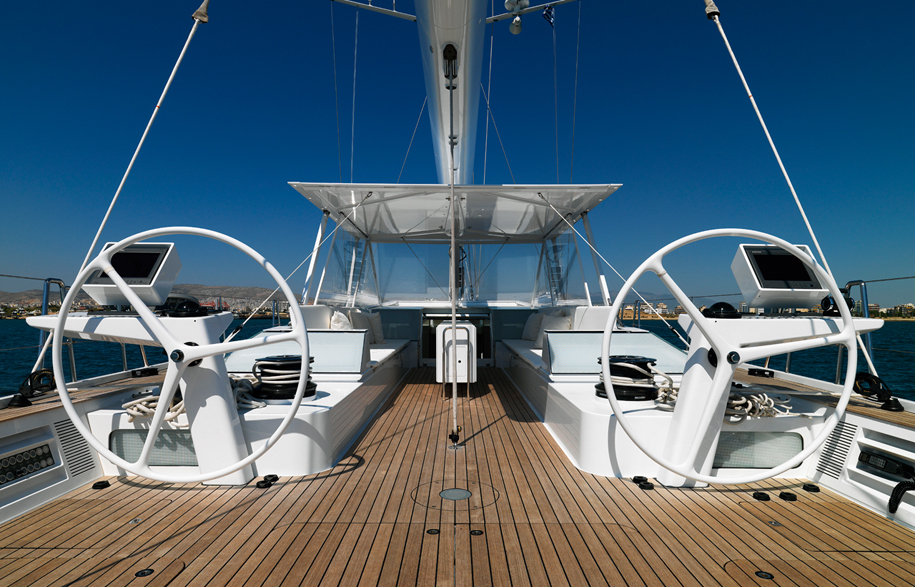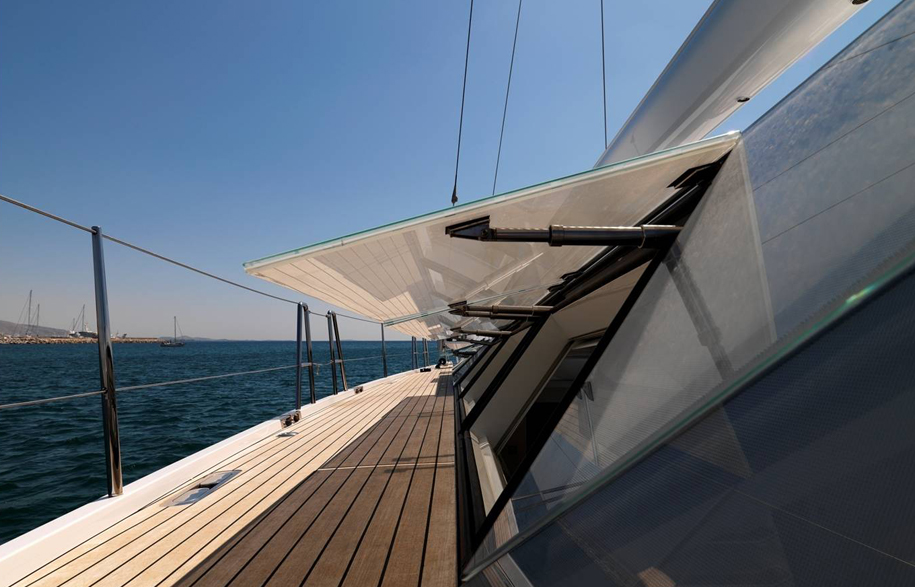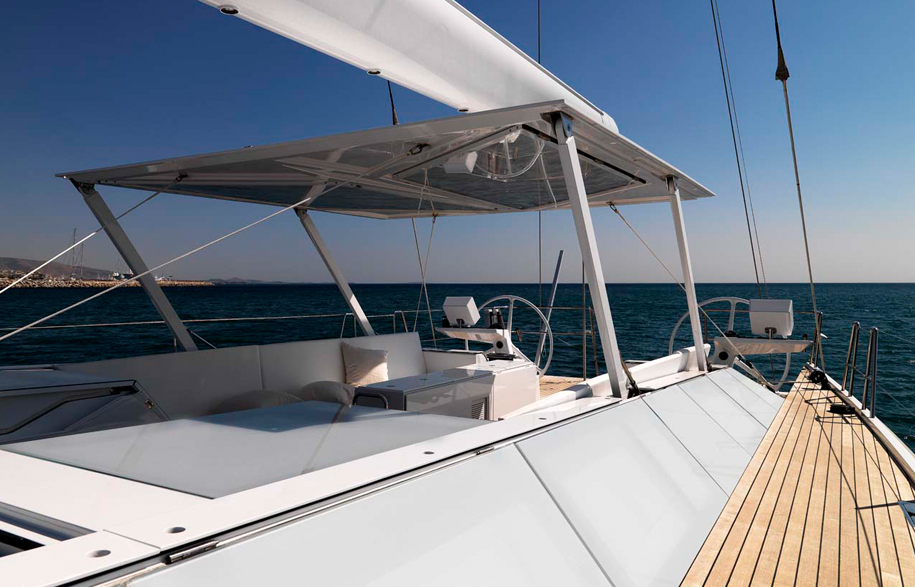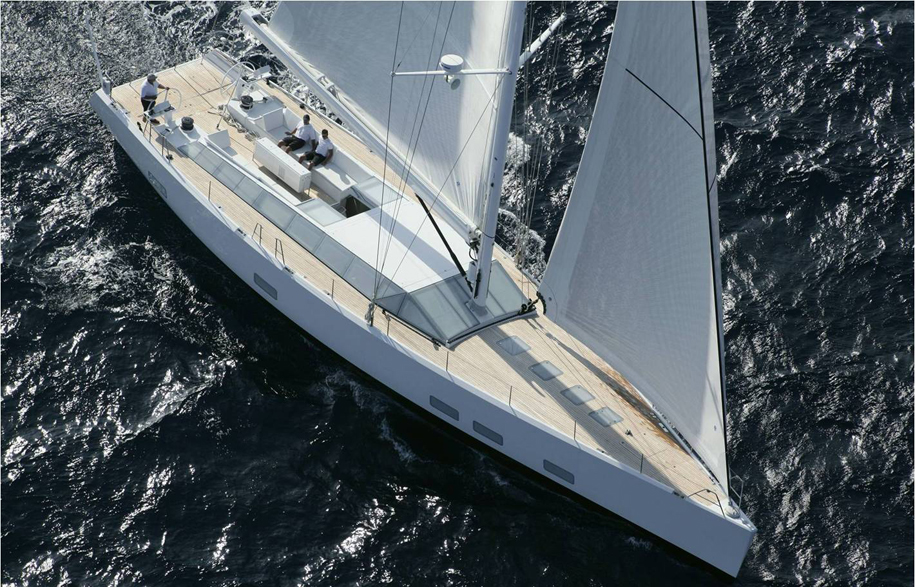 Naval Architect
Frers Naval Architecture & Engineering
Exterior Styling and Interior Design
Lazzarini & Pickering Architetti
Project Manager
Vittorio Mariani
Shipyard
Nautor's Swan
---