The notion of universal design revolves around making living spaces equally comfortable, safe and accessible for everyone regardless of height, age or physical ability. For an elderly couple that values time with their family and friends, Studio Artede brings a contemporary aesthetic to a busy sectoral road of Panchkula, India.
To contrast the bustling and congested road right outside the residence, the studio utilised the courtyard and pool as principle elements of design. Individual masses define the façade, a demarcation that gives occupants a full view of trees along the road while limiting prying eyes from the street. Differing from standard architectural concepts that often stem only from the occupant's personalities, Pool Yard House is informed by the region's extreme climate conditions, the desire to add greenery within an urban area and the need to create a space for the elderly couple to host and entertain their family and friends.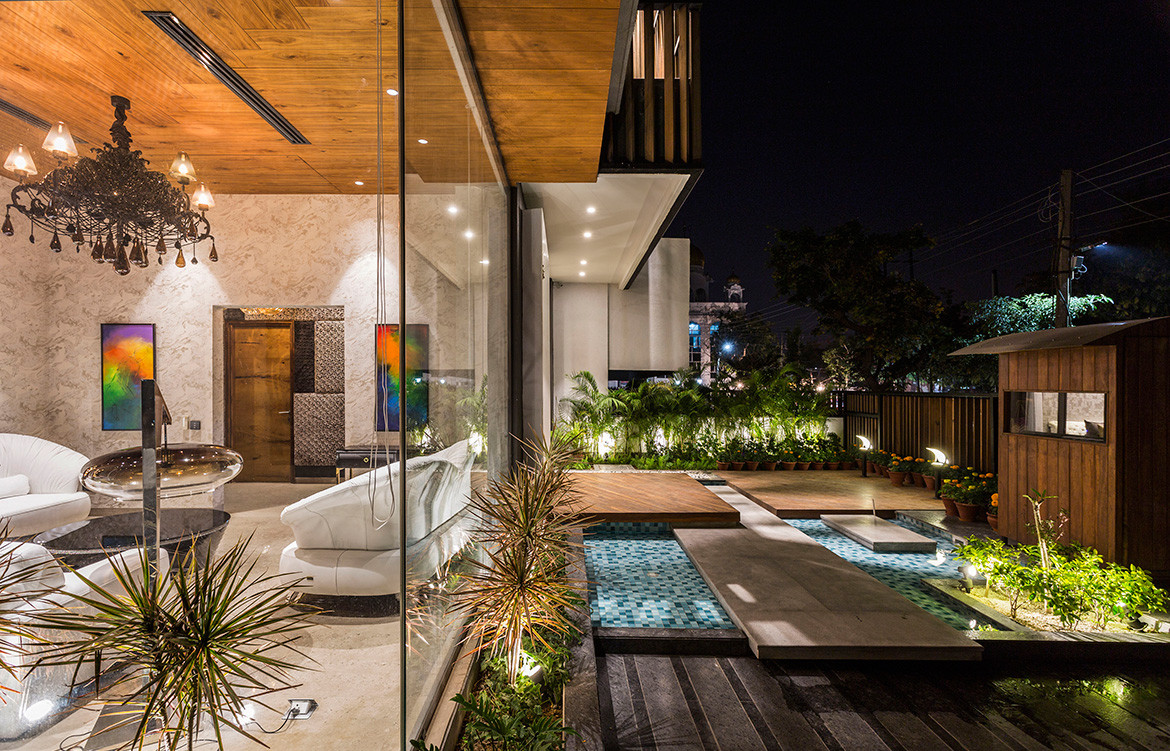 Lending the project its name and character by fusing the courtyard and pool as a focal point to define the rest of the spaces within the home, the glass-fronted pool appears to be floating within the courtyard of a tropical retreat. Along the same approach, the transparency of interior spaces enhances visual connectivity between the rooms, the outdoor living areas and the pool. With glass walls, evident inside and out, Pool Yard House is dramatic in design as it visually expands the living space.
The main staircase that connects the courtyard to all living spaces has a dark grey vertical screen feature behind it to seamlessly break the monotonous mass of the interior. Adding some lightness to the space, rectangular voids are cleverly placed – both figuratively and literally. So when natural light filters through these voids and the double-height courtyard, the home is awash with daylight, clarity and transparency. In a similar manner, the highly reflective windows add a sculptural feature to the entire home.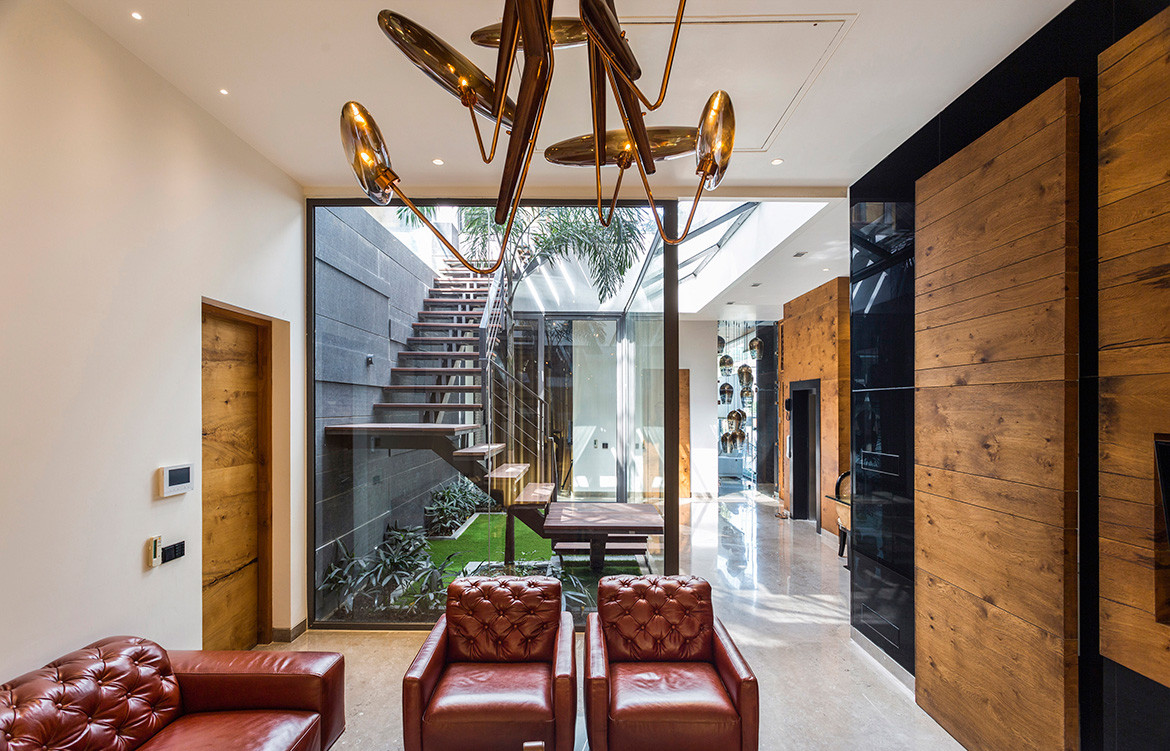 Additionally, cantilevered roofs reinforce the connection between the exterior and interior, while the colour palette – which includes wood and stone for – not only contrasts subtly with bold lighting features and colourful artwork, but is also a refreshing visual escape from the city and its roads.
Studio Ardete
studioardete.com

Photography by Purnesh Dev Nikhani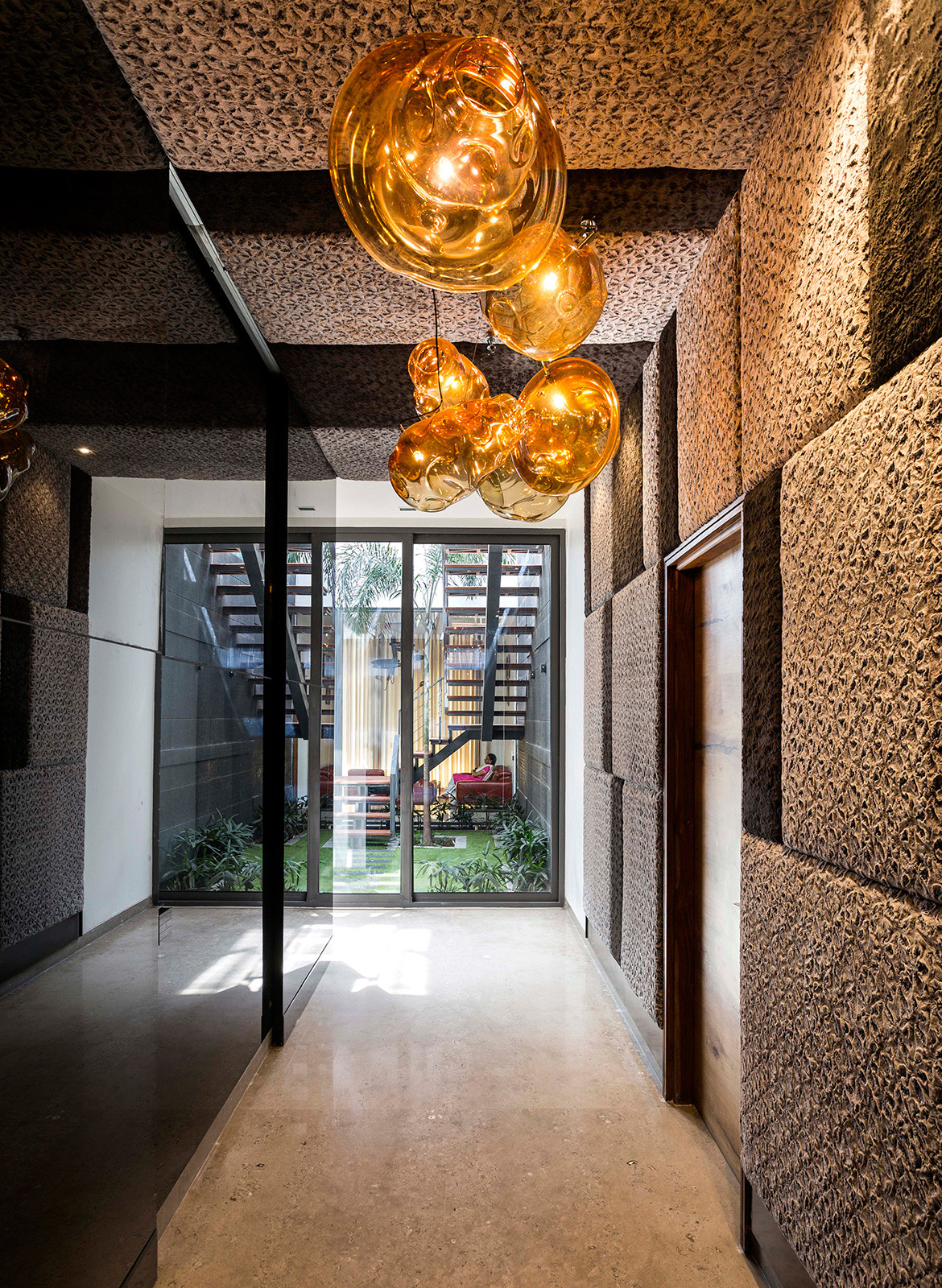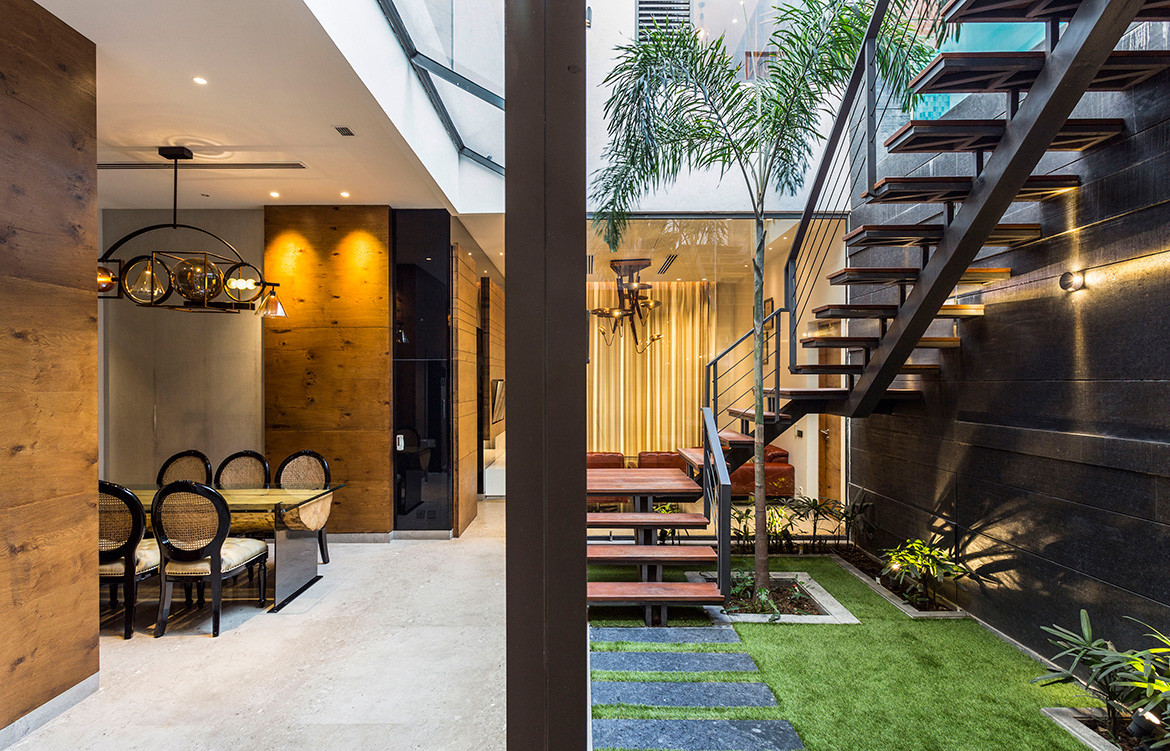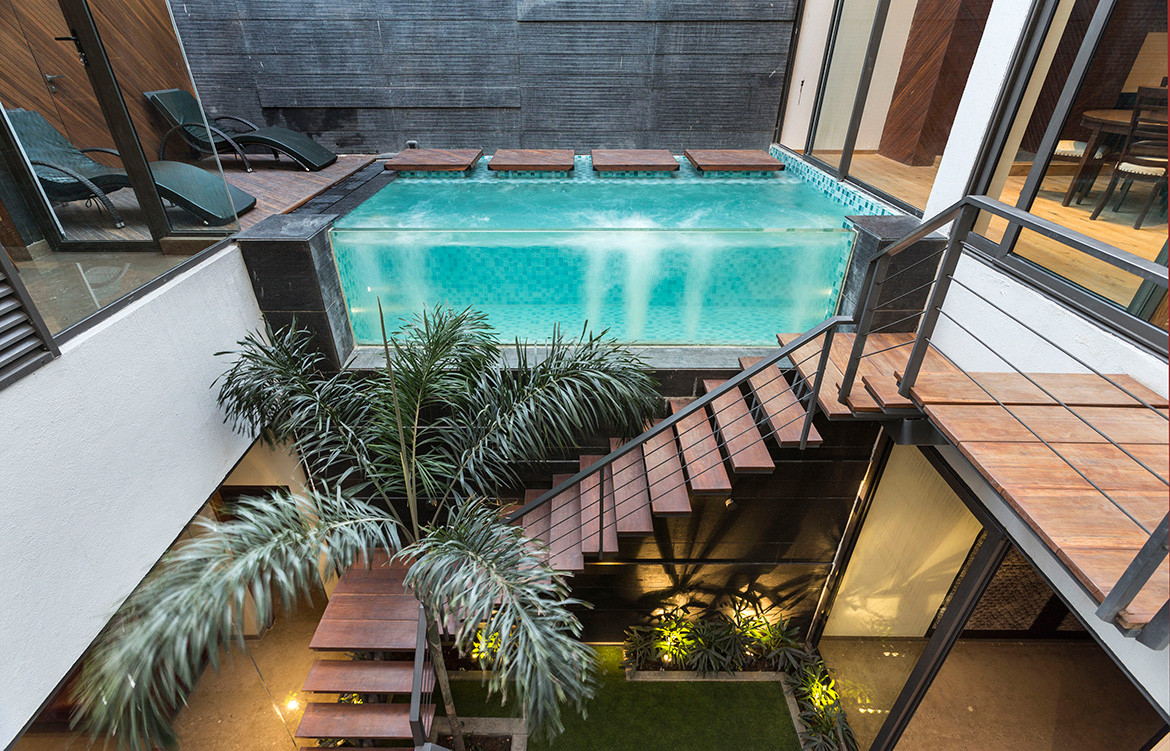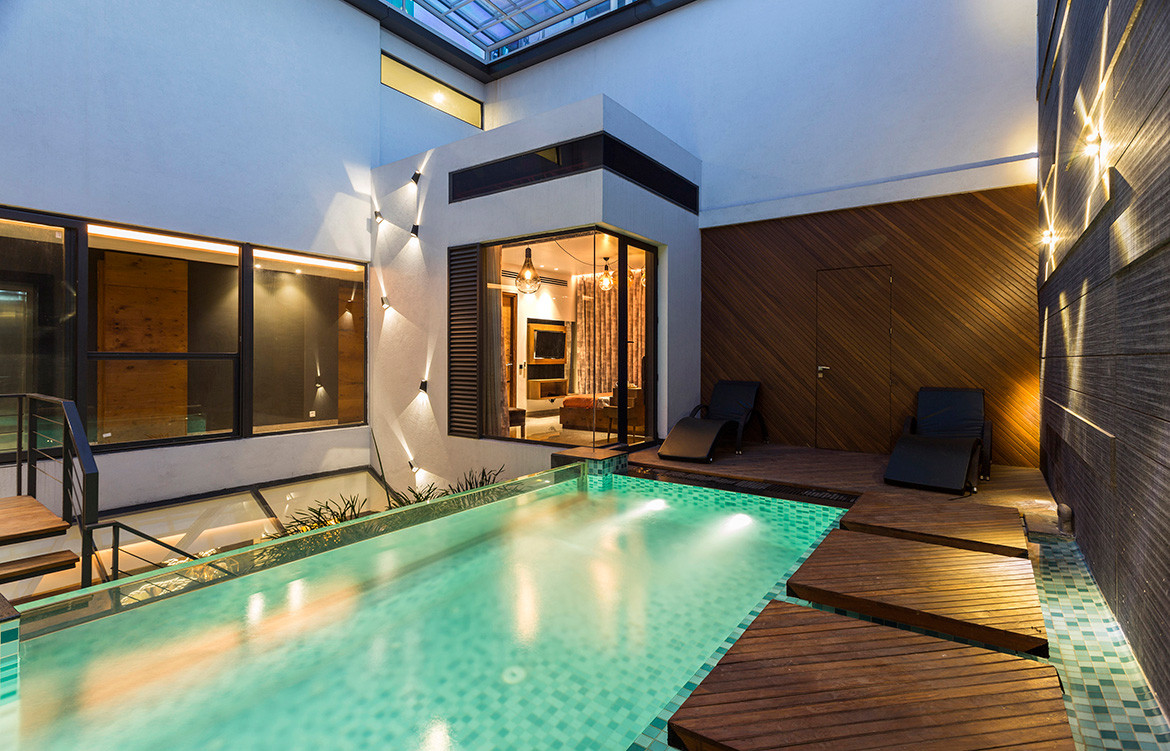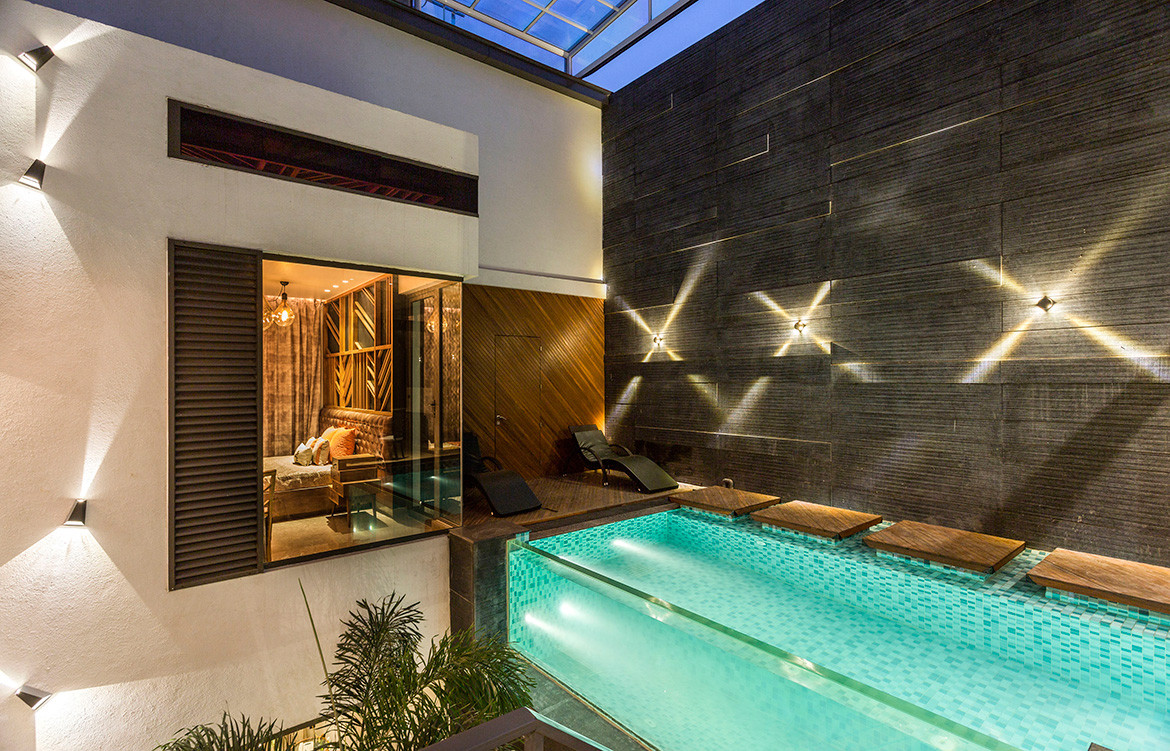 We also think you might like this Courtyard House in Singapore by Hyla Architects. 
Tags: Architecture, courtyard, design, India, interior, Panchkula, pool, Pool Yard House, Purnesh Dev Nikhani, residential, Studio Ardete
---