Hero Image courtesy Share Design
"The juices are the centrepiece of every store," explains Alessia Pegoli, co-director of Every Studio, the multi-disciplinary design studio responsible for the suitably organic interior of Pressed Juices' South Yarra store.
Responsible for all facets of the company's branding, The Melbourne-based studio were conceptually guided by the company's core values of purity, simplicity and rawness, creating a (naturally) sympathetic material palette and a minimalist approach to the interior.
"The brief was for the stores not to be just a shop front, but more of a wellness space, a place to soothe and recharge,"explains Pegoli.  As a result Pegoli and her co-director Sarah Crowley have created "moments" within the store including spaces for consultations with the in-store nutritionist, juice tastings as well a space to linger over the store's collection of health and wellbeing books.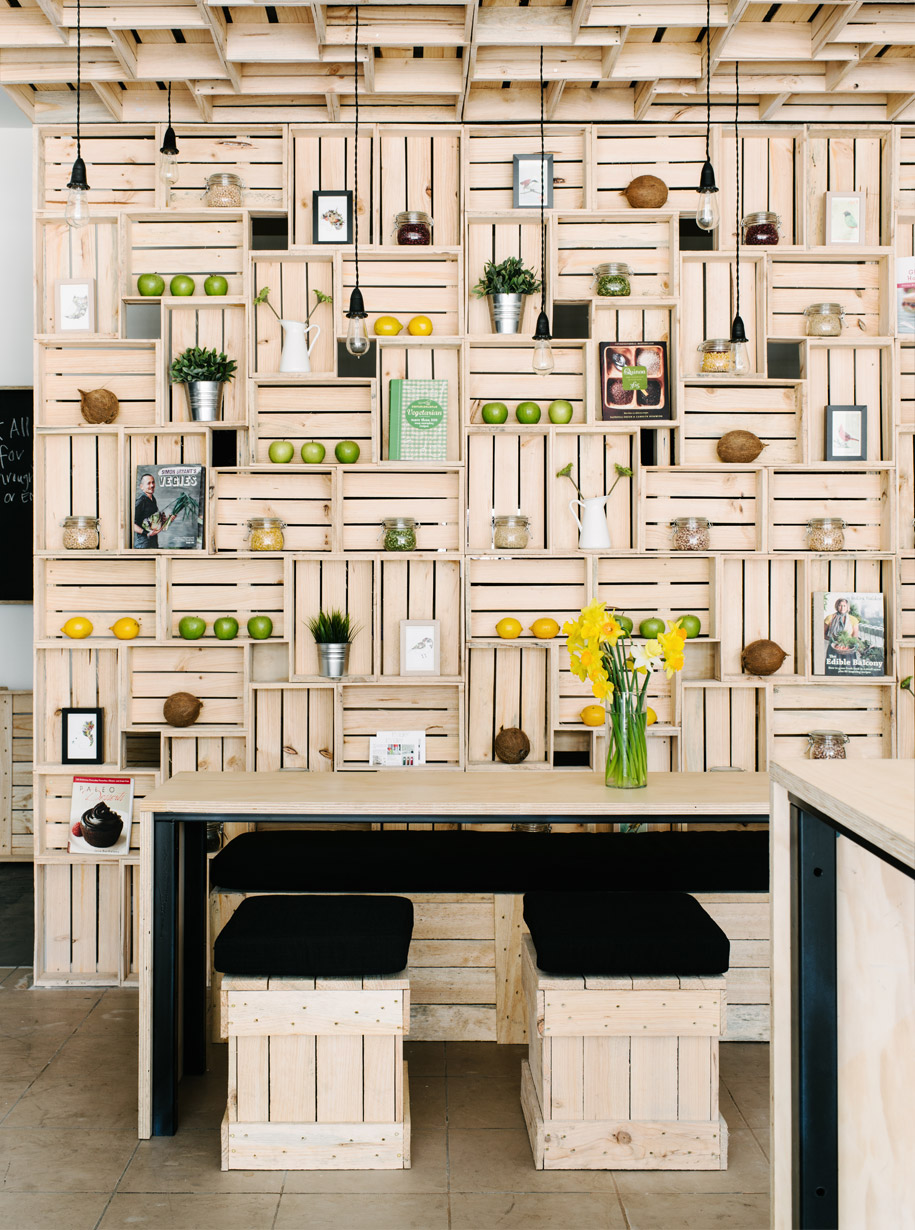 Image courtesy Share Design
The store also doesn't feature a traditional shop counter.  "That was in a bid to create a more free flowing space for both the staff and customers," adds Pegoli.  "In its place, we've provided a lot of flexible surfaces for staff and customers, like the plywood bar down the centre of the store which is used for tastings, consultations and a spot to sit!"
The original store, whilst something of a generic white box, offered up a number of existing "quirks", which the team used to their advantage.  "We tried to make opportunities of the existing fabric of the store as much as possible," adds Pegoli.  "Existing wall niches were turned into multi-purpose blackboard menu niches which also function as shelving and places to drink."
The team even made use of the 1980's existing pink tiles, grinding them back to reveal the raw ceramic substrate.
As expected, the modesty and simplicity of the material palette (which includes raw and untreated blonde timber, plywood and blackboard and clean white walls) really allows the vibrant colours of the juices to "sing".
"The fruit crates have become a signature feature, a modern take on the traditional fruit shop," adds Pegoli.  "It's used as a crate wall and a display wall that also doubles as a bookshelf, which folds over to become a dropped canopy over the communal dining area.  This creates a cosier, more intimate environment at the back of the shop and also acts as a neutral yet eye catching backdrop the entire store."
The crates also reappear as a pendant light installations at the front of the store. "The idea was to create a suspended artwork to act as a welcome to customers, to designate the window seating as a playful and more casual space, and to be create intrigue for passers by," concludes Pegoli.
For more images visit: sharedesign.com/inspirationblog/places-spaces-pressed-juices-south-yarra
Photography: Brooke Holm courtesy Share Design
brookeholm.com.au
Pressed Juices
pressedjuices.com.au
EVERY studio
www.everystudio.net
Tags: Interior Architecture, Interior Design, Pressed Juices
---