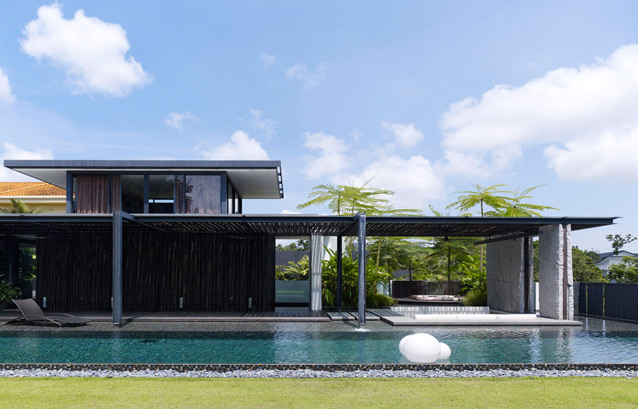 Located on the idyllic Queen Astrid Road, one of Singapore's oldest and most historical locations, stands a house that hints at old-world grandeur but with a modernity that complements its tropical setting.
Home to a three-generation family unit, its 27,000 sq ft offers ample space for each of its eight members as well as to their friends and relatives who are entertained in its generously large outdoors. "This was one of the requirements we had to bear in mind when we started to design the house," says architect Aamer Taher. "We, therefore, aimed at creating elements of interest and characteristic features that will make the outdoors an experience in itself."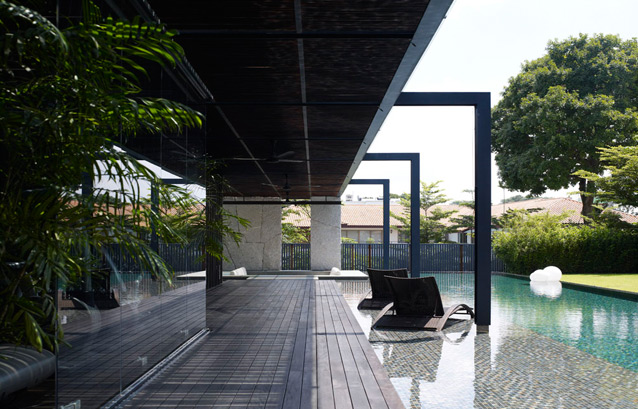 With large grounds at their disposal, Taher and his team selected materials that represented and complemented the tropics: cool marble flooring for interiors, teakwood panels for louvres to ventilate the corridor and as insulation from the heat, rough-cut granite and onyx stone slabs to add texture, lush landscaping and, of course, water. "In all the houses we design, we integrate water features as it cools the breeze and is visually therapeutic," says Taher.
The sloping land, typical of the area, offered a few challenges to the architect team. "We tried to work as much with the existing gradation, especially in the steeper areas around the back," says consultant architect, Khairuddin Saharom. "We set the house far back from the road and did some land-filling in the front section so that the main garden has a flat land area where the family sets up tents and pergolas to hosts parties and gatherings."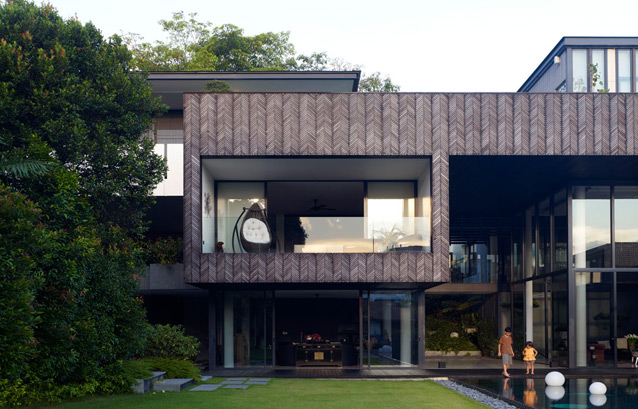 The house was then divided into two wings: one a master block for the parents and grandparents, the other a children's and utilities block.
On the lowest level, the double-height living room and a family room overlook the azure swimming pool, ponds, waterfalls and landscaped gardens. A level above is a communal dining complex consisting of the formal indoor dining, outdoor dining, dry and wet kitchen, maid's room and laundry service. It leads to another family room which sits above the family room below, and connects to the grandparents' wing on the other side via a long passageway.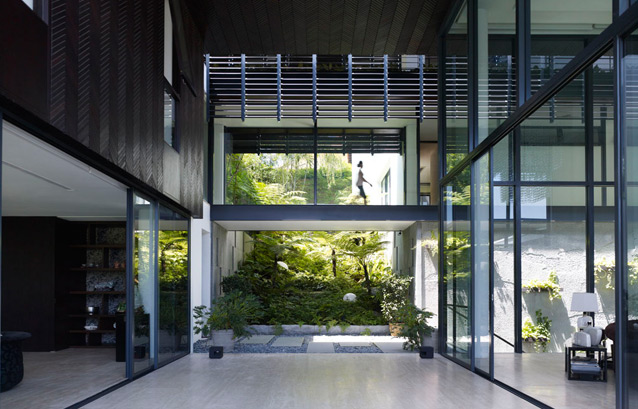 On the topmost level sit four children's bedrooms on one side and the parents' master suite consisting of a large walk-in cupboard, bathroom, study and bedroom on the other. "Each area is sectioned off to create privacy but at the same time linked via corridors, breezeways and courtyards to give a sense of openness," explains Taher.
Creating a grand entrance to this impressive architecture is a long lap-pool alongside a fitness pavilion that includes a gym, spa, a sunken water pavilion and a jacuzzi. "It is like a mini-resort, and to be true to this tropical retreat, we included pavilions, pathways, waterfalls and ponds to give it a restful feel," adds Saharom.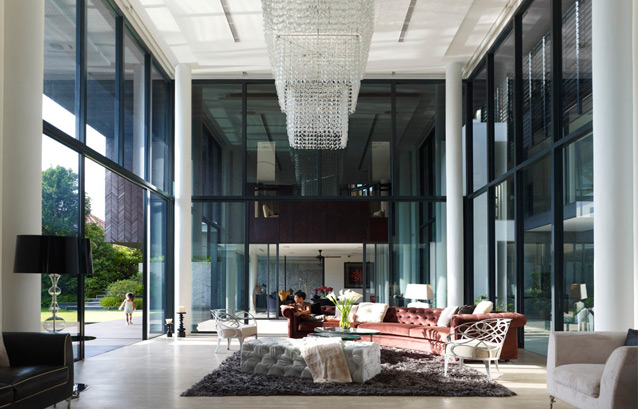 Following a flight of stairs from the sprawling lawns will take you to an indoor dining area set amidst a carp fish pond. Encased within a circular chamber, the traditional Chinese 12-seater round dining table is surrounded by glass and timber panels. "Acoustically, circular interiors lead to echo effects. However, by breaking it up we were able to eliminate that. To create an aesthetic effect, we cut and laid the floor planks in a sunray pattern to give the room its own identity," explains Saharom.
The patterned effect can also be observed on the façade of the building where Taher and his team decked a portion of the external wall with teakwood panels laid in a herringbone pattern. Elsewhere, rough granite slabs were cut and set in an irregular fashion, offsetting the smoothness of other natural materials and adding to the resort feel of the house. Glass panels were used extensively to create a translucent, reflective quality, and to add interest, Taher and his team interspersed them with onyx slabs. "The translucence of the stone does not limit the light but at the same time creates a dramatic effect to the bricks and mortar house," says Taher.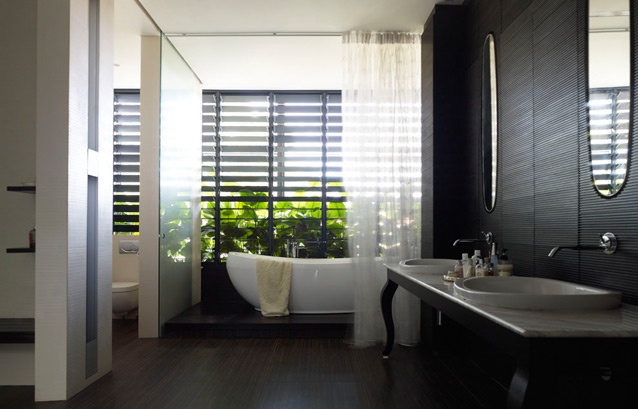 With over twenty rooms, each with its own purpose, there are a number of splits and divisions in the house, almost like a jig-saw puzzle. Nonetheless, it all comes together homogeneously. "We had a very good working relationship with our clients who had basically given us free reign in choosing the materials for the interiors," says Saharom. "The wife took a keen interest in our designs and her inputs helped us move faster."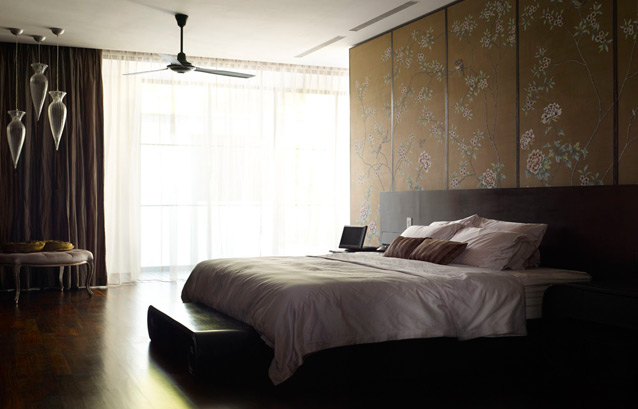 Aamer Taher is a household name among the rich and the famous of Singapore. If you were to look closely, each of his designs exhibits a certain 'Taherian' personality which is also noticeable with Queen Astrid abode: the quintessential resort-like feel in perfect harmony with its tropical surroundings, architectural ingenuity that ensures each part of the house has its unique personality, and a sense of cohesion that unifies the various elements and its family members to feel at home.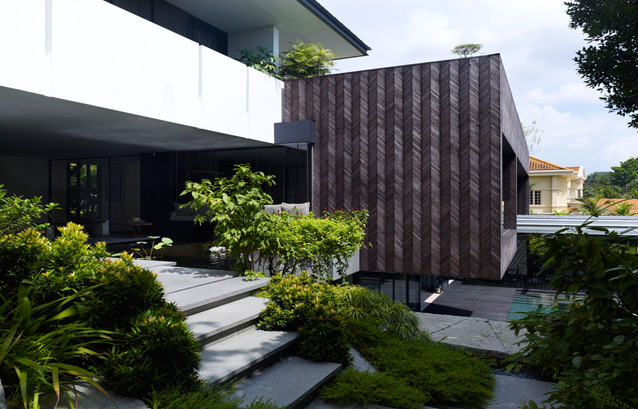 "It is a large house but each part is lived and loved by its residents," says Taher.
ARCHITECT
Aamer Architects aamertaher.com
(65) 6336 7949
BUILDER
Aikco Construction
STRUCTURAL ENGINEER
Web Structures (S)
M&E ENGINEER
B S Ong Engineering
QUANTITY SURVEYOR
KH Lim Quantity Surveyors
LIGHTING CONSULTANT
of Lightgeist Limited (Helmut Waldhuber)
LANDSCAPE
Aamer Architects + Nyee Phoe Flower (Eliam Ng)
HOME AUTOMATION
DOMUS integration
PHOTOGRAPHER
derek@derekswallwell.com
Tags: Aamer Architects, aamer taher, Aikco Construction, architect, architectural ingenuity, Architecture, B S Ong Engineering, carp fish, DOMUS integration, family room, grand entrance, granite, historical location, Home Architecture, HOME AUTOMATION, House Architecture, indoor dining area, jacuzzi, KH Lim Quantity Surveyors, Khairuddin Saharom, landscaped gardens, Lightgeist Limited, marble flooring, modernity, Nyee Phoe Flower, old-world, oldest, onyx stone, outdoor dining, Queen Astrid Road, Residential Architecture, resort, Singapore, swimming pool, teakwood, Traditional, tropical, twenty rooms, waterfalls, Web Structures
---