Rama Architects has designed a new family home in Newport for a young family and their dog, with the aim of creating a cost-effective approach that explores lightweight structures and claddings.
The brief called for a home to maximise storage, a bedroom for each family member, and a spacious open living area that captured the incredible views of the beach beyond.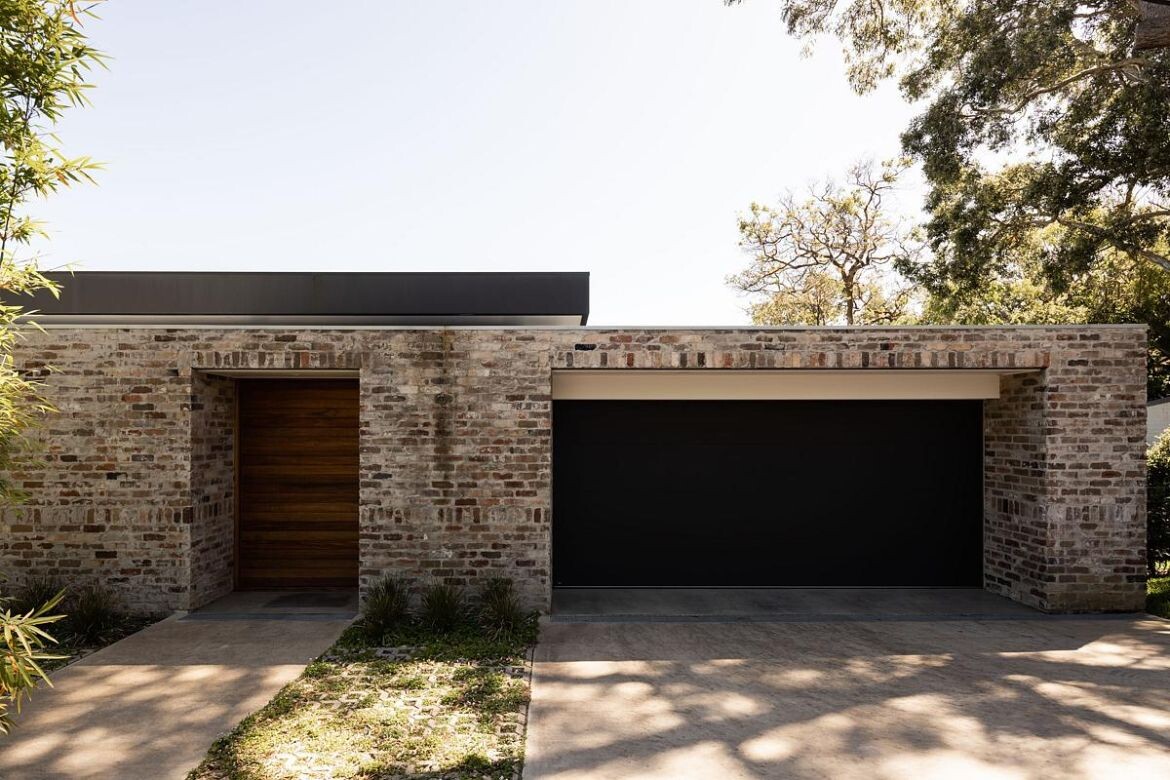 According to Thomas Martin of Rama Architects, the design includes a mass of weathered recycled brick at the front of the home, which looks like the back, hence where the residence's name derives from.
Martin particularly "enjoyed the challenge of keeping a structural rhythm spatially, and the protrusion of the main bedroom to the north". The roof proved challenging to keep as such a wide-open and flat span, but the result gives the ultimate payoff.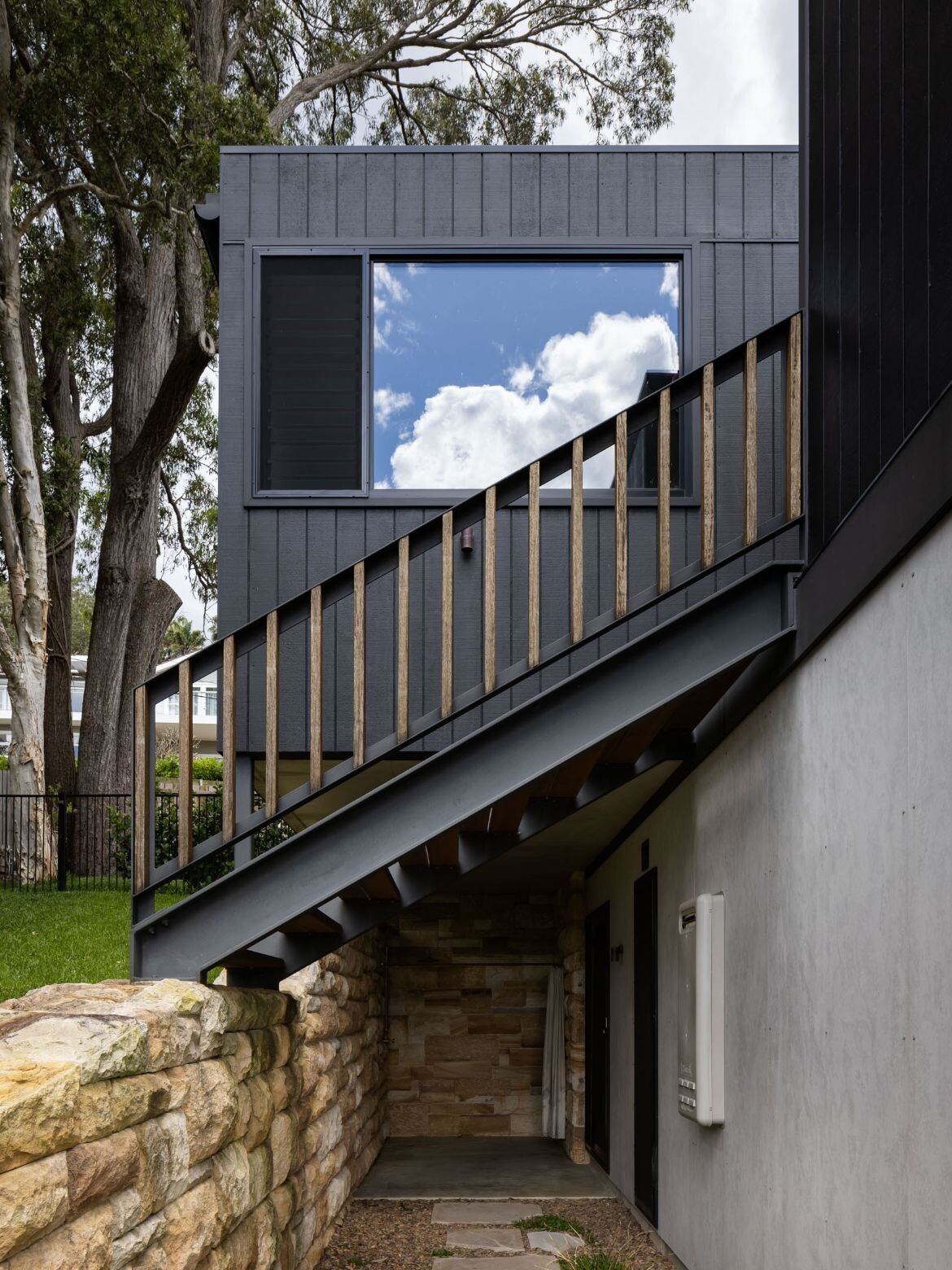 When approaching the residence, visitors are greeted with a wall of weathered recycled brick at the formal entry. The flat roofline and single level open up to a light-filled, open-plan living space once inside, including a generous five-metre island bench.
Programmatically the residence includes a kitchen, living and dining areas, and an expansive balcony on the northern edge for outdoor entertaining. The laundry and powder room is tucked into the south-western corner of the home, while the main bedroom – including a reading nook looking out to the views – is adjacent to the stairs leading to the lower ground floor.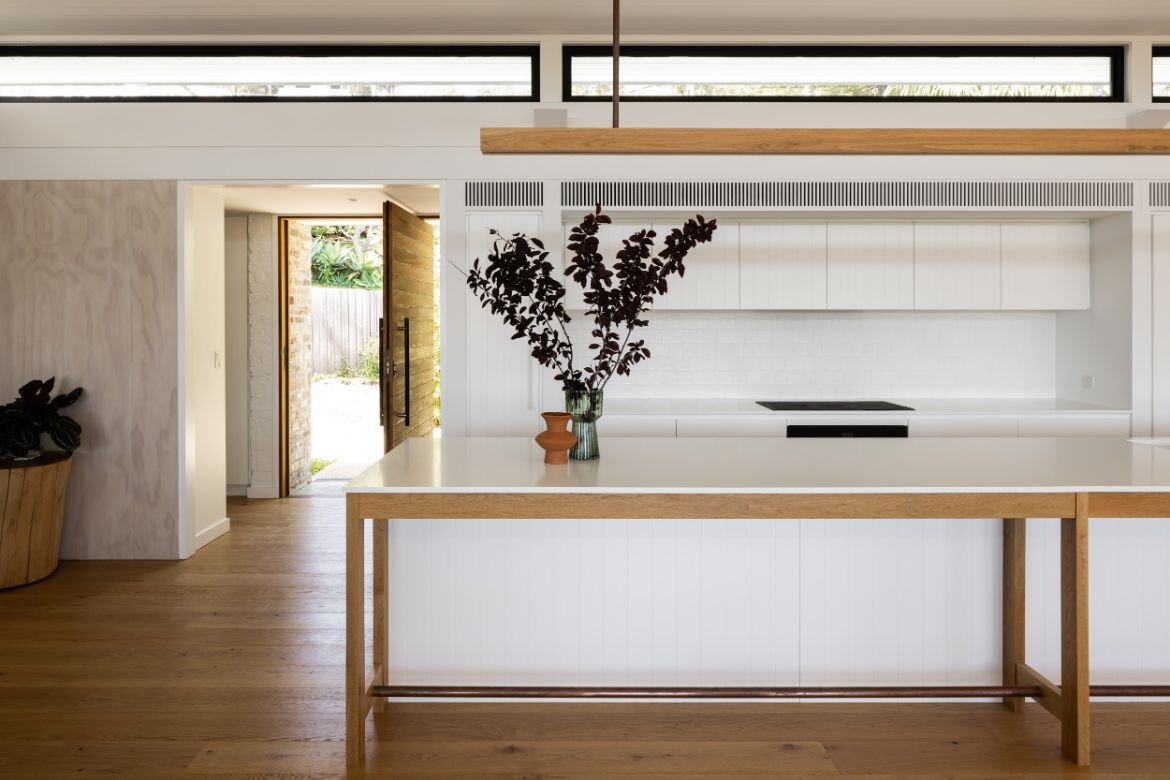 The lower ground floor has an array of bedrooms on the northern edge of the building, divided by a media room and bathroom to the east. This section of the house also accommodates a large storage area, office, and gym.
Architecturally the house expresses simple forms from the flat roofline, with the back area integrating large windows and dark cladding. Voids and openings on the deck aid in bringing in additional natural light from the north, while windows have been positioned up high around the kitchen and living zones – this offers privacy from the street and creates plenty of space for storage.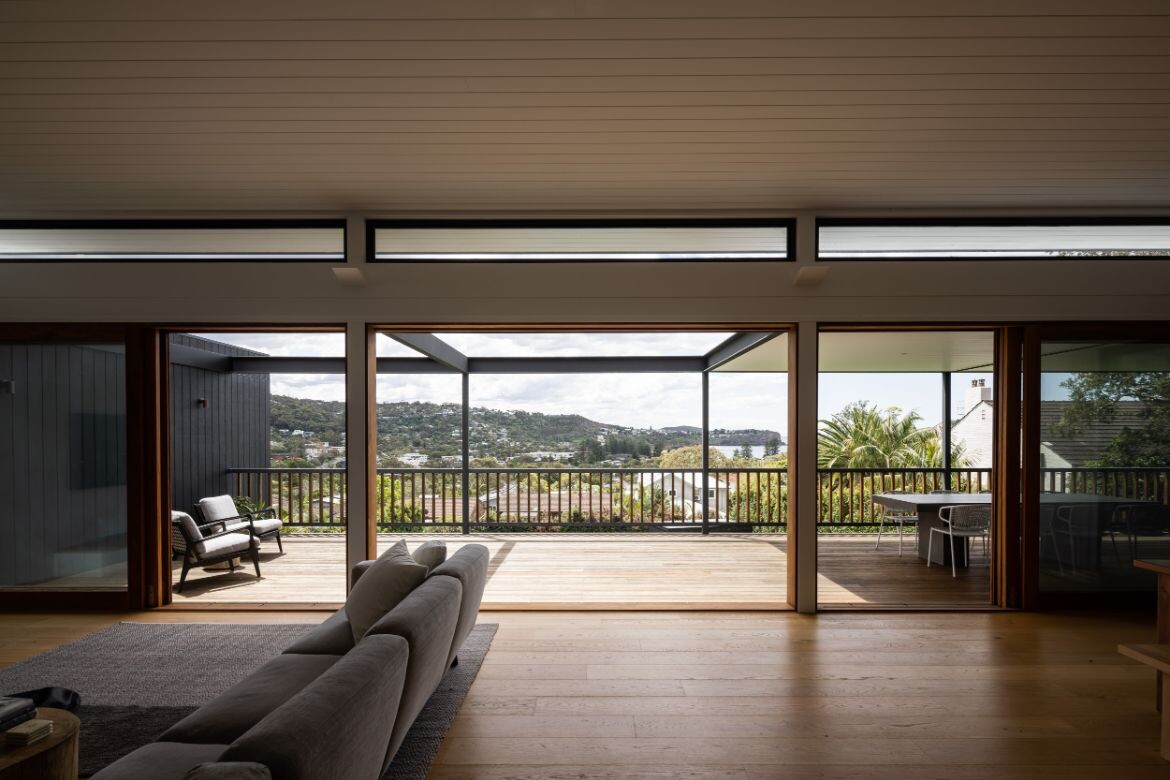 The materiality inside is light and warm, timber floors and rustic furniture counteract the brightness of the white kitchen, alongside whitewashed plywood to the walls.
In terms of sustainability features, Rama Architects repurposed as many materials from the demolition as possible, with recycled bricks as one of the key features to the home's exterior.  While solar panel arrays and rainwater tanks to harness water use offer a more practical inclusion, and provisions for battery storage are in place for future usage.
Back to Front House is a practical family home, rich with materials and not shy to welcome in the best aspect from the north.
Project details
Architecture & interiors – Rama Architects
Photography – Simon Whitbread Photography
Builder – Waterview Constructions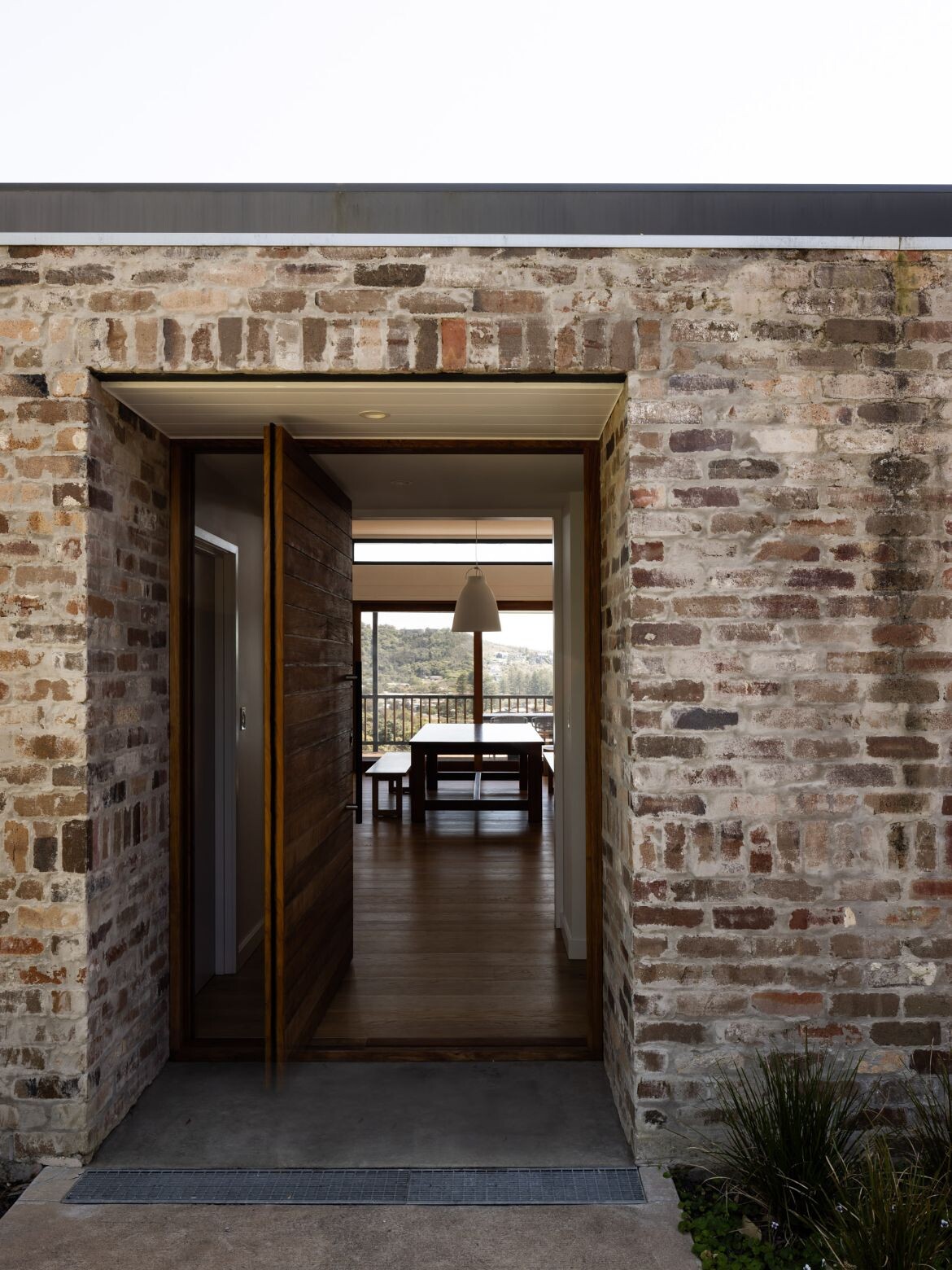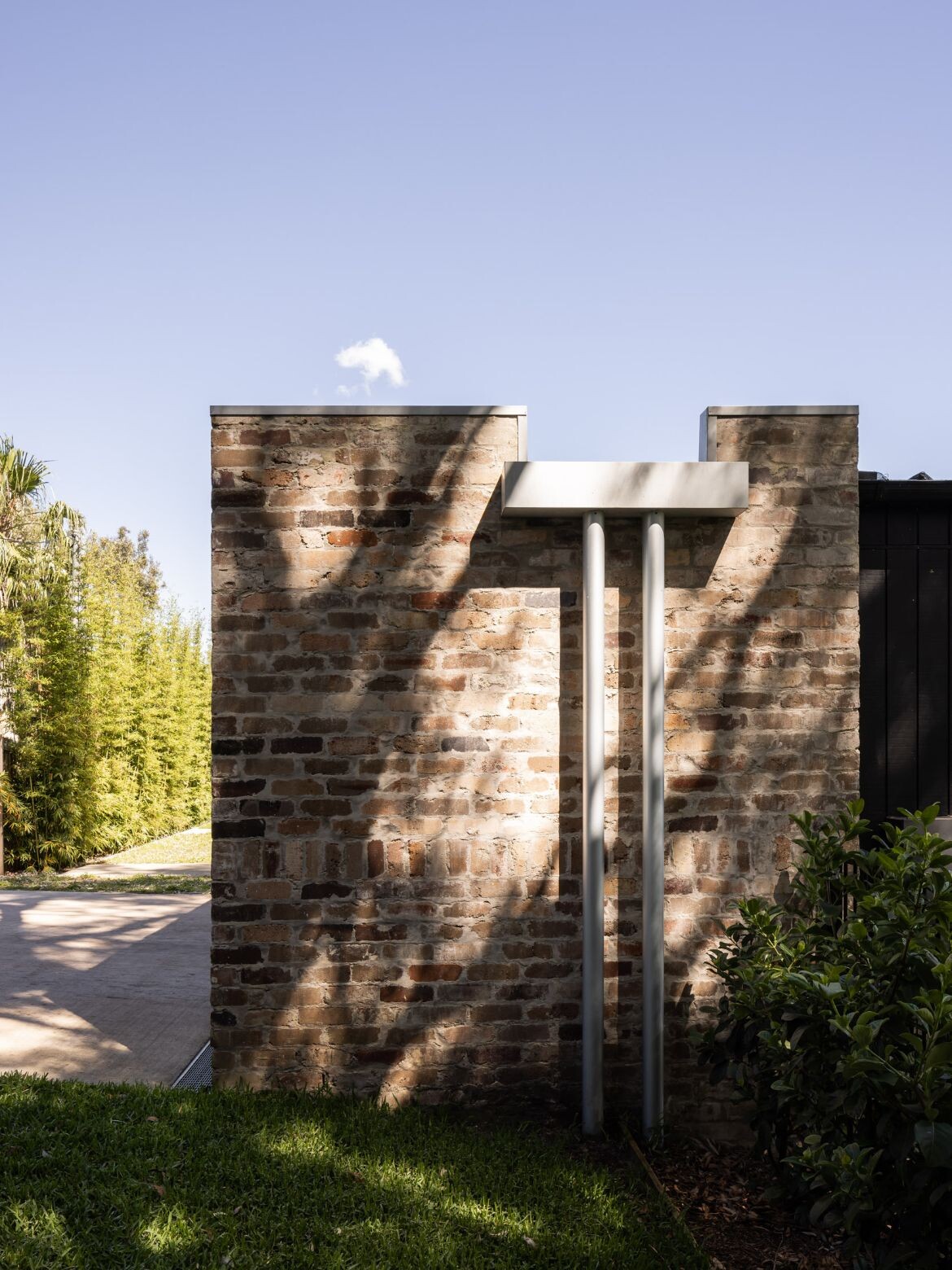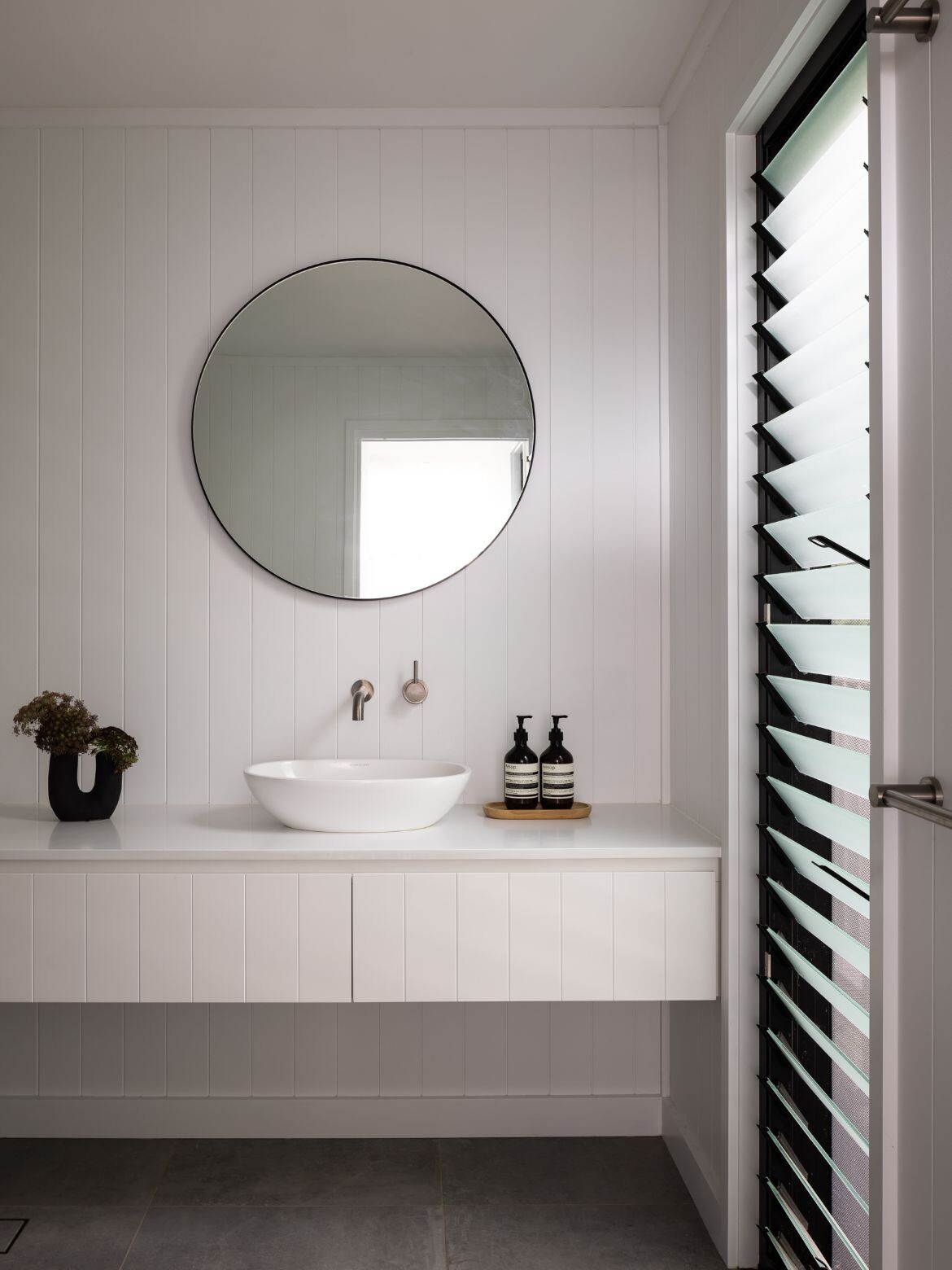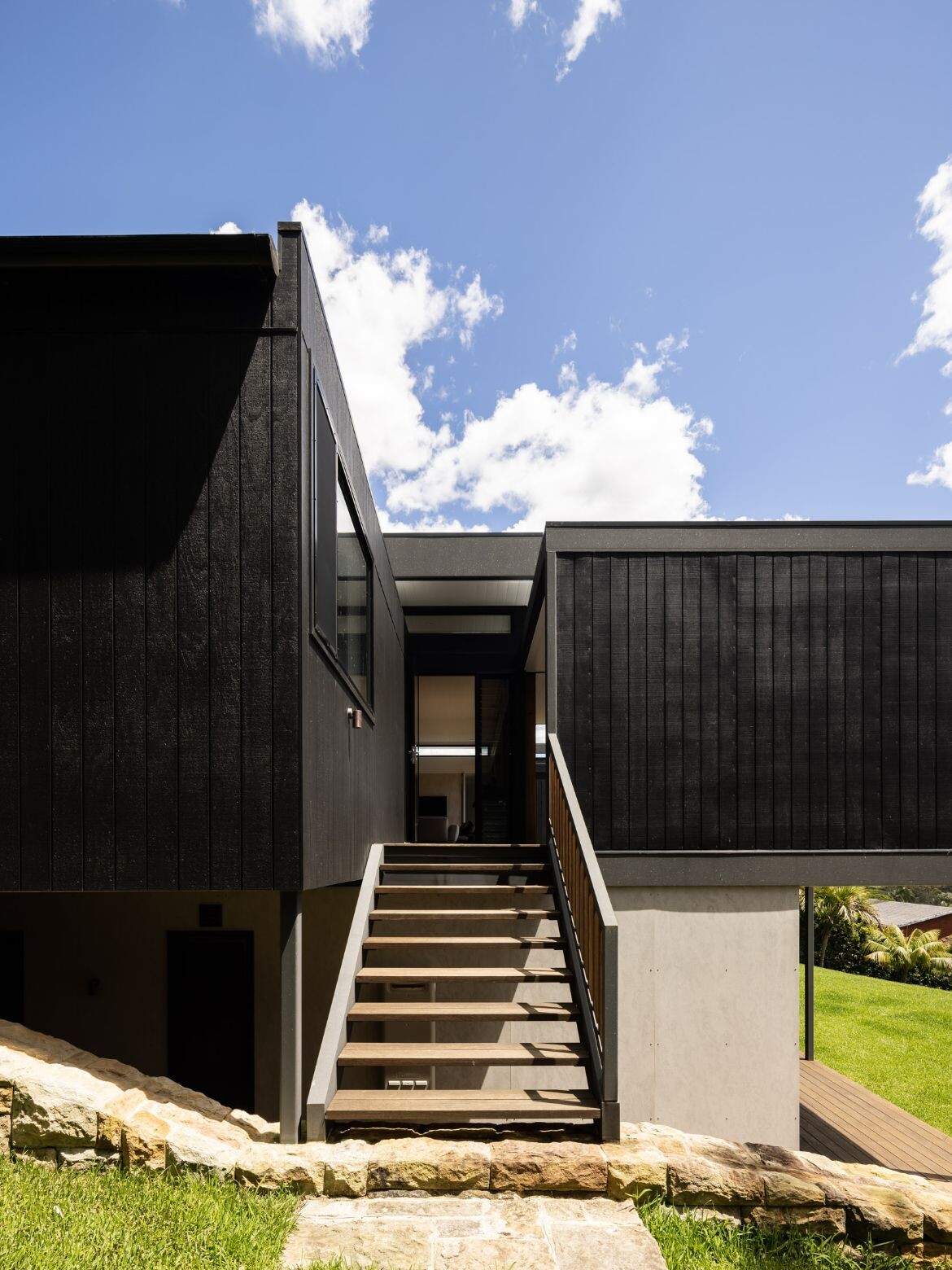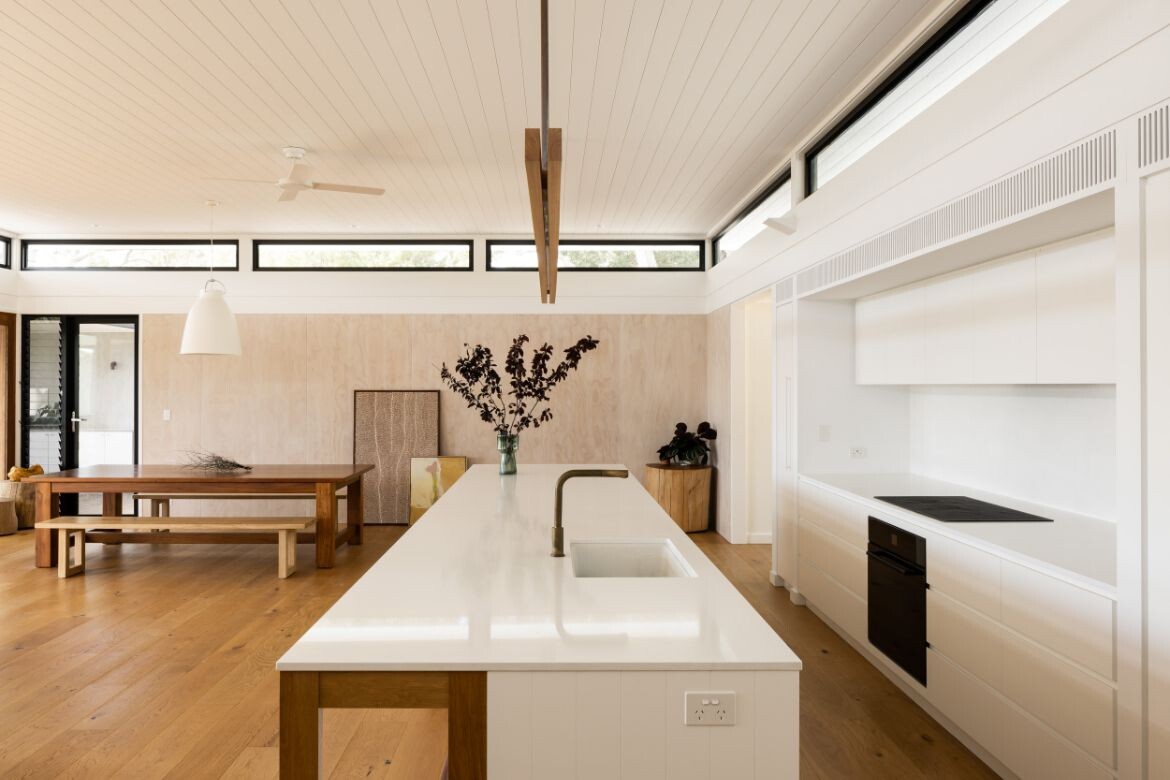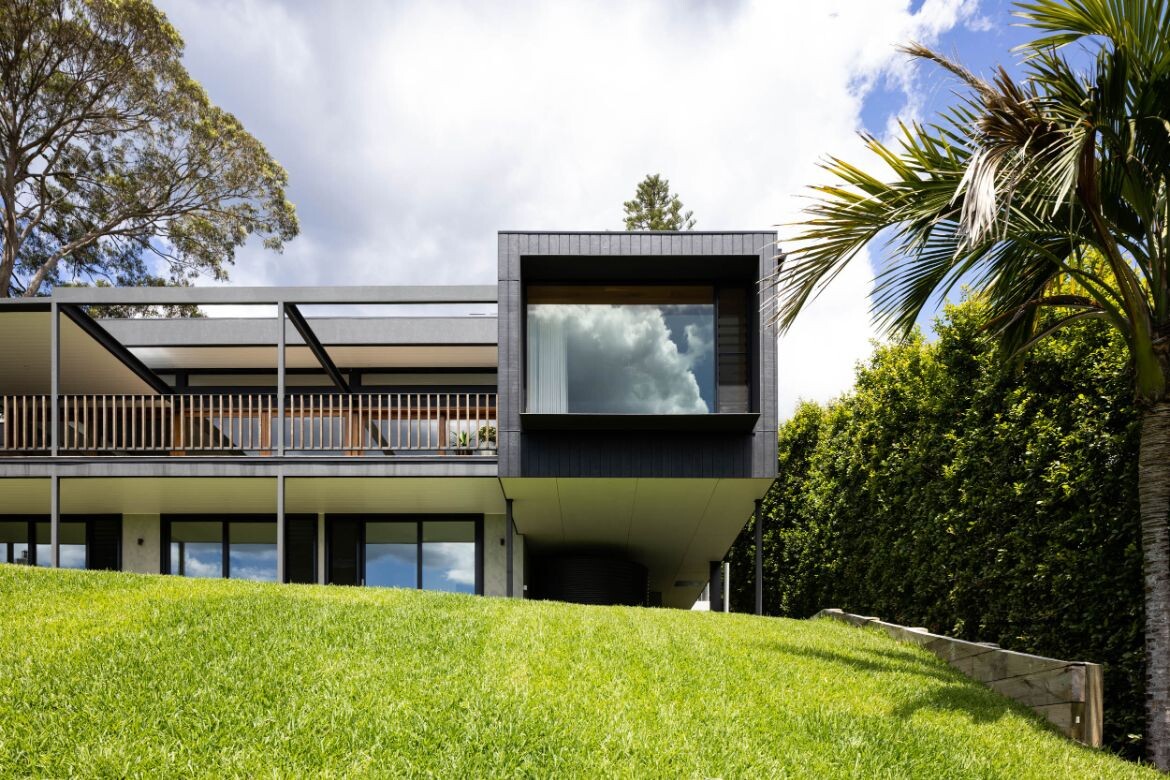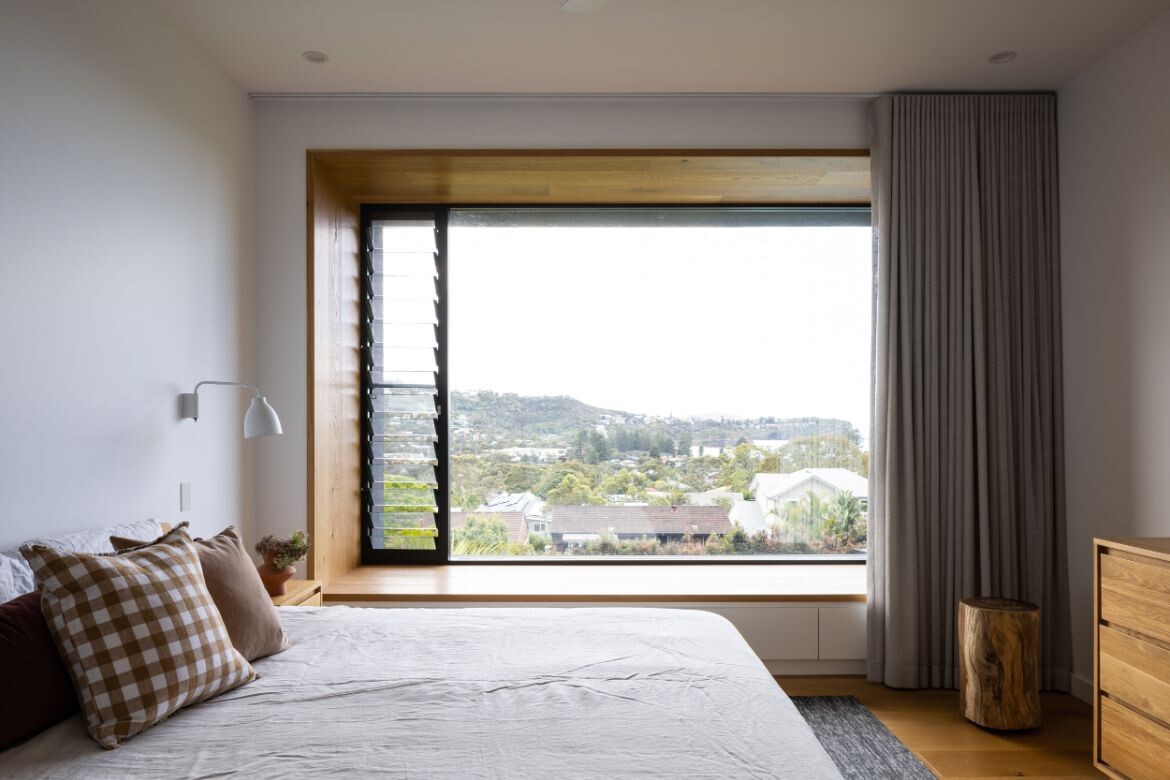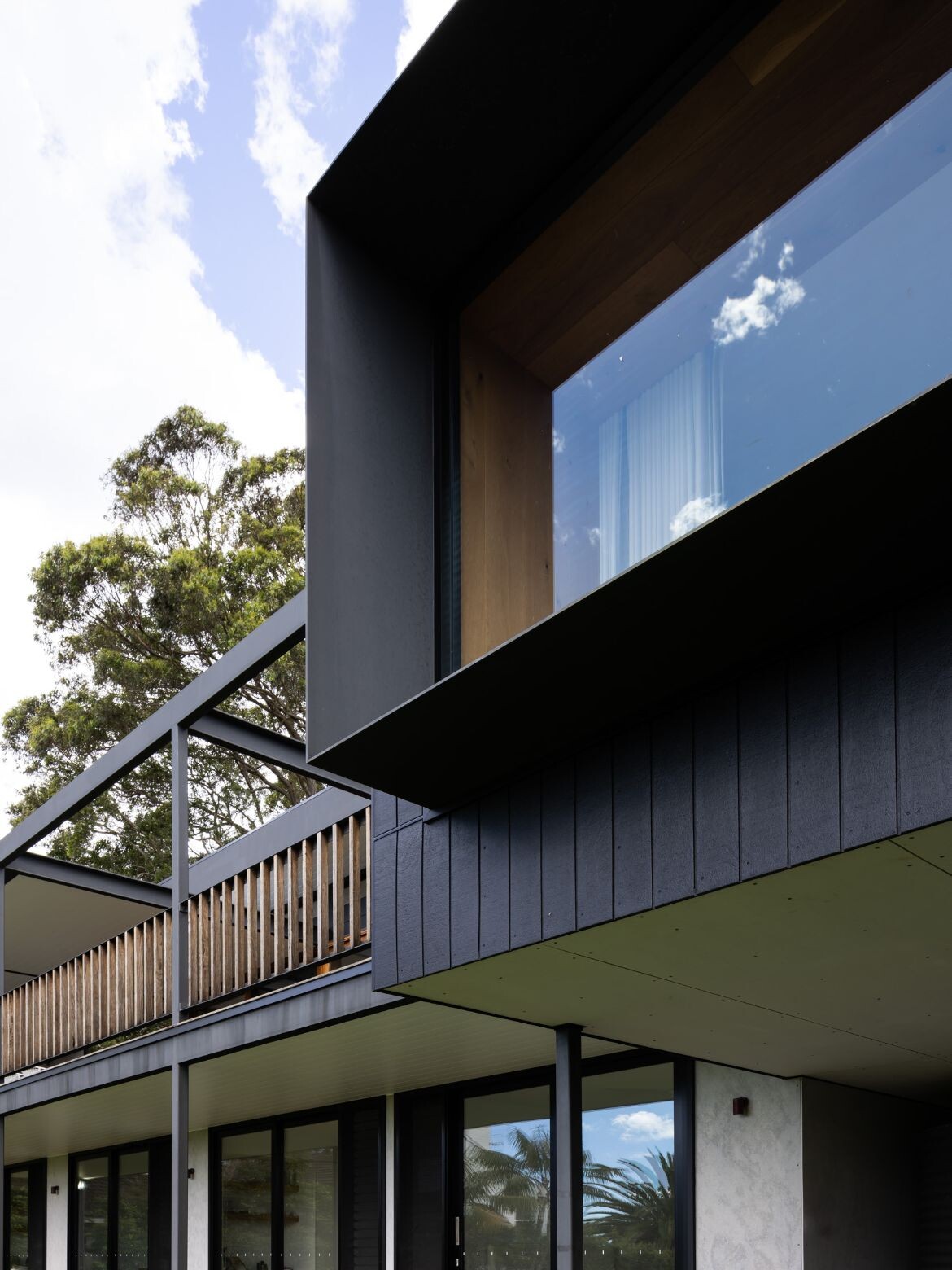 ---