When Ann and Doug Sockhill decided on a "green sea-change" in anticipation of their retirement, they settled on a mid-century house at Buderim on Queensland's Sunshine Coast with impressive views of the Maroochy River Corridor and Mt Coolum. With unassuming ambitions to "bring the outside in… and make every room a pleasure to be in," they engaged architect Paul Hotston of Phorm Architecture and Design to reimagine a new parent's retreat, outdoor room and kitchen.
"Our thoughts about the house were to throw all the plan onto the western edge of the site and basically walk the plan off the hill," Paul says. "There's this wonderful gum tree but also this axis which drives this line out towards Mt Coolum."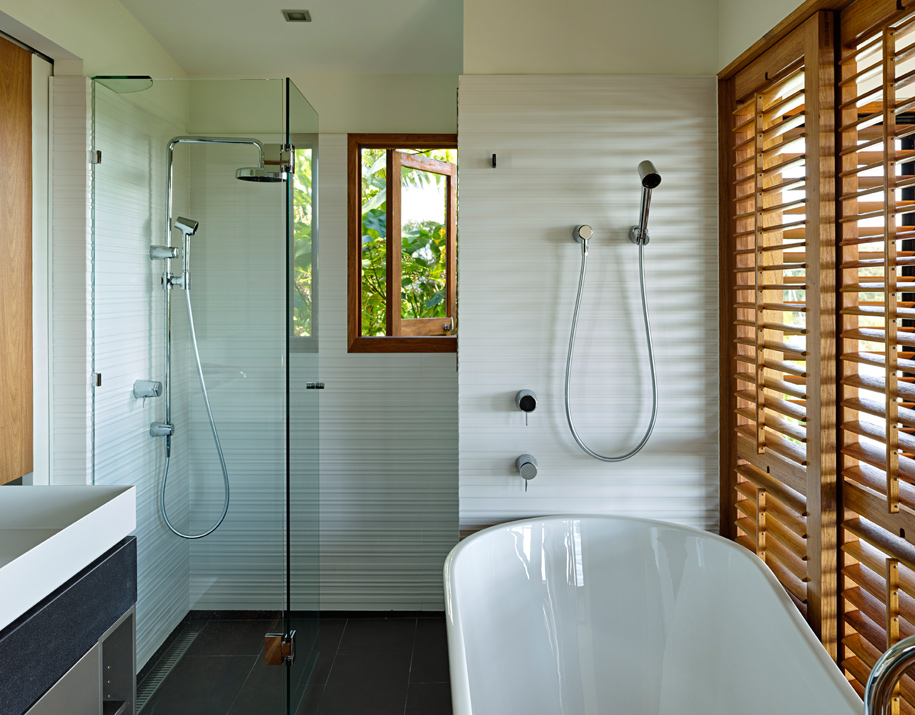 New territory is configured as part of a "promontory" extending perpendicular from the original house and including kitchen, outdoor room and peninsula master bedroom and ensuite.   Conceived as an "aerial courtyard", the promontory shifts in "micro-terraces" allowing distant views of the landscape and silhouette of Mt Coolum to carry over furniture and be framed by the edges of the building.
In a conscience effort to "transpose the terroir into the fabric of the building," earth coloured metal sheeting is employed as external cladding. "The colour of the new extension references the rich ferrosol for which Buderim is famed, a deep red, acidic soil formed from volcanic parent material," Paul says. At dusk, the effect is akin to the all-embracing glow of a campfire. During the day, the dramatic, visual contrast of sun-burnt earth against bright blue sky registers at a distance.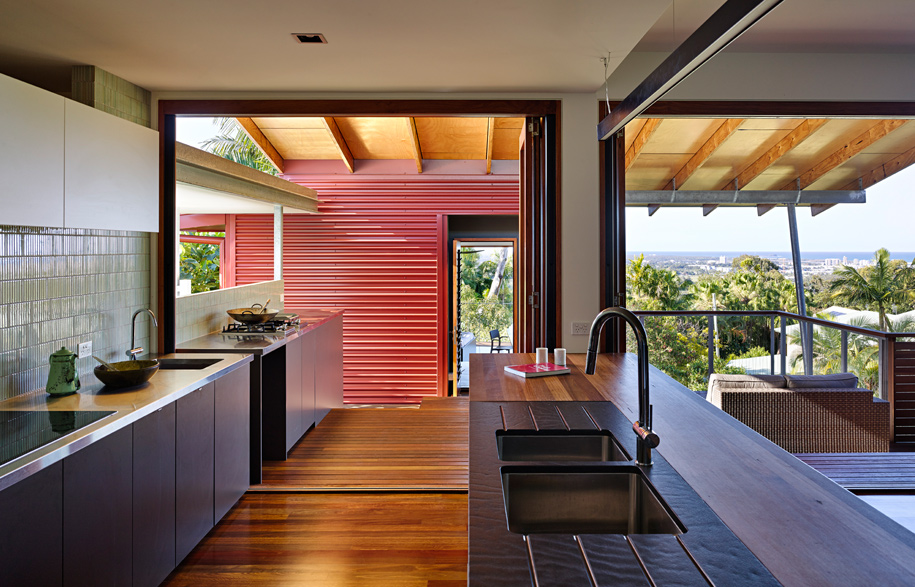 The new kitchen is embedded in the material and spatial experience of the promontory. "The kitchen bench top reflects upon a monolith of textured black basalt," Paul says. This black stone abuts time-weathered timbers to complement the eucalyptus-like patina of kitchen wall tiles. The visual presence of nature is reaffirmed in a material palette brought together here with sensitivity and skill.
In the master bedroom, the ensuite is elevated to take in views of the horizon through a generous corner aperture. The ash coloured tub continues the thread of "obsidian colour drawn through the details of the interiors".
"Our bedroom has come out to meet the big gum tree… [which] feels as though we are in the treetops with the kookaburras," Ann says. "From the shower recess… we can almost touch the greenery."
Phorm Architecture + Design
phorm.com.au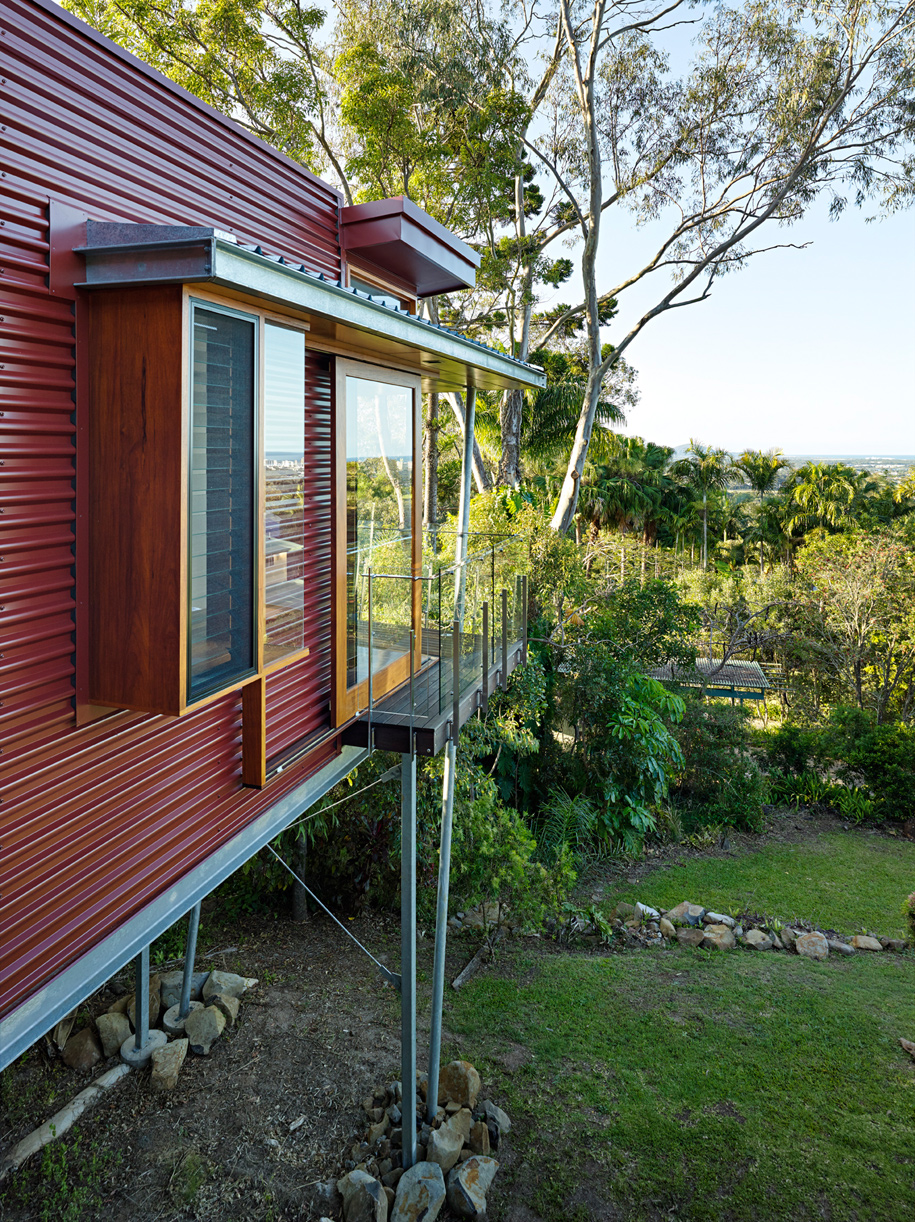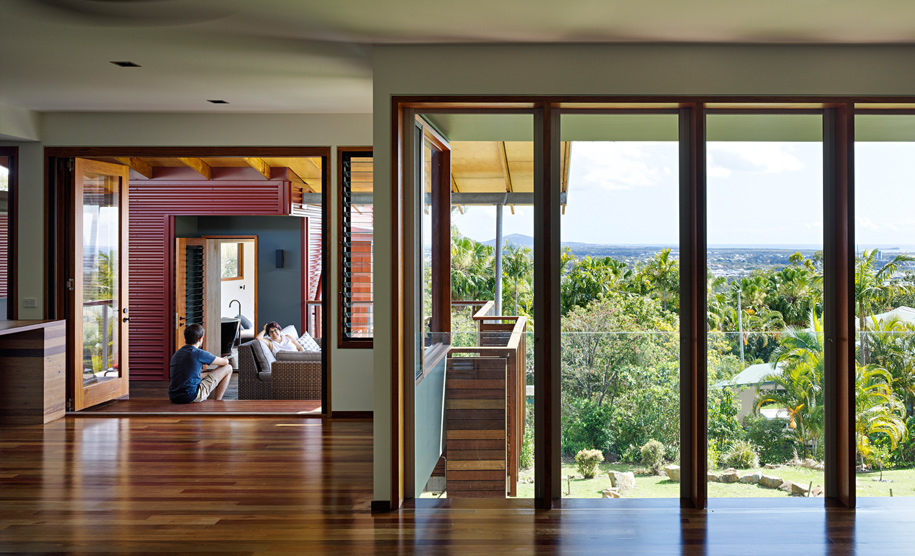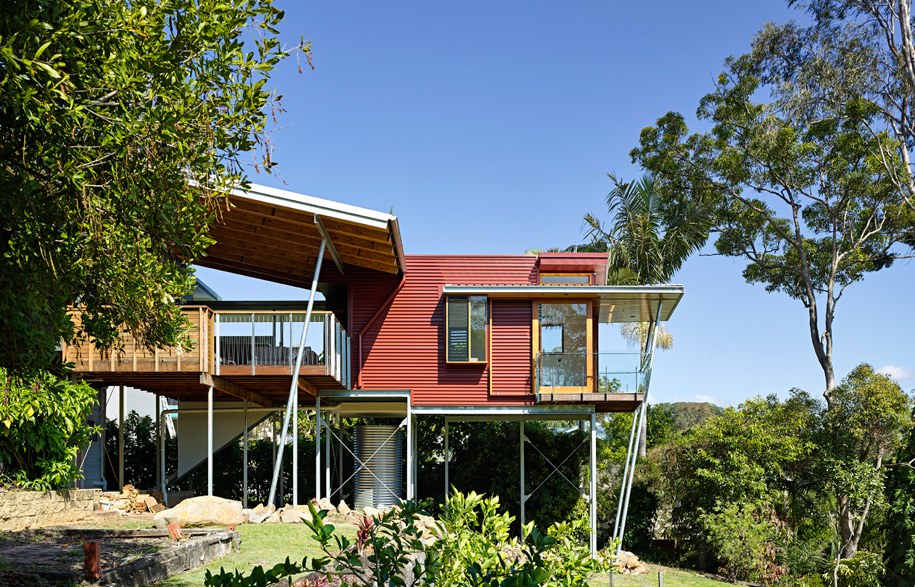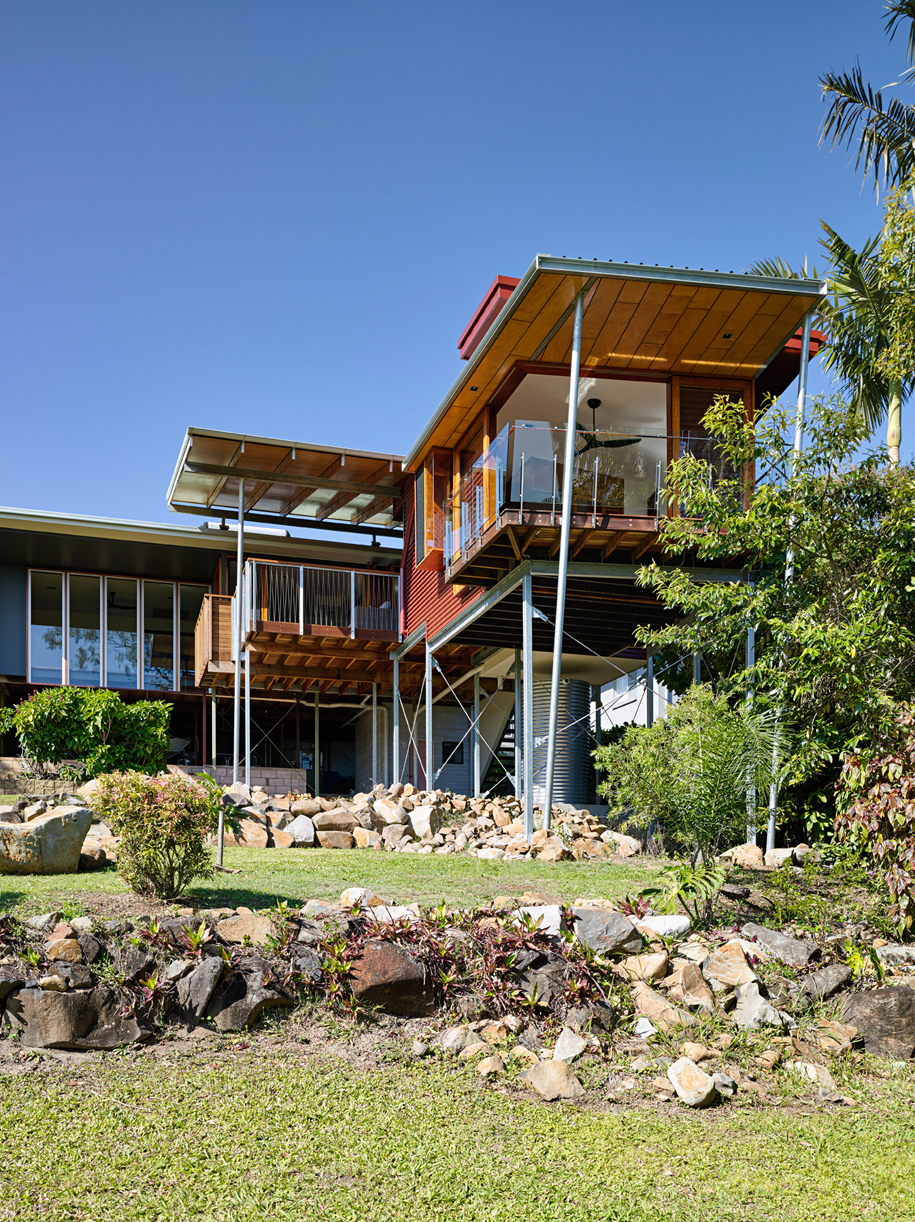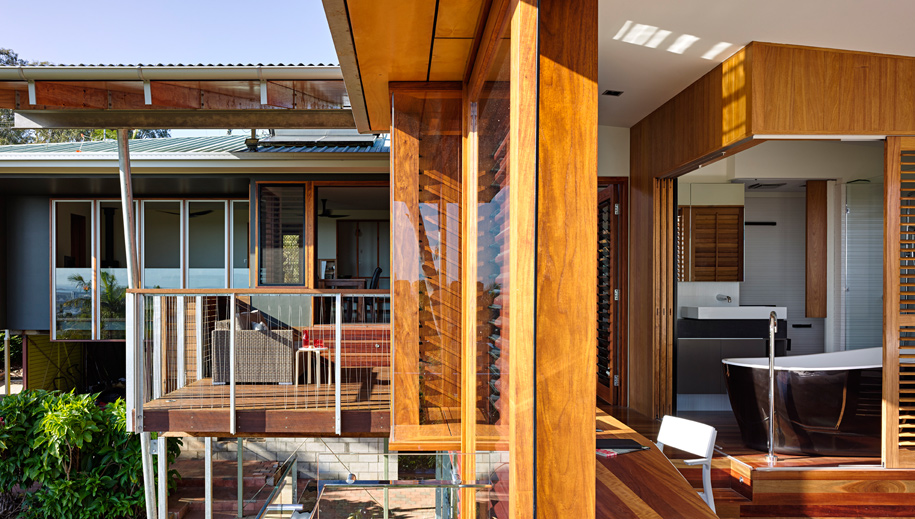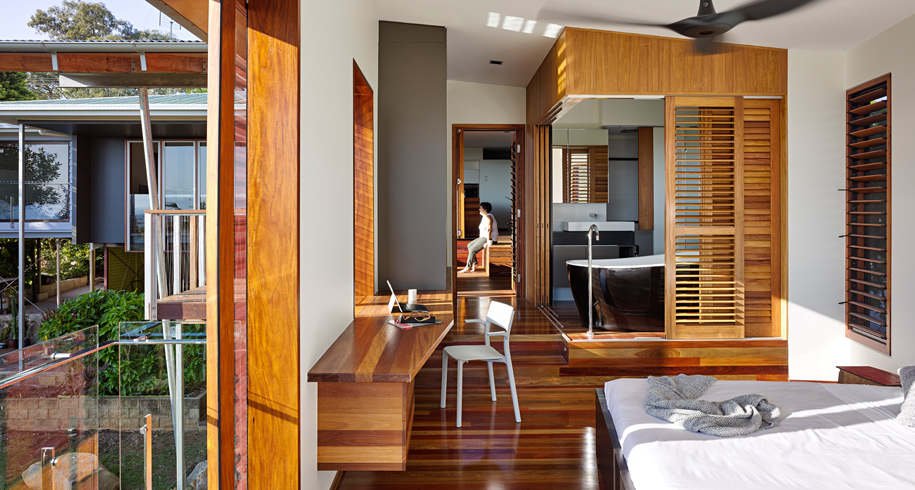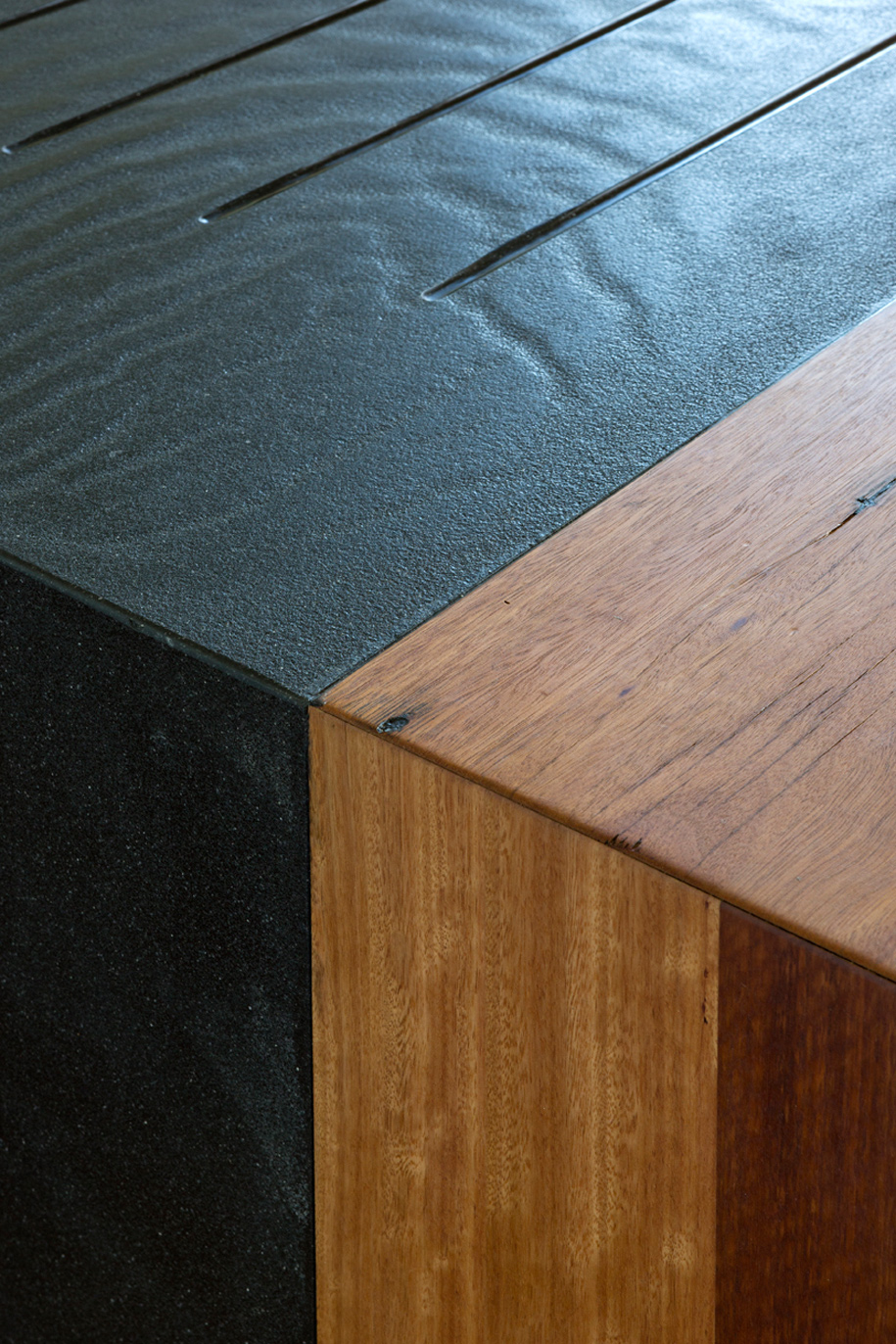 ---