The client brief called for a 'Resort Style' design, something that would allow the owners to experience that holiday feel as part of their everyday living. Selection of the right design elements coupled with careful material and plant selection meant that the client's desires have been brought to reality.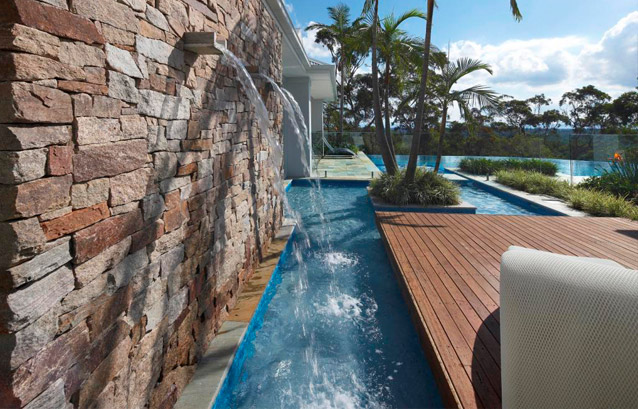 Set back from the road there is a definite sense of arrival as you approach the house. An asphalt driveway connects with a paved turning circle. A centre garden bed ensures that what could be a hard stark area is broken up with plants providing softness, colour and another layer of texture. Sandstone boulders provide the perfect material for the retaining wall serving both a structural and aesthetic purpose.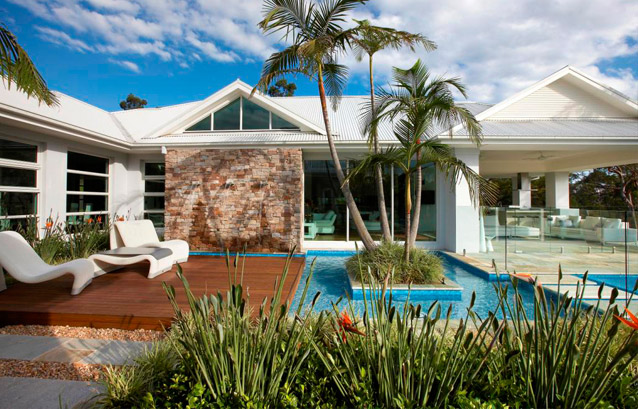 As an important part of a resort atmosphere, the pool was always going to be a major element in the design. It was essential that it related well with both the house and the surrounding natural bushland. With that in mind the pool was designed to interact with the lines of the home, being positioned right against the living space. It stretches out as the land falls to the rear and a curved infinity edge enables your line of site to take in the natural landscape that extends beyond. The water to the edge of the home is of a shallow depth and doesn't require safety fencing. The inclusion of a stone clad water feature wall provides a focal point that can be viewed from both inside the house and within the landscape.  The area features a timber deck which provides the perfect vantage point to lounge and unwind in this peaceful setting. The surrounding pond flows through to the main swimming pool, connecting the two areas of the landscape. A spa, a resort must have, is integrated within the pool and is positioned to take advantage of the magnificent views.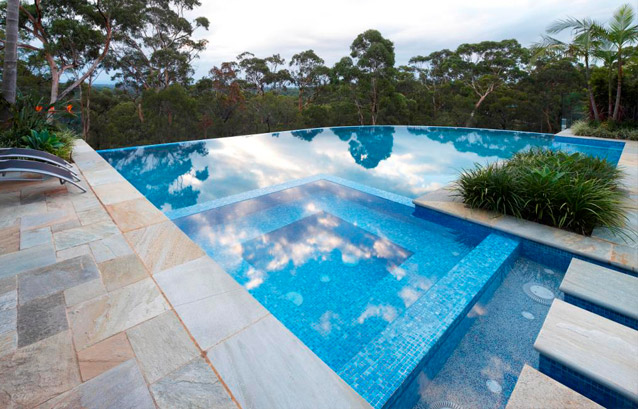 For entertaining purposes the roof line of the home continues out to embrace the alfresco dining and outdoor kitchen areas which flow right through to the pool. By using the same floor surface in these areas as around the pool a further sense of relationship between them is achieved. The fully equipped outdoor kitchen includes teppanyaki bbq, sink, dishwasher and storage space meaning the owners can make the most of their outdoor oasis. As a fully covered area it can be used rain, hail or shine.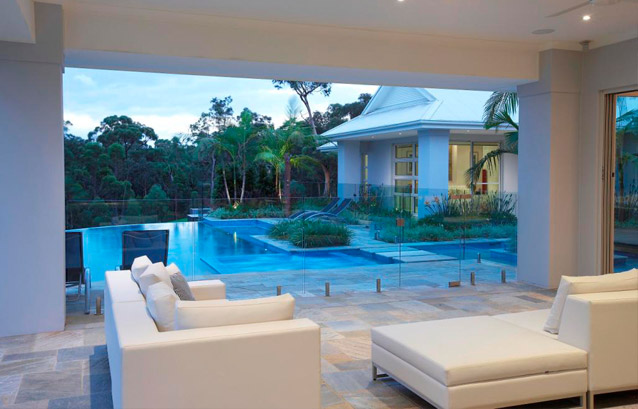 Tropical style planting has been implemented and is in keeping with the resort style feel.  Bangalow palms, leafless bird of paradise and variegated mondo all add to the tranquil feel of the landscape. Agave, gardenia and lily turf have also been used. The plant palette ensures that a lush effect is achieved without the meticulous maintenance worries.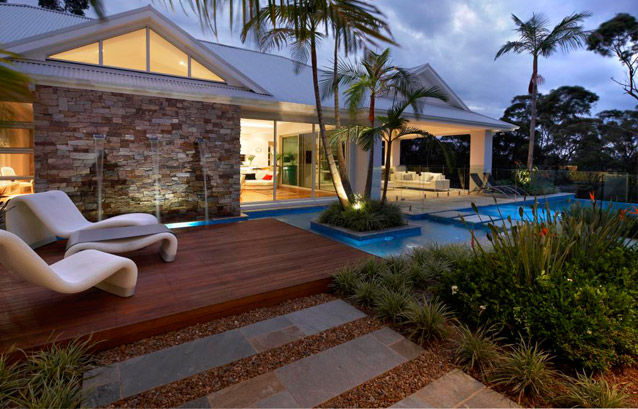 Tags: Dean Herald, Home Architecture, House Architecture, Residential Architecture, Rolling Stone Landscapes
---