With a site enjoying stunning views of the Sydney Harbour Bridge from the front living areas of the home, the client for this project wanted to create a private space for entertaining family and friends Faced with the dilemma of a steep site,  Herald decided to set the level for the backyard so that it could be easily accessed from both the first and second terraces of the residence. This helped create a wet edge spill over wall to the pool and even presented an opportunity to construct an integrated sauna, which can be accessed from the lower level of the house.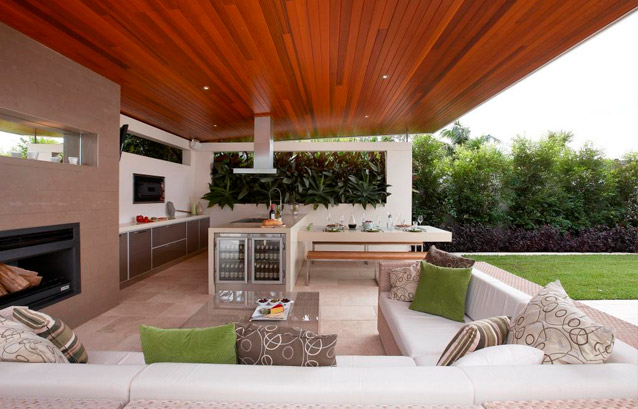 A glass spa is cleverly positioned to catch glimpses of the Sydney Harbour Bridge and is close enough to the main pavilion to ensure that people in the spa are connected to those cooking or enjoying the lounge. The main pavilion has been designed with entertaining in mind. The outdoor kitchen includes a teppanyaki style BBQ, pizza oven, sink and custom made fridge. A unique cantilevered dining table has also been incorporated into the kitchen bench. It extends out towards the buffalo lawn and ensures that the connection between the cook and their guest is maintained at a high level. A wood fire is included within the pavilion, allowing the space to be used even in during the cooler months.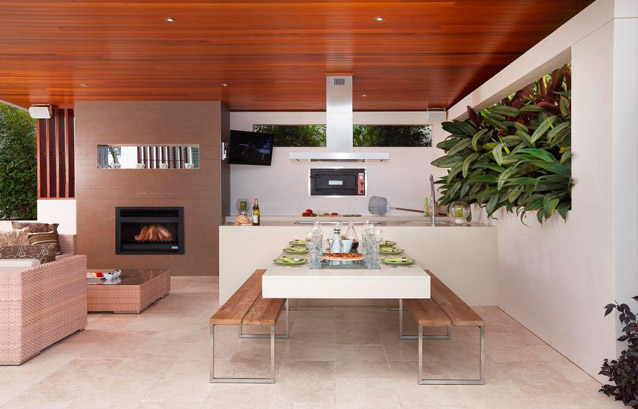 The colour and material palette for the project were based on the finishes and architecture of the residence. Large format travertine paving was selected for its hard wearing and low maintenance properties and to compliment the blue pool tiles. The structures are complemented well, with an array of selected foliage plants such as Agave attenuata, Ctenanthe 'Grey Star', Archontophoenix cunninghamiana and Liriope muscari. Privacy from neighbouring properties has been achieved by planting Acmena smithii 'Sublime' which is under-planted with Alternanthera dentata. The mix of colours and textures help soften the spaces and creates an interesting backdrop to the feature areas of the backyard.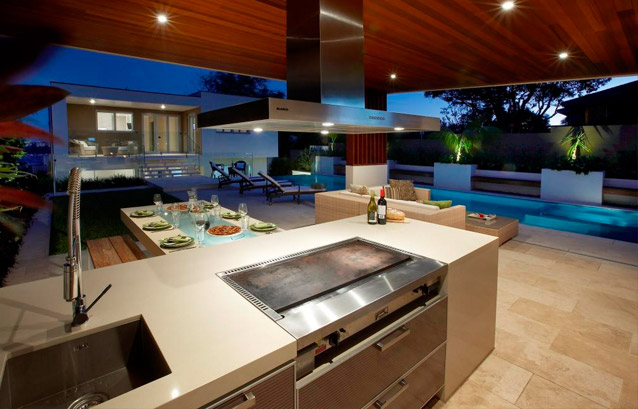 At night the garden is brought to life with carefully positioned lighting. Pool lights illuminate the large rectangular body of water transforming it into a deep blue, and the glass sided spa turns into a shimmering cube of aerated water. Subtle outdoor lighting highlights feature plants throughout the garden and creates a wonderful ambience.
To finish off the garden an entertainment system has been incorporated, consisting of an LCD television and surround sound audio system which can be heard anywhere in the backyard.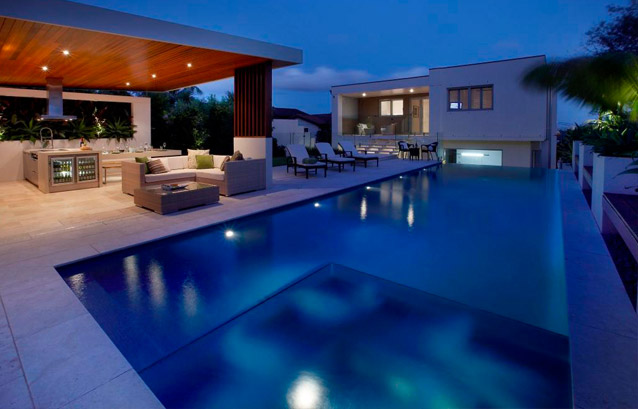 Rolling Stone Landscapes
rollingstonelandscapes.com
---