Above: The downstairs living space, looking north.
As architect of the recent Auckland War Memorial Museum developments, Noel Lane has an impressive record in weaving contemporary needs through the fabric of an old building. Whilst the museum's interior had to be protected from direct sunlight and a humid climate, Lane has visually, spatially and functionally opened up his own family home to the landscape.
His approach can be viewed not only in the context of his museum work and its aesthetic and cultural separation of old and new, but also within the context of previous houses. In particular, the house he designed for his wife Amanda in 1989 – the A.B. Gibbs house – is perhaps Auckland's most dramatic residential building. The desire for light, privacy and views drove the design, leading to an inversion of local forms. A mono-pitch roof floats over the second storey to enclose space, and then soars out over an enclosed courtyard. Salvaged industrial windows were combined with weatherboards, concrete block, steel cladding and exposed framing. It was a defining moment in New Zealand's architectural history. By comparison, this new home – located in Remuera, one of Auckland's oldest suburbs – appears far more restrained due in part to its rational orthogonal layout and a more 'traditional' treatment of materials. However, in the same spirit as the A.B. Gibbs house, it makes some incredibly agile moves spatially and is not bound by an accepted or expected style.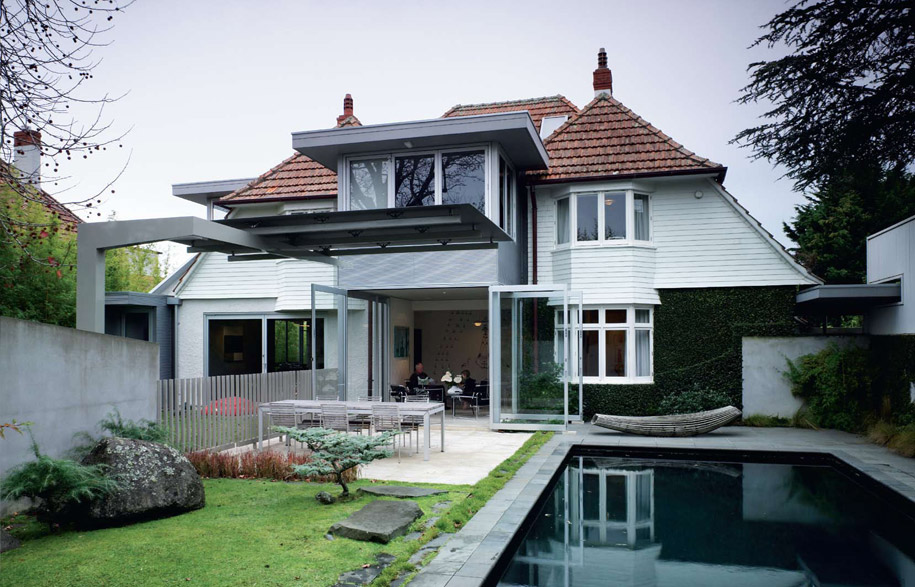 The original house has been opened up.
Virginia creeper is slowly engulfing the garden walls, providing very little evidence from the street of the transformation that lies beyond. The house has been completely refurbished and extended in five directions. Original building fabric was restored and sits in contrast to the modern interventions. On the exterior, new metal-clad forms push out through the old, highlighting the mammoth social and technological changes in the 90-odd years since the house was first built. Inside, the dialogue between old and new is a whole lot more subtle and mannered. As Lane describes, "We set the existing interior work aside and clearly differentiated it by a shift to a more quiet and neutral aesthetic." A highly articulate language and interlocking of materials allows the building's modifications to be clearly read. Existing walls have an embossed paper finish, and where part of a wall has been altered a negative joint separates it from the new painted surface. Gaps left in the floorboards by demolished walls have been infilled with rubber flooring. Where the old staircase was removed, a flush panel ceiling has been put in its place and the exact location of original mouldingsand panelling has been left untouched. This elemental handling of the building is a recurring theme in Lane's work at both a formal design and detail level.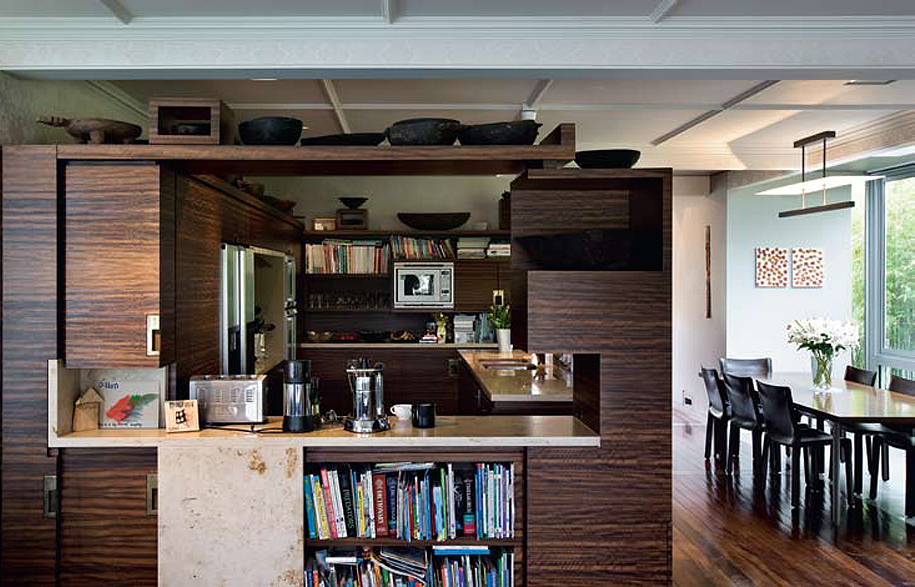 The kitchen is adjacent to all four living areas.
The entry sequence is beautiful. From the street a bamboo-lined pathway takes you to a white gate. The space beyond is a fully enclosed southern courtyard with a large glass entry door, through which you can see to the northern end of the house. The three spaces in view include entry vestibule, a room that projects into the garden and a living room. Panelled ceilings, bay windows, stone floors and contemporary and ethnographic art combine to create spaces that are highly individual in character, while full of warmth and intimacy.
The previously heavy stucco western façade has been opened up to the garden and the light with large glass doors. The landscape also has a wonderful mix of old and new. An original Oak tree is retained along with camellia bushes. Introduced into this are mosses, Japanese blood grass and bamboo. New concrete retaining walls and planters layer the street edge and allow maximum use of the yard.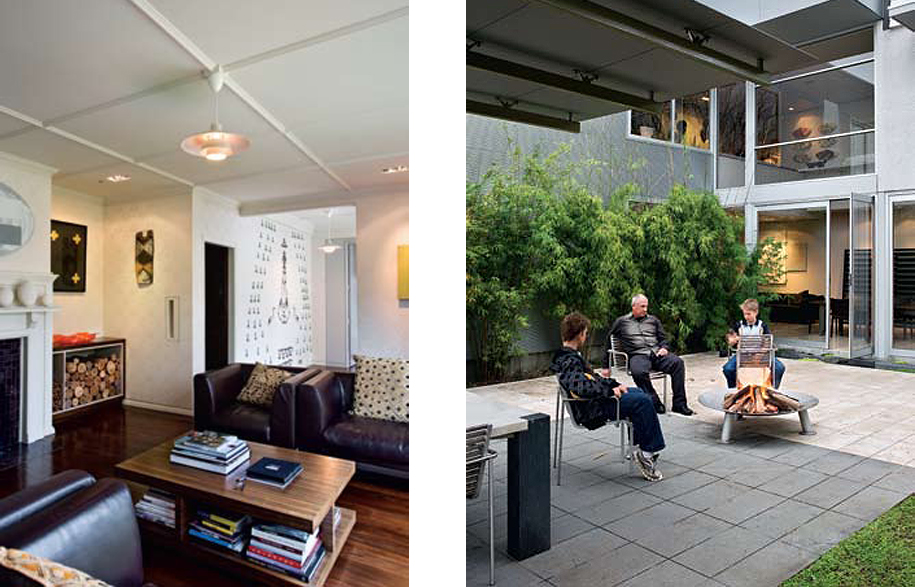 Left: The living room has original timber work.
Right: Shelter and privacy in the eastern courtyard.
At this main level, the central billiard room that previously controlled all movement is now part of a lattice of circulation. "We chose early on to keep the billiard room intact" Lane explains. "It is in the very heart of the house and is a dark sheltering private space, around which we wrapped other rooms with functions that connect in various manners to the outside." A large living area has been created downstairs with its own fireplace and two courtyards. Its double height links it and the eastern courtyard to the kitchen, family room and main circulation route. This is where the scale of the house transforms – 1920s proportioned rooms perch above the void and look along a threestorey steel-clad extension beyond.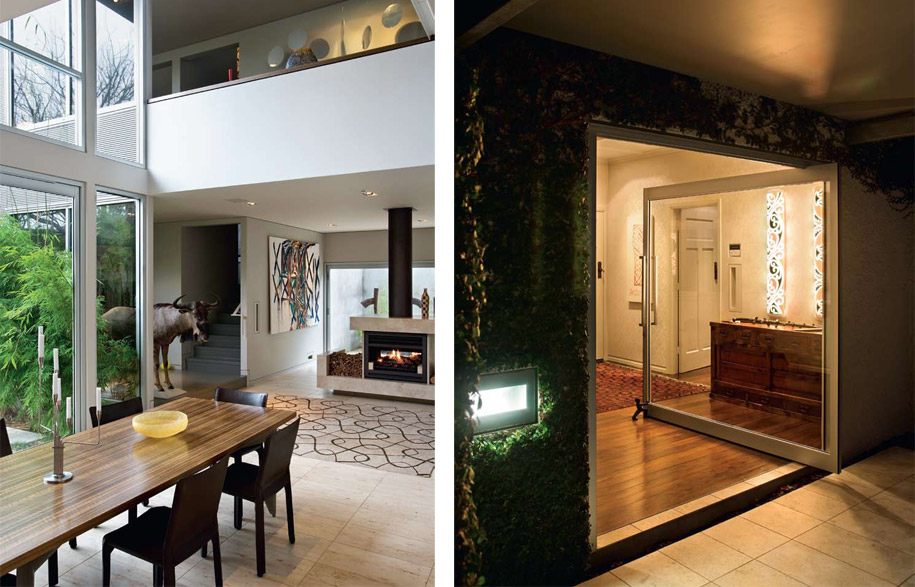 Left: The downstairs living space opens onto two courtyards.
Right: The front door is off an enclosed courtyard.
"In spatial terms, most of the domestic architecture I do is about the family structure and the needs of not only the family as a unit, but also the needs of the individuals within that," says Lane. "In this house there are a lot of places for groups or individuals to withdraw." The kitchen is situated so that the four main living spaces are either adjacent or within view or earshot, allowing the three boys and their socialising to remain close while giving them a level of independence.
Lane has collected artefacts since his high school days. The family's art collection is extensive and diverse. The house had to cater for these additional 'family members', and does so with varying scale and light levels. "In this house we created the opportunity to live with our collections and move them around," describes Lane.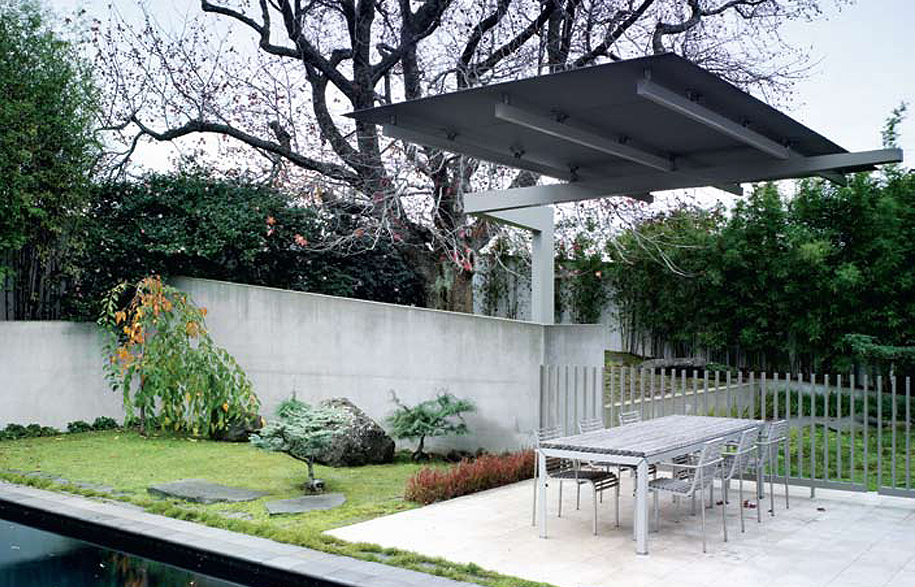 Old and new also come together in the planting.
"Art for me is about the depth and diversity of thinking it stimulates. At the moment I am looking at the possibility of purchasing a Peter Roche painting. It is the most unsettling work I have ever seen – incredibly disturbing, yet unbelievably beautiful and alive." This could easily be a mirror image of Lane's own work – challenging and unsettling at times, all the while exquisite in its concept and detail.
Photography: Simon Devitt
simondevitt.com
Architect:
Noel Lane Architects
Design & Project Architect:
Noel Lane Assistant Architect Matt Brew, Mike Farrant, Mike Marshall-Harrington
Builder:
Ogilvy Construction
Structural Engineer:
Structure Design
Electrical:
Neal Electrical
Painter:
Union Coatings
Swimming Pool:
Streeter Pools
Furniture:
Cabinets de Bruin-Judge Furniture, dbj.co.nz. Garage and laundry furniture Essex Cabinet Makers, essexcomshape.co.nz. Fireplaces Fires By Design, warmington.co.nz. Furniture Danish by Design, danishbydesign.com.
Finishes:
Interior handrails mahogany and mild steel with epoxy paint finish, material by Necklan Engineering, (64 9) 827 7892. Roller blinds NZ Windows, nzwindows. co.nz. Rubber flooring Crown Flooring, crownflooring.co.nz. Joinery Owairoa Joinery, (64 9) 273 3699. Walls painted with Resene, resene.co.nz. Corrugated cladding Paton Roofing Services, (64 9) 838 7905. Tanking and sealants Gunac Central, (64 9) 576 4426. Bridge and glass screen Necklan Engineering, as before, and Woods Glass, (64 9) 526 8656. Stone and tiles Trethewey Stone, trethewey.co.nz. Timber fencing Town & Around, fenceandgate.co.nz. Tile roofing and shingles MacMillan Slaters & Tilers, macmillanslaters.com. Aluminium joinery Miller Design, millerdesign.co.nz.
Lighting:
Targetti, targetti.co.nz.
Fixtures/Equipment:
Bathroom fittings Metrix, metrix.co.nz. Plumbing supplies Paterson Trading, paterson.co.nz. Under-floor heating Heating Partners, heatingpartners.com. Security and phone systems Security Concepts, securityconcepts.co.nz. Audio Soundline, soundline.co.nz. Garage doors Ashton Architectural Garage Doors, ashtondoors.co.nz
Tags: Auckland, Home Architecture, House Architecture, New Zealand, renovation, residential, Residential Architecture, wood
---