See Through House, designed by Wallflower Architecture + Design, is situated in one of the most exclusive areas in Singapore. Established in 1999, Wallflower Architecture + Design has undertaken a wide spectrum of work, ranging from commercial and residential projects and have received numerous awards for excellence in design. Wallflower was commissioned to design the first house in the cluster of seven sub-divided plots in the area. With the house sitting on the highest point of the land with a panoramic view of the city, their brief was to design a house no taller than the second storey balcony of the old house.
The core design for the site was inspired by both the idea of balancing space and landscape integration and the celebration of the mature conservation protected Tembusu trees found on the site. The design was largely inspired by the idea of creating a green and airy corridor, with the building comprised of two parallel volumes, separated by a Tembusu tree and a grassed courtyard that surrounds the tree. The courtyard design results in an intimate outdoor room that is up to interpretation, with the courtyard working as a garden, a terrace and the central core of the atrium-style house.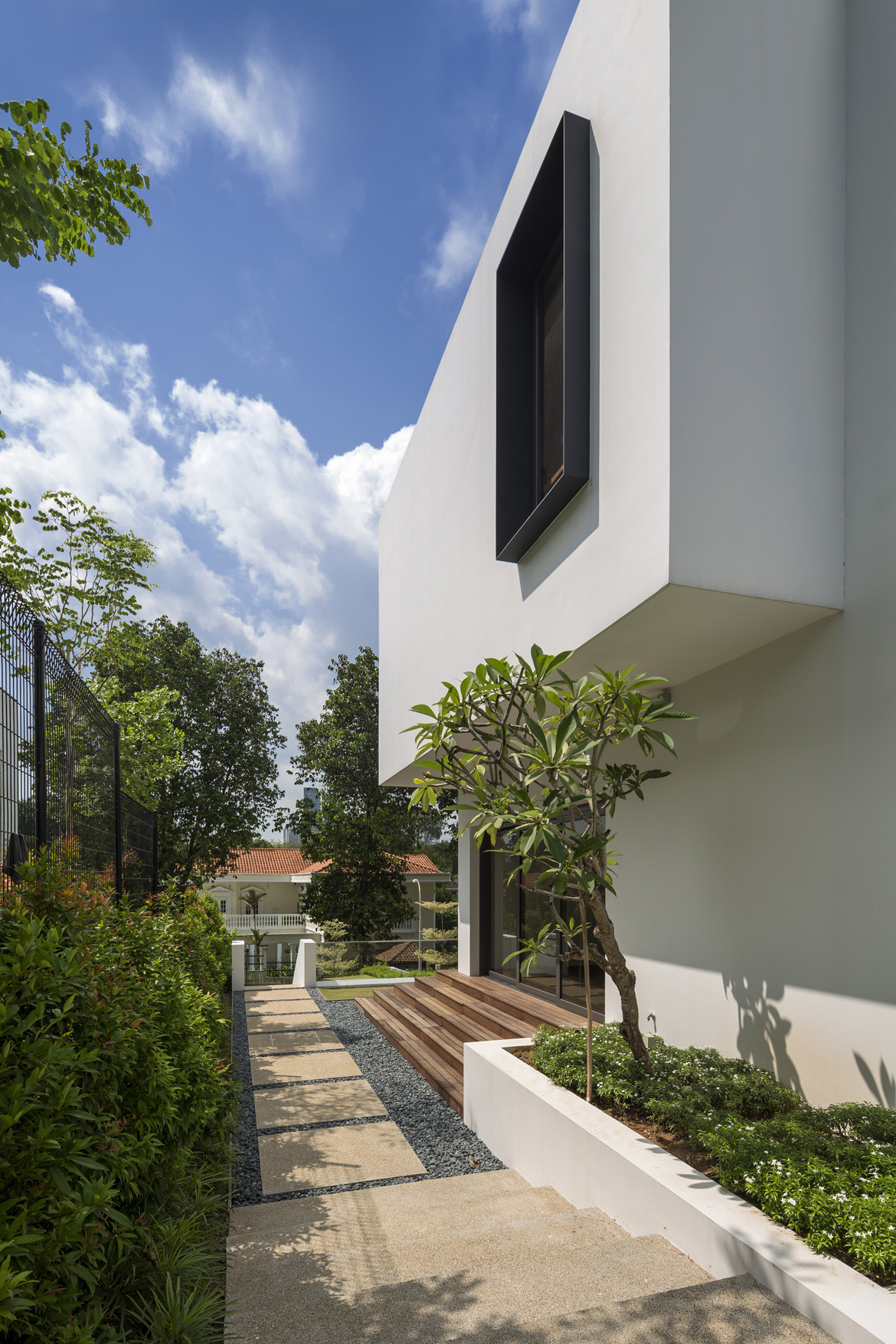 In order to minimise noise and maintain the desired celebration of the natural world, the site features a tall solid concrete wall around the mechanical plants. This was also used to maintain the unobstructed panoramic views of the site. By designing a second storey that overhangs the first, the direct sun is reduced, allowing for the first storey of the building to maintain its core temperature. This means the space can be kept open throughout each of the seasons without disruption from the elements.
The second storey, aka the 'skin' is made up of several layers of material and components, each with their unique function and purpose. The timber screen forms the outermost 'skin', functioning as a sunscreen against the harsh tropical sun and reduces heat gain. It allows breezes to comb through, refreshing the interior spaces while providing privacy to the rooms behind.
The second layer is comprised of aluminium windows, protecting the interior space from tropical monsoons and pollutants. By maintaining an air pocket between the timber screen and the aluminium window the space forms an insulation layer, which further reduces a rise in temperature due to external heat. The final layer of blinds allows for further heat control and the ability to shut out light, for both temperature control and privacy.
Wallflower Architecture + Design
wallflower.com.sg
Dissection Information
Balau timber screens
Haiku fans from Big Ass Fans
Eigg freestanding bathtub by Claybrooks in master bathroom
Starck 3 wall hung WC by Duravit
Miniskill Square light by SIMES in driveway
Bosch & Miele kitchen appliances
Photography by Marc Tey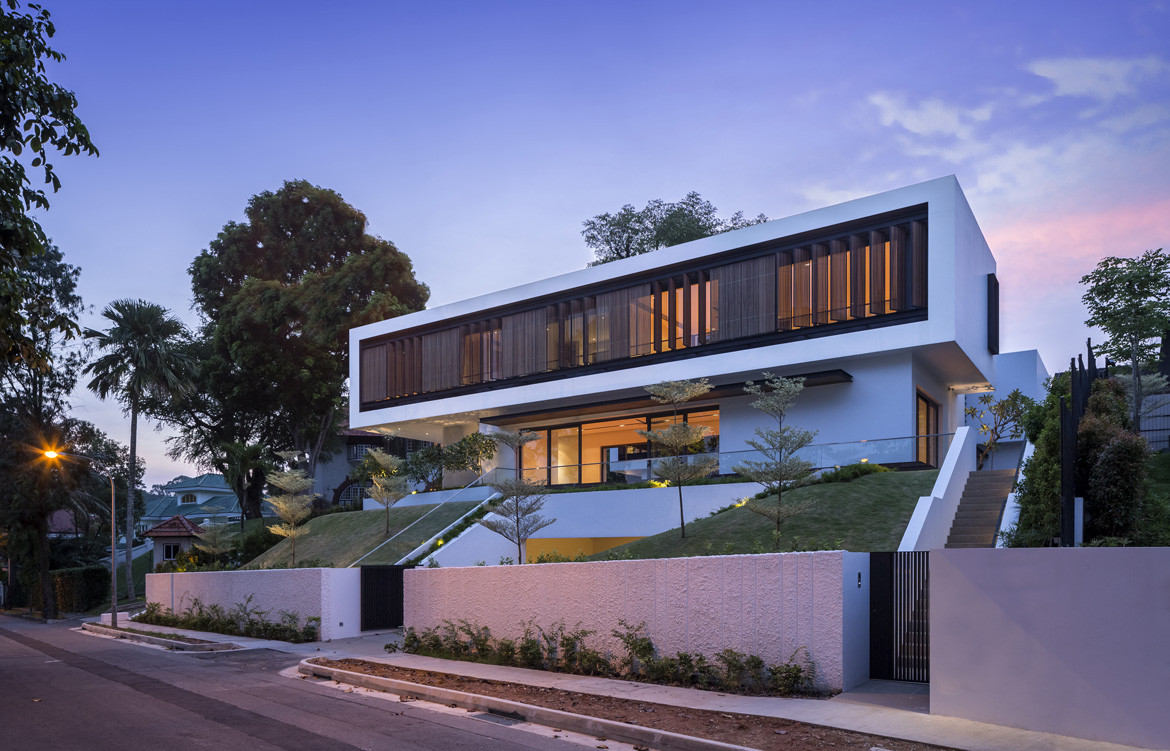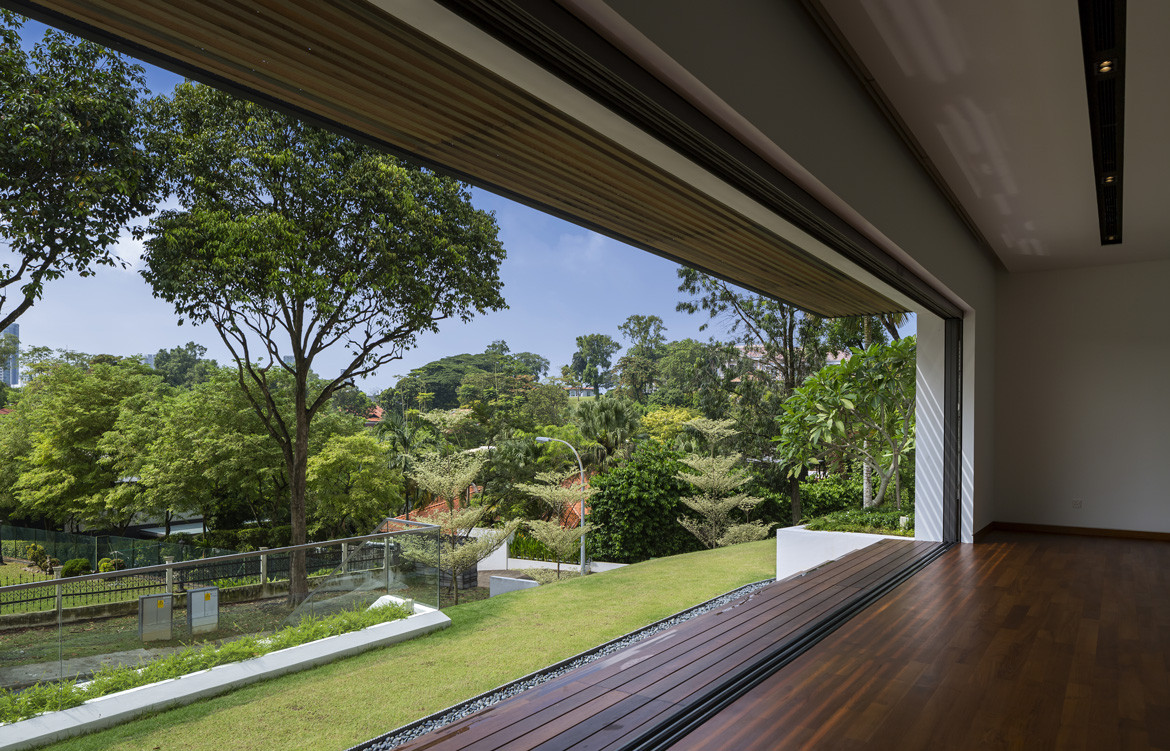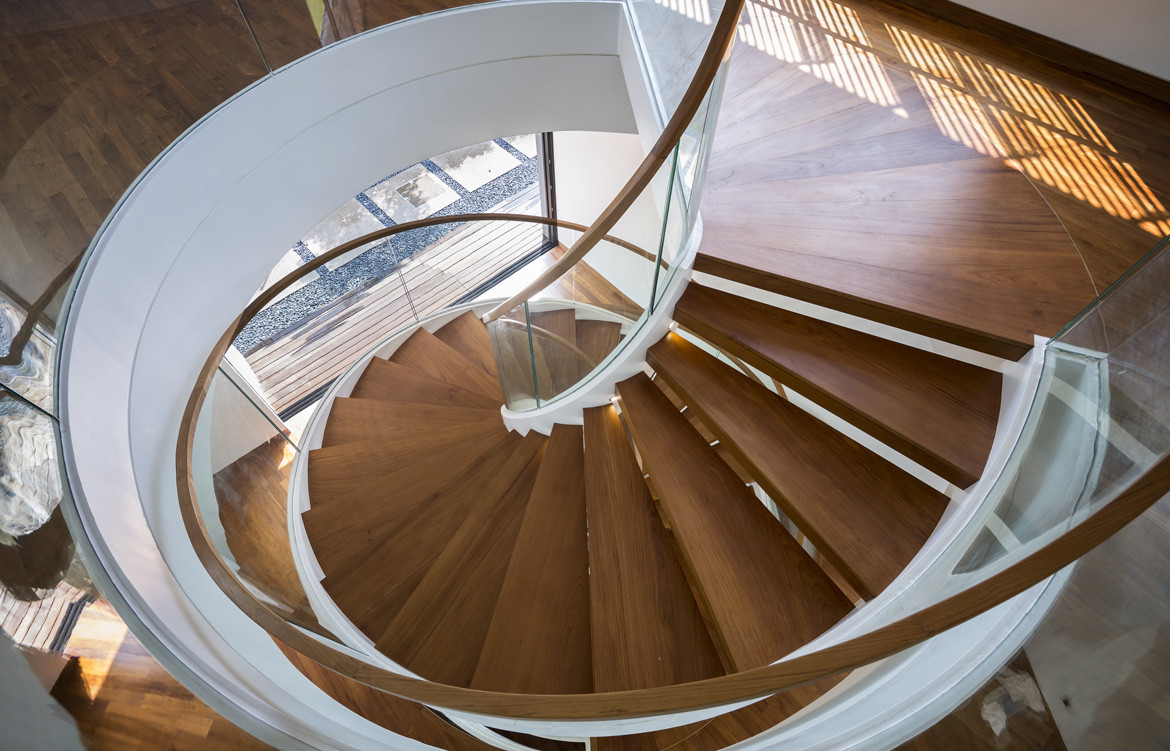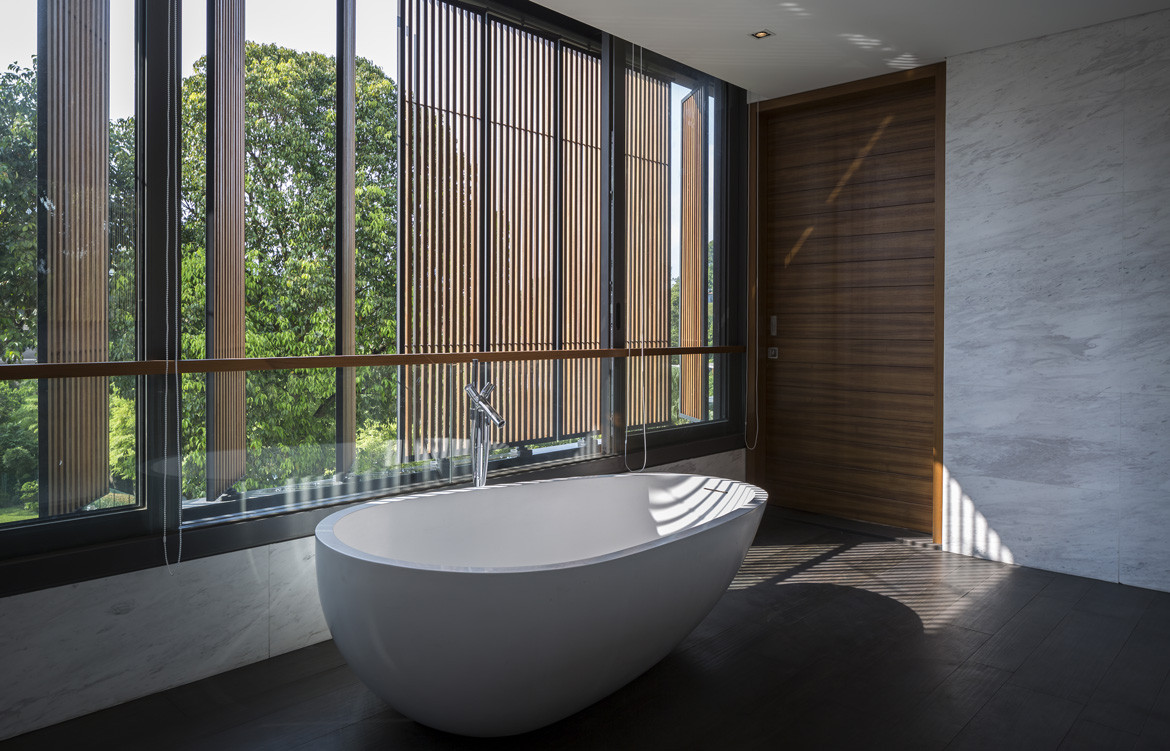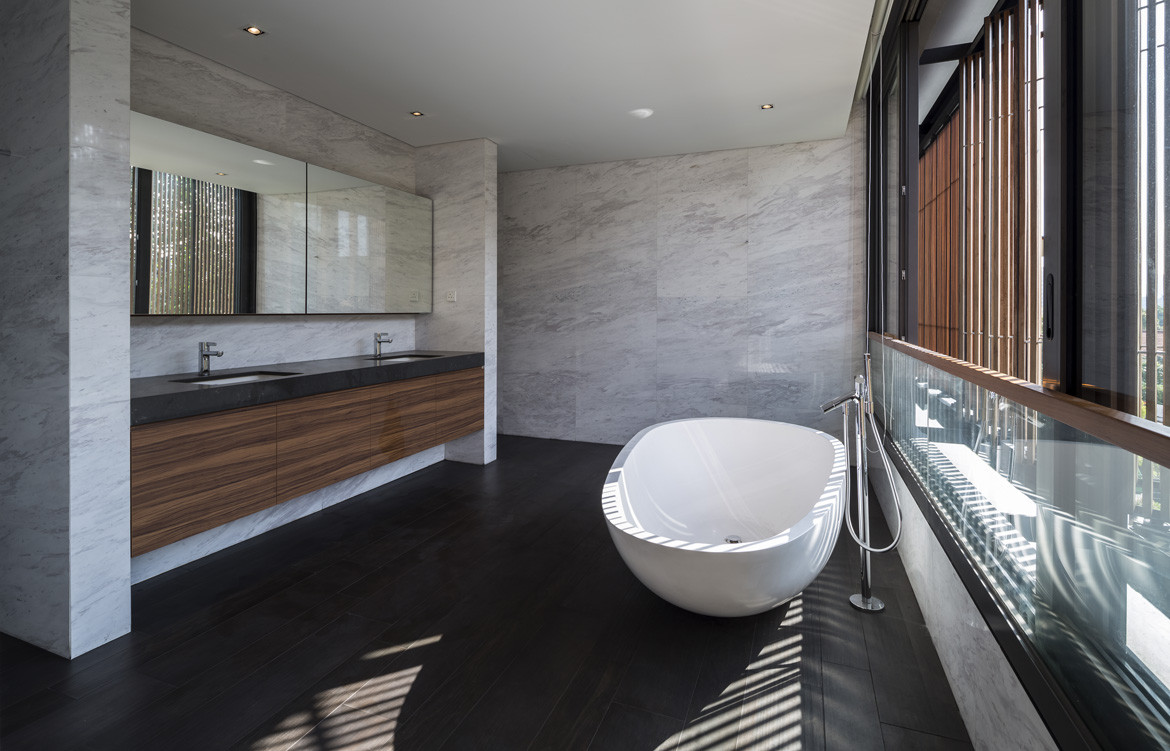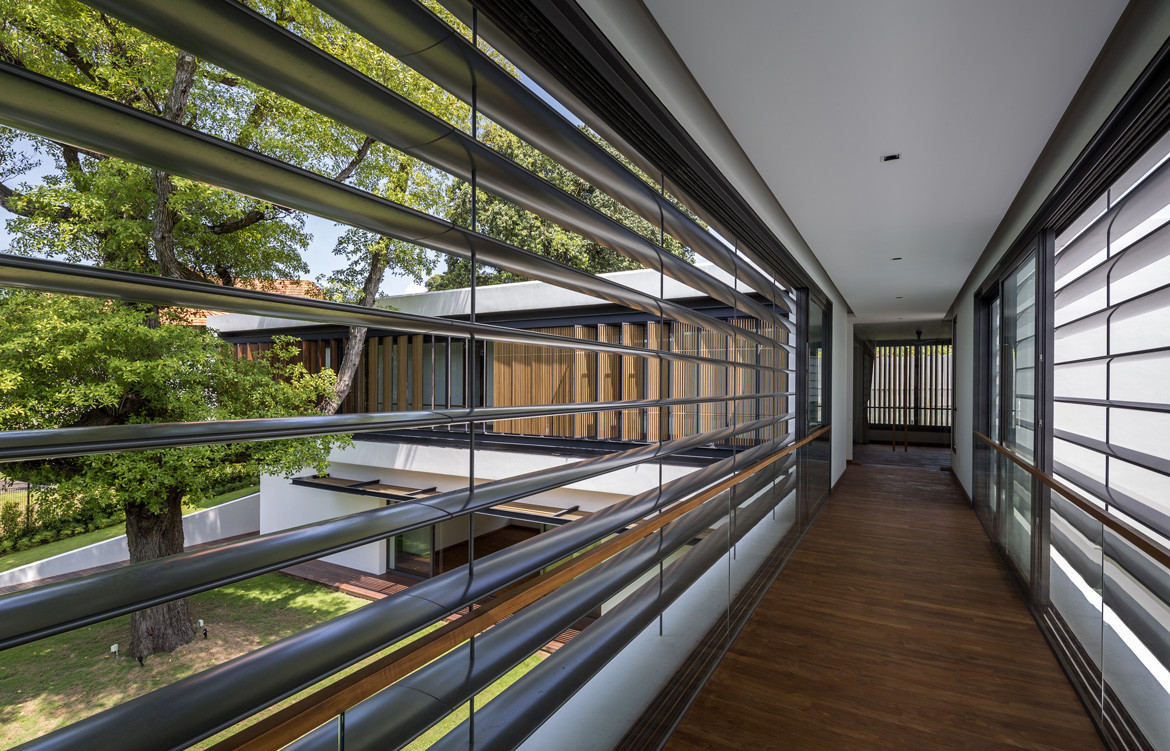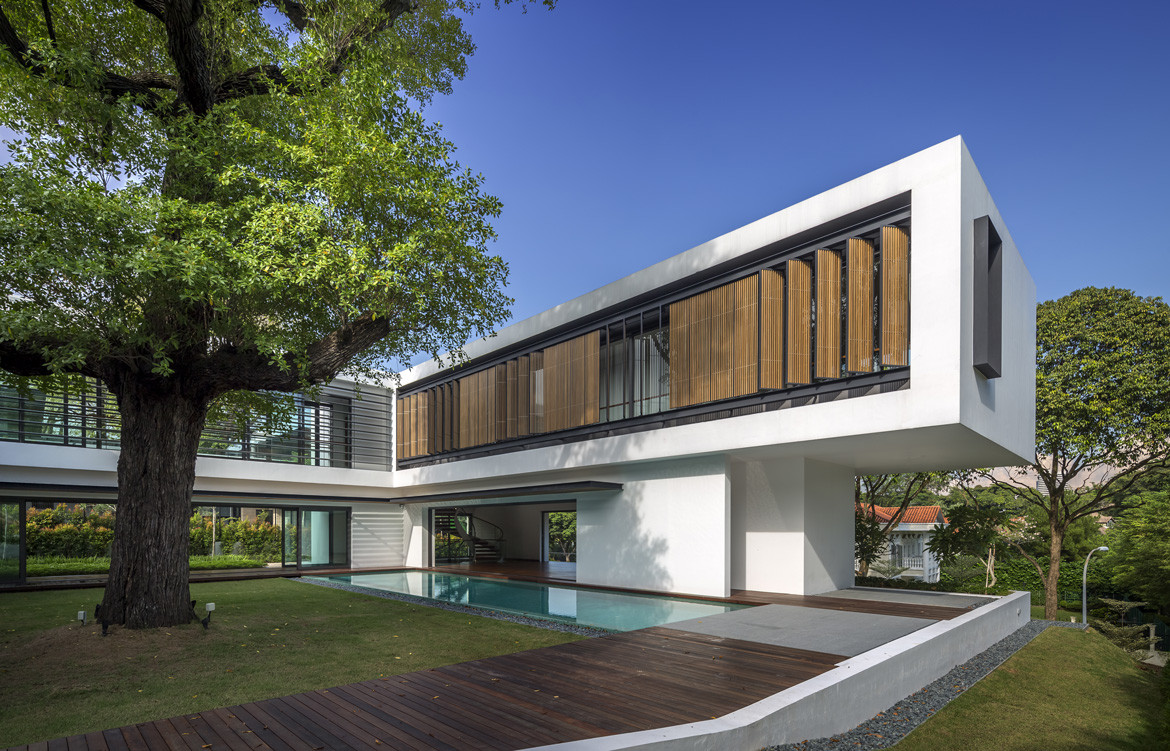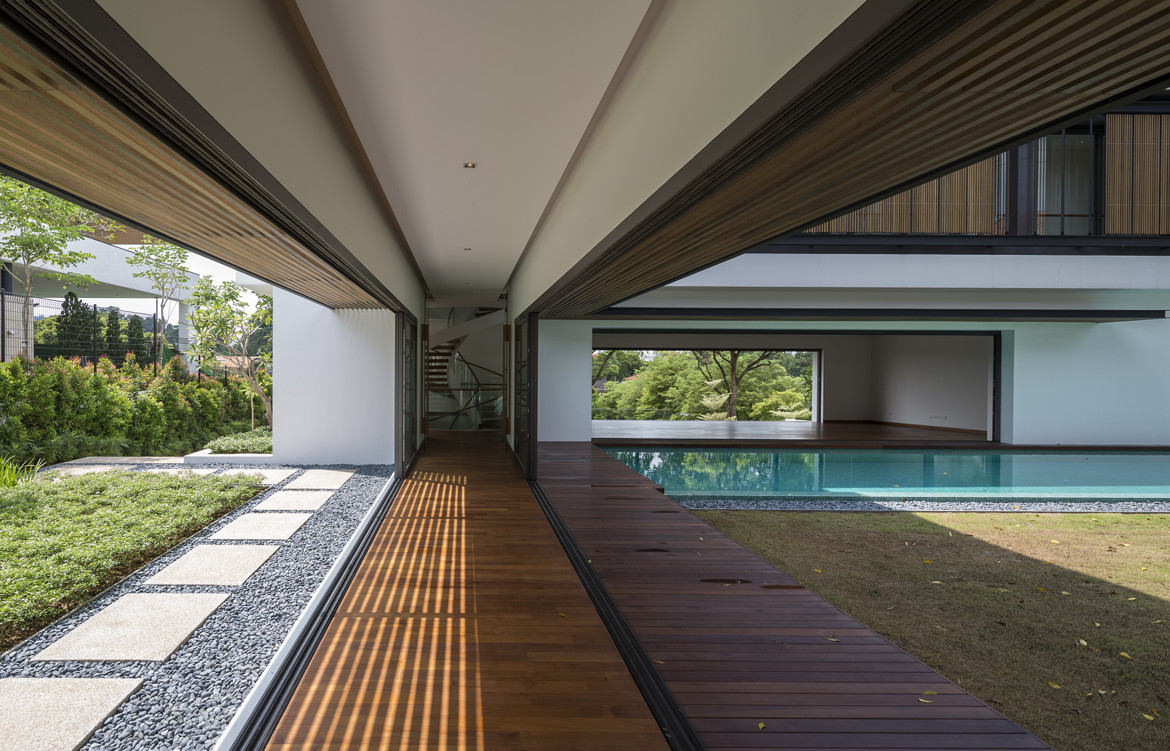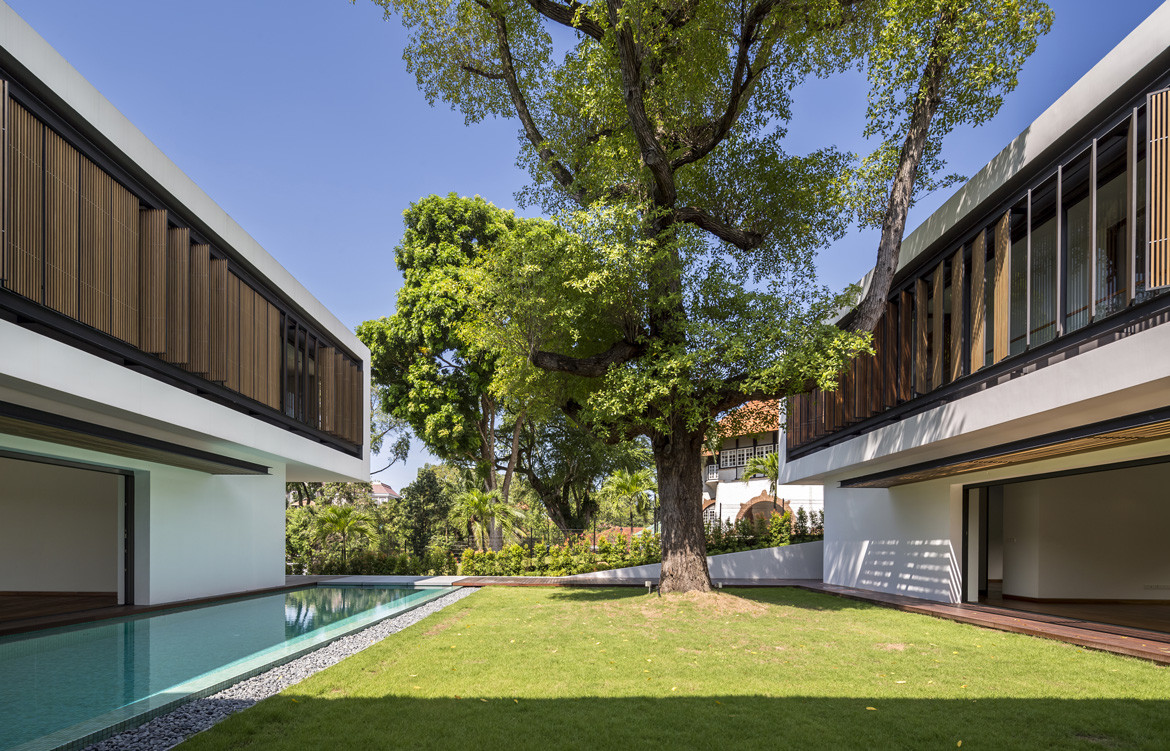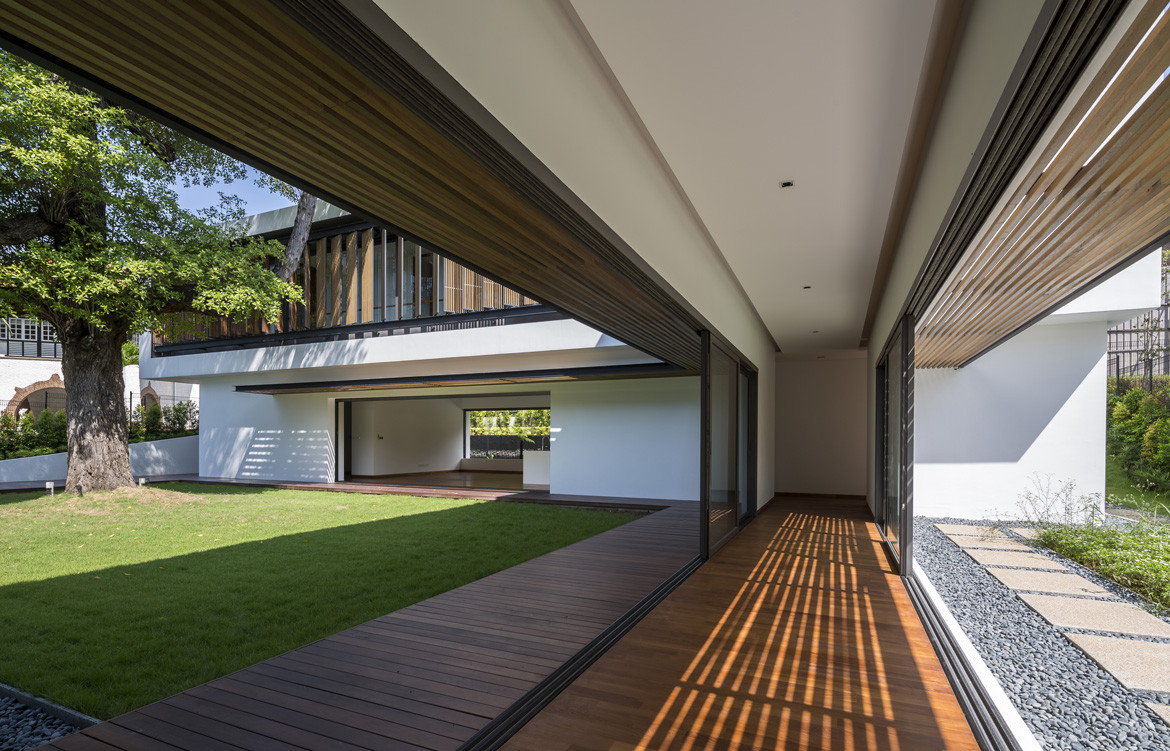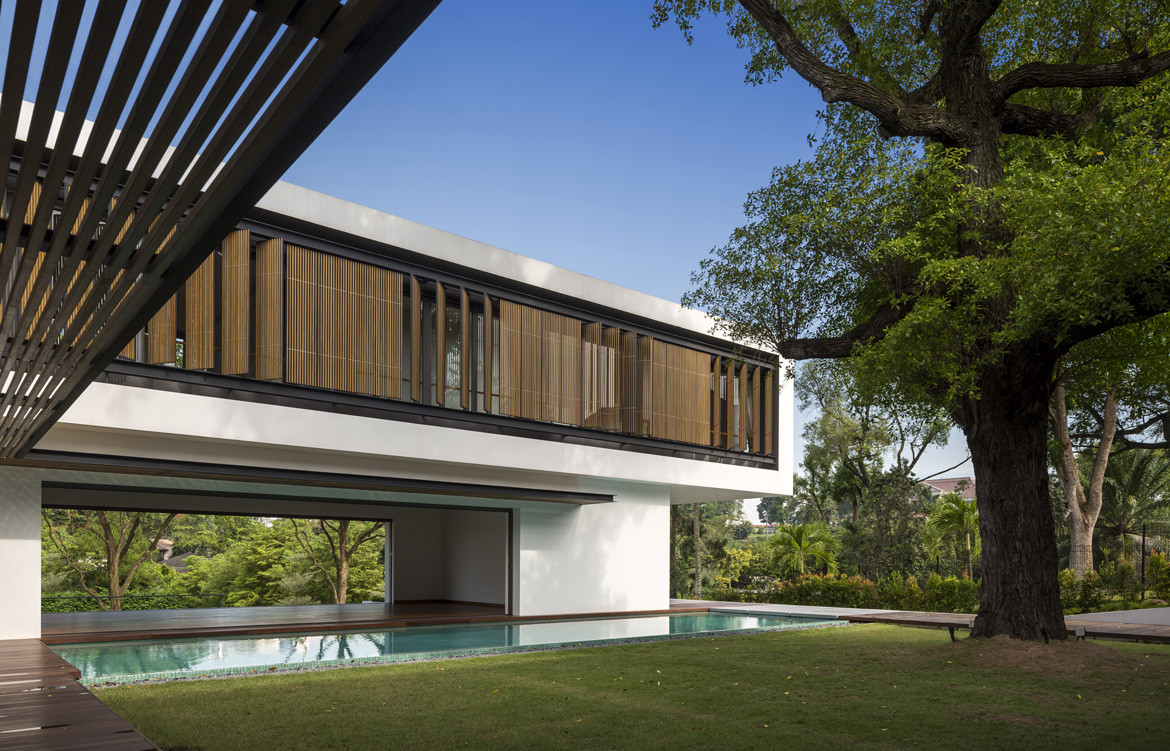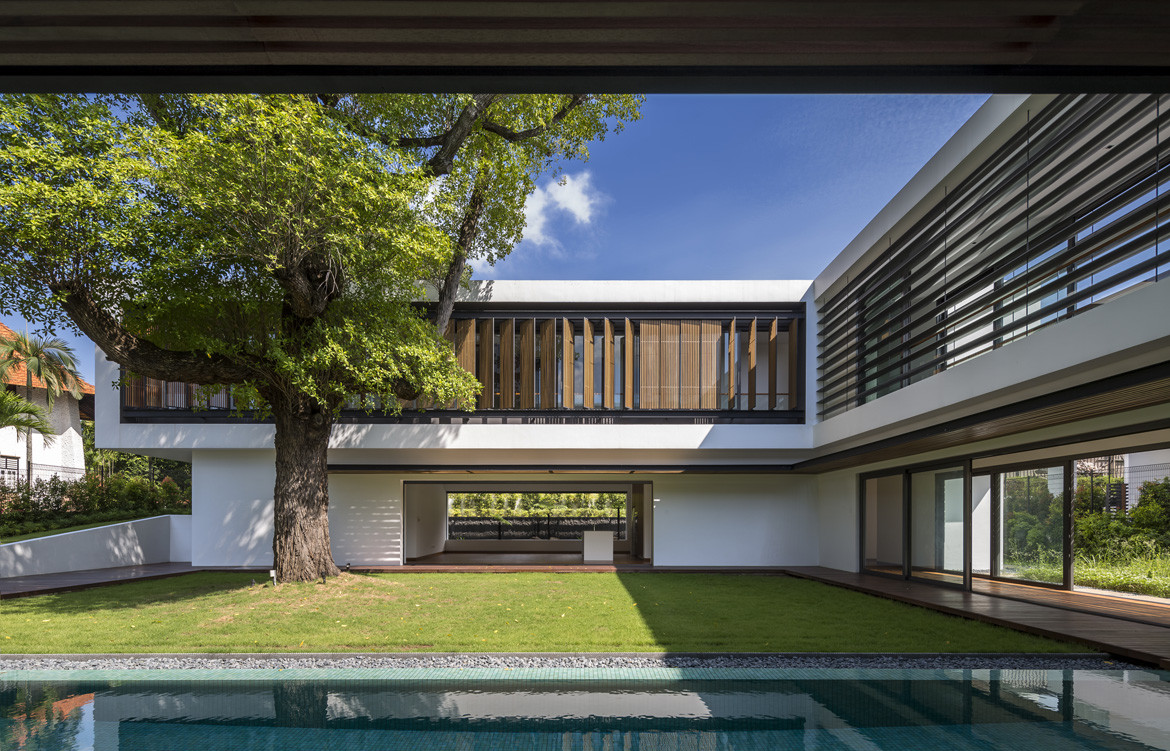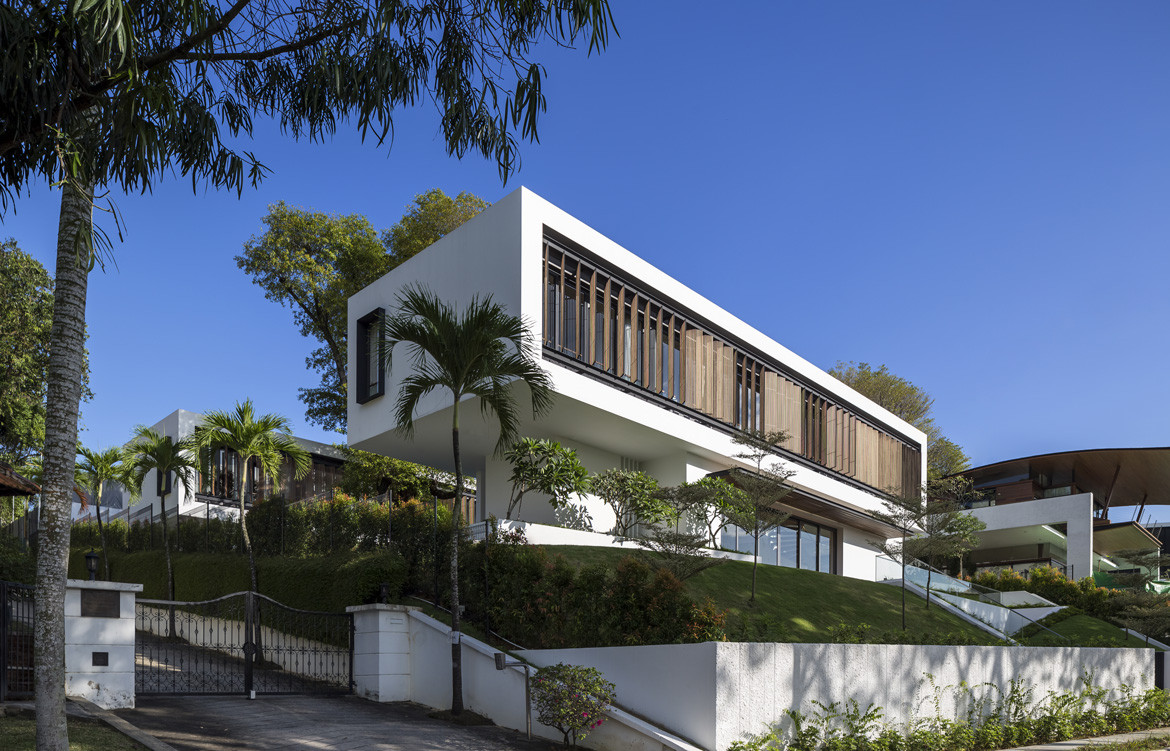 We think you might also like Forever House by Wallflower Architecture + Design
Tags: Architecture, Big Ass Fans, bosch-home-appliances, design, house, residential, see through house, wallflower architecture + design
---