Designed by world-renowned hospitality design firm Hirsch Bedner Associates, the Indigo Hotel features a mix of modern and authentic design, contrasting traditional Chinese pieces with distinctive contemporary local finds. Located at the south end of the historic strip of buildings at Shanghai's Bund, the hotel reflects the energy and flow of its diverse and dynamic neighbourhood with a decidedly youthful design, giving travellers a clear alternative between restrained elegance and playful stylishness.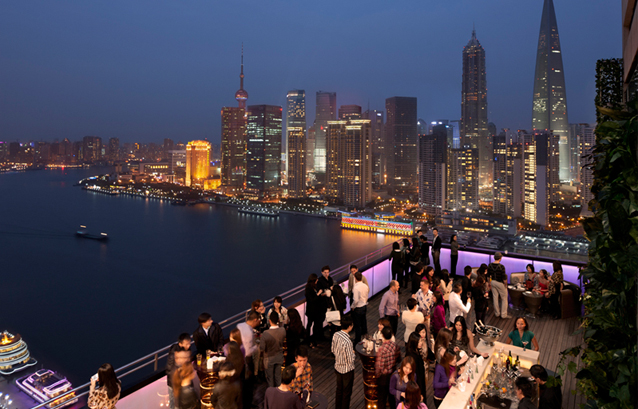 Four local themes are interwoven in the hotel's design: The Huangpu River, Pier 16, the historic Bund and the modern Pudong skyline. The movement of the Huangpu River is reflected in the flowing lines and the ever-changing patterns in the hotel lobby. A sculptural wall creates a swirling, rolling effect and flows like a wave toward the reception desk.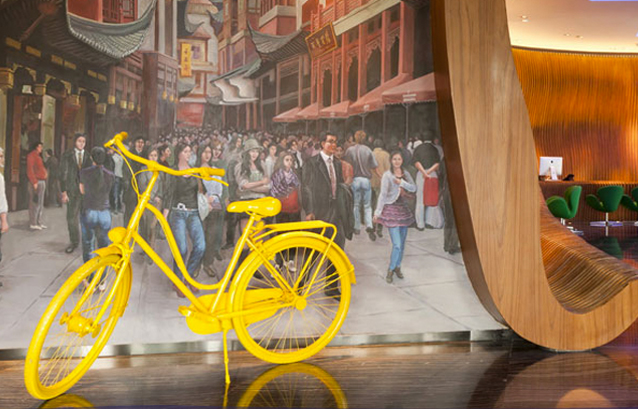 Pier 16 is evoked through nautical elements, also in the hotel's reception areas, which features a raw steel ellipse, patinaed with rust, and studded with LED lighting. Shaped like a ship's funnel, it serves as an introduction to the nautical art and accessory theme. Two pieces of "found art" populate the lobby: an old rickshaw and bicycle taken from the docks prior to their refurbishment, and a deconstructed retired Shanghai riverboat. Once cut and cross-sectioned, pieces of the boat were installed as a wall sculpture referencing local history.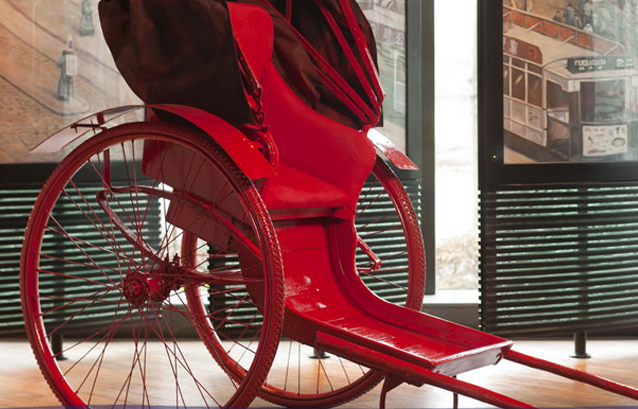 The Bund history features predominantly in the guest rooms where whimsical artefacts and genuine furniture pieces vary from room to room. Wide, distressed grey panelling, with characteristic Shanghai woodworking details, polished plaster walls and iconic grey Shanghai Shikumen bricks provide a natural tone palette, an ideal canvas for the colourful and lively carpets. Custom designed silk print wallpaper, influenced by those that decorated grand old Shanghai houses, brings a flash of vibrant blues and pinks. Rooms also display a selection of Chinese lanterns, ceramic pieces and antique accessories. The canopy bed, an original design, was inspired by traditional Chinese wedding beds, but reinterpreted though a contemporary lens.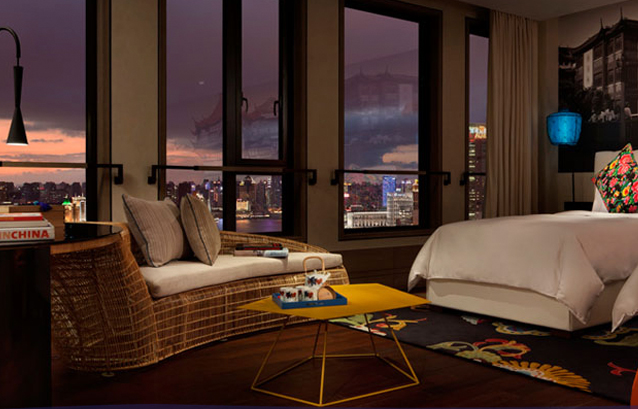 The dramatic Pudong skyline is mirrored in the minimalist and contemporary guest bathrooms. The sleek design includes baths with a glass wall framed in polished steel, looking out onto the river.
Fusing elements of past and present Shanghai, the Indigo not only embodies its city, but hints at its future.
Photography: Andrew J Loiterton – AJL Photography Ltd
Tags: Indigo Hotel
---