Hero Image: Cladding is special rusticated horizontal Western Red Cedar weatherboards finished with Resene Woodsman Waterbone exterior stain. Roof is Trimdeck profile ZRX metal in metallic gunmetal colour.
Over 50 islands pepper the Hauraki Gulf, the body of water off Auckland's east coast. Many are in public conservation, and several have farms and holiday houses. Waiheke Island is the most populated, with over 7,500 permanent residents. Regenerating bush, an indented coastline, vineyards and olive groves define its unique character. The western headland, previously in pasture, has been developed into smaller private blocks with covenanted forest and coastal walkways. A small valley opening on to Owhanake Bay makes up one pocket of this changing landscape.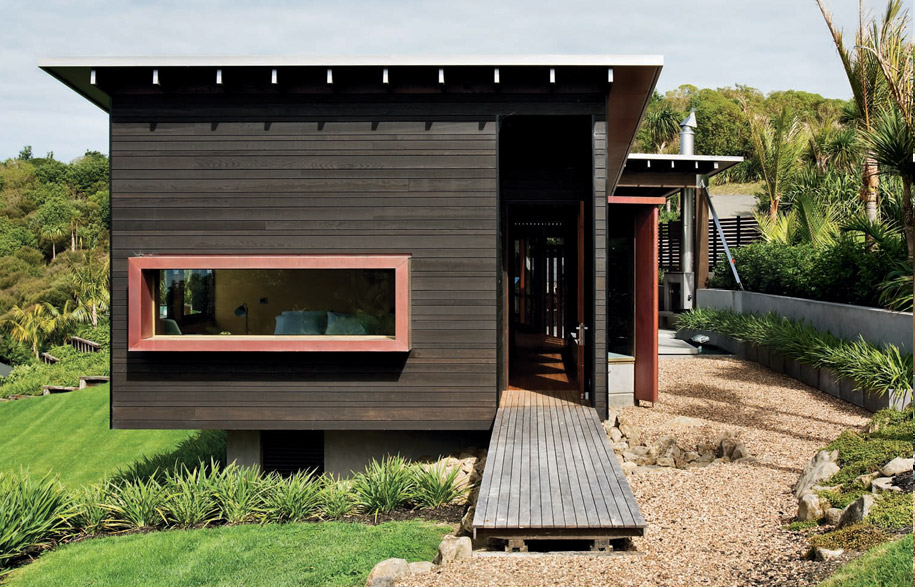 Fixed glazed window panels beaded into copper surrounds by builder
Erin and Gary Clatworthy purchased land on the eastern wall of this valley, where a young forest surrounds small grass 'islands' designated for human habitation. While preparing to build, they watched while some tree species failed to gain a foothold in the thin soils. They set about cleaning up the stream, and planting mature natives to advance bush regeneration and bring back the birds. The land is now 're-cloaked', and with each passing season the forest becomes ever more lush.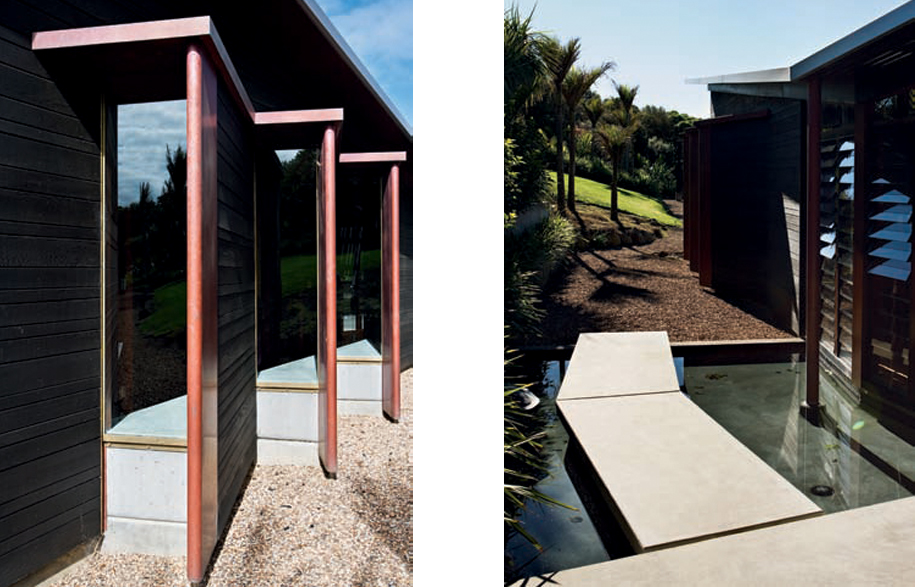 Left: Pill box windows to each end of house and angled vertical slot windows along hallway by builder.
Right: Pools and ponds sealed and plastered masonry by Executive Poolshop.
With such a strong commitment to the environment, they sought out architect Dave Strachan to design their home. For over 10 years, Strachan has devoted his practice to environmentally responsive architecture. "I like to think the moves we make are driven by that particular place, by that particular landform and climate," he says. "Those moves are driven by what's around you. Just open your eyes, feel the breeze, watch the light dancing off the water – that's what informs. Hopefully when you do that, you can then say 'yes, this building has a sense of place', it feels like it belongs."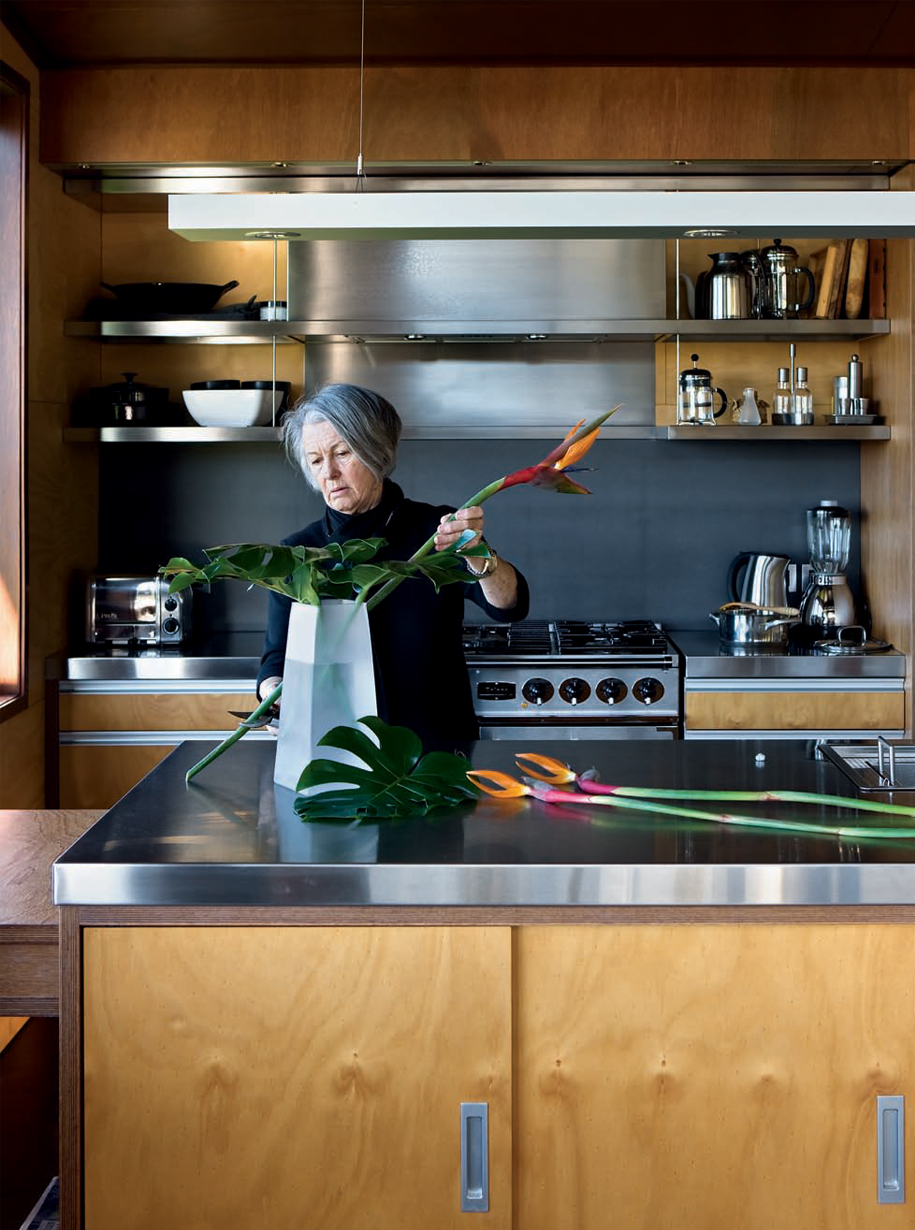 Oven/hob is Falcon 1092 Deluxe Range, rangehood is Smeg CK2000 Powerpack in custom stainless steel, fridge is General Electric A23SSAA Profile Arctica, dishwasher is Asko D3530. Kitchen custom designed by architects with Austral Hoop Pine panels and drawer fronts.
Steep contours and the desire for a singlelevel home defined a long narrow footprint. Three pavilions – guest, living, sleeping/study – circle the valley bowl. The negative spaces created between let air and water 'penetrate' the building – one of the first steps the architect made to physically and metaphorically link to the environment. The existing dynamics of the valley catchment – water needing to find its way down to the stream and out to the bay – thus have an expression in the building. At each junction, an external pond sits against a bank of louvres. The water continues inside to create two 'bathhouses' – one has a plunge pool and the other a bathroom. Although thermally sealed, these spaces are detailed as though they are out of doors – slatted floors, pergola roofs and Cedar weatherboard lining.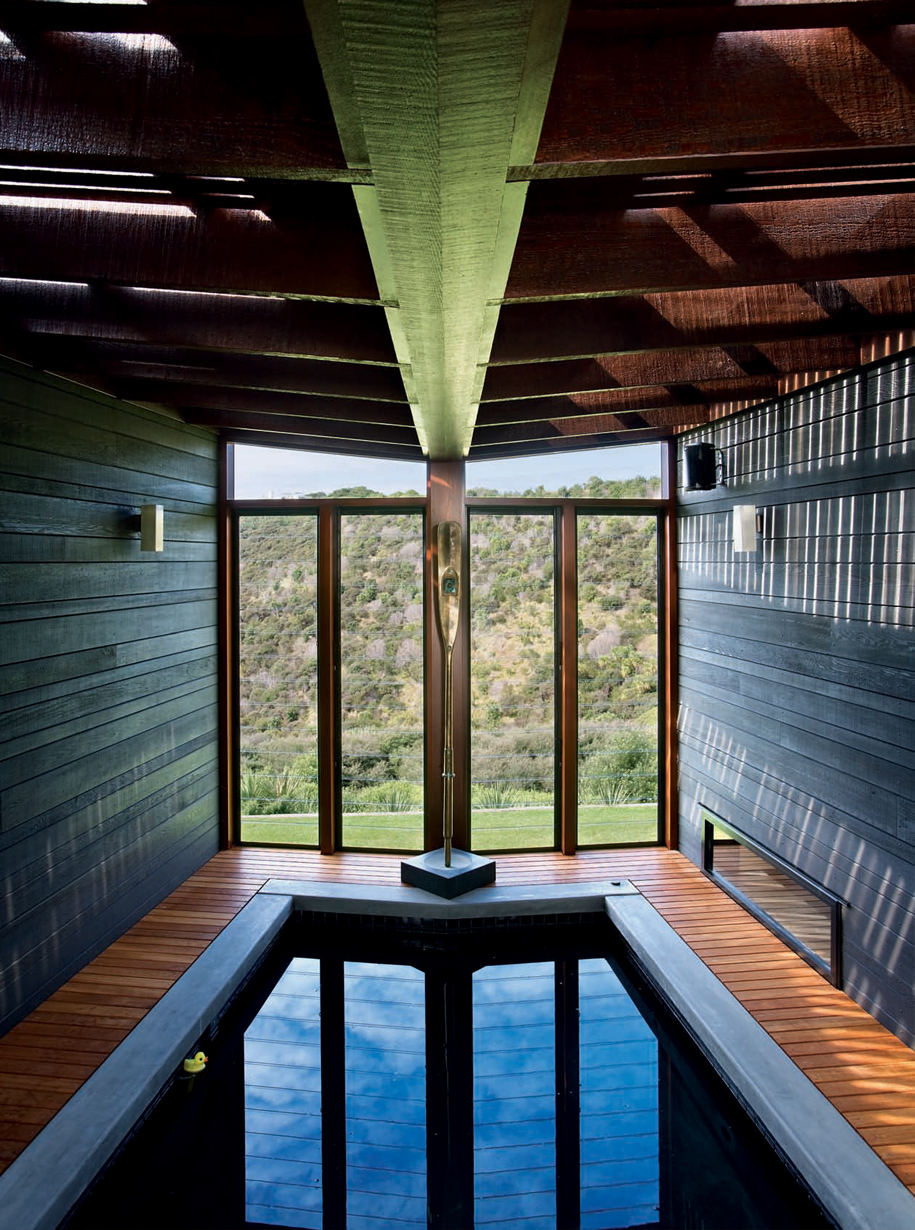 Western Red Cedar 'under slats' to pool house and bath-house ceilings (gapped to let light through polycarbonate roofing).
By tucking the house into the hill just off the ridge line, Strachan has created a sheltered outdoor room and courtyard, and a building with a subtle physical presence. The walls peel open along this western elevation, at angles defined by the winter sun. These light shafts and the long corridor axes extend our view out into the garden. Typically, each one has a focal point beyond – a sculpture or an elegant Nikau palm – and the landscape is drawn into the architectural composition.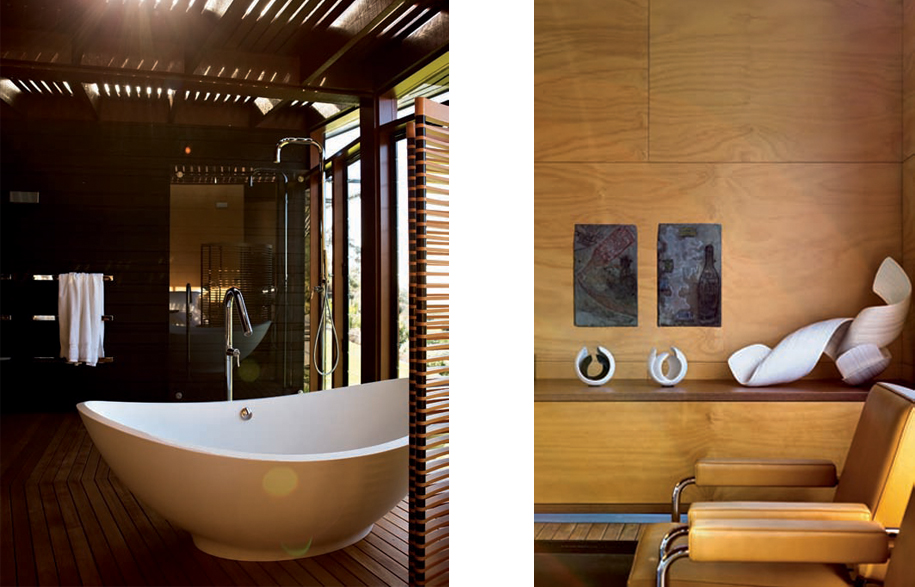 Left: Rapsel Lavasca Mini bath, Paini floormounted bath filler tapware and shower, DC Short towel rails, all from Metrix. Custom mirror set into cabinetry. Walls are Western Red Cedar weatherboards and glazed east louvre banks. Hardwood decking over concrete floors. Häfele cabinet light from ECC Lighting.
Right: Interior wall lining throughout is Austral Hoop-pine plywood, clear sealed with waterbased polyurethane.
There is quite a different character and experience along the eastern side of the property. The intimacy of the hill contrasts with the openness of the valley, the view towards Owhanake Bay, and north-easterly light and breeze. Strachan has responded by conceiving of these rooms as a verandah. Large gas struts open awning windows to 90º and the jambs are detailed as posts. This allows an immediate connection with the outside, unencumbered by another layer of building had a verandah been built. By being cantilevered, the viewer is pitched further into the valley below. "These views and vignettes draw you in," explains Strachan. "They are quite direct and quite powerful – you are almost forced to engage with what's beyond."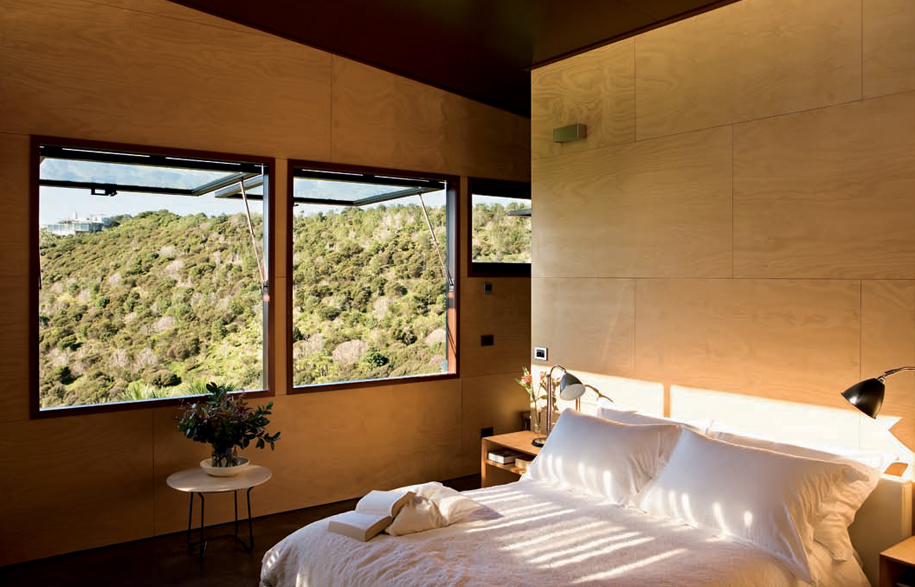 APL magnum series 'gas strutted' windows, black anodised by Origin Windows. Ceilings throughout are Meranti Plywood finished with Sikkens. Samsara bed by Cuno Frommherz for Cassina, Bestlite 1930 reading lamps by Robert Dudley Best.
Inside versus outside is a recurring theme in architecture. In New Zealand it is most often dealt with in baches, or holiday houses, where bedroom wings are completely detached from the main living space. The experience recalls camping holidays, where a group of small dwellings create a whole, and the elements are so much more tactile. The Clatworthy House is somewhat of a hybrid. It was designed for longer stays than just weekends and holidays, and yet the couple still wanted to feel as though they had left the city behind.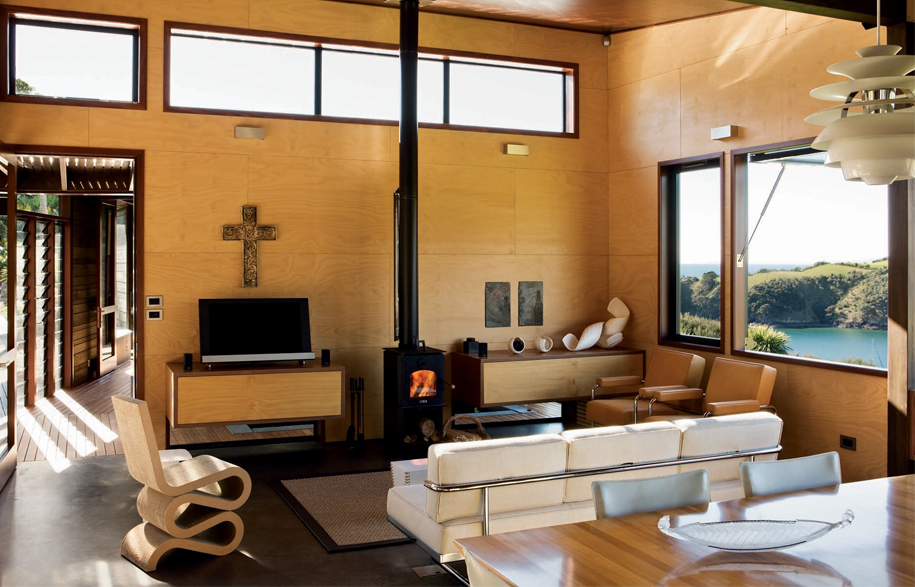 Concrete floor with cantilevered edges, black oxide finish, clear sealed. Interior doors are Western Red Cedar finished with Sikkens, and glazed louvre windows all from Nick's Timber Joinery. Furnishings: LC5.F Le Corbusier couch, LC13 Le Corbusier lounge chairs, all by Cassina; Frank Gehry 'Wiggle' chair by Vitra; dining chairs are Mario Bellini CAB by Cassina; PH Snowball pendant light by Louis Poulsen; Altitude dining table by Neal Smith; wall lights throughout from ECC Lighting.
"We have blurred the edges between inside and outside. The halls are treated with exterior materials – there are Cedar weatherboards, copper blades, raw concrete plinths, a decking floor. When you go to the bedrooms or study you venture 'outside', you go on a journey. They are thermally enclosed, but it is the bedrooms and living spaces that act as thermal boxes. The halls are transition spaces," says Strachan.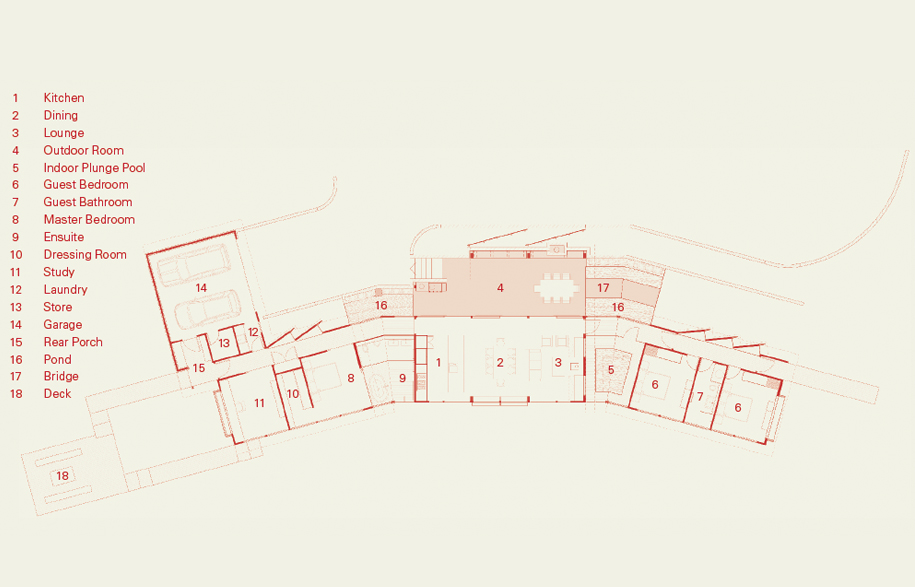 As an environmental building, it generates most of its winter heating requirements with solar panels and an exposed concrete slab. Floor vents on the eastern wall bring in conditioned air that has passed over the bush, and high-level windows pull it through, creating natural air currents. The house catches its own rainwater and a bore is used for irrigation. Material selection is deliberately recessive – metallic gunmetal roofing reflects the clouds, black joinery and black-stained weatherboards absorb the light. Inside, there are no paint finishes – all walls, ceilings and built-in furniture are naturally finished timber and plywood.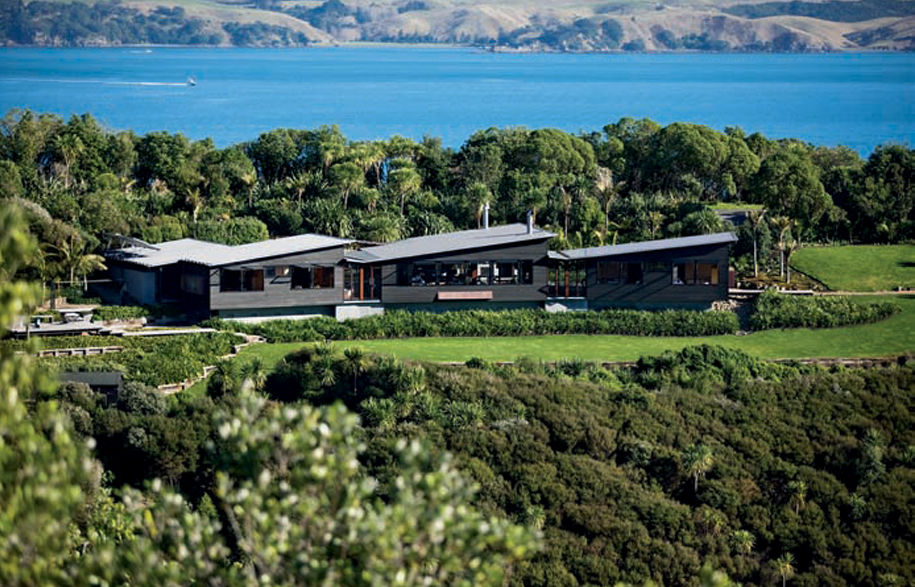 Three black pavilions (guest, living and sleeping/study) circle the valley bowl.
This is a discreet building. It has been furnished sparingly to allow views and natural materials to remain the foci. And with the owners' love of boating, the links between this finely tuned house and their boat out in the bay are evident everywhere. Gary's planting and conservation vision – in association with landscape architect, Bryan McDonald – has advanced the forest regeneration by decades, a wonderful legacy for future generations.
Strachan Group Architects
sgaltd.co.nz
Photography: Simon Devitt
simondevitt.com
Tags: Home Architecture, House Architecture, Residential Architecture
---